Some posts on this site contain affiliate links. If you book or buy something through these links, I earn a small commission (at no extra cost to you). Take a look at my privacy policy for more information.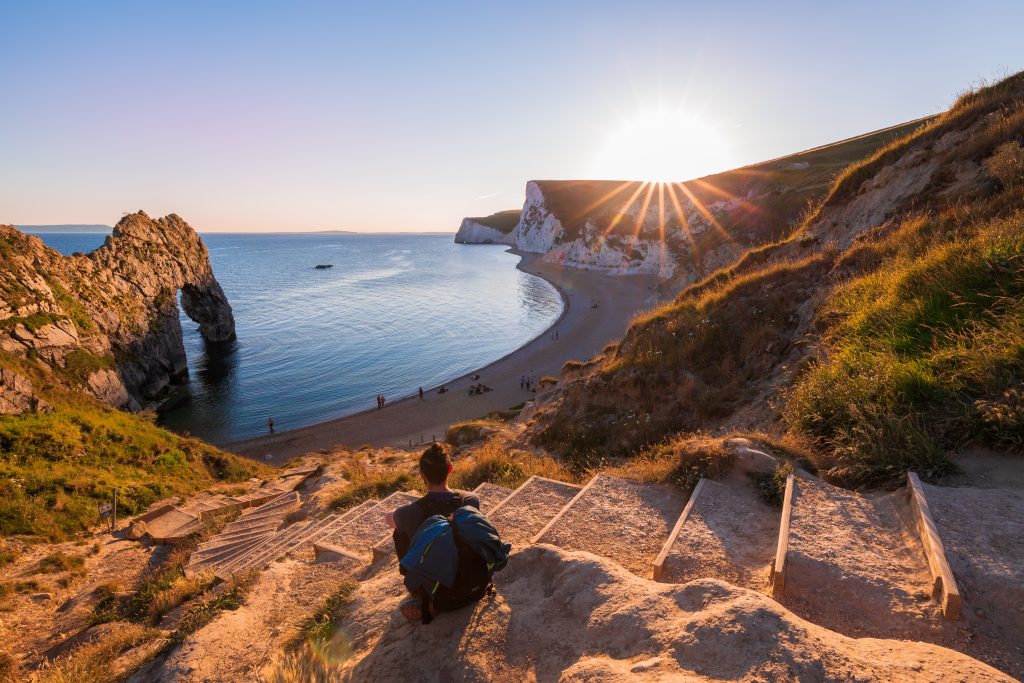 Are you planning a trip to Dorset England? Here's my ultimate local's guide to help you get things figured out!
This beautiful, varied county on the south coast of England has so much to offer…
From rolling countryside to the rugged Jurassic coast, and from fascinating history to incredible seafood… there's plenty to keep you busy in this idyllic corner of the UK.
First, a quick note about my credentials – I'm a born-and-bred Dorset local! I grew up in the beachside town of Weymouth and spent the first eighteen years of my life being dragged all over the county by my parents. I doubt there's a single Dorset day out I've not done!
These days I live in Dorchester, and in between travelling the world as a full-time travel blogger, I spend all my free time exploring Dorset. So I like to think I know a thing or two about how to spend your time in my favourite part of England. Hopefully, this travel guide will help you get started…
My Guide to Dorset England
This Dorset travel guide is going to be a fairly bare-bones directory, covering all the best things to do, places to stay, foods to eat, etc – without getting too in-depth.
I've got tons of other posts which feature a lot more detail, so I'll be linking to them throughout. That way, you can get more info about anything you like! Keep scrolling for all my top tips for making the most of a trip to Dorset, England!
LOVE DORSET? Check out this 50-question Dorset quiz and see how many you can get right!
Interactive Map
This map was made with
Wanderlog
, a travel planner.
Where to Stay in Dorset England
Whatever you're looking for, there are some great accommodation options all across Dorset. From back-to-basics campsites and cheerful, family-friendly holiday parks, to luxurious spa hotels and quirky glamping pods… there's truly something for everyone.
As for where to stay in Dorset, the best location depends on what kind of holiday you're hoping for.
Beach lovers might want to look at the larger seaside towns like Bournemouth and Weymouth, especially if you want plenty of amenities and places to eat nearby. For something a little quieter – and perhaps more quaint – check out the smaller beach towns like Lyme Regis, West Bay, or Swanage.
It's worth noting that most of the beaches in the west of the county tend to be shingle/stone. If you want sandy beaches, stick to Dorset's eastern coast.
Inland, the historic county town of Dorchester is fairly central and makes a great base for exploring the rest of the county.
Or, if you're looking for an area that mixes Dorset's incredible coastline with beautiful countryside and quaint villages, the Isle of Purbeck is one of the most beautiful areas to stay.
Dorset Accommodation Collections
Check out my hotel reviews and carefully-curated accommodation collections below for some top tips on where to stay in Dorset!
Best Hotels in Dorset
Camping and Glamping in Dorset
I've got a full list of the best Dorset glamping experiences right here, so check that out. Geodome tents with panoramic windows for watching the sunrise, fully-kitted safari tents, tipis overlooking the sea… there are some truly gorgeous glampsites to choose from.
Prefer classic camping? These are some of the best campsites around Dorset:
Eweleaze Campsite, Weymouth
Hook Farm Camping, Lyme Regis
Swanage Coastal Park, Swanage
Rowlands Wait Campsite, Bere Regis
Mudeford Beach Huts, Christchurch
Loose Reins, Blandford Forum
Caalm Camp, Shaftesbury
When to Visit Dorset England
There's really no bad time of year to visit Dorset! But given that many of Dorset's best attractions are outdoorsy days out, summer is probably best if you want a strong chance of good weather. Summer is also the season for festivals, so there's even more going on than usual.
However, summer is also peak season, which can mean traffic jams, busy beaches, and price spikes for accommodation. Travelling in the shoulder seasons of spring and autumn (excepting the Easter holidays and any bank holidays) can mean better prices and more choices in accommodation with everything being less booked up.
During spring, you have beautiful new foliage, as well as lots of new baby animals. This is a great time to visit a children's farm or go wildlife spotting in the countryside. And to take a walk through one of Dorset's bluebell woodlands. And from mid-May to the end of June you can see baby swans hatching at Abbotsbury Swannery.
Autumn is also a beautiful time of year, with the leaves changing and the countryside painted a glorious gold.
And although winter can have bad weather at times, there's nothing like a frosty countryside walk on a clear winter's day, or a walk on the beach with the wind whipping at your hair. Plus, the strong winds mean you can see some spectacular waves along the coast – especially at Portland Bill!
READ MORE: 14+ Things to do in Dorset in the Rain
Dorset Festivals for Your Diary
READ MORE
Check out my round-up of 30+ Dorset Festivals for even more inspiration – AND don't miss this post all about the best food festivals in Dorset.
Best Beaches in Dorset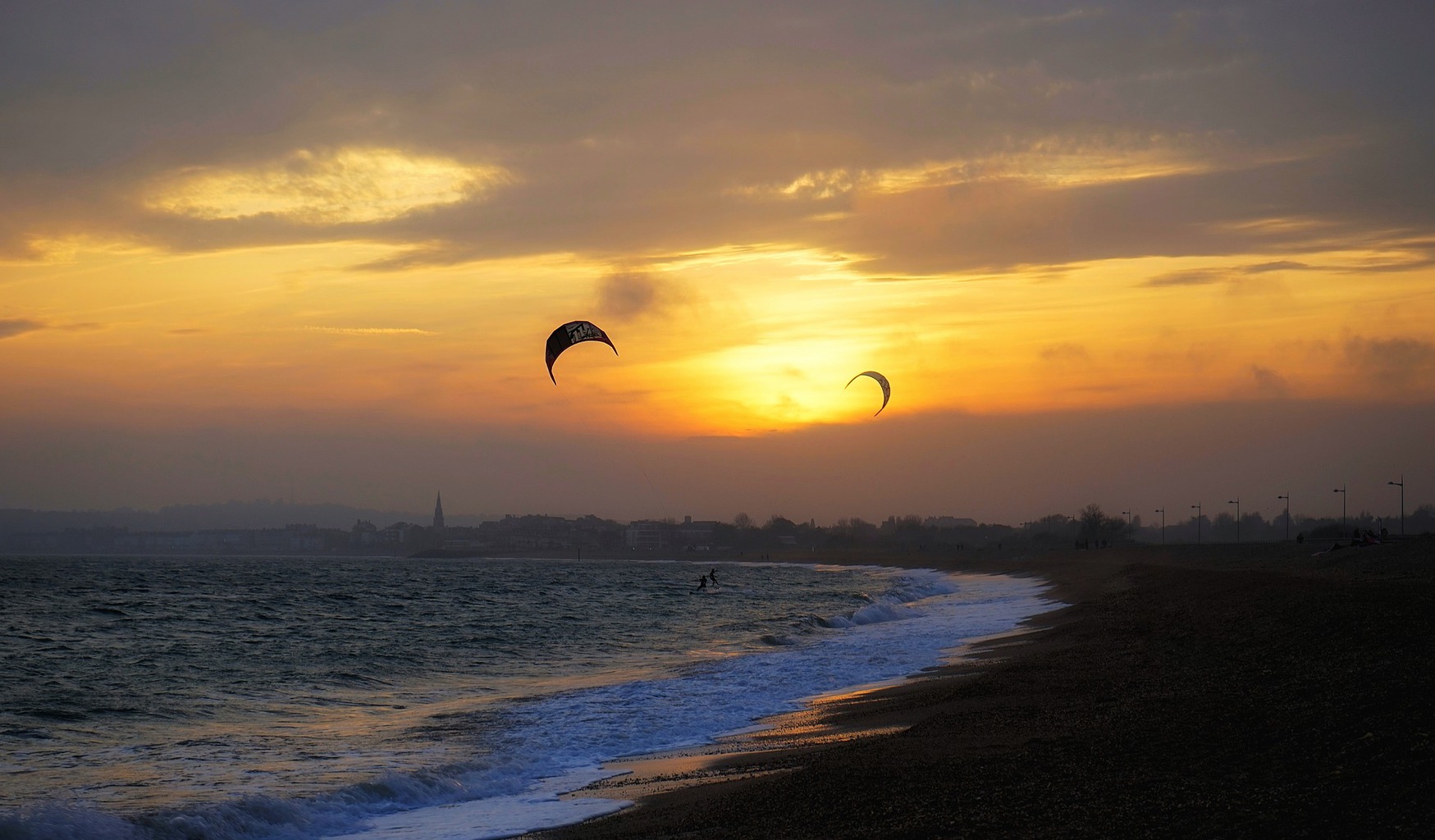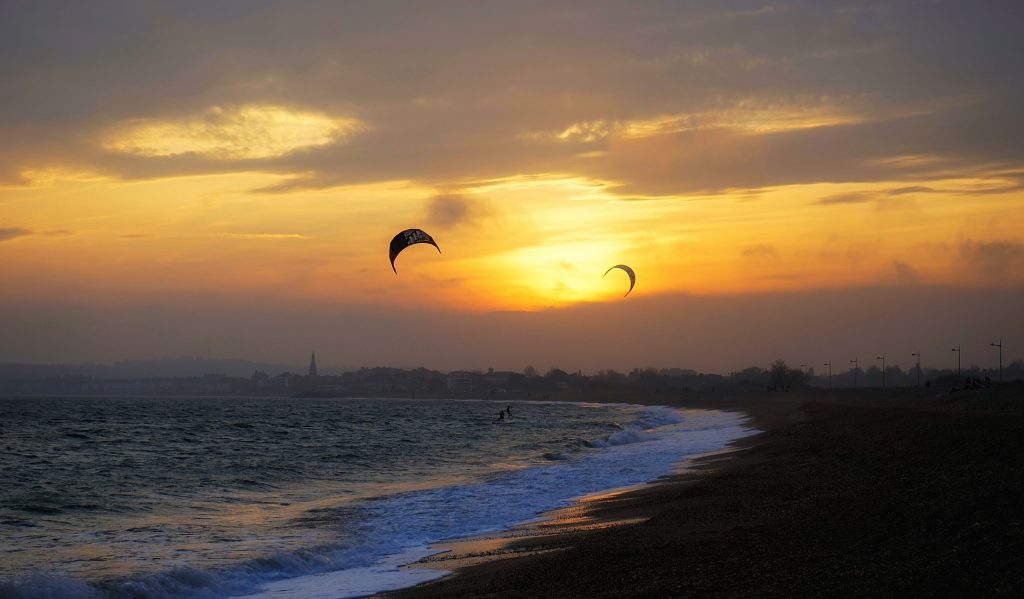 I have a bumper guide to the best beaches in Dorset England over on my other blog, so go check that out for more info. In the meantime, here are a few of the highlights you shouldn't miss…
Weymouth Beach
A sheltered bay with calm waters for swimming, golden sands, and loads of traditional British seaside charm!
READ MORE: A Local's Guide to Weymouth
Bournemouth Beach
A long stretch of white sandy beach with a lovely Victorian pier. Very lively, with lot's to do and a buzzing strip of cafes, restaurants, and other attractions. It can get really busy on peak days, so take a look at some of these beaches near Bournemouth if you'd rather find a more secluded spot.
READ MORE: 31 Things to do in Bournemouth
Chesil Beach
An 18-mile-long stretch of pebble bank running from Portland to Abbotsbury. There's an Ian McEwan book set here (now a movie).
Sandbanks, Poole
A spit of golden sand stretching from Bournemouth to Poole across the mouth of Poole Harbour. It's known as the most expensive seaside in Britain thanks to the crazy-high house prices.
Studland
Soft golden sand and rolling grass-topped dunes make this one of the most ruggedly beautiful beaches in Dorset. It's also adjacent to the beautiful Studland Heath.
West Bay
Recognisable from the hit TV show Broadchurch, West Bay is a shingle and sand beach overlooked by some impressively tall golden cliffs.
Swanage Beach
The pretty village of Swanage is home to a gorgeous beach. Flanked by chalk headlands on either side, the sheltered bay is lined by clean white sands. Closer to the pier is a smaller beach that's usually a bit quieter! Check out my guide to the best things to do in Swanage for more info!
Dorset Jurassic Coast: Iconic Spots
The Jurassic Coast is a 96-mile-long stretch of stunning, rugged coastline along the south of England. It starts in Exmouth, Devon and runs all the way across Dorset to Studland Bay. A World Heritage Site, this section of the coastline is famed for the 185 million years of history recorded in its rocks.
Not only is the area important from a geological standpoint, but it's also full of impressive – sometimes unique – geographical structures.
I've written a separate post all about the 19 highlights of the Dorset Jurassic Coast. It's a much longer list of amazing sites and brilliant fossil hunting spots. I've also rounded up 15 of the best short coastal walks, all of them under 4 miles (less than 2 hours). But below are the absolute highlights of a trip along the coast of Dorset, England…
Durdle Door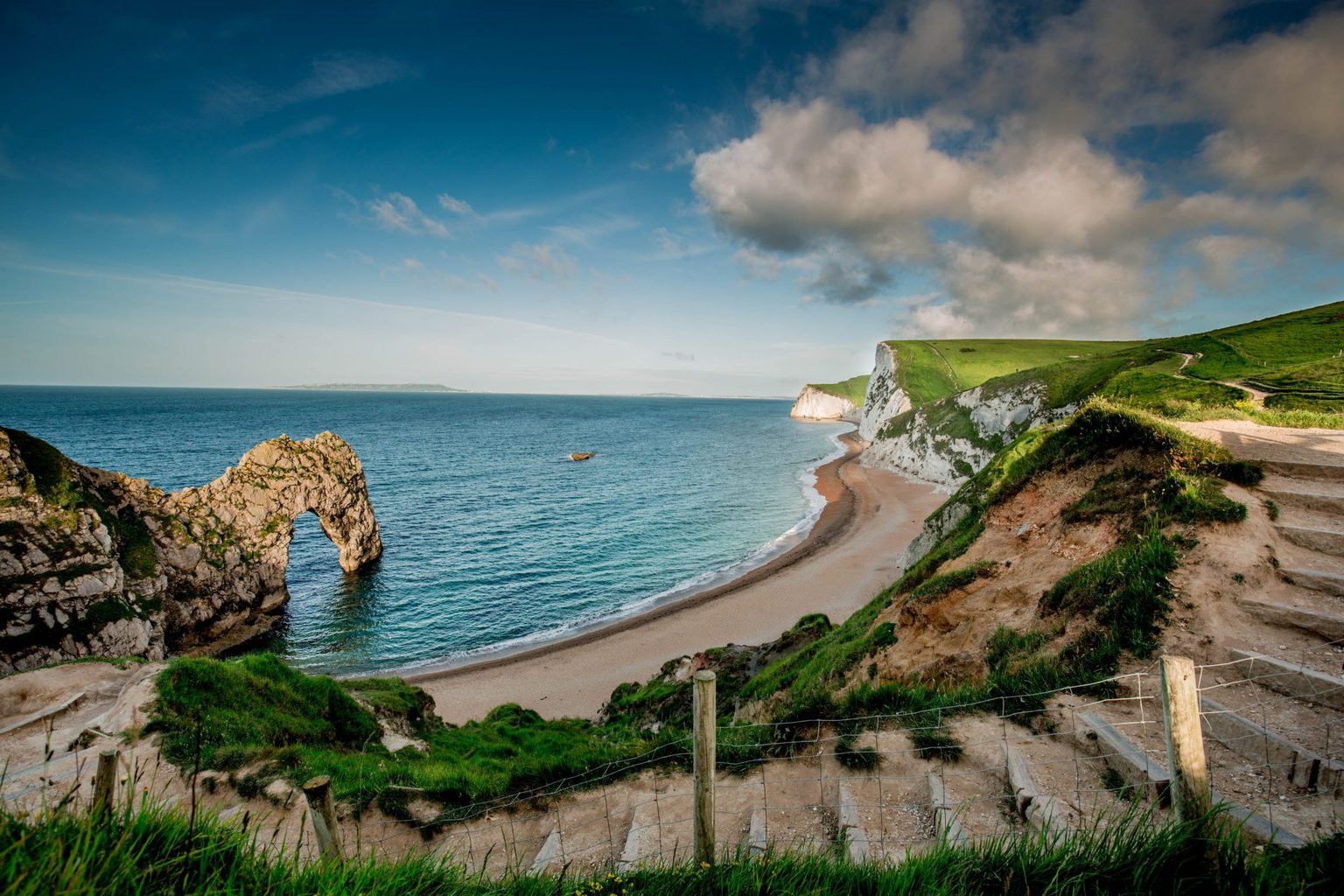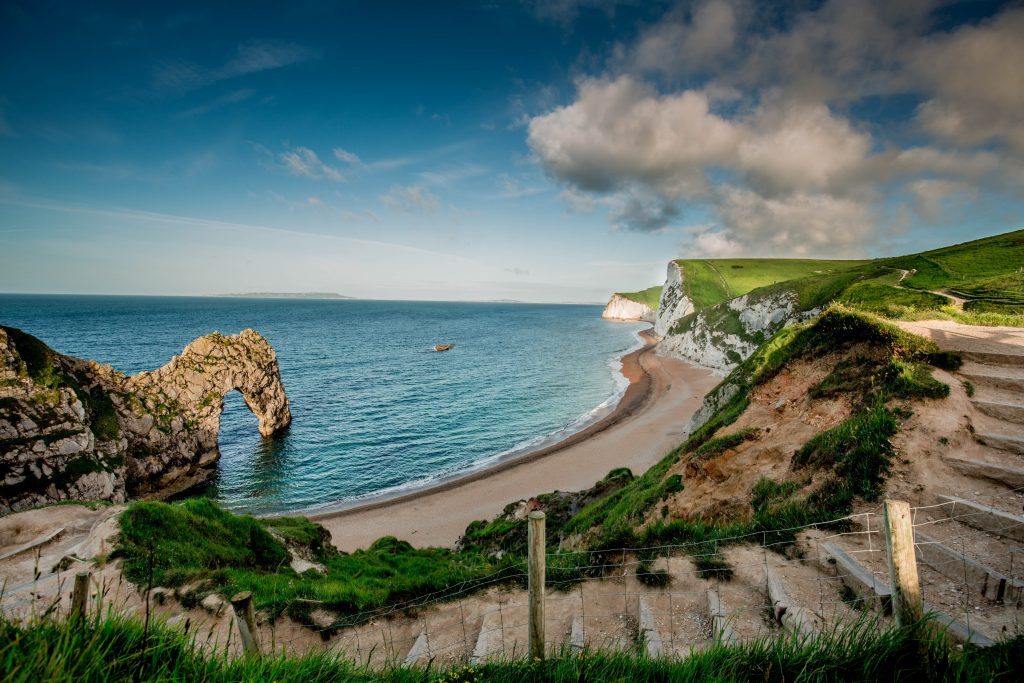 One of my personal favourite spots in the world, and the poster-child for the Dorset Jurassic Coast! Durdle Door is a natural limestone arch over the sea – and it's possibly the most famous stone arch in the world.
Lulworth Cove
An almost circular cove, ringed in by limestone rocks and overlooked by white chalk cliffs. As well as the beautiful blue water and cute village, don't miss Stair Hole. It's a baby cove which shows what Lulworth looked like hundreds of thousands of years ago! And the nearby Fossil Forest is a must-visit, too.
Golden Cap
Golden Cap is the highest point on the south coast of Britain, at an impressive 191 metres. So the walk to the top from the pretty village of Seatown might be a bit tough for some! But this impressive, gold-coloured cliff can also be viewed from nearby Charmouth Beach. The whole area is a hot-spot for fossil hunting too, so keep your eyes peeled!
Old Harry Rocks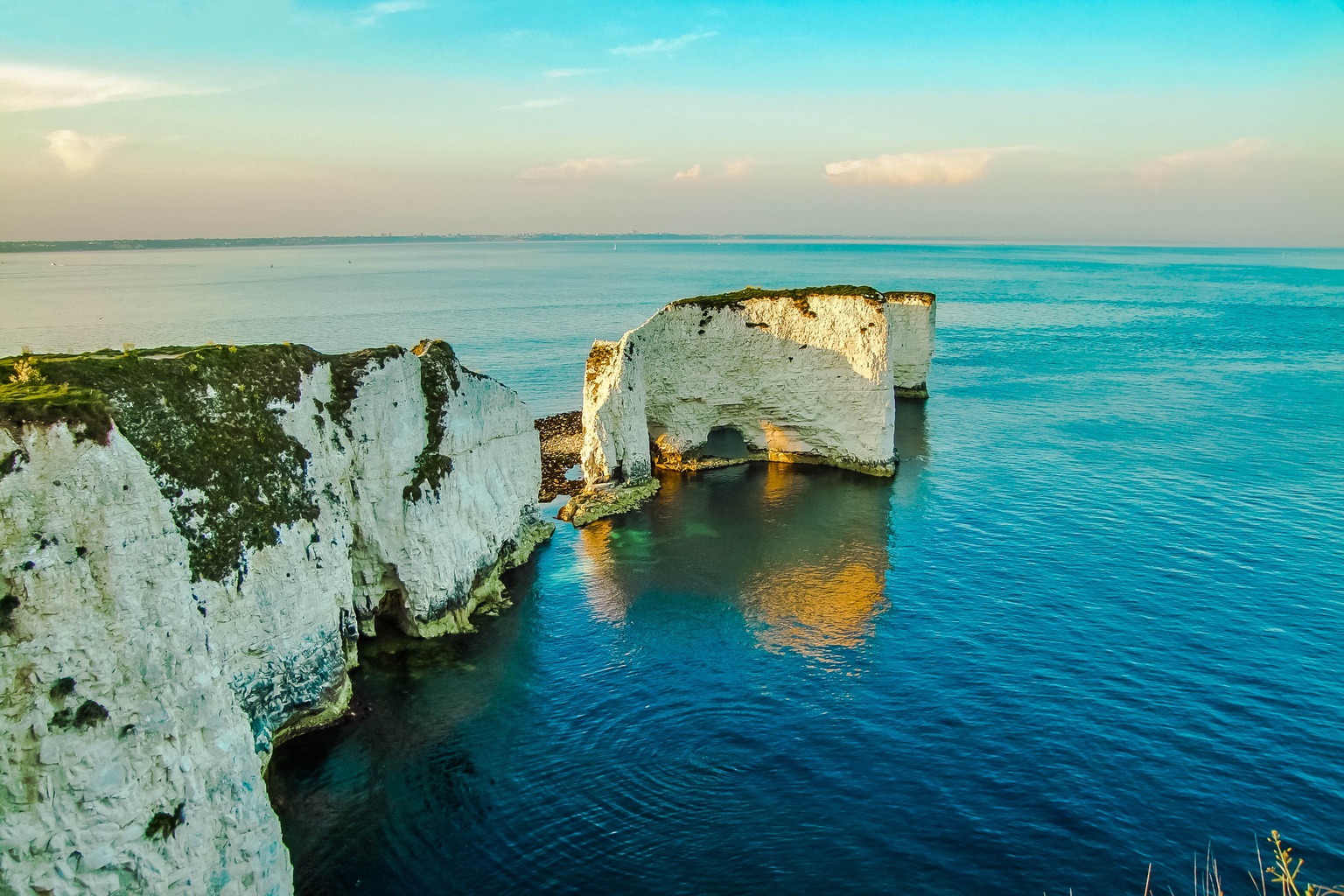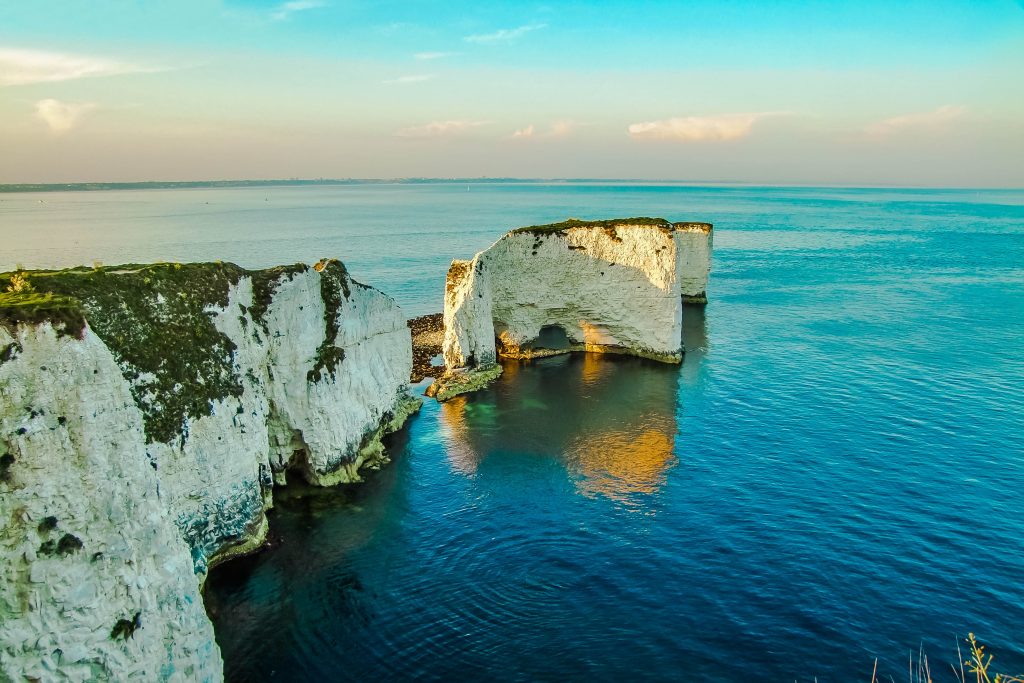 Old Harry Rocks are three chalk stacks leading out into the sea in a line from the tip of Handfast Point on the Isle of Purbeck. This is the most easterly point of the Dorset Jurassic Coast. Fun fact – the rocks line up perfectly with The Needles on the Isle of White, across the channel. They were all once part of the same chalk band which connected the island to the mainland until a few thousand years ago!
Want some more fun facts? Check out our 18 Facts About Dorset – perfect for pub quizzes, or simply impressing your mates!
Chesil Beach and Fleet Lagoon
One of three major shingle structures in Britain, Chesil Beach is an 18-mile-long barrier beach running from the Isle of Portland to West Bay. Along the way, it encloses The Fleet, a shallow tidal lagoon. Both the beach and the lagoon are a Site of Special Scientific Interest.
The shingle varies in size from the top to bottom of Chesil Beach, and it's said that smugglers used to tell where they'd landed by the size of the pebbles on the beach. The area's fascinating smuggling history was immortalised in the famous novel Moonfleet by J. Meade Faulkner.
Portland Bill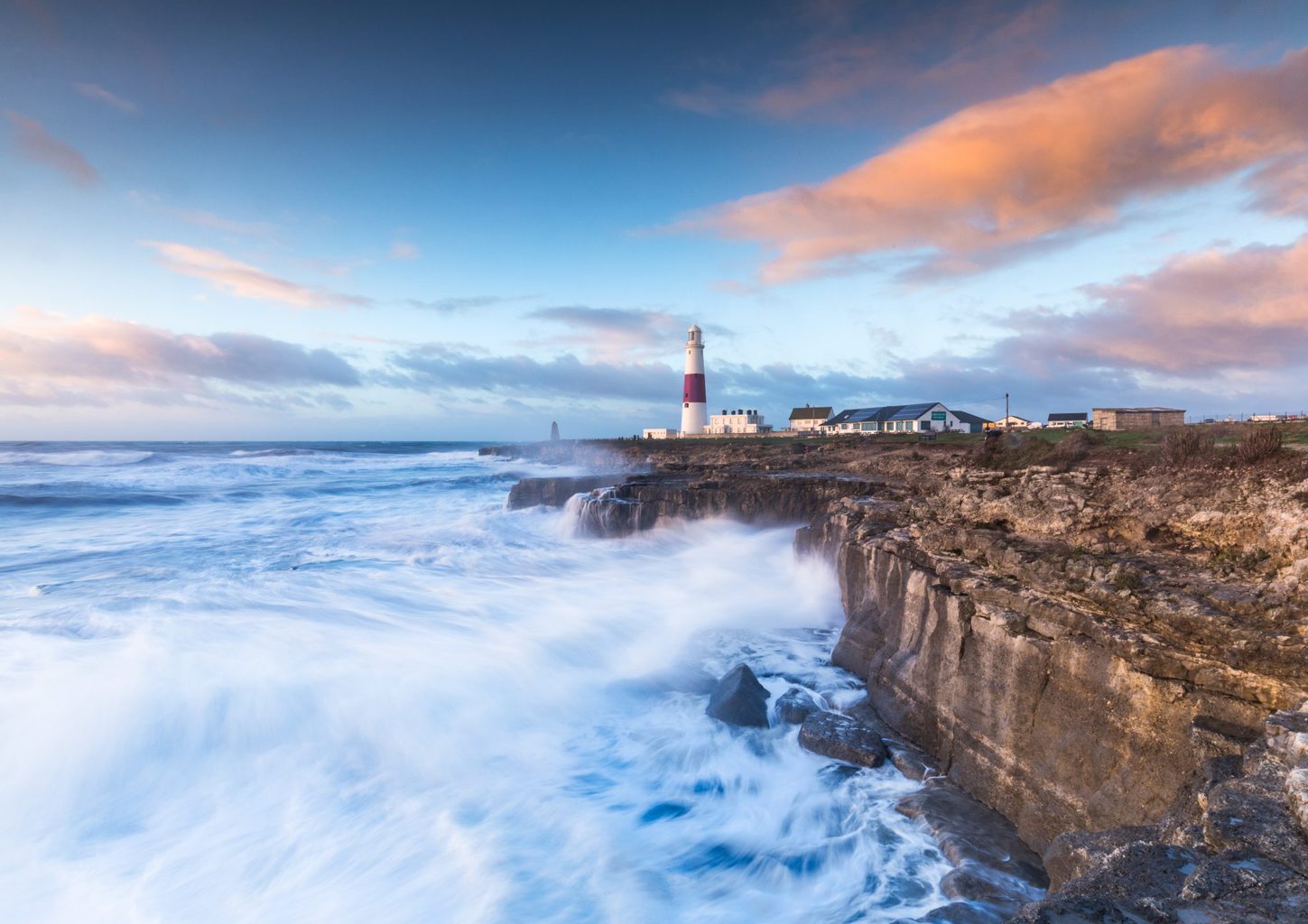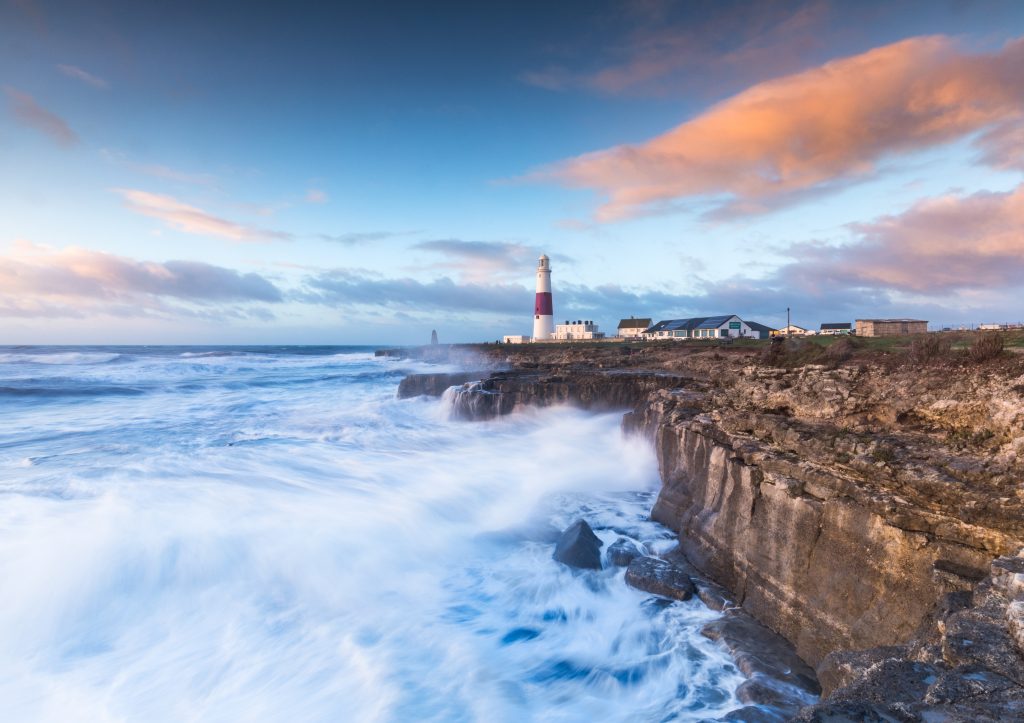 The Isle of Portland is the Jurassic Coast's most southerly point. Isolated and rugged, it's a brilliant place to explore. The island is famous for its limestone, and you can see the remains of several quarries. This is where the stone to build St Paul's cathedral came from!
At the rocky tip of the island, you can see some impressive coastal features – such as the stunning Pulpit Rock – as well as the historic red-and-white lighthouse. On windy days the waves crashing against Portland Bill are a sight to behold!
Best Dorset Attractions and Days Out
I'll keep adding to this list of Dorset days out as I come up with new ideas, but this is just to get you started…
Read my guides to the top things to do in Dorset and the best things to do in Dorset with kids for some more detailed inspiration!
Brownsea Island
Corfe Castle
Swanage Railway
Monkey World
Abbotsbury Children's Farm and Swannery
Farmer Palmers
Lulworth Castle
Tyneham
Nothe Fort
Nature Spots in Dorset England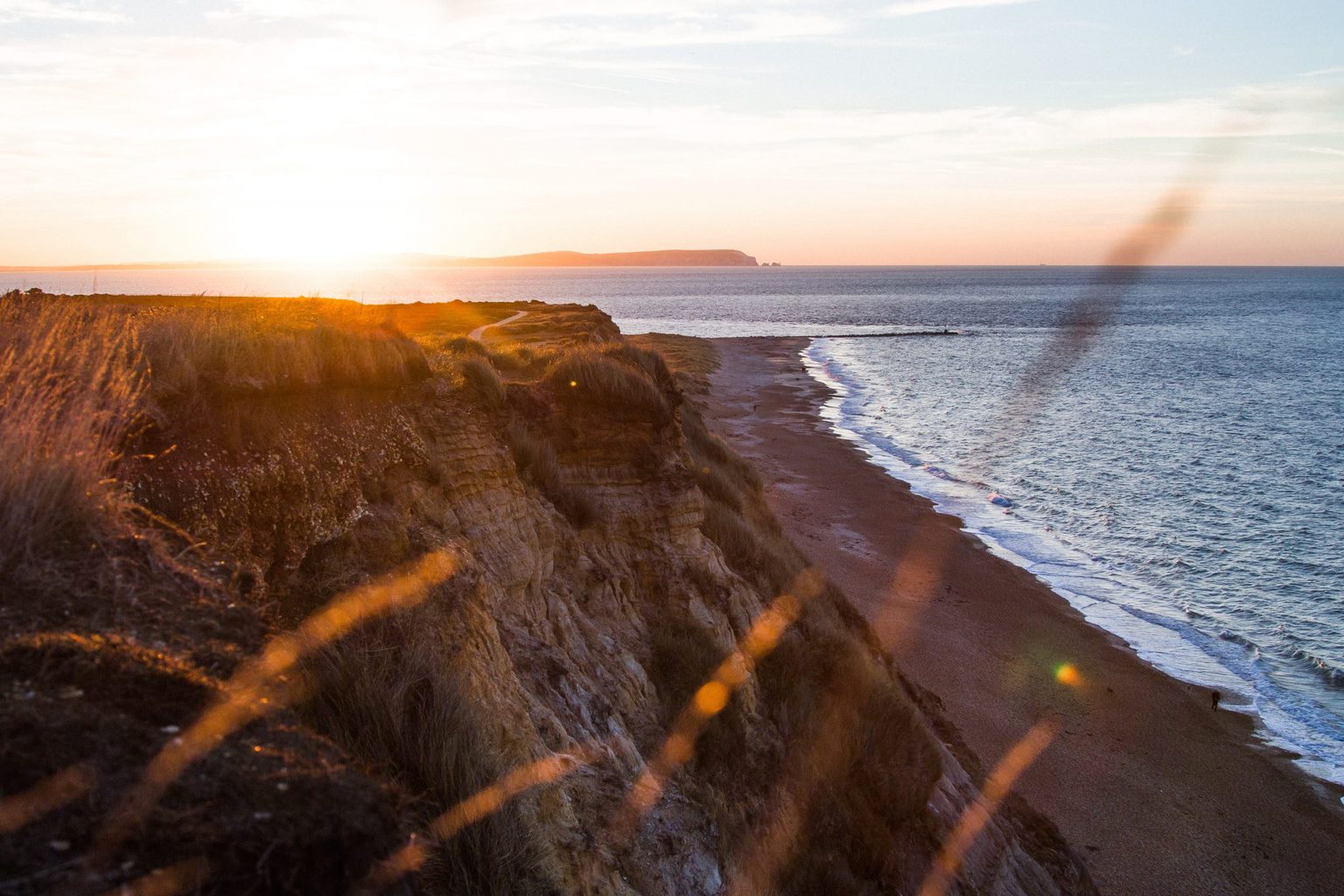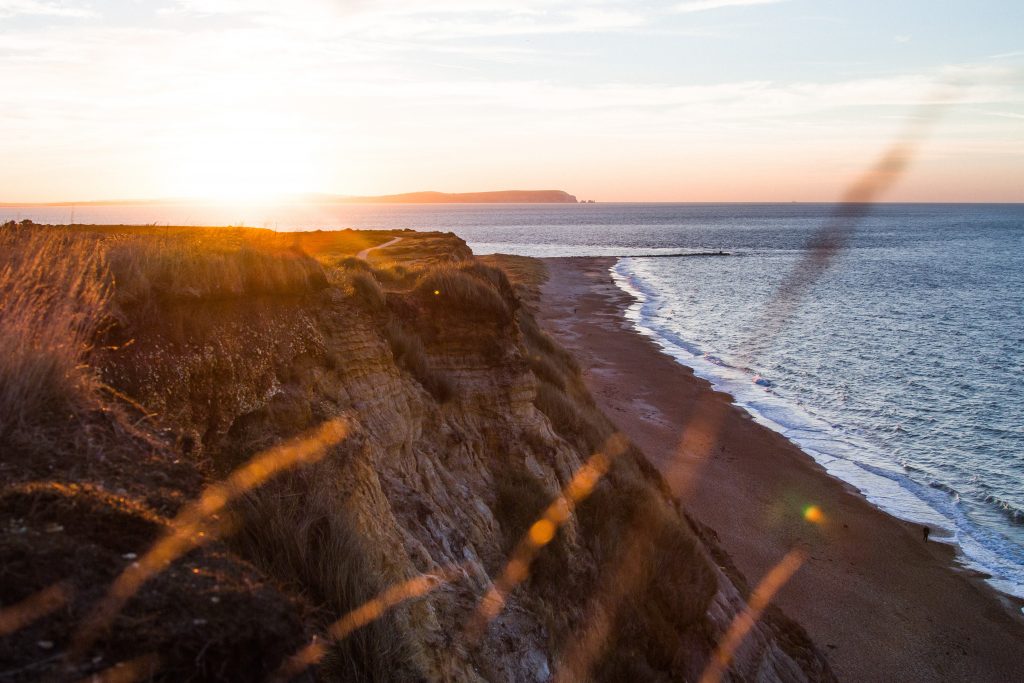 Blue Pool
Arne
Hengistbury Head
Dorset Walks
Walking Guides
I've started writing up detailed guides to some of my favourite Dorset walks – with GPS map routes and pictures of important steps to make them as clear and easy-to-follow as possible. You'll find all of them below:
Adventurous Things to do in Dorset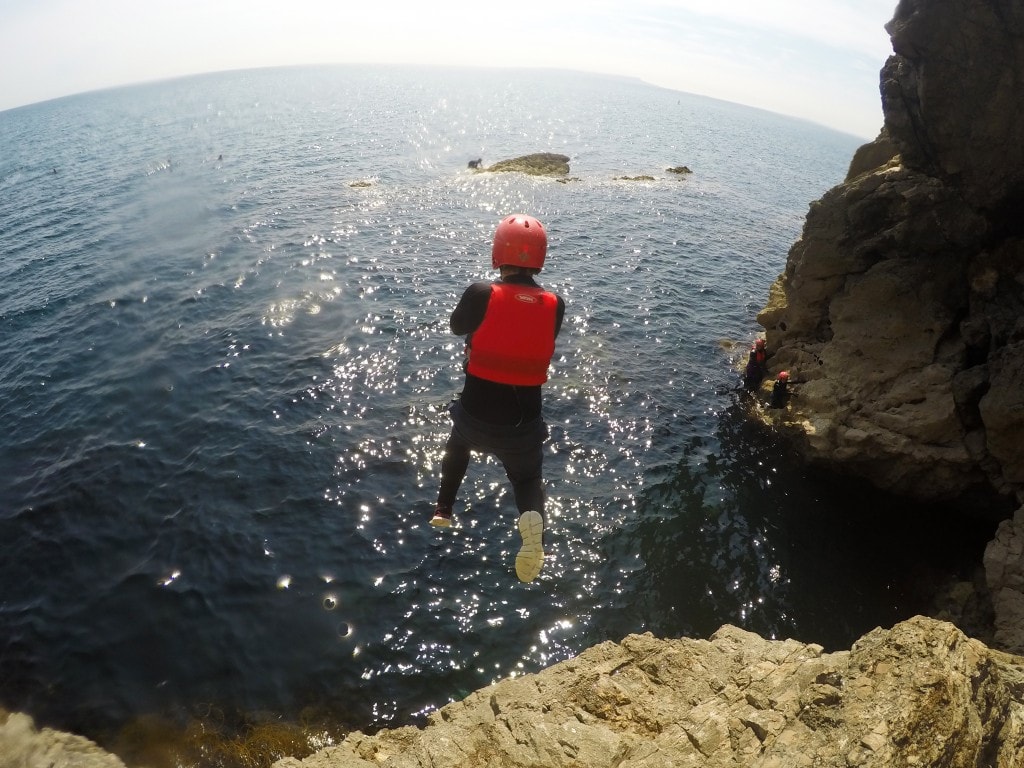 Coasteering – There are loads of coasteering companies in the area which offer a fun way to learn more about the Jurassic Coast. Climb cliffs, jump off rocks, and venture into caves as you explore the coast from a whole new perspective. I did this with Lulworth Outdoors and had an amazing time.
Climbing – The isle of Portland in Dorset is considered one of the best climbing locations in the UK. There are more than 4,000 routes to discover so it's perfect for climbers of all abilities.
Kayaking – From unusual rock formations and dramatic cliffs, to idyllic bays, it's hard to imagine a more perfect setting for a kayaking trip than Dorset England. Rent a kayak and explore solo, or book yourself onto one of the numerous kayaking tours along Dorset's Jurassic Coast.
SUP – Stand Up Paddleboarding is another of the best things to do on the Dorset Coast. Especially in the quieter bays, or the manmade Portland Harbour. Naturally protected by Portland to the south, Chesil Beach to the west and mainland Dorset to the north, the calm waters of the harbour make a fantastic spot for paddleboarding.
Dorset Water Park – set within the stunning Purbeck countryside, the Dorset Water Park is a floating obstacle course. Amazing for a day out with a difference!
Rib Boat Rides – a fast-paced RIB boat will take you on an adrenaline-pumping tour of the Jurassic Coast.
Best Places to Learn about Dorset's History
Visit one of Dorset's many castles or stately homes, learn about local history in a museum, or stroll over an ancient Iron Age Hill Fort. Dorset has a rich history and played a significant role in many important events, such as the English Civil War, the two World Wars, and the rebuilding of London after the Great Fire. Below are a few of the best places to discover Dorset's local history…
Iron Age Hill Forts
Thomas Hardy's House
Hardy's Monument
Tolpuddle Martyrs Museum
Sturminster Newton Mill
Russel Coates Museum
Kingston Lacy
Sherbourne Castle
Lyme Regis Museum (one of our favourite things to do in Lyme Regis)
Prettiest Towns and Villages in Dorset England
You'll find a full A-Z of all Dorset Towns here, breaking them down by size to help you find the perfect base for your holiday, a few nice day trips, or some lovely seaside towns for a beach day!
Below, I've listed a few of the prettiest towns and villages in the county. If you're seeking cute cottages, country pubs, and picturesque streets, look no further…
READ MORE: 11 of the Prettiest Villages in Dorset
Must-Visit Towns and Villages…
Gold Hill, Shaftesbury – regularly voted as one of the prettiest streets in Britain, Shaftesbury's Gold Hill might look familiar. It actually appeared in the famous Hovis advert of the 1970s!
Abbotsbury – one of my personal favourites, Abbotsbury is filled with pretty thatched-roof cottages. There's a lot to explore in the town, too. The famous Abbotsbury Swannery, a stunning botanical gardens, and a hands-on children's farm, as well as the ruins of the abbey that gives the village its name.
Corfe – a picturesque village of white-painted cottages, overlooked by the iconic Corfe Castle.
Cranborne – a charming village of red brick and cob houses, which featured in Thomas Hardy's novels as 'Chaseborough'. The nearby Cranborne Manor is a Grade I listed country house.
Evershot – another village that featured frequently in Hardy's literature, particularly in Tess of the d'Urbervilles. The neat little hilltop village is also the source of the River Frome. (Fun fact, the river is pronounced fr-oo-m to rhyme with room, and not to rhyme with home like you might think!).
Kimmeridge – the nearby bay is one of the loveliest spots along the coast of Dorset England. But the village of the same name is just as lovely, with attractive stone cottages. Nearby Clavell Tower is well worth a visit too.
Dorset Food and Drink
Dishes Unique to Dorset
Dorset Apple Cake – a sweet cake made with apple and cinnamon, and always served with a hearty dollop of clotted cream. Although apple cake is pretty universal, this recipe is unique to Dorset and was even named the county's "national dish".
Knob Biscuits / Dorset Knob – I can't help smirking whenever I read the name Dorset knob! These are hard, crumbly little bread dough balls, often eaten with cheese. They're definitely a unique treat to Dorset, England. We even throw an annual Knob Throwing Festival!
Dorset Blue Vinney – a strong blue cheese made following a 300-year-old family recipe!
Other Food You Must Try
Crab and Shellfish – Dorset is a coastal county, so it makes sense that our seafood is top-notch. So good, in fact, that we have an annual seafood festival, held along Weymouth's harbour. Be sure to try the local crab, especially that caught off the coast of Portland.
Fish n Chips – Obviously not exclusive to Dorset, but I truly believe we have some of the best. And it's definitely a must when at the coast!
Booze!
Dorset gin – we have several gin distilleries creating some amazing gins, including the award-winning Conker Gin. Check my list of Dorset gins here.
Dorset Breweries – if you're a beer lover, there are plenty of local breweries to explore. In this post you can find a full list of all the Dorset breweries that can be visited for tours, or to try beers in the taprooms. Below is shorter list of the more popular ones:
Badger Beers (Hall and Woodhouse), Blandford Forum
Palmers Brewery, Bridport
Dorset Piddle, Piddlehinton
Dorset Brewing Company, Dorchester
Sixpenny Brewery, Wimborne
Dorset vineyards – there are also several vineyards to be found around Dorset, England. You can discover all of them in this round-up of the best Dorset Vineyards, but here are a couple to get you started:
Langham wine Estate
Furleigh Estate
English Oak Vineyard
Bride Valley Vineyard
Books, TV, and Films set in Dorset England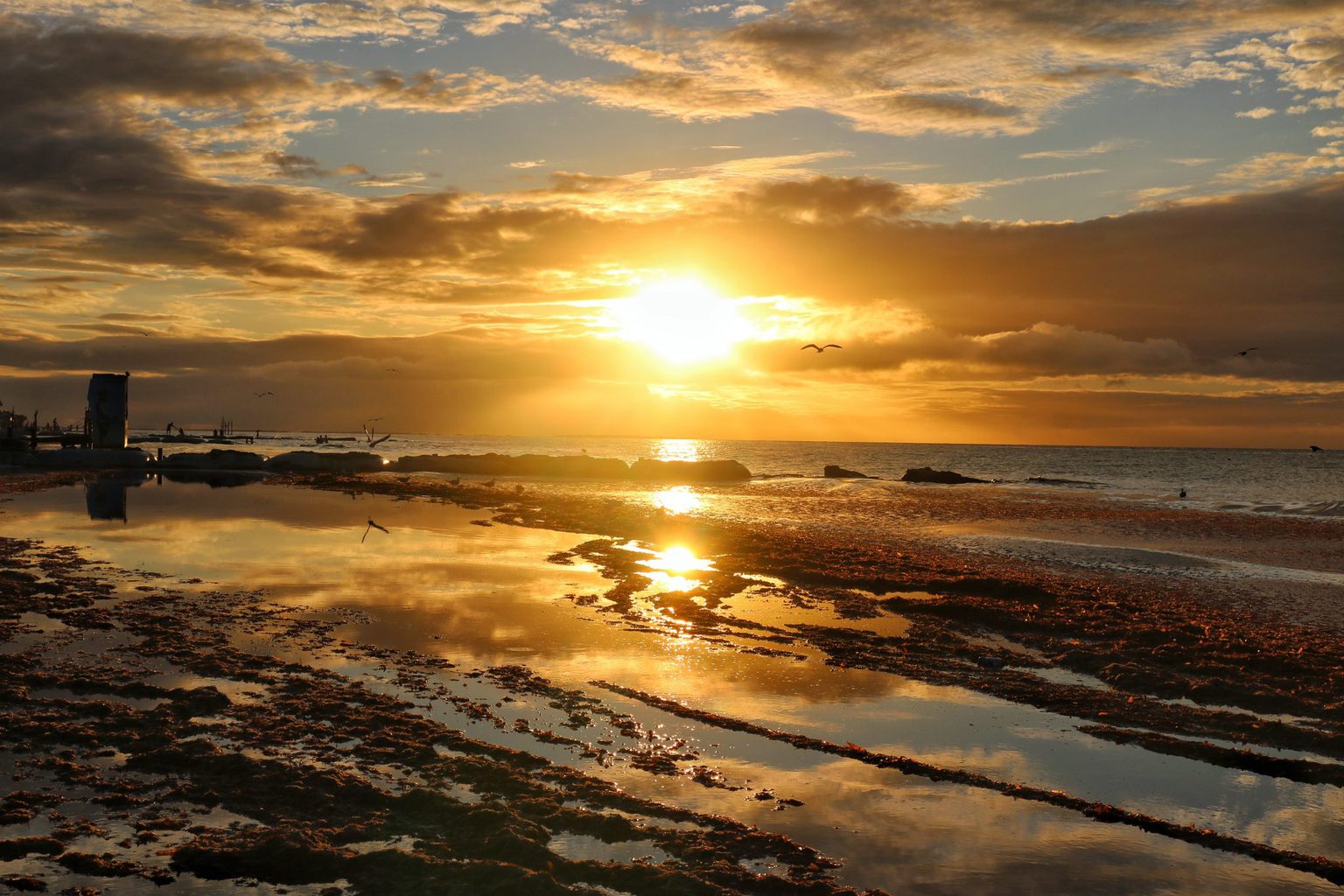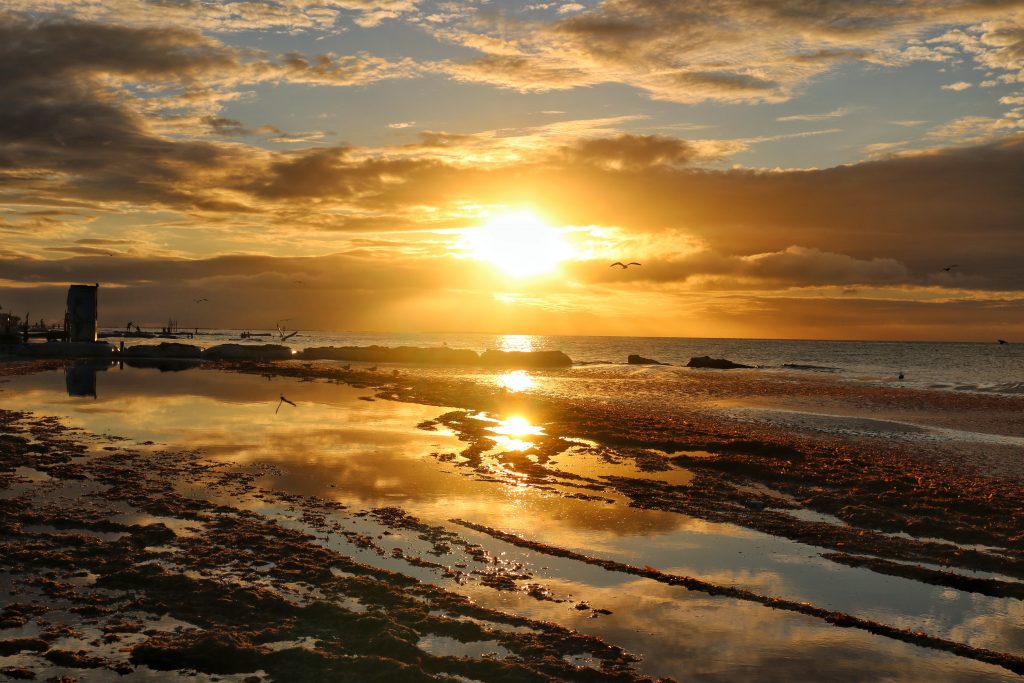 Books
FULL LIST: 16 Fiction Books set in Dorset
Moonfleet, J Meade Falkner – a swashbuckling tale of smugglers and treasure set around The Fleet. Based partly in truth!
On Chesil Beach, Ian McEwan – a short novel about the fraught relationship between an inexperienced newlywed couple on their honeymoon.
Far From the Madding Crowd, and pretty much anything else by Thomas Hardy – the author lived near Dorchester and set most of his novels in and around Dorset.
Persuasion, Jane Austen – partly set in Lyme Regis.
A Dream of Wessex, Christopher Priest – a science-fiction novel written by the author of The Prestige.
TV
Broadchurch – a serial crime drama series broadcast on ITV starring David Tennant and Olivia Colman. It was shot in and around Dorset's West Bay.
Howards End – a four-part mini-series on BBC One starring Hayley Atwell and Matthew MacFadyen. Scenes outside of London were filmed around Swanage Pier and Ballard Down.
Films
On Chesil Beach – the 2018 adaptation of Ian McEwan's novel was filmed on location on, you guessed it, Chesil Beach!
Dunkirk – Christopher Nolan's 2017 wartime epic action thriller features several Dorset locations. Most notably, Weymouth Harbour and Swanage Railway.
Far From the Madding Crowd – a 2013 movie adaption of Thomas Hardy's classic novel starring Carey Mulligan. It was filmed in a number of Dorset locations including Mapperton House, Sherborne Abbey, Castleton Church and Abbey Close.
Nanny McPhee – Durdle Door beach makes an appearance in this popular children's film!
The Boat that Rocked – Richard Curtis' film about pirate radio in the 1960s was filmed in Portland Harbour.
Pin This Post!