Some posts on this site contain affiliate links. If you book or buy something through these links, I earn a small commission (at no extra cost to you). Take a look at my privacy policy for more information.
When people think of Dorset, they tend to think of windswept cliffs and dramatic coastal walks. But while we're famous for the Jurassic Coast, there's also some seriously stunning countryside to enjoy further inland. So for something a little gentler, why not try one of these gorgeous river walks in Dorset?
There are dozens of rivers in Dorset, from the wide and dreamy Stour – the longest in the county – to little chalk streams like the one that feeds into Weymouth harbour. If you want to enjoy the peace and quiet of the countryside you just can't beat a nice, tranquil walk along the banks of a river.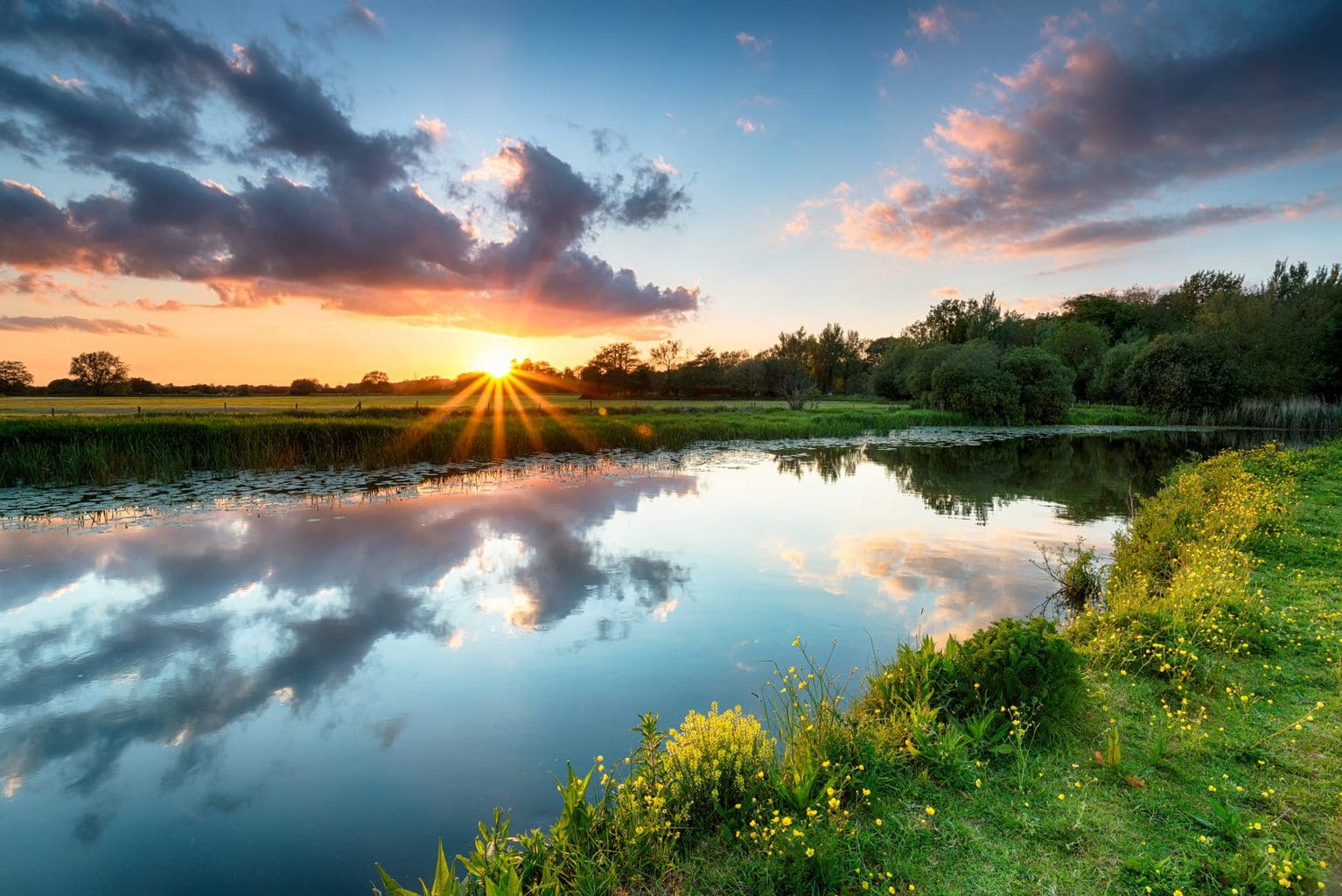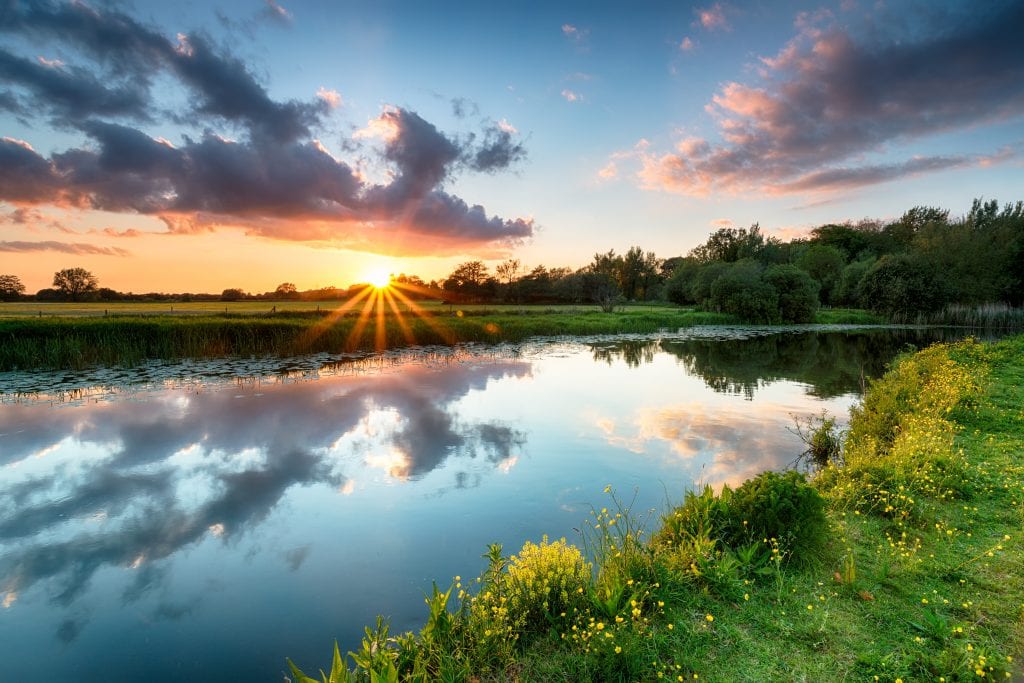 Fancy a challenge? Several long-distance walking trails, such as the Avon Valley Path, follow the whole of some of the longer rivers from source to mouth. I've included a list of these long-distance trails at the end of this post. Since many take several days to complete, you might want to break them down into smaller sections.
If you're looking for something a little less challenging, there are many shorter river walks and circular routes in Dorset. I've collected together some of the best routes in this post, along with links to a route map or leaflet to help you find your way.
If you know any other brilliant river walks please leave a comment, or get in touch to let me know, so that I can add it into the post.
Map of River Walks in Dorset
10 Short / Circular Dorset River Walks
River Lim Path, Lyme Regis to Uplyme
Distance: 1.6 miles (plus an optional 1.8-mile extension)
Start: Town Mill (DT7 3PU).
Nearest Car Park: Pay and display parking at Broad Street carpark, DT7 3QR
Signposted: the route forms part of the East Devon Way, marked by a foxglove logo.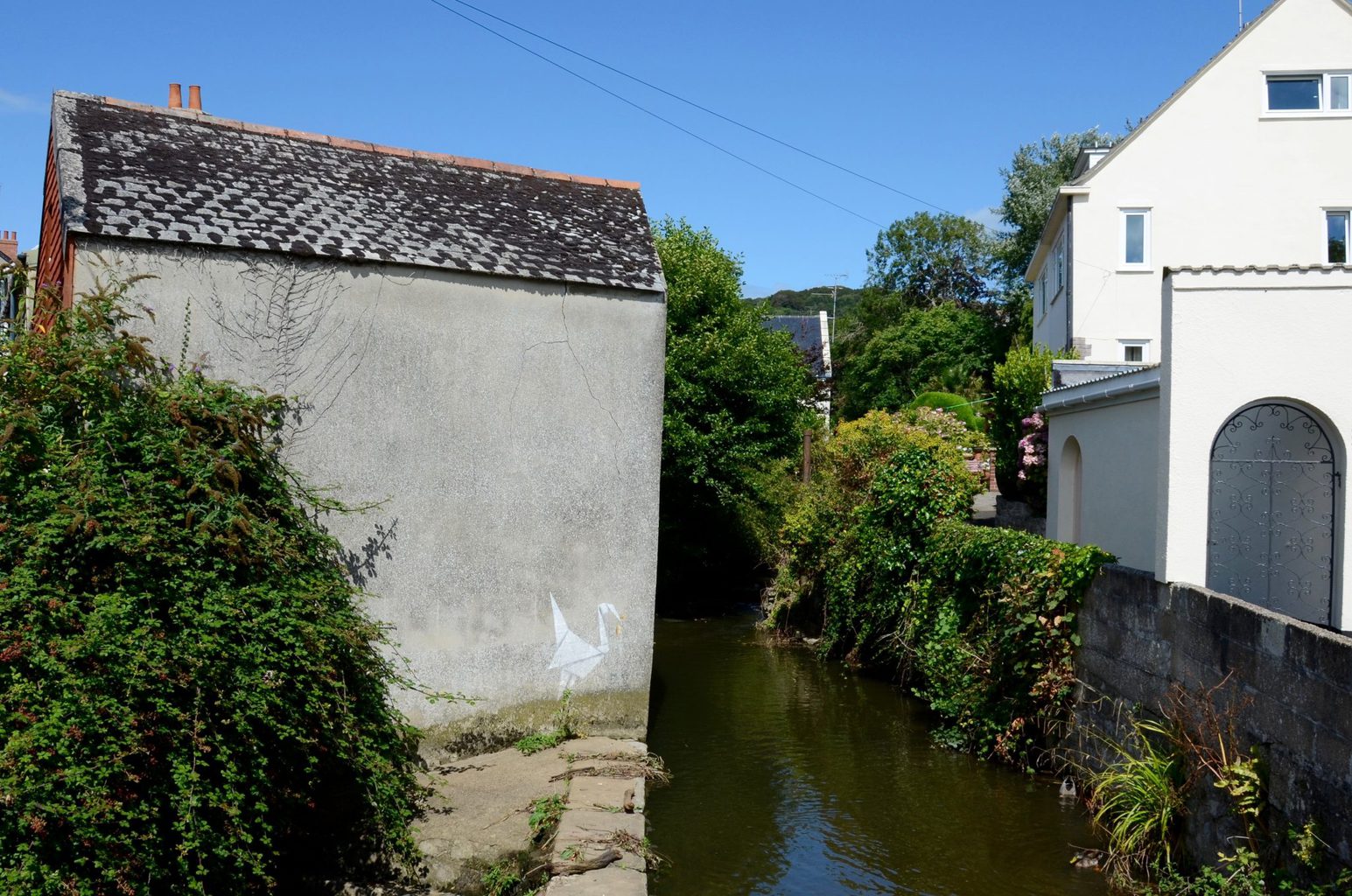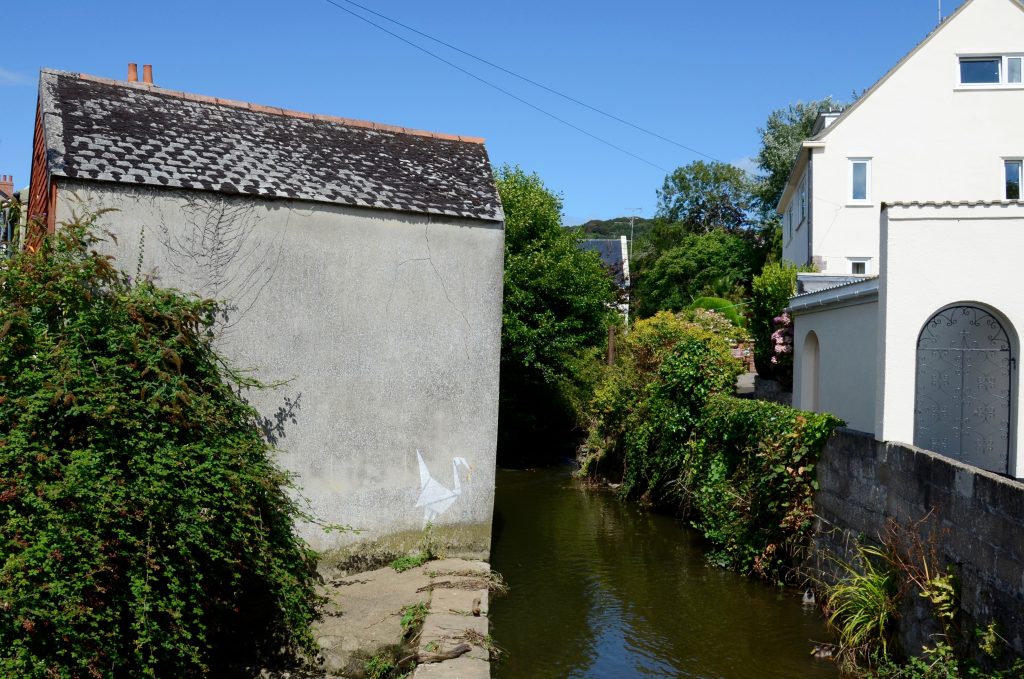 This is a nice, short walk from the famous seaside town of Lyme Regis to the picturesque village of Uplyme – and back again, if you fancy it. Following the River Lim, you'll pass by the 14th century Town Mill, a working water mill where visitors can take a tour to see flour being made. In Uplyme, you can also visit the little church, where you'll find the oldest living inhabitant of the village: a yew tree that's at least 1,000 years old!
Wareham Two Rivers Walks
Distance: Between 2¼ and 3¼ miles
Start: Wareham Quay
Nearest Car Park: The Quay (BH20 4LP)
Signposted: Two Rivers Walks' or a picture of a Lapwing bird.
One of the most popular short river walks in Dorset is actually two walks in one. The Two Rivers Walks in Wareham are two short circulars which can be done separately, or combined into one longer walk. Both routes follow footpaths and quiet roads alongside the rivers Frome and Piddle at Wareham, near Poole.
These routes are the perfect opportunity to discover Purbeck's wetlands. These are at their best from autumn to spring, supporting some 20,000 birds during winter. The wetlands are also home to water voles, otters, salmon and trout.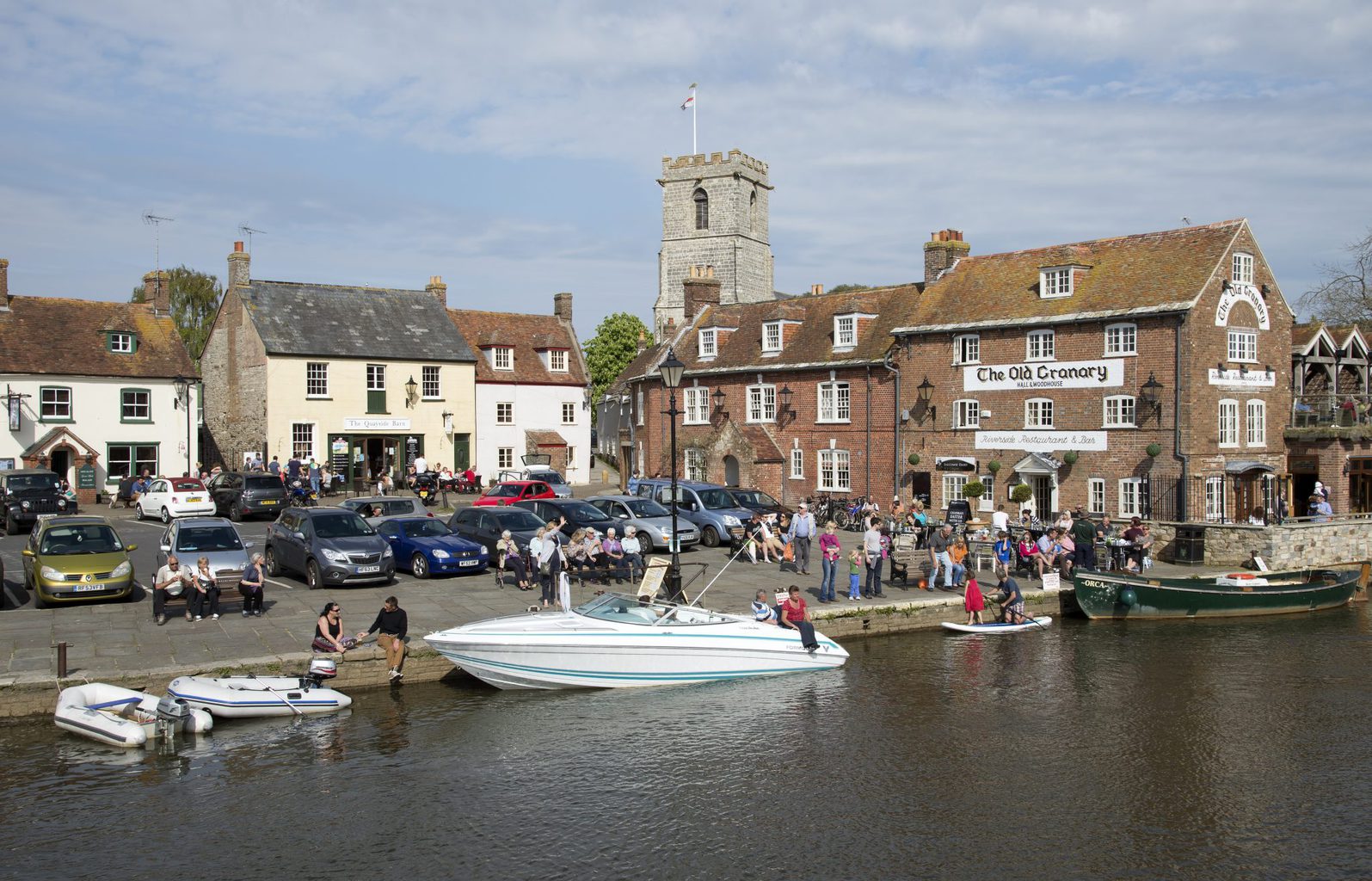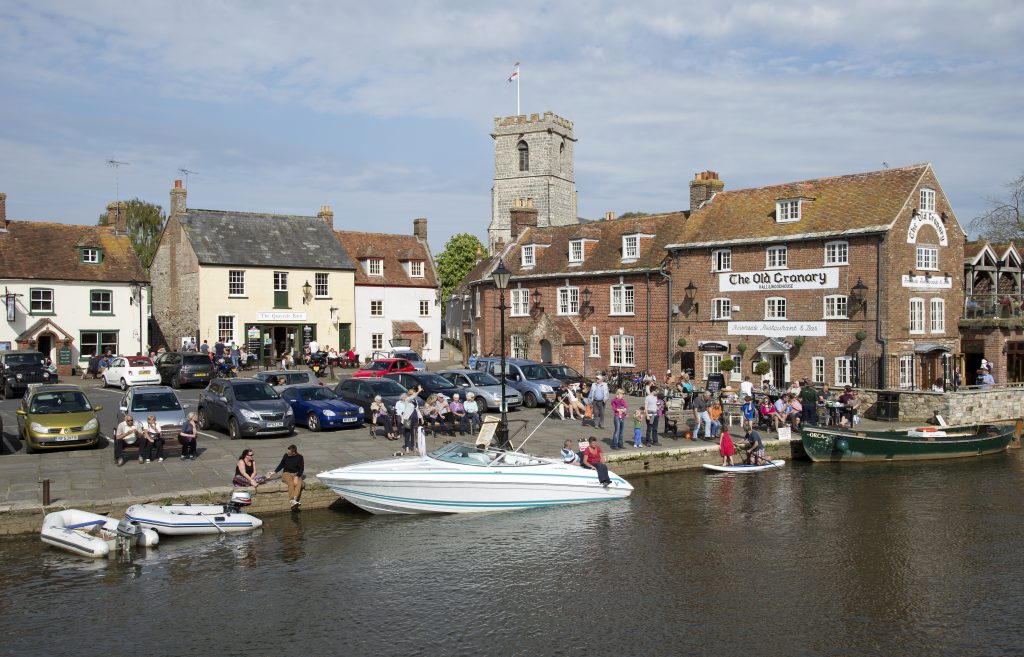 Pamphill and Eye Bridge
Distance: 3.4 miles
Start: Eye Bridge car park (BH21 4EL)
Signposted: Waymarks for Walk 7
This short circular walk from the National Trust will take you along a beautiful stretch of the River Stour, through the tiny village of Pamphill and the idyllic countryside at Cowgrove. During spring, the woods near Pamphill are one of the best places to see bluebells in Dorset (mid-April to late May).
White Mill and Shapwick, Kingston Lacy
Distance: 4 miles
Start: Car park opposite White Mill (BH21 4BX)
Signposted: Waymarks for Walk 8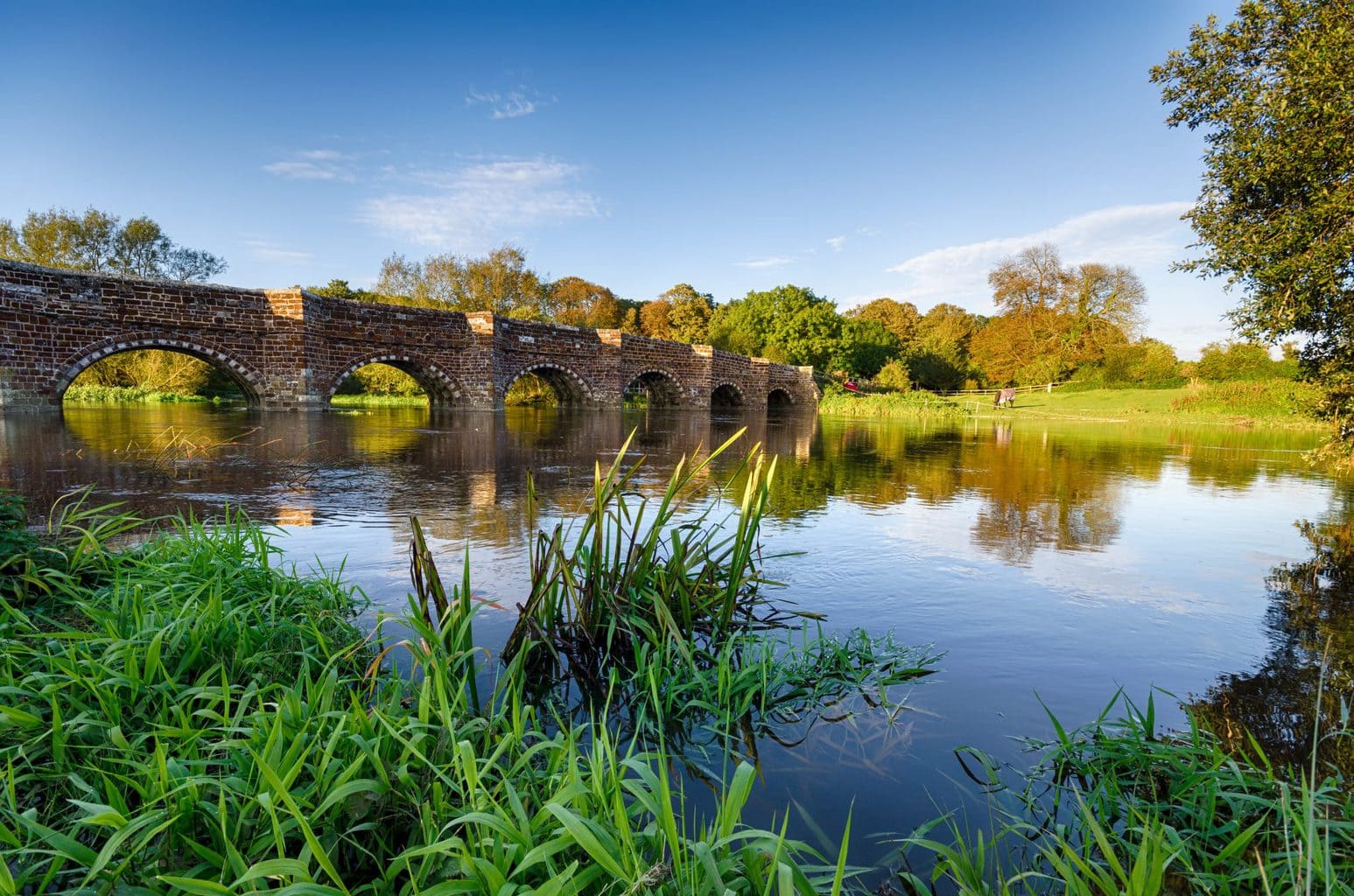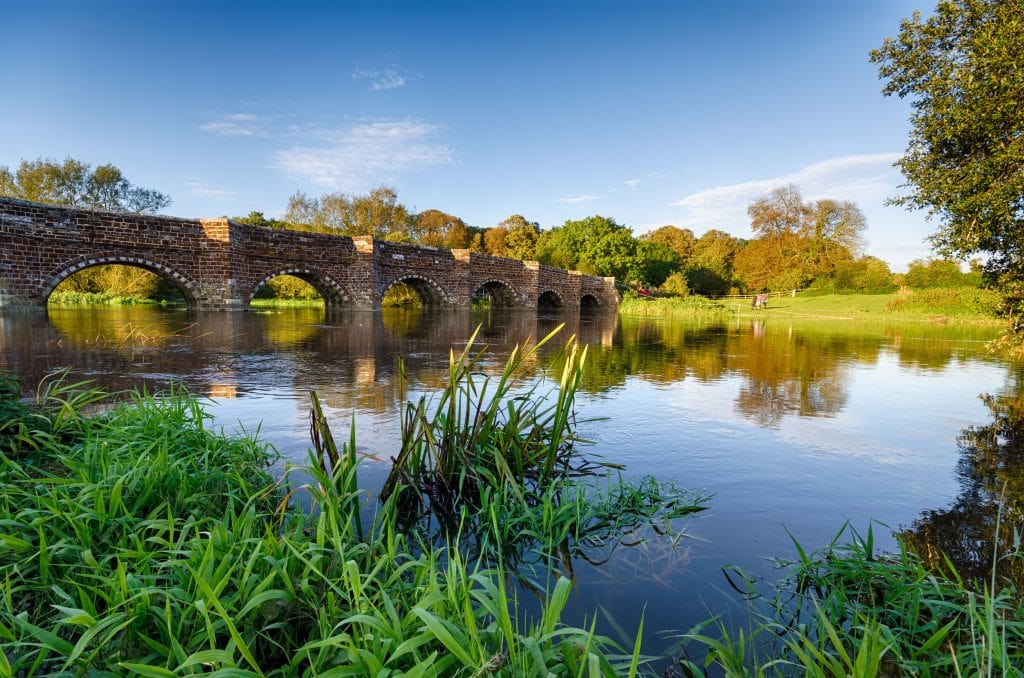 Starting beside an 18th-century mill, this is a moderate circular walk along the banks of the River Stour to the picturesque village of Shapwick. You'll pass through water meadows, over rough pasture, and along an unspoilt stretch of the Stour which is teeming with birdlife. Call in at the Anchor Inn in Shapwick if you need a break before the walk back to White Mill.
Sturminster Newton to Hinton St Mary
Distance: 4.5 miles
Start: Station Road car park (DT10 1BD)
Signposted: No
There are many scenic Dorset river walks along the Stour around Sturminster Newton. The local council has created several leaflets outlining some of the best circular routes.
"Walkabout 7" is a scenic walk along the valley of the Stour, leading to the historic village of Hinton St Mary. A Roman mosaic discovered in a field here is now on show at the British Museum, and the village is also home to the remains of a Roman Villa. After following the Stour Valley Way, you'll leave the river and pass through Twinwood Coppice, a pretty wooded area which has a carpet of bluebells and wild garlic in late spring.
River Wey, Upwey to Weymouth
Distance: 5 miles
Start: Upwey Wishing Well
Nearest Car Park: St Laurence's Church, DT3 4LG
Signposted: No.
The River Wey gives its name to the seaside town of Weymouth, because the colourful fishing harbour here sits on the mouth of the river. It's possible to walk the length of the river, starting from the beautiful village of Upwey. Set off from the water gardens and historic stone wishing well at the Upwey Wishing Well Tearooms. You can follow the red route on the map linked above all the way to the Radipole Lake RSPB nature reserve at Weymouth Harbour, home to a rich array of birdlife.
River Stour, Cutt Mill and Stalbridge Lane
Distance: 5.5 miles
Start: Station Road car park (DT10 1BD)
Signposted: No (although half of the route follows the Stour Valley Way)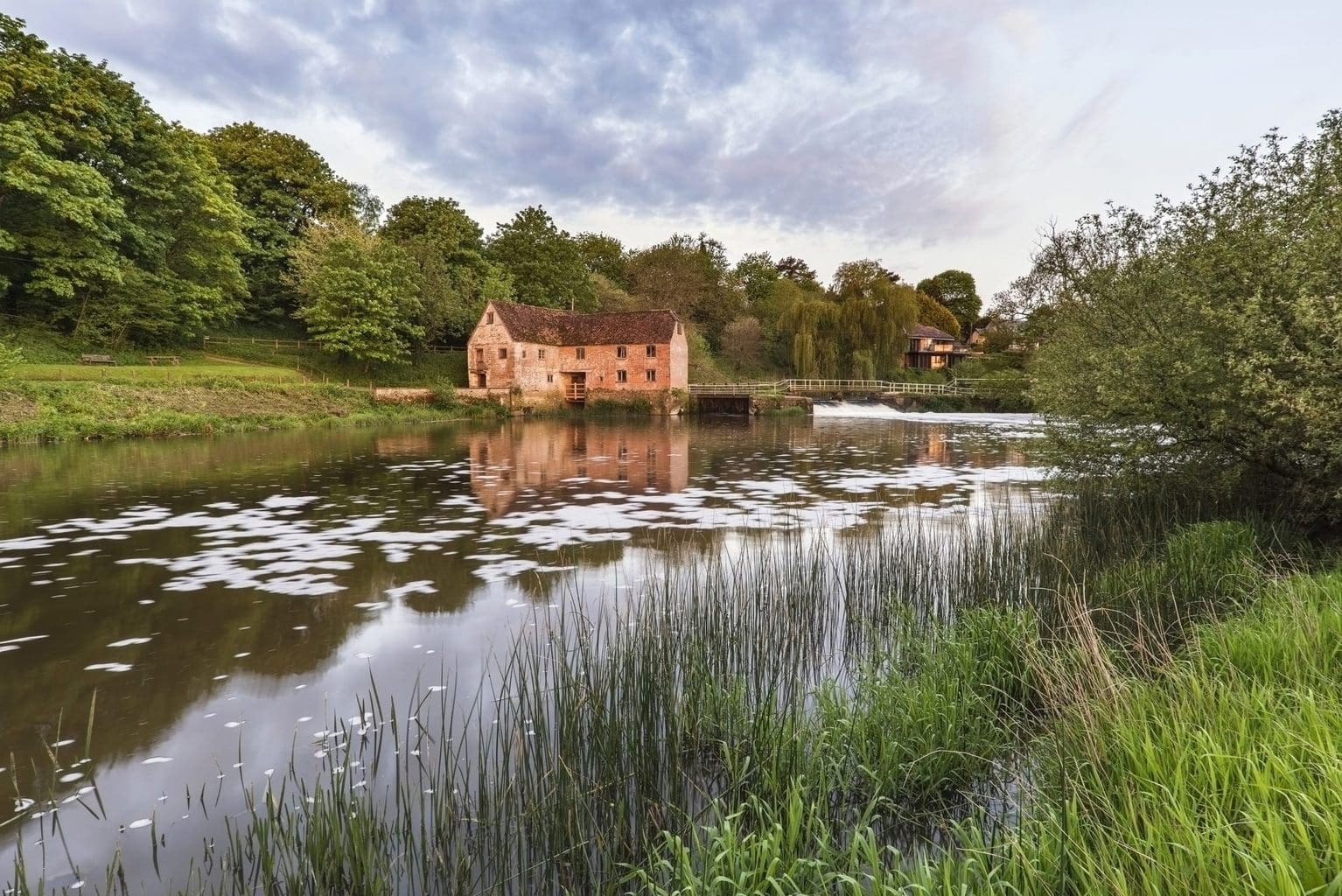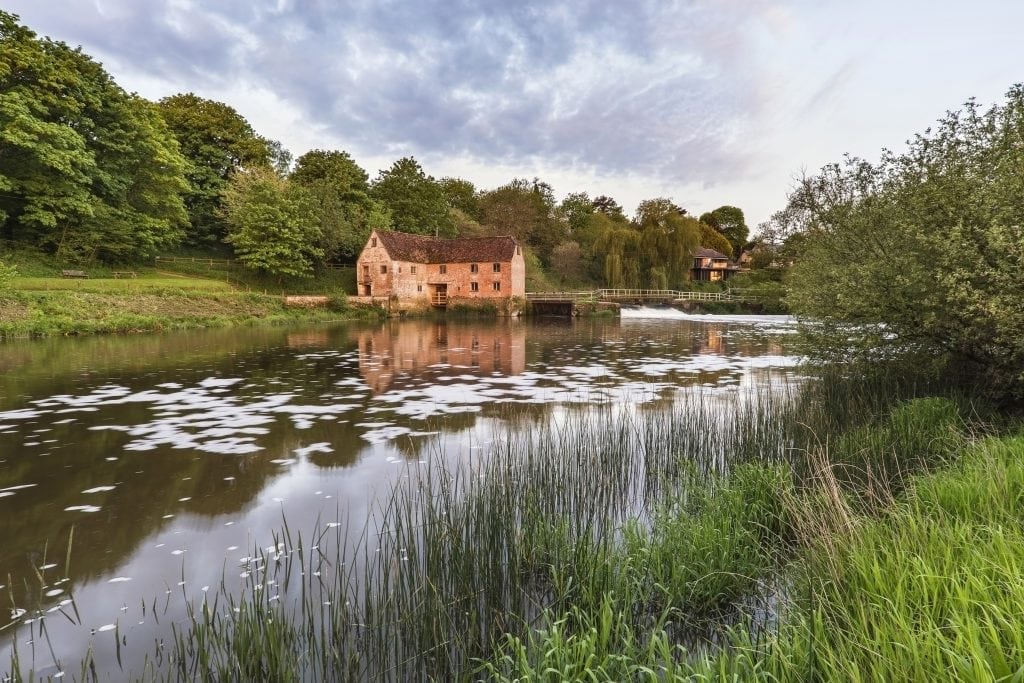 Another of the circular Sturminster "Walkabouts", this route follows the Stour valley to the tranquil ruins of Cutt Mill. The walk returns along the ancient Stalbridge Lane, home to a huge oak tree known locally as the Barnes Oak – named after local poet William Barnes. For a slightly longer walk, you can walk right to the end of Stalbridge Lane to reach Sturminster Newton Mill, an iconic red-brick building home to a small museum and a still-working watermill.
Throop Mill
Distance: 5 miles
Start: Car park at Throop Mill (find directions here)
Signposted: No (but partly follows the Stour Valley Way)
Throop Mill is a disused watermill lying on the River Stour on the outskirts of Bournemouth. Although closed since the mill stopped operating in the 1970s, the grounds are well maintained and the setting is very pretty and peaceful. The waymarked Stour Valley Way footpath will lead you west through the Stour Valley Nature Reserve to Muscliffe and Ensbury. The reserve is rich with bird and wildlife, including colourful kingfishers and playful otters, so keep your eyes peeled!
Cerne Valley Circular
Distance: 11 miles
Start: Dorchester Tourist Information Centre
Nearest Car Park: Trinity Street Car Park, DT1 1TU
Signposted: Cerne Valley Trail Motif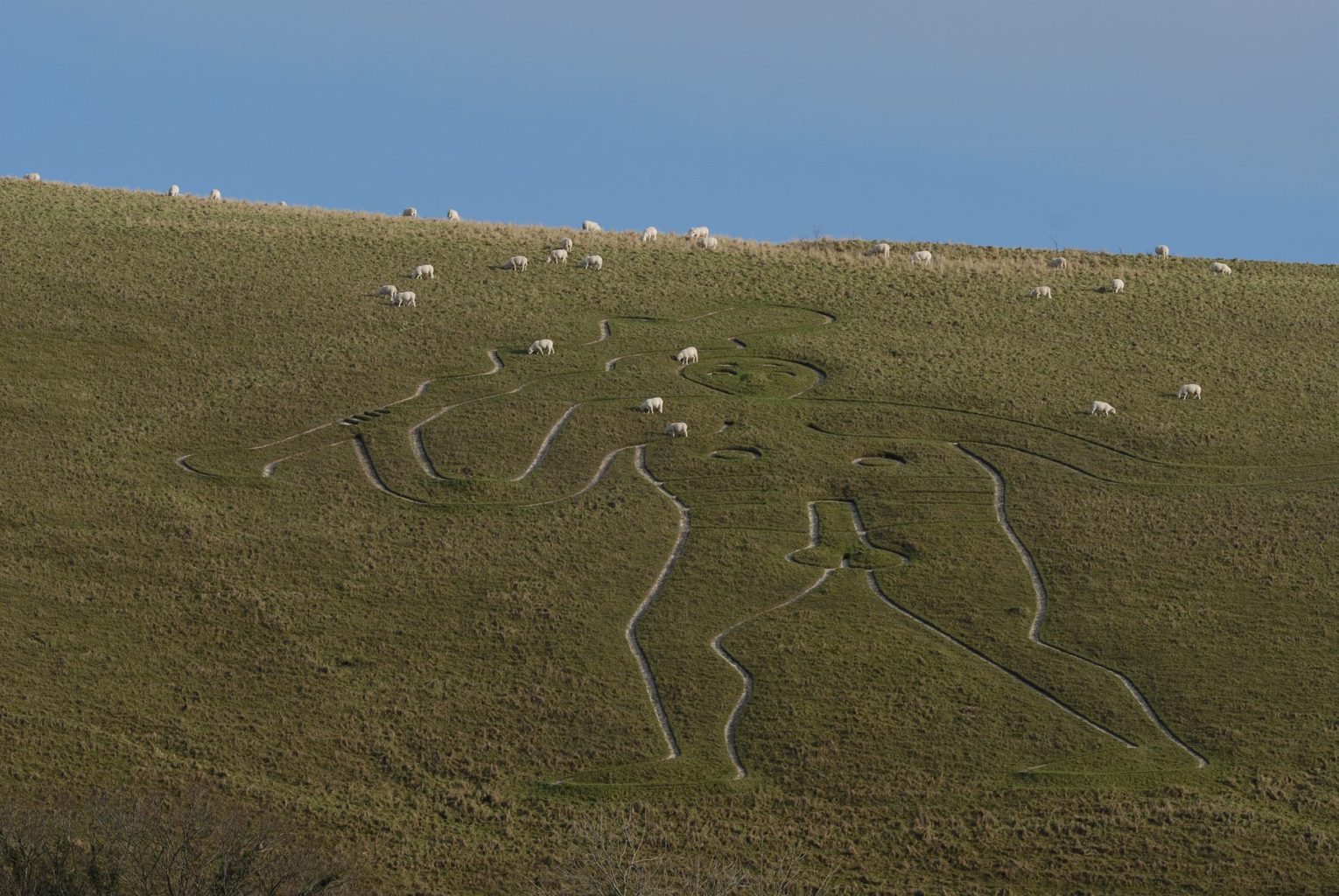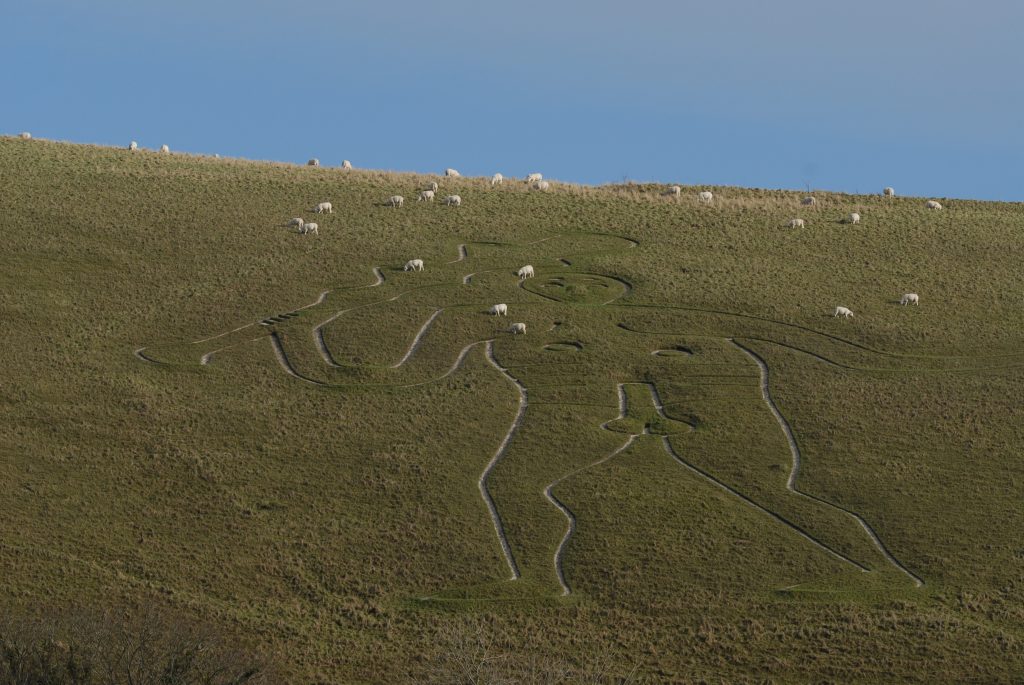 The Cerne Valley Circular is an 11-mile-long adaptation of the long-distance Cerne Valley Trail. Setting off from the historic county town of Dorchester, the walk will take you on a wide loop through the scenic Cerne Valley. Follow the River Cerne through pretty villages such as Charminster and Godmanstone, before looping back through rich farmland.
This route won't take you as far as the famous Cerne Abbas Giant (photo above), though. If you want a glimpse of the hillside caveman in all his wonderous immodesty, you can instead follow the river all the way to Cerne Abbas, before taking the bus back.
SHORT VERSION: Check out my 2.8-mile circular around Cerne Abbas (with up-close views of the giant)
Brit Valley Way
Distance: 11 miles
Start: Chedington
End: West Bay
Signposted: Green circle with a red dragonfly.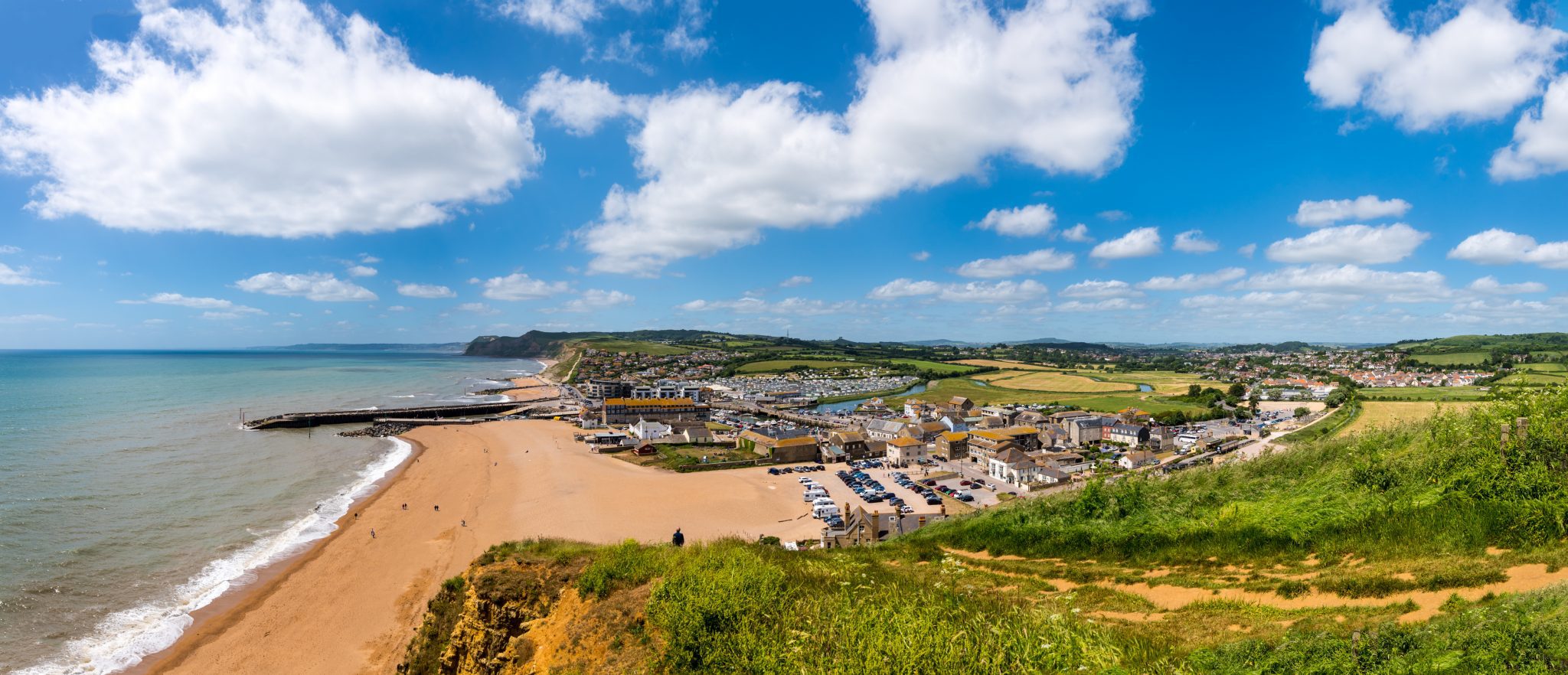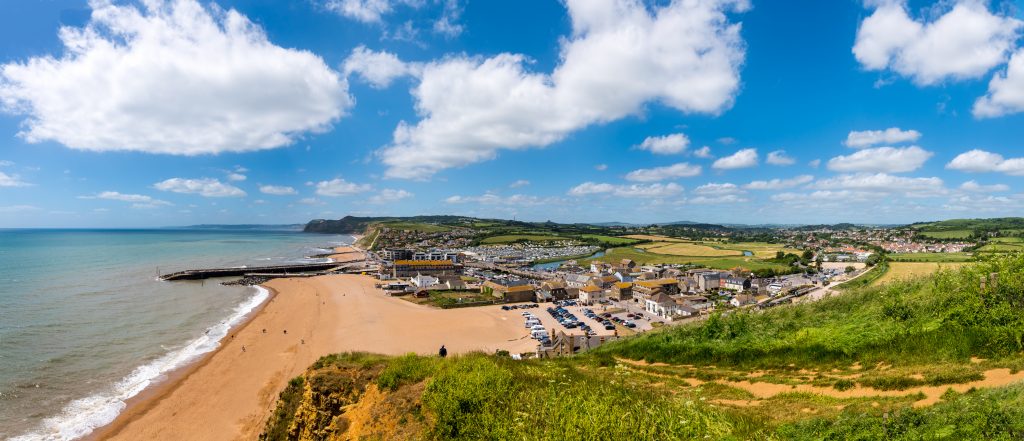 The River Brit rises just to the north of Beaminster, at the village of Chedington, and flows down into Bridport before meeting the sea at West Bay. Along the way, you'll pass through several pretty villages, as well as a diverse range of landscapes. From floodplains and grassy pastures to the dramatic cliffs of the Jurassic Coast, there's a lot to enjoy on this 11-mile walk.
You can walk the full length of the river in a few hours, but if you prefer to break it down, there are 6 shorter circulars which take in parts of the route. These are marked with pink circular signs featuring an arrow with the logo of that particular route (for example, a leaf for the woodland circular at Wynyards Gap).
4 Long Distance River Walks in Dorset
Stour Valley Way
Distance: 64 miles
Start: Stourhead, Wiltshire
End: Hengistbury Head, Bournemouth, Dorset
Signposted: Name and Kingfisher Logo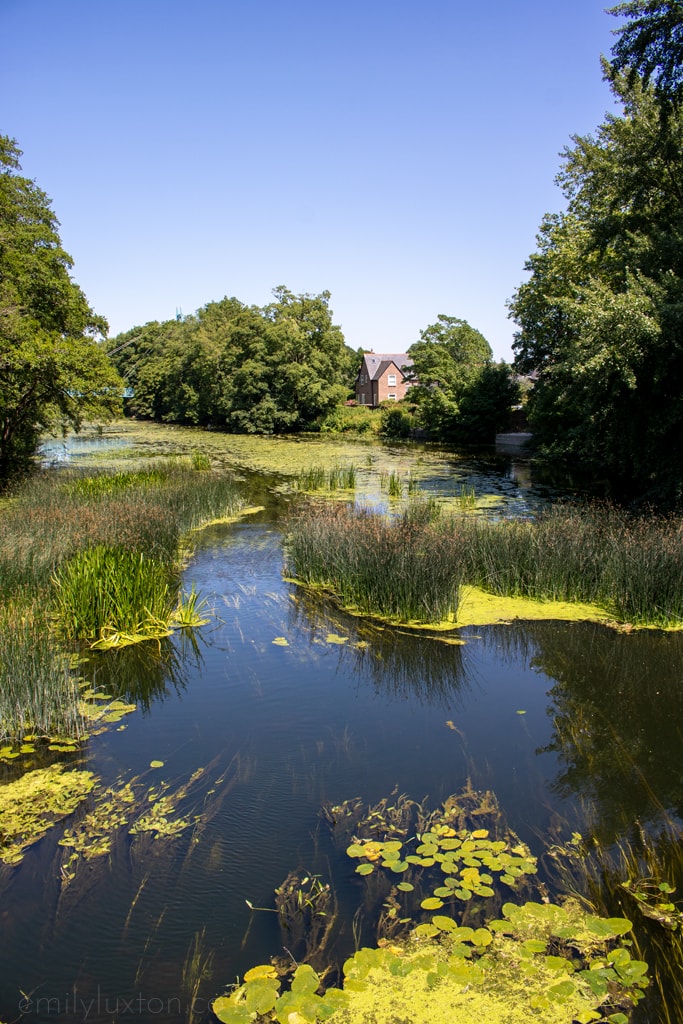 Perhaps the best known of the long-distance Dorset river walks is the Stour Valley Way. At 64 miles long, this trail could take 3-5 days to complete, so it can be done in several sections or as one long multi-day hike.
The Way starts at Stourhead, the source of the river, in the village of Stourton in Wiltshire, before meandering down into Dorset. Stourhead itself is a stunning historic estate, now owned by the National Trust, and well worth a visit in its own right.
From Stourhead, the trail runs across Dorset through the charming towns of Sturminster Newton and Blandford Forum – as well as numerous pretty villages – on its way to Christchurch Harbour. Here, the Stour Valley Way ends at the impressive headland and white sandy beaches of Hengistbury Head.
If you want to break the walk down into shorter sections, there are several outlined on the Stour Valley Way website, linked above.
Avon Valley Path
Distance: 34 miles
Start: Salisbury Cathedral, Wiltshire
End: Christchurch, Dorset
Signposted: Logo of a bridge on a green arrow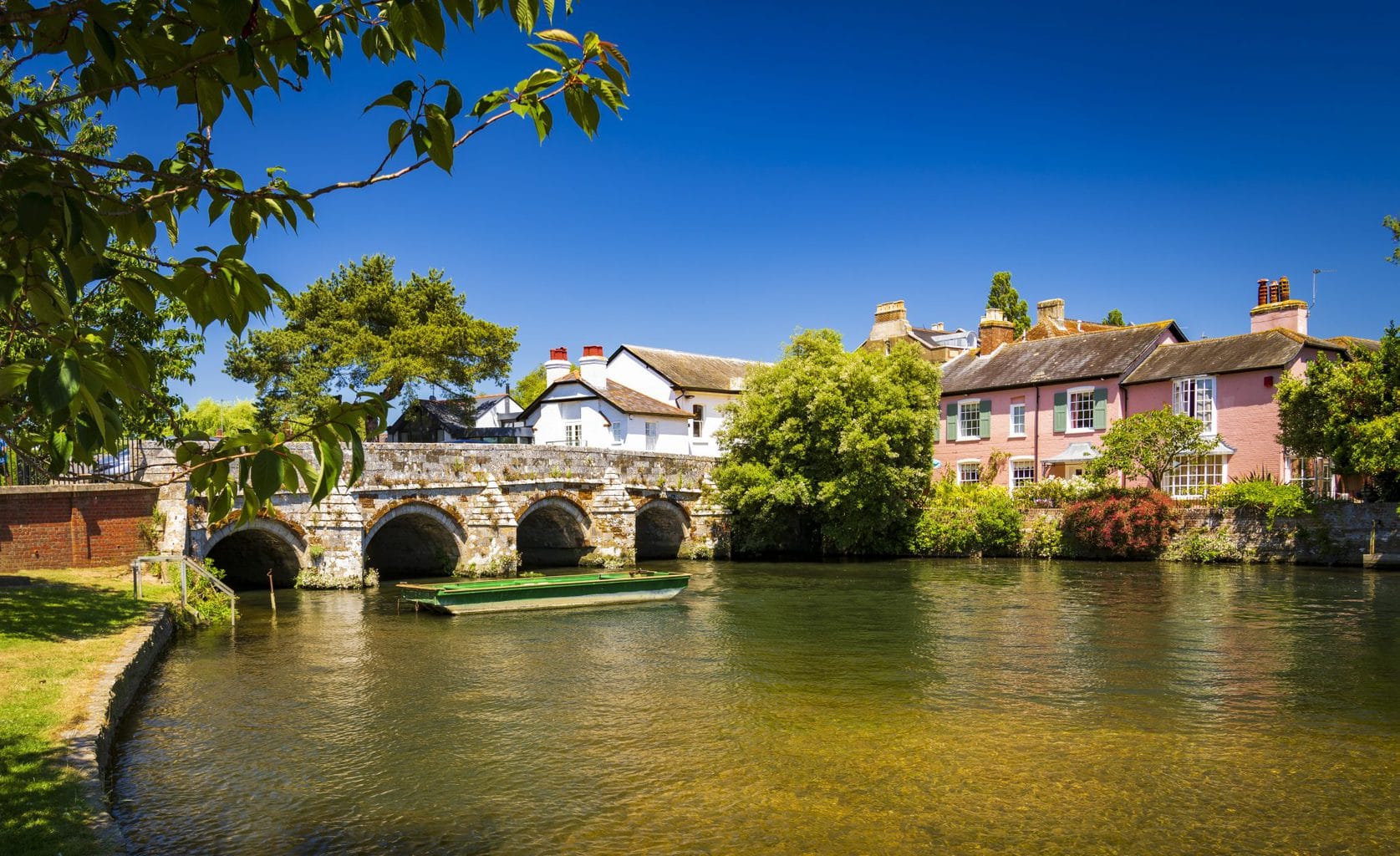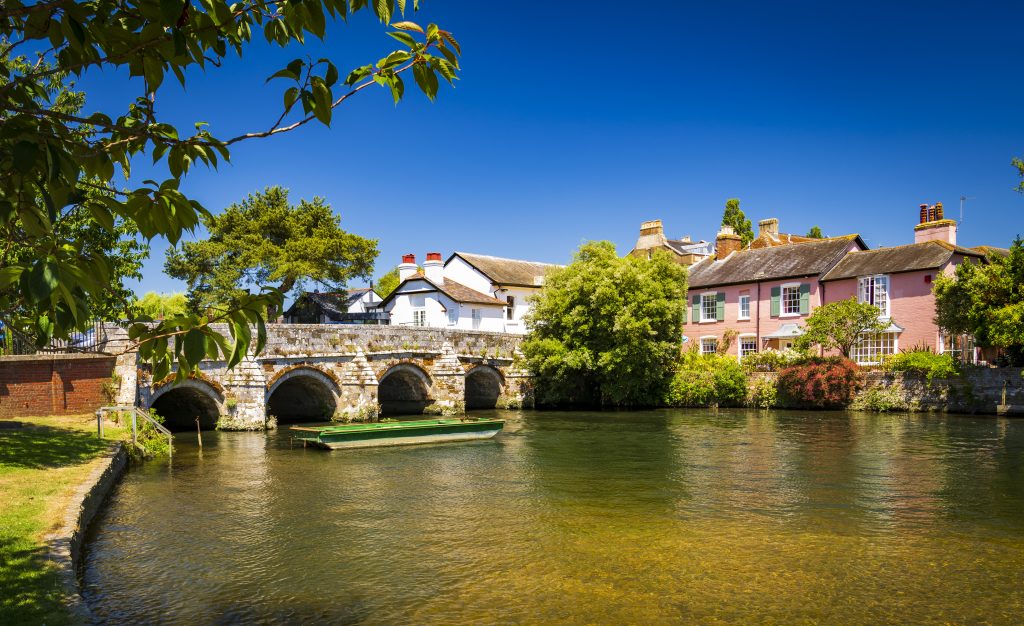 The second-longest of Dorset's river walks is the Avon Valley Path. Setting off from Salisbury Cathedral in Wiltshire, the path runs due south first through Hampshire, then Dorset, on its way to meet the sea at Christchurch Harbour.
"Avon" simply means river in Celtic British, so there are several River Avons across England. This one is the Salisbury Avon, which actually begins in two places (one spot near Devizes and the other just east of Pewsey), before converging at the Wiltshire village of Upavon. The historic cathedral city of Salisbury is where all the significant tributaries of the Avon converge, so it seems like a fitting start point for the river walk.
You can divide the walk into five sections, or tackle it as a long-distance hike over 3-5 days. If you prefer, you could simply walk the Dorset section from Ringwood to Christchurch. This 10-mile section should take 4.5-6 hours, and passes through some lovely Dorset villages and countryside.
Cerne Valley Way
Distance: 26 miles
Start: Dorchester
End: Dorchester (Circular Trail)
Signposted: Cerne Valley Trail Motif – a round white disc with a buzzard in the centre.
The Cerne Valley Way is a long circular walk between Dorchester and Cerne Abbas. Following the flow of the River Cerne through a picturesque valley, the route passes through several pretty hamlets and villages, including Minterne Magna, Godmanstone, and Charminster.
Cerne Abbas and the surrounding valley are known for the infamous Cerne Giant, an enormous chalk carving of a nude giant with a prominent erection. Although often thought to be ancient, the earliest mention of the Giant dates from the 17th century, and no one is sure of its origins. Many experts now think the carving may in fact be a 17th-century prank or political satire.
At 26 miles, the Cerne Valley Way could be done as a full-day hike. If you prefer to break it down, there's a shorter trail mentioned earlier in this post. Or you could simply hike along the river as far as Cerne Abbas or Minterne Magna, then take the bus back. The X11from Southwest Coaches runs six times a day, stopping at the New Inn in Cerne Abbas and St Andrews Church in Minterne Magna.
Frome Valley Trail
Distance: 16.1 miles (plans to extend it to 43.5 miles)
Start: Evershot
End: Dorchester
Signposted: Arrowhead disc logo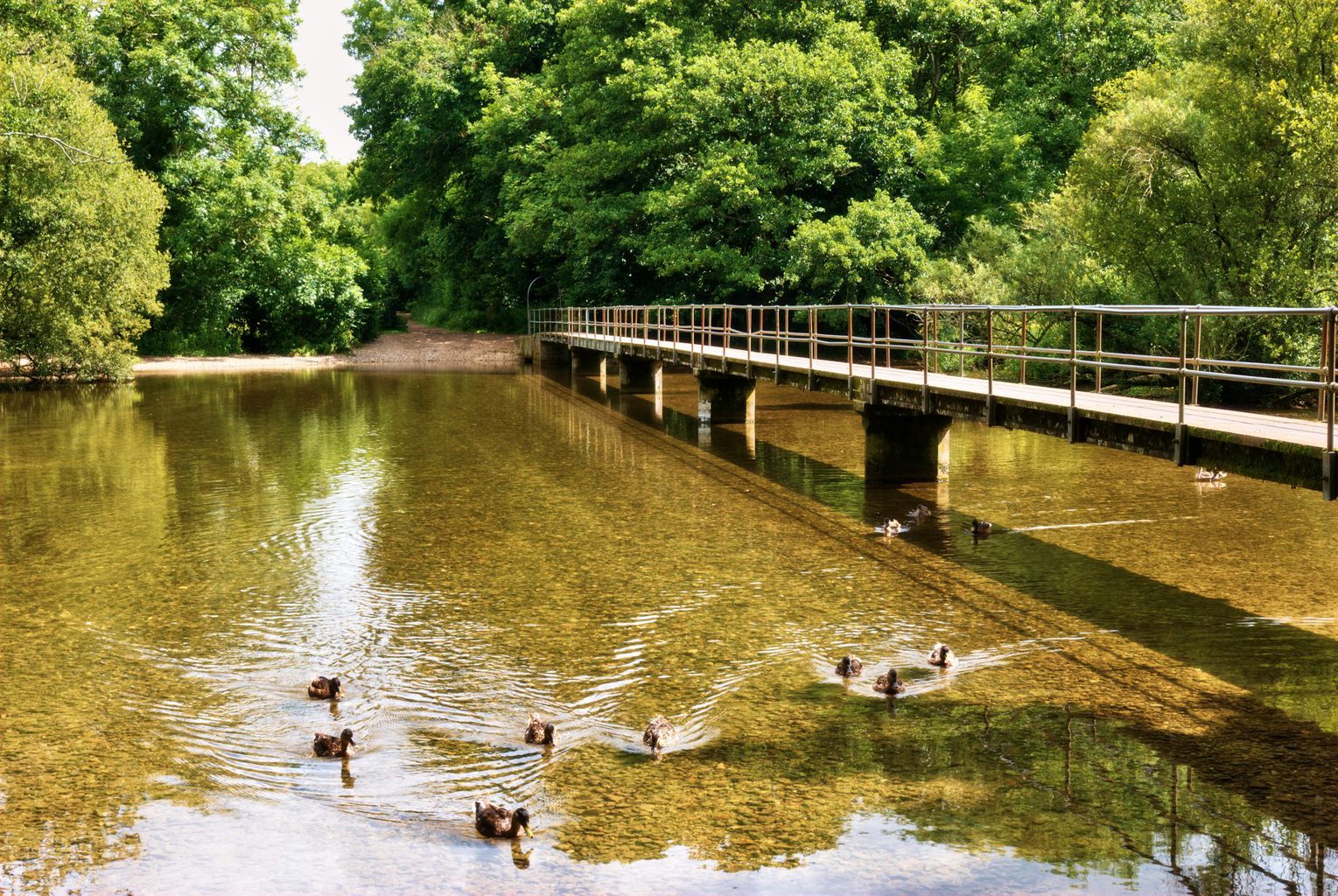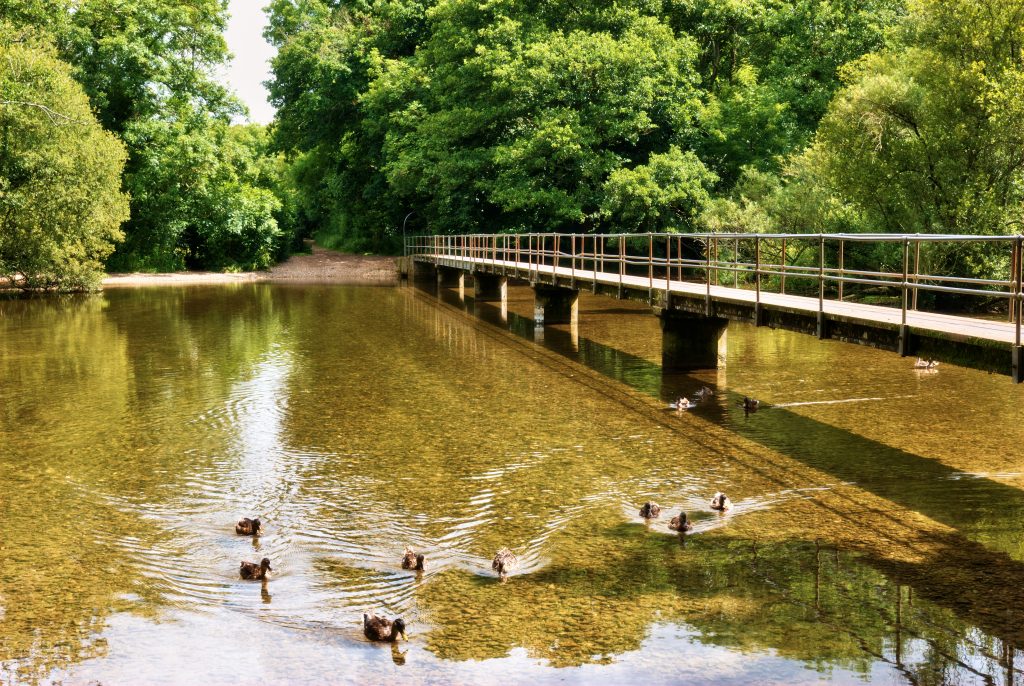 The Frome Valley Trail is a newer addition to Dorset's long-distance river walks, with plans to make it into a much longer trail. Currently, it follows the river Frome (pronounced Froom, to rhyme with broom) from its source in the village of Evershot, as far as Dorchester.
Eventually, the route is planned to follow the river all the way to its mouth, where it flows into Poole Harbour via the Wareham Channel after converging with the River Piddle. Significant Bronze Age and Roman discoveries have been made all along the river, so there's a lot of history to read about as you walk – hence the arrowhead logo. But there's also plenty of stunning wildlife to spot along the chalk river and surrounding downlands.
At 16 miles, stage one of the From Valley Trail can easily be done as a day hike. However, there is no direct bus service running from Dorchester to Evershot so you may need two cars, or to take a taxi, if you don't want to have to walk the route in reverse again.
If you know any other amazing river walks in Dorset, please scroll down to leave a comment! I'd love to add them into this post.
Pin this Post