Some posts on this site contain affiliate links. If you book or buy something through these links, I earn a small commission (at no extra cost to you). Take a look at my privacy policy for more information.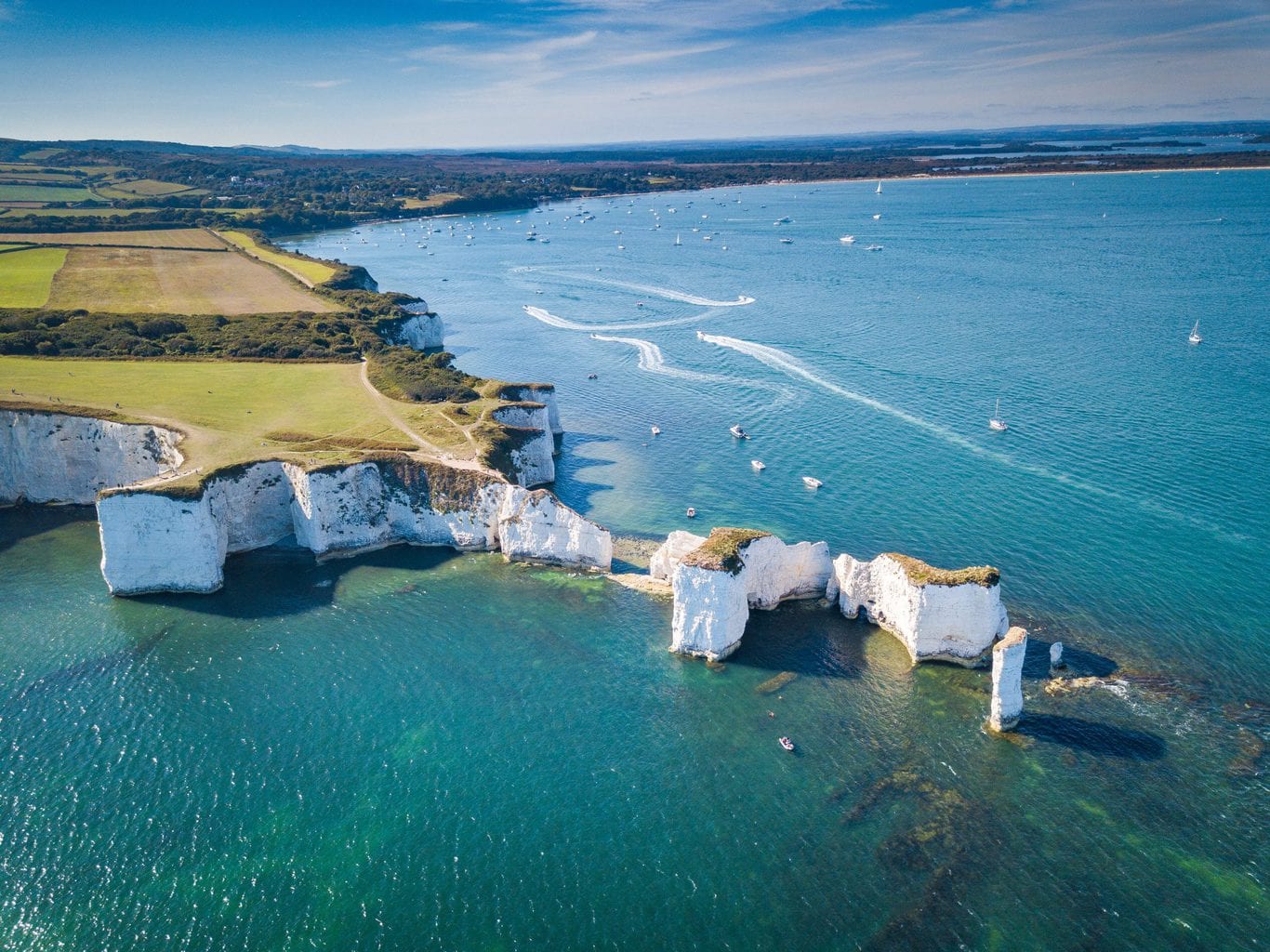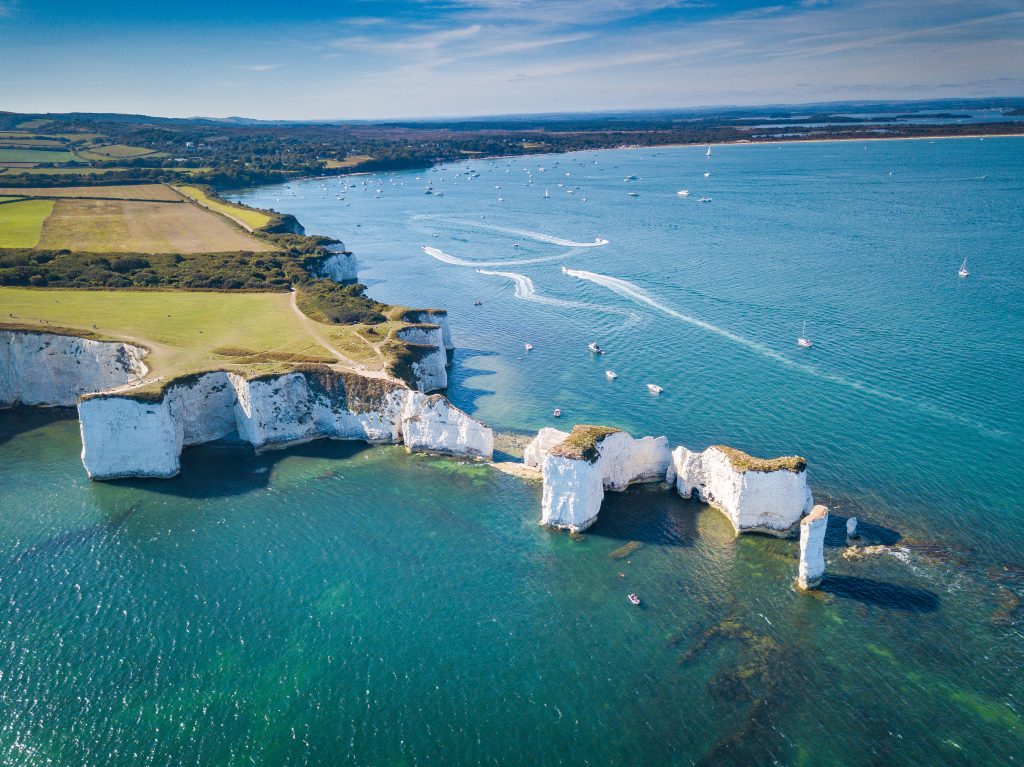 Old Harry Rocks are a series of chalk stacks extending into the sea from the Isle of Purbeck in Dorset, near Bournemouth.
Marking the easternmost end of the famous Jurassic Coast, these stunning rock stacks are a must-see when you visit Dorset! You can visit them from Studland via a short, easy walk along the coast path.
This guide contains everything you need to know about how to visit Old Harry Rocks while you're in Dorset. How to get there, how to walk to the headland above the rocks, where to get the best view of them, and much more. And it's all written by a born-and-bred local!
This is such a cool spot to visit, and it's one of my personal favourites. So I hope you find this guide helpful. Feel free to ask if you have any questions…
What are Old Harry Rocks?
Old Harry Rocks are a group of rock formations leading away into the sea from Handfast Point on the Isle of Purbeck. There's a larger rock segment with a small arch, a tall chalk stack, and a stump.
The stacks have around 100 million years of history behind them. The chalk was formed from plankton skeletons during the Cretaceous period, then slowly eroded over time, leaving behind these unique formations.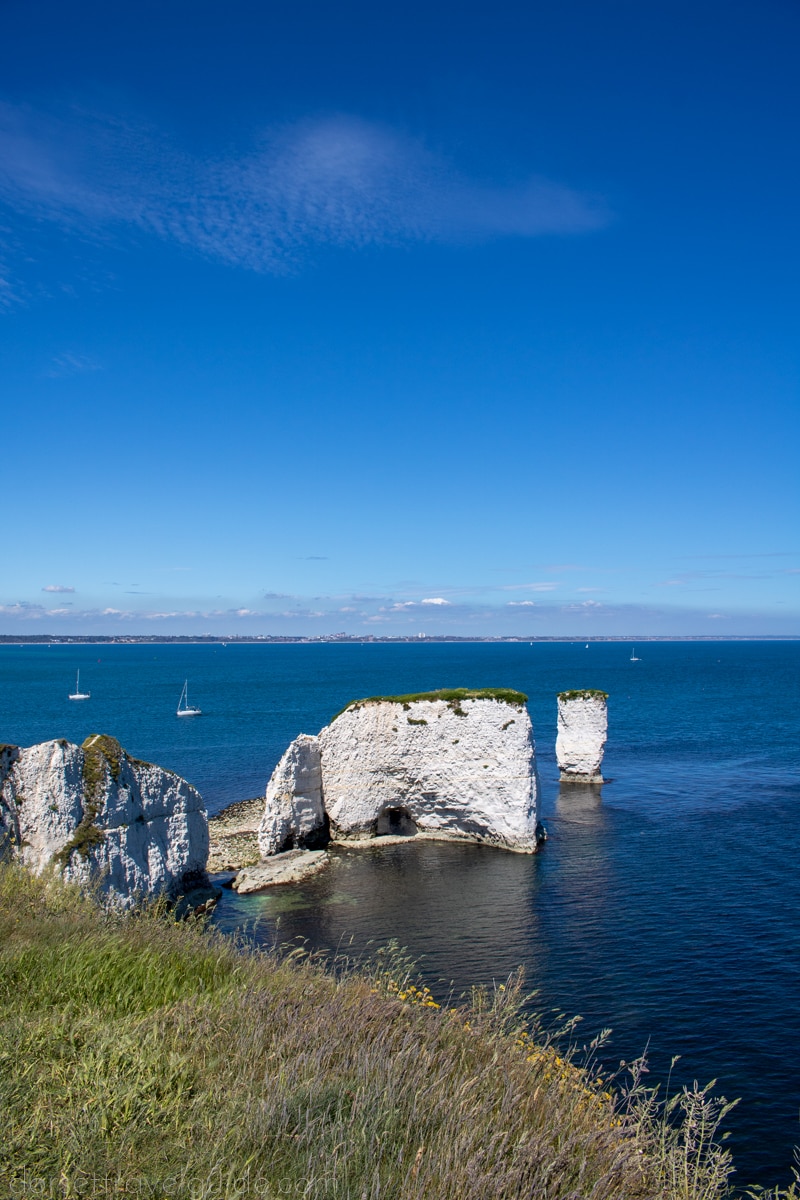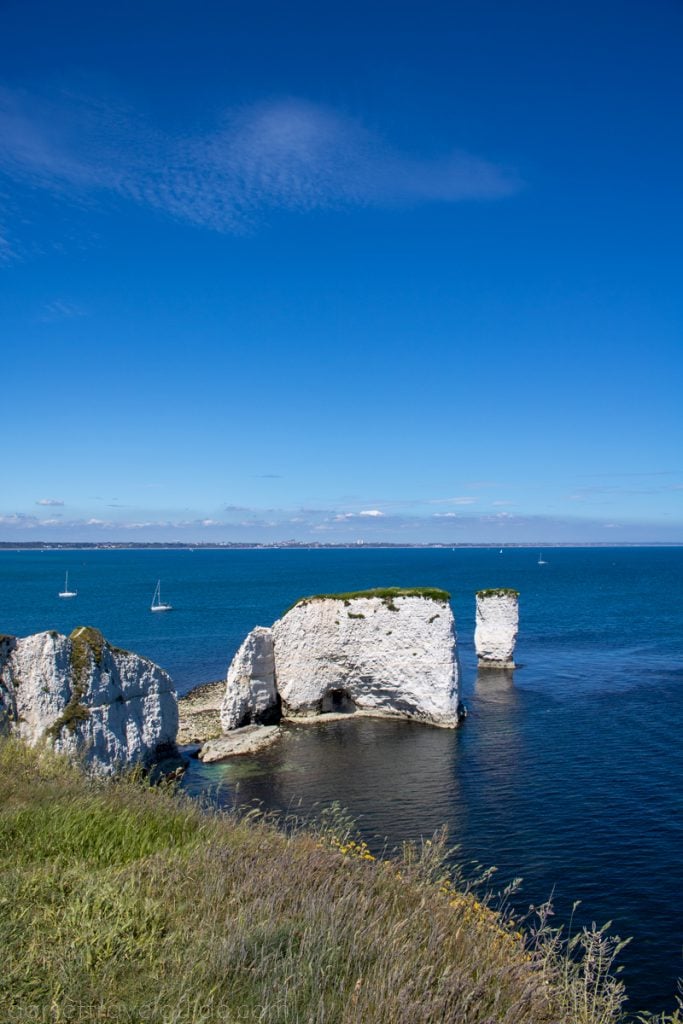 Until a few thousand years ago, Purbeck and the Isle of Wight were connected by a long stretch of chalk. Over time, most of the seam was eroded away, leaving only the stacks at Old Harry Rocks on the Purbeck end, and the Needles on the Isle of Wight end. On a clear day, you can see the Needles across the sea when you stand on top of Handfast Point.
Who is "Old Harry"?
It's thought that the rock stack was named after Harry Paye, a famous local pirate and smuggler from Poole in the late 14th and early 15th century. "Old Harry" is also a nickname for the devil, so some think that the name comes from this instead.
In actual fact, only one of the rocks is called Old Harry: the single stack furthest out to sea. The smaller stump next to him is sometimes called Old Harry's Wife – although she's his second, as the first fell into the sea in the 1500s!
Getting to Old Harry Rocks
Old Harry Rocks are not accessible by road, so you will need to park in Studland village and walk along the SW Coast Path to reach the rocks. The walk is about 1 mile and takes around 20 minutes.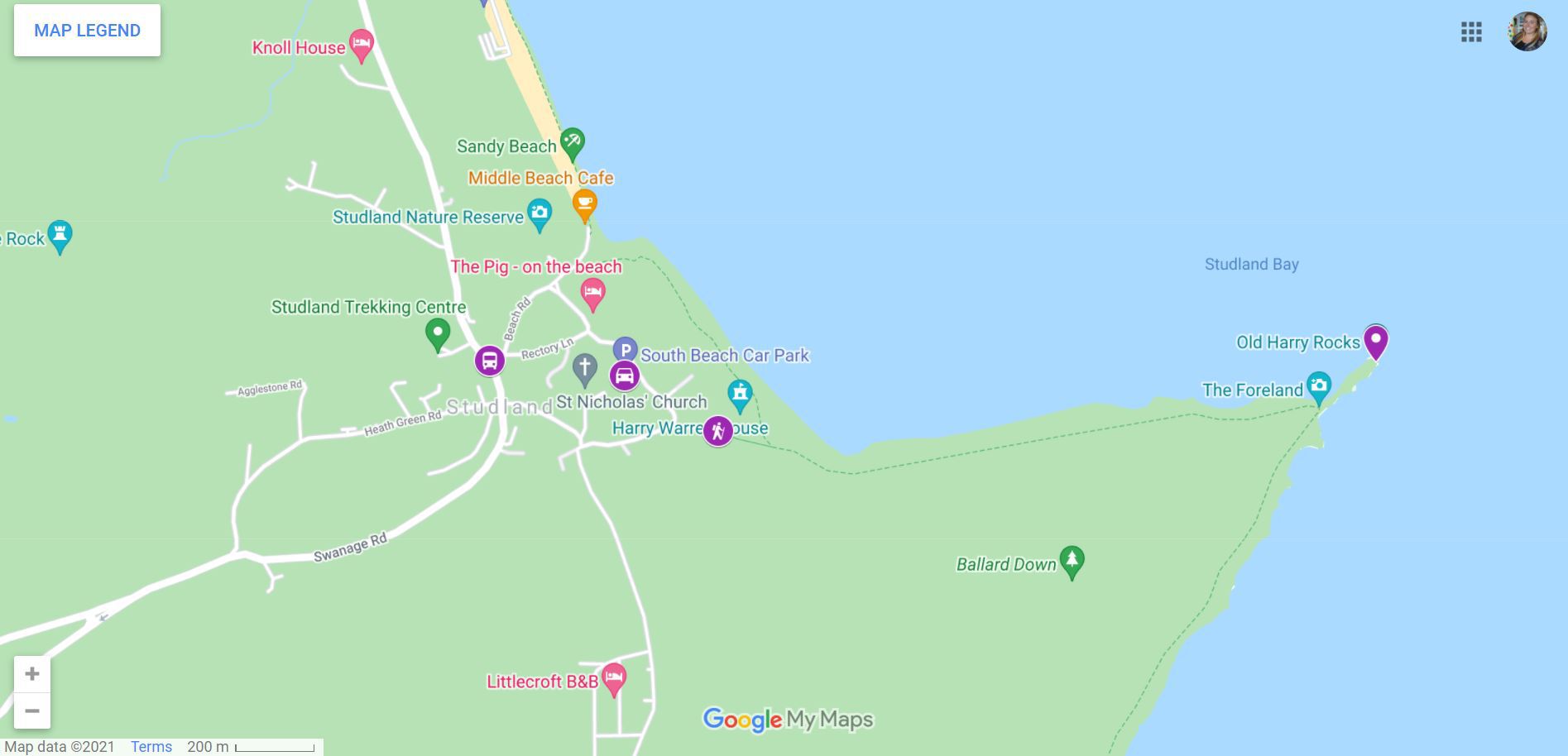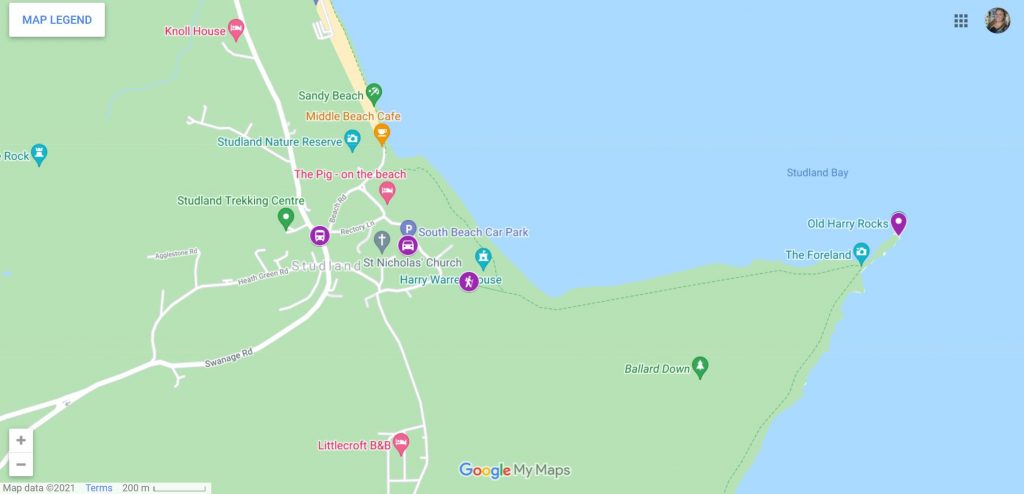 By Car
There is paid parking at South Beach Car Park in Studland (BH19 3AU) – free for National Trust members or £3 for 2 hours, £5 for 4 hours, and £7 all day. There is little road parking nearby so the car park is your best bet.
Alternatively, you can park in Middle Beach and walk along the beach to Studland – it's about an extra 10-15 minutes. Both carparks are quite large and have big overflow areas.
By Bus
The Purbeck Breezer buses serve the whole Isle of Purbeck. From Swanage or Bournemouth, you can simply hop on the Number 50 Purbeck Breezer and get off at Studland Village, Beach Road. The bus stop is just a short distance from the start of the walk to Old Harry Rocks (see the map above).
RECOMMENDED TOUR: Jurassic Coast & Isle of Purbeck Day Tour From Bournemouth (from £49.20pp)
By Train
The closest train station is at Wareham. From there take the Number 40 Purbeck Breezer bus to Swanage and change for the Number 50 to Studland Village, Beach Road.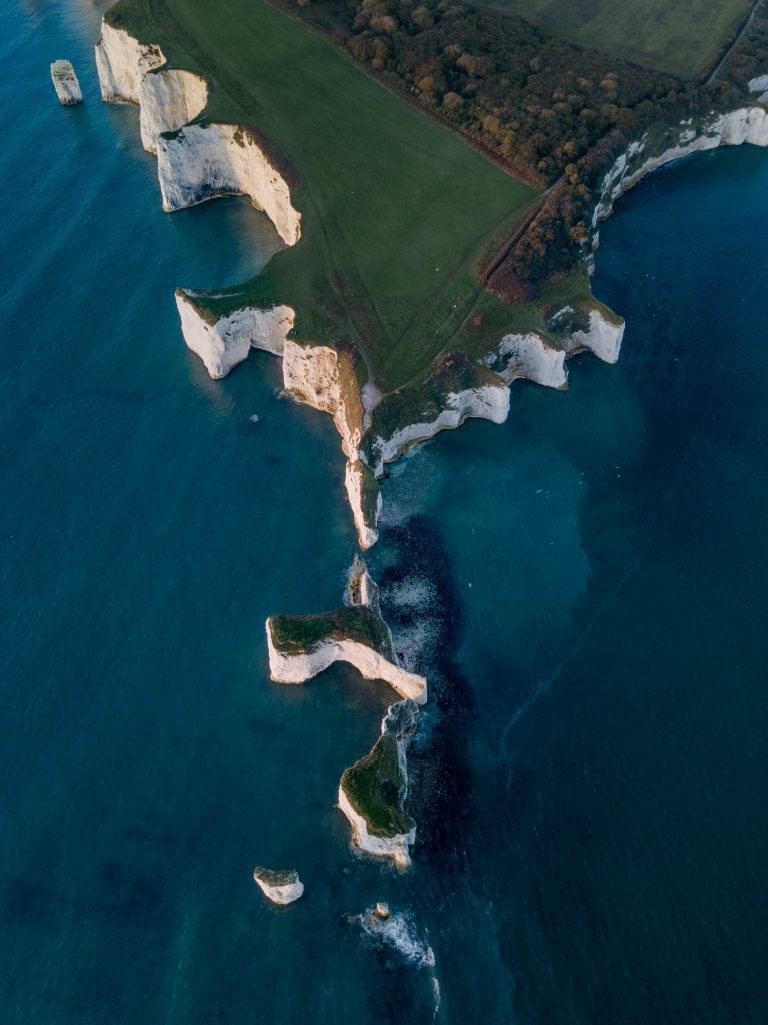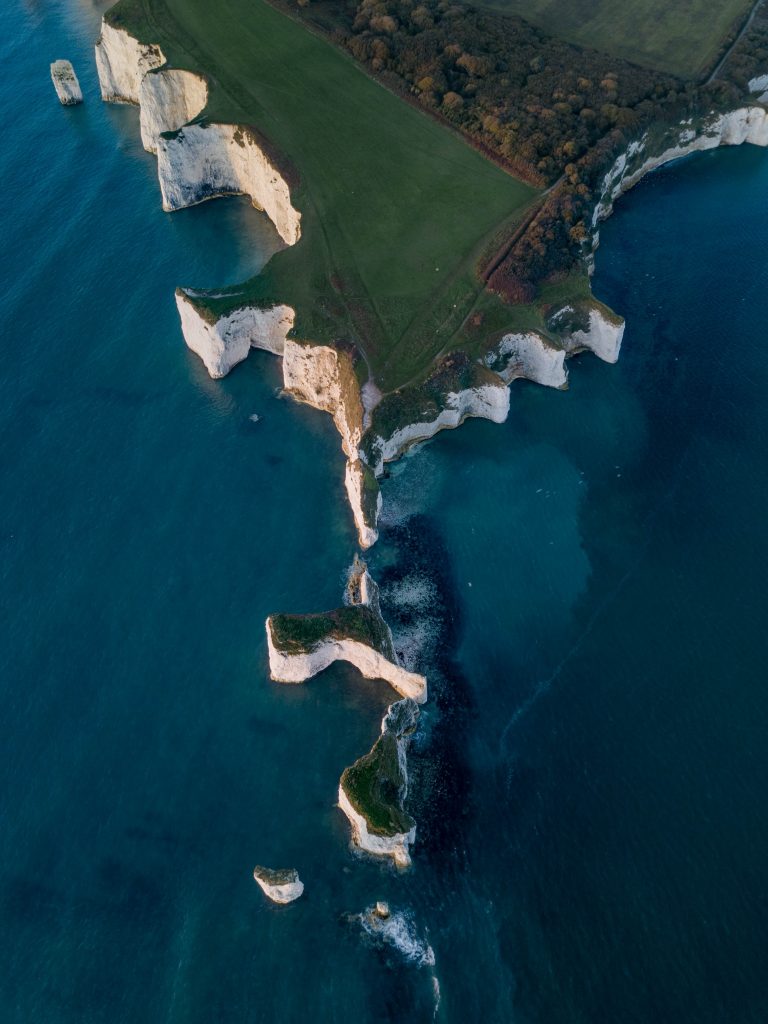 How to Walk to Old Harry Rocks from Studland
Walk out of the car park and turn right. Follow the road downhill past the Bankes Arms pub. At the bottom of the hill, you will see a path on the left leading to the beach, followed by a small white brick building containing public toilets.
Next to the toilets is a gravel track signposted for Old Harry Rocks. Turn left to follow this track uphill in the shade of tunnelling trees. The walk to Old Harry Rocks is one mile and takes around 20 minutes. Simply keep following the path.
After about 20 minutes, the path opens out onto a grassy headland with Old Harry Rocks in front of you. Spend some time here walking around the cliffs and admiring the rock stacks from different angles. Be sure to walk a little further around the headland for a glimpse of Pinnacle Stack, too.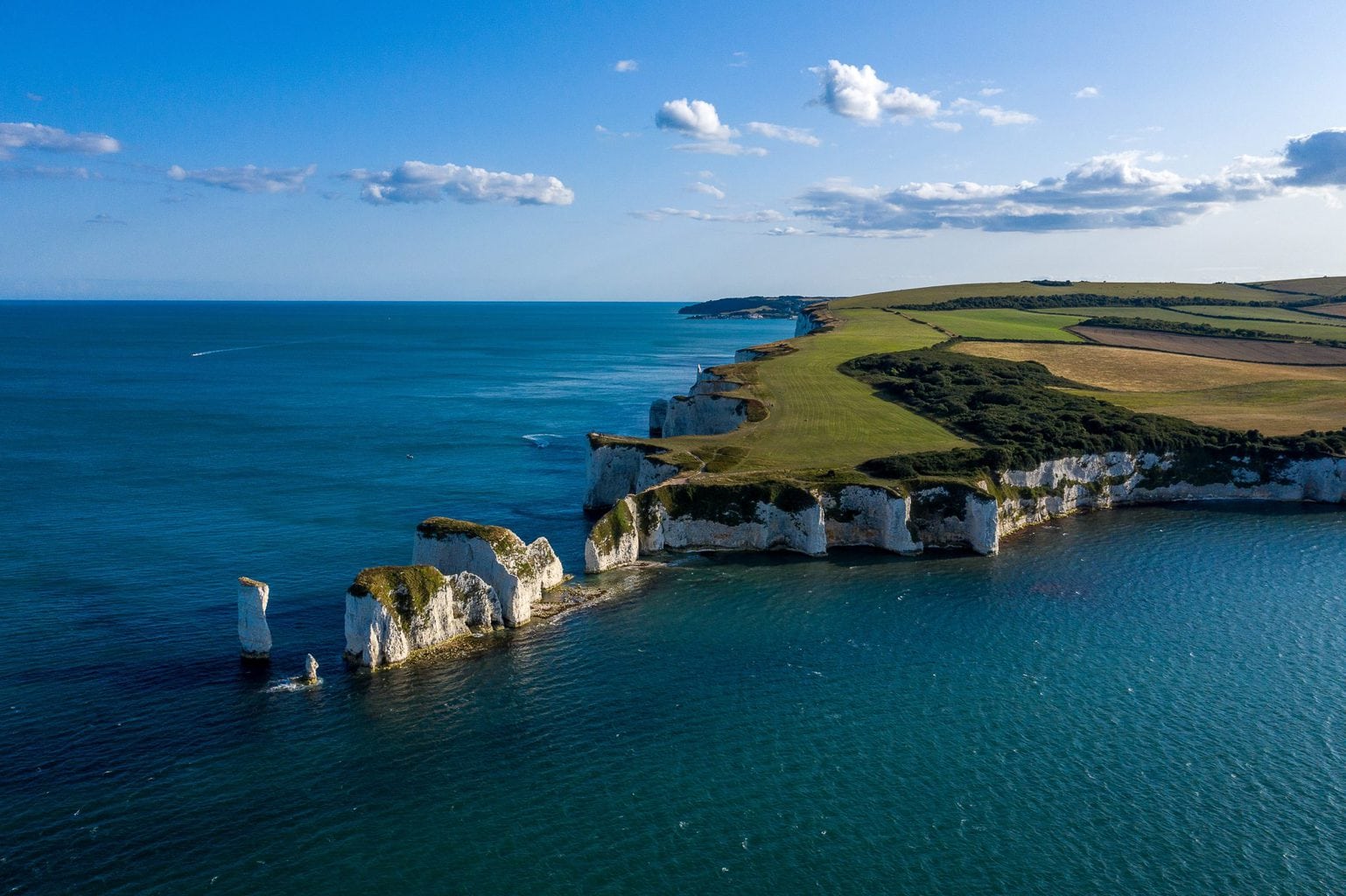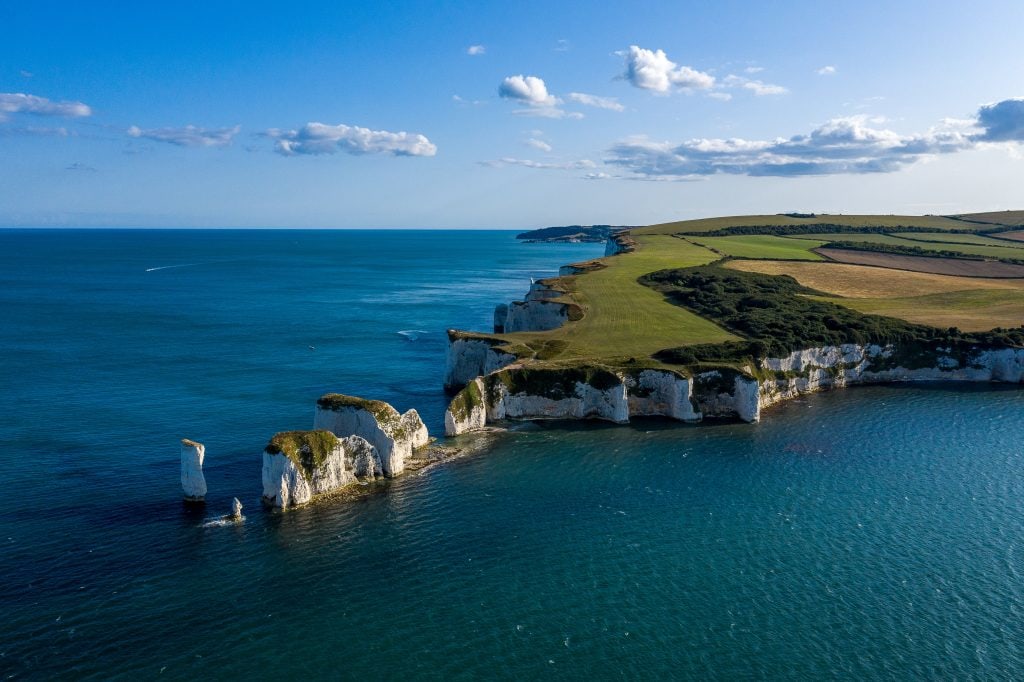 Accessibility
There are no styles or gates on the walk to Old Harry Rocks. You'll walk on the road (no pavement) followed by an uneven stone and gravel path up a gradual incline. Later the path is gravel and packed earth, then a grassy path at the top of the headland.
I have seen people take buggies up the path (and one person dragging a suitcase!) so I think it would be suitable for wheelchairs that can handle offroad conditions.
Extend Your Walk
Follow my 4-mile circular around Old Harry Rocks and Ballard Down for a lovely walk with lots of wildlife, flowers, and stunning coastal views.
You can also follow the South West Coast Path all the way to the seaside town of Swanage, about 4.8 miles. From there, you can take an inland route back to create a circular walk, or you can hop on the Number 50 Purbeck Breezer bus back to Sutdland.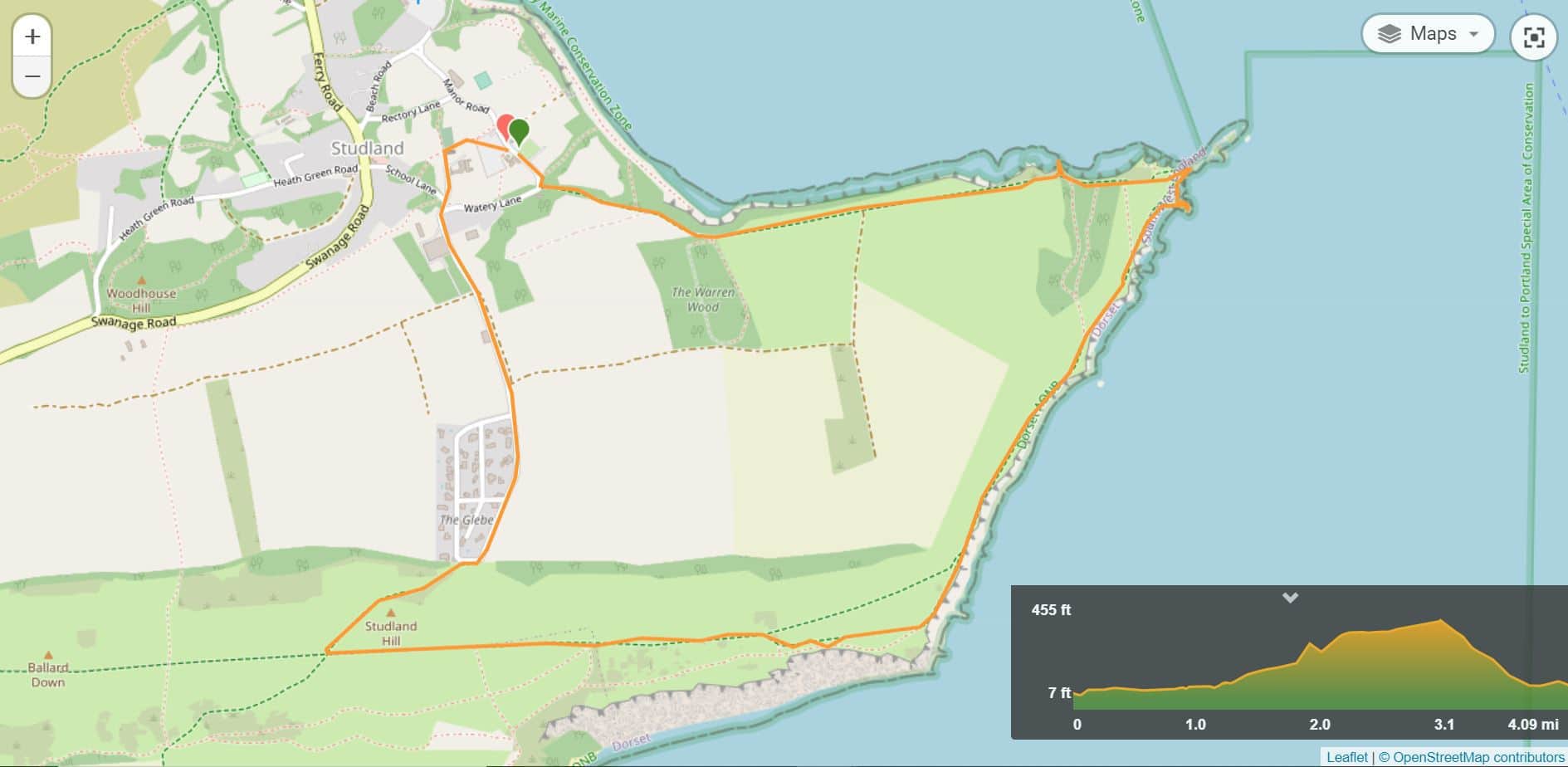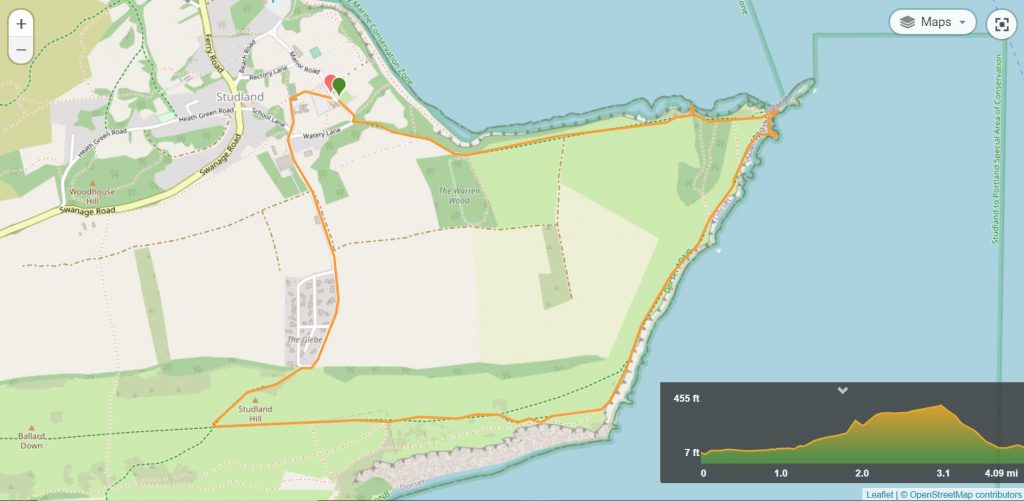 Best Viewpoints of Old Harry Rocks
When you follow the walk above, you'll find yourself on top of Old Harry Rocks, looking out and across the sea to Poole Harbour and the Isle of Wight.
It's a really cool spot and one of the best views of Old Harry Rocks. However, there are also some great viewpoints for a side-on view of the rock stacks.
1 – On the walk up
On your walk up from Studland, look for a little turning on the left-hand side, about 15 minutes after setting off up the coast path (see the map below).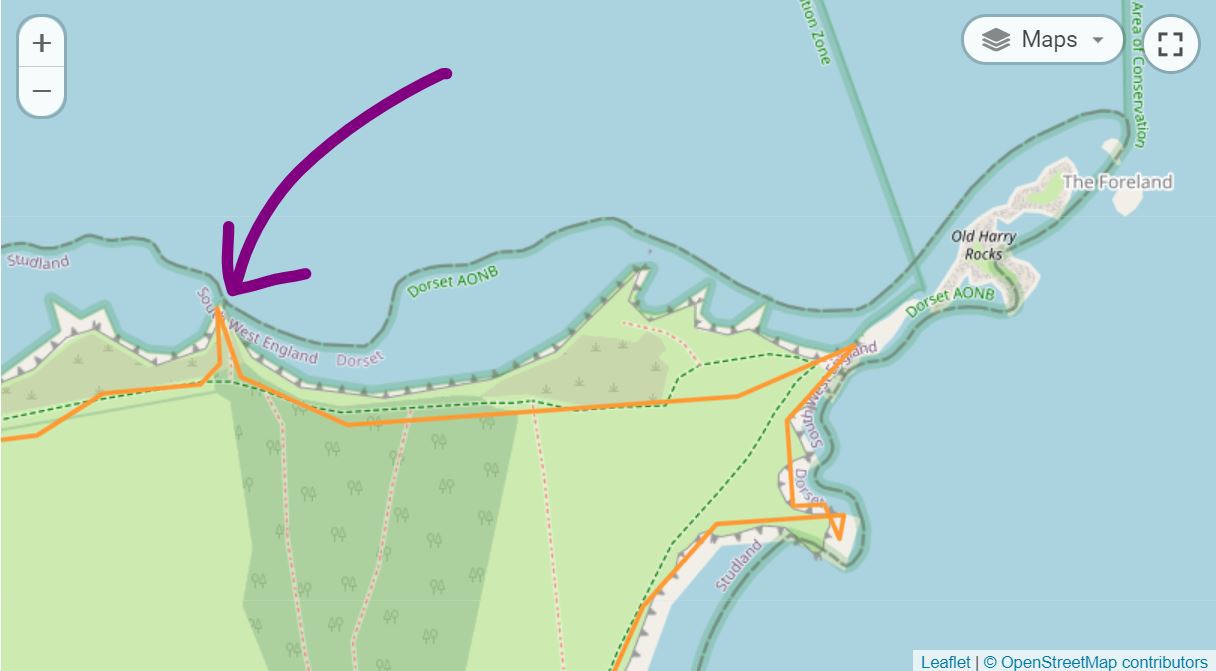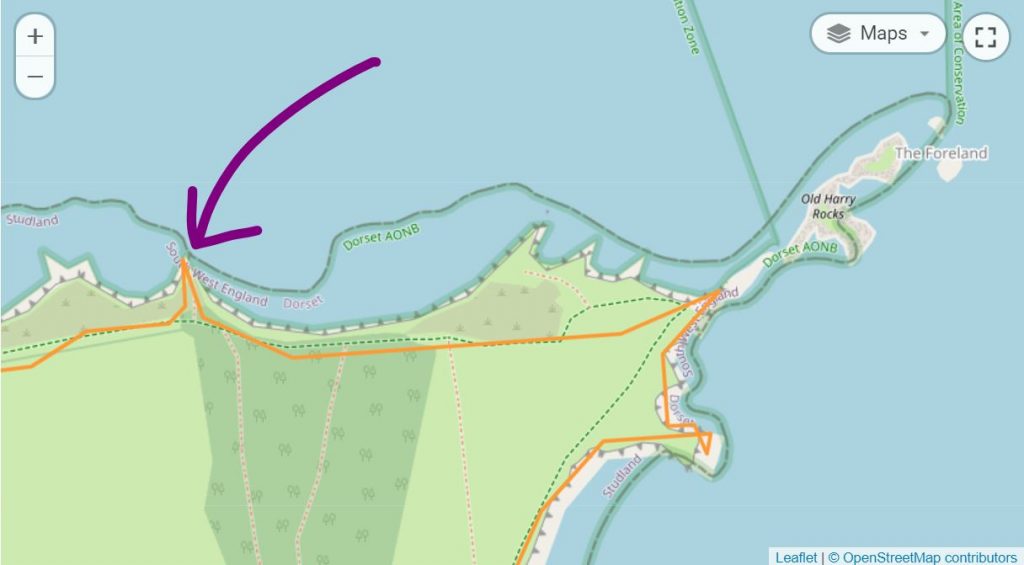 It's quite well hidden amongst the trees, but a small wooden post warning of the dangerous cliff marks the entrance. Step through the trees and walk carefully along the path ahead of you as it juts out away from the cliff. Looking right along the coast from here offers a glimpse of Old Harry Rocks.
2 – From the beach
You can get a pretty good view of Old Harry Rocks by simply standing on the beaches in Studland Bay and looking out to sea. The rock stacks are just over a mile away from the beaches, so you can usually see them quite clearly from both South Beach and Middle Beach.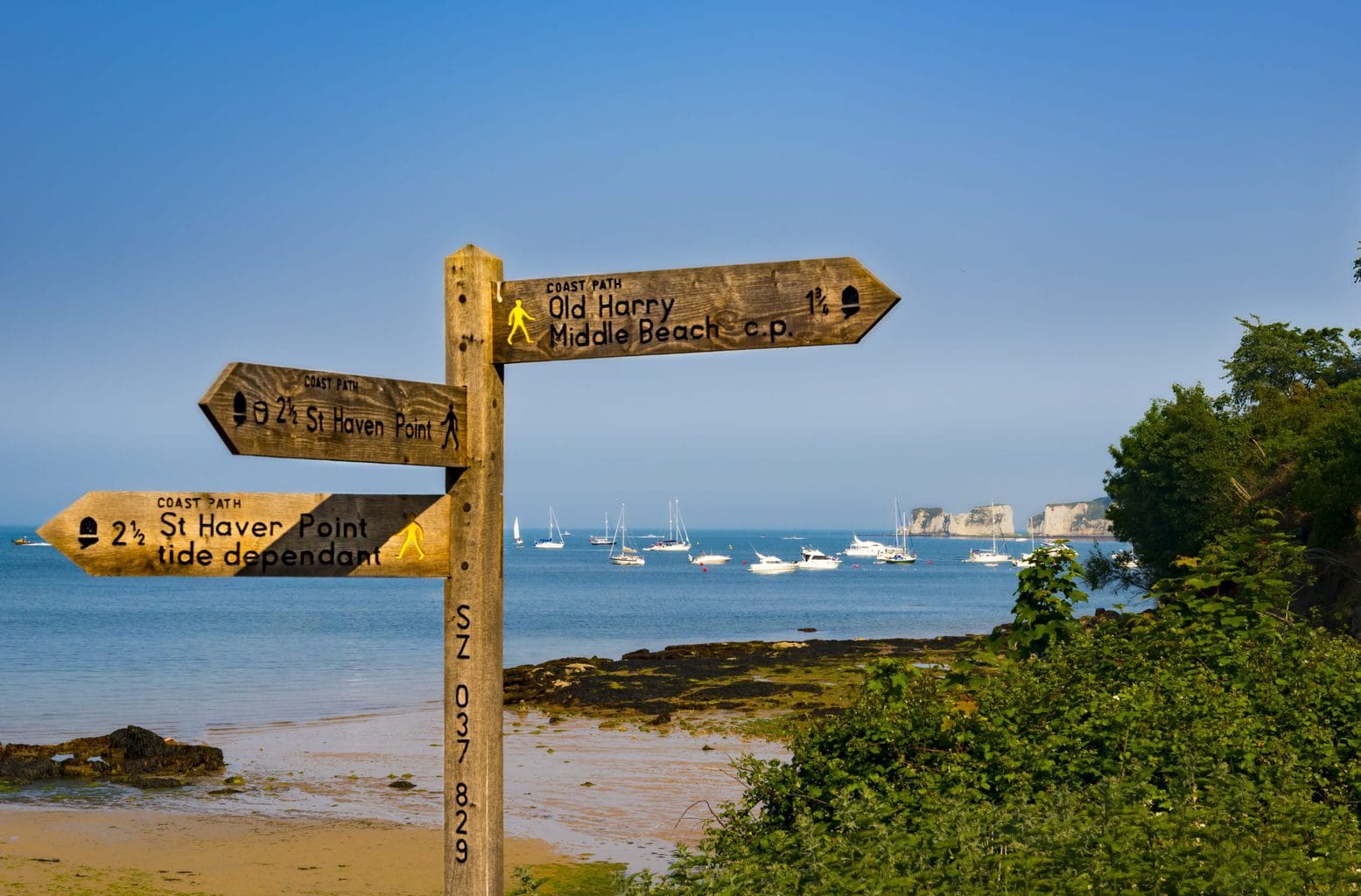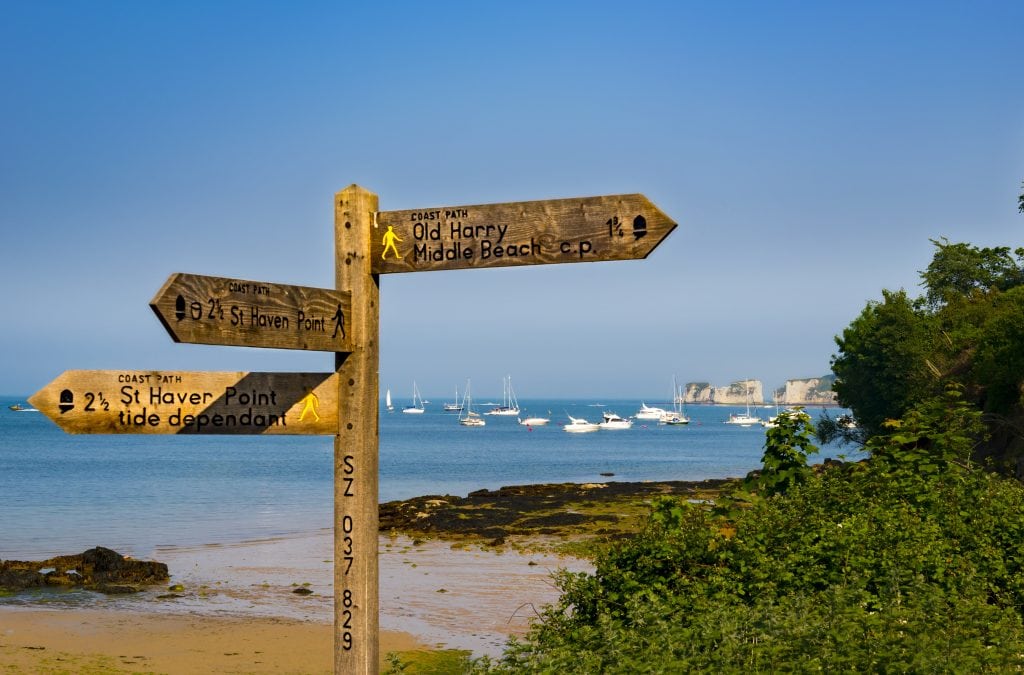 Boat Tours of Old Harry Rocks
One of the best views of Old Harry Rocks is from the ocean itself!
Kayaking – Fore / Adventure run several different kayaking tours from Middle Beach out to Old Harry Rocks and back, with a qualified instructor.
Alternatively, experienced users could rent a kayak or paddleboard (or bring your own) and make the trip themselves. Check out this guide for some handy info and safety tips.
Boat – City Cruises Poole offer a 2 Hour Jurassic Coastal Cruise (from £15pp) from Poole Harbour to Swanage via Brownsea Island, Sandbanks, and Old Harry Rocks. You'll get some amazing views of the rock stacks from the sea, with a live commentary pointing out interesting facts.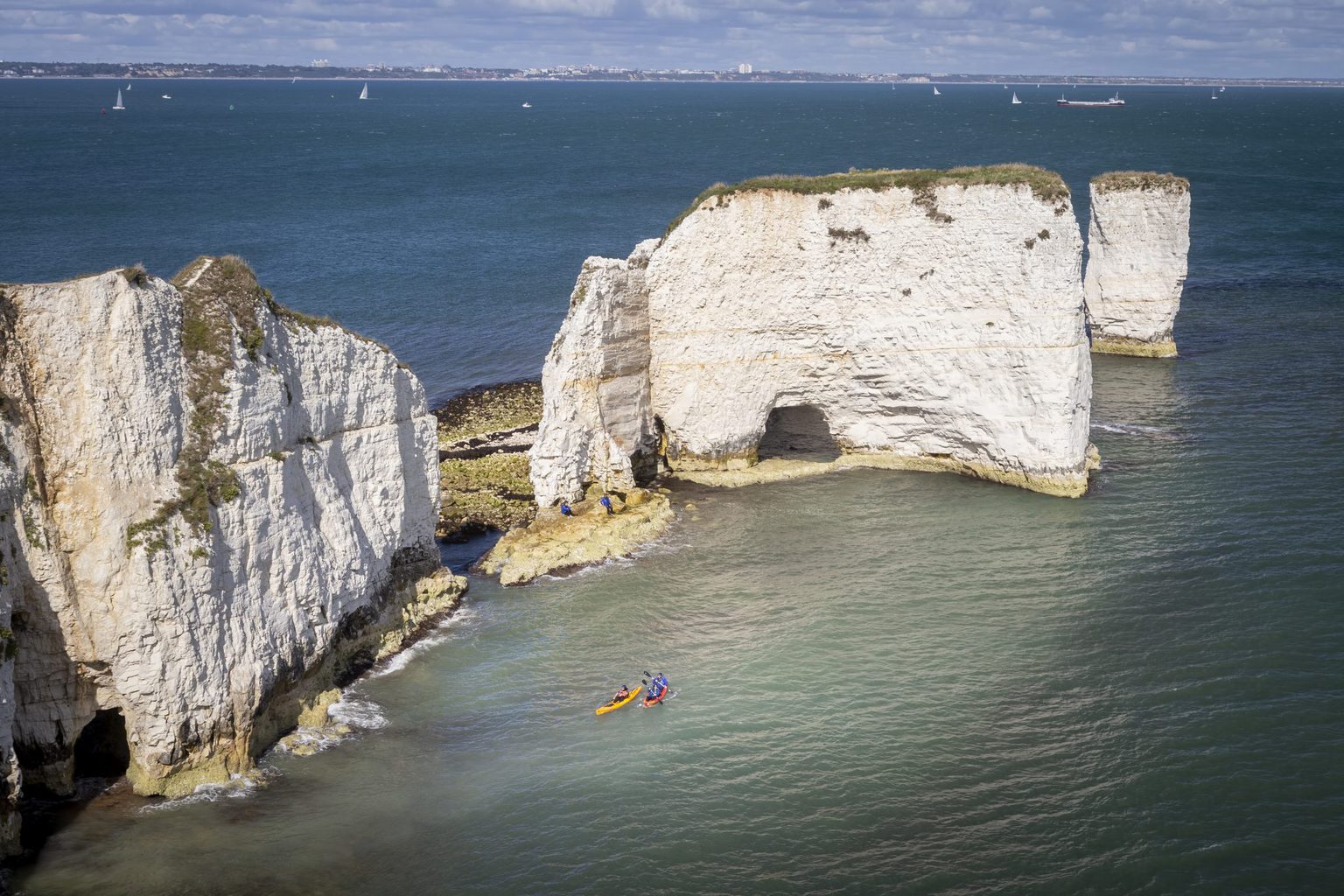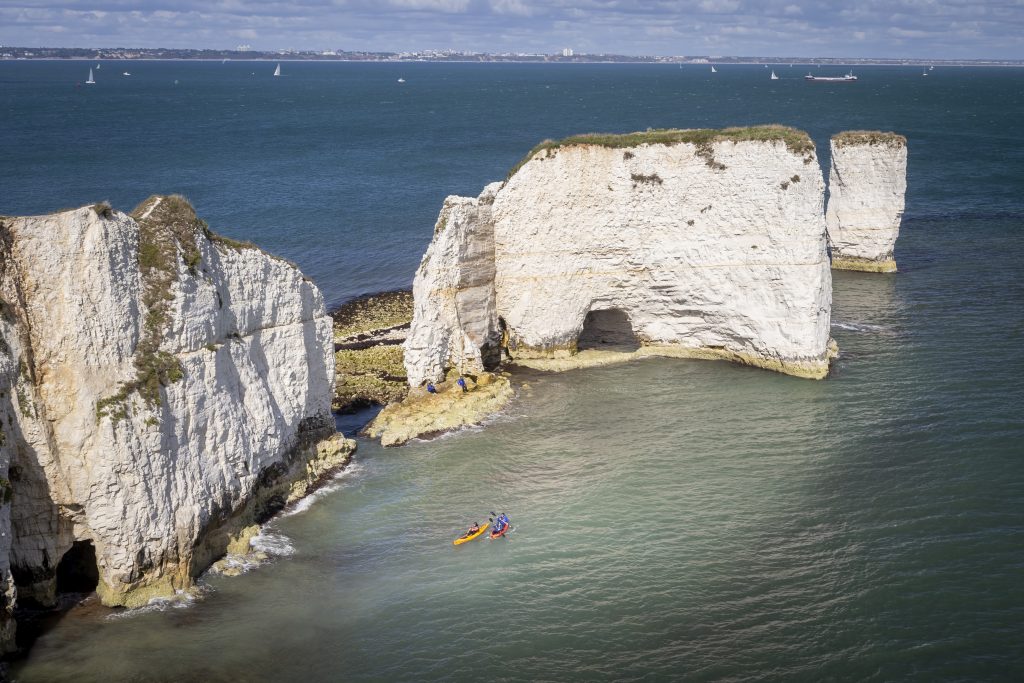 When to visit Old Harry Rocks
Old Harry Rocks look amazing all year round – shrouded in Autumn mists, or under a bright blue summer sky! They are open 24/7 as it's part of the coast path, so you can visit whenever suits you.
It's better to get there early if you can, to avoid traffic and secure a parking spot. However, there's a big overflow at the South Beach car park, so you should be ok turn up at any time.
The Rocks can be quite busy on sunny days, especially at weekends, but it's a big open space and I've never seen it look crowded, even when there are lots of people there. Most day-trippers have gone home by around 3-4pm, so it's often quieter during the later afternoon – as well as the early morning.
Sunset is one of the best times to visit Old Harry Rocks. Depending on the time of year, you can watch the sunset of the peak of the rocks, or over Poole Harbour. The rocks themselves are particularly photogenic when bathed in the golden light of sunset!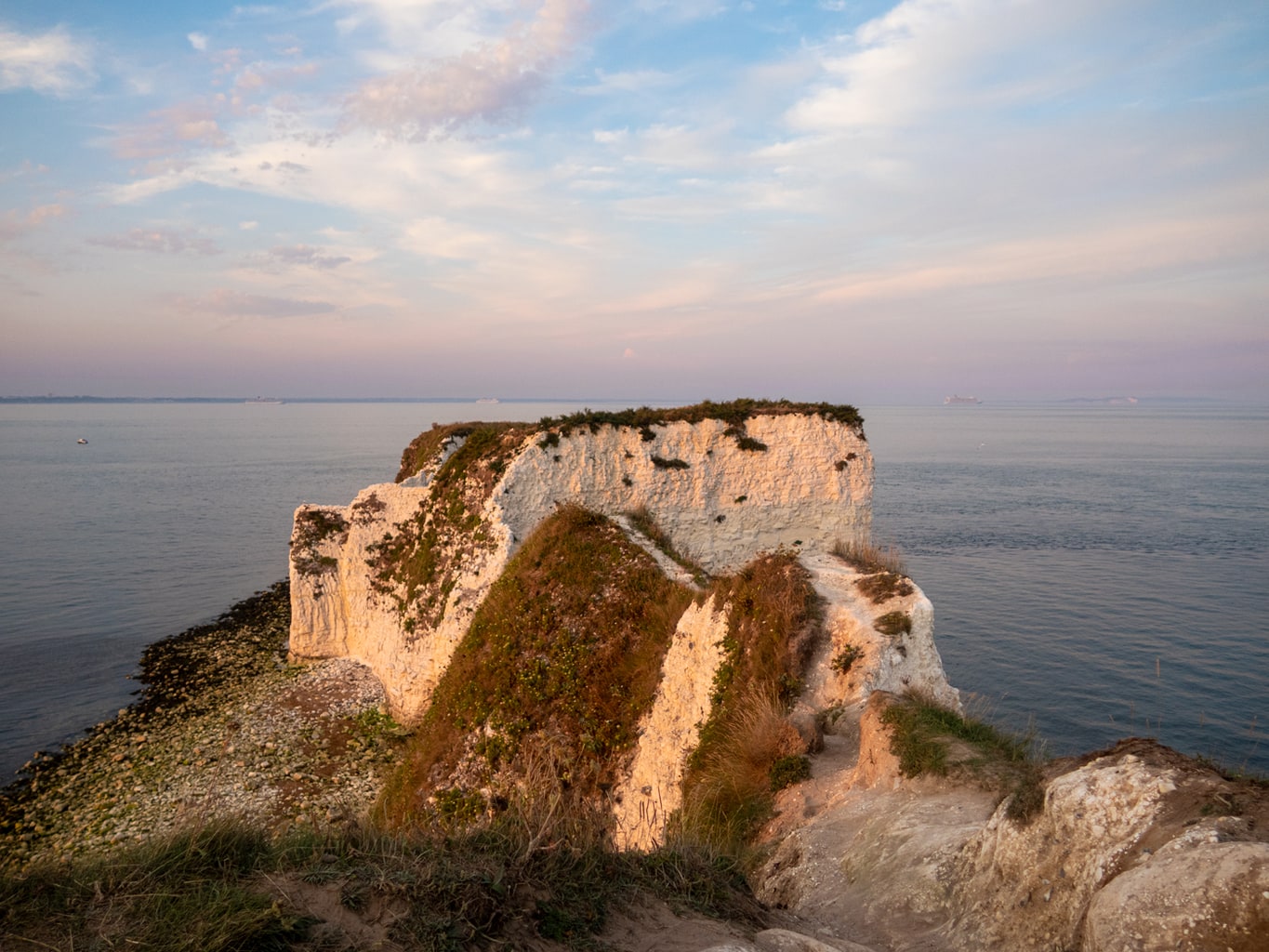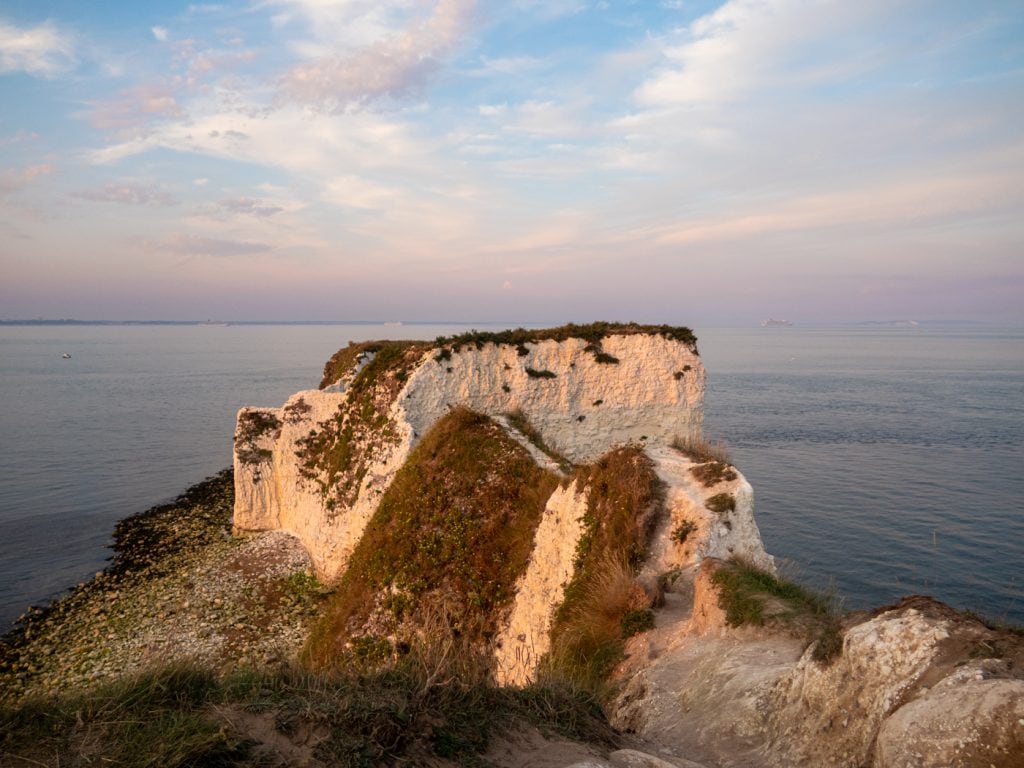 Wildlife to Watch Out for
Sealife – seals and pods of bottlenose dolphins can sometimes be spotted off the coast from Old Harry Rocks. Sometimes, at low tide, a seal will come up onto the little beach beneath the rock stacks.
The eelgrass in the sea around this area is also home to our native seahorses, while the kelp beds are a haven for crab, lobster and fish. But you'd need to go snorkelling to see these!
Birds – peregrine falcons, cormorants, oystercatchers, and – in late spring – nesting seagulls.
Flaura – Handfast Point, the headland from which Old Harry Rocks extends, is a chalk grassland. This means lots of wildflowers, especially during summer.
Places to Eat
There are no shops or cafes at Old Harry Rocks – which is probably a good thing, as it helps keep the peace and quiet. However, there are plenty of options around Studland village:
I hope you've found this Old Harry Rocks guide helpful! If you have any questions, feel free to reach out in the comments, or in my Love Dorset Facebook Group.