Some posts on this site contain affiliate links. If you book or buy something through these links, I earn a small commission (at no extra cost to you). Take a look at my privacy policy for more information.
With over 100 miles of spectacular coastline, it's no surprise that Dorset is full of amazing seaside towns. From big, bustling towns to tiny coastal villages, these are all the seaside spots you need to visit in the area.
Whether you're looking for the perfect base from which to explore Dorset, or you simply want to take some day trips to the seaside, this page has you covered!
As a born-and-bred Dorset local, I like to think I know all the best places in the county. So I've linked out to all my other posts about each location to help you get planning. And if you have any questions, don't hesitate to leave a comment or get in touch.
Map of Dorset Seaside Towns
READ MORE: A-Z of All the Towns in Dorset
12 Dorset Seaside Towns and Villages
The following list of seaside towns and villages in Dorset is roughly in size order, from biggest to smallest. If you're looking for hustle and bustle as well as beaches, Bournemouth and Weymouth are the largest seaside resorts.
Both have plenty going on, and make great bases for enjoying some of the best things to do in Dorset. But they are also two of the most popular towns with tourists. So you might prefer some of the smaller towns on this list. There are several hidden gems to discover!
Bournemouth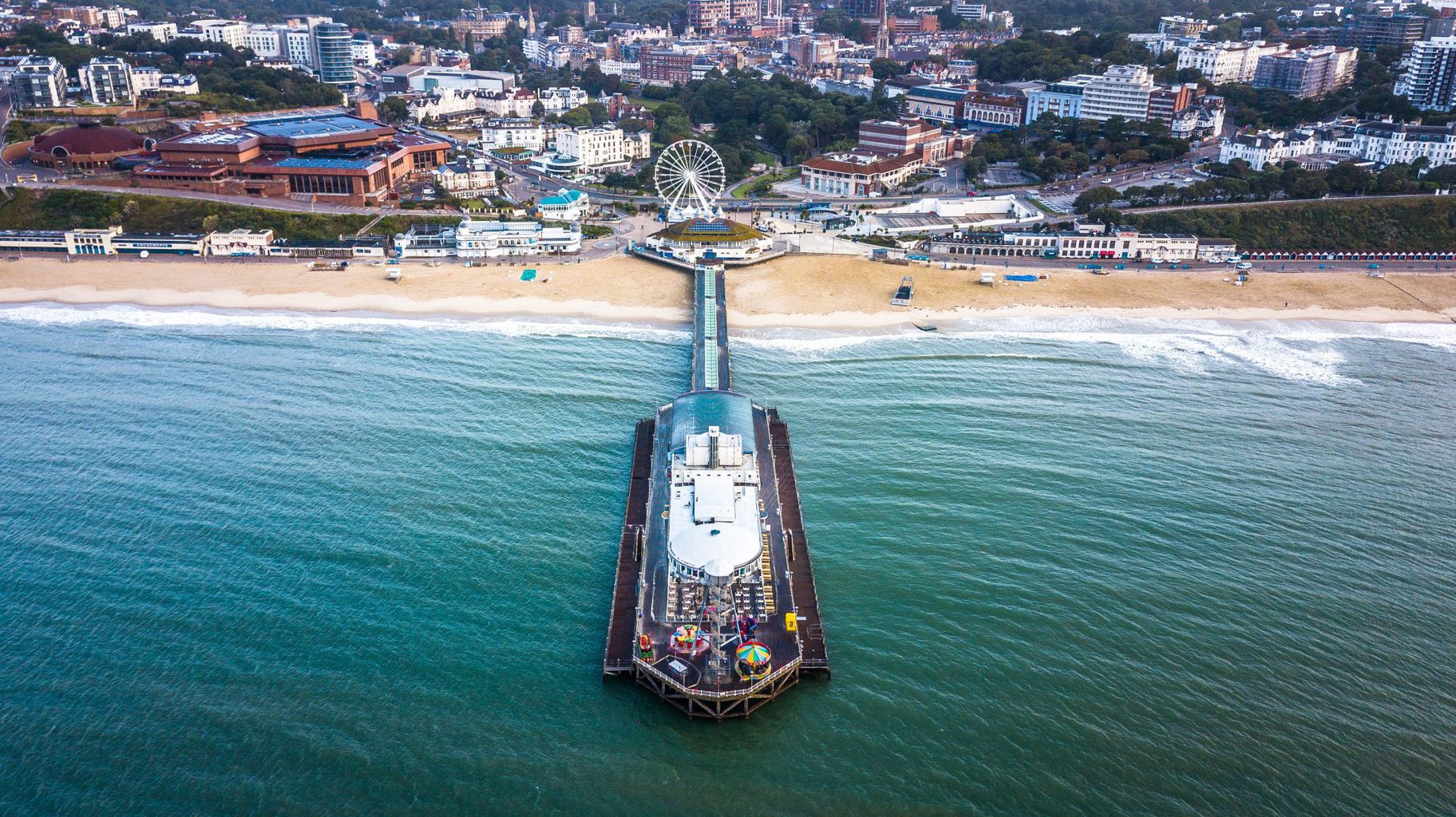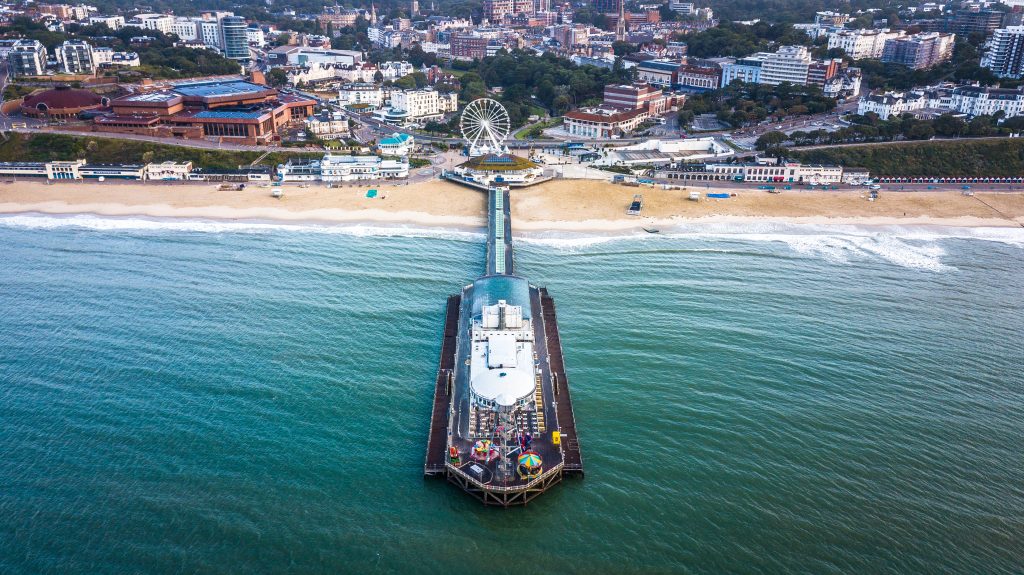 With a population of over 180,000, Bournemouth is the biggest town in Dorset, and probably the most popular seaside resort. It has the feel of a small city instead of a town, with a lively centre famed for its excellent nightlife and year-round events.
But of course, Bournemouth is best known for its beaches. This historic seaside town has seven miles of white sandy beaches, running along a wide bay. The central portion of the beach can get very busy during summer, but head further along to Hengistbury Head or Canford Cliffs and you'll find some quieter spots nearby.
Weymouth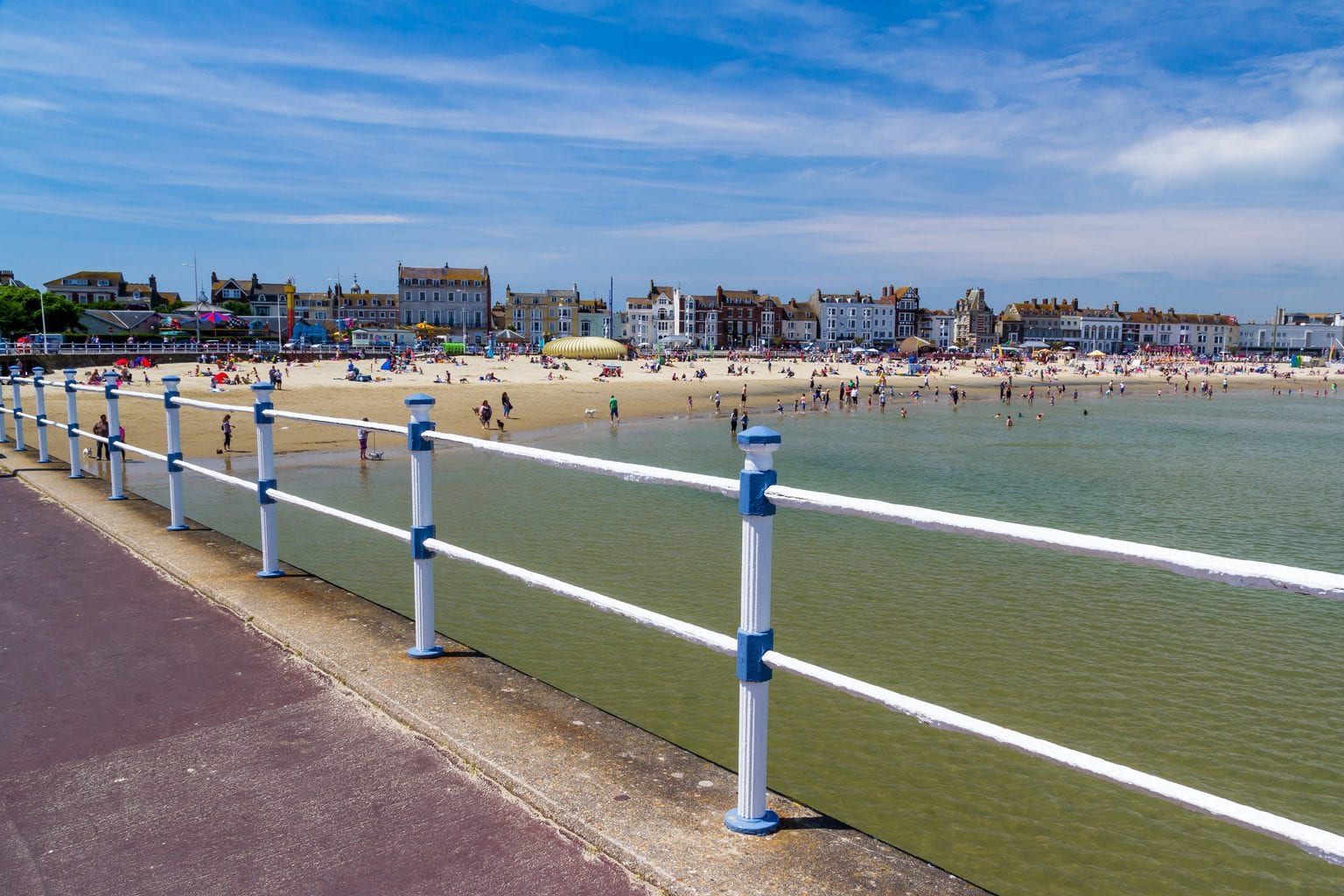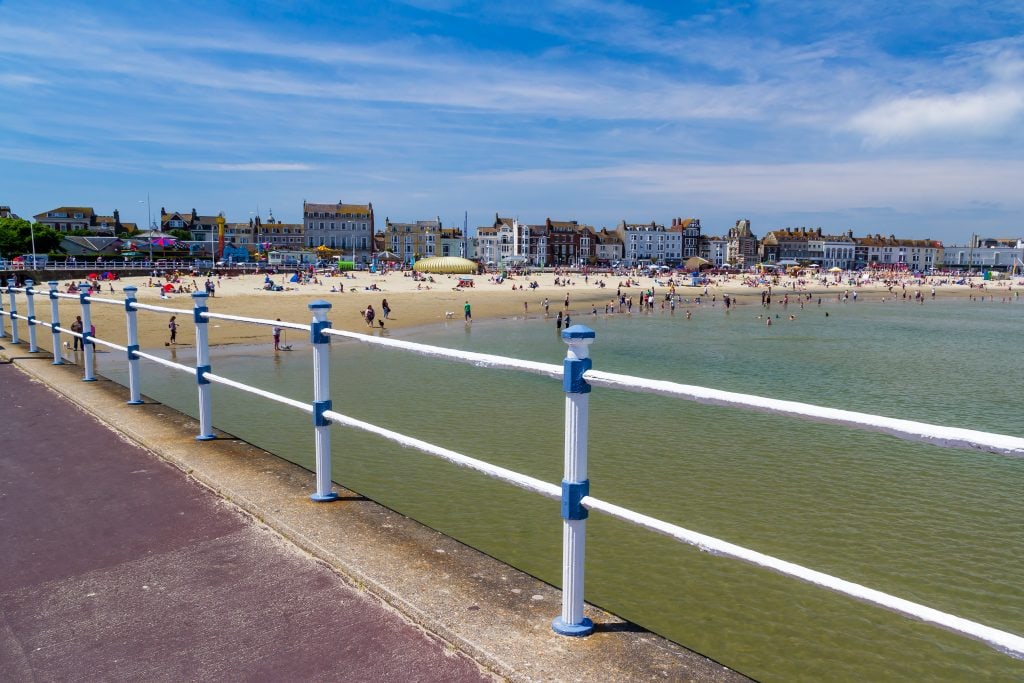 With its wide sandy beach, Georgian seafront, and colourful fishing harbour, its easy to see why Weymouth is one of the most popular seaside towns in Dorset.
Weymouth was put on the map as a seaside destination by King George III back in the 1780s. The king's doctors recommended he try sea bathing to cure his "madness", so George showed up in his Royal Bathing Machine and turned Weymouth into one of the most fashionable seaside towns in Britain!
Today, that popularity is still going strong, thanks to that stunning beach, excellent swimming conditions, and Weymouth's lively town centre. Not to mention plenty of family-friendly attractions, from amusement arcades and funfairs to the incredible Sea Life Centre. Weymouth is also ideally located to explore Dorset's Jurassic Coast, or go walking in the nearby countryside!
Swanage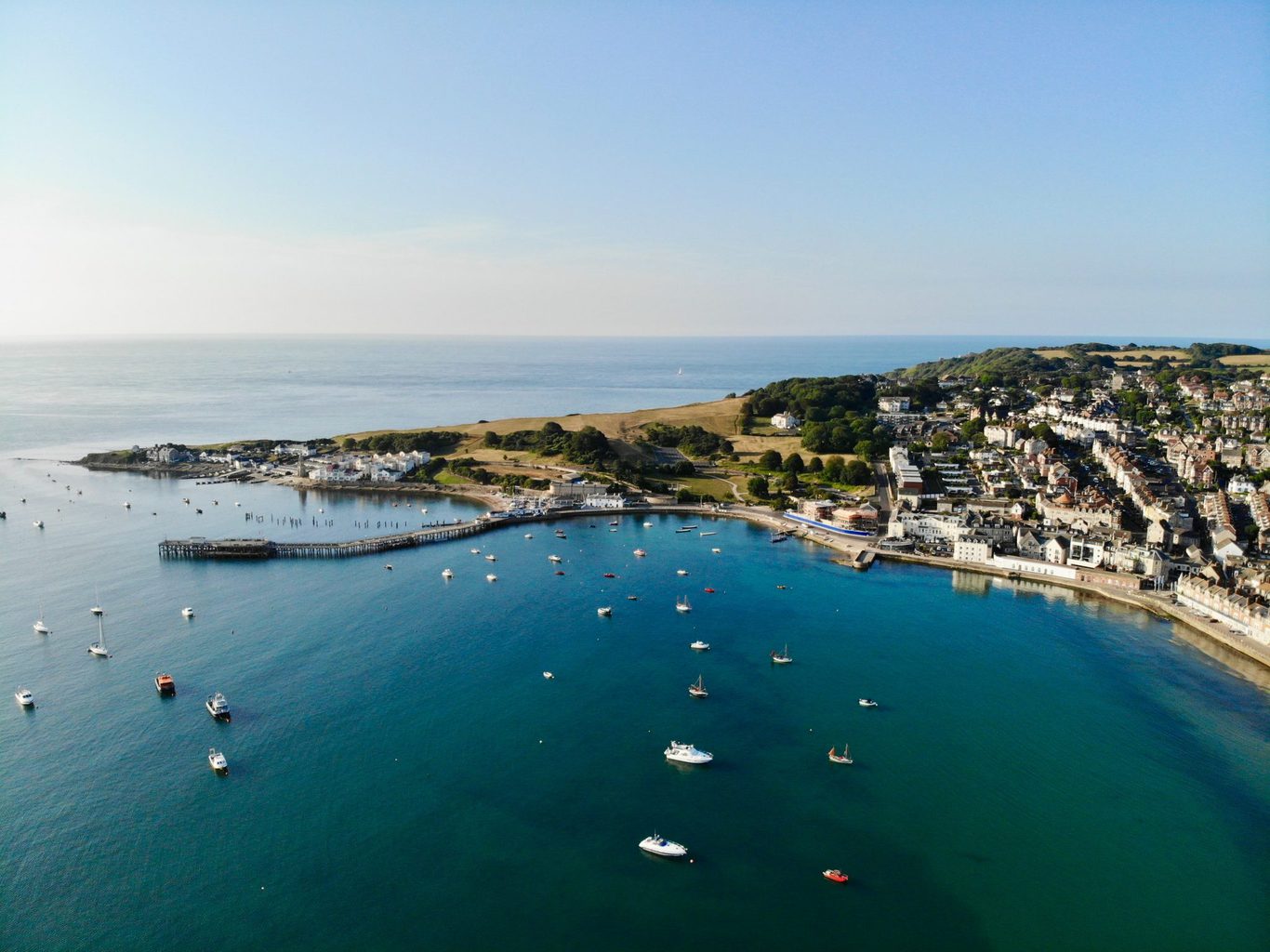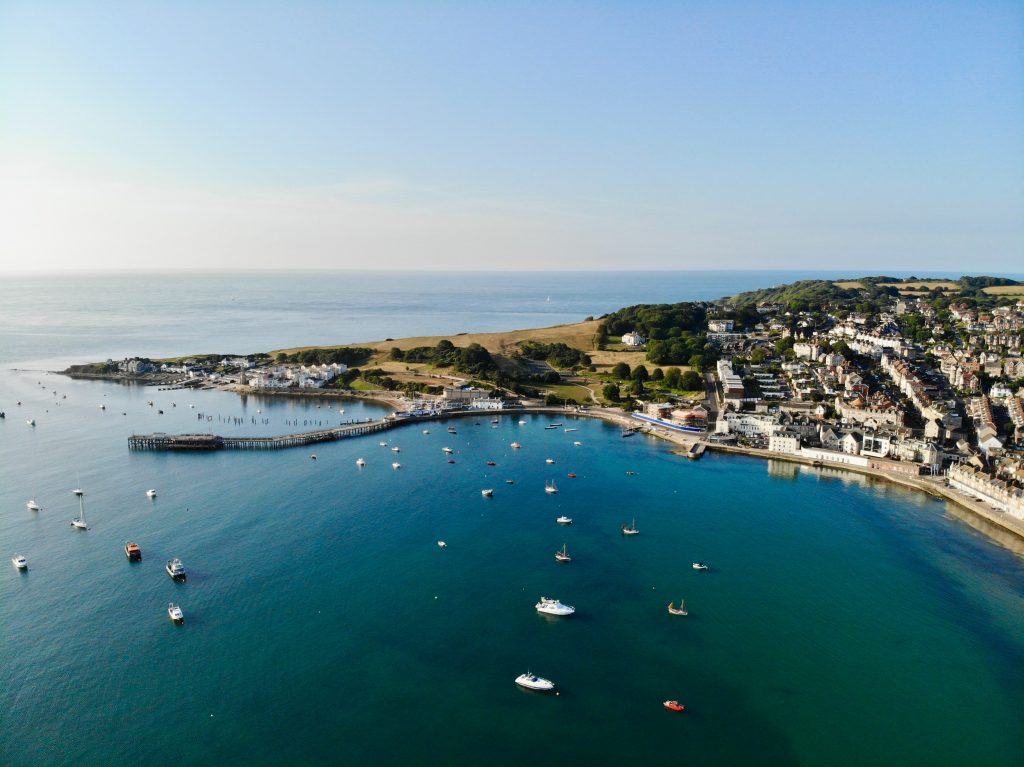 Sitting at the southeastern tip of the stunning Isle of Purbeck, Swanage is one of Dorset's loveliest seaside towns. It's a charming coastal resort that's packed with history.
The town is home to a beautiful working steam railway, dating back to 1885 and still running across the Isle of Purbeck today. On the coast, you'll find a picturesque fishing harbour and several lovely beaches. There are plenty of typical seaside attractions like amusement arcades and fish 'n' chips shops. In town, there are also lots of interesting antique shops, vintage stores, and independent boutiques to explore.
Lyme Regis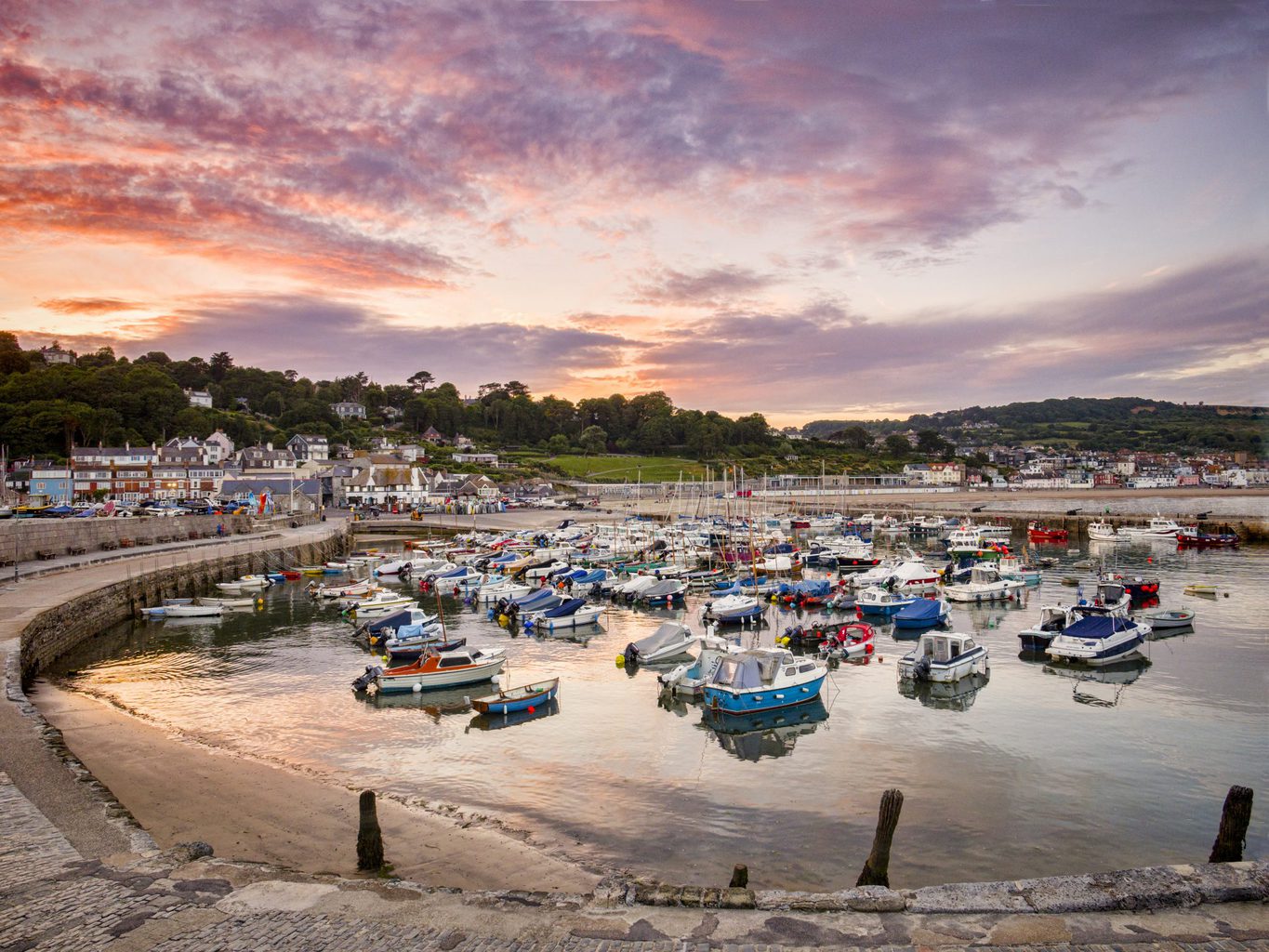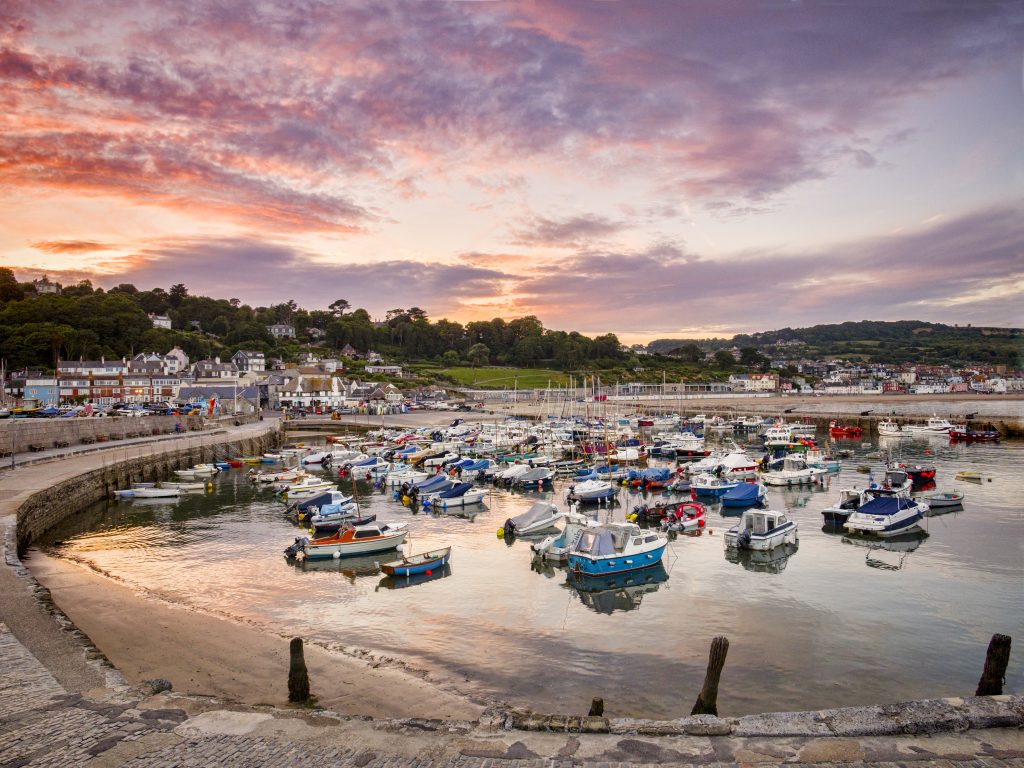 Despite its fairly small size, Lyme Regis has become one of the most popular seaside towns in Dorset. A recent revival and some new high-end restaurants helped put it back on the map, but Lyme Regis has long been a popular holiday destination.
With its quaint harbour, picturesque village-y streets, and lovely shingle beaches, Lyme Regis is a brilliant seaside spot. The town centre is packed with independent shops, art galleries, cafes, and restaurants. So there's plenty to keep you busy!
Lyme Regis is also well-known as the birthplace of the famous palaeontologist Mary Anning and is still famed as a fossil-hunting destination. Visit the town's small museum to see a fascinating collection of locally-found fossils – or hit the beaches in search of your own finds.
West Bay, Bridport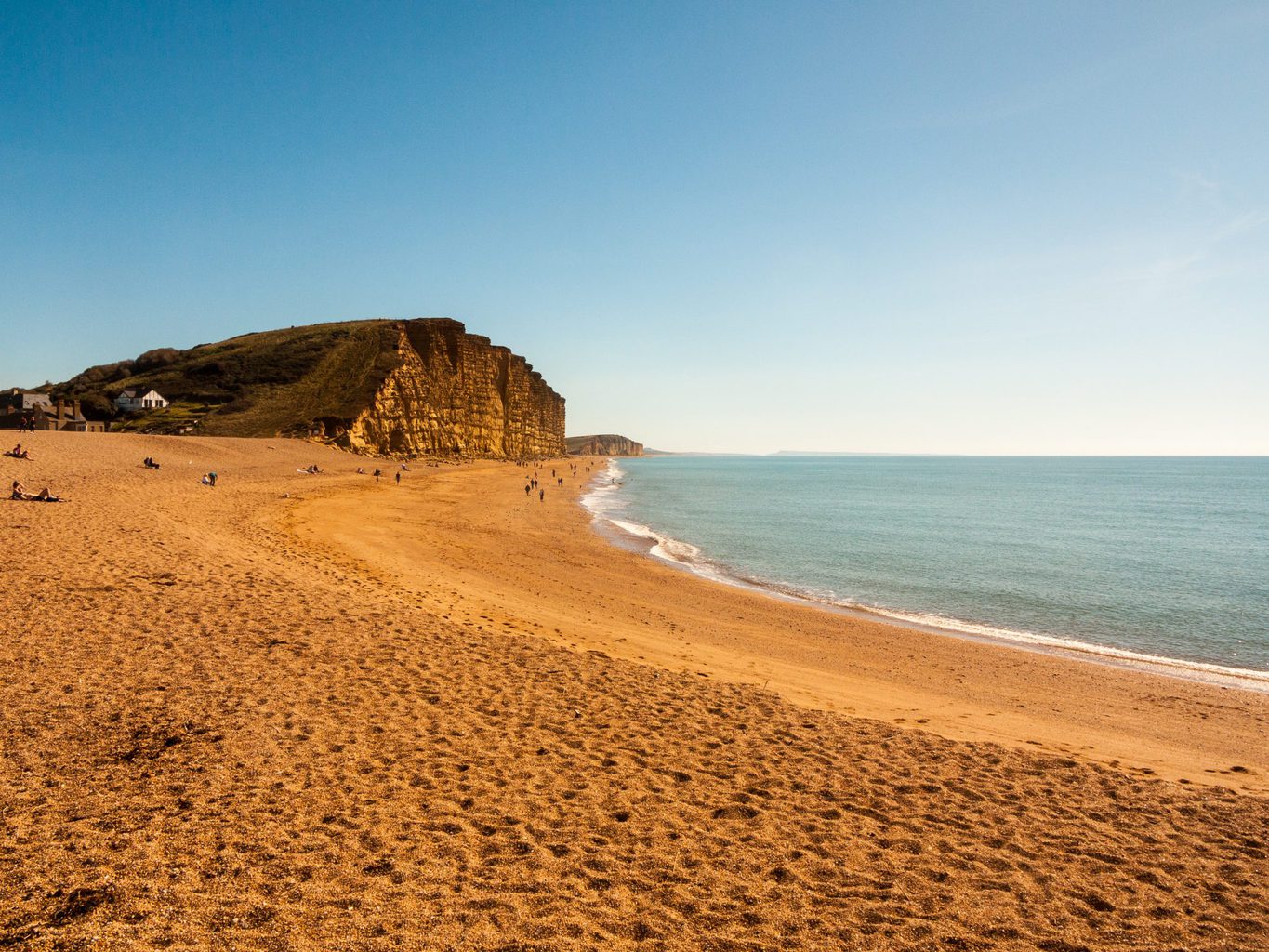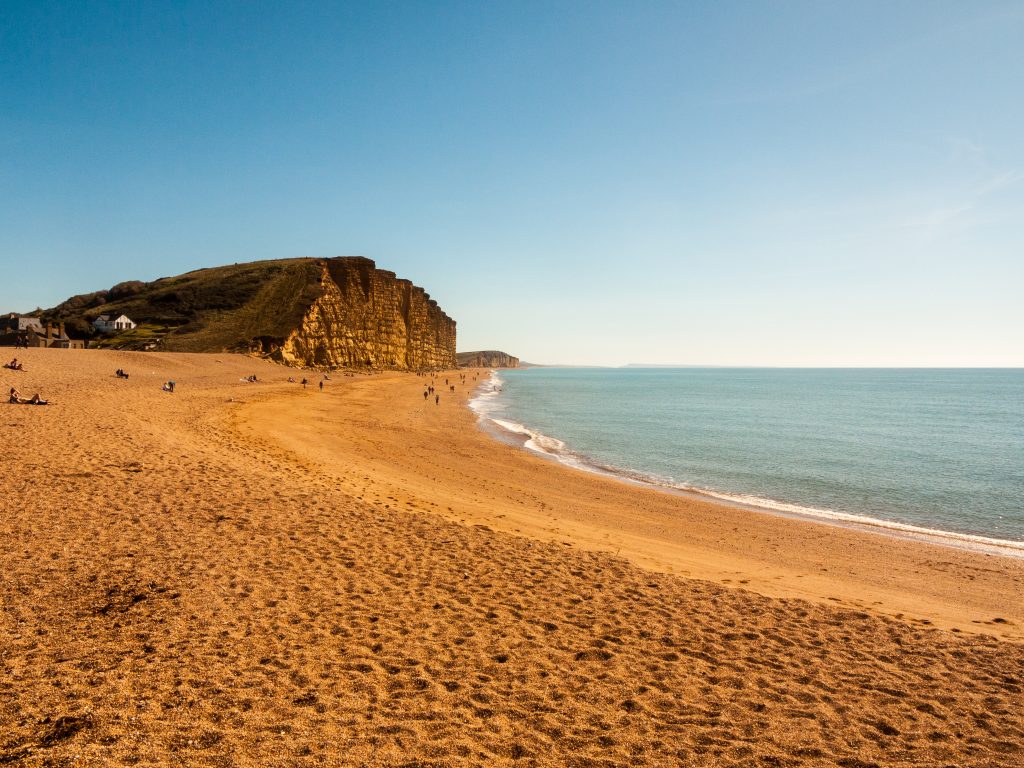 Just down the road from the bustling market town of Bridport, West Bay is a lovely seaside village with lots to discover. This small fishing village sits on the mouth of the River Brit, alongside a scenic shingle beach backed by towering golden cliffs.
You may recognise these iconic cliffs, as they – along with the village and surrounding areas – were the filming locations for the popular ITV drama Broadchurch a few years ago. The village itself is full of interesting finds, including several vintage shops, art galleries, and independent eateries. Don't miss the Station Kitchen, a restaurant in a converted railway carriage at the platform of the old station.
Fortuneswell, Isle of Portland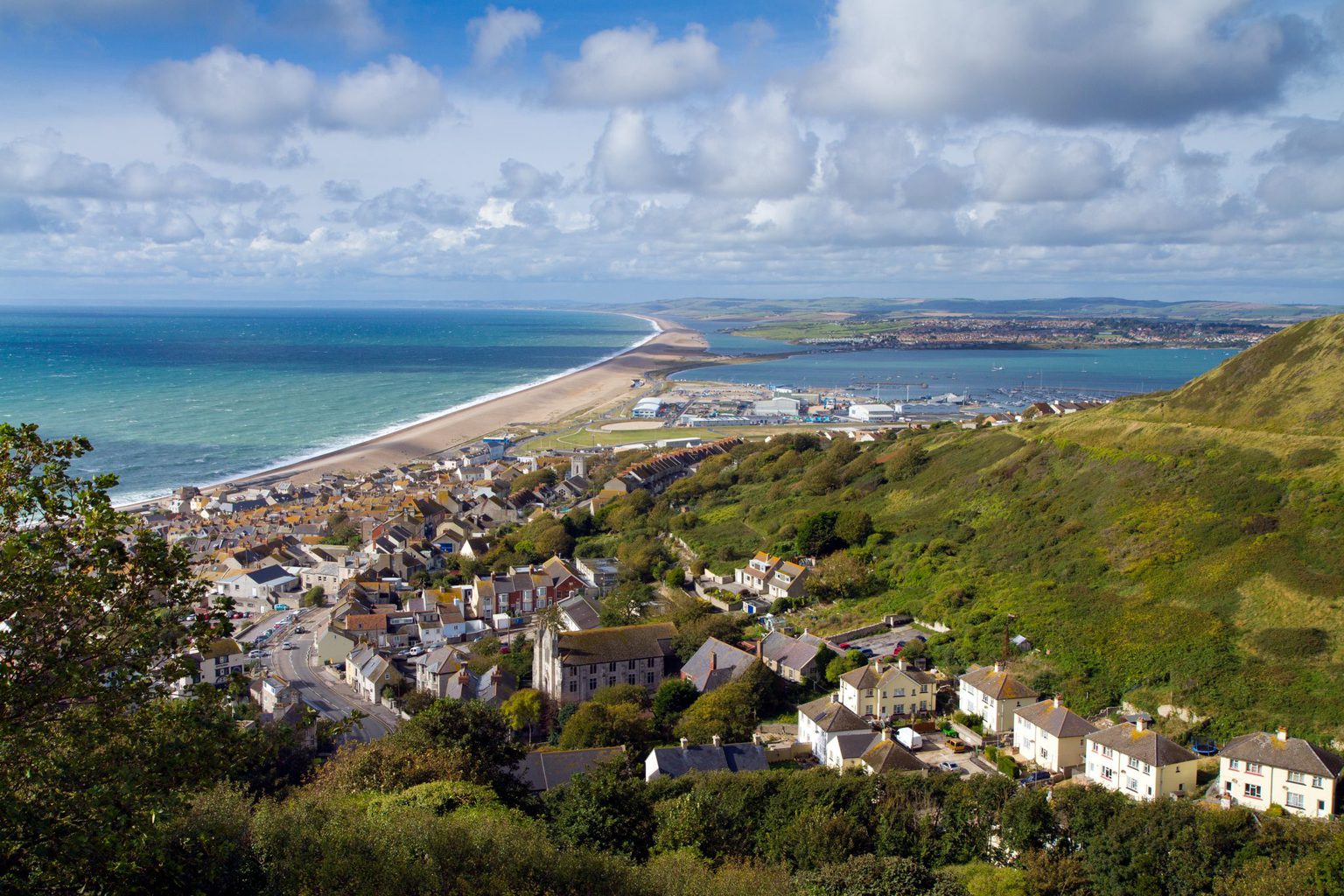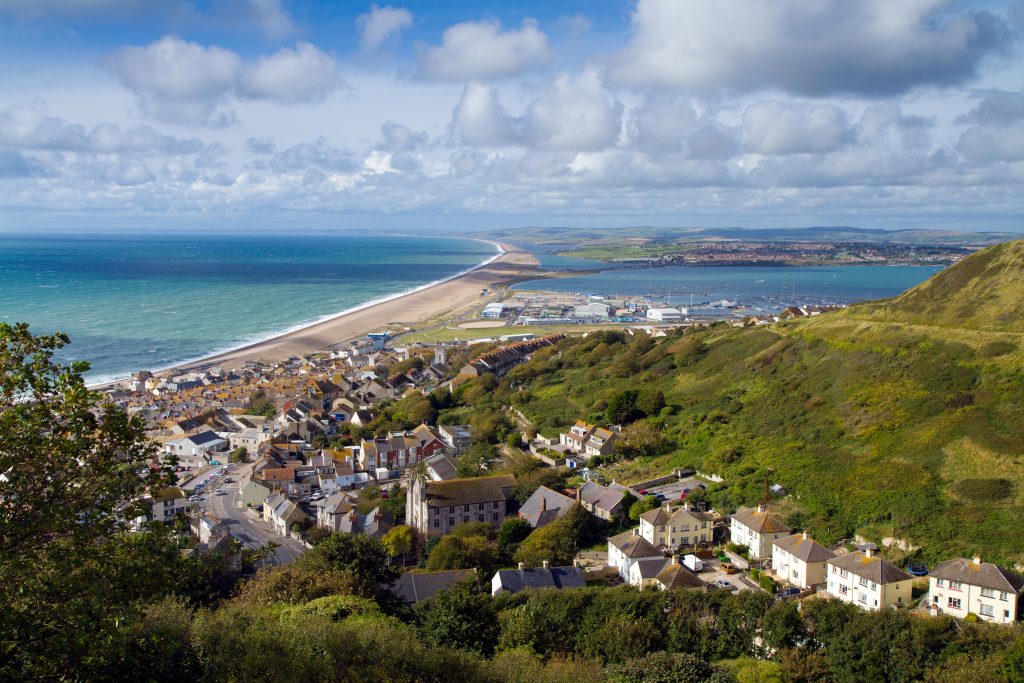 Sitting at the northwestern foot of the Isle of Portland, where the shingle barrier of Chesil Beach connects the island to the mainland, Fortuneswell is one of the less-known seaside resorts in Dorset. It's a small village of steeply sloping streets and cosy cottages built from Portland Stone.
Although not the most well-known destination in the area, the village is ideally placed for exploring the treasures of Portland – such as the historic castle and the iconic red-and-white lighthouse at Portland Bill. This section of Chesil Beach is also one of the quieter beaches in Dorset, so it's ideal if you feel like getting away from it all.
Mudeford, Christchurch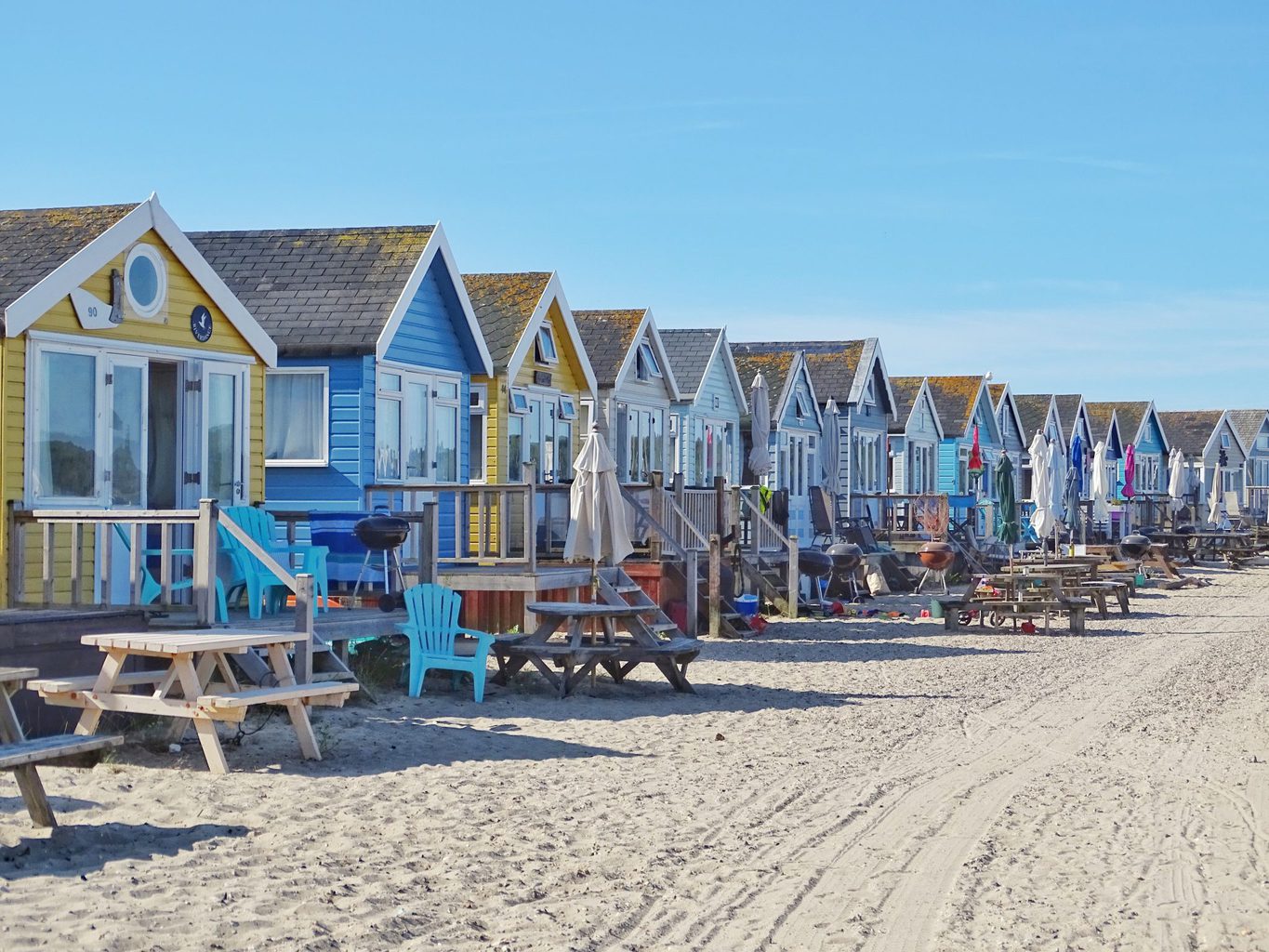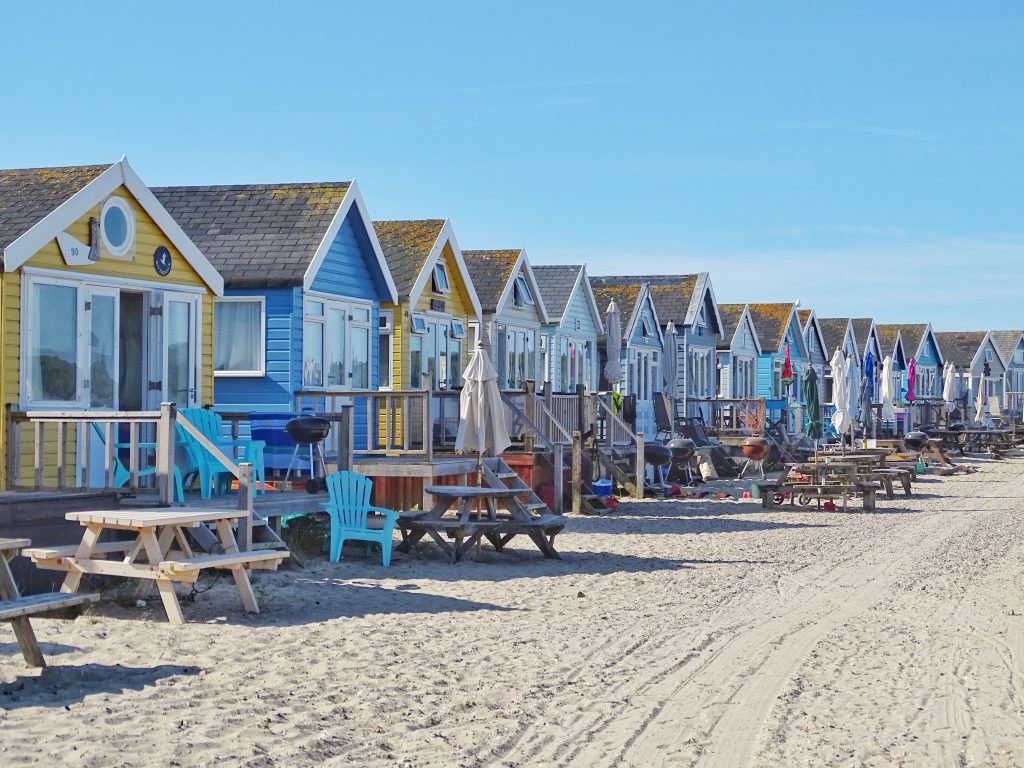 Nestled alongside the charming riverside town of Christchurch, Mudeford is a small village tucked between Christchurch Harbour and the sea. Historically, Mudeford has always been a fishing village, and it's picturesque quay still bears the signs of this industry.
There are two beaches in this small Dorset seaside town. The sand-and-shingle Avon Beach running along the front of town towards Highcliffe Beach is a popular, family-friendly spot. Or a very short hop across the mouth of Christchurch Harbour will land you on Mudeford Sandbank, a spit of white sand with water on both sides, lined with pastel-painted beach huts.
Charmouth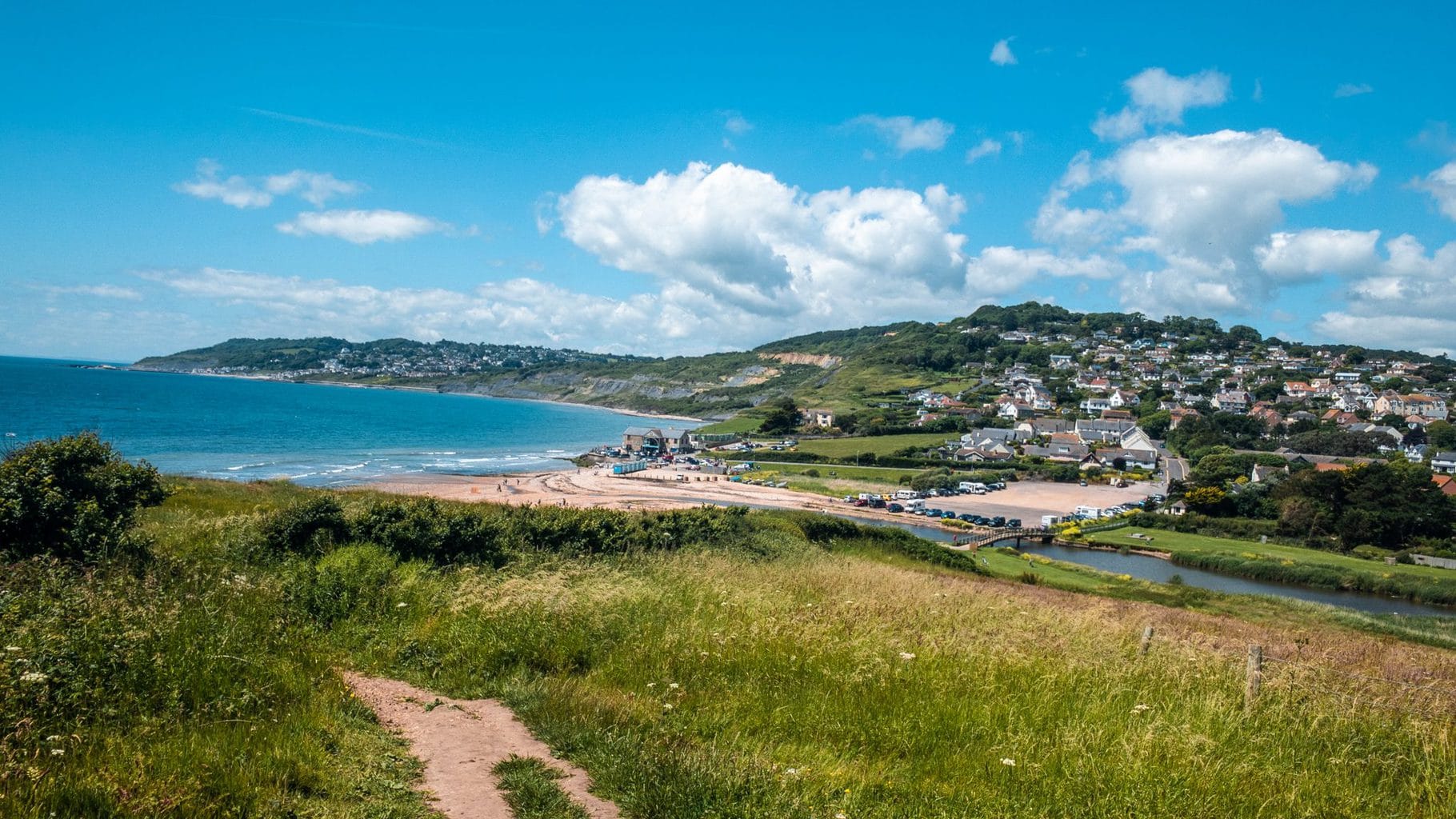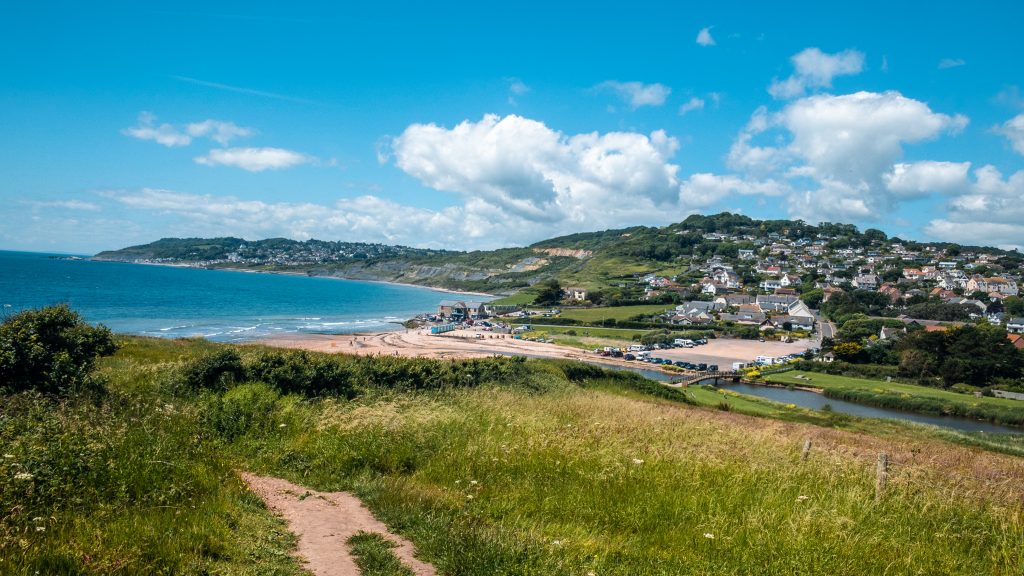 A couple of miles along the coast from Lyme Regis lies the unspoilt village of Charmouth. Smaller and quieter than its popular neighbour, Charmouth is a lovely, tranquil spot – perfect if you need a bit of an escape!. The town sits at the mouth of the River Char, which cuts across the shingle beach to reach the sea. During summer this river is a popular swimming spot.
Like Lyme, Charmouth is well-known as a fossil hunting destination. Don't miss the Charmouth Heritage Coast Centre for loads more info about the local geography and history – as well as David Attenborough's "Sea Dragon": the full skeleton of an ichthyosaur found locally!
READ MORE: Lyme Regis to Charmouth Walk
Lulworth Cove Village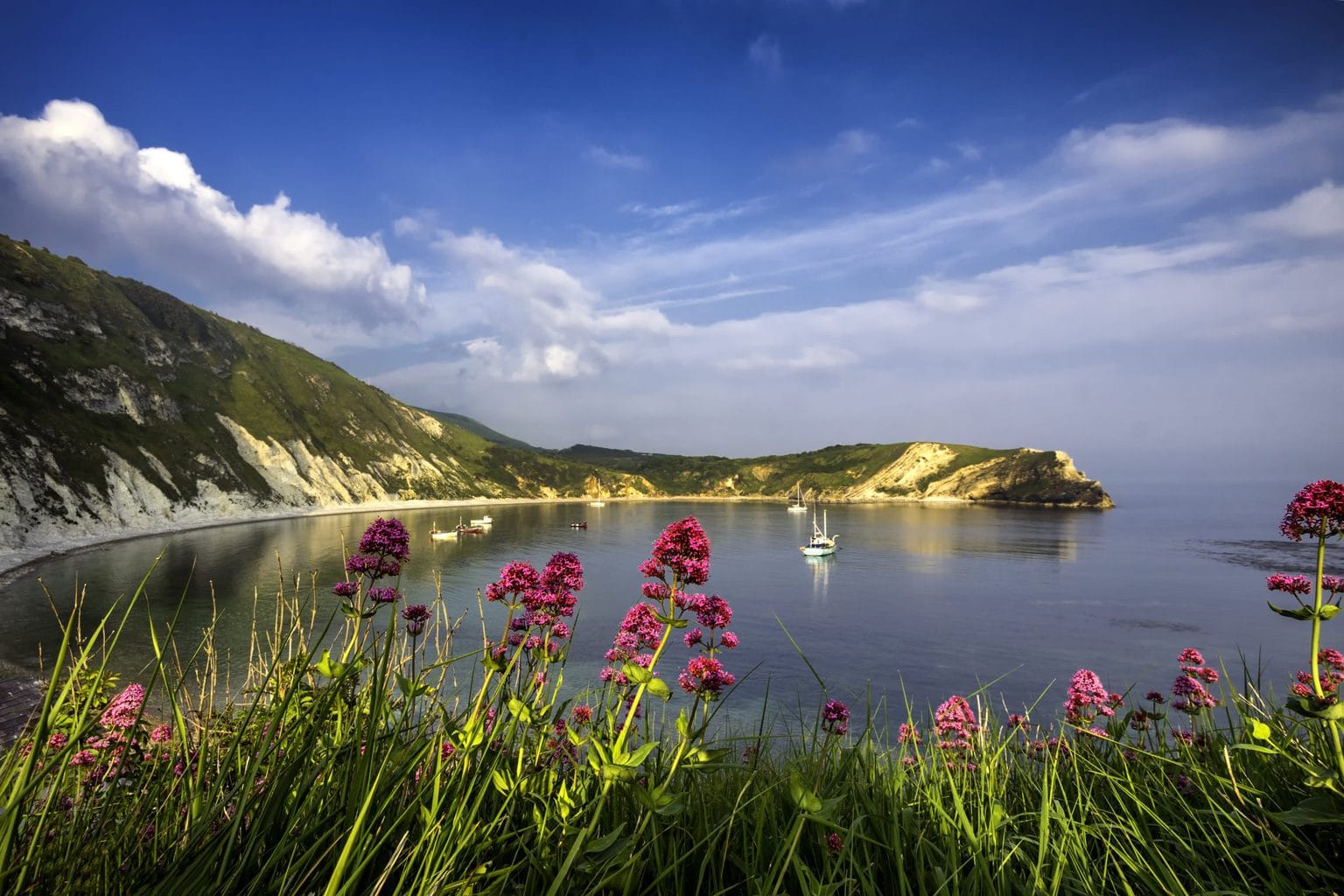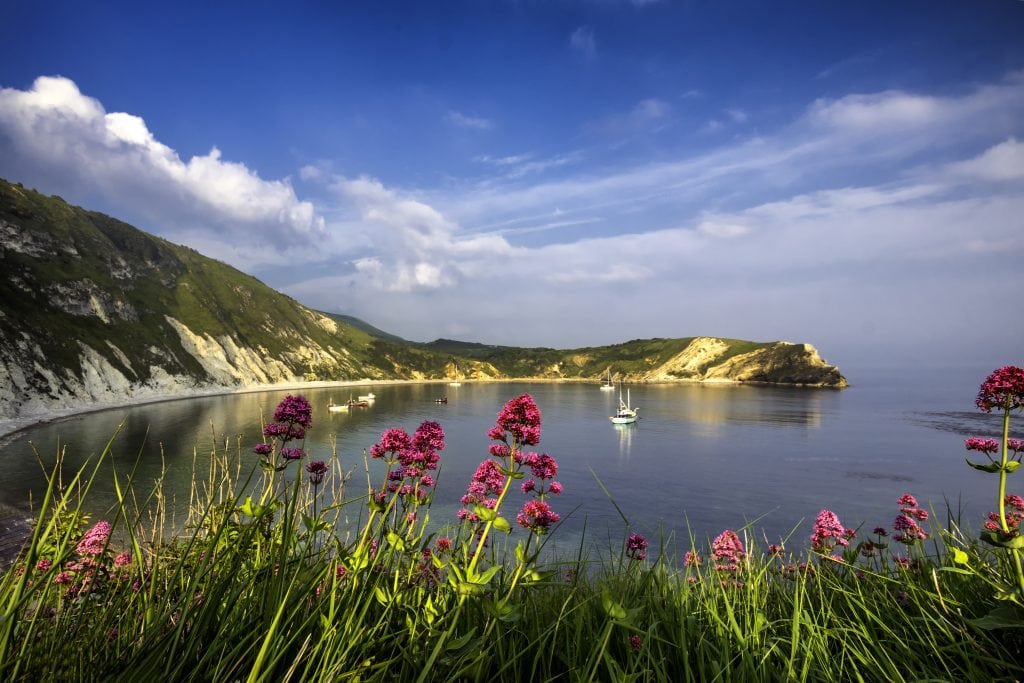 A charming village running down to a spectacular, near-circular cove, Lulworth Cove is one of the best-loved seaside towns in Dorset. While many visitors come for the day, the village is full of self-catering cottages and some lovely hotels. So it's a brilliant place to spend a few days- and is ideally situated for exploring the nearby attractions, including the famous archway at Durdle Door.
The village itself is very small, but packed with cute shops, cafes, and pubs. I love the Lulworth Cove Inn for both food and accommodation, and the fudge from the impossibly quaint Dolls House sweetshop and tearoom is a must!
RELATED POST: Lulworth Cove and Durdle Door Walking Loop
Seatown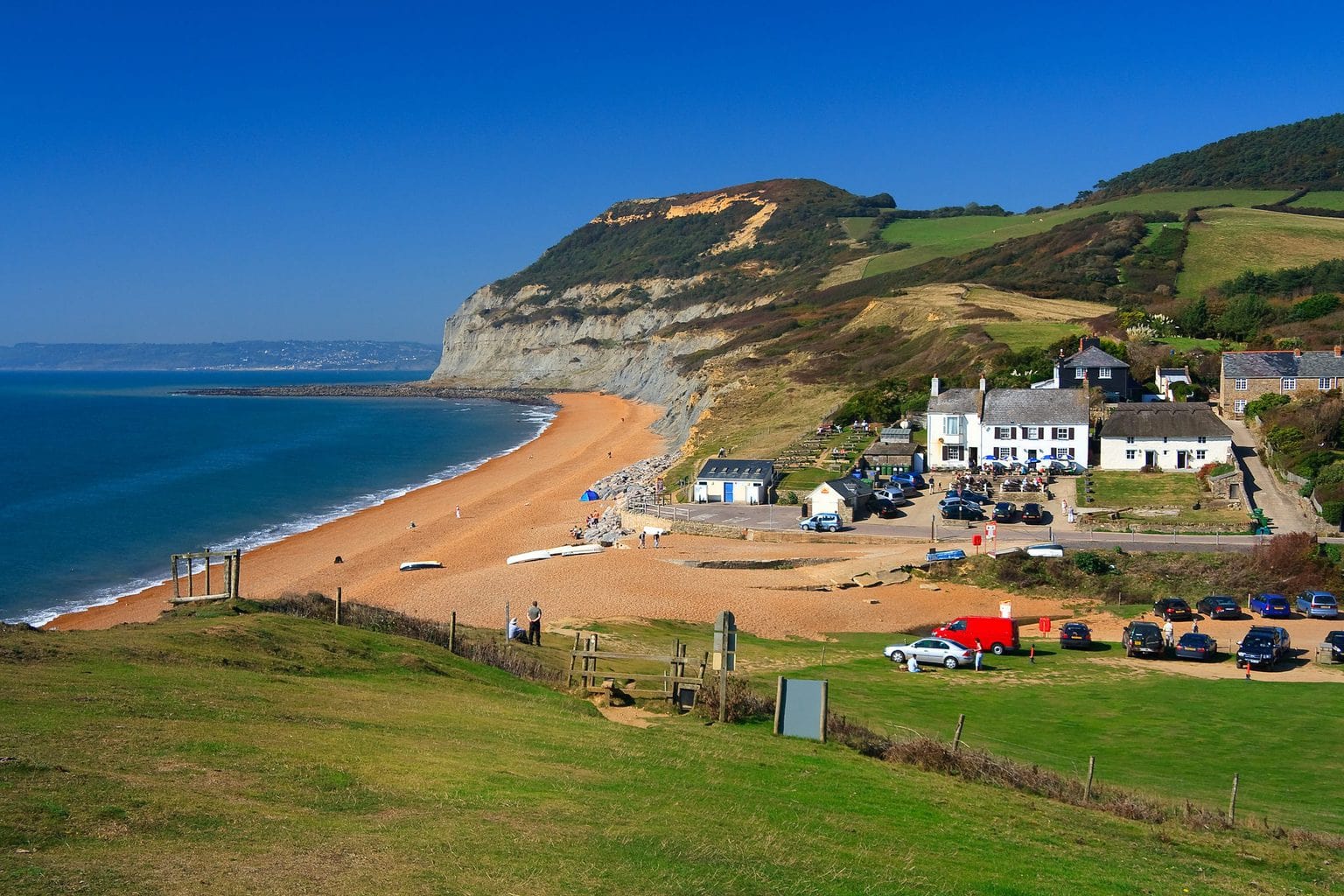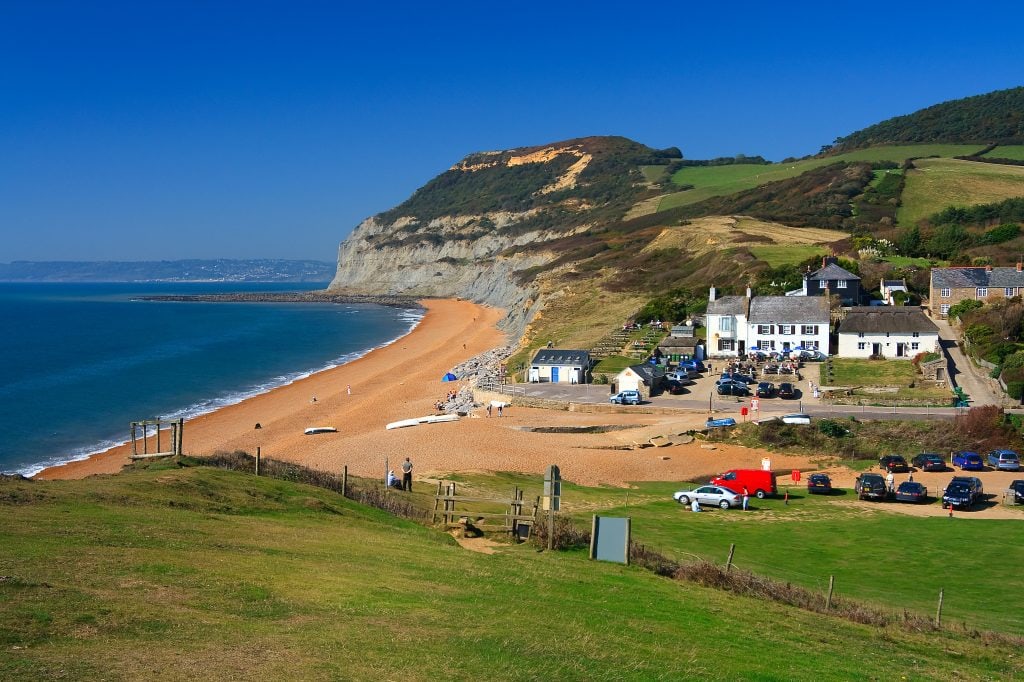 Seatown is a tiny coastal hamlet near Bridport, and one of the less-known seaside resorts in Dorset. This makes it an ideal place to escape the crowds, as the beach rarely gets too busy.
Overlooking the picturesque stone cottages of the village is the Golden Cap, the highest point on the south coast of England. If you don't mind the challenge, the climb to the top offers some incredible views along the Jurassic Coast. The shingle beach at Seatown is another popular fossil hunting spot – especially because its easy access means its a good location for families with young children.
Studland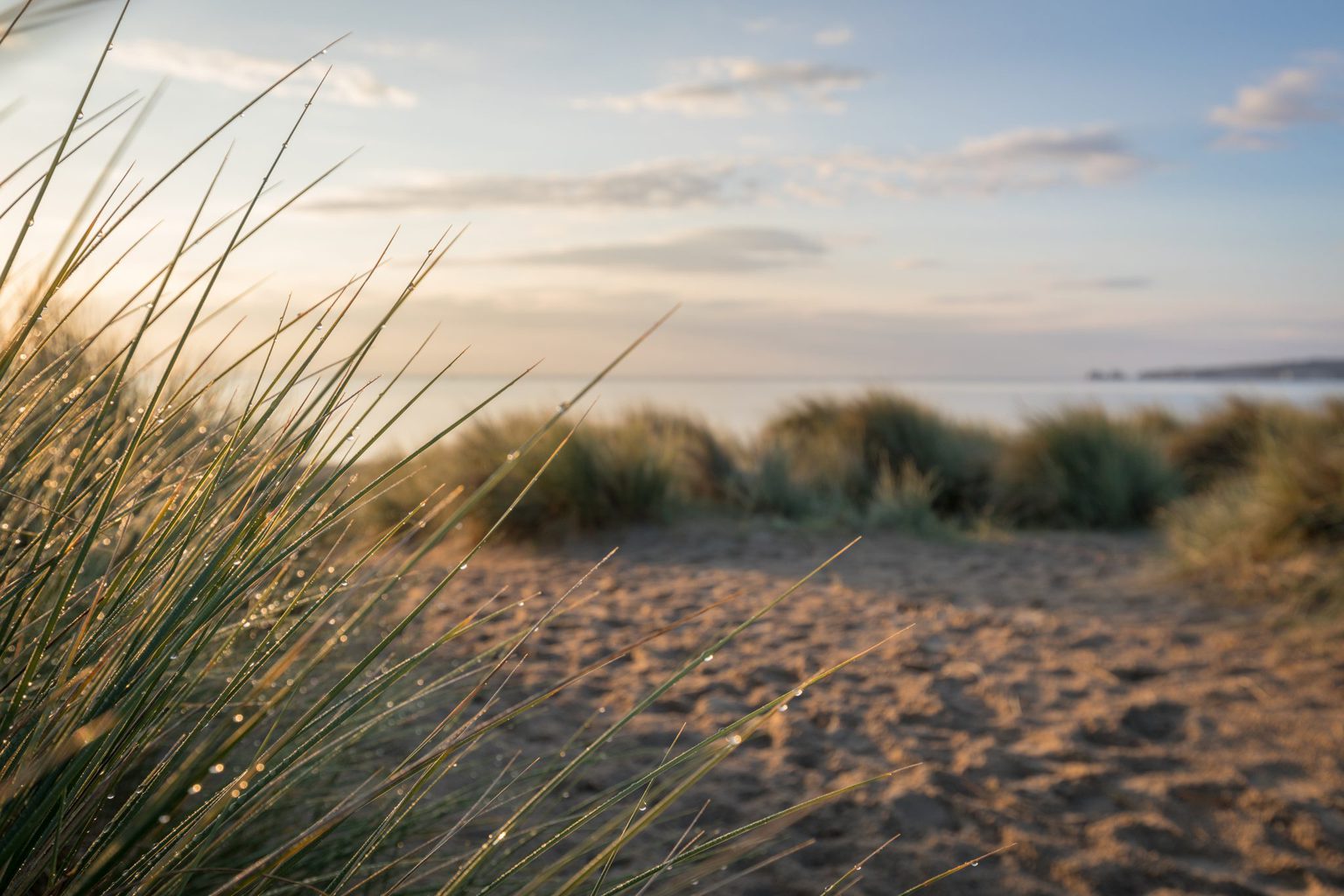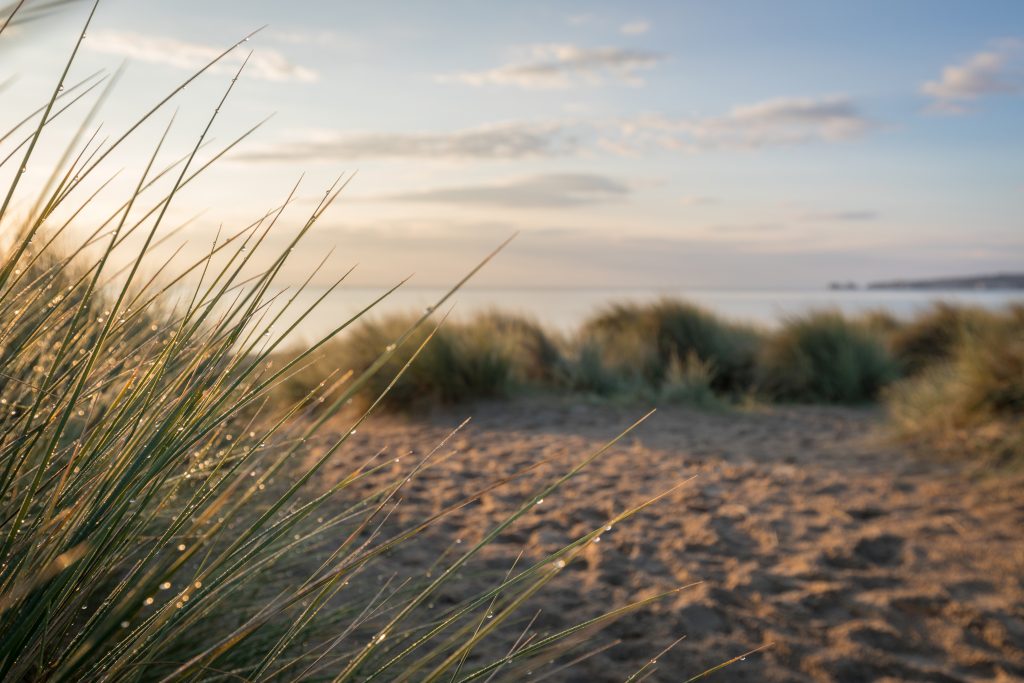 The little village of Studland lies on the tip of the Isle of Purbeck, next to some of the most stunning beaches in the county. Although it's a tiny village, with a population of just over 400, it's a remarkably popular spot in summer. So there are several places to eat, drink, and stay – including the popular PIG at the Beach and the Bankes Arms.
Despite its popularity and long sandy beaches, there are plenty of secluded spots around Studland. The further you walk, the quieter the beaches become. Much of Studland Bay is a protected nature reserve, rich with local flora and fauna. Nearby, the chalk stacks at Old Harry Rocks are a must-see. Take the short walk from Studland to the top of the Rocks in time for sunset for some incredible views!
Sandbanks, Poole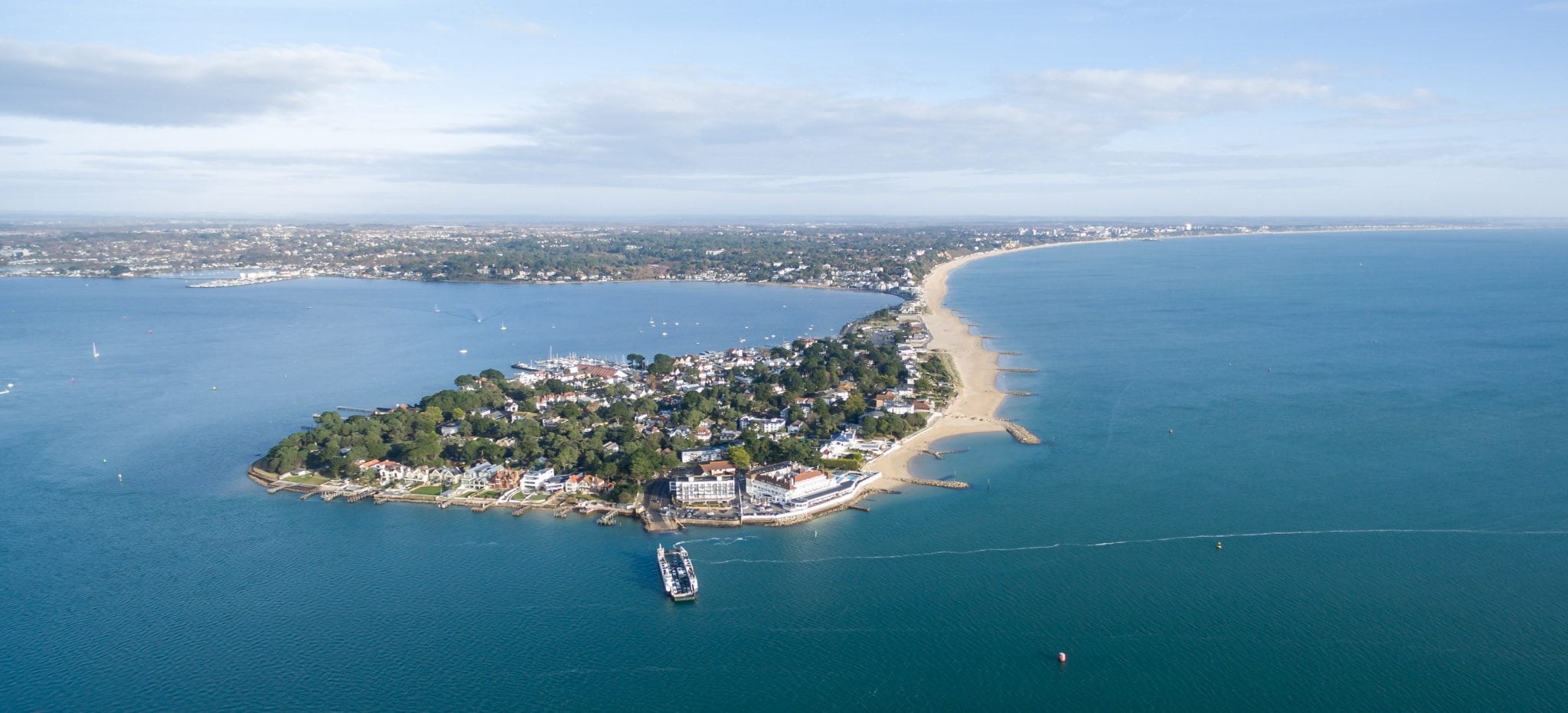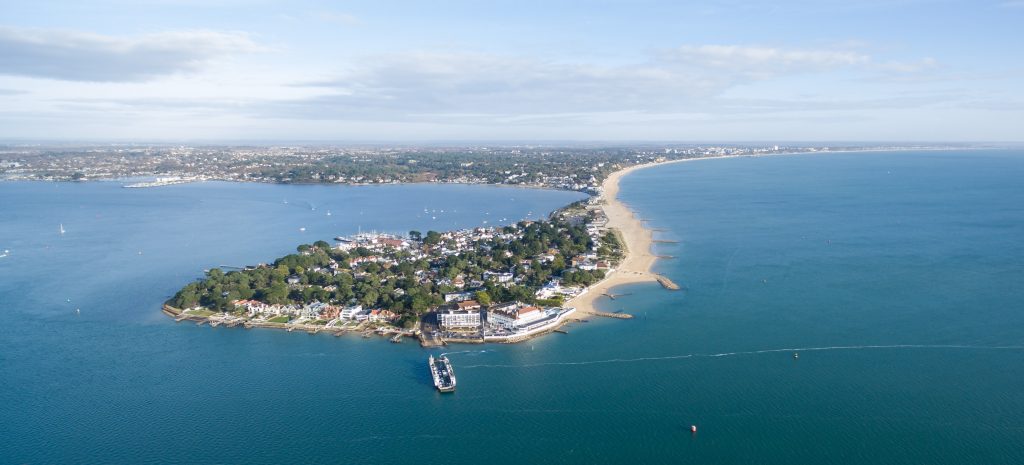 With a population of around 100, Sandbanks is by far the smallest Dorset seaside village. But almost a third of those residents are multi-millionaires, making this the most expensive coastal location in the UK!
Expect yacht-filled marinas, fabulous seafood restaurants, and striking waterfront mansions. The small peninsula of land between Poole and Bournemouth is skirted by stunning white sandy beaches. The sheltered waters of Poole Harbour on the eastern side are ideal for sailing, SUP and other waterports – while the western beach is one of the best-loved in England.
Got any questions about these Dorset seaside towns? Scroll down to leave me a comment!
Pin this Post