Some posts on this site contain affiliate links. If you book or buy something through these links, I earn a small commission (at no extra cost to you). Take a look at my privacy policy for more information.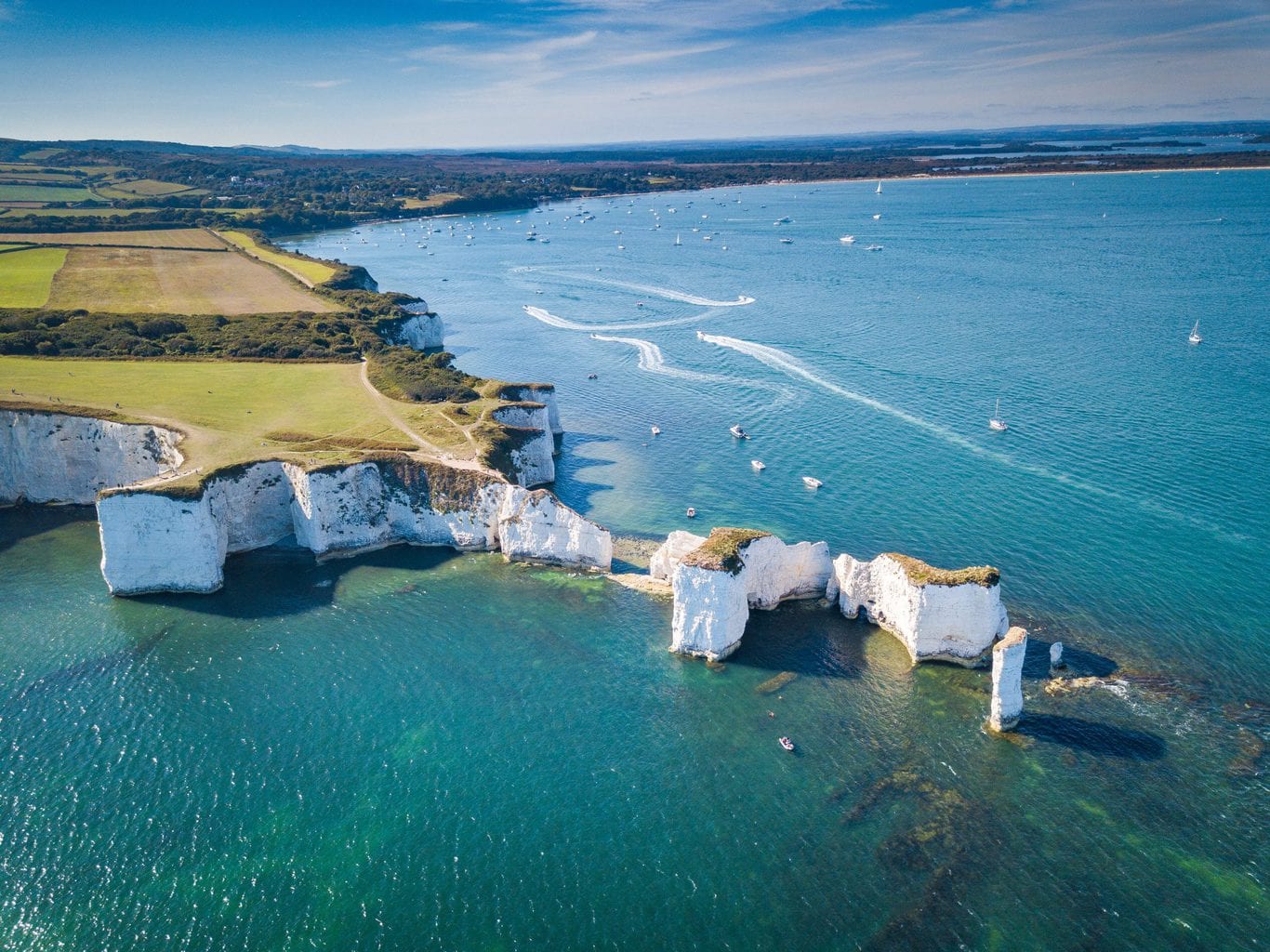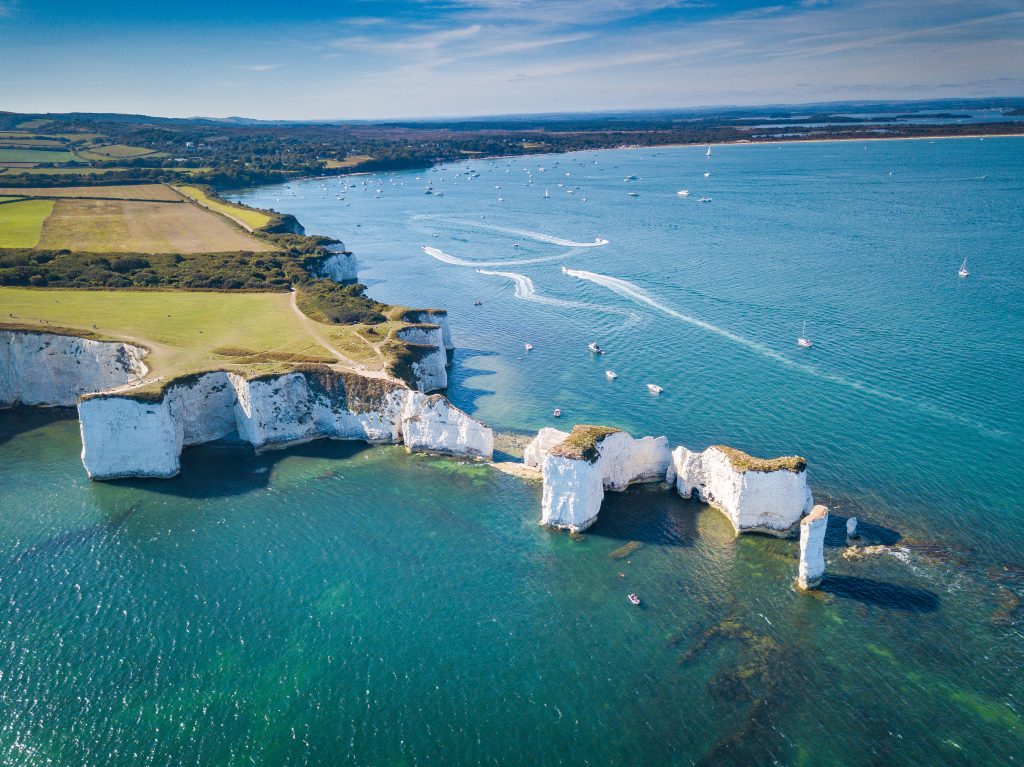 Fun, interesting, and unusual facts about Dorset – perfect for pub quizzes, or just impressing your friends!
Dorset is a fantastic place with a truly fascinating history, amazing landscapes, and lots of unique local quirks.
Whether you're a local or just visiting the area, here are some fun facts that will shape the way you see this amazing part of the country! Use them as inspiration for your next pub quiz (don't miss our 50-question Dorset quiz for more) or impress your mates with how much you know about Dorset. Enjoy…
18 Fun Facts About Dorset
1. Dorset is home to the oldest post box in England!
Commissioned many years ago in 1853, this famous post box is actually still in use today and can be found in the quaint village of Holwell. You'll also find that it still bears the initials of Queen Victoria inscribed in its casing!
2. Dorset is the backdrop of many famous music videos
Eagle-eyed music lovers can spot the Dorset countryside in music videos like 'Yellow' by Coldplay, and 'Shout' by Tears for Fears.
3. Dorset's Golden Cap is the highest point on the South Coast of Great Britain
At 191 meters (672 ft) above sea level, it is not for the faint-hearted! Follow our 4-mile walking route up and over Golden Cap for some of the best views in Dorset.
4. Bournemouth serves over 2,000 ice creams a day!
It is certainly a popular seaside spot that sees thousands of visitors every year – so it makes sense that thousands of ice creams are served up on Bournemouth Beach every day.
5. Dorset's Jurassic Coast was the first ever site to make the UNESCO World Heritage list
The Dorset and East Devon Coast World Heritage Site is England's first (and only) natural World Heritage Site.
6. Britain's most bendy road is located in Dorset!
A 1.5km stretch at Cann Common has often been called Britain's bendiest road. Although the claim is unsubstantiated, the road is certainly one of the bendiest we've ever seen! Named Zig Zag Hill, this road near the Dorset/Wiltshire border is so twisty it feels like a rollercoaster. Drivers be warned!
7. Novelist Thomas Hardy based his fictional town of Casterbridge on Dorchester
Keen readers can draw parallels between the charming Dorset town and Hardy's Casterbridge in the renowned title, The Mayor of Casterbridge. In fact, Hardy set most of his works in fictionalised versions of southwest England. We have a full list of books set in Dorset for your reading list!
8. One of the world's hottest chillies was developed in Dorset!
The Dorset Naga is a superhot chilli, rated at a frightening 1.5 million Scoville Heat Units. It was the For those brave enough, it is a great addition to soups and stews!
9. Britain's first-ever fossil shop was opened in Dorset in 1826
Palaeontologist Mary Anning founded the shop in Lyme Regis, and her findings contributed to significant changes in the field of science and earth history. Sadly, she was never admitted into the Geological Society of London for her work because she was a woman.
10. Mary Anning was also the inspiration behind a famous tongue-twister
Poet Terry Sullivan based his ever-popular tongue-twister, "She sells sea-shells on the sea-shore", on the life work of fossil-lover and palaeontologist Mary Anning.
11. The iconic British Hovis advert was filmed in Dorset
Director Ridley Scott shot the renowned television advertisement in 1973 on Gold Hill in Shaftesbury.
12. Britain's first-ever recorded UFO was in Dorset!
The first ever reported sighting of an Unidentified Flying Object in Britain was in Fleet; a village in West Dorset. On 8th December 1733, Mr Cracker reported seeing a silvery disc fly overhead in broad daylight.
Here's his eyewitness account, taken from the Bournemouth Echo:
"Something in the sky which appeared in the north but vanished from my sight, as it was intercepted by trees, from my vision… It shot with speed like a star falling in the night. But it had a body much larger and a train longer than any shooting star I have seen".
13. Dorset is one of five counties in England without a motorway
One could argue that this fact keeps Dorset more peaceful!
14. A crater on Mars is named after Swanage
In 1997, a 12-mile diameter crater on Mars was named after the Dorset town of Swanage.
15. You can find famous film locations in Dorset!
Scenes for Christopher Nolan's award-winning 2017 film, Dunkirk, were filmed in Weymouth Harbour. Swanage Railway also made an appearance.
The Boat That Rocked (2009) was filmed off the coast of Portland.
Both the 1967 and 2015 versions of Thomas Hardy's Far From the Madding Crowd were filmed around Dorset.
The popular ITV drama Broadchurch was filmed at West Bay and other locations around Dorset.
16. Rabbits are considered unlucky in Dorset
The word 'rabbit' is considered unlucky on the Isle of Portland in Dorset. Portlanders refrain from using the R-word as they consider the creatures to be bad omens. Instead, they call them bunnies, "long-eared furry things", or even "underground mutton". It's believed this superstition comes from the local quarry workers, who blamed rabbits for rockfalls and landslides.
17. The grave of gothic writer Mary Shelley can be found in Dorset
The famous author of Frankenstein and other titles lies in St Peter's Church, Bournemouth.
18. Dorset was a popular holiday spot for Royals
Weymouth was a famous holiday spot of King George III. The royal suffered from a "madness" which historians now suspect may have been Bipolar Disorder. His doctors recommended sea swimming, which was believed to be extremely curative, so King George began holidaying in Weymouth. His trips popularised the town as a seaside resort.
A chalk hill figure of King George on his horse overlooks the town from the hillside above Osmington.
More on Facts about Dorset
Check out our 50-question Dorset Quiz for lots more interesting tidbits, or visit our Inspiration page for some of our more general posts about the area.
If you're planning a trip to Dorset, our bumper travel guide might help. Or use the menu above to scroll through the different destinations we've covered.
Know any more great facts about Dorset? Scroll down to share in the comments!