Some posts on this site contain affiliate links. If you book or buy something through these links, I earn a small commission (at no extra cost to you). Take a look at my privacy policy for more information.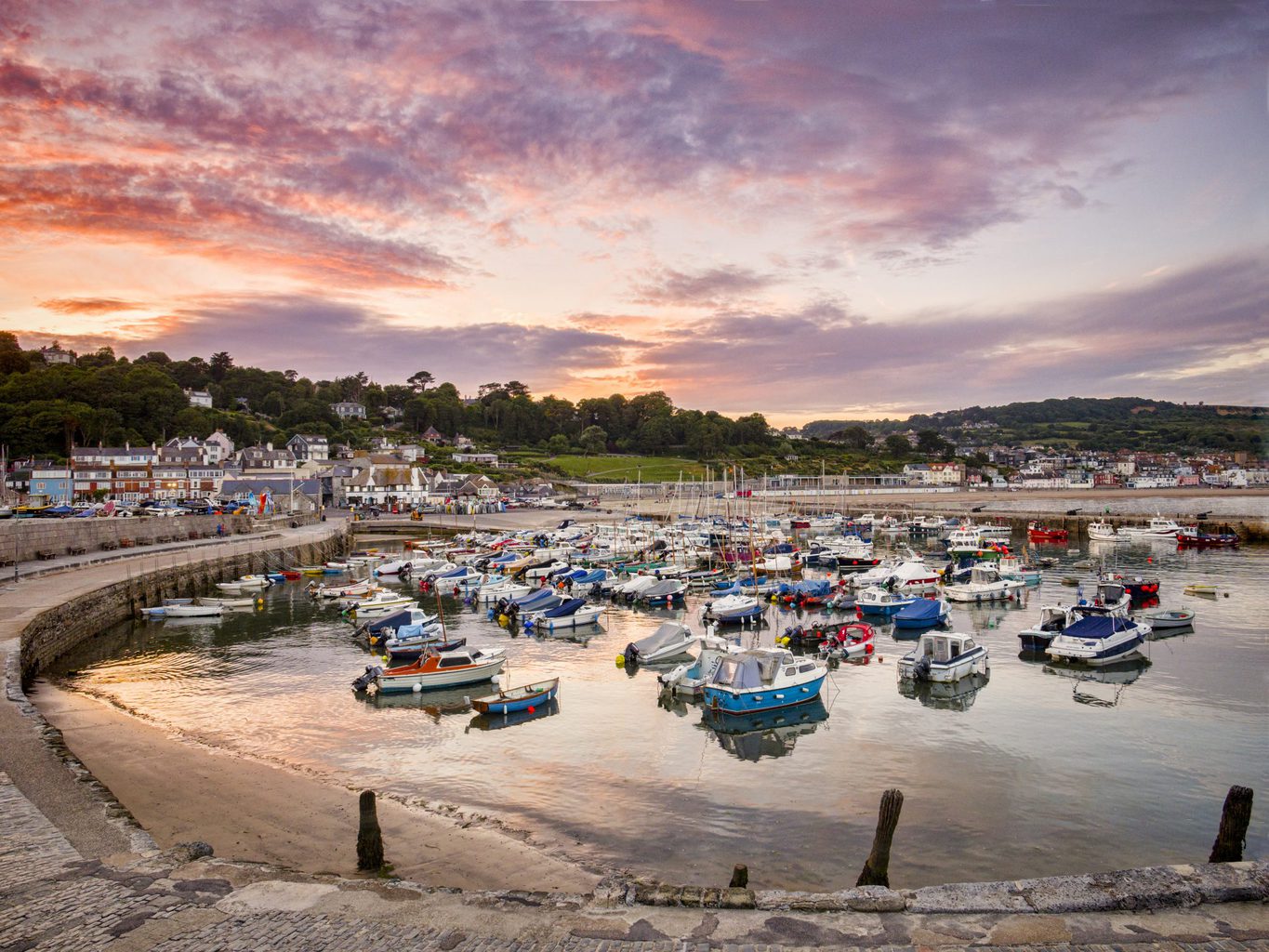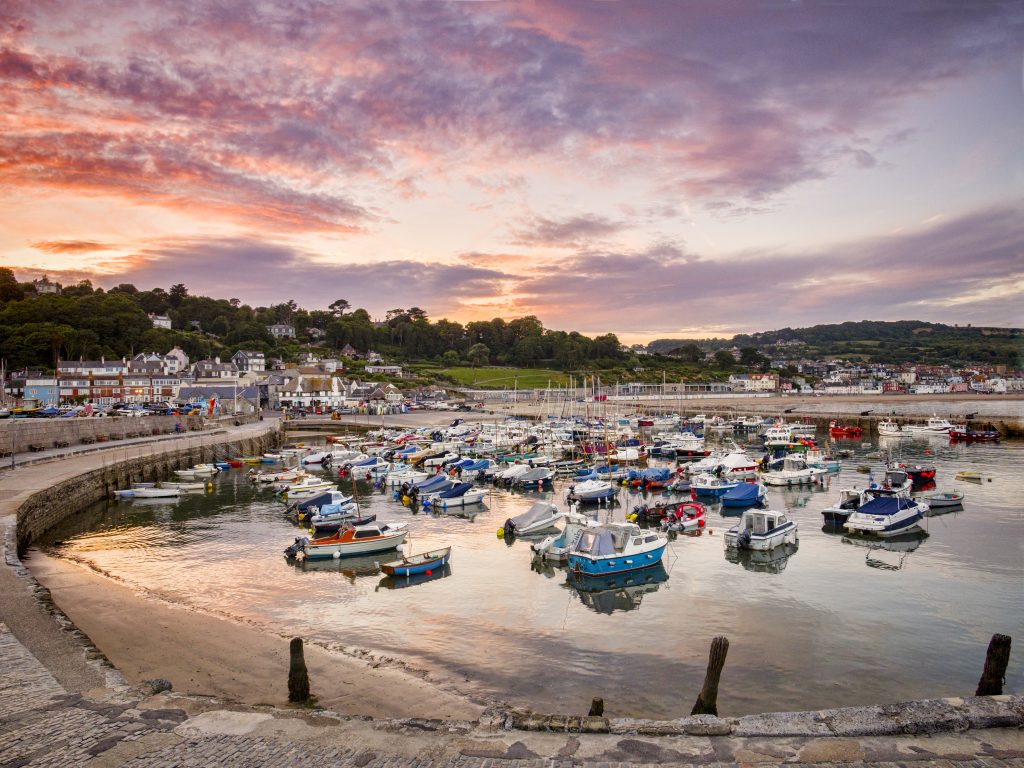 Looking for the perfect spot for an English seaside holiday? Lyme Regis should be high on that list. Especially if you book one of the lovely Lyme Regis cottages in this post!
This cute little town on the coast has everything you could want: plenty of lovely beaches, a harbour crammed with colourful fishing boats, and some stunning cliff walks in every direction. Throw in some amazing seafood restaurants and plenty of boutique shops and art galleries to explore, and you're looking at a pretty idyllic England staycation.
Staying at a self-catering cottage is perfect for a British beach holiday. They're also ideal for families and large groups as you can all stay together. All the cottages listed below are in the heart of Lyme Regis, within a few minutes walk of the beach. So you can spend your days exploring the coast, before cosying up by the fireplace or cooking up a storm in your very own kitchen.
7 of the Best Cottages in Lyme Regis
If you're looking for cute Lyme Regis holiday cottages, the list below shows all the best properties on Airbnb at the moment.
There are a few others, and new properties are always being added to Airbnb. But these are some of the highest-rated and cutest-looking cottages near the seaside in Lyme.
If you fancy something a bit different, there are also many high-end Dorset gamping properties near Lyme Regis.
READ MORE: Check out my list of the best things to do in Lyme Regis to get started planning the rest of your trip. If you fancy some more unusual accommodation, I also have a list of unique Dorset Airbnbs, and a round-up of the best dog-friendly cottages in Dorset.
Lilac Cottage, Lyme Regis – 6 Guests
Located just 70m from the sea, with stunning sea views from the kitchen and garden, Lilac Cottage is a recently refurbished home covered in purple-hued slate tiles. Hence the name! It has 3 double bedrooms and 3 bathrooms, as well as a beautiful country-style kitchen, dining room, and living room. So it would be ideal for a family holiday in Lyme Regis.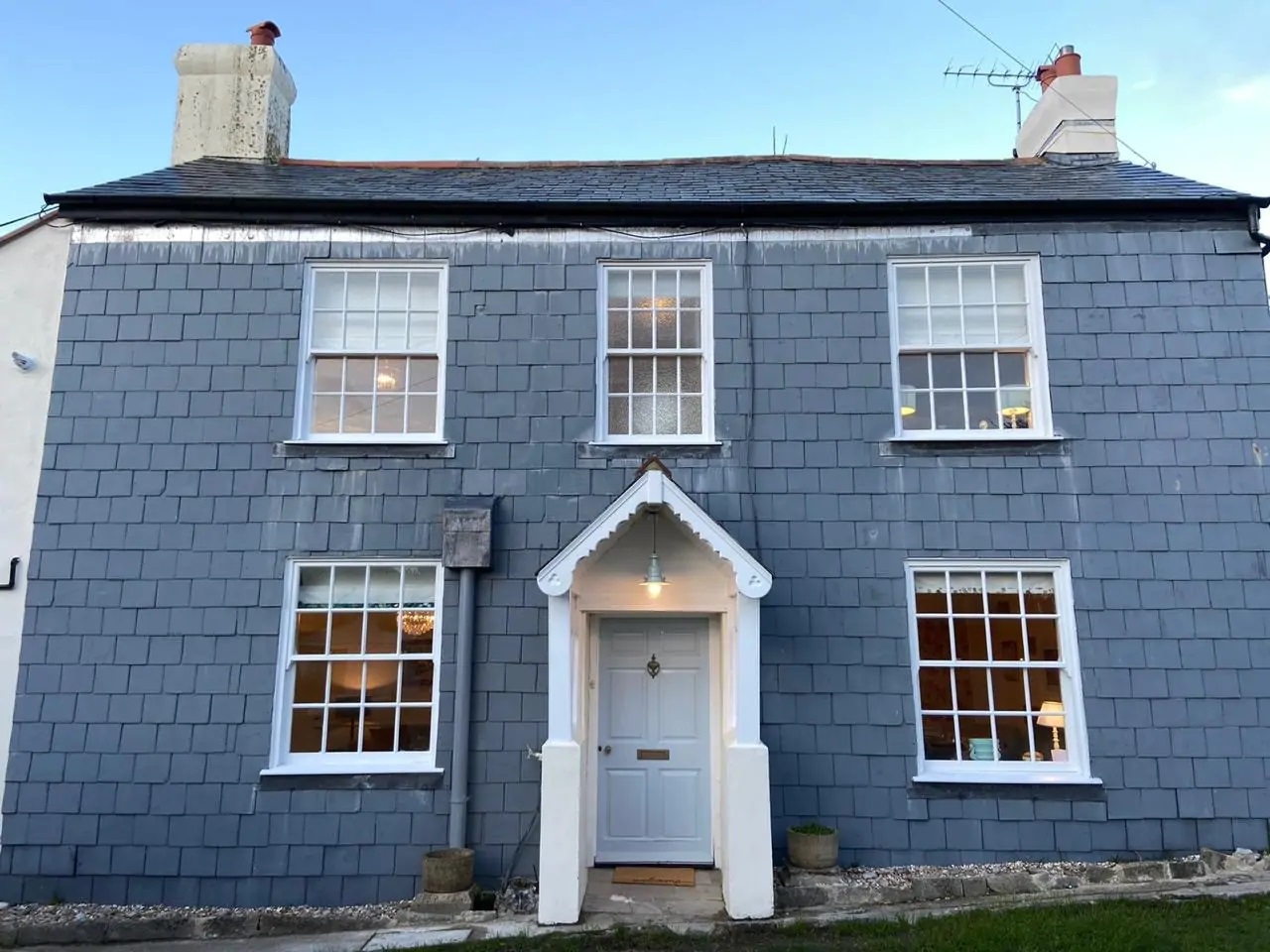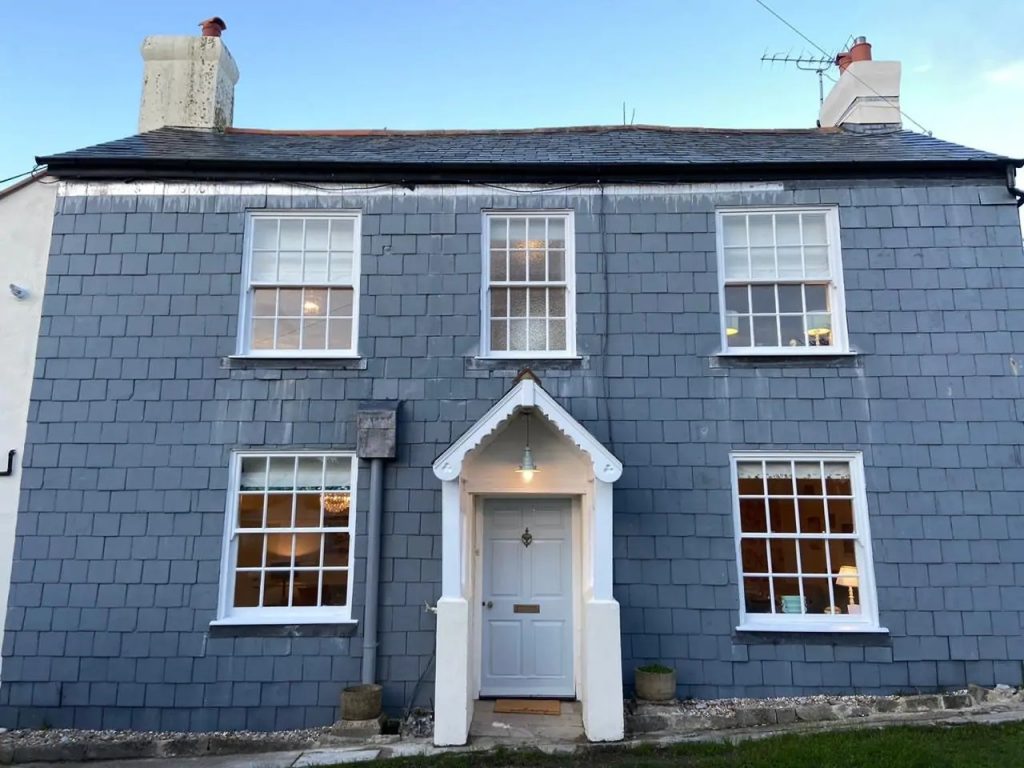 Although there's no beach access from the cottage, it's only a three-minute walk from the sea. One of the biggest selling points is the huge garden. Lilac Cottage has a formal lawned garden leading down to a large natural garden, where a small patio area overlooks the sea. Imagine summer evenings with a glass of wine on your own private patio. Dreamy!
Spacious 4 Bed Cottage – 8 Guests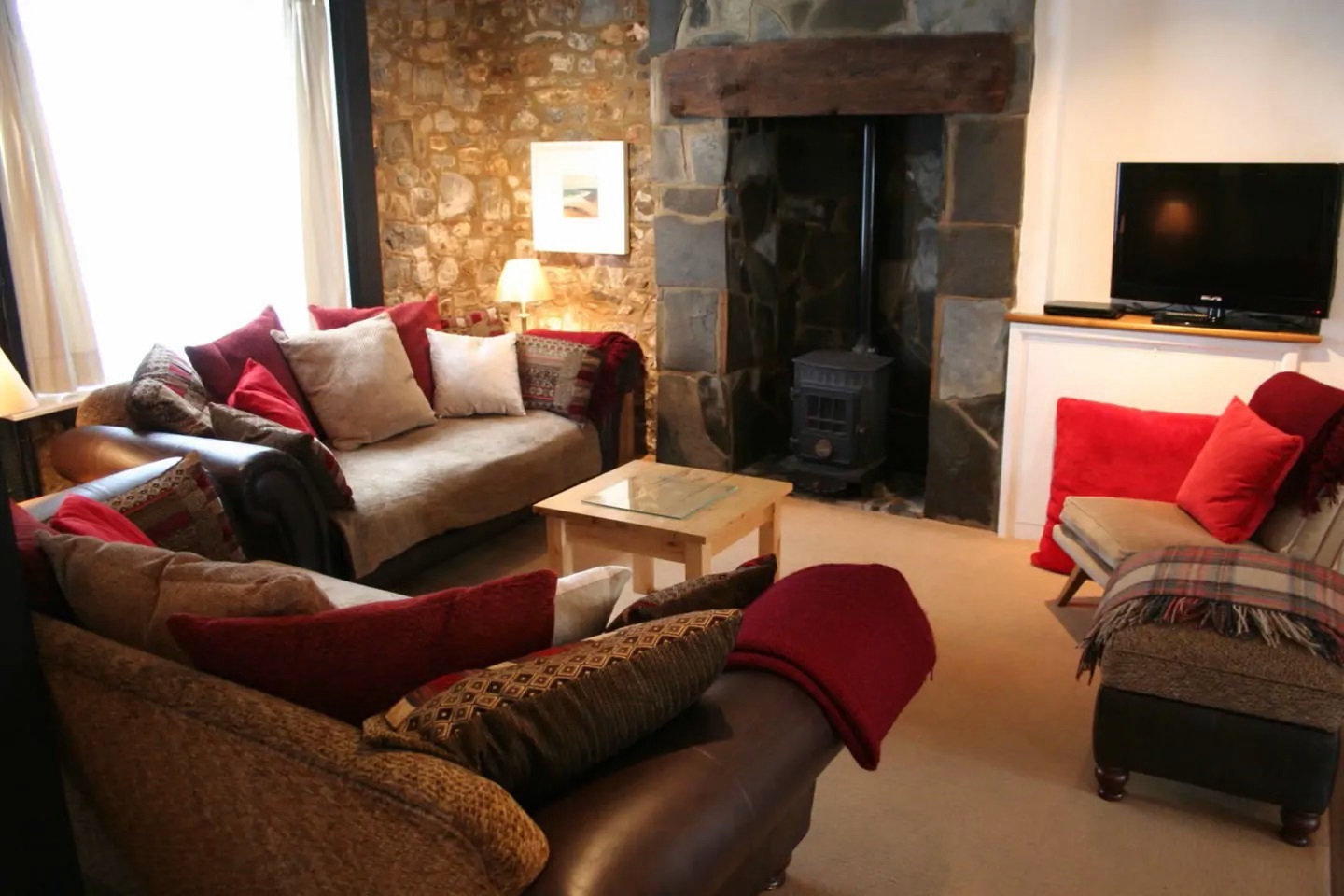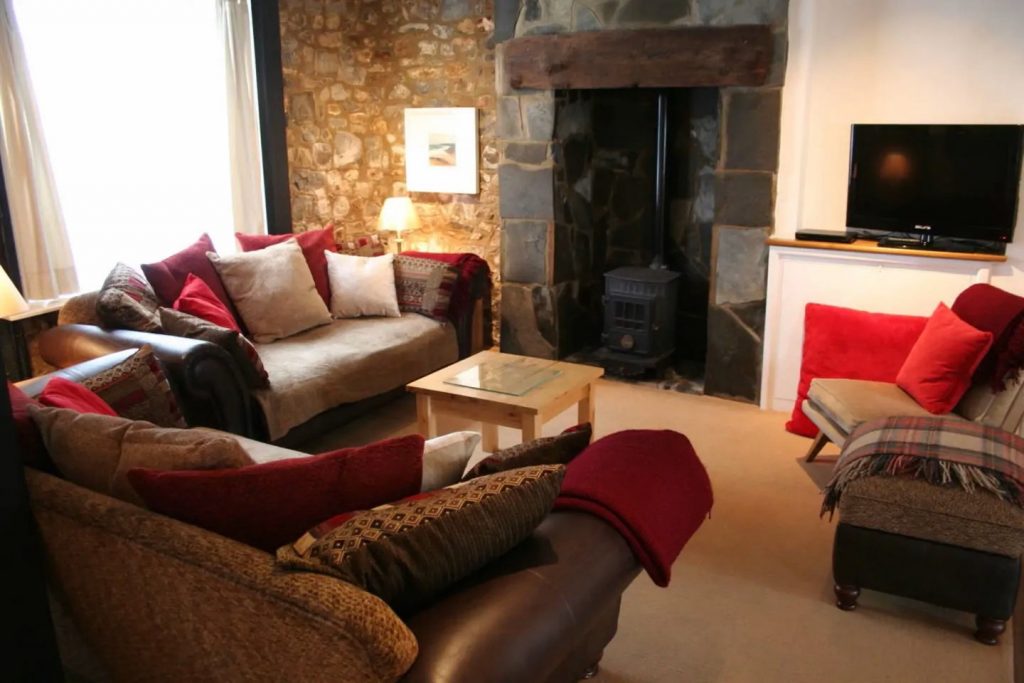 There are plenty of cottages to choose from in Lyme Regis. But if you want one with tons of character, this 4-bedroom Airbnb in the centre of town should be right up your street. The gorgeous living area is beautifully rustic! Think exposed stone walls, a log burner in a stunning fireplace, and a wrought-iron spiral staircase leading to the upper floor. With a cosy aesthetic and plenty of comfy furnishings, this is the perfect place to curl up and relax after a cliff walk!
The property has 2 double bedrooms and 2 twin rooms, as well as 2 bathrooms. So it would comfortably fit a large group, or even two families with small children. The cottage has received dozens of glowing reviews on Airbnb, and was awarded a 4 Star Gold Award by Quality in Tourism.
Silver Cottage – 6 Guests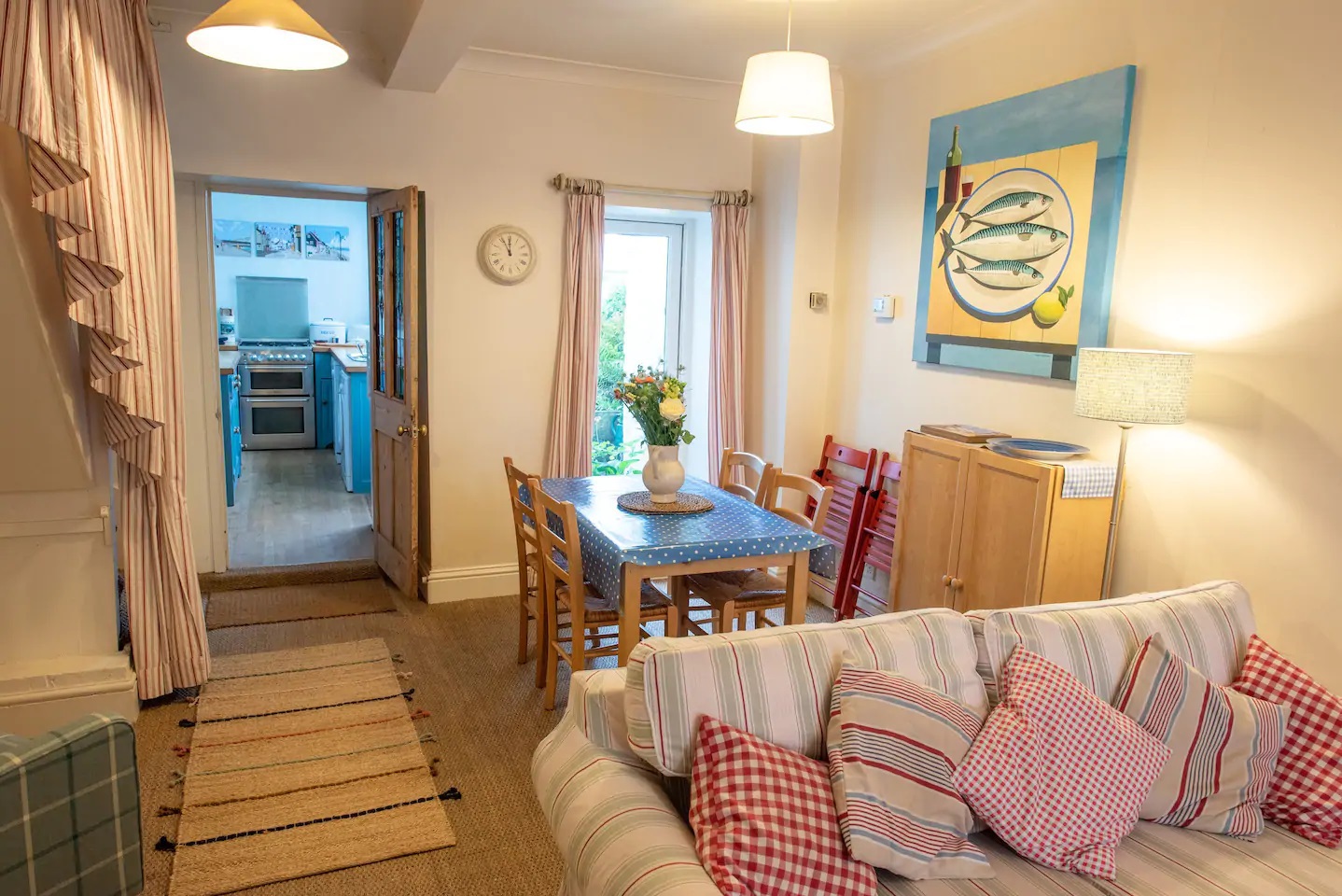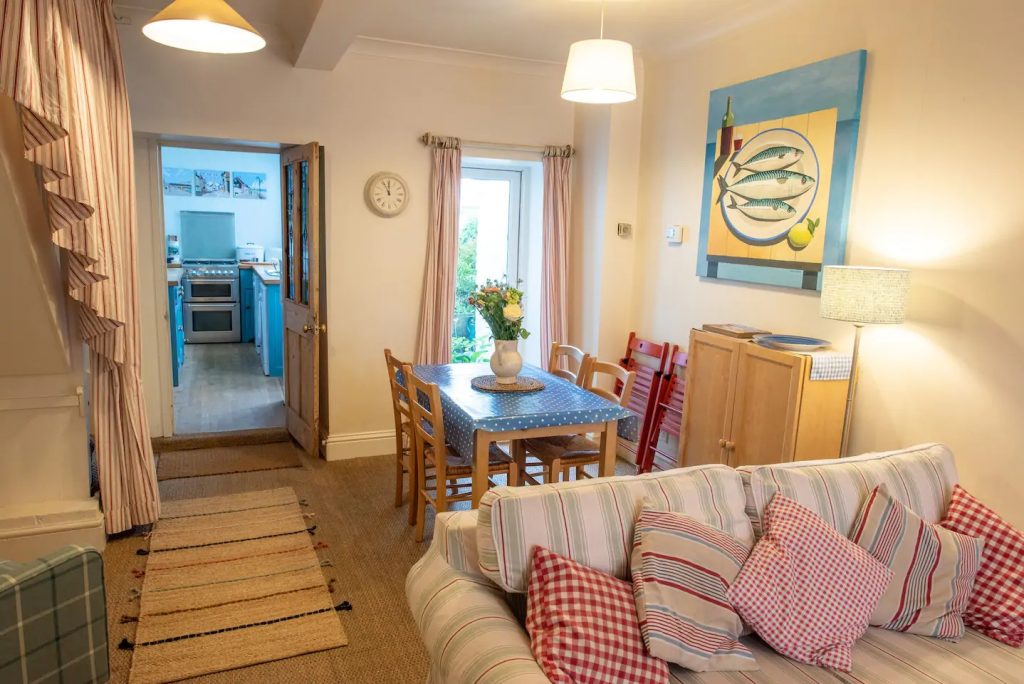 Silver Cottage is a charming, Grade II listed cottage in the heart of Lyme Regis Town. It has 3 bedrooms; two with double beds and one with a bunk bed, as well as two cots. The property also has two bathrooms. So there's plenty of room for a family with young children!
This beautiful property is light and airy throughout, with cute, vintage-style decor. There's even a log-burning stove, so you can cosy up when the British weather is being uncooperative! There's also a lovely outdoor patio area with barbecues and picnic areas – perfect for warm summer evenings. With a storage shed for bulky items such as wetsuits or pushchairs, and a well-equipped kitchen, this cottage has everything you need for a self-catering seaside holiday in Lyme Regis.
RELATED POST: 12 Dorset Holiday Lodges with Hot Tubs
SunRay Cottage – 8 Guests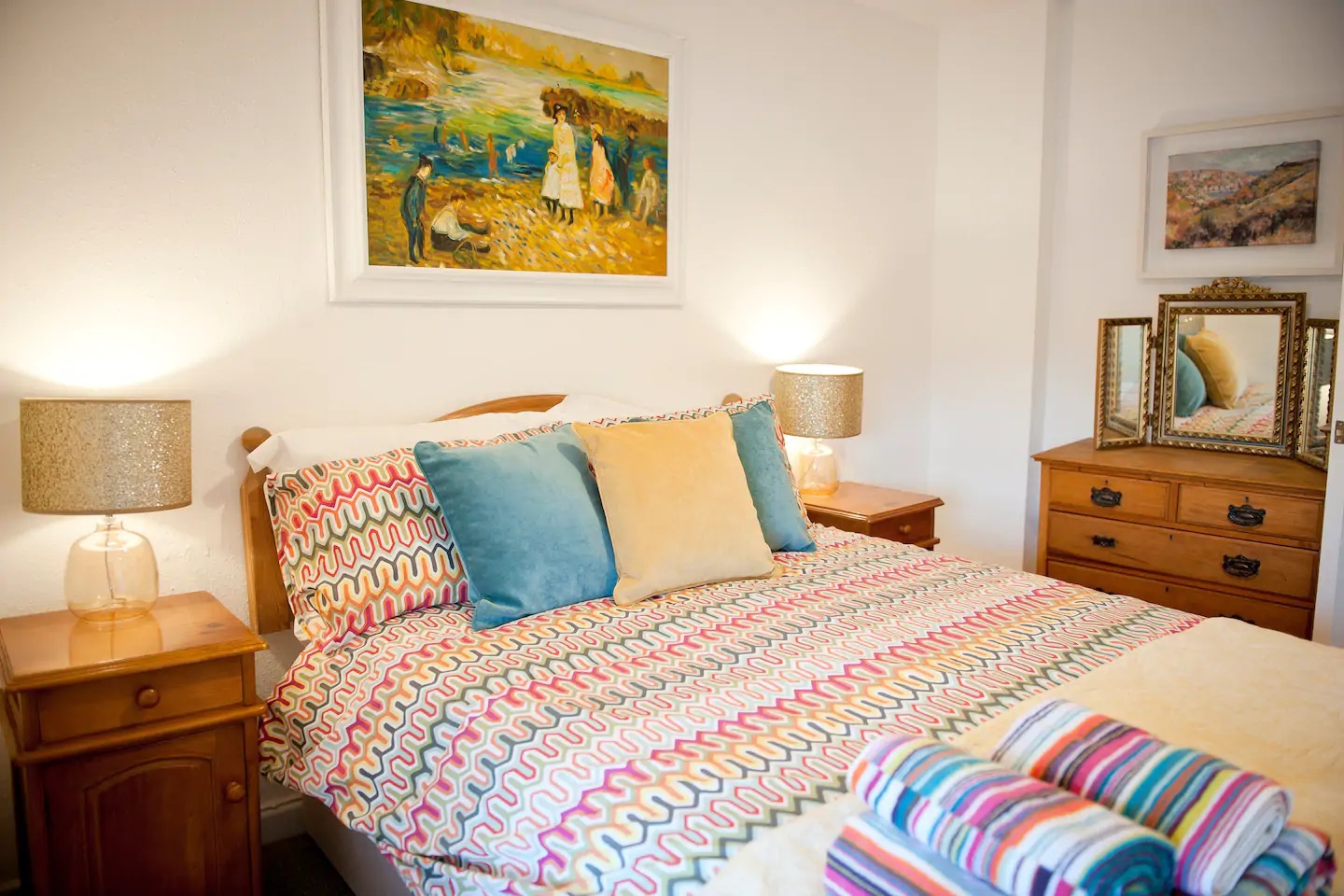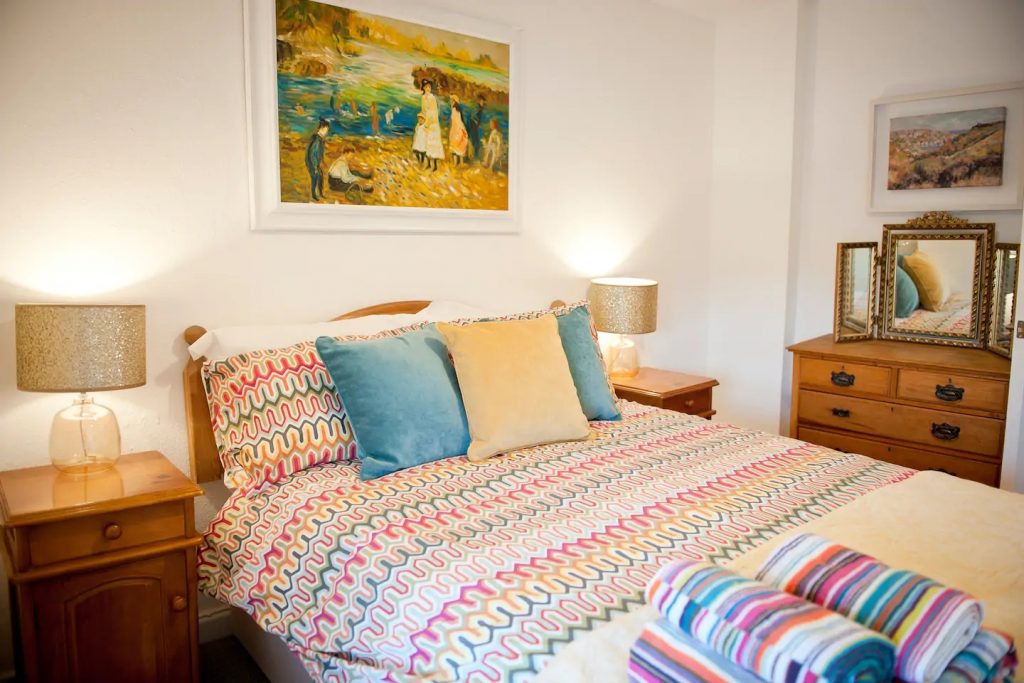 Looking for a historic building with plenty of character? SunRay is a 17th-century thatched-roof cottage with stunning views over the Jurassic Coast. Formerly the London Inn, the property has been beautifully refurbished throughout in an airy, modern style. So it offers the best of both worlds; history with all the mod-cons!
The host is a local "Superhost" with several cottages in Lyme Regis, and this one has consistently high reviews from happy guests! There are 4 double bedrooms and 4 bathrooms, so there's loads of space for a big group – including parking for two cars. There's also a large private garden overlooking the beach, complete with a cute wooden summer house and patio area. So you can sit at the bottom of the garden and watch the waves while you enjoy a drink or a picnic tea!
SunRise Cottage – 8 Guests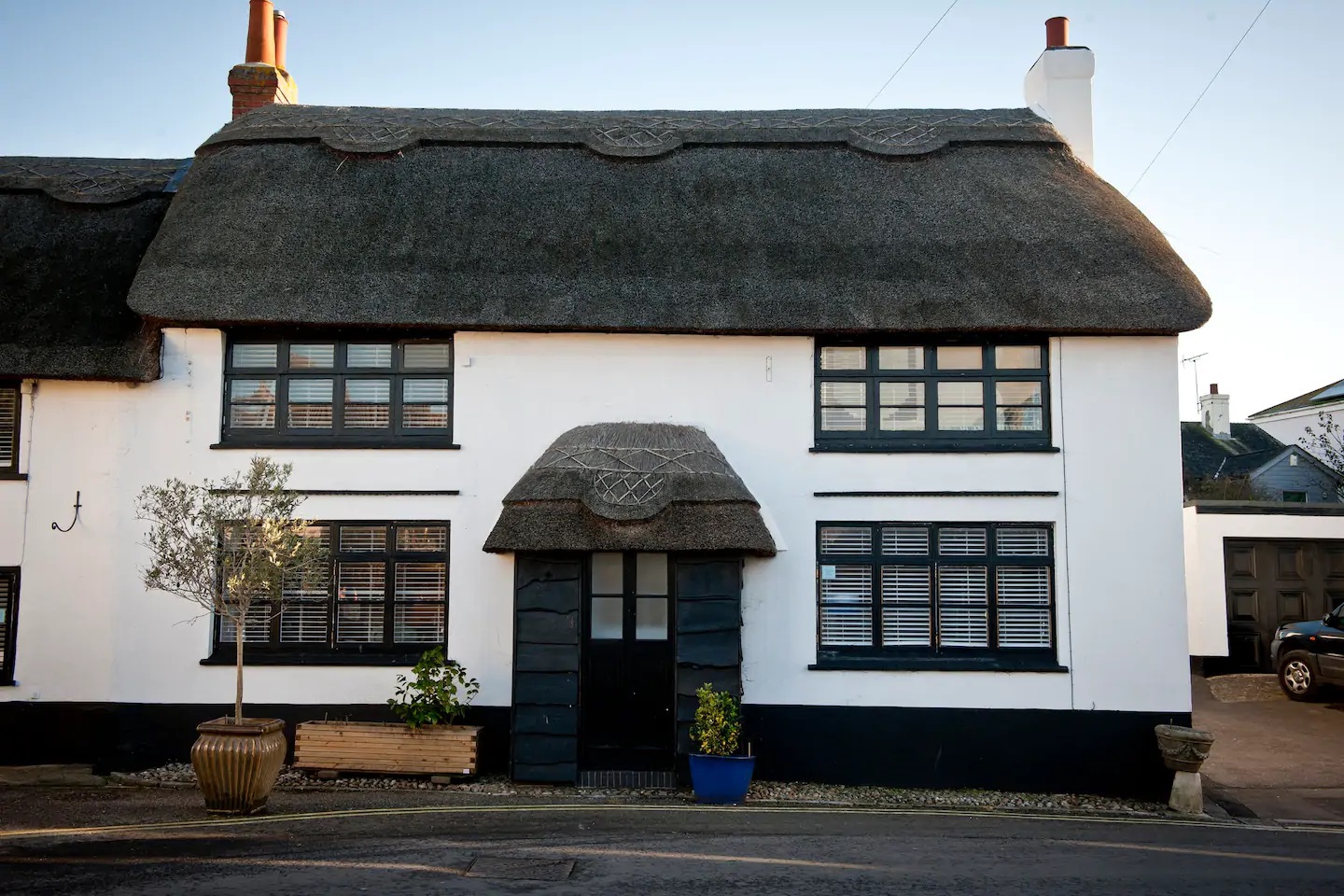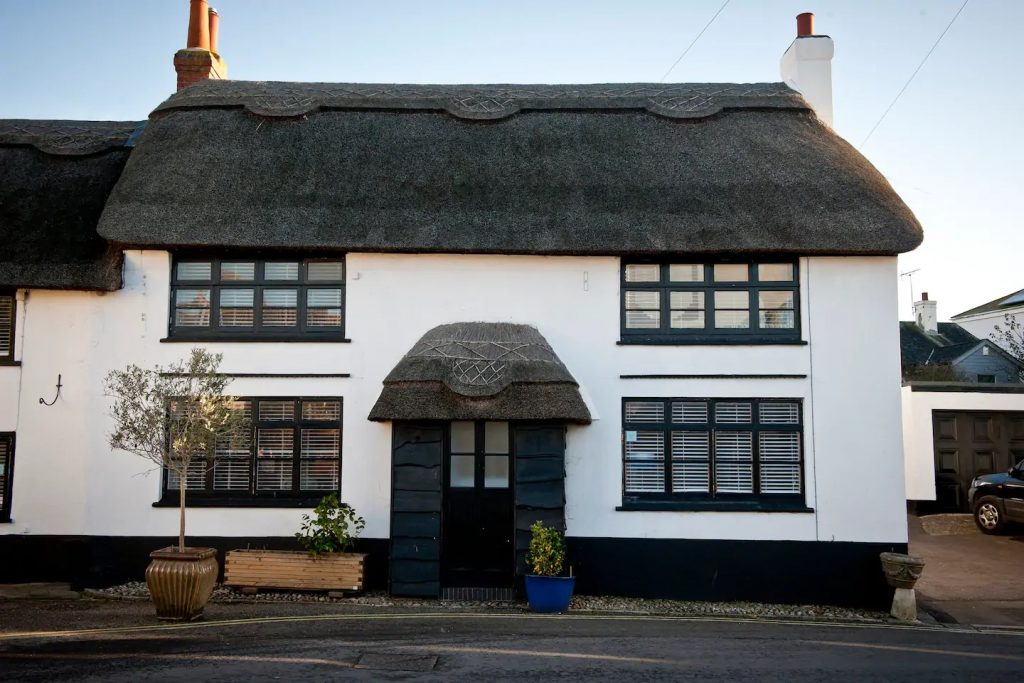 Adjoining SunRay is another property from the same Superhost. The SunRise is also a 17th-century thatched-roof cottage boasting tons of character. Again, it's modern and bright throughout, but there's a lovely country-style kitchen – complete with an Aga – which feels a little more traditional.
There are 4 double bedrooms and 3 bathrooms, as well as a living room, kitchen, dining room, and a cosy breakfast room. It's a beautiful, historic cottage which would be perfect for big groups. You can also book it alongside the SunRay if you're a really big group! The biggest selling point of this lovely Lyme Regis cottage has to be the huge garden, which looks out over the beach and provides stunning views along the Jurassic Coast towards Golden Cap.
Riverside Cottage – 4 Guests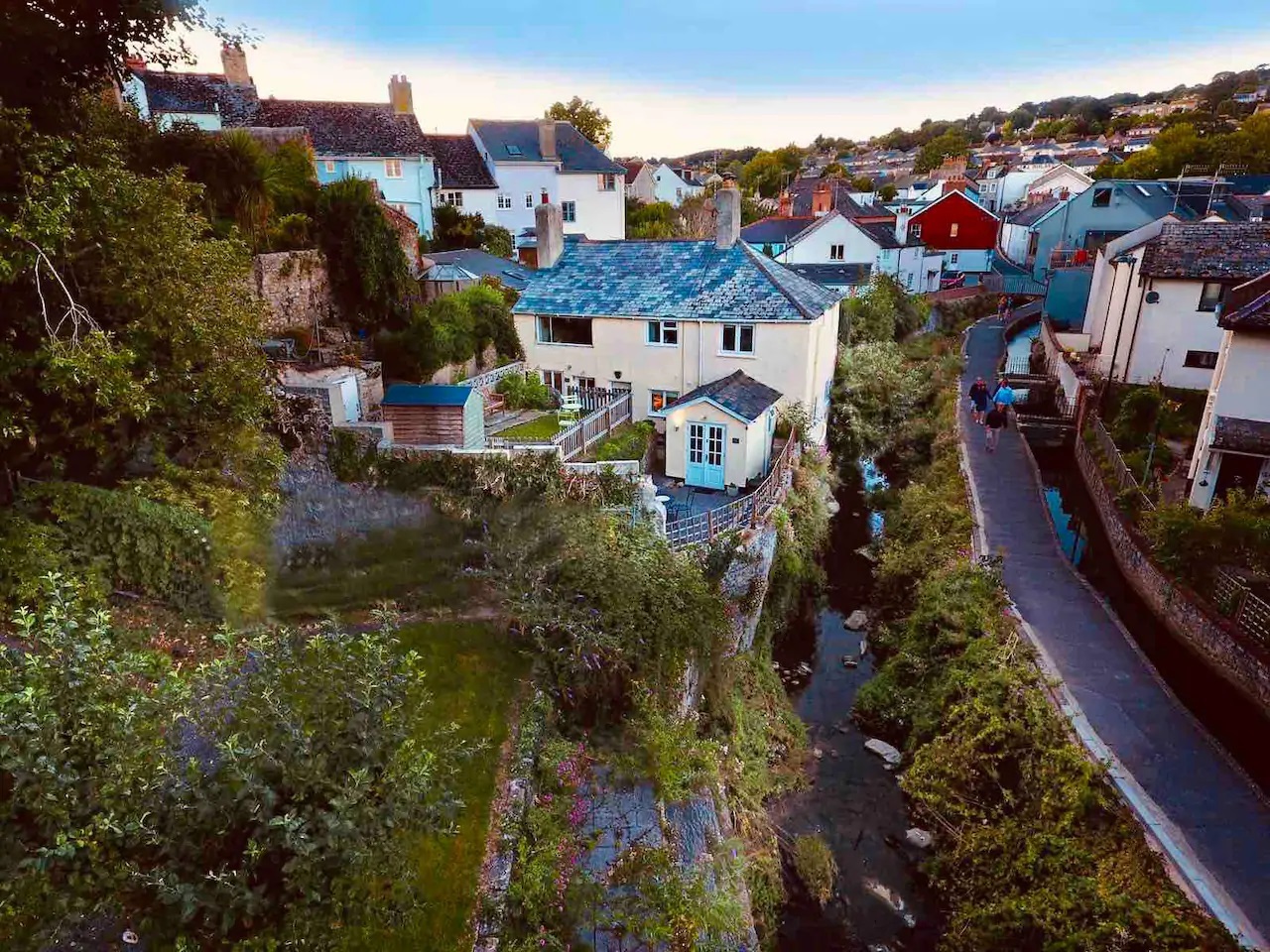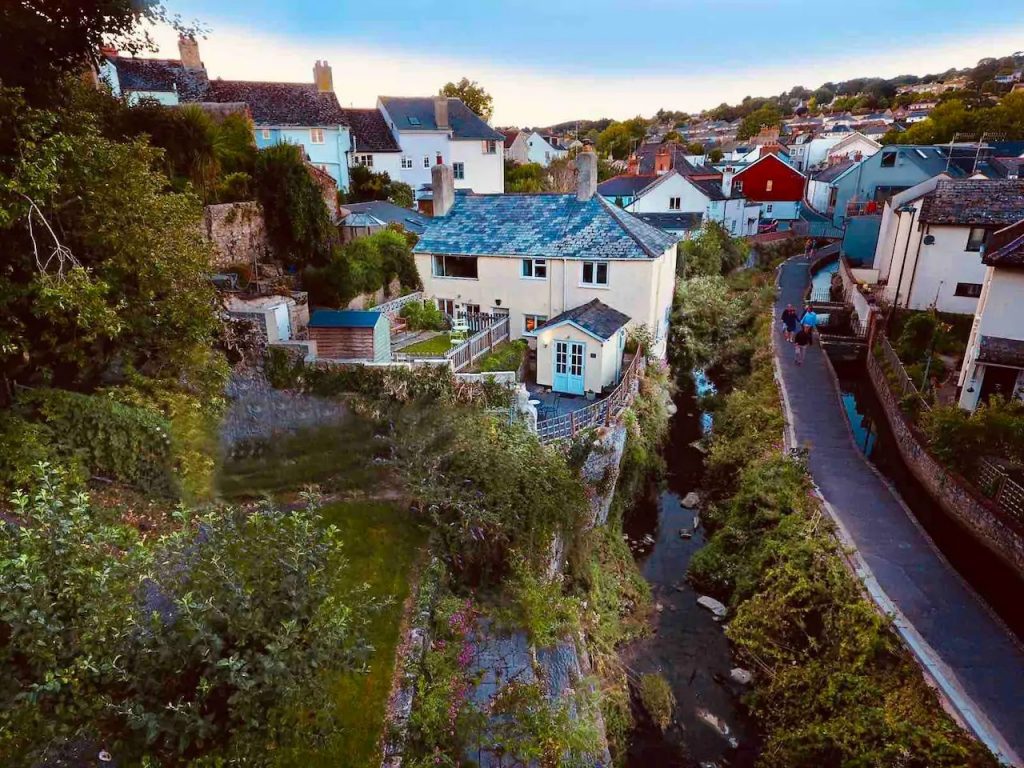 How about a 300-year-old fisherman's cottage next to the river which runs through Lyme Regis? This gorgeous riverside cottage is a Grade II listed building in the heart of Lyme Regis. It features a beautiful private courtyard garden overlooking the river. And although it's in town, the property is still just a 4-minute stroll from the beach. How perfect does that sound?
The sunny courtyard would be dreamy on summer days, while indoors there's a cosy fireplace for colder nights. There's a double bedroom, and a second room with bunk beds, so this is ideal for families looking for a self-catering stay in Lyme Regis. The kitchen is a little small, but has everything you need, and the quaint decor throughout the property makes this a lovely, tranquil place for a getaway.
RELATED POST: 14+ Things to do in Dorset in the Rain
10 Combe St (The Old Dairy) – 10 Guests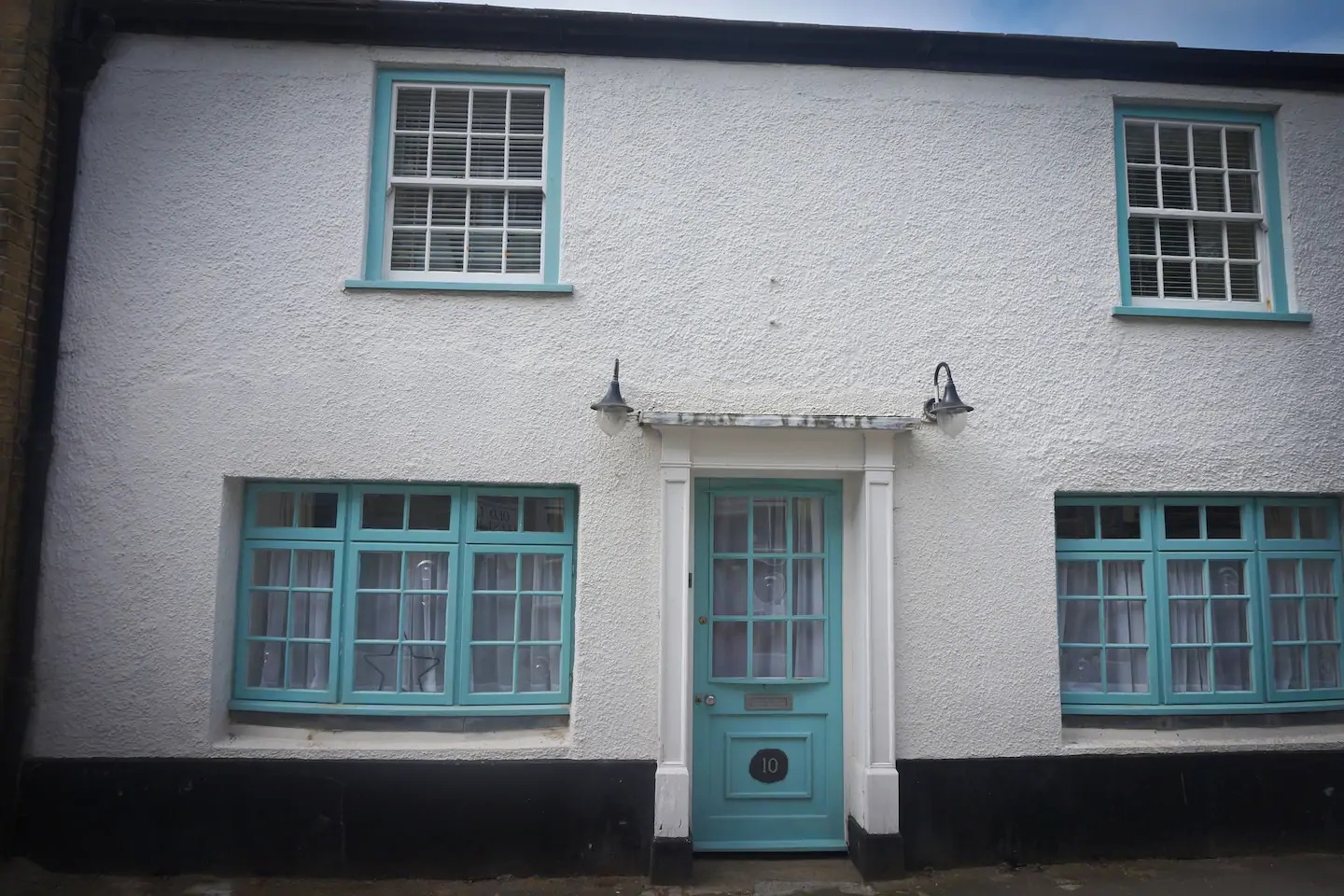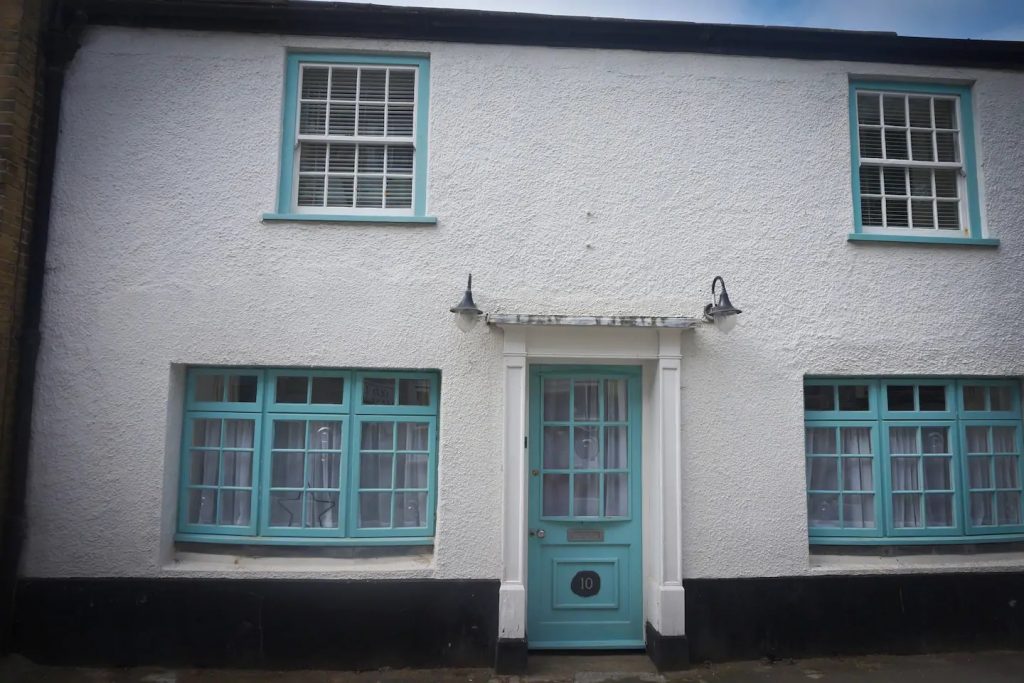 The Old Dairy at 10 Combe Street in Lyme Regis is another cottage with tons of character. It's a lovely, white-painted house with cheerful blue doors and windows and a small, peaceful garden. It's been modernised throughout and is very well decorated. But this charming cottage retains its traditional feel with some beautiful features, such as the historic stone fireplace.
There are 7 beds across the 4 bedrooms, so there's room for up to 10 guests. There are also two bathrooms, and an outdoor shower if you're feeling brave! Several reviewers have reported that this property is ideal for two families sharing. The living area is spacious and beautifully decorated, while the large kitchen with its long wooden table is perfect for big gatherings.
More Places to Stay in Lyme Regis
7 of the Best Holiday Cottages in Dorset
Best Holiday Homes in Weymouth
If you decide to stay in any of these Lyme Regis cottages, be sure to let me know in the comments! I'd love to hear how your holiday was.