Some posts on this site contain affiliate links. If you book or buy something through these links, I earn a small commission (at no extra cost to you). Take a look at my privacy policy for more information.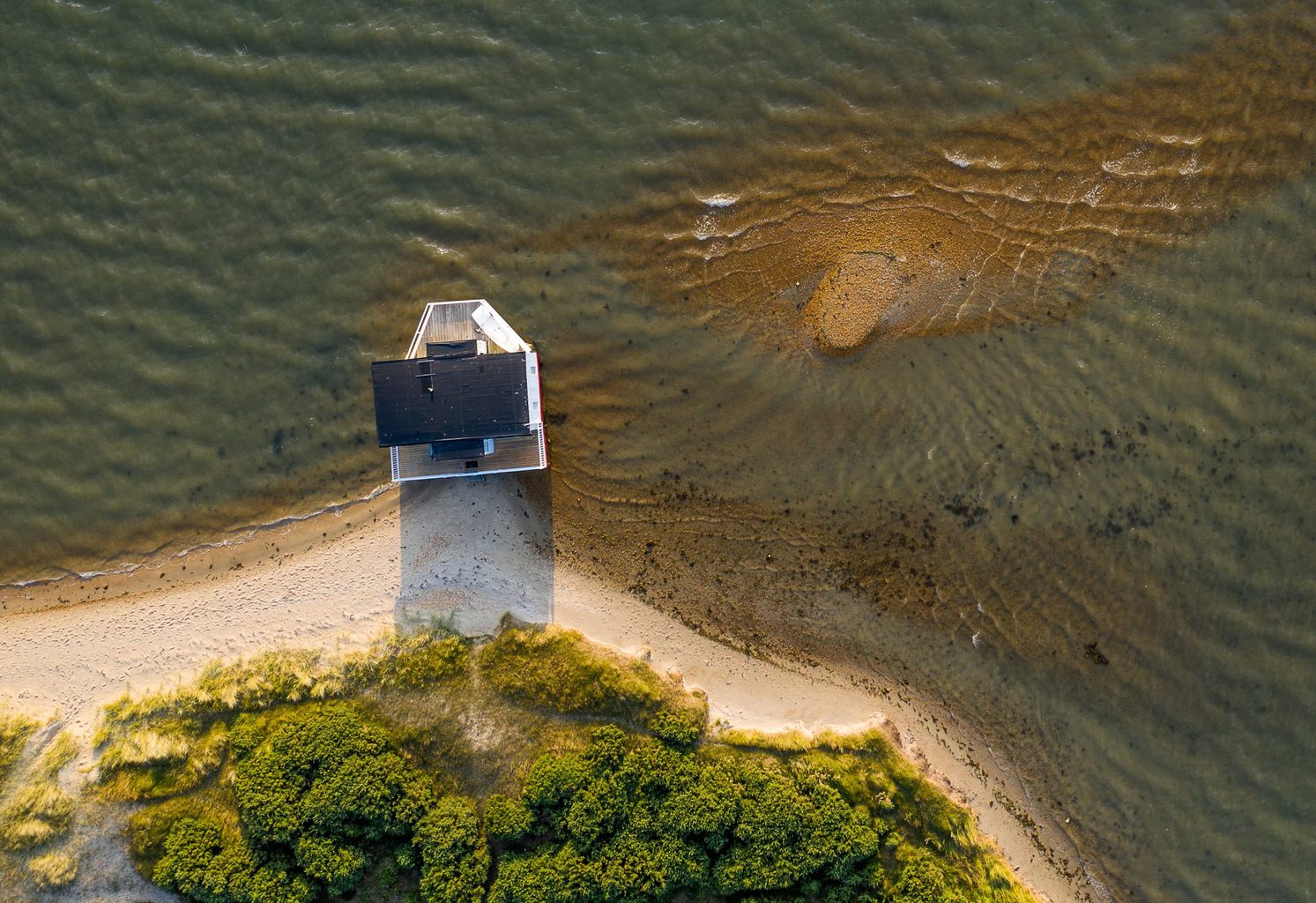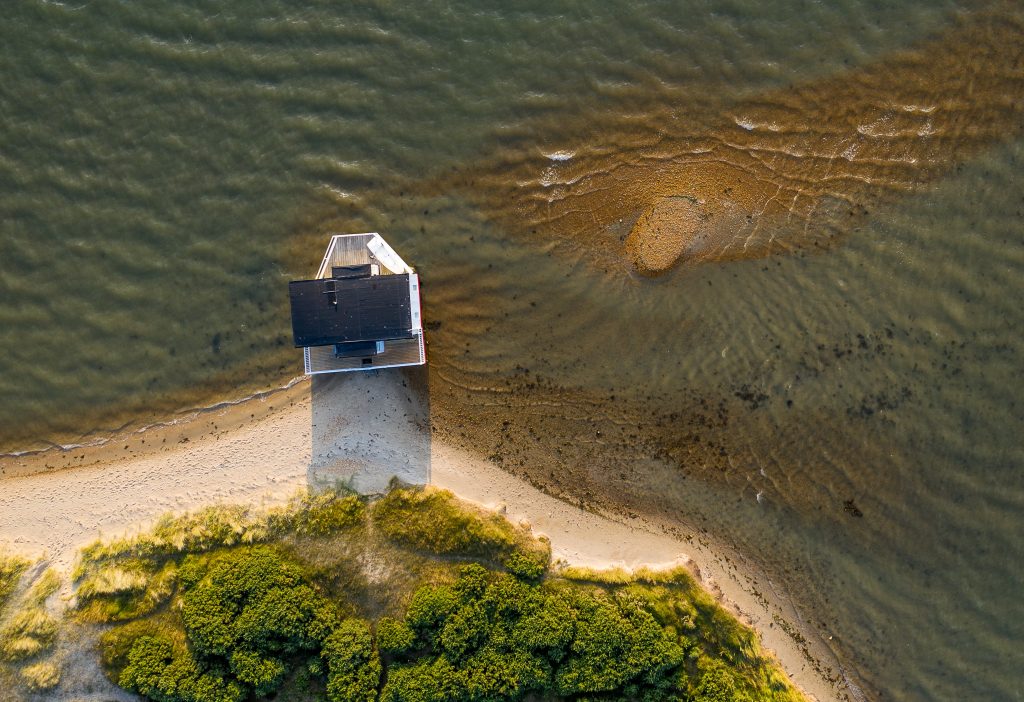 Escape the crowds this summer with one of these quieter beaches and hidden gems near Bournemouth…
Bournemouth Beach is one of the most popular in Dorset. The beautiful, Blue Flag beach is a beautiful spot, but it often gets pretty crowded on hot peak season days.
Both Bournemouth and its beaches have occasionally been overwhelmed by visitors in recent years. It's not usually too bad, even on busy days, but if you're seeking a more peaceful experience, there are plenty of other options.
Plus, heading to some of the other stunning beaches nearby can help give the town a bit of a break!
So why not swap your beach day for one of these equally lovely, but much quieter, beaches near Bournemouth?!
There are dozens of incredible options all along the Dorset coast. If you want to get away from the crowds, I've rounded up a few alternative beaches in the local area that are usually a fair bit quieter than Bournemouth.
Map of Beaches Near Bournemouth
Before I go on, I just want to add a personal plea. After a busy day at the beach, the sands are often left covered in litter. This not only ruins a natural beauty spot, but it's also dangerous for local wildlife and marine life. So if you are visiting, please be considerate and take your litter home.
READ MORE: Best Things to do Near Bournemouth
Use this map to plan your beach day, then keep reading to choose the best quiet beaches near Bournemouth…
9 Quieter Beaches Near Bournemouth
1. Shell Bay, Studland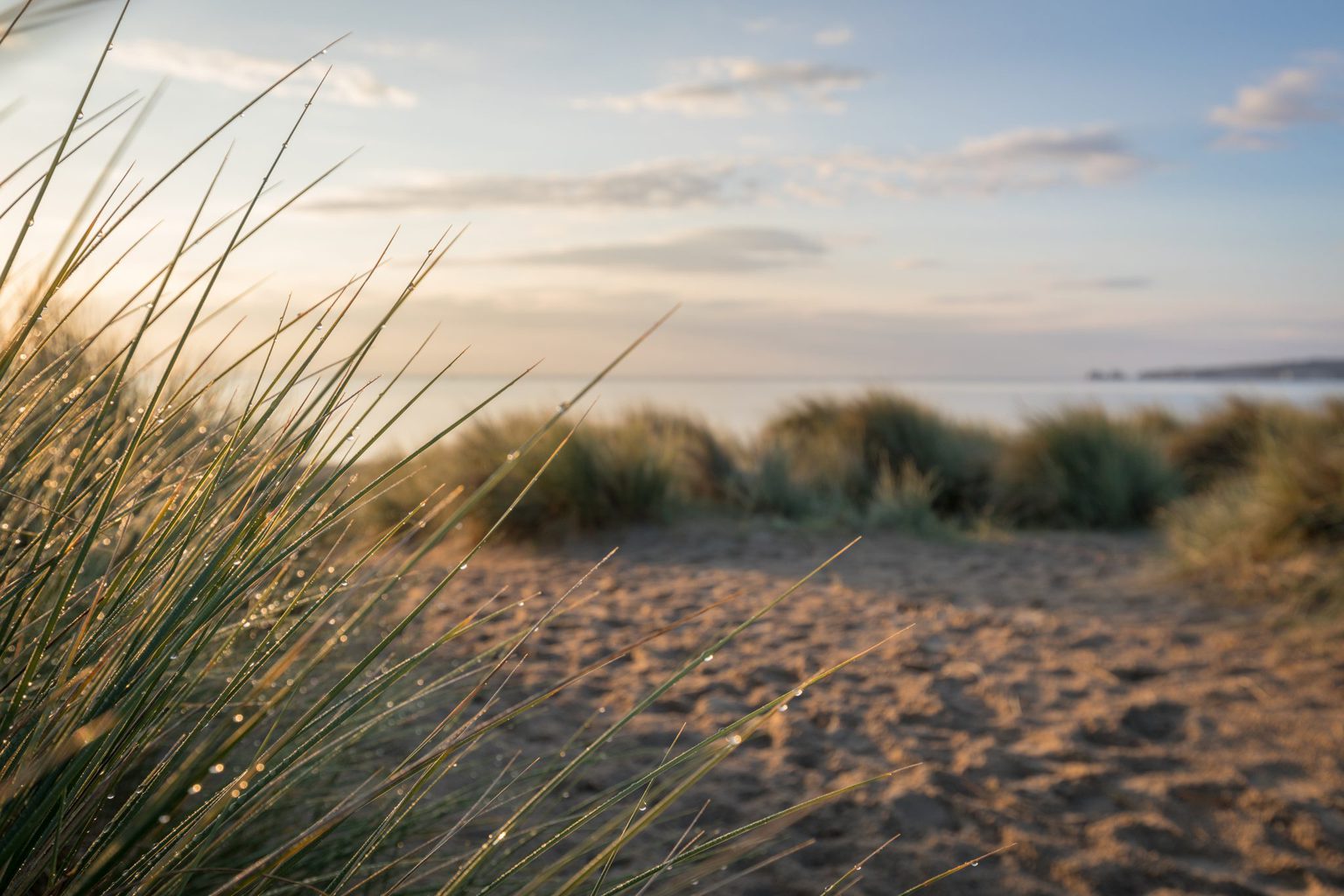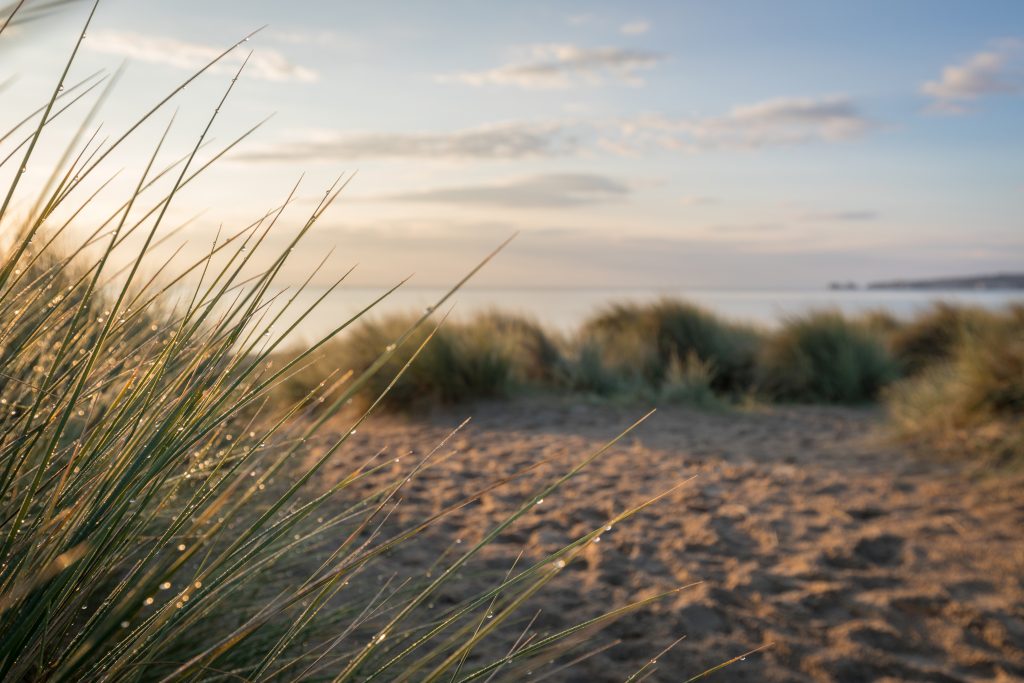 The beaches at Studland near Bournemouth are some of the finest in the UK. This long stretch of white sandy beaches is dotted with undulating dunes, part of an important wildlife reserve.
Although it's just across the bay from Sandbanks, Shell Bay feels like another world. To reach it, you can drive the long way around Poole Harbour, or take the small car ferry from Sandbanks. Because this is the closest beach to the ferry crossing, Shell Bay can get quite busy in summer – but walk south a little and you have a good chance of finding a secluded spot between sand dunes!
2. Knoll Beach, Studland
South along Studland Peninsula lies Knoll Beach, another stunning white sand beach which forms part of the Studland National Nature Reserve. Looking out across the bay affords a stunning view of the iconic chalk stacks at Old Harry Rocks.
3. Hengistbury Head Beach, Bournemouth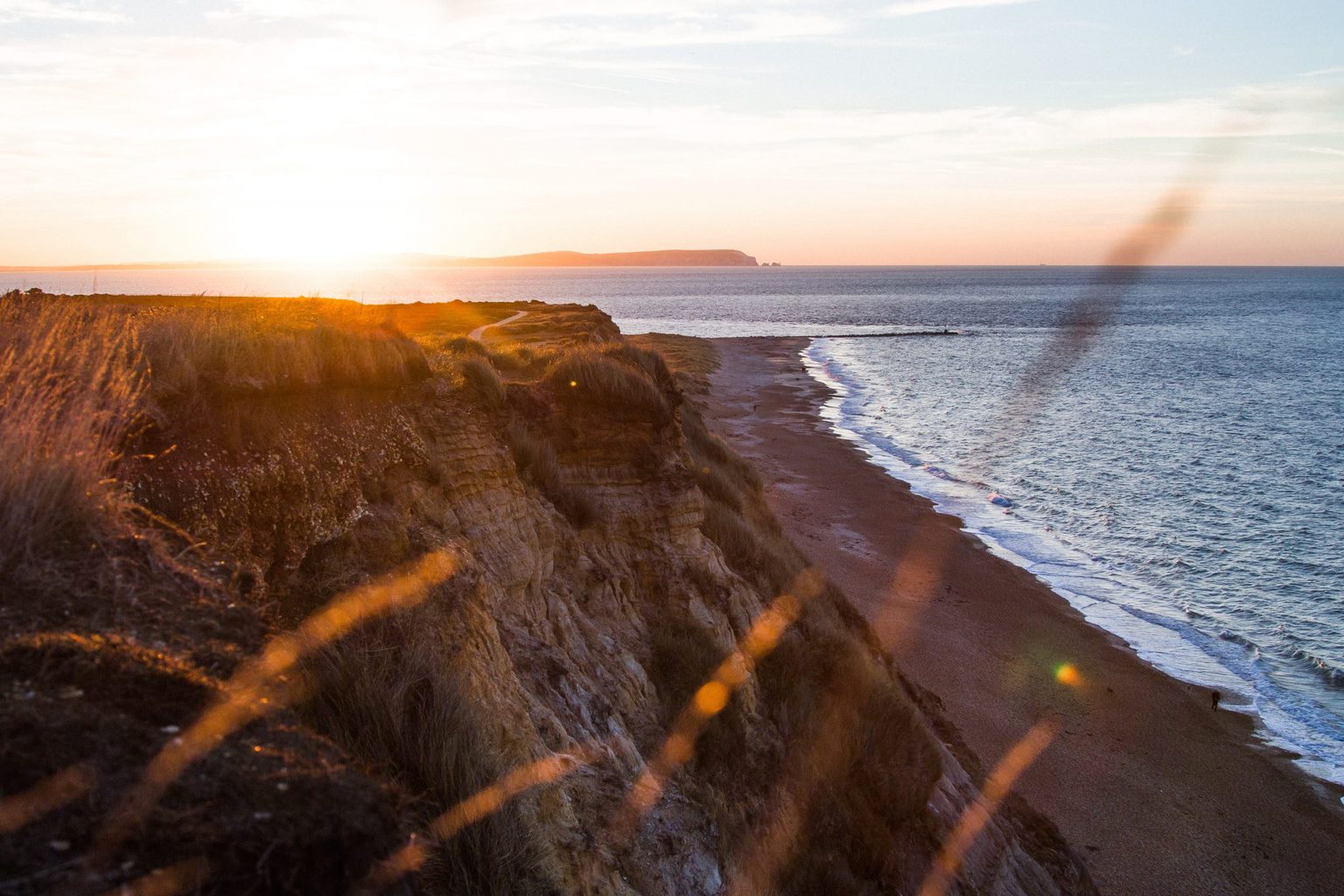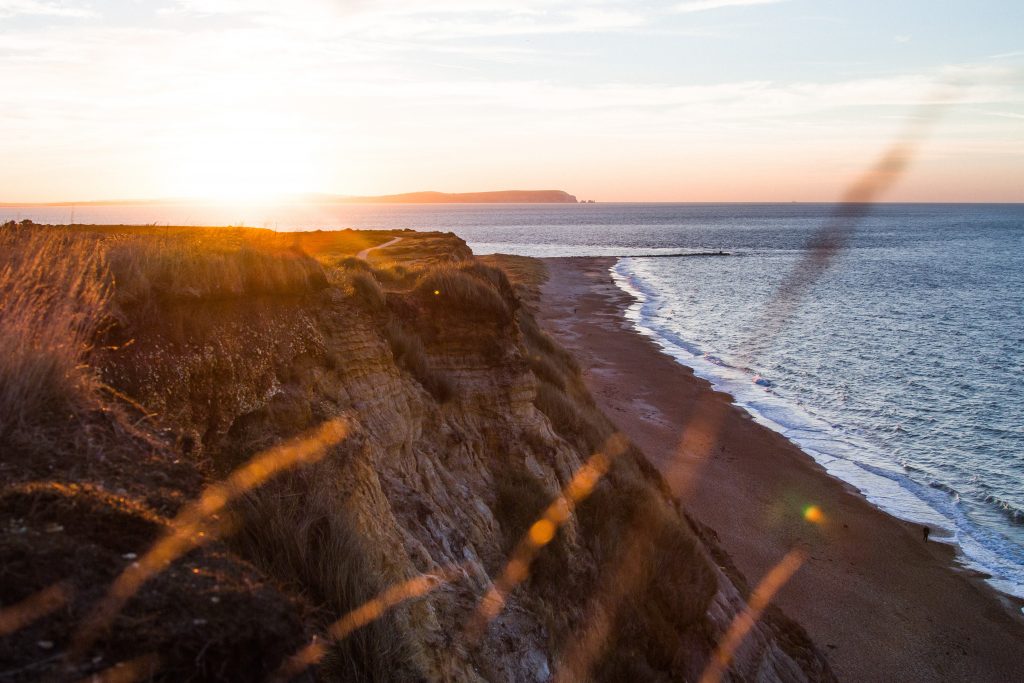 Just down the road from Bournemouth, the beach at Hengistbury Head is usually much quieter than the town's main beaches. The headland juts out into the channel, separating Bournemouth from Christchurch Bay, and affording some exceptional views from its peak.
Skirting this rugged clifftop is a long stretch of idyllic shingle beach running along one side. On the other side, a spit of white sand known as Mudeford Sandbank stretches out towards Christchurch, lined with brightly painted beach huts and whispering sand dunes.
WALK: 3.7 Mile Circular Walk at Hengistbury Head
4. Avon Beach at Mudeford, Christchurch
Opposite Hengistbury Head, in Christchurch, Avon Beach is a popular day out – especially for families. This long sandy beach is backed by pastel-coloured beach huts, and offers lovely views of the Isle of Wight on clear days.
The bathing area of Avon Beach can get a bit busy in peak season, although it's usually still much quieter than Bournemouth. There's also a dedicated watersports area further along the beach, where both windsurfing and kayaking are popular.
5. Barton-on-Sea, Hampshire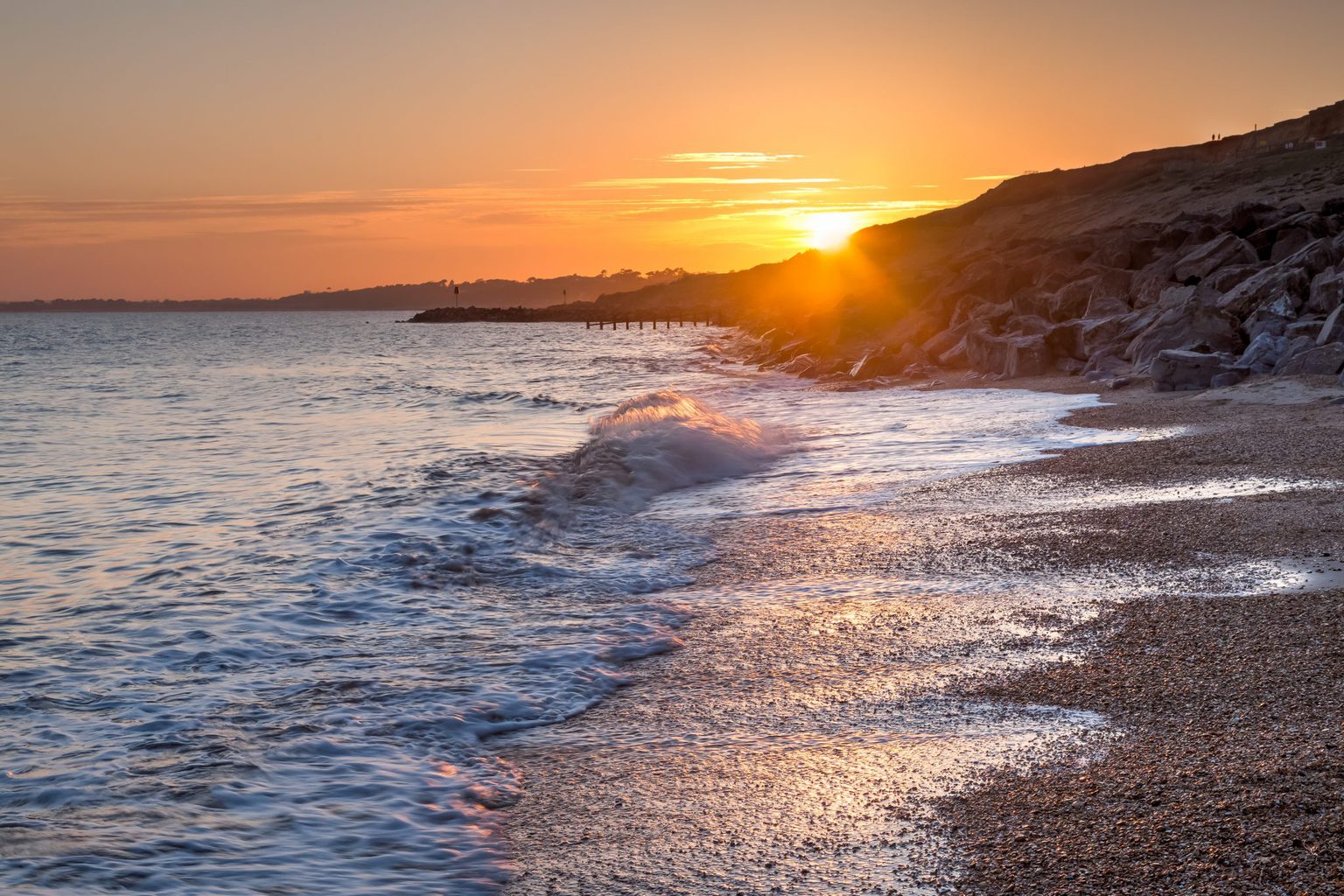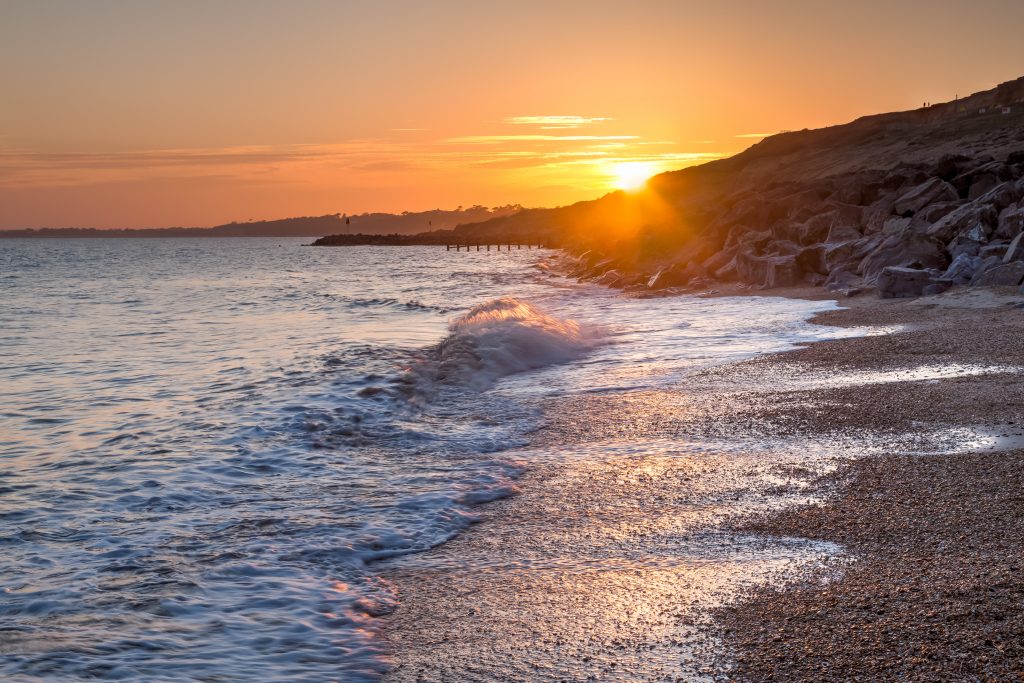 This beach is actually in Hampshire, but it's close enough to Bournemouth to be worth a mention. Especially because you can skip any A31 gridlock by taking the scenic route down through the New Forest to reach the coast. In fact, there are several spots along the New Forest coastline that are worth a visit, so spend some time exploring!
6. Shipstal Beach, Arne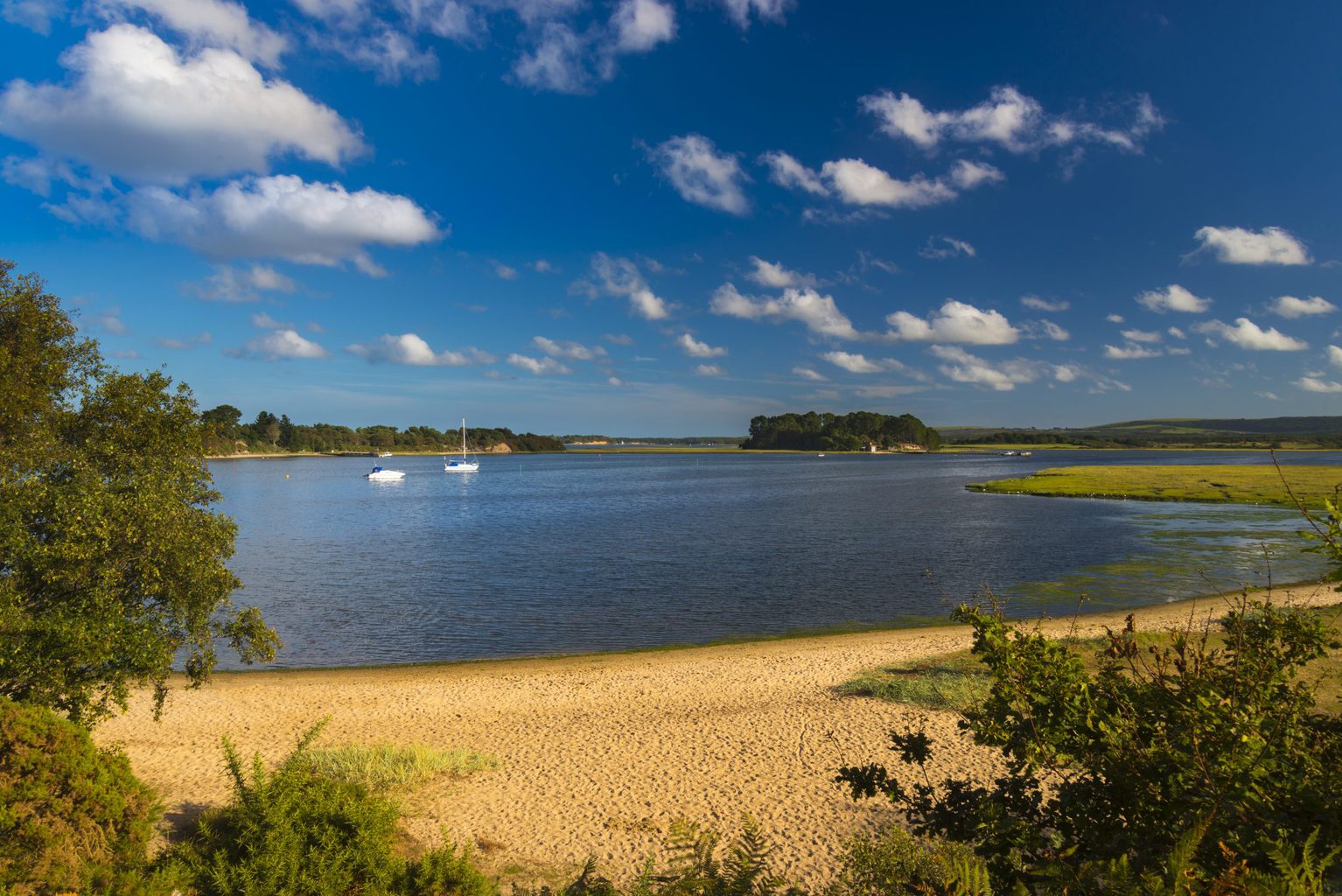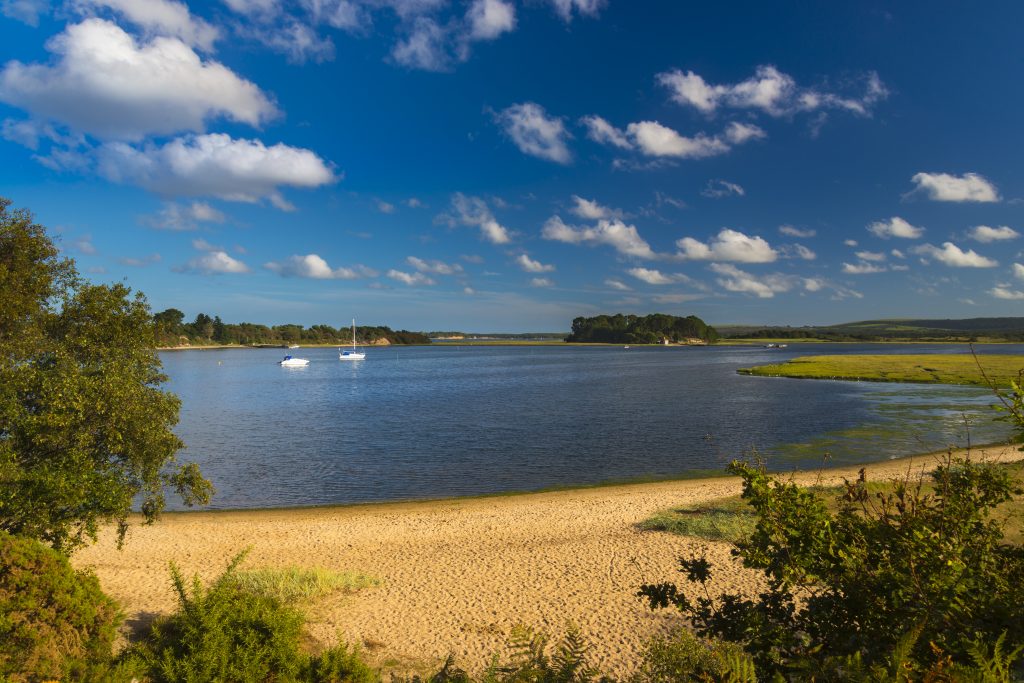 Shipstal Beach, within the RSPB nature reserve of Arne, is a lovely remote beach that requires a bit of work to get to. It can only be accessed by walking through the heathland and woodlands of the nature reserve, and if you make the trip to get there you may find you have the entire beach to yourself!
Shipstal Beach sits on Poole Harbour, offering lovely views across to the islands. Nature lovers will particularly enjoy this beach, as Arne is home to all kinds of wildlife. Deer roam freely throughout the reserve, and numerous species of bird – including woodpeckers and ospreys – are regularly sighted.
Please take extra care to take all your rubbish home when you visit this important nature spot! There are no facilities on this remote beach, but there is a tea room on the nature reserve.
7. Swanage Bay, Swanage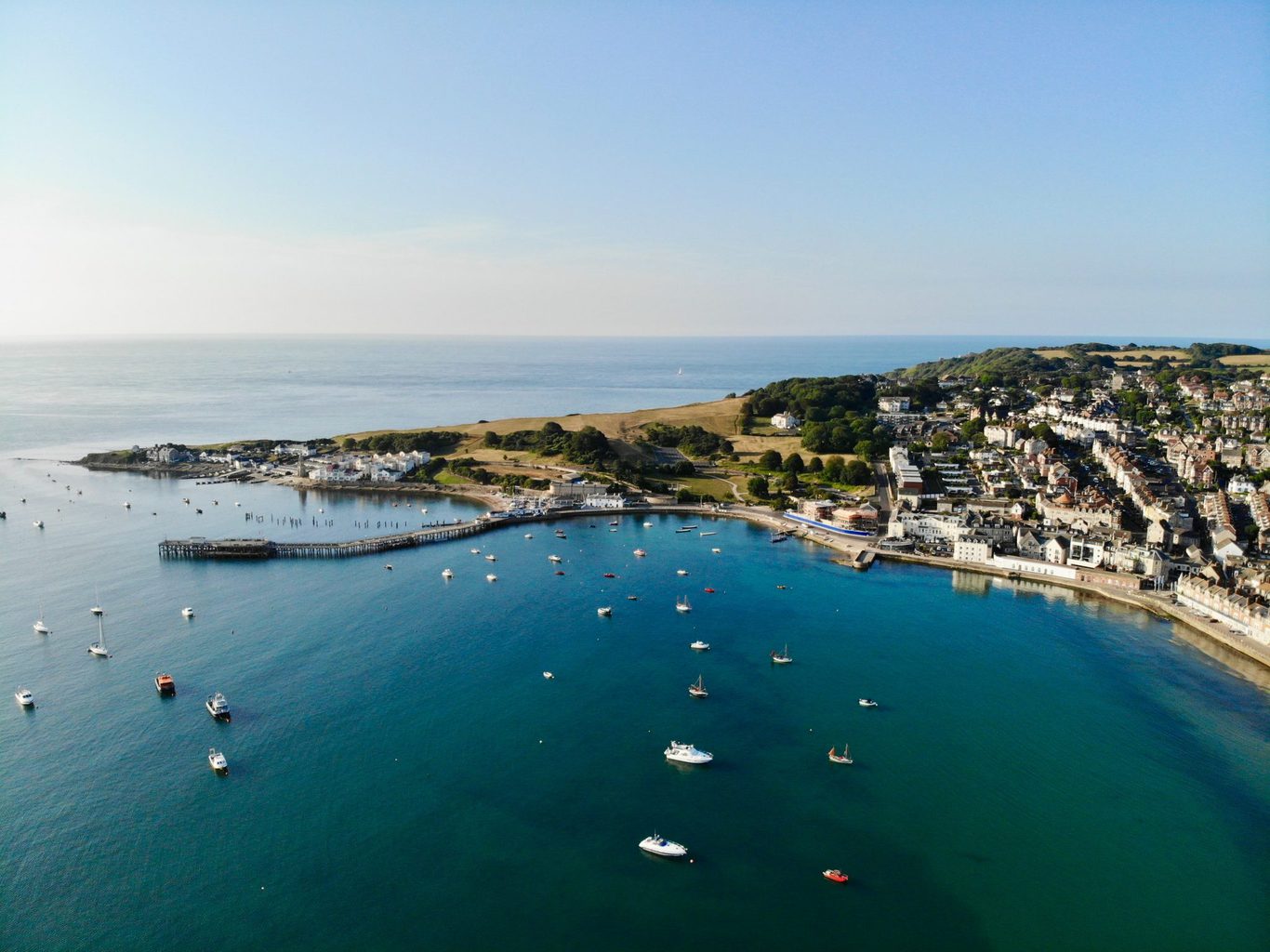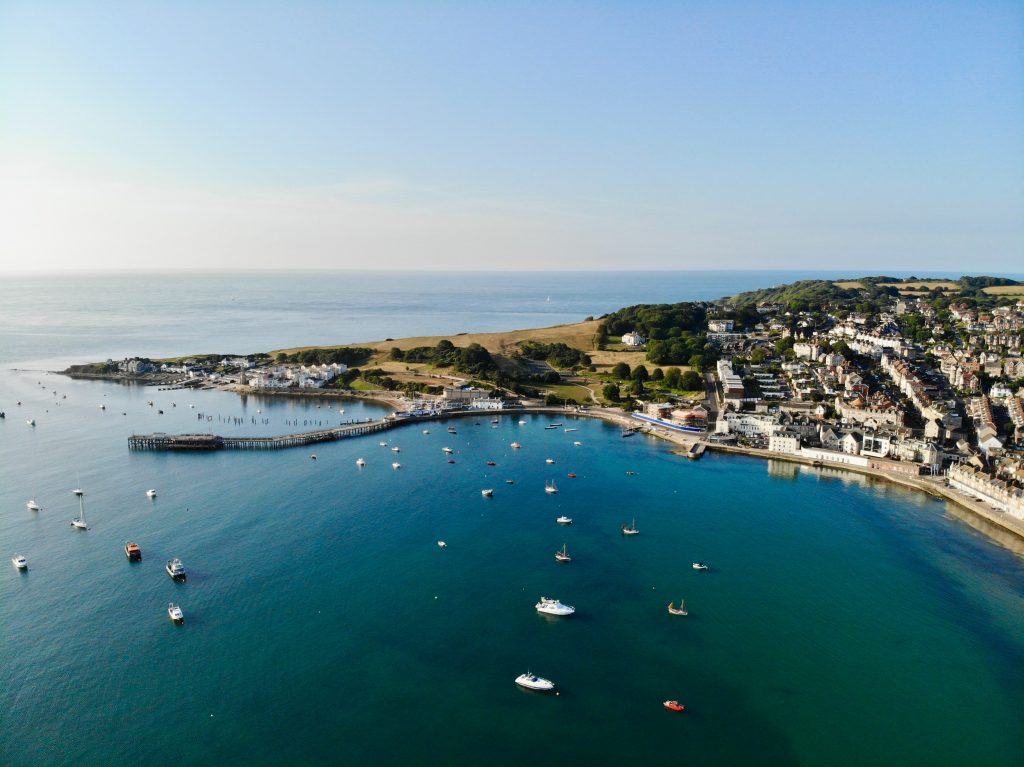 Further along the coast, the small seaside town of Swanage sits on a sweeping, sheltered bay lined with several idyllic beaches. It's a popular spot in summer, so you may have to walk a little to find yourself a quieter spot. Head towards the northern end of the sandy main beach for peace and quiet, or to the smaller, sand-and-shingle Pier Beach at the southern end.
8. Chapmans Pool, Isle of Purbeck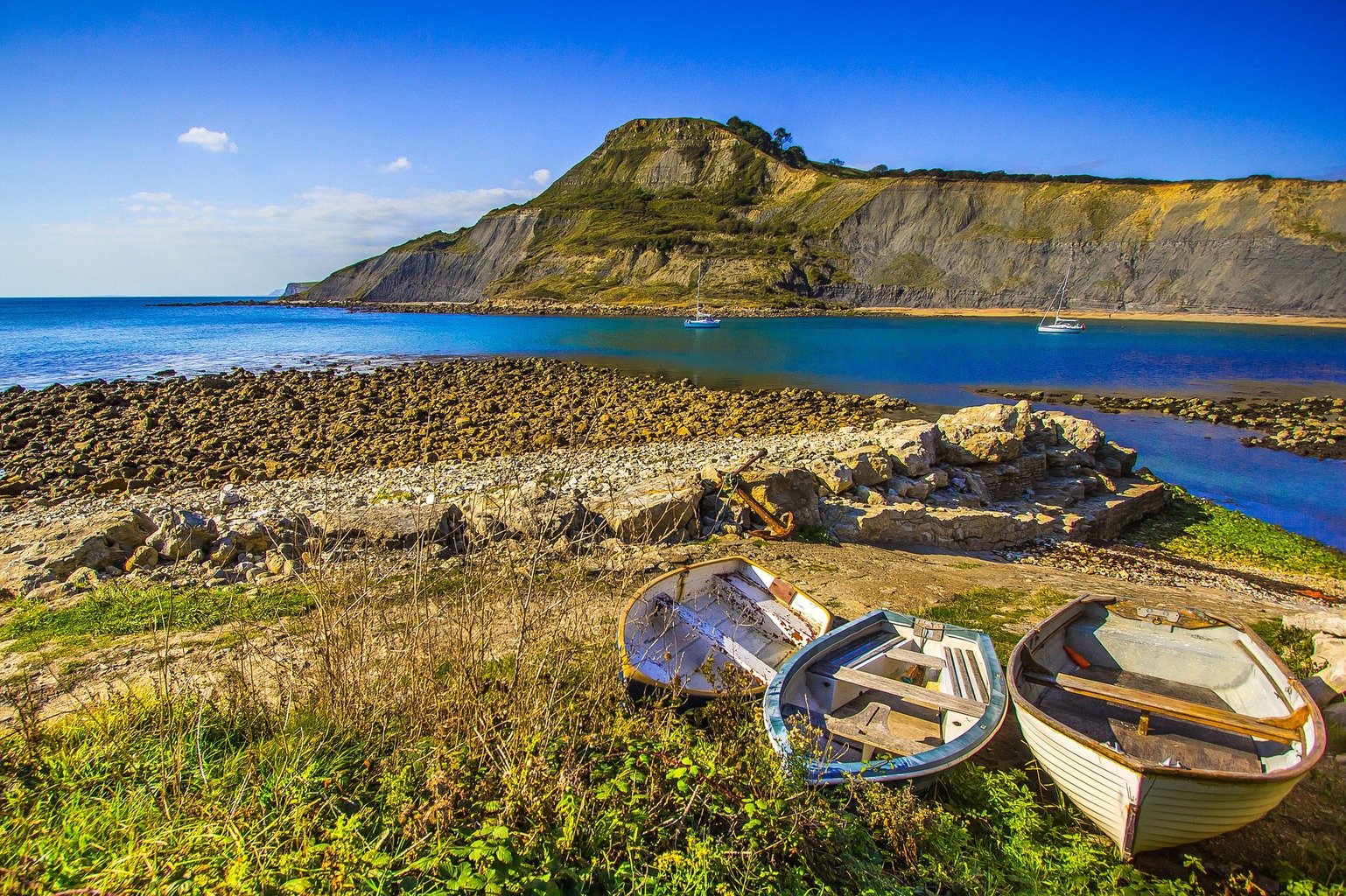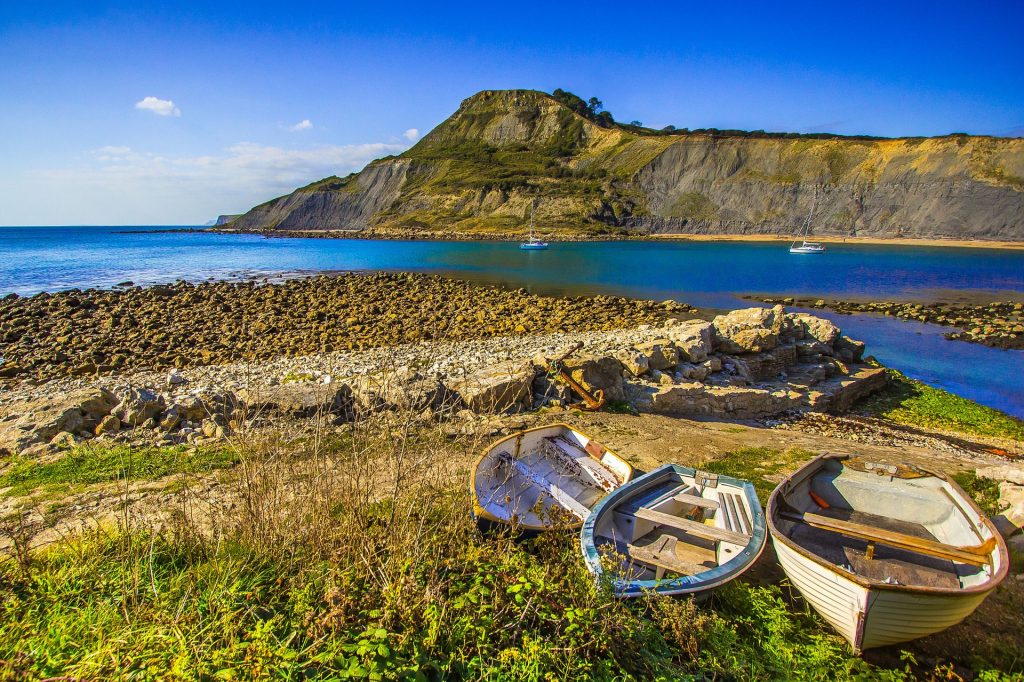 Chapmans Pool is a bit more wild and rugged than some of the other options on this list. You'll find it in the lee of St Aldhelm's Head on the eastern side of the Isle of Purbeck, so it's a fair bit further on from Bournemouth. And there's no lifeguard or facilities so you need to bring everything you need with you.
But this remoteness adds to Chapmans Pool's charm! The nearest parking is a fair walk away, and the route down to the beach is a bit of a scramble. This means that only a handful of very determined beachgoers tend to make the trip. As a result, it's usually pretty quiet – giving you plenty of room to relax and enjoy!
9. Worbarrow Bay, Isle of Purbeck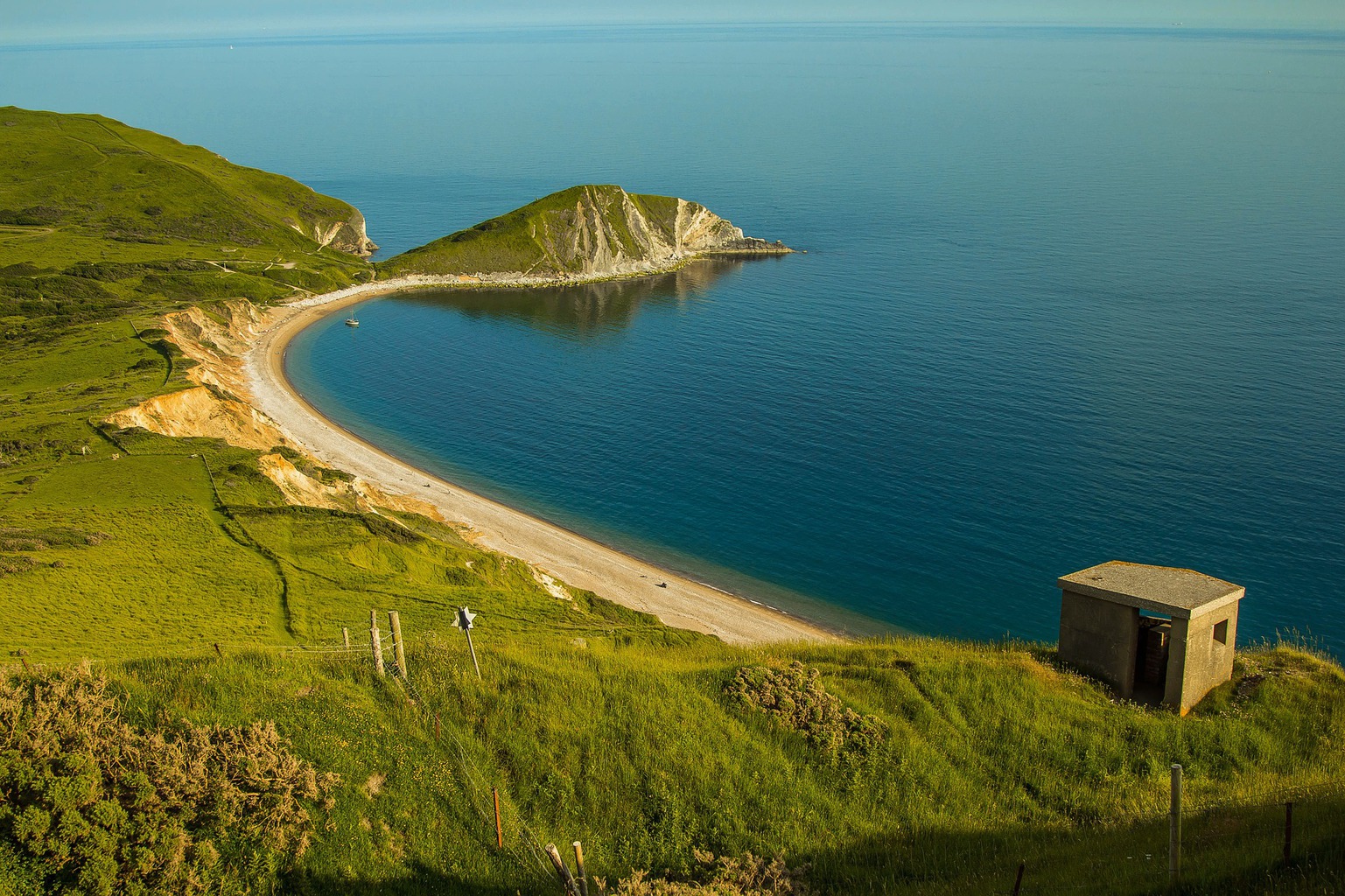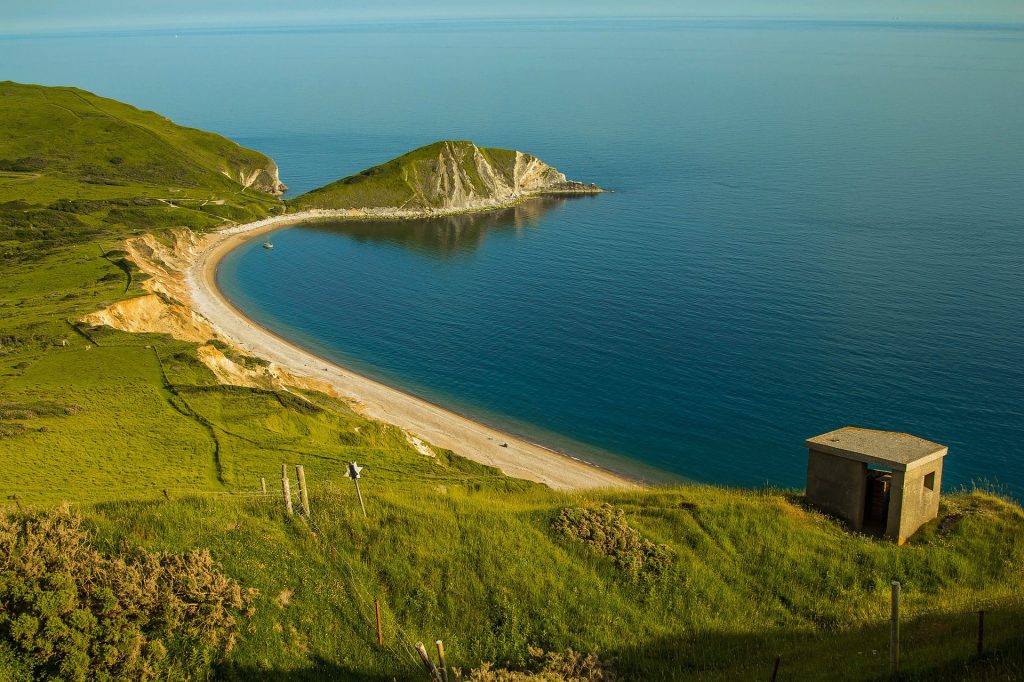 Similarly, the 1-mile walk to Worbarrow Bay from the carpark at Tyneham is enough to put off most visitors. I've never seen this beach crowded!
However, this is one of my favourite short coastal walks in Dorset, and at the end lies a sweeping, crescent-shaped bay with a sand-and-shingle beach backed by chalk cliffs. The bay is fairly sheltered, but the beach shelves steeply as you get into the water so it gets deep very quickly. Again, there are no lifeguards, shops, or facilities, although there are toilets at Tyneham carpark.
FYI – this area is owned by the Ministry of Defence and access is limited, mainly to weekends and public holidays. You should check the opening times here before travelling.
What are your favourite beaches near Bournemouth to get away from the crowds? Scroll down to leave a comment with your tips!
Beaches near Bournemouth – pin for later