Some posts on this site contain affiliate links. If you book or buy something through these links, I earn a small commission (at no extra cost to you). Take a look at my privacy policy for more information.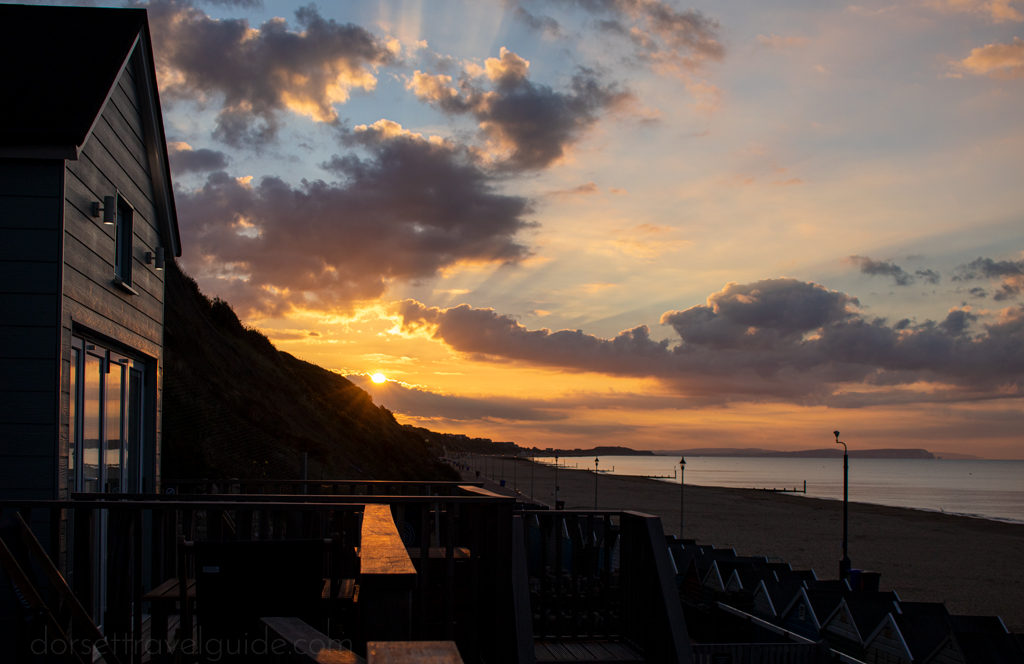 Imagine falling asleep to the sound of waves crashing against the shore – and nothing but the sound of the waves. Waking up to a sea view right on your doorstep, with the sand so close you might as well be on it. If you're looking for beach-side accommodation in Bournemouth, the super-stylish Bournemouth Beach Lodges are a real winner.
The lodges are halfway between a very posh beach hut and a small holiday chalet. The clapboard fronts, clean minimalism, and cute finish create the perfect chic little seaside getaway, and the lodges have everything you need for a comfortable self-catering stay.
I recently spent four nights in one, and was absolutely spellbound by my stylishly tiny home-away-from-home! Waking up to gorgeous September sunrises every morning on what felt like my own private bit of beach. Sitting out in the evening with a glass of wine, watching the stars appear over the lights of ships out in the bay. Braving the brisk chill of the Channel for a swim before breakfast, then racing back for a hot shower and a coffee to warm up. It was the perfect seaside getaway!
My stay was complimentary, but the following Bournemouth Beach Lodges review is totally honest and all opinions are my own.
Bournemouth Beach Lodges Review
Location: You can't get closer to the sand!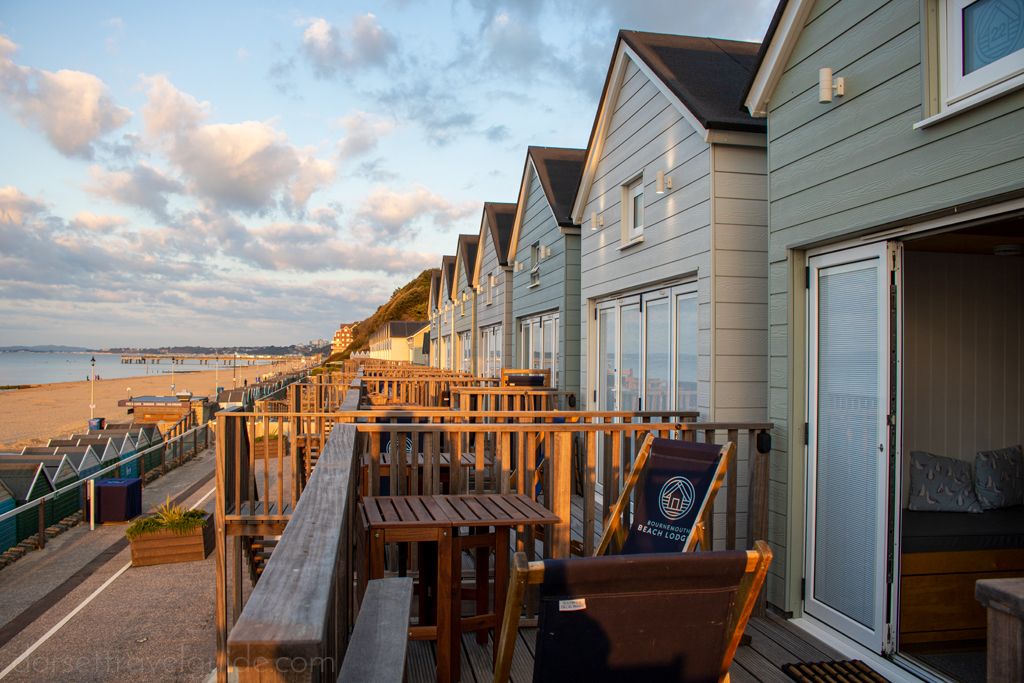 You really can't get closer to the beach than the Bournemouth Beach Lodges. They're tucked onto a raised section behind some of the older traditional beach huts, about a 30-second walk to the sand! But because the lodges are tucked just off the esplanade, and raised up slightly, they still feel a little separate – so the general noise of the beach didn't bother me too much, even with the bi-fold doors flung open.
The lodges are situated on Boscombe Beach, a little to the west of central Bournemouth, so the beach is generally a little quieter in this section. The downside (or upside, depending on how you look at it), is that you might feel a little cut off from the lively town centre. It's a 40 minute walk along the esplanade to Bournemouth Pier, or you can walk ten minutes to the road and call a taxi.
But Boscombe itself also has plenty going on, so it's not like staying in the middle of nowhere. This section of beach has its own Victorian pier, which often hosts exhibitions and events, and there are several shops and restaurants in the area. Be sure to have at least one meal at Urban Reef! Boscombe Chine Gardens is a lovely spot for a walk, with fab clifftop views, and you can walk to Boscombe's High Street in around 20 minutes.
READ MORE: 31 Things to do in Bournemouth
Character: Luxury beach hut meets New England style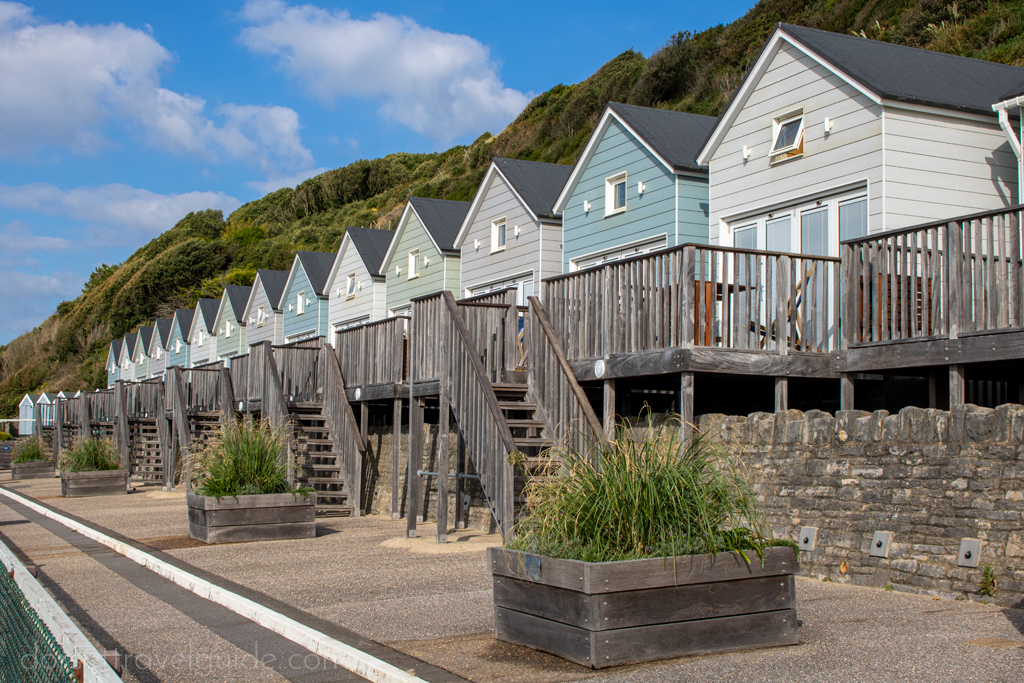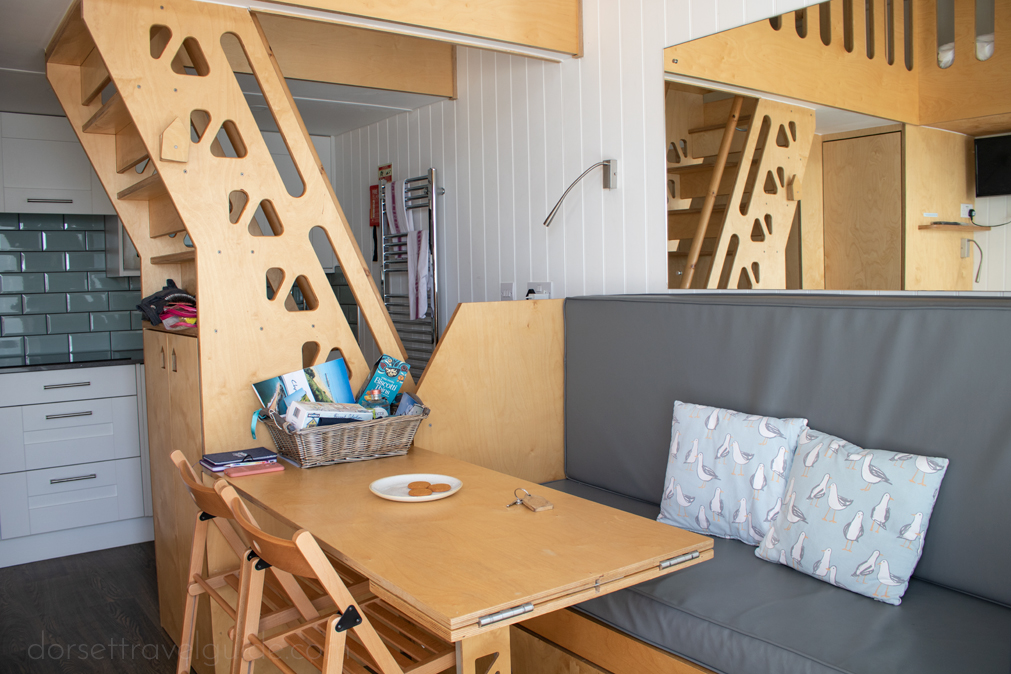 At a glance, the Bournemouth Beach Lodges look like oversized beach huts. The clapboard fronts, painted in a range of pale blues and greens, combine the traditional beach hut aesthetic with chic New England vibes.
Inside, they don't feel like beach huts at all, but like very tiny homes. There's an airy minimalism to the decor, along with ingenuity and space-saving practicality. Everything is functional and cleverly designed, but it's also very pretty. Lot's of pine furniture, practical storage solutions, and white walls.
Facilities: Everything you need for a self-catering stay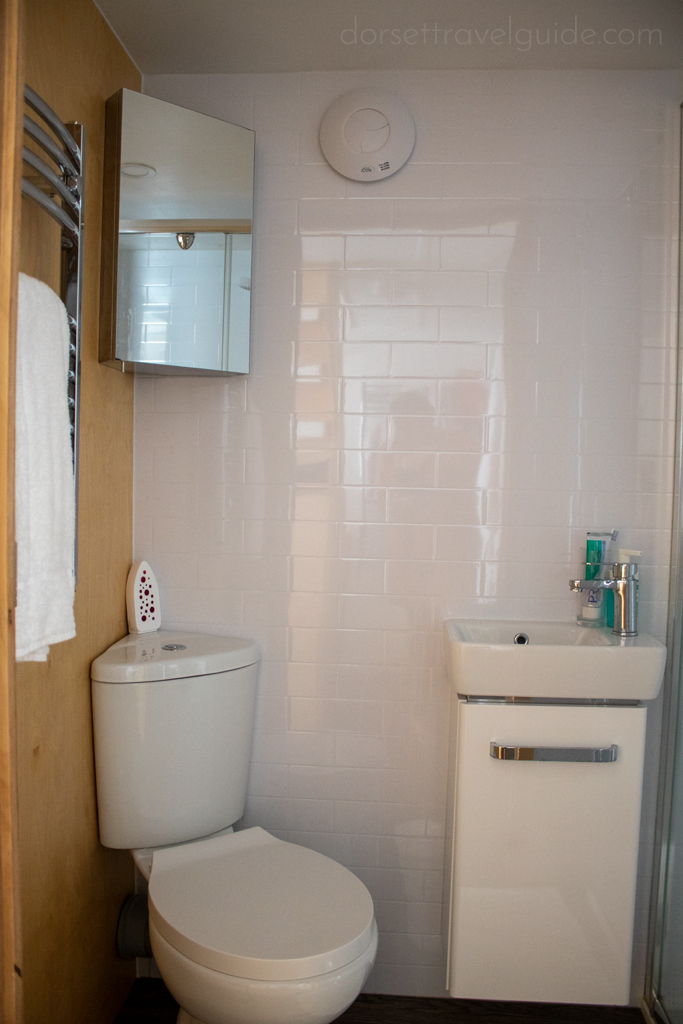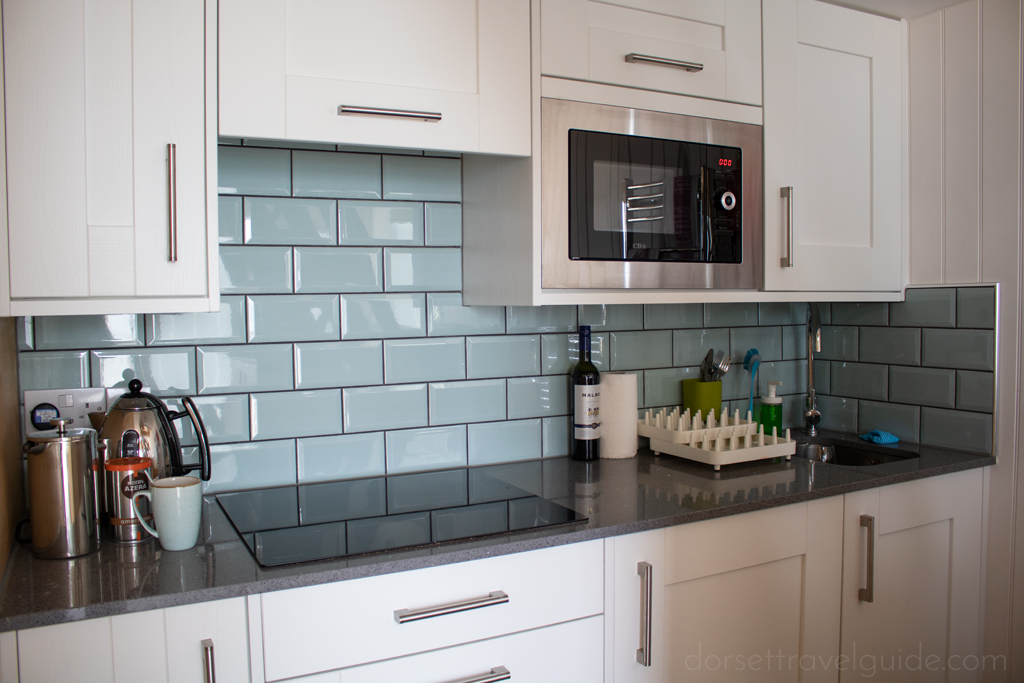 The bathroom – complete with a powerful hot shower – is tucked so cleverly into a room not much bigger than a cupboard that it feels surprisingly spacious. And the kitchen is a thing of beauty! I was expecting a caravan-style kitchenette; maybe a little portable induction hob, a mini-fridge, and not a whole lot else. In fact, one full wall of the lodge is taken up with the kitchen area. It's beautifully designed as well as practical, with gorgeous grey-blue tiles.
The cupboards and drawers are filled with everything you could possibly need for cooking. There's a 4-ring induction hob (but no oven), high-tech microwave, and a small fridge with a freezer drawer. So you should have no issues cooking up even pretty fancy meals – you just can't make a roast!
Bournemouth Beach Lodges: Sleeping Arrangements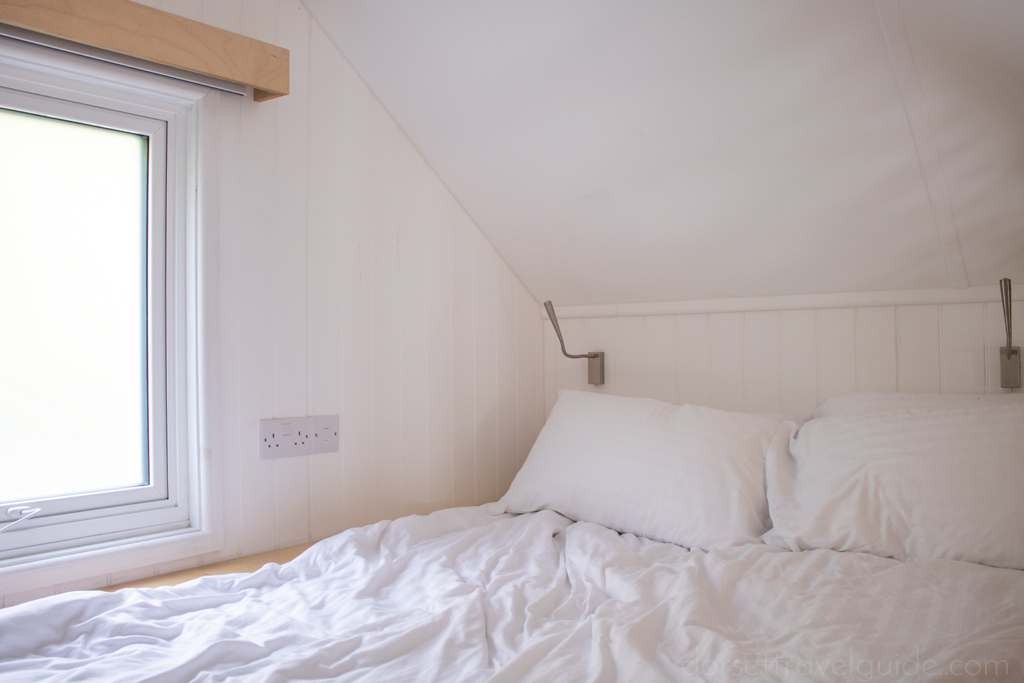 The Bournemouth Beach Lodges can sleep up to six people. There's a double bed and a small single upstairs on the mezzanine, while downstairs has a single sofa bed and a pull out double sofa bed. Although I didn't need it, I set up the double sofa bed just to see how it worked – I'm happy to report that it can be done quickly and easily within about a minute! However, you have to fold the table up in order to pull it out, so putting it up and down every day might get tiresome.
While there's definitely room for six, in my opinion, six people might feel a little on top of one another sharing this space – especially a group of adults. But a family with a couple of small kids, a couple, or a small group of friends could feel right at home here! Thankfully, there are plenty of storage solutions so you won't be tripping over each other's luggage all the time. Including a wardrobe, two large cupboards, and four big drawers underneath the sofas.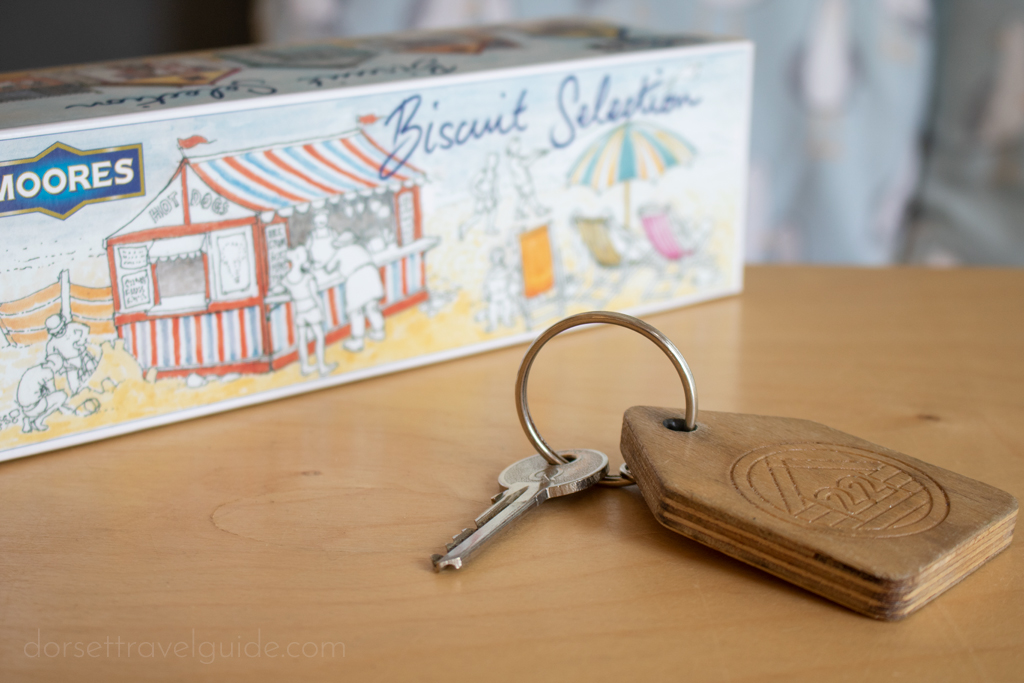 If I had one complaint, it would be that the beds are a little on the firm side. This is very posh glamping style accommodation, so don't expect a big squishy double like you'd get in a hotel. What you get is more or less a mattress on the floor. But, while basic, it was still comfy. And there was high-quality bedding and plenty of big, thick pillows to make up for it!
Summary: Would I Book Again?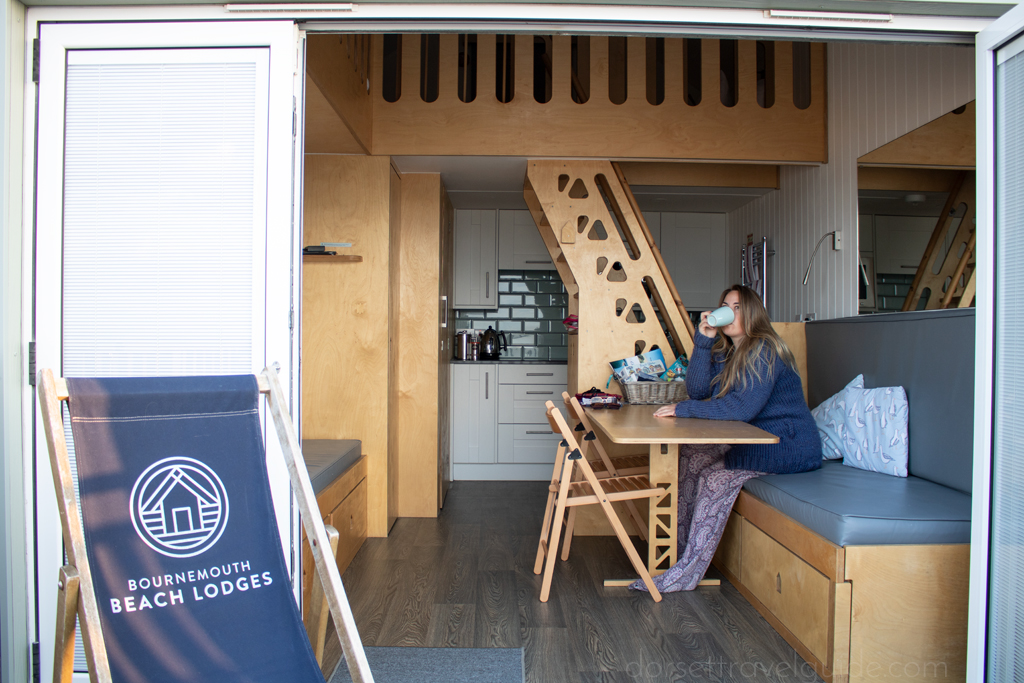 I absolutely LOVED my stay at Bournemouth Beach Lodges. The cute "tiny home" aesthetic, the top-notch amenities, and those unbelievable seaviews… it was all perfect! More than anything, I loved falling asleep and waking up to the sound of the ocean. Eating breakfast out on my little terrace in the mornings was a highlight, as was sipping wine whilst stargazing from a deckchair in the evenings.
So yes, I would absolutely book again. Although I do worry that the peak season prices might seem a little high for what you get. Especially since certain aspects of the lodges, such as the beds, are a fancy version of basic! But you're paying for the prime real estate, as well as the overall experience. Bournemouth Beach is famously busy, so waking up on it is the ideal way to be sure of a good spot on the sand! And Bournemouth Beach Lodges are about as close as you can get to the sea without sleeping on a boat!
For the experience of living in a super cute miniature home, sleeping in a beach hut, and staying right on Bournemouth's stunning beach… these gorgeous lodges are worth every penny. When can I move in?
Bournemouth Beach Lodges Walkthrough Video
The Details
There are 24 lodges on-site, including one accessible lodge.
Bournemouth Beach Lodges
Seafront Promenade
Nr. Boscombe Pier
Bournemouth
BH5 1BN
Email: [email protected]
Phone: 01202 451502