Some posts on this site contain affiliate links. If you book or buy something through these links, I earn a small commission (at no extra cost to you). Take a look at my privacy policy for more information.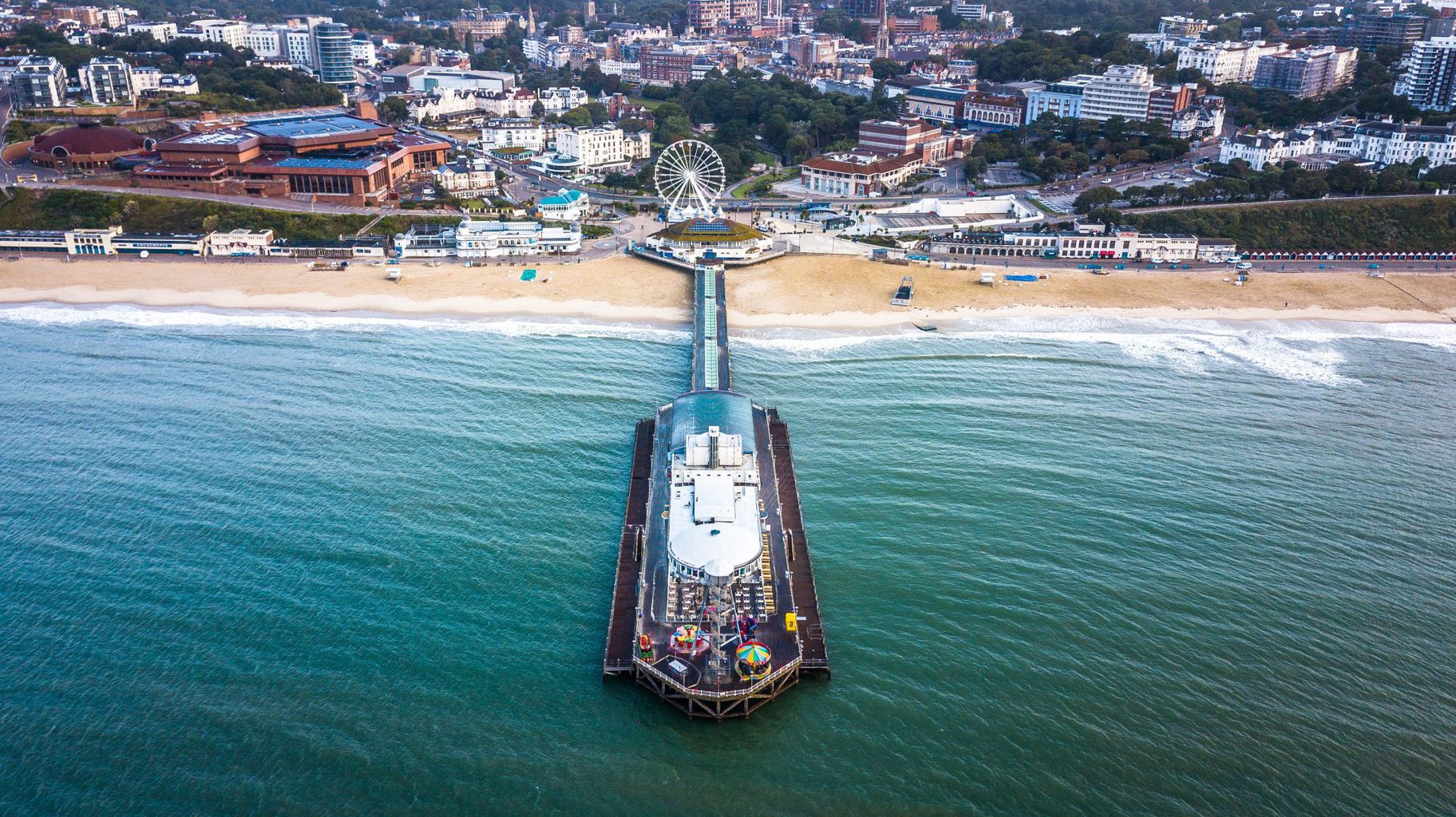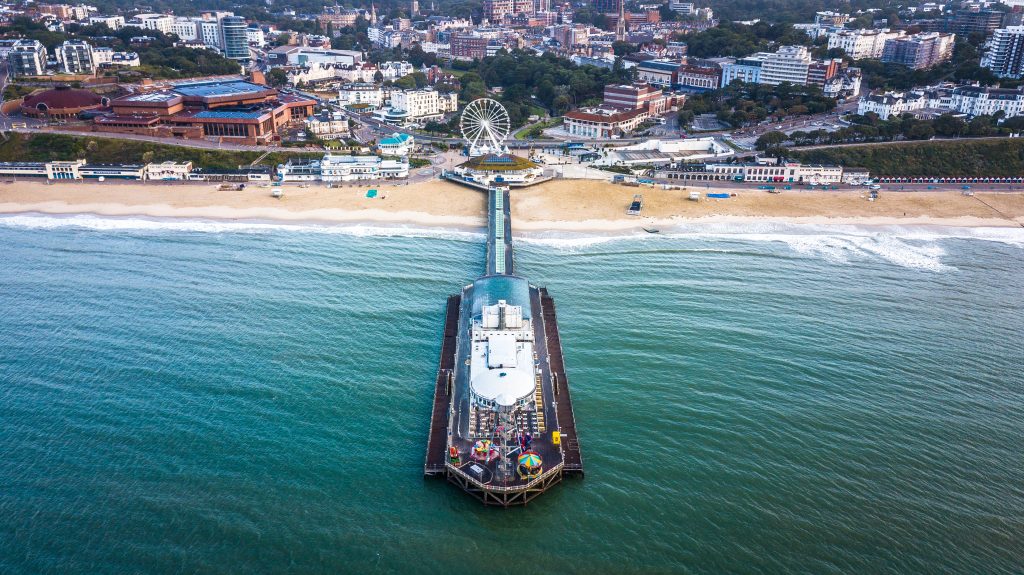 From beach days and cliff walks to watersports and crazy golf, this is a local's guide to the best things to do in Bournemouth…
Are you looking for an amazing English seaside destination for your summer staycation this year? Bournemouth has it all! Beautiful beaches, the whole of the stunning Jurassic Coast within easy reach, and loads of fab entertainment – including a brilliant nightlife scene.
Dorset's largest town offers a great blend of traditional seaside charm and big-town buzz, so it's the perfect place to base yourself while exploring the county. And in town, there are so many things to do in Bournemouth that the only problem is knowing where to start!
I was born and raised just down the road in Weymouth, now live in nearby Dorchester, and have visited Bournemouth more times than I can count! Especially because my sister and her family have lived there for several years.
So I like to think there's no one better to put together a guide to the town! I hope you agree, and I hope this post proves useful as you plan your next trip.
Map: Things To Do In Bournemouth
Use this map to plan your trip, then keep reading for a full list of things to do in and around Bournemouth. Got a question? Leave a comment at the end of this post!
19 Things To Do In Bournemouth
This first section focuses on the top things to do in Bournemouth for all visitors. It's in no particular order, so just scroll through and see what takes your fancy.
Later on down this page, there are two sections focusing on adult-specific and kid-specific things to do – use the contents menu above to skip ahead if you need to.
READ MORE: 15 Best Things to do NEAR Bournemouth
1. Hit the Bournemouth Beaches
Without a doubt, Bournemouth's biggest draw has to be its long, beautiful, sandy beach. In fact, there are around 10 miles of beaches skirting the wide bay between Hengistbury Head and the mouth of Poole Habour.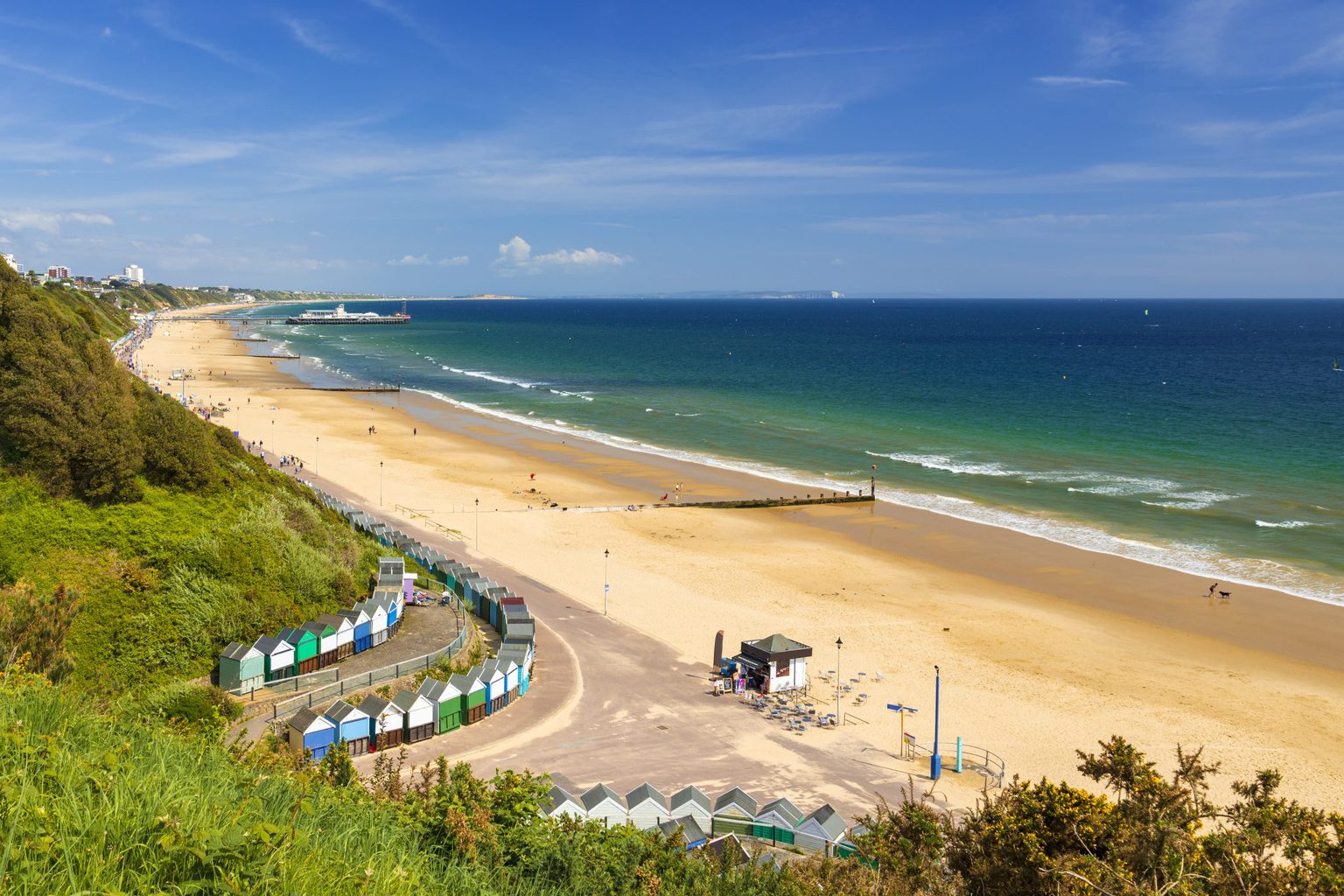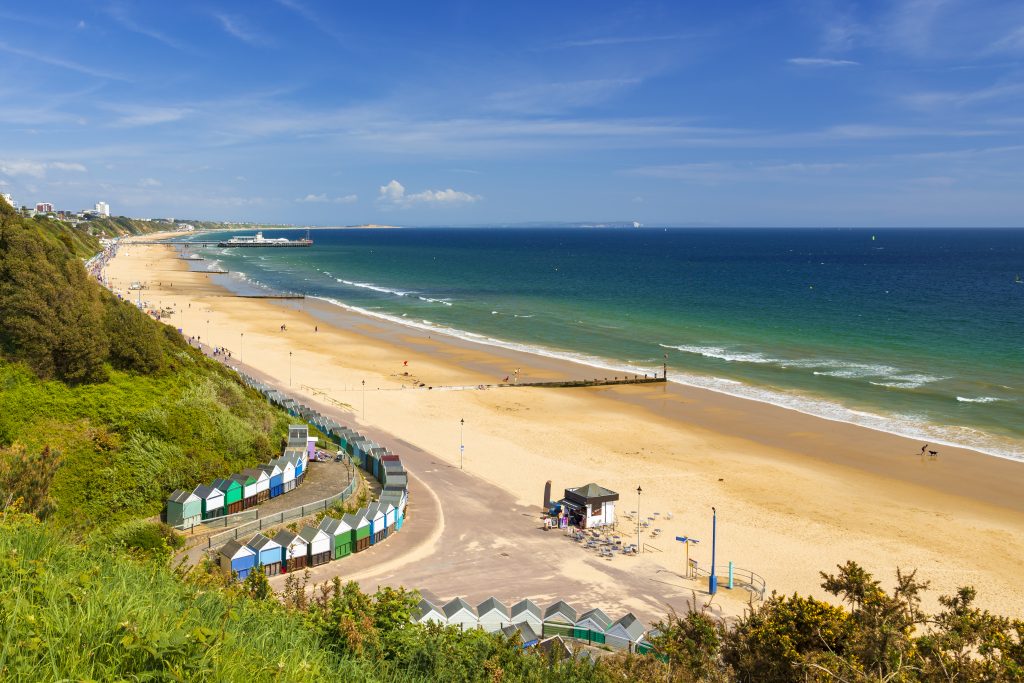 Nearest to the town centre, the iconic pier stretches out into the sea with wide swathes of sand on either side, as well as amusement arcades, chip shops, and ice cream stalls, so this section is particularly popular. But you can walk along the promenade as far as Sandbanks to the west or Southbourne in the east, with amenities to be found most of the way.
2. Explore Bournemouth Pier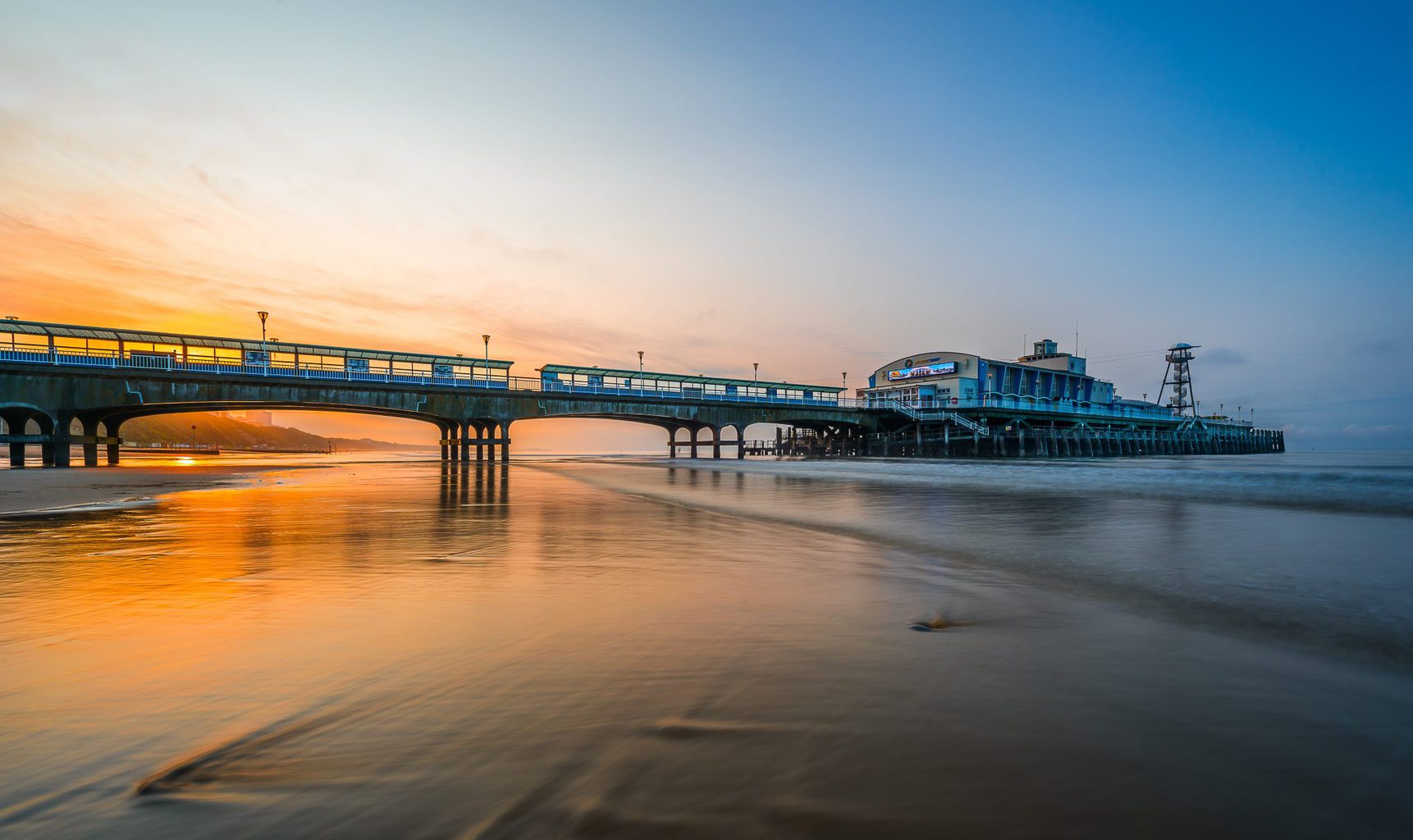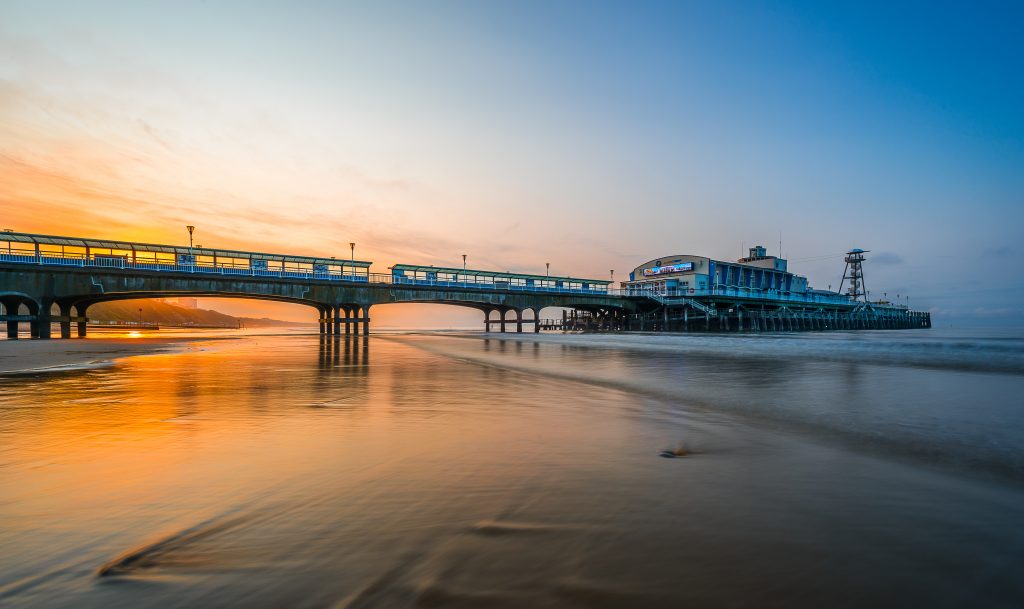 Nothing says "British Seaside" more clearly than a retro pier lined with arcades and attractions. So the Victorian pier in Bournemouth is definitely one of the must-see attractions in town!
You'll find all the staples of a classic seaside pier, including an amusement arcade, a variety theatre, a cafe and a gift shop. But there are also a few unusual offerings to get your adrenaline pumping, such as the RockReef climbing centre (more on that later). Don't miss the chance to take a stroll along this historic pier to soak up the views of the coast.
3. City Sightseeing Bournemouth
If you want to explore a lot of Bournemouth in a short space of time, the hop-on, hop-off bus and boat tour from City Sightseeing is ideal. Take a ride on one of the bright red open-top buses for panoramic views, with an audio guide to tell you what you're looking at.
You can get off at any point to explore, then hop on the next bus when you're ready to move on. Tickets start from £16 per person.
4. Visit Sandbanks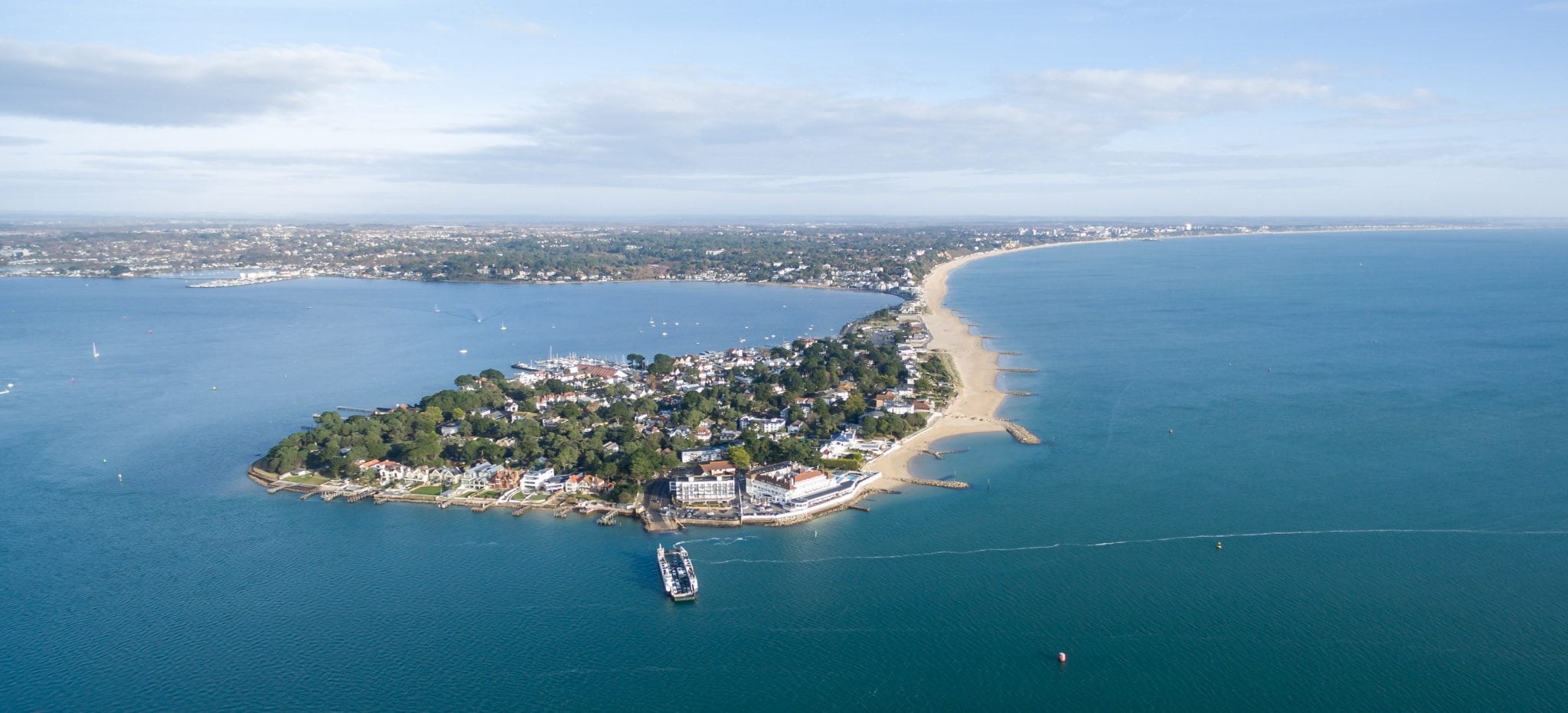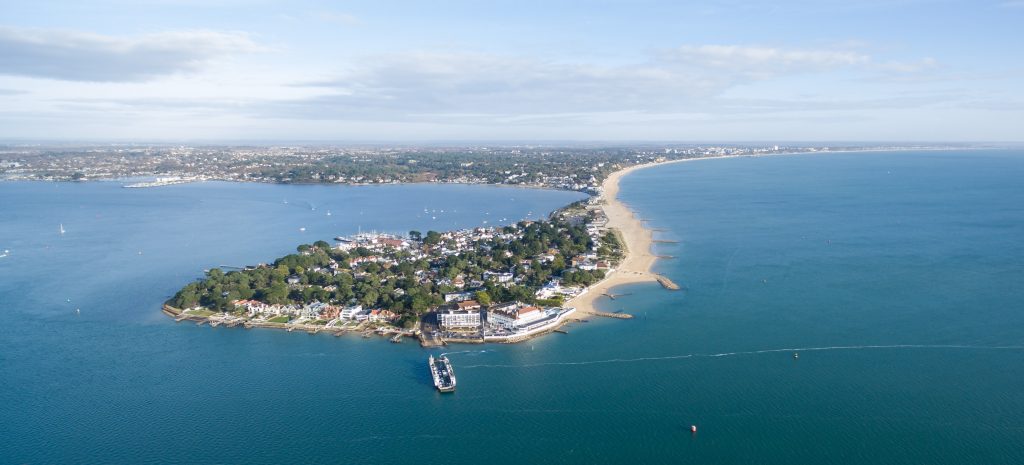 Sandbanks is a small peninsula jutting out across the entrance to Poole Harbour from Bournemouth. The area is known as the "most expensive seaside in the world" thanks to the high price tags of the waterfront mansions! You can spot a few of the best as you wander along Sandbanks Street, nicknamed "Millionaires Row".
There are several marinas and yacht clubs to explore, as well as some top-class seafood restaurants such as Rick Stein's. And, of course, Sandbanks is home to one of the nicest beaches on the whole south coast of England, so don't miss that!
READ MORE: If Sandbanks looks too busy, try one of these alternative beaches nearby.
5. Wander the Bournemouth Gardens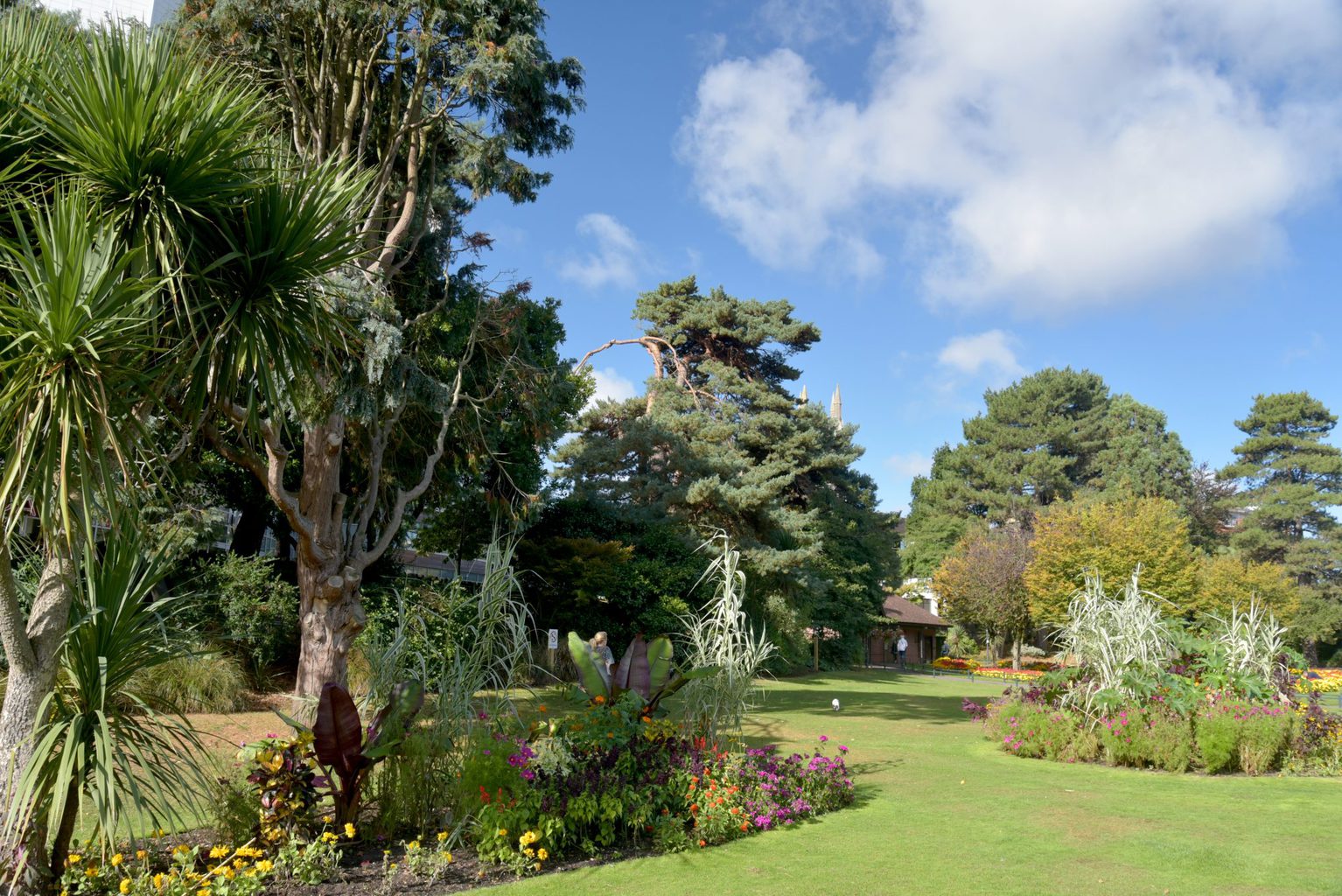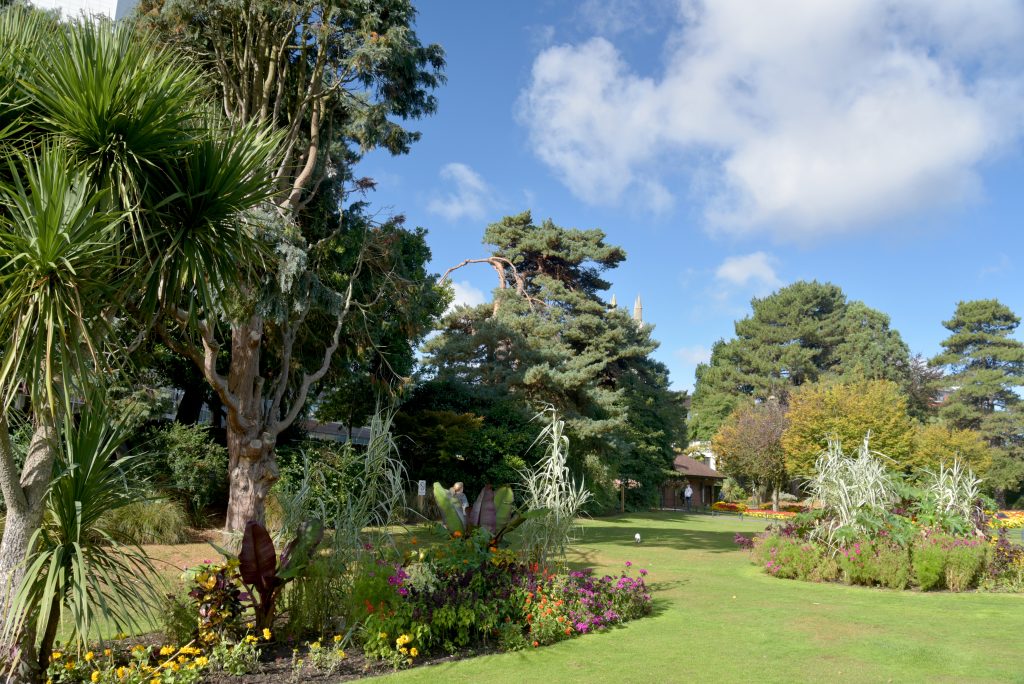 One of my personal favourite things to do in Bournemouth is also one of the most simple – and free. Visit the town's gardens! The Upper, Central, and Lower Gardens run through the centre of town and date back to the Victorian era. Filled with flowerbeds, lawns, and trees, with a small river running through them, these Grade-II listed gardens are the perfect place for a walk.
The Lower Gardens, which run from the town centre to the seafront, are filled with gorgeous flowerbeds – as well as a bandstand, an aviary, and a mini-golf course. These are the most accessible so they're generally the most popular, and are the setting for many events throughout the summer season. The Upper Gardens are often much quieter and feel like the perfect getaway from the busy town centre.
6. Russell-Cotes Art Gallery and Museum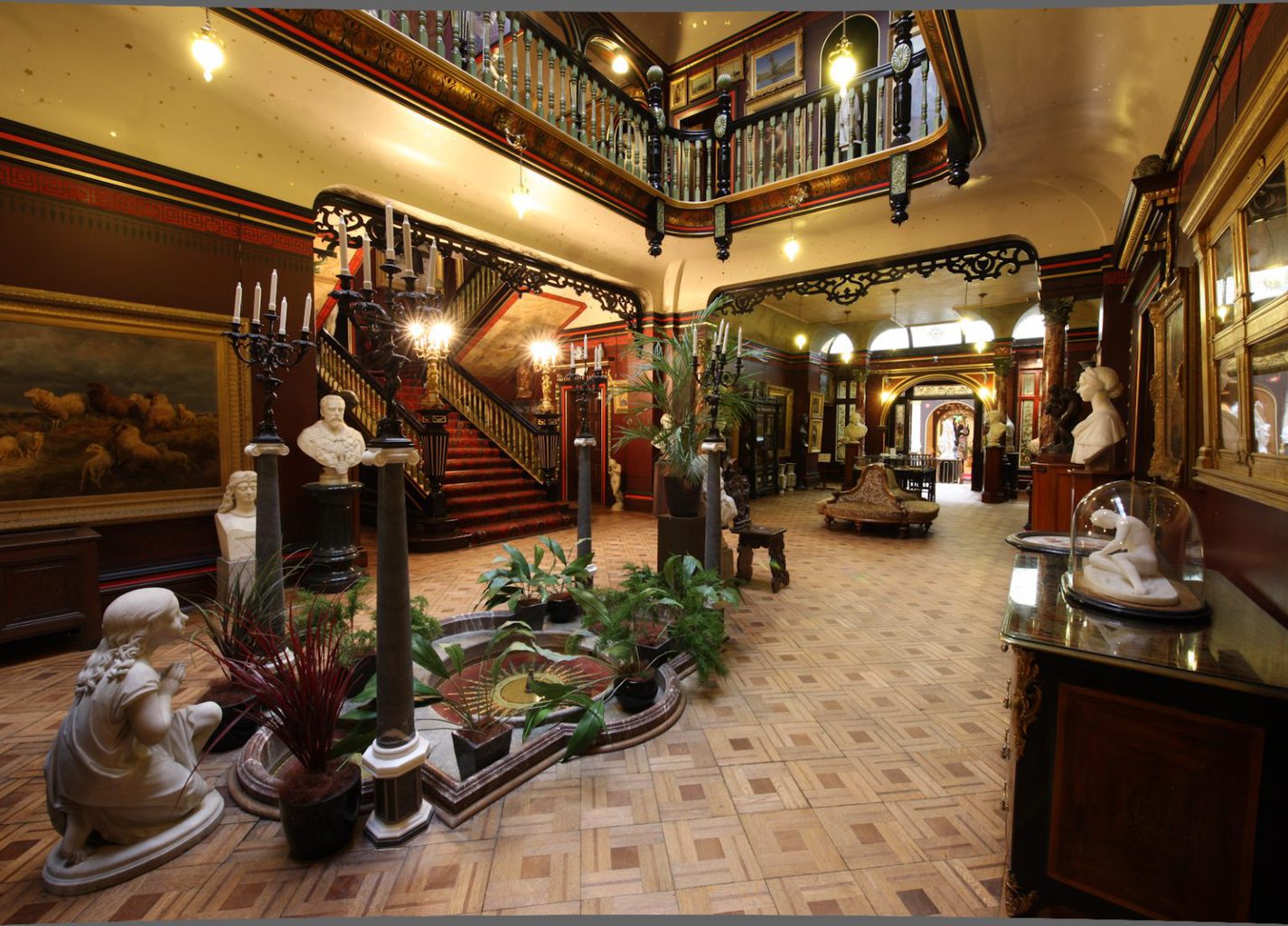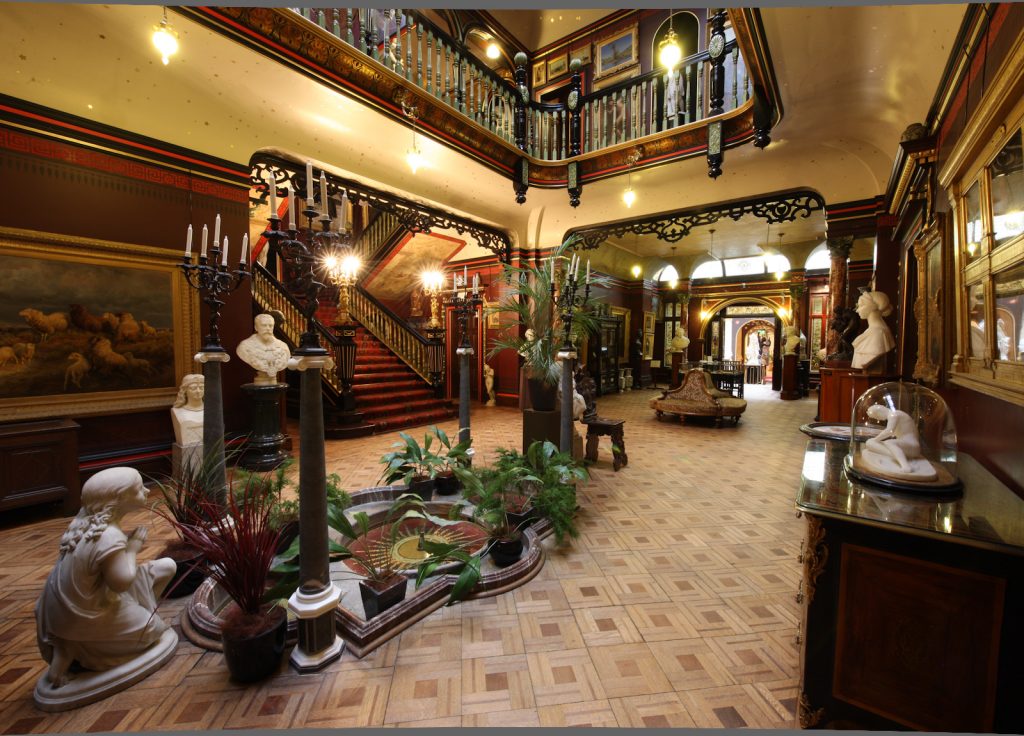 The Russell-Cotes Museum is a lavish seaside villa in Bournemouth which was given as an extravagant birthday present by Merton Russell-Cotes to his wife Annie in 1901.
The couple filled their clifftop getaway with an eclectic collection of art, furniture, and curios from around the globe. Today, this stunning Grade-II listed property is open to the public as a quirky and fascinating museum.
7. Take a Jurassic Coast Tour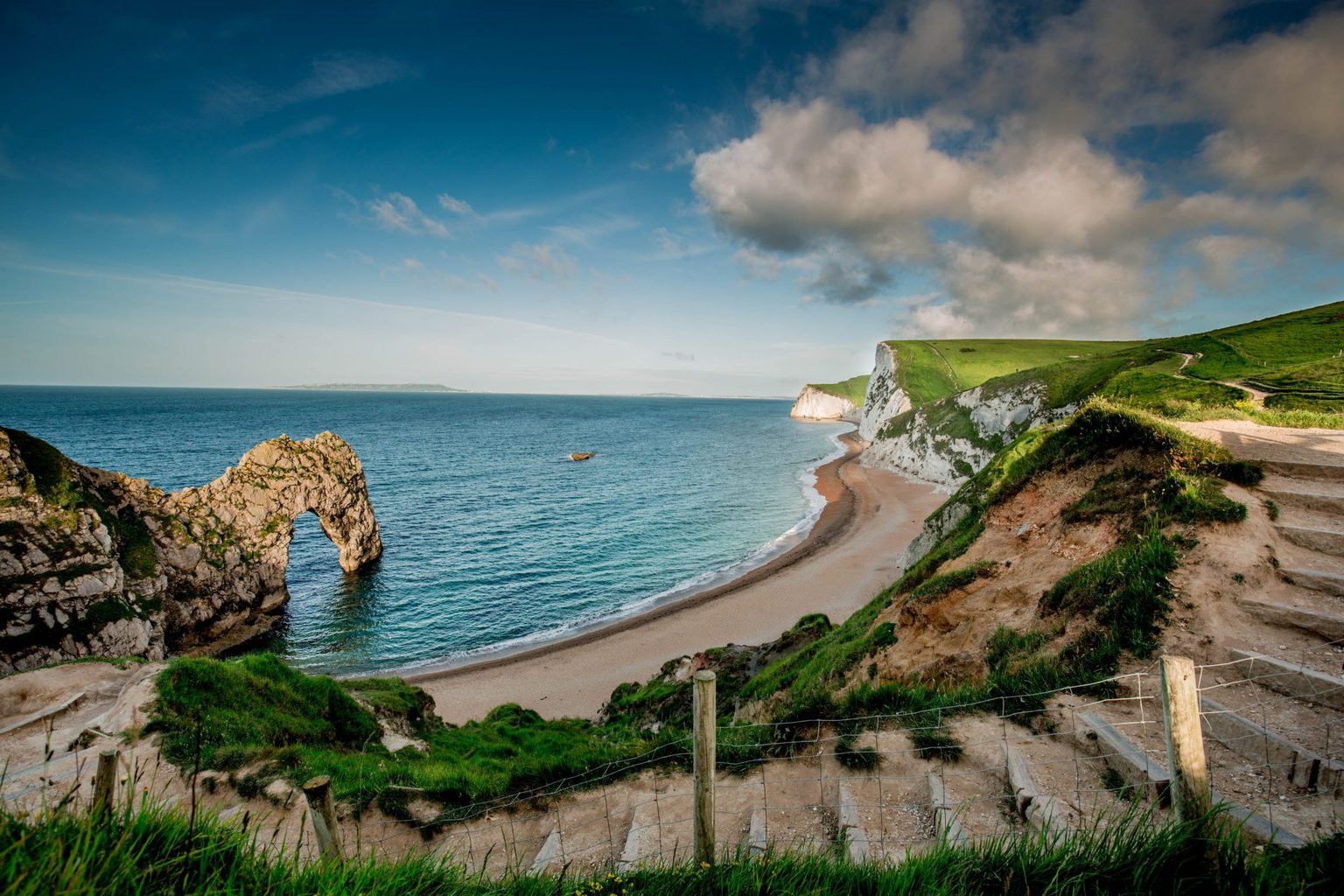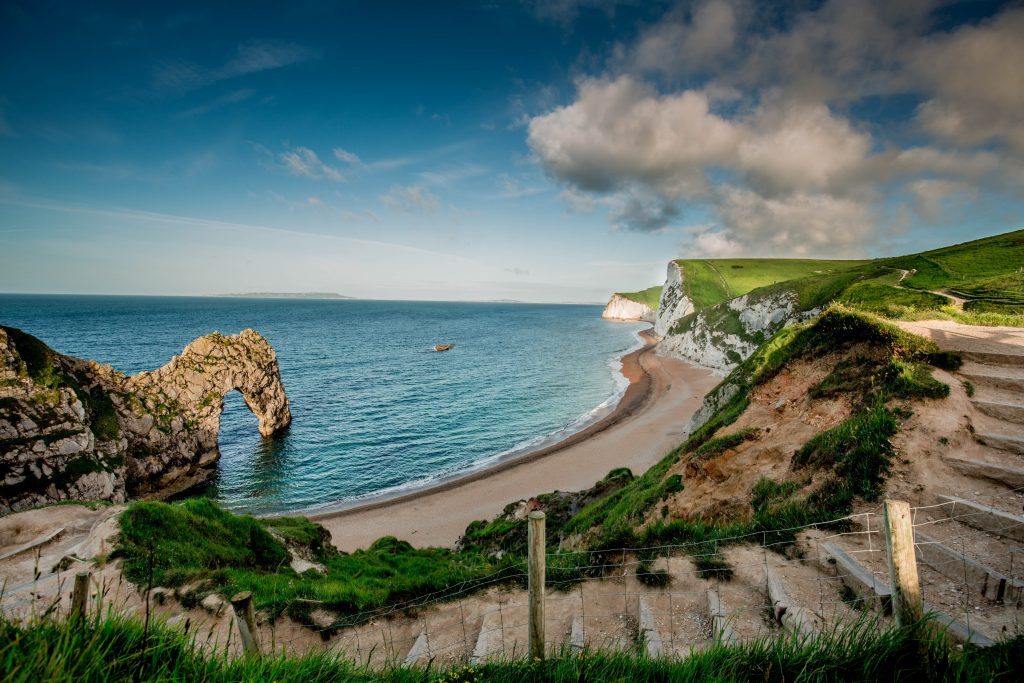 If you have a few days in Bournemouth and want to explore more of Dorset, you simply must take a tour of the Jurassic Coast. It's easy enough to plan a road trip with your own car, but if you prefer the ease (and information) of a guided tour there are several options. I've listed a few of the best below:
8. Explore Westbourne
Westbourne is a coastal "village" on the outskirts of Bournemouth, to the west. Although very much a part of the town as a whole, this upmarket neighbourhood has a distinctly separate feel and a strong community spirit. It's also a great location for shopping, with an eclectic mix of fashion boutiques, gift shops, and vintage stores.
Many of the best shops and cafes can be found in and around the Westbourne arcade, a Grade-II listed, cathedral-like Gothic shopping arcade. Westbourne also boasts a great mixture of pubs, bars and restaurants, including many independent businesses.
9. Take a Hike at Hengistbury Head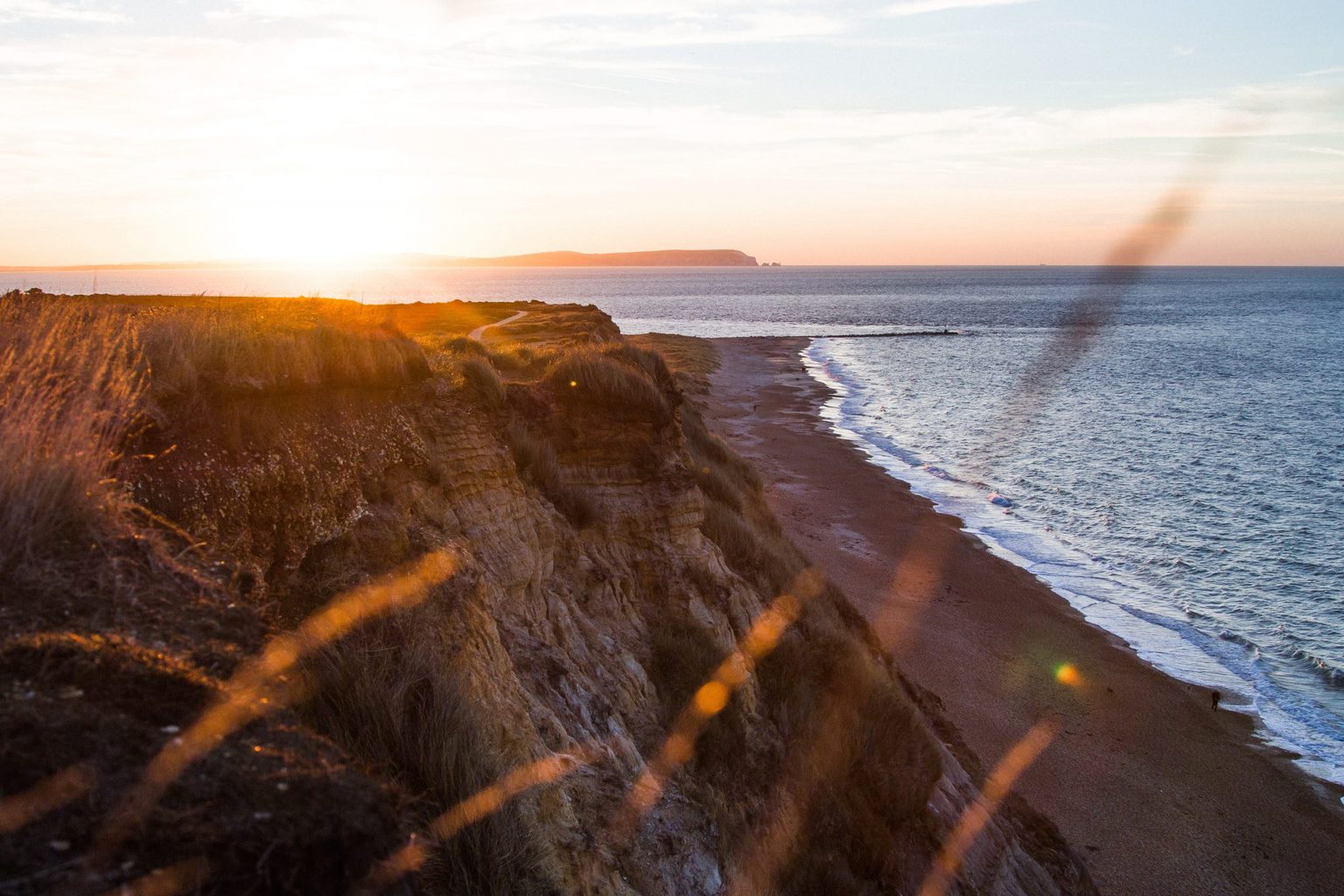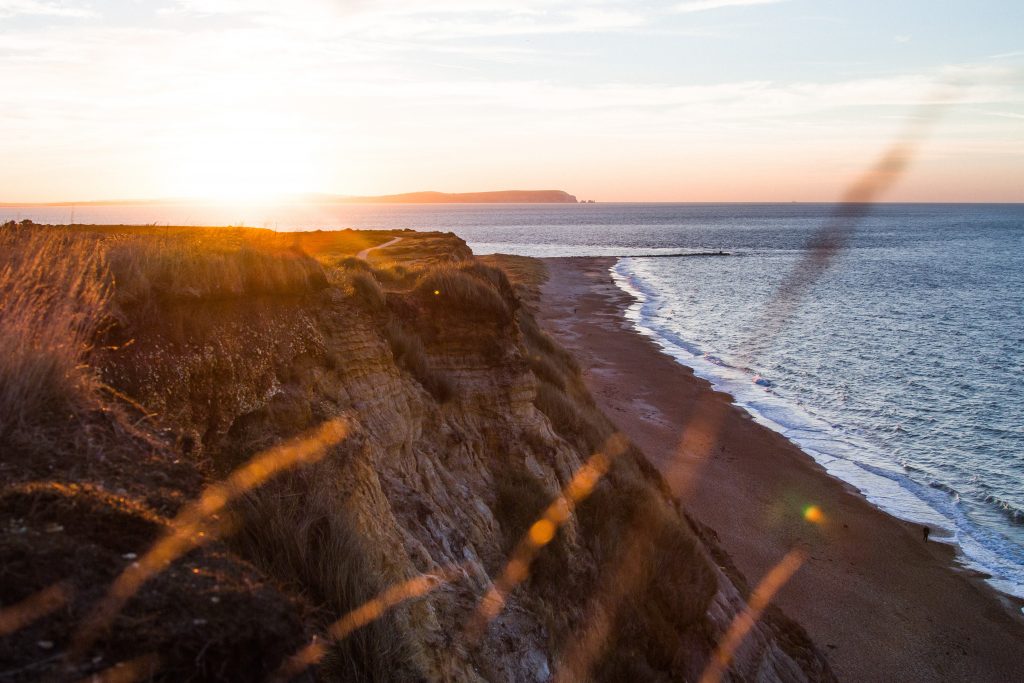 Hengistbury Head marks the eastern end of the wide bay on which Bournemouth sits, and is one of my favourite spots in Dorset for a coastal walk. Although a relatively small headland, the area is home to several ecosystems, so a circular walk from the carpark will take you through wetlands, woods, heaths, and more.
At one end of Hengistbury Head is Mudeford Sandbank, a spit of white sand stretching out into the sea, which is lined with pastel-painted beach huts. There's a cafe and a coffee shop tucked onto this bit of beach, too, so it's the perfect place to stop for a picnic before completing the walk back.
ROUTE GUIDE: I've put together a detailed Hengistbury Head walk guide, with a map, photos and step-by-step instructions.
10. Ride the Cliff Lifts
The eastern and western ends of Bournemouth Beach are backed by some fairly steep cliffs. Although not too high, these can be a pain to walk up – especially after a long day on the beach! Thankfully, you can take the Cliff Lift! These are three historic funicular railways along the bay, linking the beach with the clifftop.
The West Cliff Lift and East Cliff Lift were both built in 1908, and are still going strong – although the East Cliff Lift is currently out of action following a significant cliff slide – while the Fisherman's Walk Cliff Lift was added in 1935. The Cliff Lifts run between Easter and the end of October and cost just £1.85 for an adult. Check latest info and pricing on the local council's website.
11. Or Take a Ride on the Land Train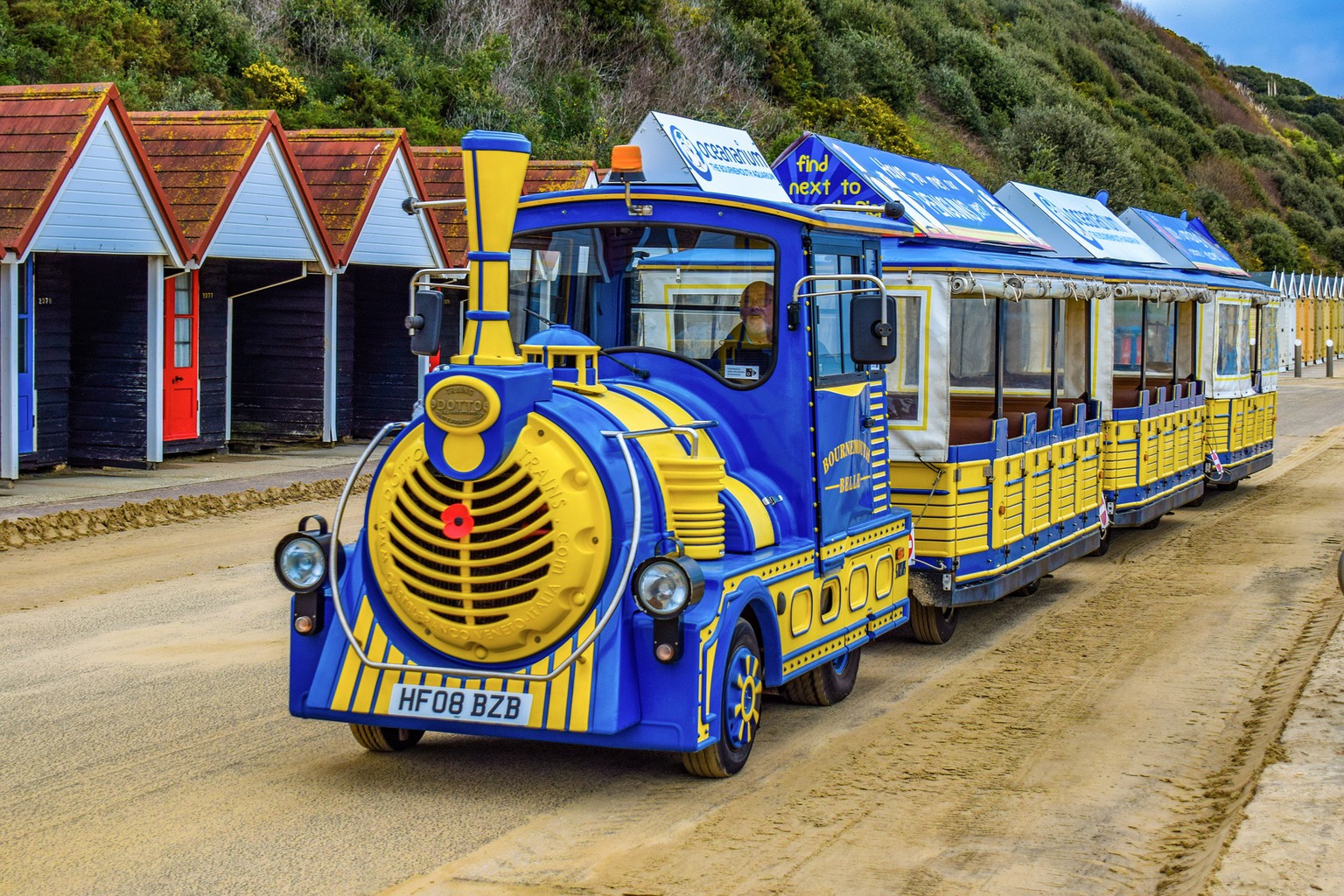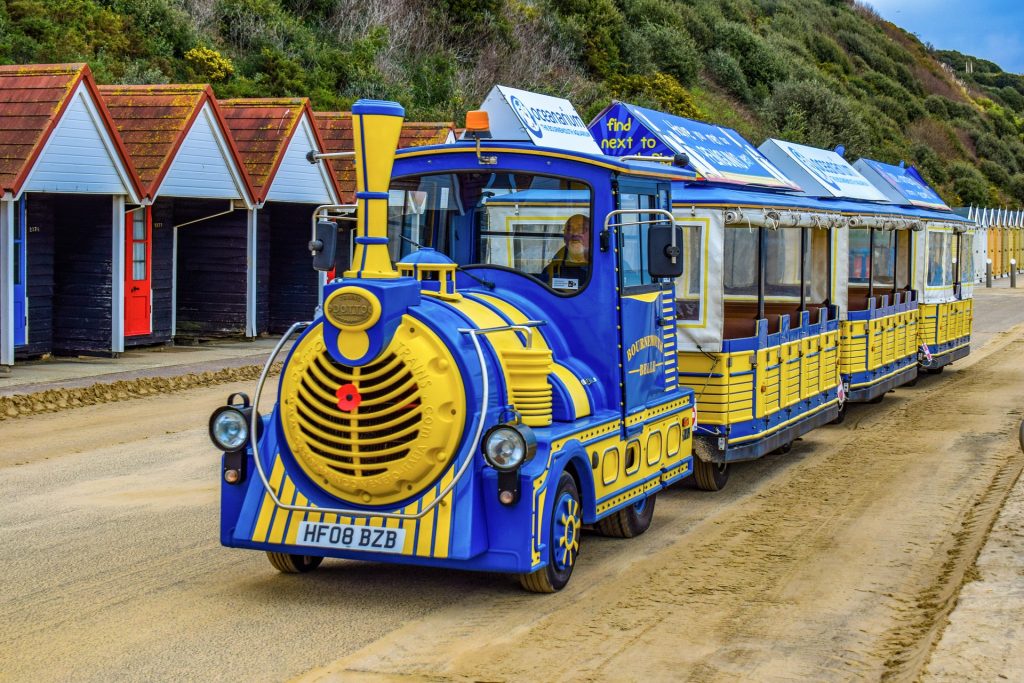 Hop aboard one of Bournemouth's two iconic land trains to explore the seaside in style! Not only are these cute trackless trains the perfect way to travel along the beach promenade without sapping your energy, but they're also a great way to soak up the scenery, especially on the return journey over the East Overcliff.
The scenic trains run from Bournemouth Pier to Alum Chine in the west, or from Bournemouth Pier to Boscombe Pier heading east. And, of course, they're a big hit with young kids! Check the full route, as well as prices, here.
12. Brave the Bournemouth Zip Wire
One of the more unusual things to do in Bournemouth is to brave the PierZip at RockReef. Fly 25m above the sea on the world's first pier-to-shore zip wire! The 250m dual zip wire means you can ride at the same time as a friend or family member, and race them to the shore. Perfect if you need a hit of adrenaline!
13. Soak Up the Views from the Big Wheel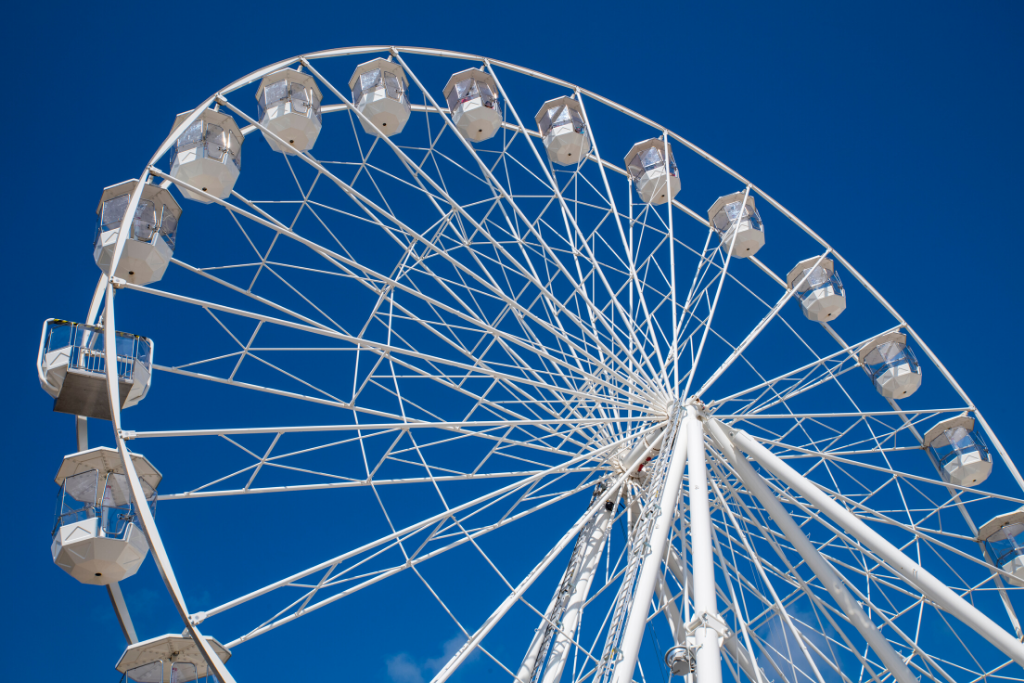 Towering over the lively Pier Approach area between the Lower Gardens and the Pier is the Bournemouth Big Wheel. Standing at over 33m high, this fun seaside staple offers some gorgeous panoramic views of the coast.
14. Dine and Unwind at BH2 Leisure
A relatively new addition to Bournemouth's brilliant entertainment centre is BH2 Leisure. This stunning, modern leisure complex opened in 2017, massively rejuvenating the lower town centre area!
The state-of-the-art complex features a multiplex cinema, a bunch of great restaurants, and several other unique entertainment experiences (more on those in a mo). And with the outdoor dining areas facing onto the Lower Gardens, the setting couldn't be more perfect!
15. Visit the UK's Smallest Cinema
Bournemouth Colosseum is the smallest cinema in the UK! So if you're looking for something unique to do, this is perfect! Housed underneath the Vintage Lounge coffee shop in the middle of Westbourne Arcade, this quirky little cinema shows an eclectic mix of modern films and age-old classics. They also sometimes show sports and other live events!
16. Play Adventure Golf at Mr Mulligan's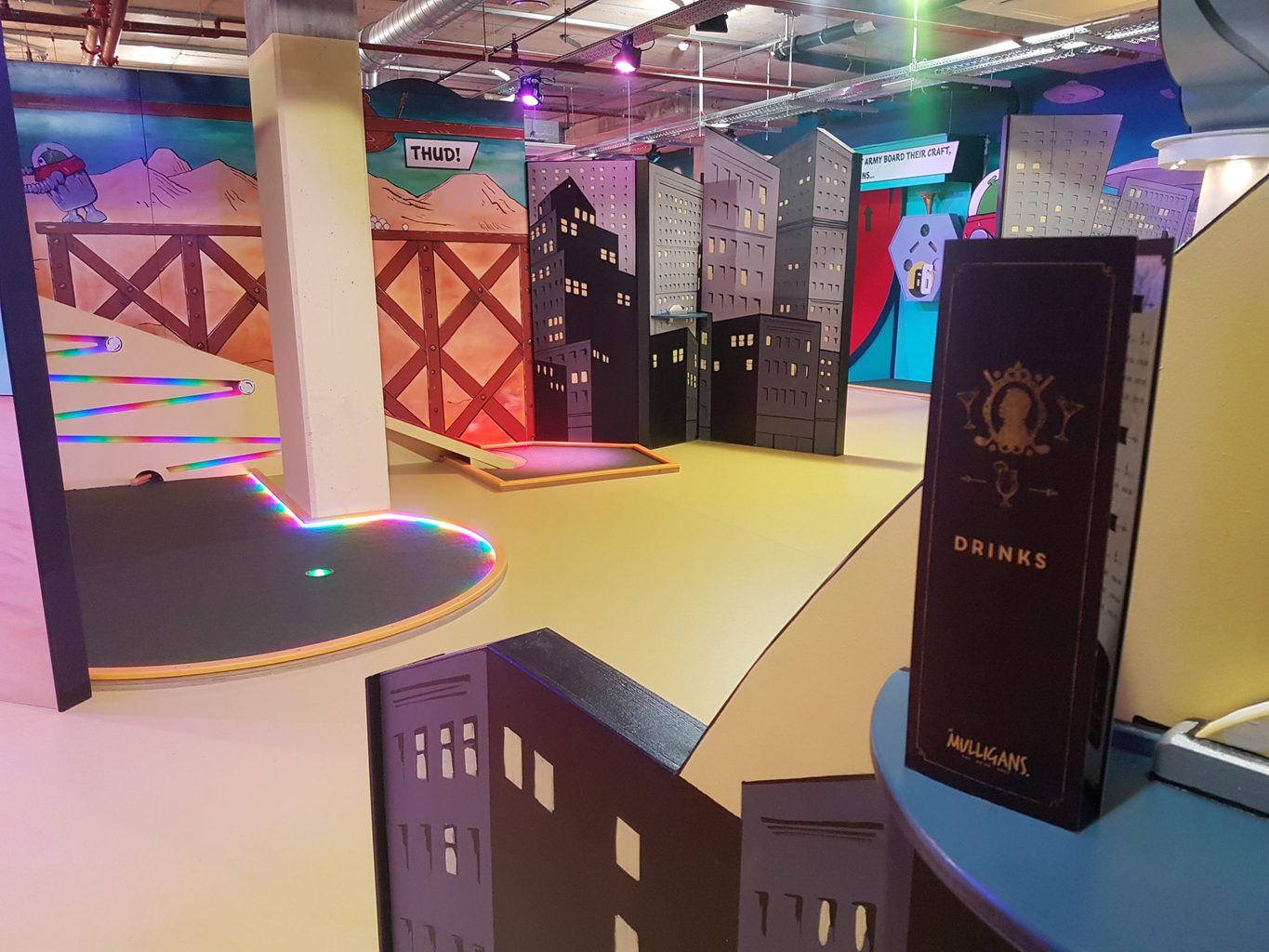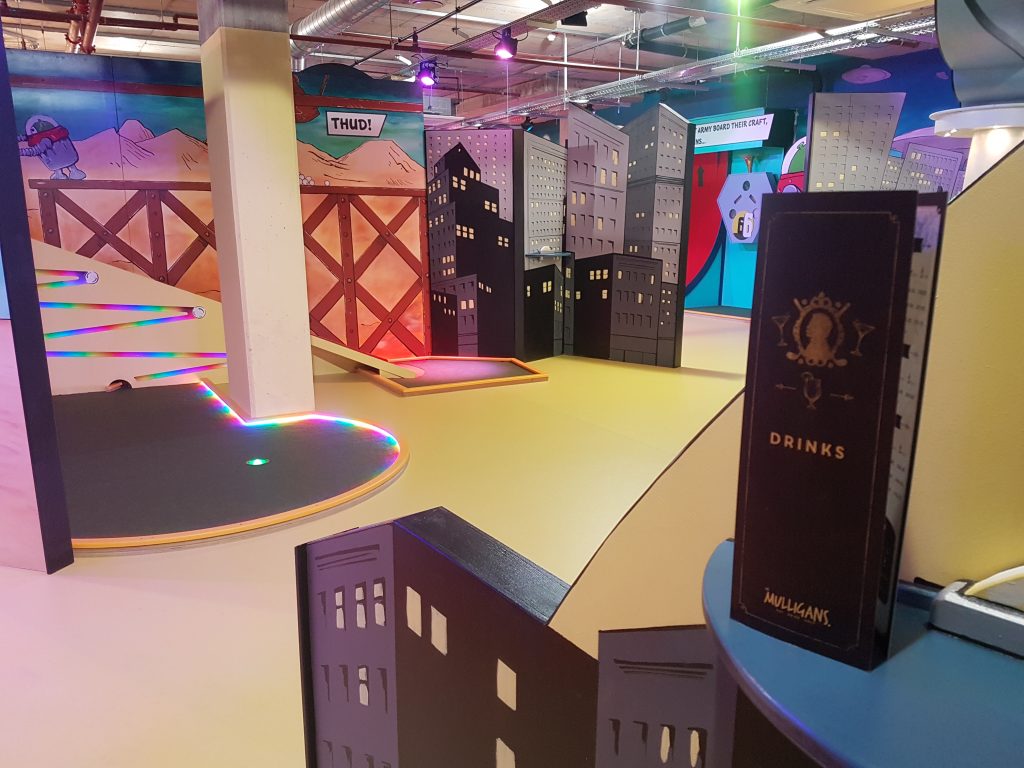 Housed inside the BH2 Leisure complex, Mr Mulligan's is one of the most fun things to do in Bournemouth! It's an indoor adventure golf centre, with three uniquely themed courses to choose from.
You can putt your way through a comic book brought to life, an "unearthly light experience", or an apocalyptic crash scene. I've only tried the last one so far, but it was great fun! The scenery and theming are brilliant, and there's also a bar serving food and drinks if you need to fuel-up between games.
17. Catch a Game at A.F.C Bournemouth
AFC Bournemouth are Dorset's only Premier League football team, following their promotion at the end of the 2021/22 season. Football fans should still try to catch a game while they're visiting the town. The Cherries (named for their red and black kit) play out of the Vitality Stadium in King's Park in Boscombe. See if a match is playing while you're in town, and book tickets online.
18. Virtual Reality
Forget the old-school arcades on the seafront, because now we have Centre VR in Bournemouth! This is the largest virtual reality venue in Europe, with 30 stations equipped with some of the best VR headsets available.
Visitors can play solo or in multiplayer groups, and you can choose from over 100 different games. There are also group adventures and themed escape rooms for 2-6 players. But the must-try at Centre VR is their signature game of Tower Tag, a futuristic laser quest game for up to eight players in two teams. I recently had my second (pretty disastrous) go – and although I was thrashed by my nephews, I had a great time playing!
19. Practice your Swing at Golfcatcher
Based at Christchurch Golf Club, Golfcatcher is the South's leading golf centre. Featuring indoor simulator bays with the latest technology, private teaching suites, a driving range and a Par 3 course, this is the perfect place to practice golf. The family-friendly centre caters to all ages and abilities, from children and beginners through to professional golfers.
20. Enjoy Bournemouth's Entertainment Scene
Bournemouth is known for its lively nightlife scene – but that doesn't stop at bars and restaurants. There are also loads of fab venues serving up a great range of live music, comedy, and other entertainment. I've listed a few of the best venues below…
Bournemouth Pavillion Theatre – a stunning, historic venue which opened as a theatre and ballroom in 1929! Although it's been redesigned several times, the venue still feels full of history. And they always have a brilliant lineup of events and shows, from musicals, to comedians, to wrestling!
BIC (Bournemouth International Centre) – a huge entertainment and conference venue. It's one of the largest of its kind in southern England, so attracts a brilliant range of shows and artists (as well as conferences and trade shows). Big names this year include McFly, Paloma Faith, Steps, and loads more!
Shelley Theatre* – built in 1866 by the son of Mary Shelley (the author of Frankenstein), this is the oldest surviving theatre in Bournemouth. It's a beautiful, historic building which hosts a range of plays and other entertainment.
*As of summer 2023, the Shelley Theatre remains closed. Their website says they hope to reopen soon – hopefully, they'll be back sometime this year.
Things to do With Kids in Bournemouth
1. Adventure Wonderland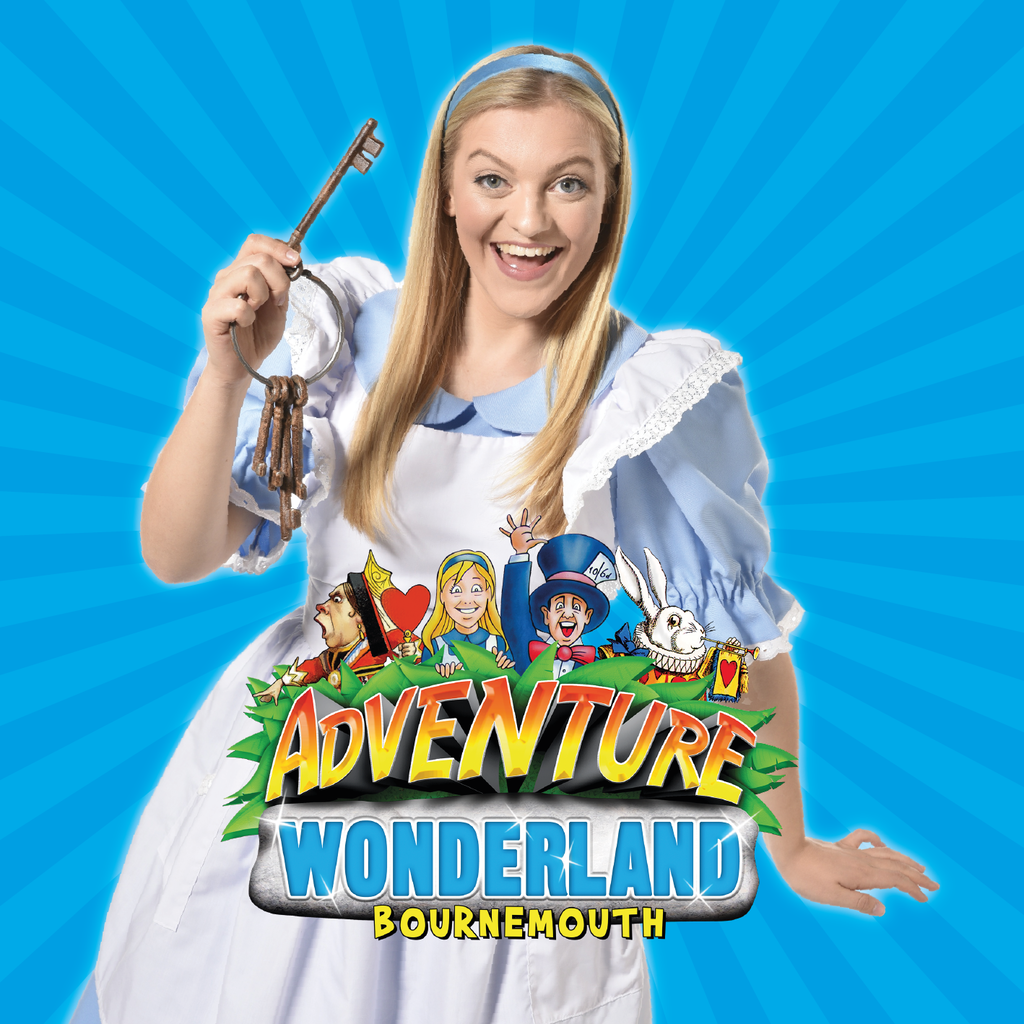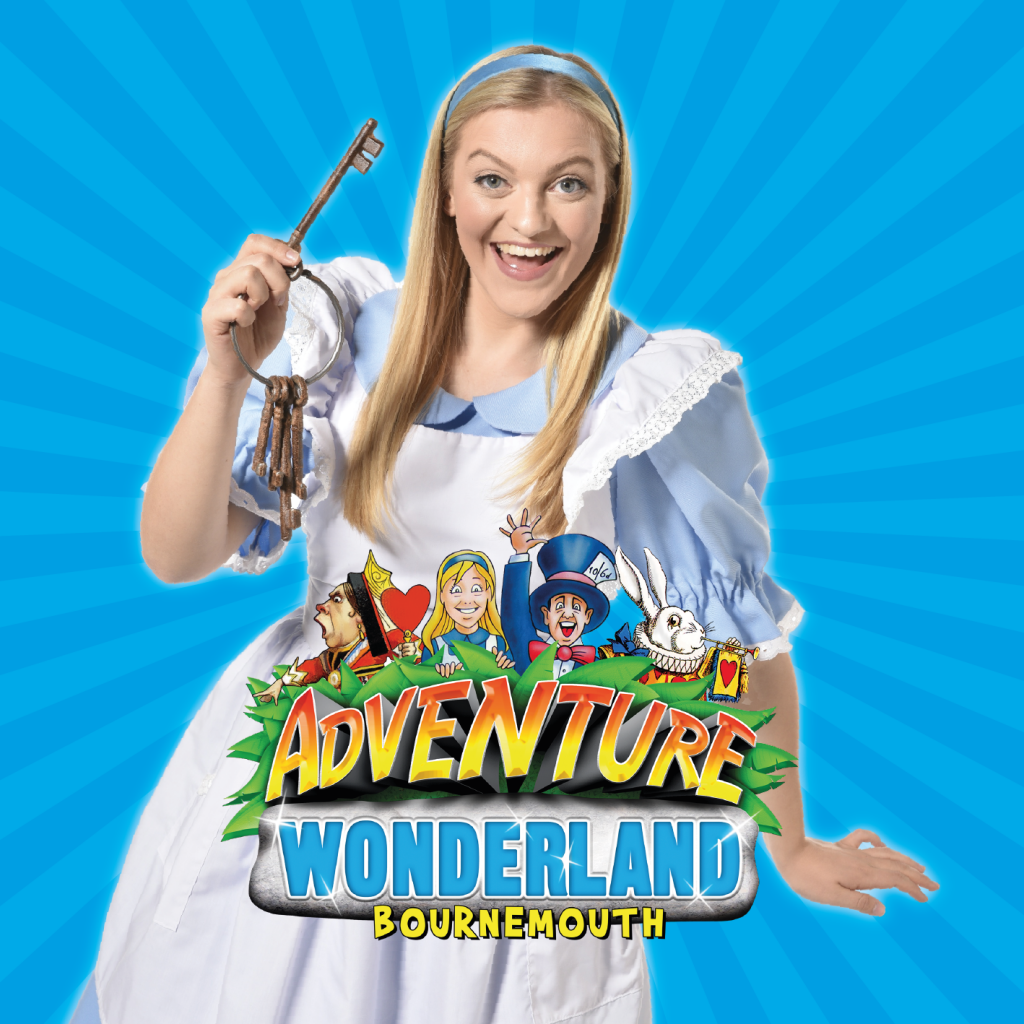 Adventure Wonderland is definitely one of the best things to do with the kids near Bournemouth! My family went a lot when I was younger, and now my sister regularly takes her two kids. This small theme park is filled with rides and attractions, most of them aimed towards children under the age of 12.
The park is themed around Alice in Wonderland. So, you may well encounter Alice, The Mad Hatter, or the Queen of Hearts as you explore. And there are loads of brilliant rides to choose from, too, including a hedge maze, log flume, swinging ship, and runaway train. Kids love the massive indoor Aztec Adventure Play Centre, while my favourite was always the Battle Boats – bumper boats armed with water squirters!
2. Bournemouth Oceanarium
Sitting right next to the beach, Bournemouth Oceanarium is a brilliant family-friendly attraction in the town centre. Explore a variety of different marine ecosystems and meet all kinds of aquatic life, including penguins and crocodiles! You can watch live feeding sessions and various talks. There's also a brilliant underwater tunnel where you can get an up-close glimpse of sharks and rays.
What I love about the Oceanarium is its focus on education. Not just about marine life and underwater habitats, but also about the importance of conservation. They're members of several important conservation campaigns – and have exhibits discussing climate change and the impact of litter on our oceans.
3. Adventure Golf
I've already mentioned Mr Mulligan's above, but that's not the only adventure golf you can play in Bournemouth. In fact, the town has quite a few golf offerings. These are perfect if you're looking for a fun activity with the kids – although these courses are also a big hit with adults. After all, adventure golf is certainly not just for kids!
Mighty Claws Adventure Golf – a brilliant, dinosaur-themed course where you can putt your way around an 18-hole course dotted with near-life-sized dinosaurs and prehistoric scenery.
Smugglers Cove Adventure Golf – a fab, family-friendly course next to Bournemouth Beach which transports visitors back to the sights, smells, and smugglers of the 1700s.
4. RockReef
RockReef is an adventure activity complex situated at the end of Bournemouth Pier. This is the home of the PierZip (mentioned above), but also of a whole host of adrenaline-pumping challenges.
With 28 themed indoor climbing walls of varying difficulties, as well as a vertical drop slide, a high ropes aerial obstacle course, and much more, there's something for everyone. In fact, it's really not just for kids! This is also a popular venue for corporate events and stag/hen dos. But this is the perfect place for kids to learn new skills and boost their confidence with some high-flying adventures.
5. Oasis Fun Bournemouth
In the heart of Bournemouth, Oasis Fun is an indoor children's play area and an amusement centre. Everything is indoors, so this is the perfect place to take the kids when the Great British weather doesn't cooperate!
The centre offers a wide range of activities, including a soft play area, bowling, and adventure golf. There's also a diner and bar for grown-ups to relax in while the kids play. It's a bit 'cheap and cheerful' but makes a good rainy day activity.
6. Science Zone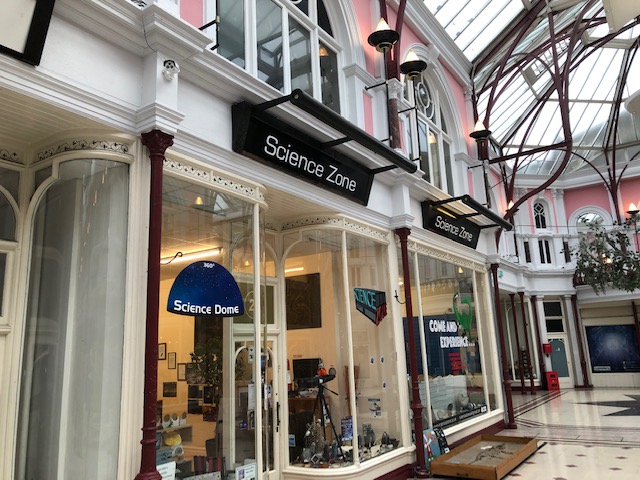 Science Zone UK is another ideal rainy-day solution for bored kids! Especially if you're looking for something that's educational as well as fun. This brilliant centre in the Royal Arcade in Boscombe takes visitors through the exciting world of science.
There are several zones focusing on different branches of science, with all kinds of activities and hands-on exhibits to discover. From life-size dinosaurs to planetarium shows, to explosive experiments… there's plenty to keep visitors of all ages entertained!
7. Laser Quest
Fancy a challenge? Head to Laser Quest in Bournemouth for an adrenaline-pumping game of laser tag. Play in an exciting purpose-built arena with castle towers, turrets, ramps, mazes, and swirling fog. Use your laser gun to "zap" other players and win points – but don't get hit or you'll lose points!
8. Snowtrax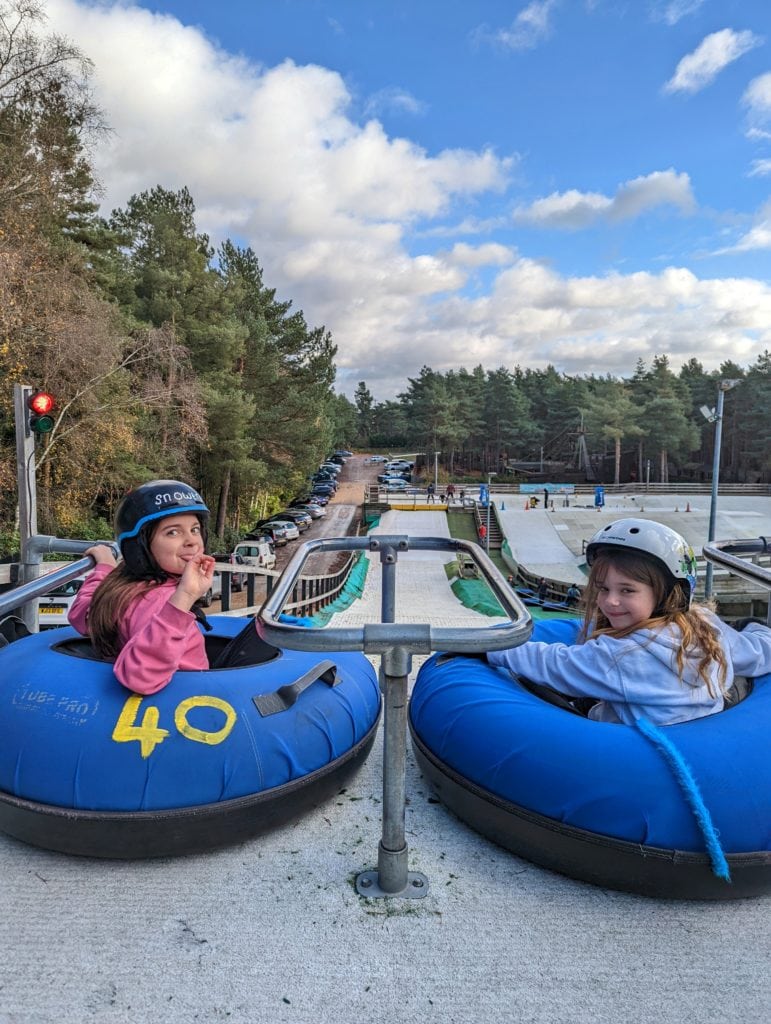 In nearby Christchurch, Snowtrax is one of the best ski resorts in the UK. The Alpine Activity Centre has dry ski slopes for skiing and snowboarding practice, and also offers lessons for all abilities.
But this is so much more than a dry ski slope. There's also an Alpine Adventure Park for kids filled with forts, slides, and hidden trampolines. If you don't fancy skiing, you can try your hand at the Ski Bob sledges or hop in a Ringo, inflatable rubber tubes you can slide down the snowy slopes in! Find out more about Snowtrax in my review here.
Things to do in Bournemouth for Adults
1. Frieda's Tea Bus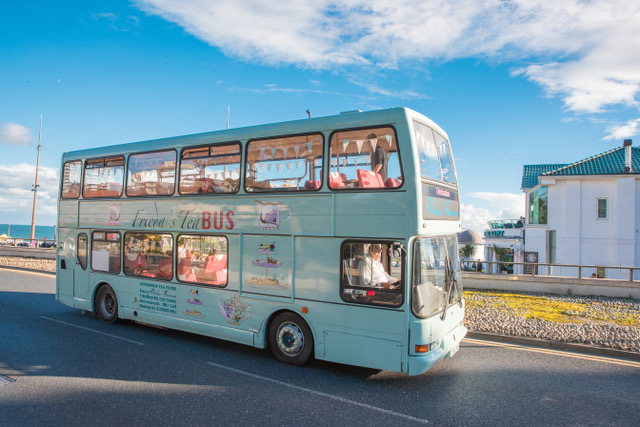 One of the most unique – and loveliest – things to do in Bournemouth has to be Frieda's Afternoon Tea Bus. This is exactly what it sounds like; a specially converted double-decker bus which will take you on a tour of Bournemouth seafront whilst you relax with a yummy afternoon tea.
We took my younger sister for her birthday a couple of years ago and had the BEST time! You get gorgeous sea views, a totally unique experience, and some really tasty sandwiches and cakes. Click here to read my review of Frieda's TeaBus for more info.
UPDATE SUMMER 2023: The TeaBus is not currently in operation, but in the meantime, Frieda's Tearoom is still open. They also serve afternoon tea – along with lots of other delicious treats. Hopefully, the bus will return soon.
2. Escape Rooms
Up for a challenge? Then get ready to take on one of Bournemouth's many escape rooms. Choose a team and work together to solve a mystery and escape the room! Find clues, solve riddles, complete physical challenges, and crack codes in order to escape.
One of the most popular in Bournemouth is U-Escape, which has two very different rooms to choose from – including a horror-themed "psycho surgeon" room! But there are loads of escape rooms in town so work your way through the list.
3. Nightlife
Bournemouth is well known for its vibrant nightlife, so if you fancy a night on the town you have plenty of options. Below, I've rounded up a few of the most distinctive bars – but there are loads more to choose from. So get out and explore!
4. Hilton Spa
Need to relax? Head to the eforea Spa and Health Club at Hilton Bournemouth. Tucked away inside the stunning town centre hotel, this spa features a pool, sauna, steam room, and bubble pool. There are also several treatment rooms and a great menu of gorgeous, rejuvenating treatments. I've been dying to go back ever since my incredible facial here last year!
For the ultimate pamper day, combine your trip with an afternoon tea at the rooftop Skybar. This is one of our favourite places to try afternoon tea in Bournemouth because of the incredible views!
Bournemouth Festival Dates for your Diary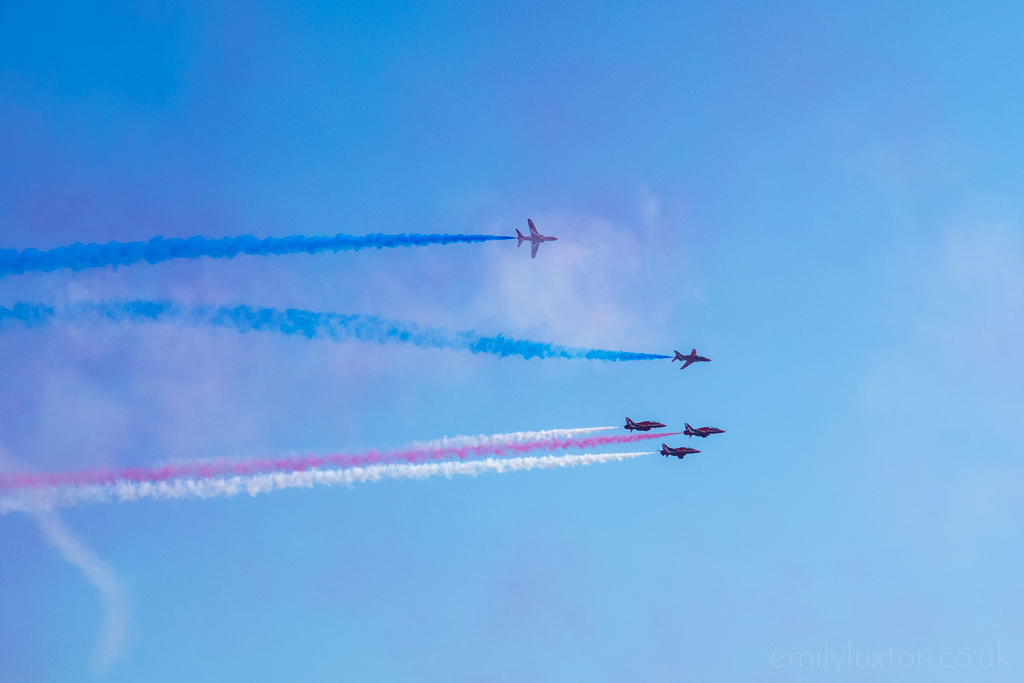 Bournemouth always hosts a fantastic array of festivals and events throughout the year, to keep locals and visitors busy. Always check the websites for the latest info before booking any travel.
Bournemouth 7s Festival – The World's Largest Sport and Music Festival, Bournemouth 7s is renowned as the Sporting Glastonbury! Next dates: 26th-28th May 2023
Bourne Free (Bournemouth Pride) – Bournemouth has a thriving LGBT+ scene, so of course the town hosts one of the biggest and best Pride celebrations in the south! Don't miss it! Next dates: 7th-8th July 2023
Summer Live – free live entertainment in Bournemouth Square every day all summer long! Live music from 5pm weekdays or from 12pm on weekends, plus artists' huts, face painting, market stalls, and an outdoor Garden Bar and BBQ. Next dates: Friday 14th July til Bank Holiday Monday 28th August 2023.
Bournemouth Air Festival – an award-winning and internationally renowned four-day event showcasing some of the world's most powerful and agile aircraft! This free festival is so much more than an air show, with street entertainment, live music, military performances, and more. Next dates: 31st August – 3rd September 2023.
Bournemouth Arts by the Sea Festival – free art festival with various exhibitions and events at indoor and outdoor venues across Bournemouth. Next dates: 29th September – 1st October
2023
Bournemouth Christmas Tree Wonderland – spectacular Christmas tree trail with hundreds of glittering trees from around the world! Next dates: 17th November 2023 – 1st January 2024
Find more Bournemouth Christmas Markets in this post – along with details of some other fun festive events!
Where to Stay in Bournemouth
One of my personal favourite places to stay in Bournemouth are the stunning Bournemouth Beach Lodges (read my review here), which are like very fancy beach huts crossed with a holiday cabin! Right on the beach, with amazing sea views, and everything you need for a self-catering holiday.
I'll compile a more succinct list of places to stay in Bournemouth in a separate blog post, so for now, here's a map to quickly search all available properties in the area…