Some posts on this site contain affiliate links. If you book or buy something through these links, I earn a small commission (at no extra cost to you). Take a look at my privacy policy for more information.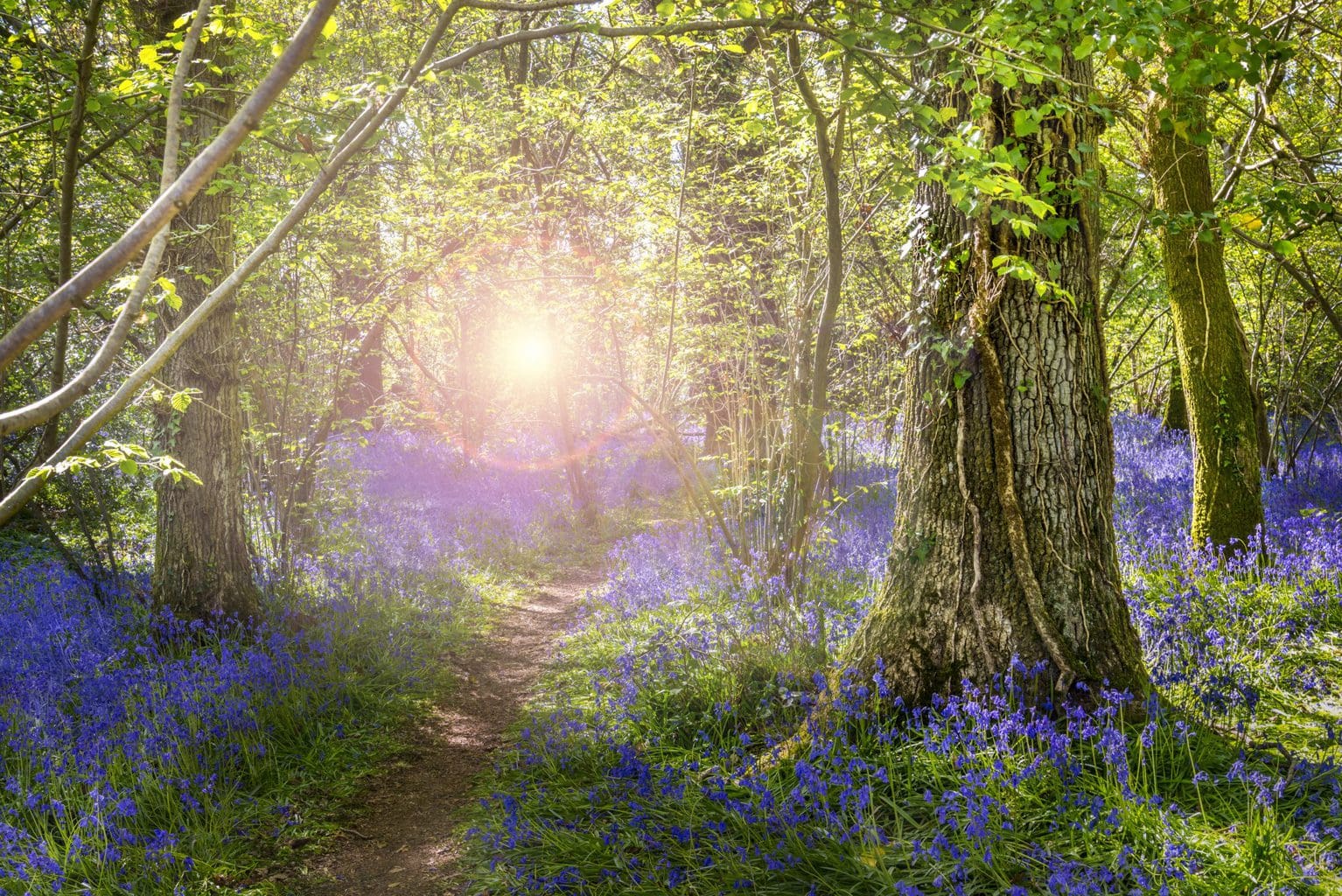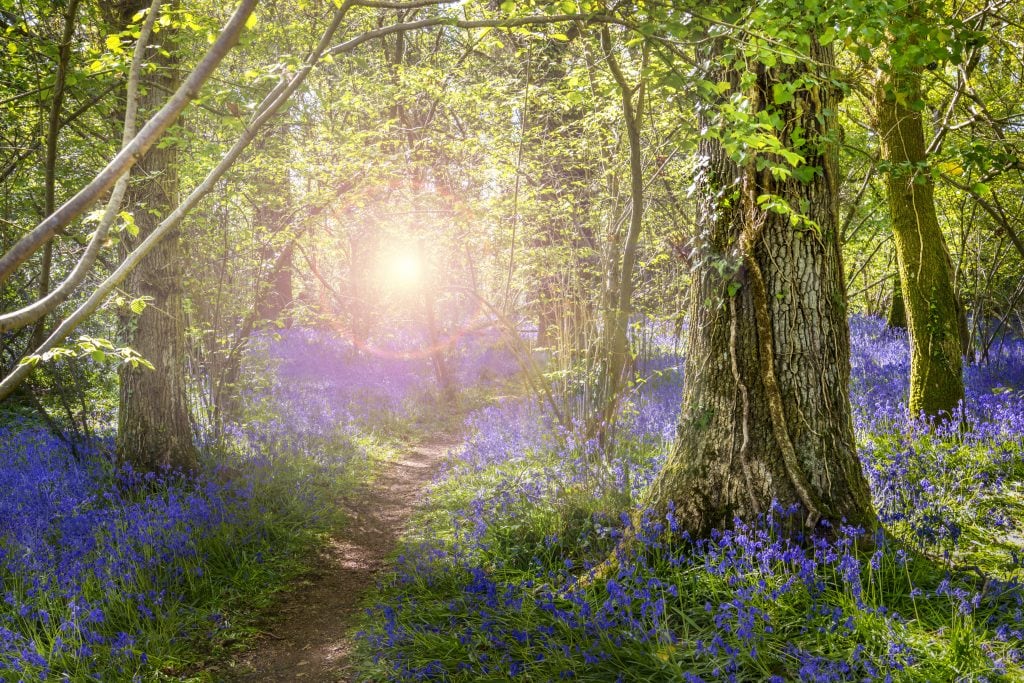 On the hunt for bluebells in Dorset this spring? With plenty of ancient woodlands and well-kept nature reserves, there are dozens of amazing places to see these pretty British flowers. Below, I've rounded up some of the best bluebell woods in Dorset to help you plan some spring-tastic woodland walks!
Oh, bluebell time is here again
And every little elf
Has picked a tiny bell to make
A bonnet for herself!

Bluebell Time, Enid Blyton
When is Bluebell Season?
Mid-spring is Bluebell season! According to the Woodland Trust, Bluebells usually flower from mid-April to late May. The exact timing of bluebell season depends on the weather, as they will bloom early if spring is mild.
In Dorset and the rest of the South West, the climate is a bit warmer than the rest of the UK, so bluebells tend to appear a little earlier. And because these are perennials, bluebells flower every year! They soak up sunlight over the spring and store this energy in their bulbs over winter, ready to bloom again next year.
READ MORE: 12 of the Best Woods and Forests in Dorset
Where to See Bluebells in Dorset (with Map)
Traditionally, bluebells are woodland flowers, growing in wide carpets across forest floors. They're very much a native British flower: in fact, almost half the world's bluebells are found in the UK! They're relatively rare in the rest of the world. And as we've already established, the South West of England is one of the best places to see these lovely spring flowers.
Bluebells need undisturbed soil, so they prefer ancient woods – of which there are plenty in Dorset! Although they prefer woodlands, you may also see bluebells growing in fields, beneath hedgerows, and even along roadside verges. Below, you'll find a few of the best bluebell woods in Dorset, as well as some other great locations for spotting these gorgeous spring flowers.
15 Bluebell Woods in Dorset
1. Pamphill Bluebell Woods (Abbot Street Copse), Kingston Lacy
Parking: Temporary during bluebell season.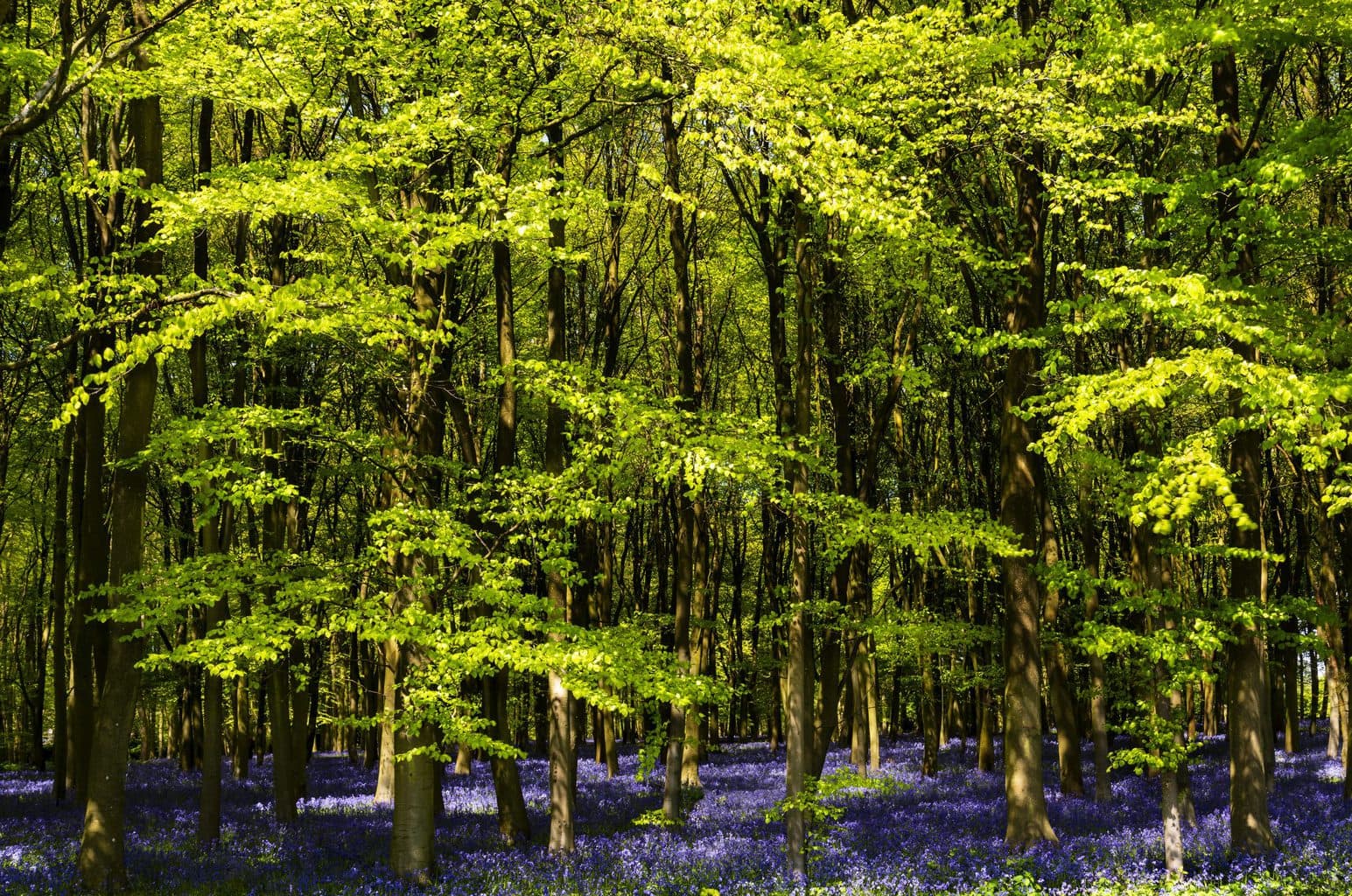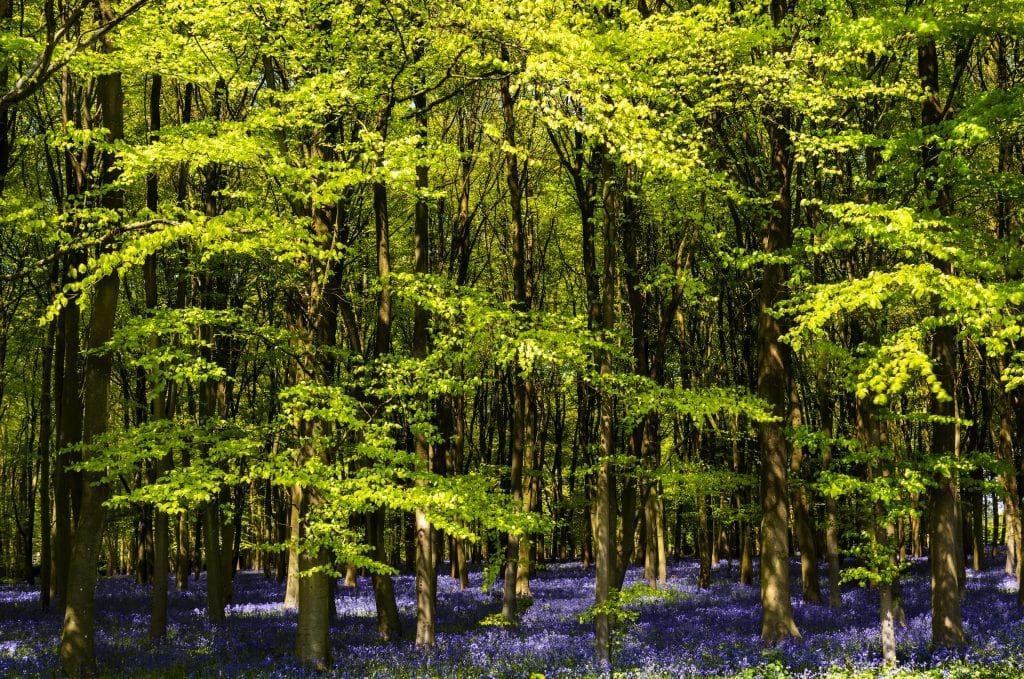 One of the most popular spots to see bluebells in Dorset come springtime are the Pamphill Bluebell Woods. This is actually the Abbott Street Copse, located within the Kingston Lacy Estate (run by the National Trust). This small, ancient woodland is a carpet of bluebells every spring – as is most of the Pamphill area.
The National Trust usually run a temporary car park at the Copse during bluebell season. Alternatively, you can park in Pamphill itself and walk across, or park at Kingston Lacy and combine a trip to the woods with a visit to one of the most impressive stately homes in Dorset.
2. Duncliffe Wood, Shaftesbury
Parking: Yes (free)
One of the oldest and largest woods in North Dorset, Duncliffe Wood is managed by the Woodland Trust. It's a very ancient woodland, and was mentioned in the Domesday Book. Today, it's also a Site of Nature Conservation Interest (SNCI), known for its rich wildlife and wildflowers.
The forest covers the slopes of Duncliffe Hill, with bluebells covering the slopes thickly during springtime – along with wild garlic and early-purple orchids. From the summit, you can enjoy excellent views of the surrounding Blackmore Vale.
3. Hooke Park, Hooke
Parking: No designated parking
Hooke Park is another of the most popular ancient bluebell woods in Dorset. The Estate is privately owned by the Architectural Association School of Architecture, but a public right of way runs through the forest, along with a network of permissible paths. As you walk, you can spot various architectural structures created by students of the Architectural Association's woodland school.
4. Ashmore Wood, Ashmore
Parking: No designated parking
Sitting within the stunning Cranborne Chase Area of Oustanding Natural Beauty, Ashmore Wood is managed by Forestry England. This ancient woodland is made up of mainly beech trees, as well as a mix of conifers. As well as bluebells, the woods are also home to other wildflowers including celandines, primroses, and foxgloves.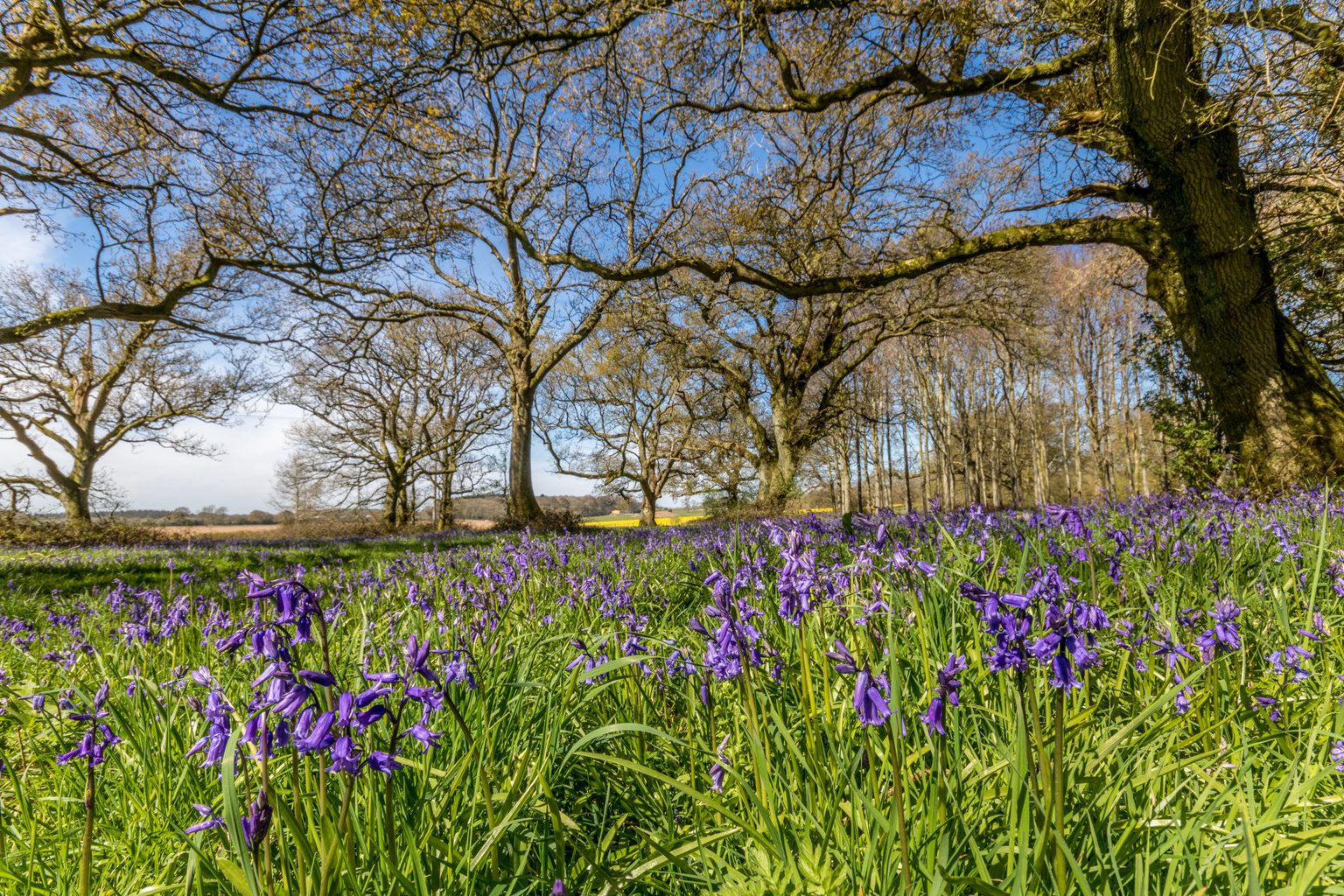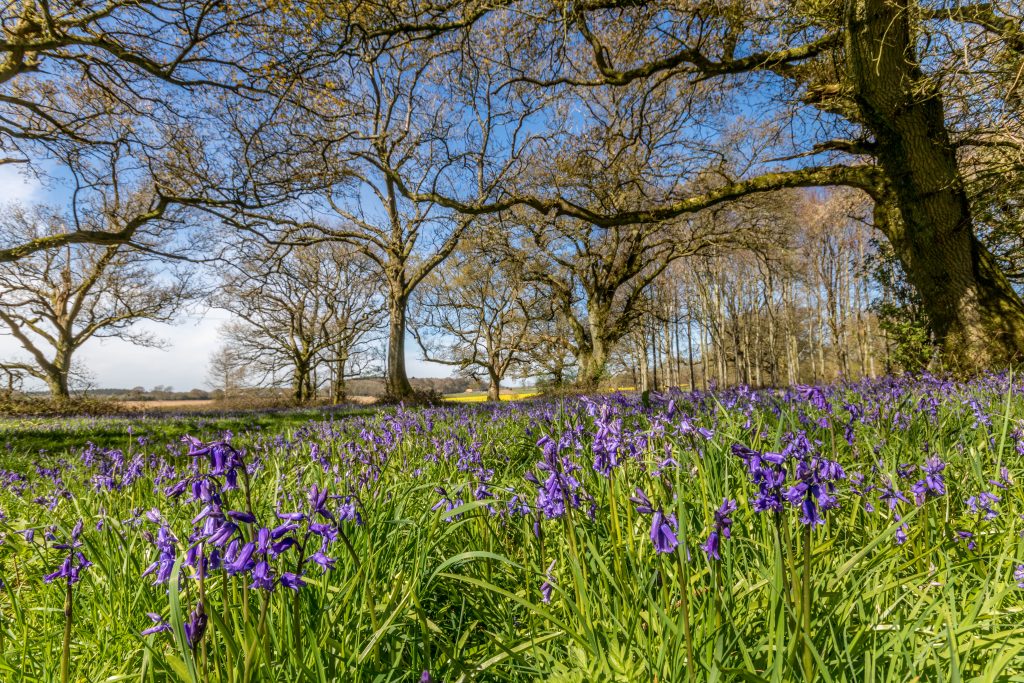 5. Charmouth Forest (aka Champernhayes Woods), Wootton Fitzpaine
Parking: Two car parks, one in the beech forest and one at Wyld Warren
Confusingly, Charmouth Forest – also known as Wootton Hill or Champernhayes Woods – isn't actually in Charmouth, but lies a few miles inland at the village of Wootton Fitzpaine. The lower area of this picturesque forest is filled with beech trees, and during spring this section is painted blue with the nodding heads of bluebells.
6. Ashley Wood, near Blandford Forum
Parking: No car park, nearest parking in Tarrant Keyneston village.
Ashley Woods is an ancient hazel and ash coppice, well known for its springtime wildflowers. You can expect a carpet of bluebells and wood anemones, as well as primrose, pignut, early-purple orchid and orpine. Ashley Woods is also home to the rare, tree-dwelling Bechstein's bat. Look out for them if you visit in the evening.
7. Lewesdon Hill, near Beaminster
Parking: no car park, nearest parking in Broadwindsor village 1 mile away
Standing at 915 feet, Lewesdon Hill is the highest point in Dorset. It's an ancient hillfort enclosed by woodlands, which are carpeted by bluebells every spring. The climb to the top also affords some spectacular views across Dorset, glimpsed between the trees of the forest.
8. Fifehead Wood, near Shaftesbury
Parking: Yes
Fifehead Wood at Fifehead Magdalen, near Shaftesbury, is a Site of Nature Conservation Importance because of its strong structure and numerous woodland species. Surrounded by farmland, the woods are home to a wide variety of wildlife, including butterflies, bats, buzzards, and woodpeckers. And, of course, bluebells – as well as star-shaped wood anemone, every spring.
9. Bulbarrow Hill and Delcombe Wood
Parking: Yes
Forming part of the Dorset Downs, Bulbarrow Hill is a chalk hill overlooking the stunning Blackmore Vale. The hill is almost as tall as Lewesdon, so gets some excellent views, and is topped by a 5-acre Iron Age Hillfort. The woodland surrounding the Bulbarrow Hill is filled with bluebells during spring, as is nearby Delcombe Wood, which is mostly private but has limited public access.
10. Thorncombe Woods, near Dorchester
Parking: Yes (£1 for 2 hours)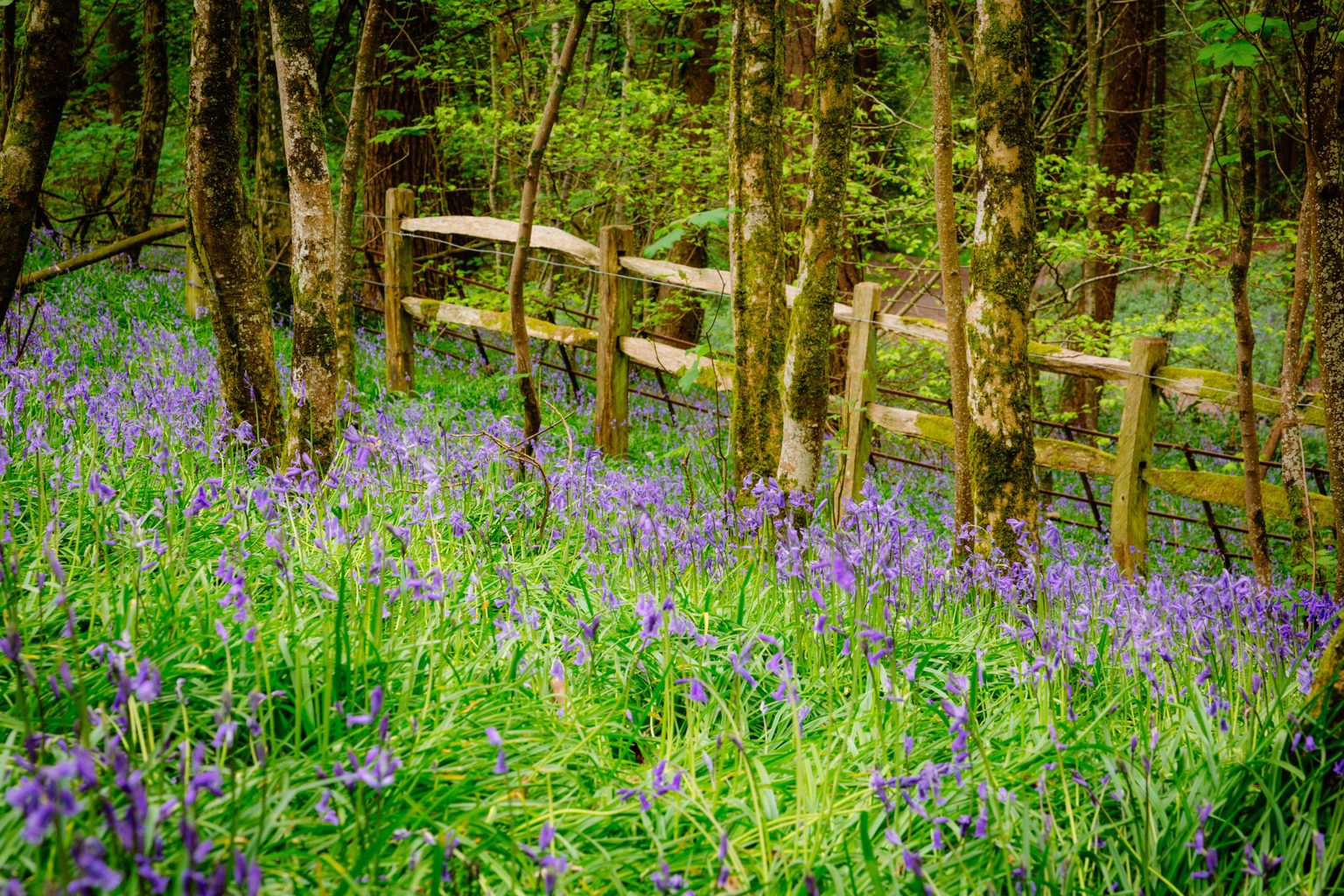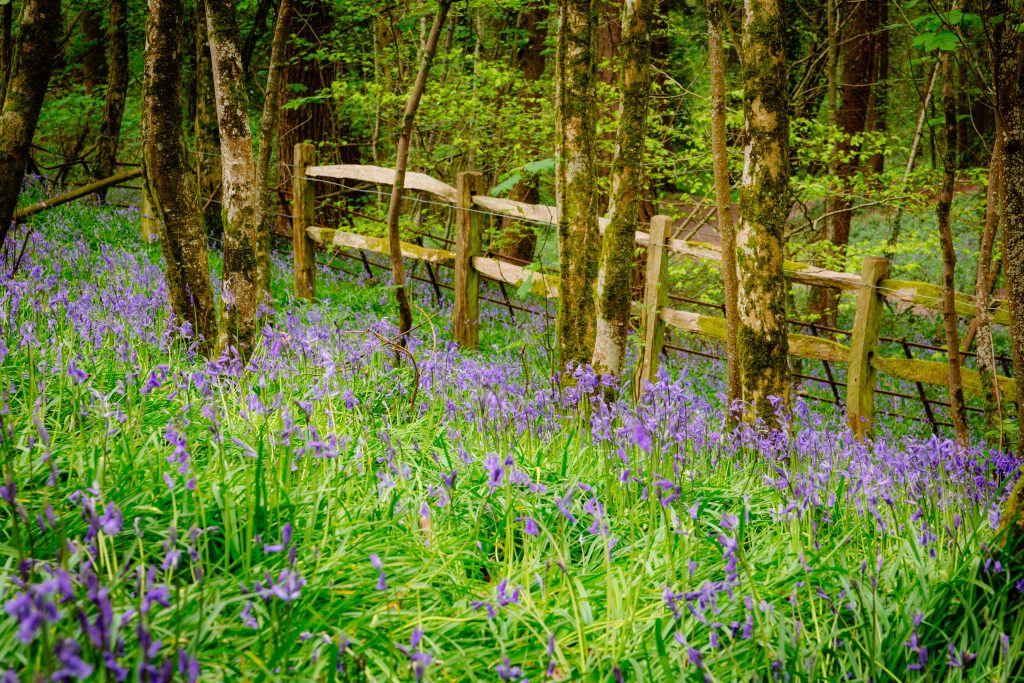 On the outskirts of Dorchester, Thorncombe Woods is a 26-hectare ancient woodland and heath site packed with history. A well-preserved fragment of the Roman Road that once ran from Dorchester to Badbury Rings can still be found, connecting the woods with Black Heath. On the outskirts of the woods lies Hardy's Cottage, the picturesque birth home of local author Thomas Hardy.
According to the National Trust, "the hazel coppice on the southern tip is known by locals to be the first spot in the wood to burst with bluebells in the spring".
11. Holway Woods, near Sherborne
Parking: Very limited parking at quarry or lay-by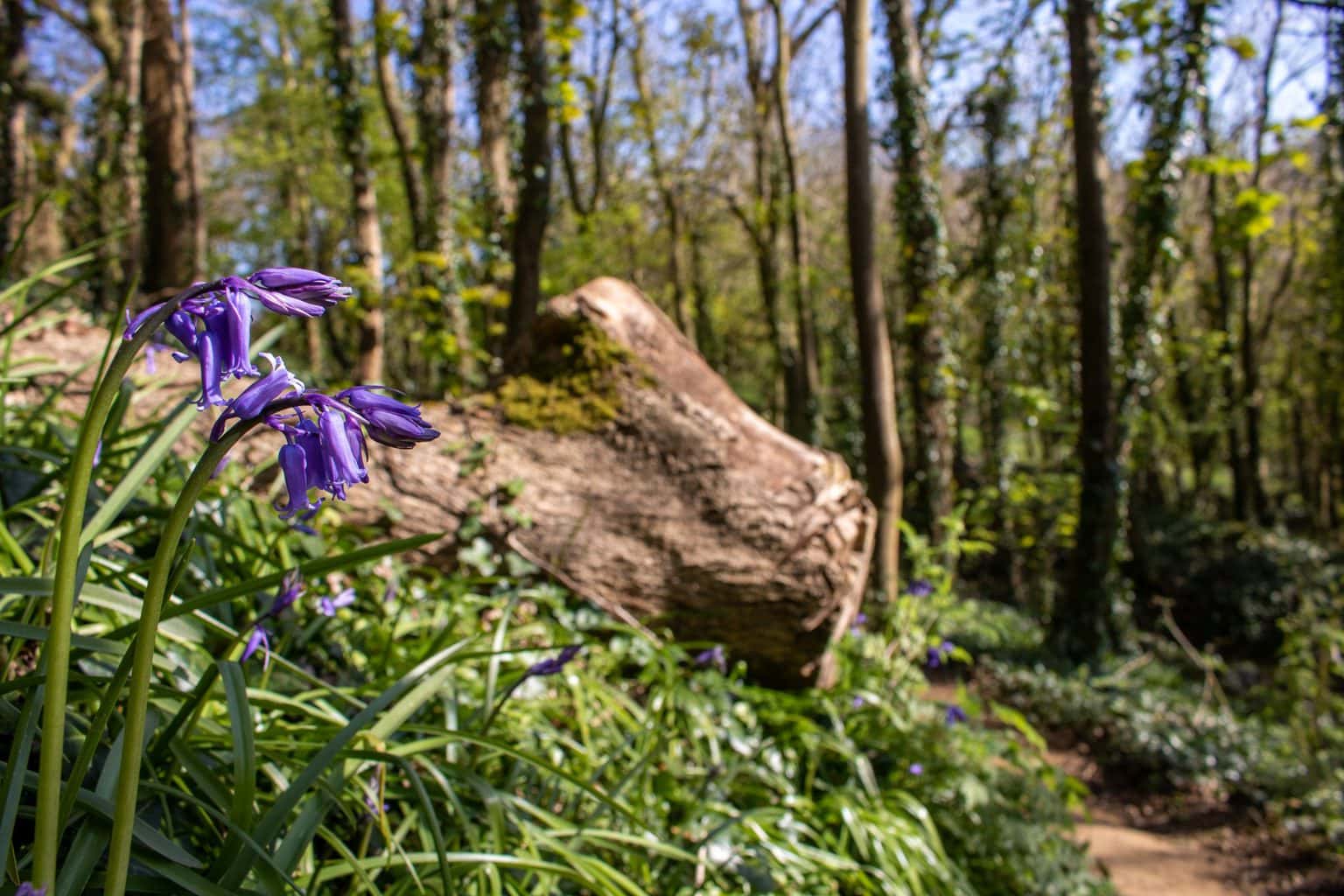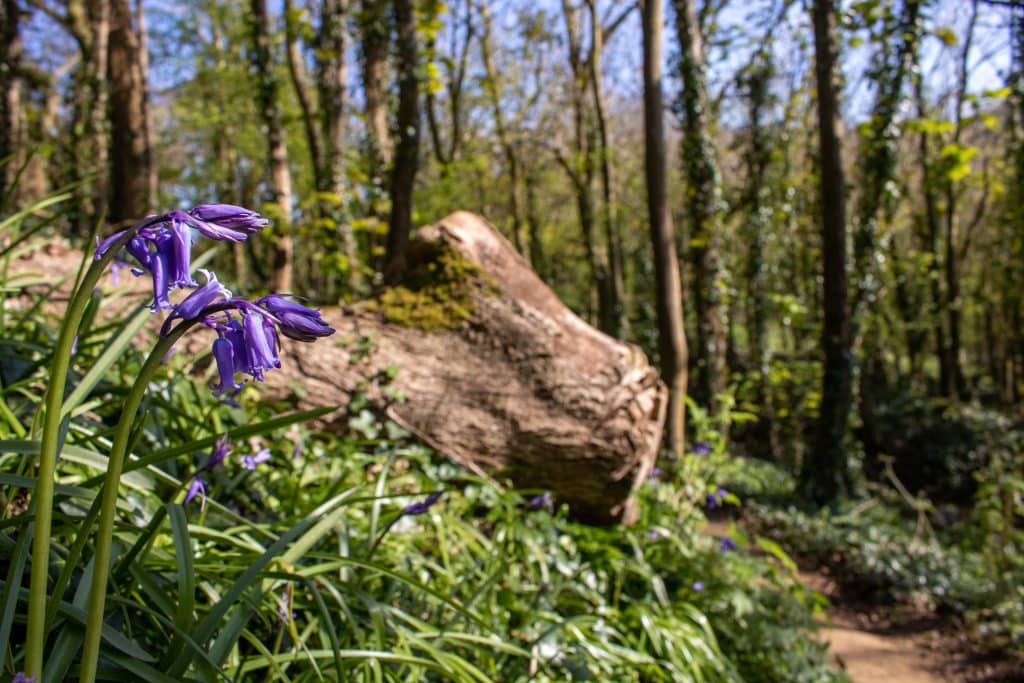 Holway Woods lies in the north of Dorset, near the Somerset border. Sitting high on the Sherborne escarpment, the Wildlife Trust nature reserve offers some incredible views of South Somerset and the Glastonbury Tor. This is a mixture of mature and recently planted woodland, scattered with old sweet chestnuts. In spring, the woods are full of bluebells, as well as primroses and the non-native, very pretty, pink purslane.
12. East Stoke Fen, Woole
Parking: Limited roadside parking near the footpath
Another Dorset Wildlife Trust woods known for its springtime bluebells is East Stoke Fen, between Wool and Wareham on the edge of the Isle of Purbeck. This small nature reserve is a fascinating wetland habitat fringed by bluebell woodland. Reed fens are a rare and declining habitat in Dorset, so this is an important reserve. This also means lots of interesting bird life amongst the reads, including reed warblers, water rails, and reed buntings.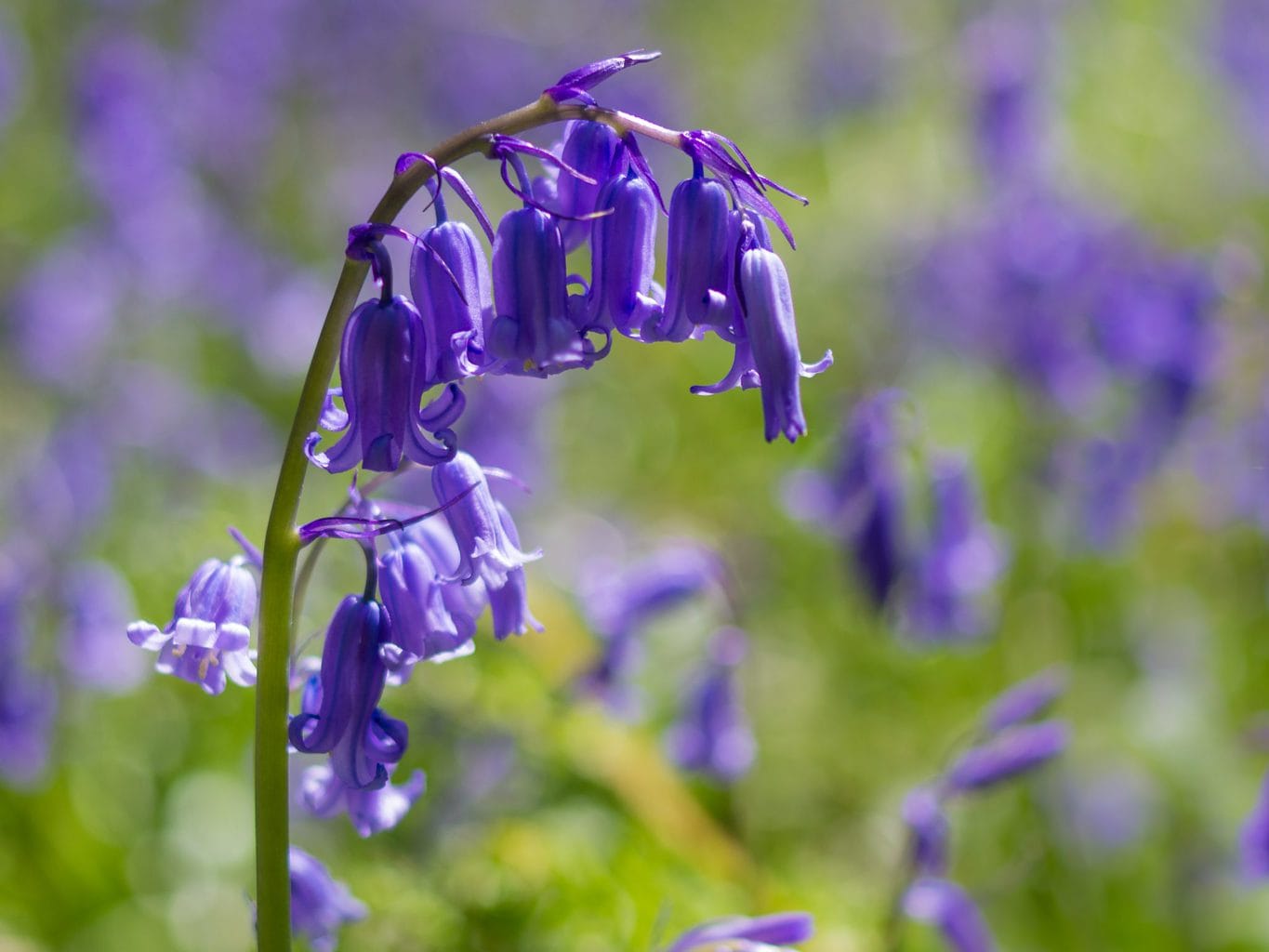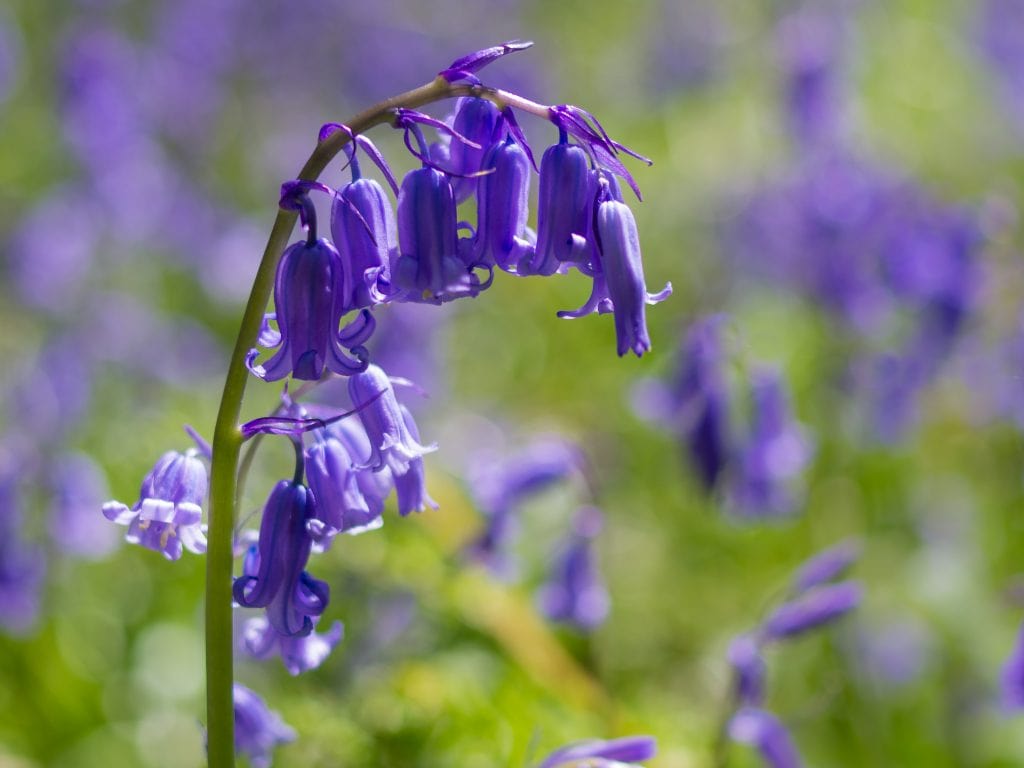 13. Hibbitts Wood Nature Reserve, Halstock
Parking: Very limited roadside parking at Adam's Green
At Hibbitts Wood, near the village of Halstock, you'll find two areas of ancient woodland along with a small flower meadow at Adam's Green. In the woods, you can spot early purple and bird's-nest orchids, Goldilocks buttercups, and wild daffodils, as well as – of course – those stunning springtime bluebells! And out on the meadow, you'll also find common spotted orchid, cowslips and the rare adder's tongue fern.
14. Powerstock Common Nature Reserve
Parking: Small car park on-site
Powerstock Common is a peaceful Wildlife Trust reserve tucked away in West Dorset. The reserve features a variety of landscapes including wet and dry grassland, scrub, woodland and small copses. The copses and woodlands dotted across the reserve are some of the nicest bluebell woods in Dorset – also scattered with wild daffodils, herb-Paris and early purple orchids.
15. Norton Wood, Blandford Forum
Parking: Small carpark on-site (Google Maps ref)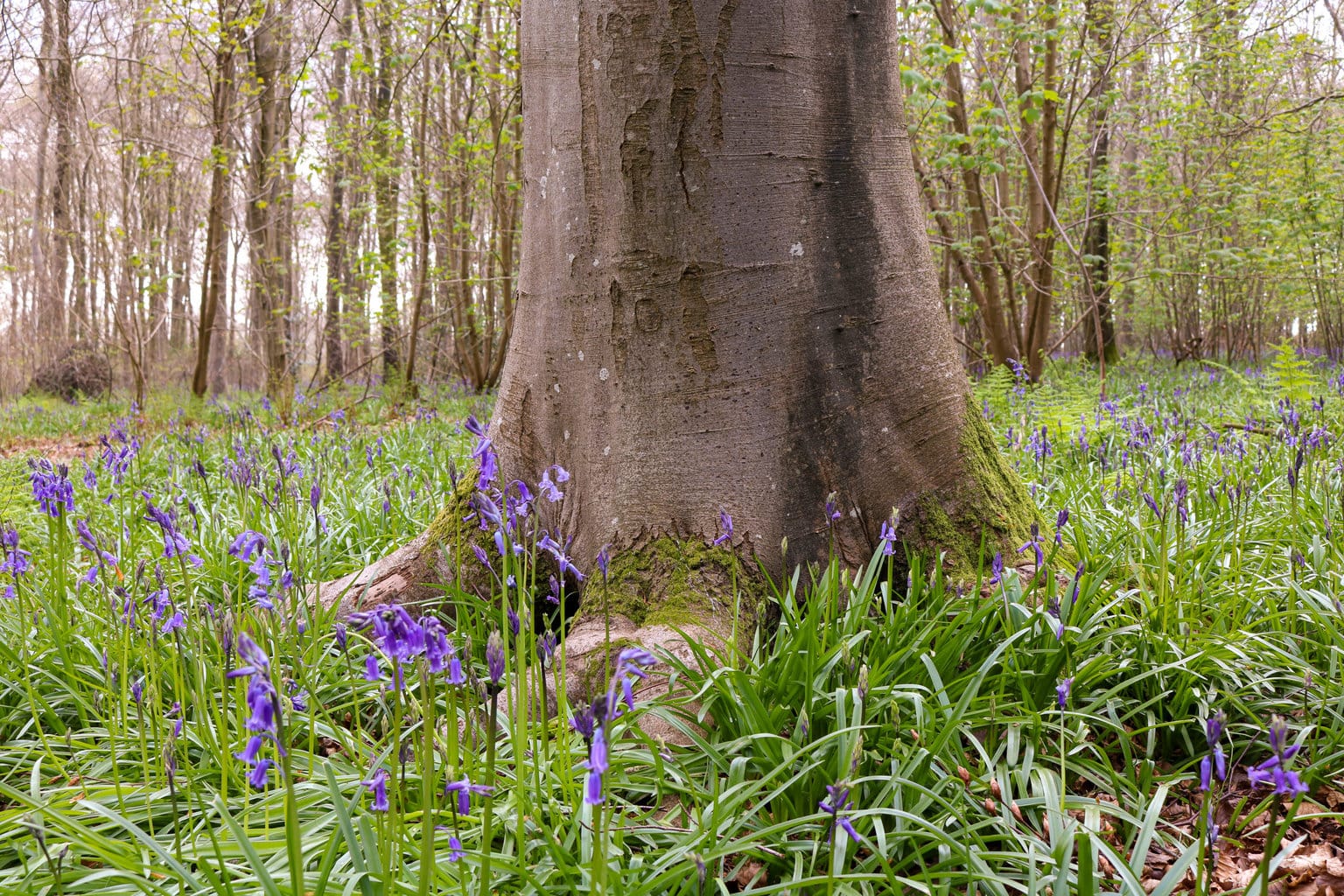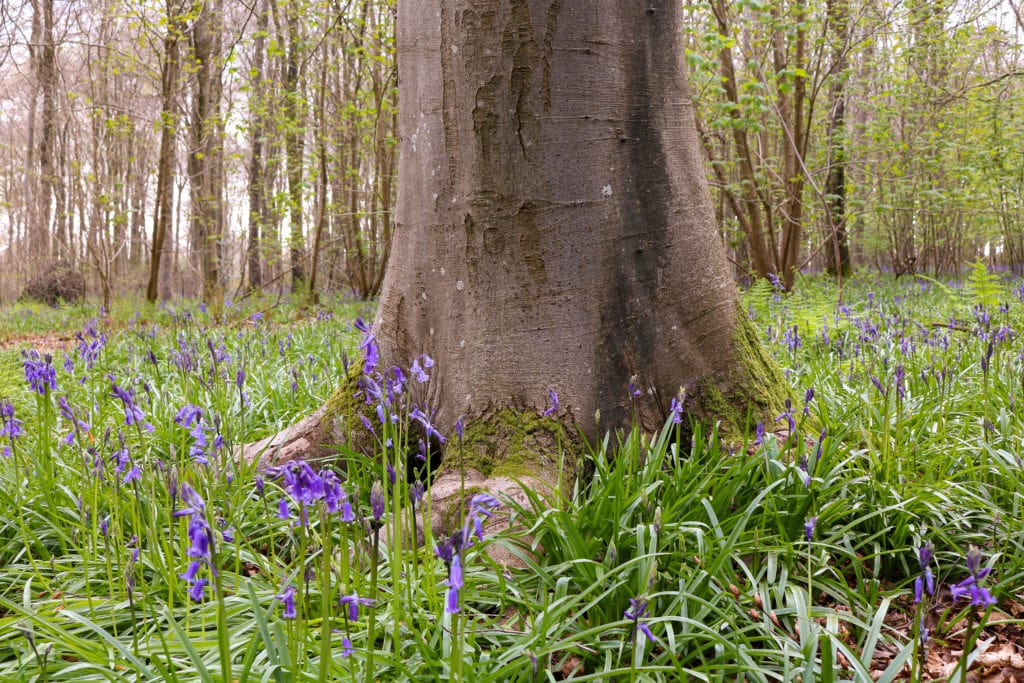 In between Blandford Forum and the picturesque village of Shillingstone, Norton Wood is a true hidden gem. This was a new (and accidental) discovery for me this year – another stunning woodland in Dorset coated in springtime bluebells!
The woods are a part of Blandford Forest, an area of scattered woodlands managed to the Forestry Commission. There's a small car park at the top of a gravel lane. Beware, the road has quite a few potholes! I strongly recommend a visit to the top of nearby Okeford Hill for some incredible views of the surrounding countryside.
3 Other Places to See Bluebells in Dorset
Colmer's Hill, Symondsbury
Colmer's Hill, near Bridport, is one of the most iconic sights in Dorset. This conical, tree-topped hill doesn't have much woodland, so it's not a place you'd expect to see bluebells. But according to one local, the unwooded slopes have been known to be carpeted in the soft lilac hues of these nodding wildflowers. Check out this Colmer's Hill walk from local blogger Clare for a great route!
Coney's Castle Hill Fort, near Bridport
Coney's Castle is another of Dorset's Iron Age hill forts. During spring, the woodlands that cover the slopes are full of bluebells. But they also grow out in the open at the clearing known as Fishpond Bottom. Here, the carpet of purple and blue looks particularly impressive on a clear day beneath a blue sky.
Kingston Lacy
Abbott Street Copse might be the best place on the Estate to see bluebells, but you can spot these pretty spring flowers all over Kingston Lacy. For example, a carpet of bluebells and wild garlic grows in the dappled shade along the picturesque Lime Avenue. You may also spot them scattered throughout the gardens, and around the Iron Age hill fort at Badbury Rings. Head to this gorgeous Dorset stately home for springtime walks with wildflowers galore!
Have I missed any of the best bluebell woods in Dorset? Share in the comments!