Some posts on this site contain affiliate links. If you book or buy something through these links, I earn a small commission (at no extra cost to you). Take a look at my privacy policy for more information.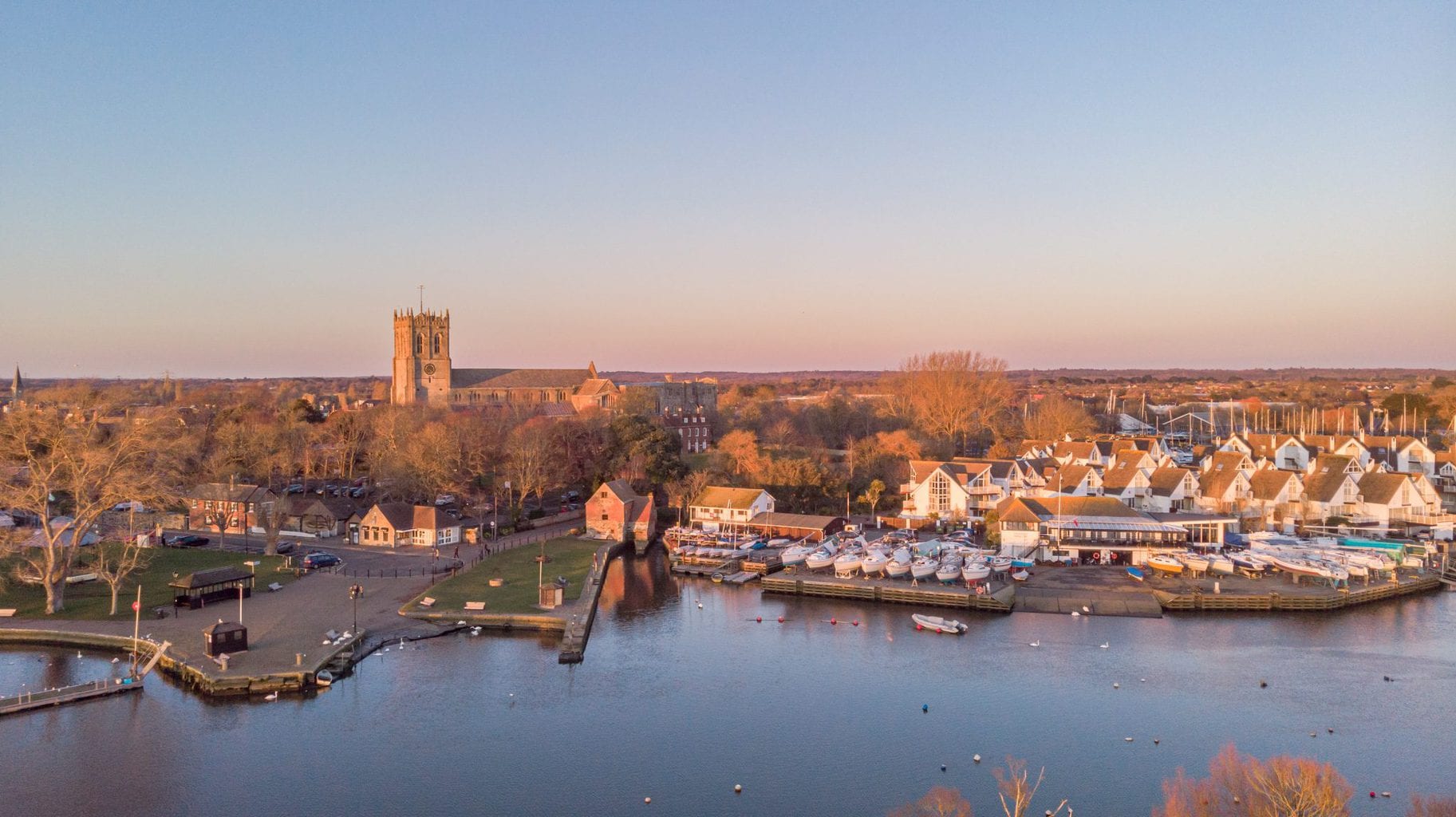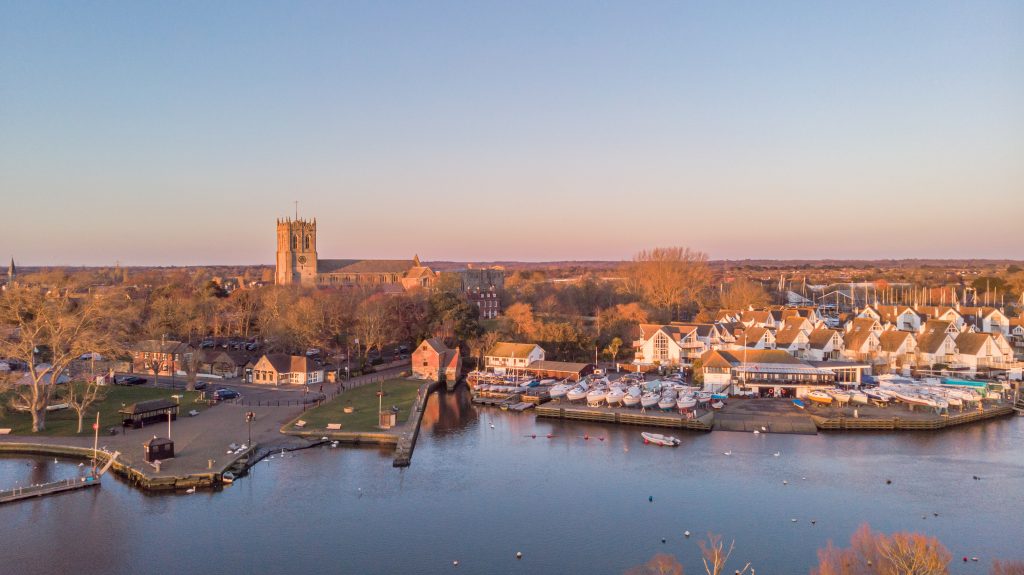 Tucked between the coast and two of Dorset's longest rivers, Christchurch in the UK is a small, historic town which boasts a surprising number of things to do. Perfect as a day trip from nearby Bournemouth, or as a base for a peaceful seaside getaway.
Seaside, riverside, and countryside all collide in Christchurch, so there's truly something to suit everyone. Spend a day at one of the town's picturesque beaches, or pay a visit to the fishing village of Mudeford.
Delve into history at the town's Norman ruins, pay a visit to the extravagant Highcliffe Castle, or take a peaceful walk along the rivers. For the adventurous, you can find hiking, sailing, and watersports to suit all levels and abilities!
Christchurch town centre is dotted with independent boutiques and art galleries, while side streets lined with red-brick cottages and pastel-painted terraced houses make this Dorset town one of the most photogenic in the area! And, of course, there's no shortage of excellent food – especially fresh, local seafood – so be sure to visit a few different restaurants.
With so much to see and do, you can easily spend a few days enjoying Christchurch. So use my local's guide below to help you plan the perfect trip…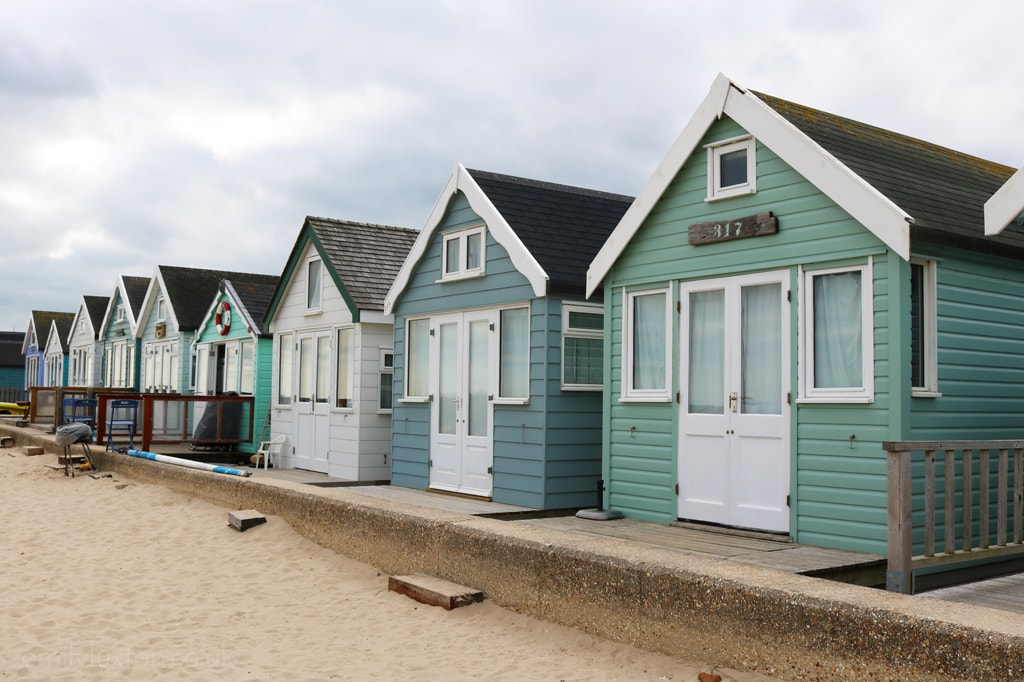 Things to do in Christchurch UK: Map
21 Things to do in Christchurch UK
1. Hit the Christchurch Beaches
Being right on the coast, it makes sense that one of the best things to do in Christchurch is to visit the beach. And with not one, but seven local beaches to choose from, there are plenty of places to enjoy the British seaside.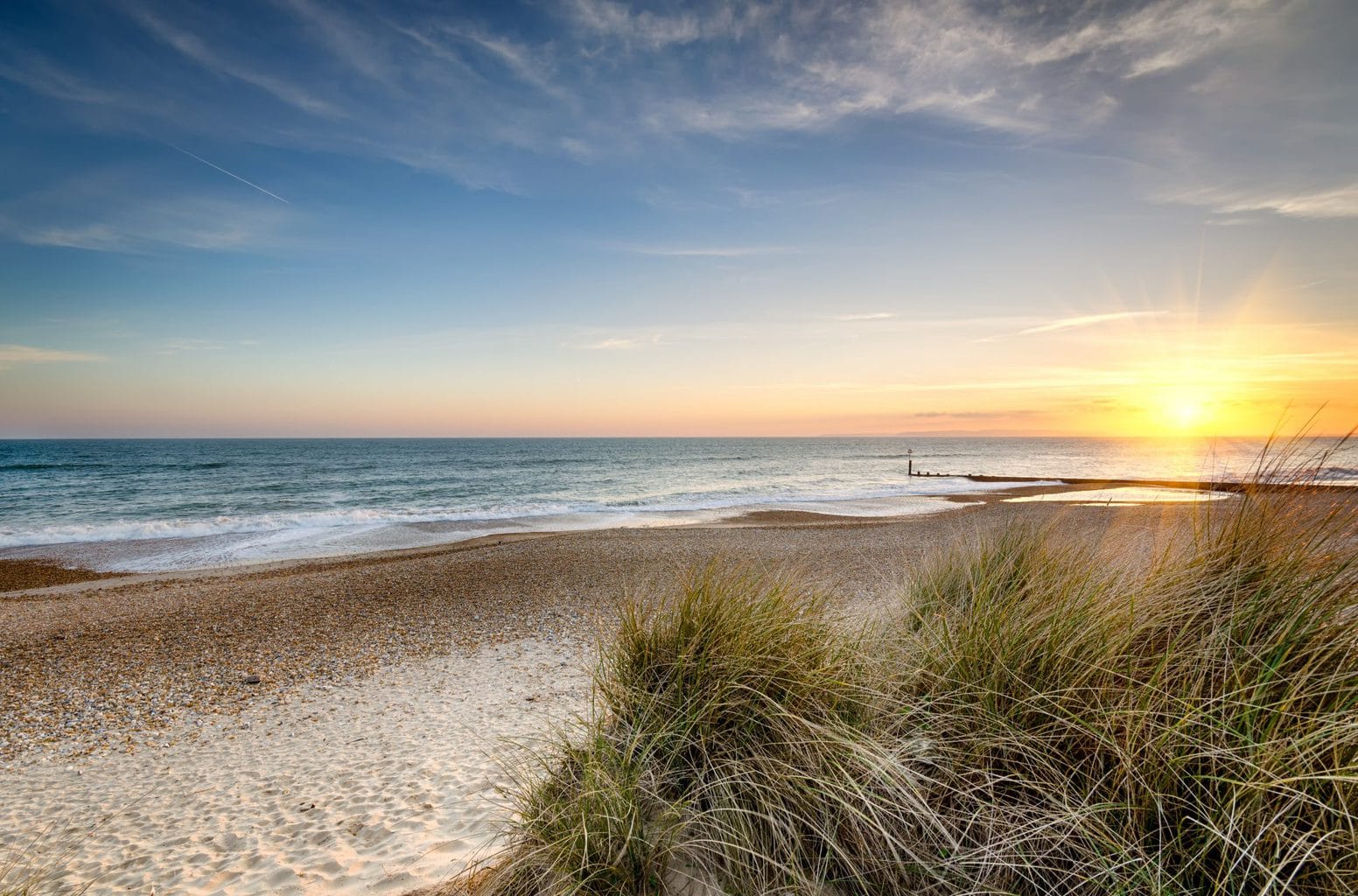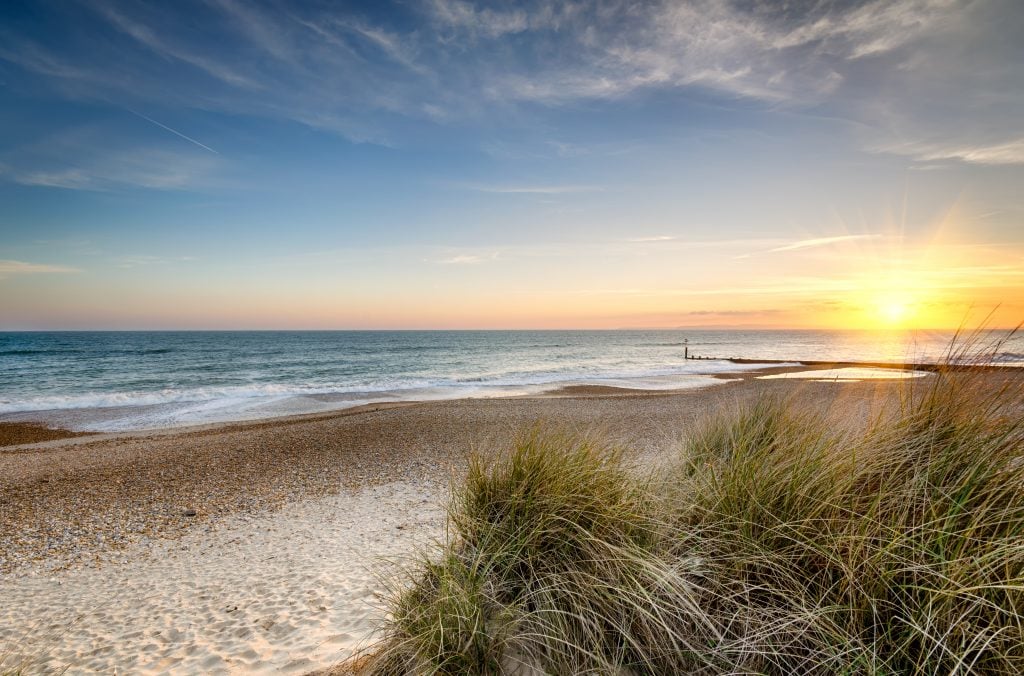 Closest to Christchurch, you have the beaches running along the coast from Mudeford. The two exceptions are Hengistbury Head Beach and Mudeford Sandbank, which can be found on the other side of Christchurch Harbour (see the map above).
Avon Beach – family-friendly sand and shingle beach with plenty of amenities and a designated bathing area.
Friar's Cliff Beach – another family-friendly spot very similar to Avon Beach.
Gundimore – sand and shingle beach with a designated watersports area.
Hengistbury Head Beach – across Christchurch Harbour, on the other side of the headland known as Hengistbury Head. This beach forms the end of Bournemouth's seven miles of beaches, but it's close enough to Christchurch to be worth a visit.
Highcliffe Castle Beach – a remote shingle and sand beach set against tree-lined cliffs, designated for bathing.
Highcliff Beach – mostly shingle beach with numerous promenades and cliffside paths to explore. There's also a café on the clifftop next to carpark.
Mudeford Sandbank – a long spit jutting out across Christchurch Harbour towards Mudeford from Hengistbury Head. There are plenty of amenities and a long line of colourful beach huts running through the centre of the sandbank.
RELATED POST: 9 Quieter Beaches near Bournemouth
2. Step Back in Time at Highcliffe Castle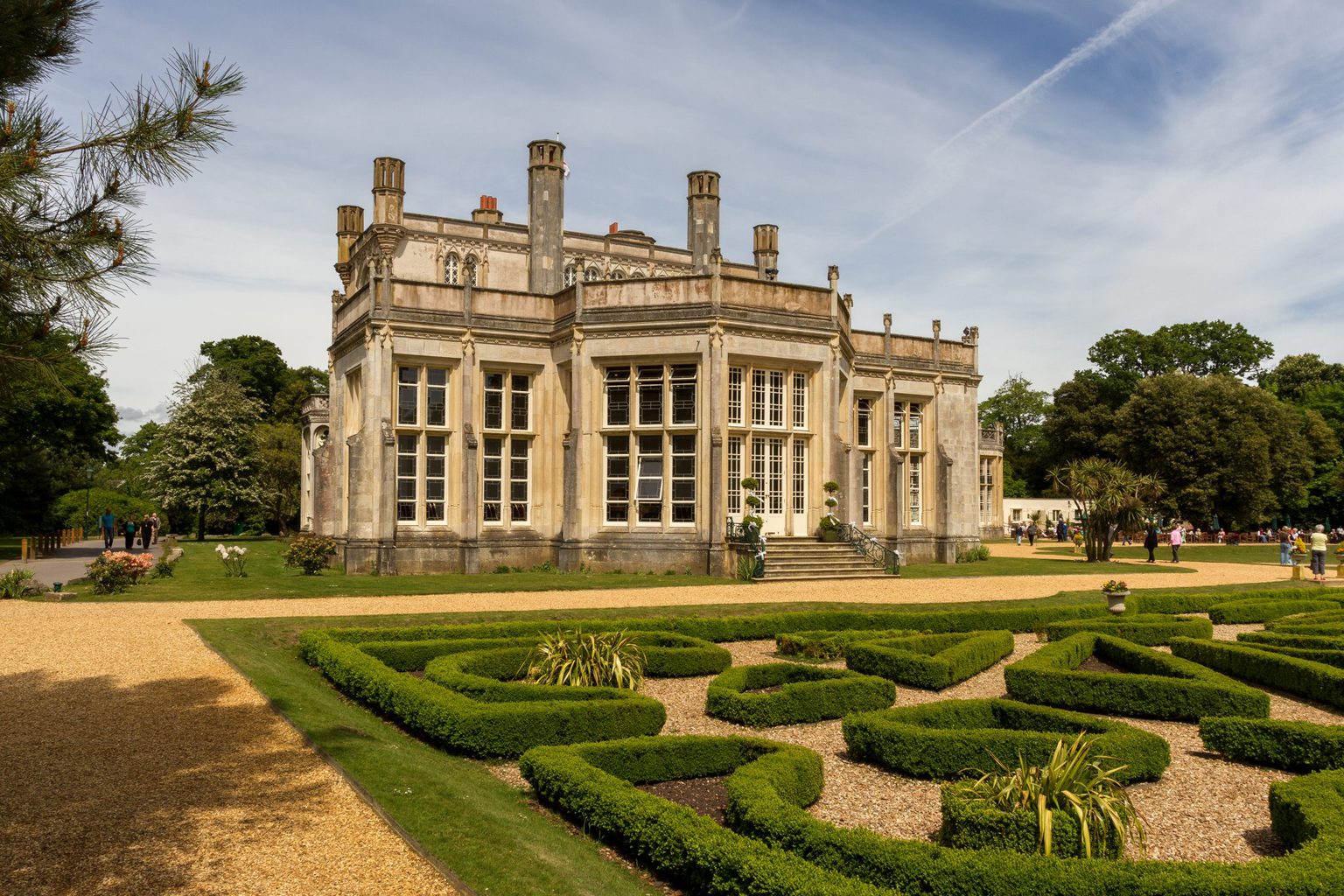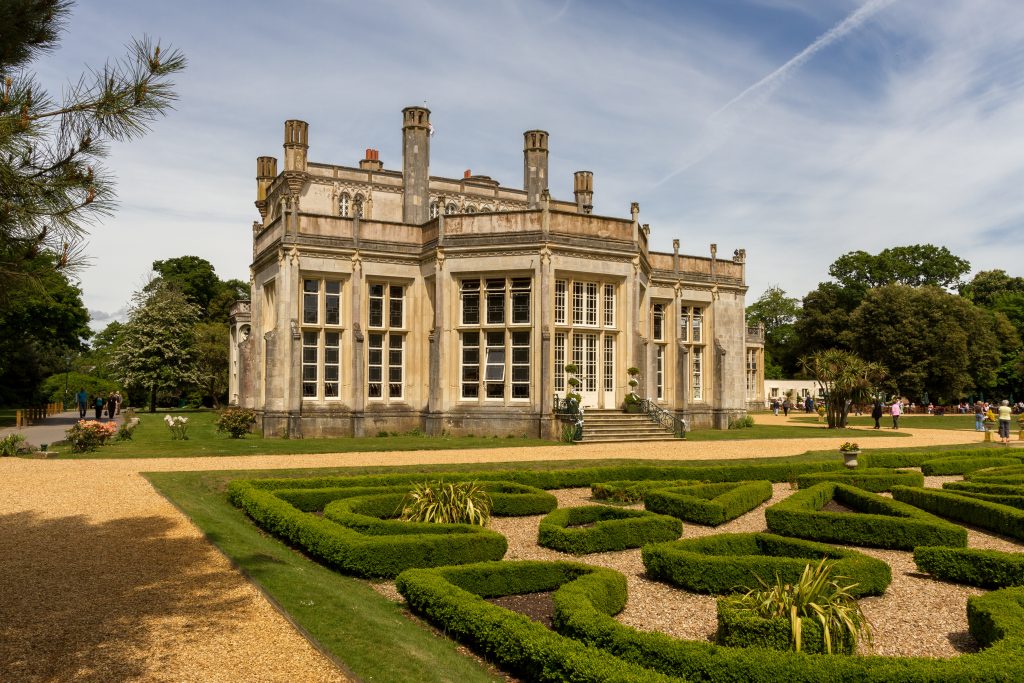 Highcliffe Castle is a beautiful, Grade-I listed property perched on the clifftop near Christchurch, with spectacular views across the sea towards the Isle of Wight. It's been described as "arguably the most important surviving house of the romantic and picturesque style of architecture", and is set within stunning 14-acre grounds which are a popular spot for walks and picnics.
The Castle was built between 1831 and 1836 for Lord Stuart de Rothesay. Despite its relatively young age compared with some of the other stately homes in Dorset, Highcliffe Castle can also boast a rich and fascinating history. It has enjoyed many famous and royal guests over the years, including Kaiser Wilhelm and Prime Minister William Gladstone. Today, the castle is open to the public and hosts numerous events and exhibitions throughout the year.
READ MORE: 9 Castles to Explore in Dorset
3. Explore Christchurch Quay and the Quomps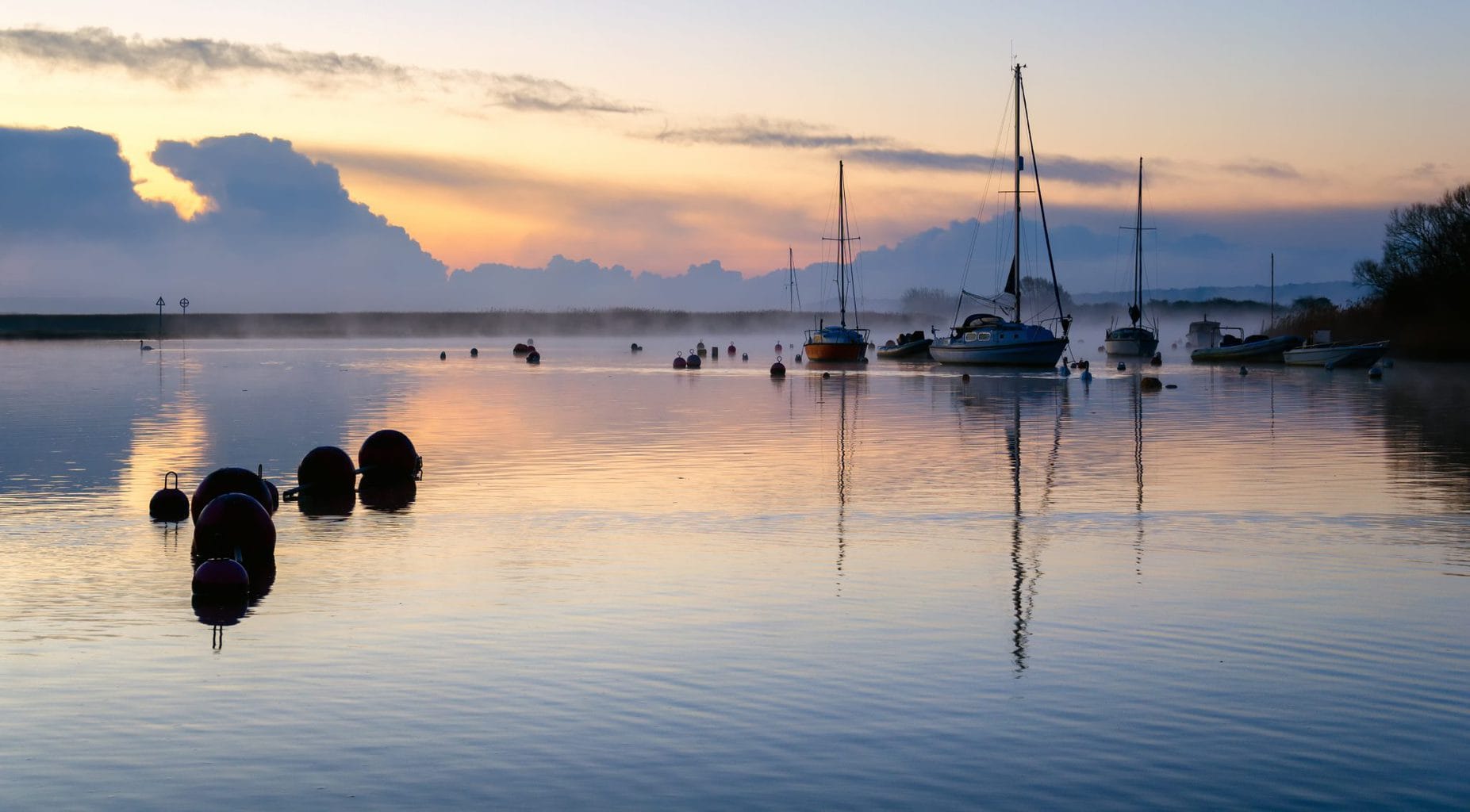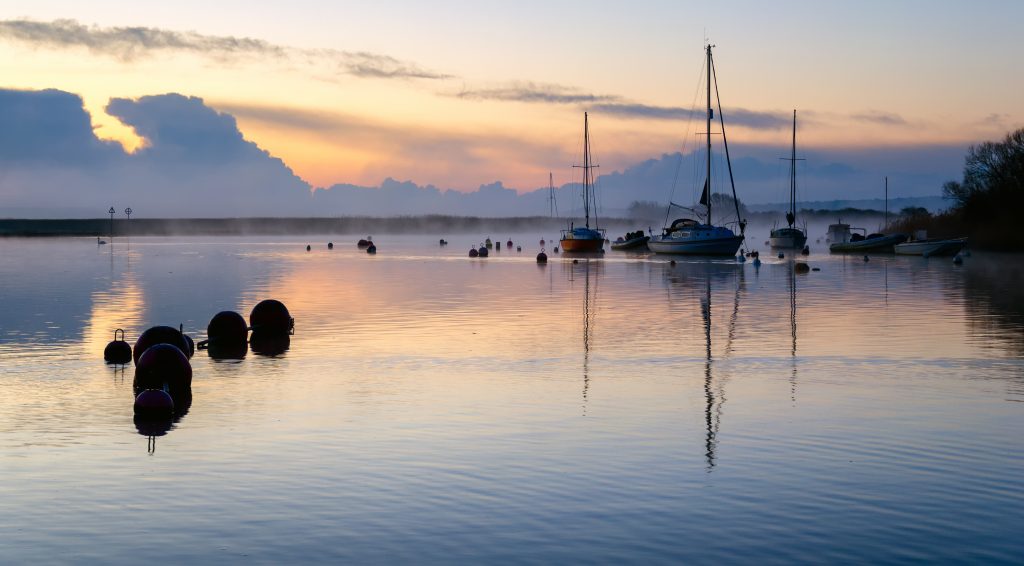 Christchurch is almost surrounded by water. The Rivers Stour and Avon run through the town until they meet to flow out into Christchurch Harbour and the sea beyond. Christchurch Quay sits along the edge of the northern bank of the Stour, just before it meets the Avon, and is one of the most popular attractions in Christchurch.
There's a picturesque promenade running alongside the river all the way from the Quay to Wicks Ferry, which makes for a beautiful riverside walk. Alongside it, the Town Quay is an enclosed grassy area with a Victorian Bandstand, ferry stop, and boats for hire. There are also several cafes and restaurants in the area. Further along, you'll reach the more open grassy area known as The Quomps. There's a children's play area and a splashpark, so The Quomps is a popular spot for families.
READ MORE: 14 of the Best River Walks in Dorset
4. Dine at the Captain's Club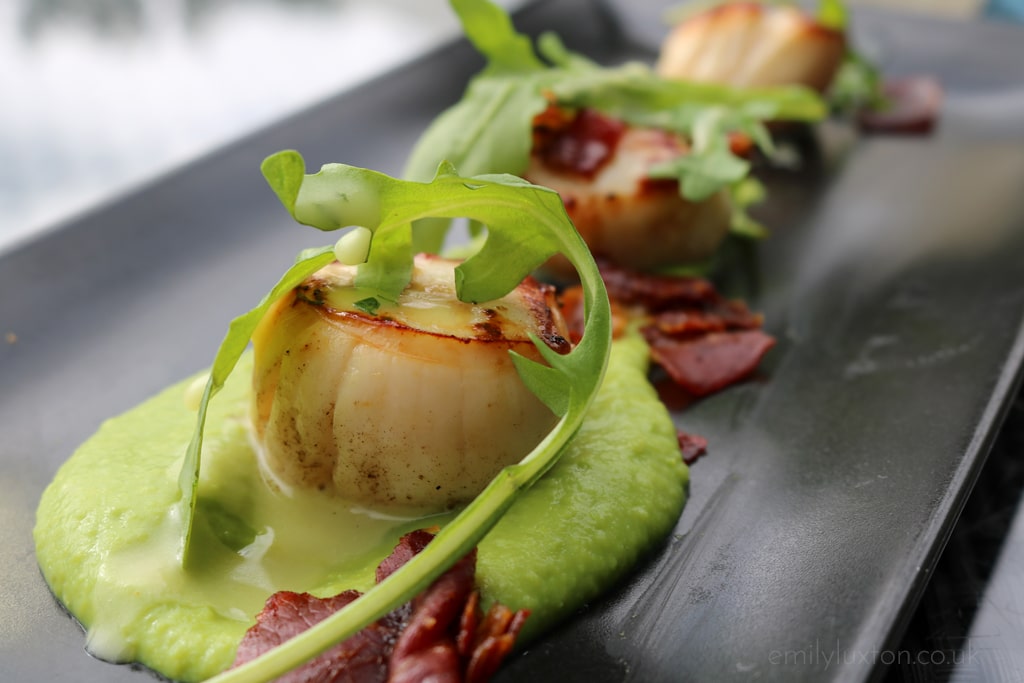 There are lots of amazing places to eat in Christchurch, especially if you're on the hunt for delicious local seafood. But one of the best is the riverside restaurant at the Captain's Club Hotel and Spa. Sit on the large outdoor terrace on sunny days, and watch the boats sail past along the river. This is luxury dining in a laid-back setting, so while the service is impeccable, the restaurant doesn't feel too stuffy!
The menu is filled with indulgent dishes, including lots of locally sourced seafood. And the dishes are as delicious as they are beautiful – especially the desserts. If Eton Mess is on the menu, order it! It's served in a ball of meringue filled with berries and cream, and looks absolutely incredible.
There's also an award-winning spa at the Captain's Club, so if fancy a treat day this is the perfect spot.
5. Rent a boat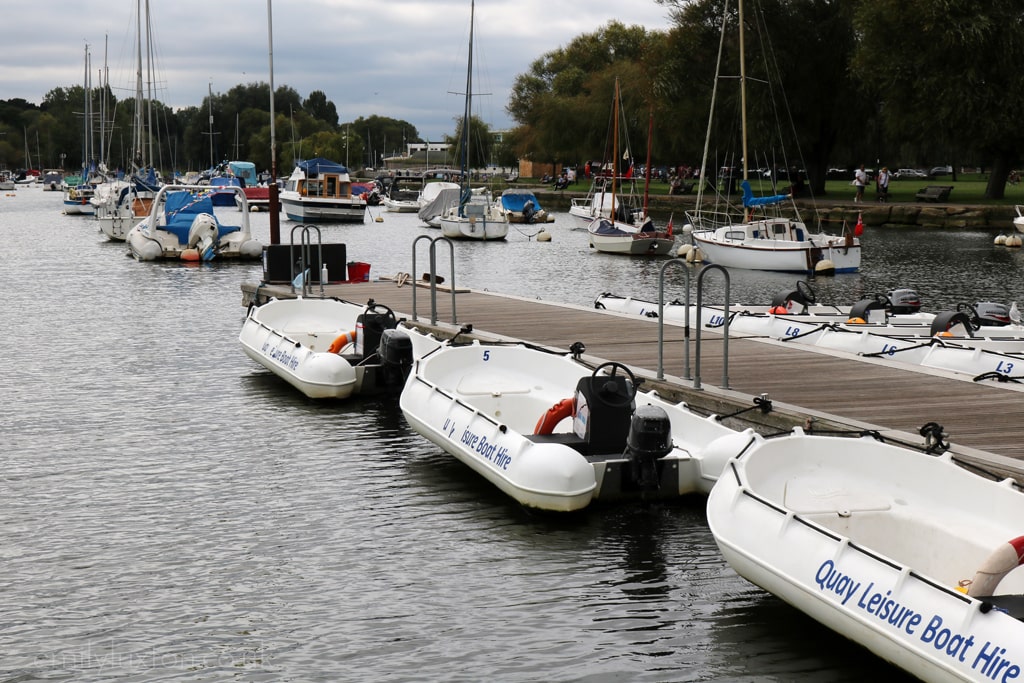 One of the best things to do in Christchurch is to hit the water! At Christchurch Quay you can rent a boat from Quay Leisure Boat Hire for 30 minutes or an hour. So you can get out and explore the beautiful River Stour in the best way possible. The boats can carry up to six passengers, and you don't need a licence, which means anyone can give it a go!
Quay Leisure Boat Hire runs from Easter to October.
6. Or Hop on the Vintage Ferry Service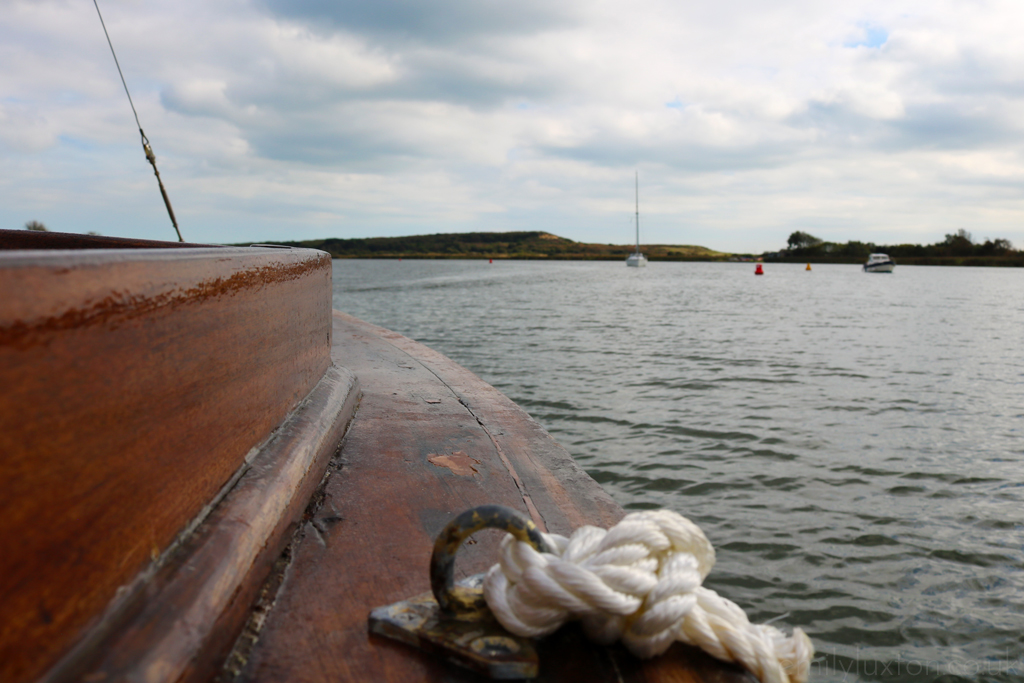 Don't fancy driving your own boat? Climb aboard one of the vintage wooden ferries run by Bournemouth Boating instead. They run a ferry service from Tuckton Tea Gardens to Mudeford Sandbank, stopping at Wick Ferry (next to the Captain's Club Hotel) and Christchurch Quay along the way.
The boats were built in the 1930s at the local Elkins Boat Yard, and have run the ferry service in Christchurch every year since then – except during the war when they were commandeered by the navy. So, this a pretty historic service! And it's a great way to get across to the beach at Mudeford without walking.
The service begins in Easter and runs every day, weather permitting, until the end of October. Timetables vary according to the weather, tides, and time of year – so check at the ticket office or give them a call on 01202 429119 if you want to check times in advance.
7. Take the Kids to Adventure Wonderland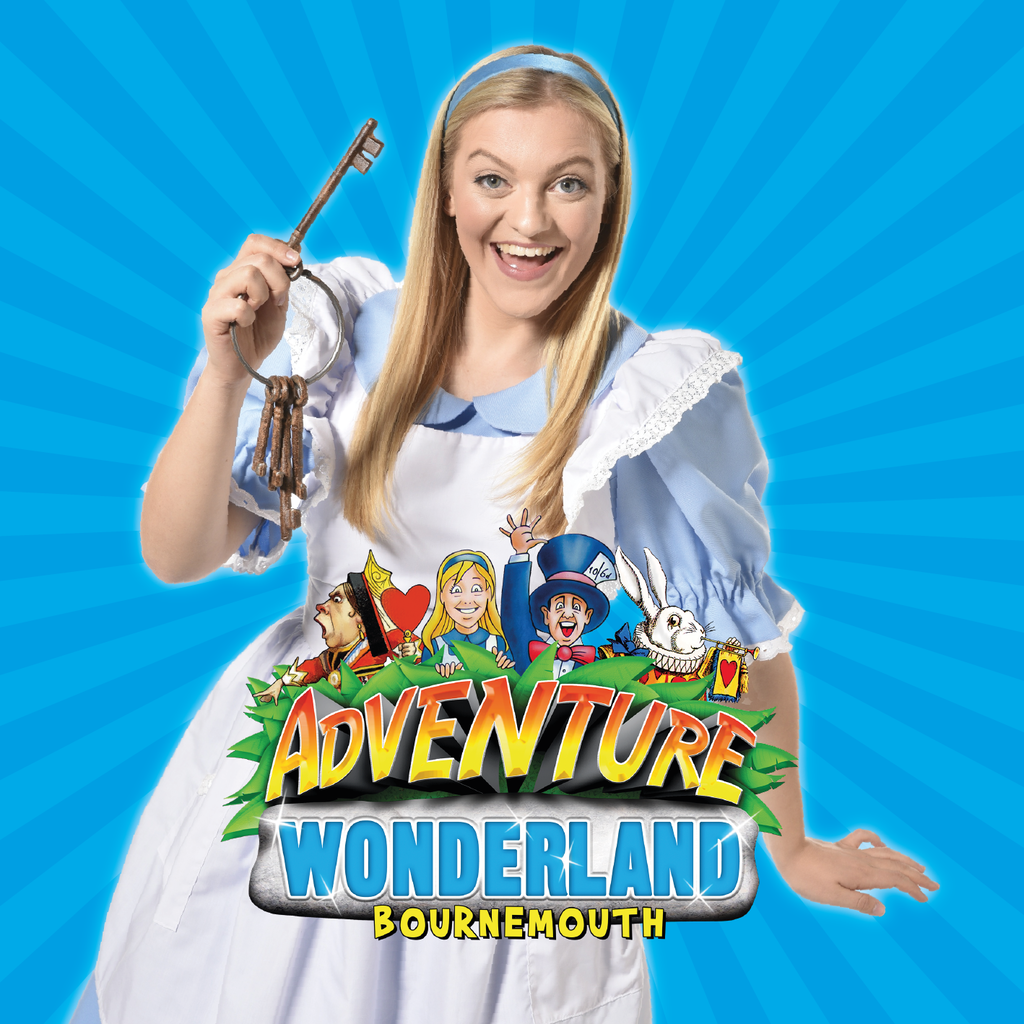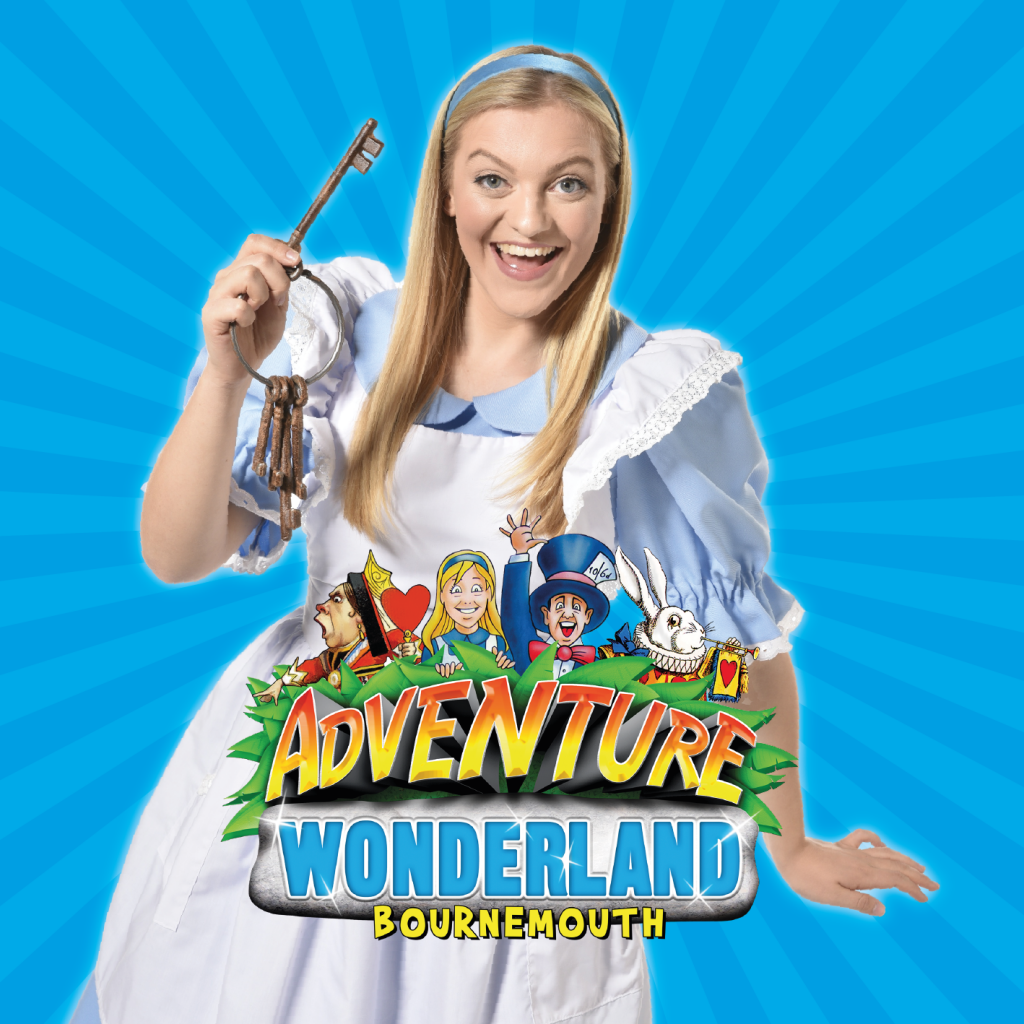 Adventure Wonderland is definitely one of the best things to do with the kids in Christchurch! It's certainly always been a big hit with my family! This small theme park is themed around Alice in Wonderland, so you may well encounter some of your favourite characters from the books as you explore.
There are loads of popular rides and attractions, including a hedge maze, log flume, swinging ship, and runaway train. Kids love the massive indoor Aztec Adventure Play Centre, while my favourite was always the Battle Boats – bumper boats armed with water squirters! Most of the park's attractions are aimed at children under 12, so older kids may not enjoy it as much. But this is perfect for a family day out if you're on holiday in Christchurch with small kids.
8. Step into Christchurch Priory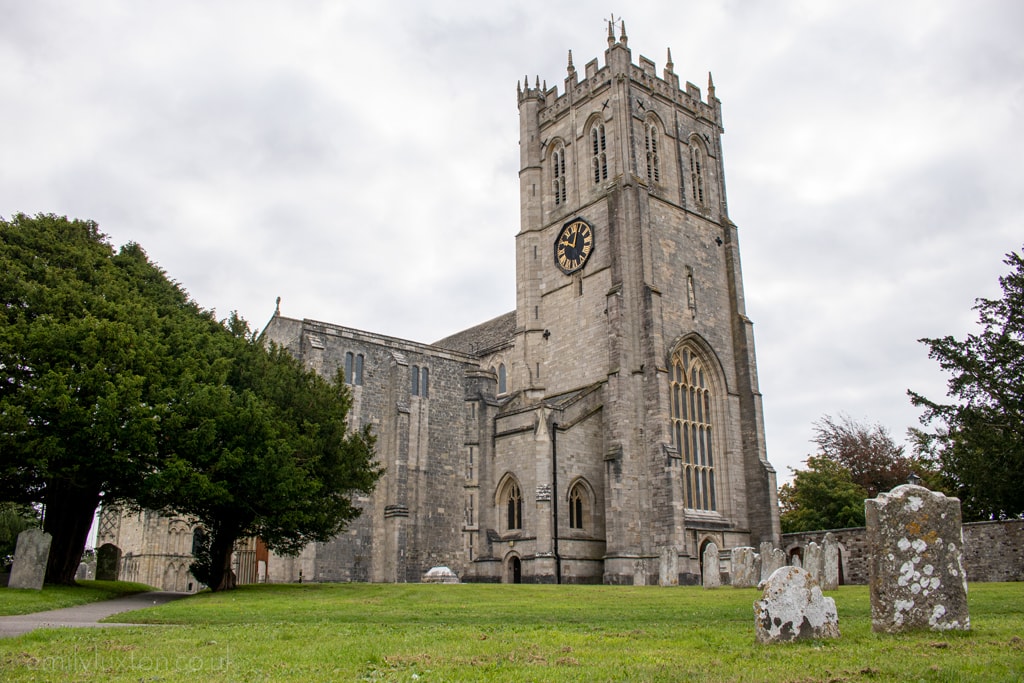 This historic church dominates the small town's skyline, so you really can't miss it! And you shouldn't: after all, this is the church that gives the town its name! Christchurch Priory was built in 1094 and is the longest parish church in the UK, so it's a pretty significant building.
The interior of the church is free to visit, and there are regular services. Or, you can brave the 176 steps of the ancient spiral staircase to the top of the tower on a Tower Tour. From the top, you'll get spectacular views towards Salisbury in one direction and the Isle of Wight and Jurassic Coast in the other. 
Tower Tours cost £4 for adults and only run on certain days; a notice will be displayed when one is available. You can also contact the Priory to arrange private tours.
9. Explore Christchurch Castle and the Norman House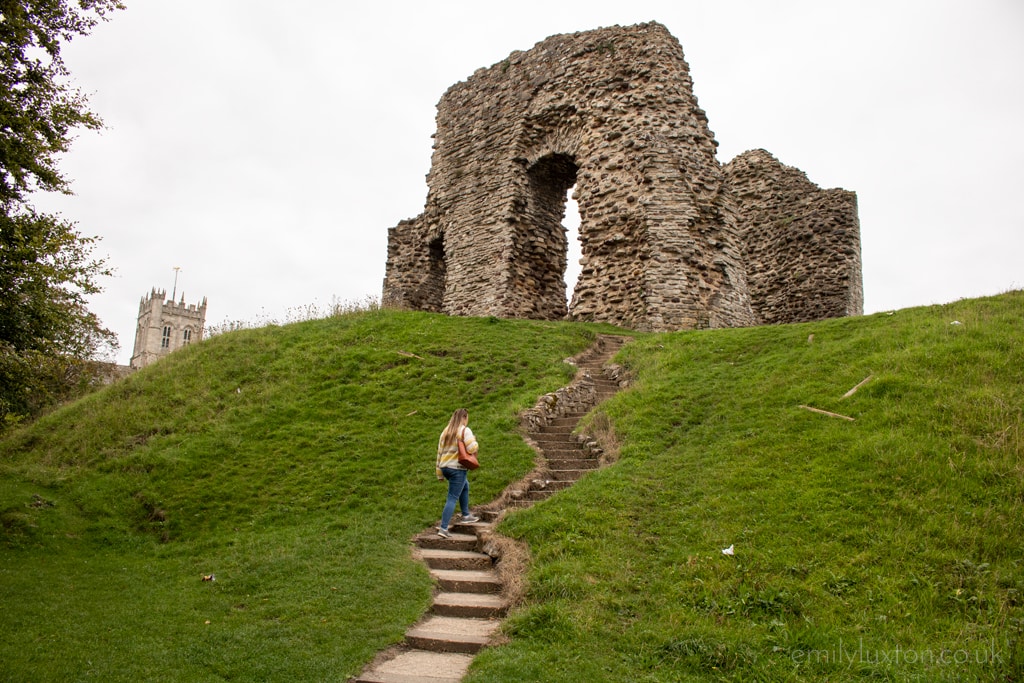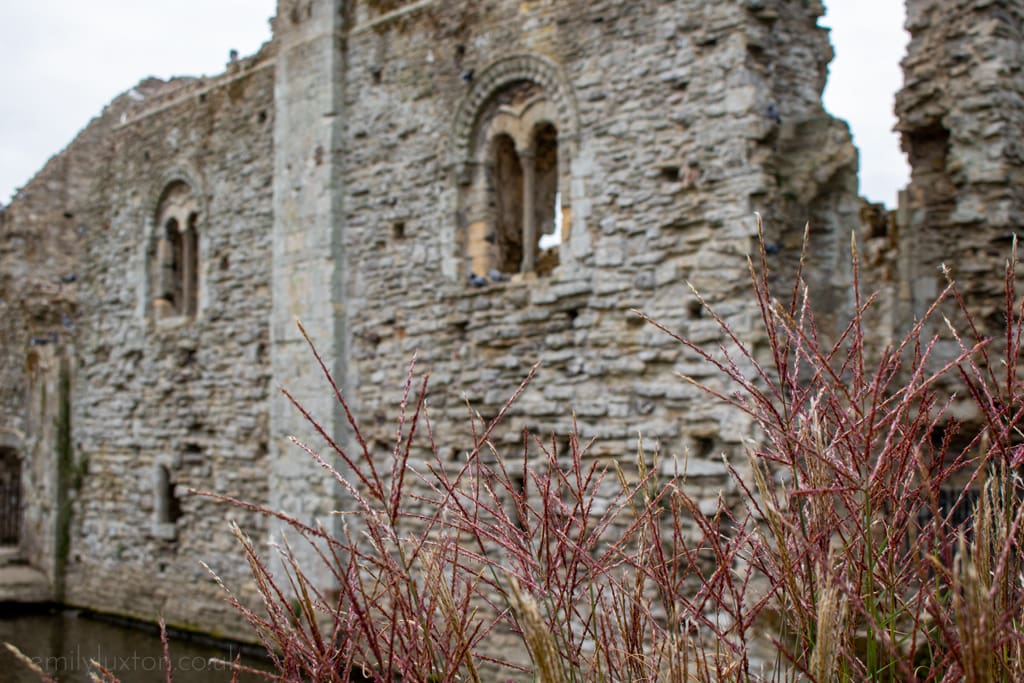 Christchurch boasts a lot of history, so no matter what your interest levels are there's plenty to see! Two of the most important historic buildings can be found right in the heart of the town, just behind the High Street.
The ruins of Christchurch Castle, dating from the 11th century, stand on top of a small hill overlooking the priory they were built to protect. Nearby, the Norman Constable's Hall – built around 1150 – is home to the oldest chimney in Britain! Both ruins are free to visit and offer a fascinating glimpse of just how long Christchurch's history is.
10. Delve into History on the Christchurch Blue Plaque Walk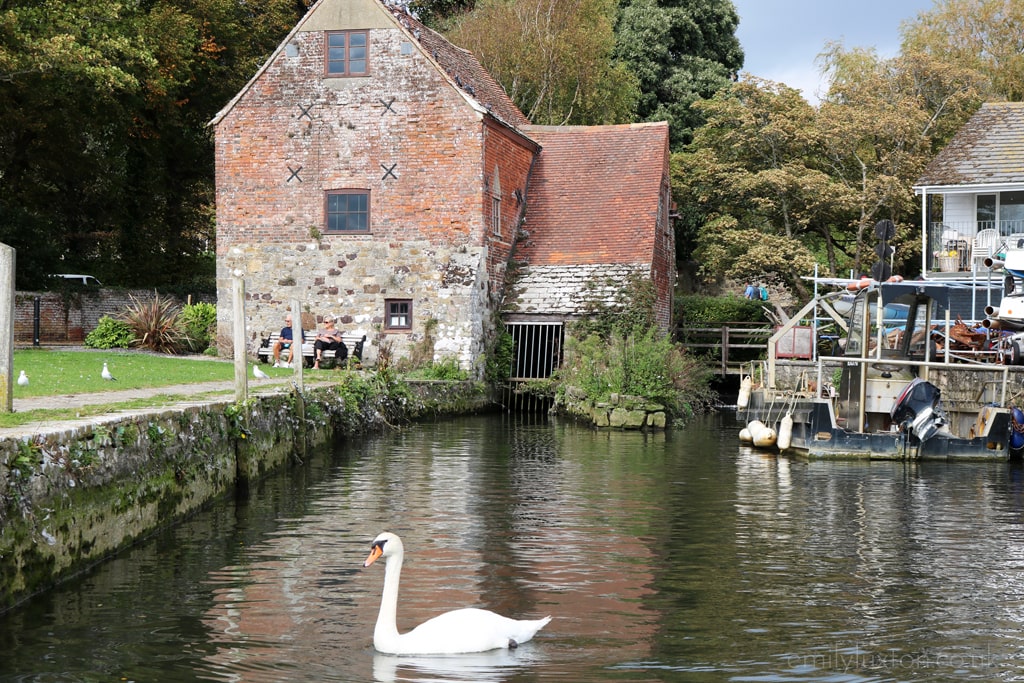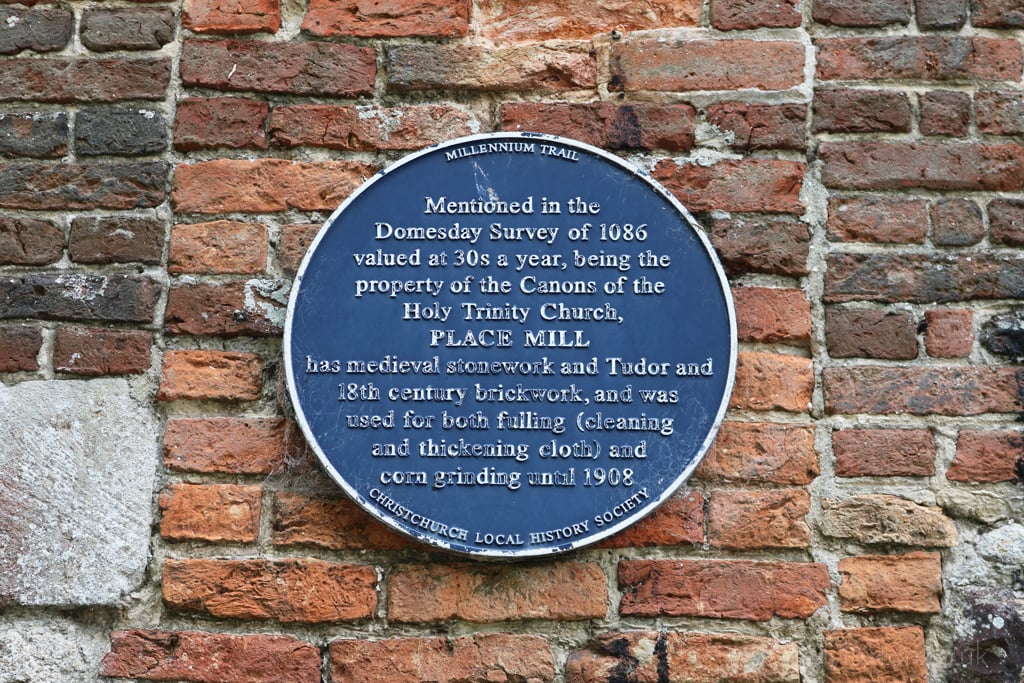 If you want to immerse yourself in local history, the Christchurch Blue Plaques Millenium Trail walk connects 19 important sites around the town centre. Some have been built over, such as the Saxon Cemetary which is now a supermarket carpark. But many, like Place Mill pictured above, are still standing. You can pick up a Trail leaflet for £1.50 from the Christchurch Information Centre on the High Street, or the Christchurch Historic Centre have several historic walks outlined on their website, with loads of interesting info about each site.
11. Visit the Red House Museum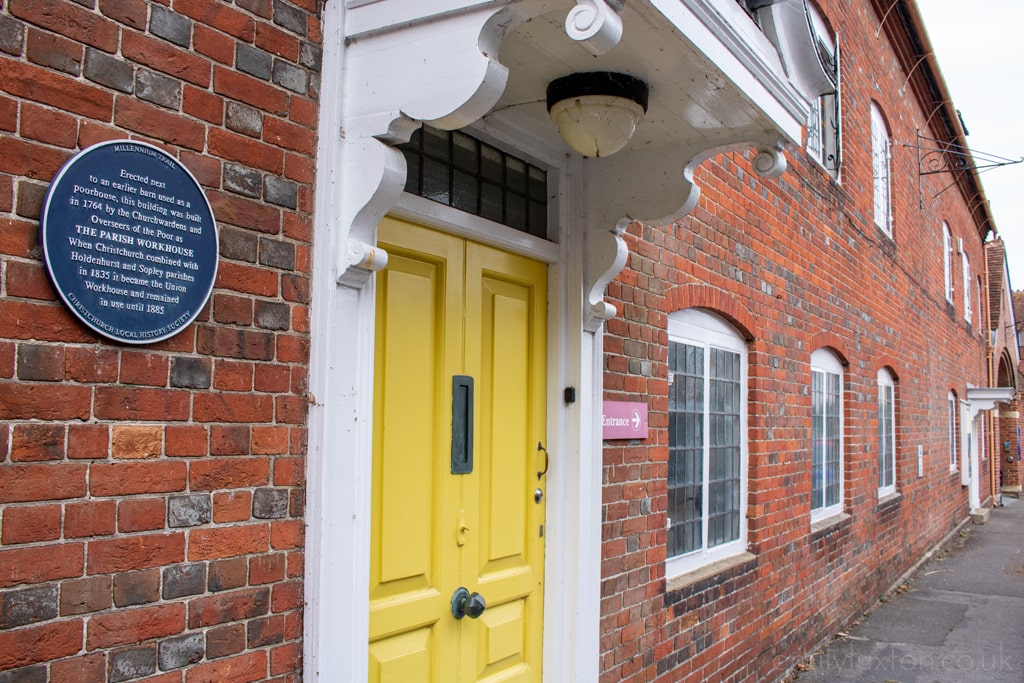 Speaking of history, don't miss a trip to The Red House Museum and Garden. Constructed in 1764, this beautiful red brick building has a bit of a dark history as it was originally used as the Parish Workhouse for the town's poor. Today, the House is a museum showcasing the history of the town, from its ancient Saxon past right through to the Victorian and Edwardian times, as well as more recent local innovations.
12. Explore Hengistbury Head + Mudeford Sandbank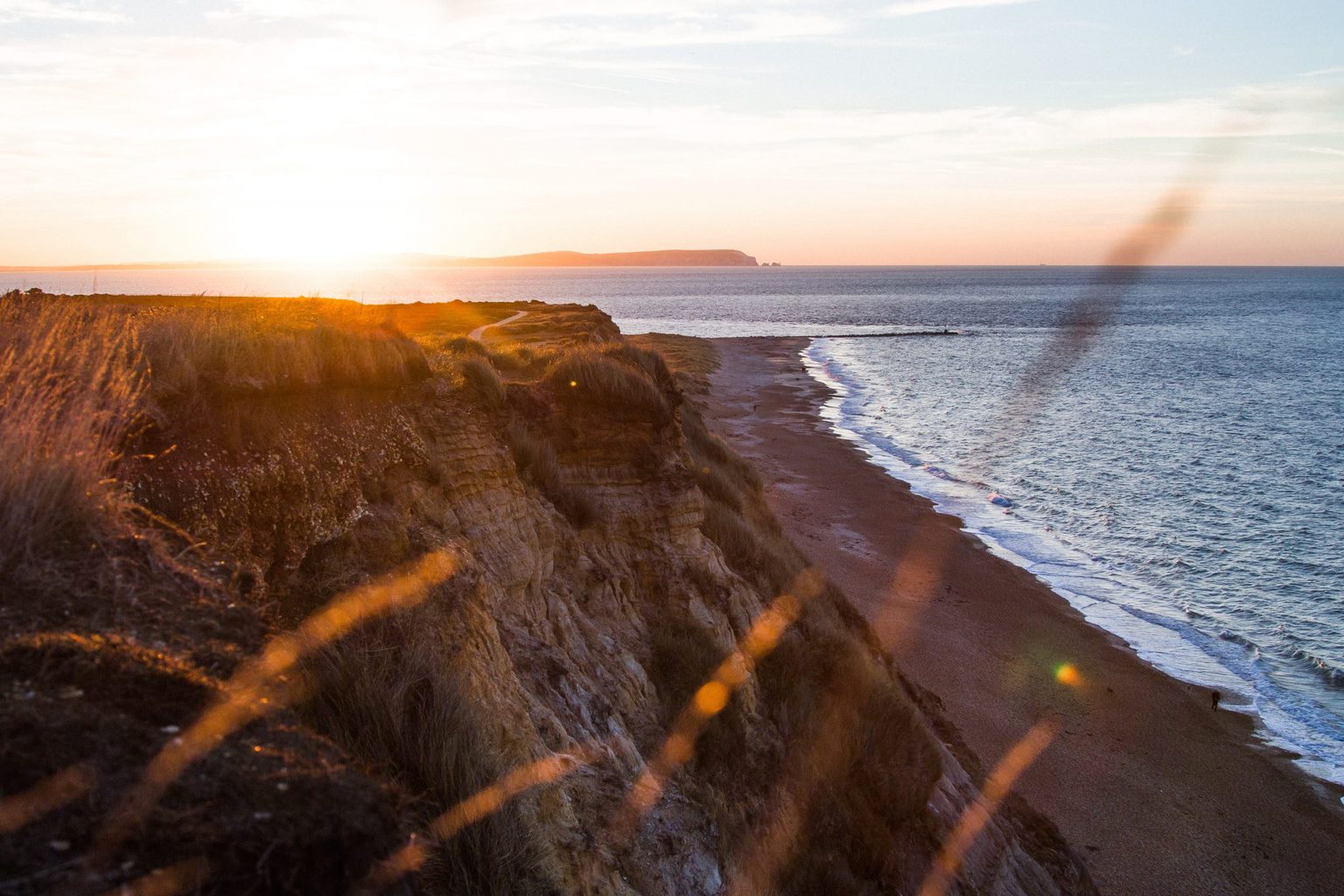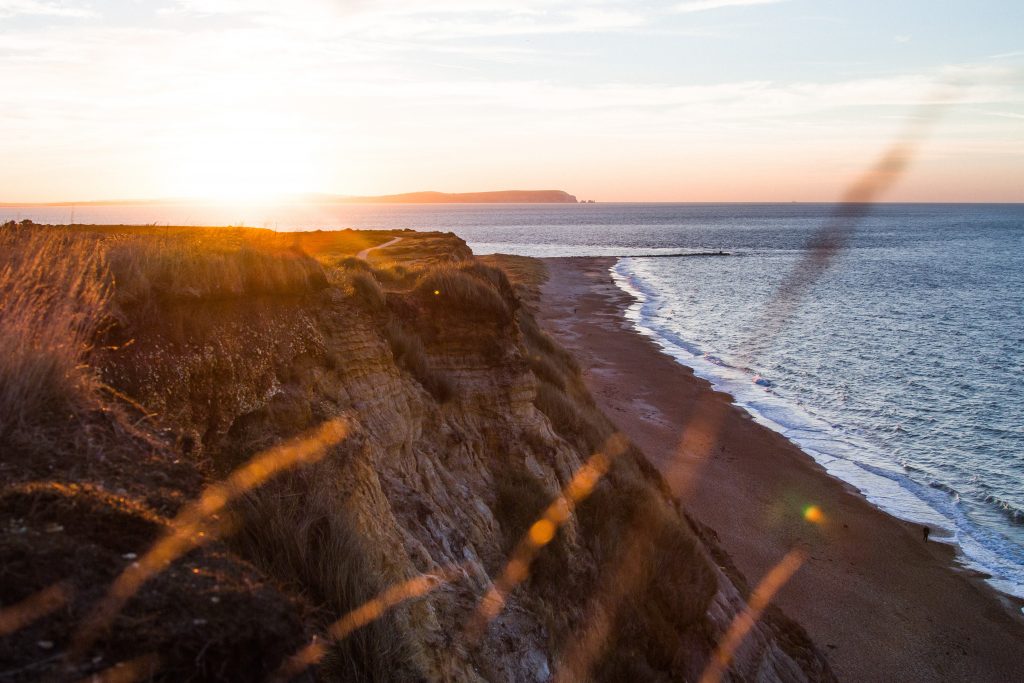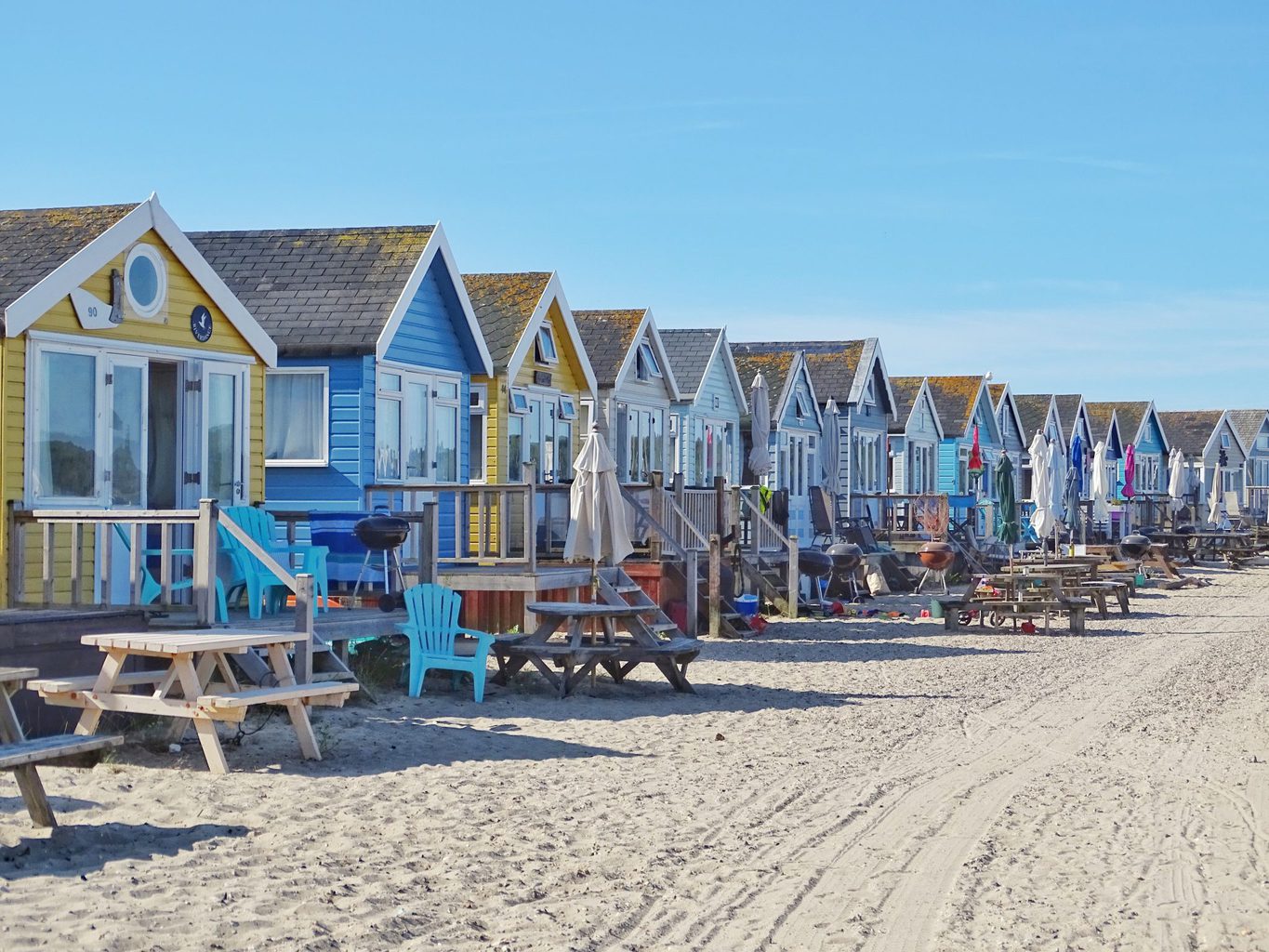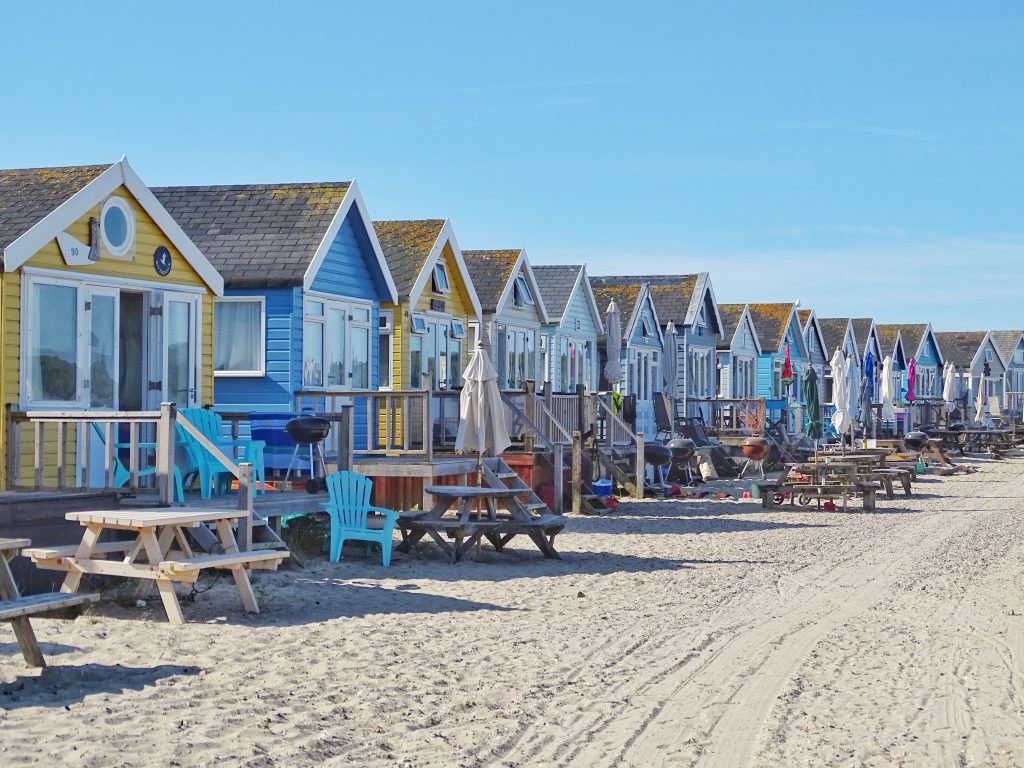 From Christchurch Quay, you can take a short, scenic ferry ride to Mudeford Sandbank – one of the nicest beaches in the area and home to some of the most expensive beach huts in the UK! This long, narrow spit of white sand juts out across Christchurch Harbour from Hengistbury Head, a low headland topped with long grass, gorse bushes, and hummocks of heather.
This is a rugged, wild area that's perfect for walking, especially with such a diverse range of landscapes in a small area. There's beach, heathland, wetland, and woodland to explore – as well as a lovely visitor centre and nearby cafe. You can also drive around and park in the carpark if you don't fancy the ferry, or it's about a 45-minute walk from Christchurch Quay via the bridge at Tuckton.
13. Try Some Watersports
Thanks to its sheltered harbour and coastal waters, Christchurch is the perfect spot to try your hand at watersports – whether you're a pro or a brand new beginner. ShoreSports offer a range of lessons including sailing, windsurfing, and kayaking. If you have some experience already, you can also hire equipment, including sailing dinghies.
ShoreSports operate from Easter to the end of October.
14. Chill Out at Snowtrax
Snowtrax Christchurch is one of the best ski resorts in the UK. This Alpine Activity Centre is the perfect place to get some ski practice in. You can take skiing and snowboarding lessons, or hit the slopes for practice – or a fun way to keep fit!
But this is so much more than a dry ski slope. There's also an Alpine Adventure Park for kids filled with forts, slides, and hidden trampolines. If you don't fancy skiing, you can try your hand at the Ski Bob sledges or hop in a Ringo, inflatable rubber tubes you can slide down the snowy slopes in!
READ MORE: My Review of Snowtrax in Christchurch
15. Visit Mudeford Quay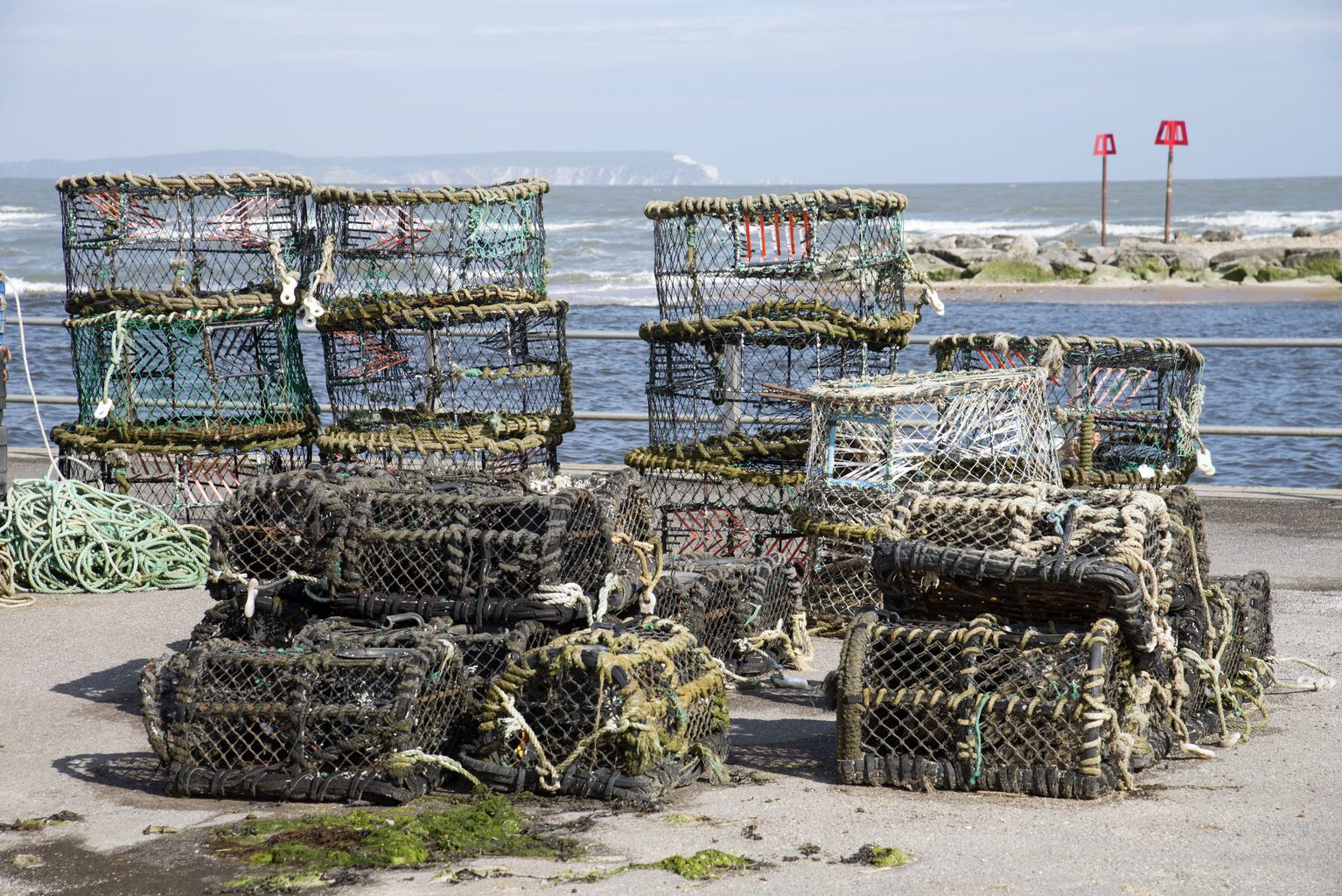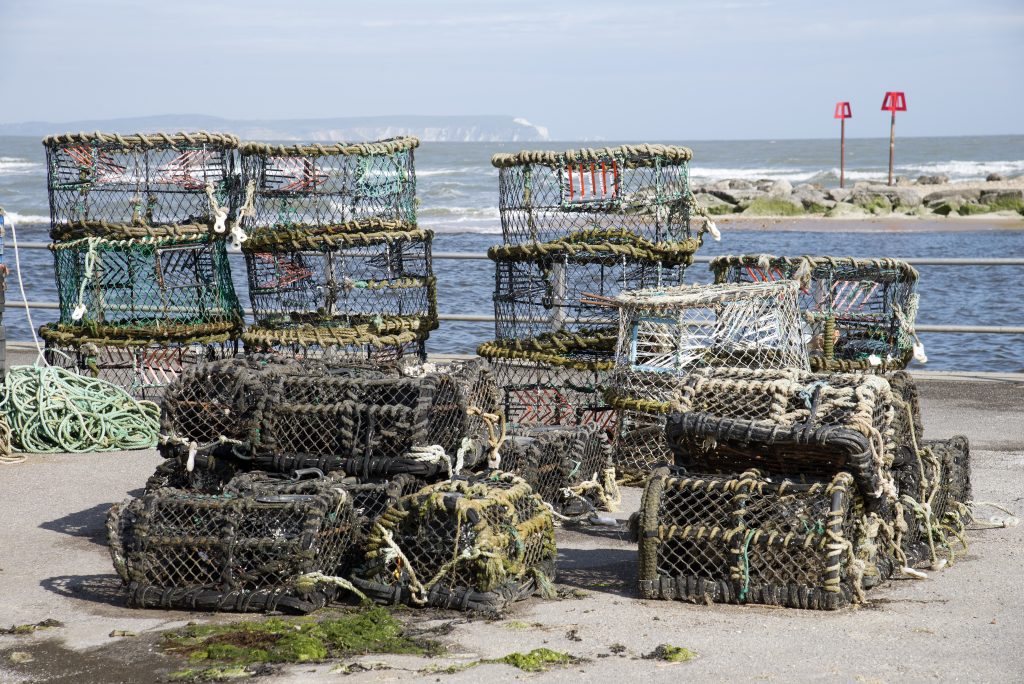 Mudeford Quay sits at the entrance to Christchurch Harbour, and is a popular spot with visitors, especially families. Historically, Mudeford has always been a fishing village, and the quay still very much bears the signs of this industry. This is a great spot for crabbing, so buy a net, bucket, and bait from the shop at the end of the Quay if you don't have your own. There are also several places to eat and drink, especially if you want to try the local seafood… and the annual seafood festival is a must!
16. SUP / Kayak on the River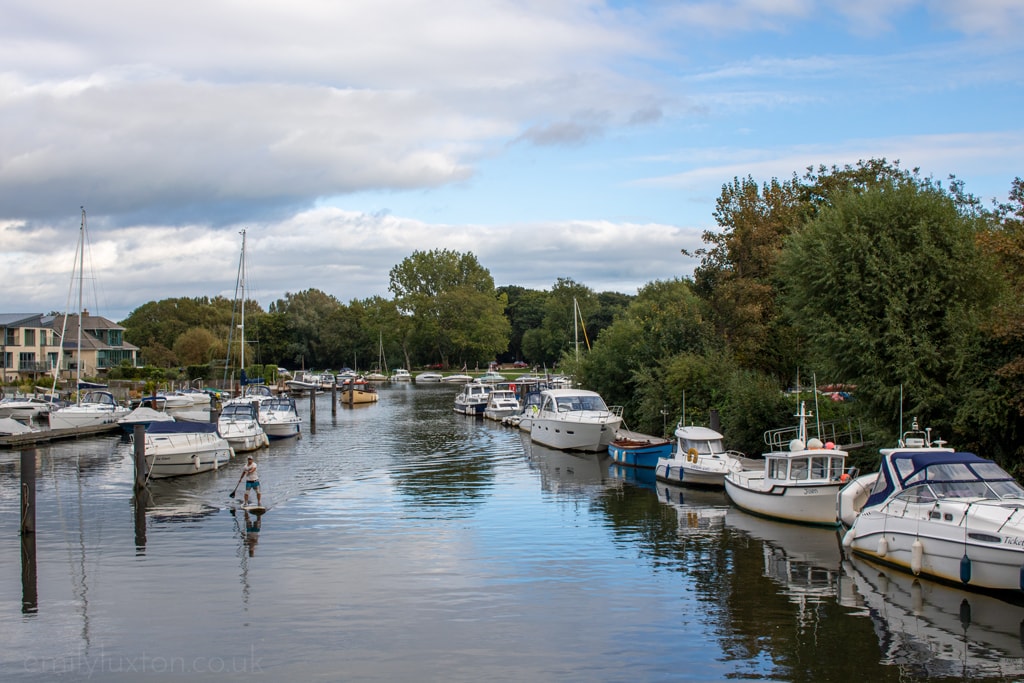 Enjoying the water is definitely one of the best things to do in Christchurch UK, and with it's smooth waters the River Stour is the ideal spot for some Stand Up Paddleboarding or kayaking. There's a public slipway at The Quomps, so if you have your own board or kayak you can park at the carpark there and get straight in the water.
Head downriver to explore the Harbour and Hengistbury Head, or make your way upriver and see how far you can get. With 47 miles of river to play with you have a long way to go! If you don't have your own equipment, ShoreSports also rent kayaks and SUPs.
17. Take a Hike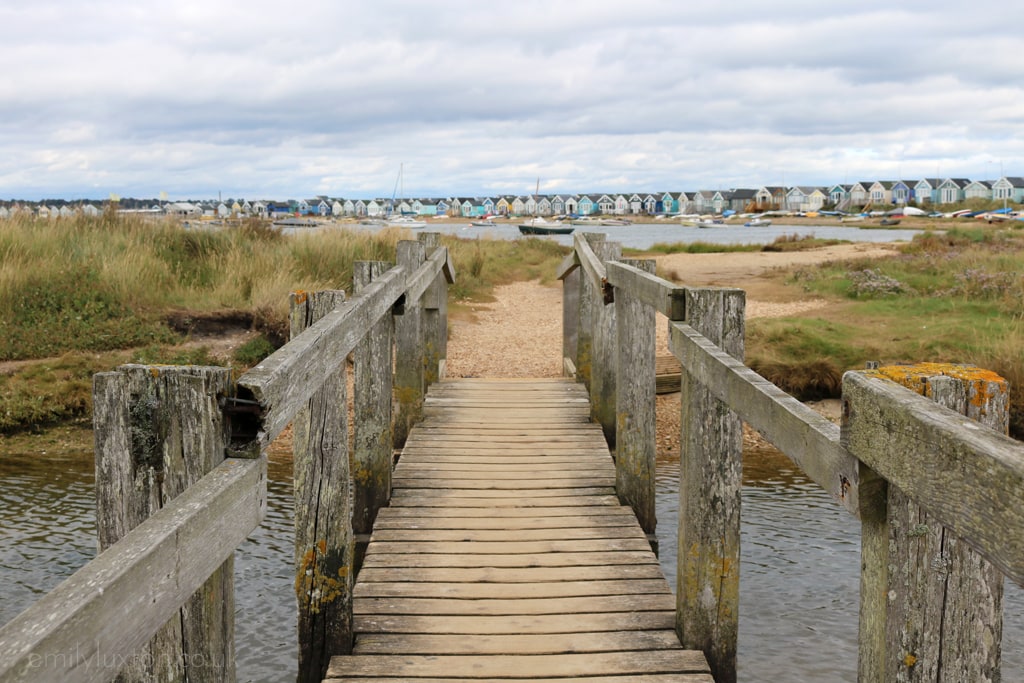 With rivers, coastline, and wetlands, surrounding the town, not to mention plenty of gorgeous Dorset countryside nearby, you have no shortage of places to stretch your legs and enjoy a hike…
18. Get your Adrenaline Pumping on a RIB Ride
Love a bit of adventure? Ride the waves on an adrenaline-pumping RIB ride with H20 Powerboat Experience. They have two different two-hour tours: one to the Isle of Wight and the iconic Needles, and another to Poole Harbour and Old Harry Rocks on the Isle of Purbeck.
19. Catch a Movie at the Drive-In
Christchurch has its very own drive-in cinema! Held out at the Old Holmsley Aerodrome by The Drive In Movies Company, this outdoor cinema is the perfect socially-distanced evening out. You can even order food, like burgers and milkshakes, to be delivered right to your car window! Showings are only occasional, and tickets are limited, so keep an eye on the website to see what's coming up.
20. Soak Up the Christchurch Art Scene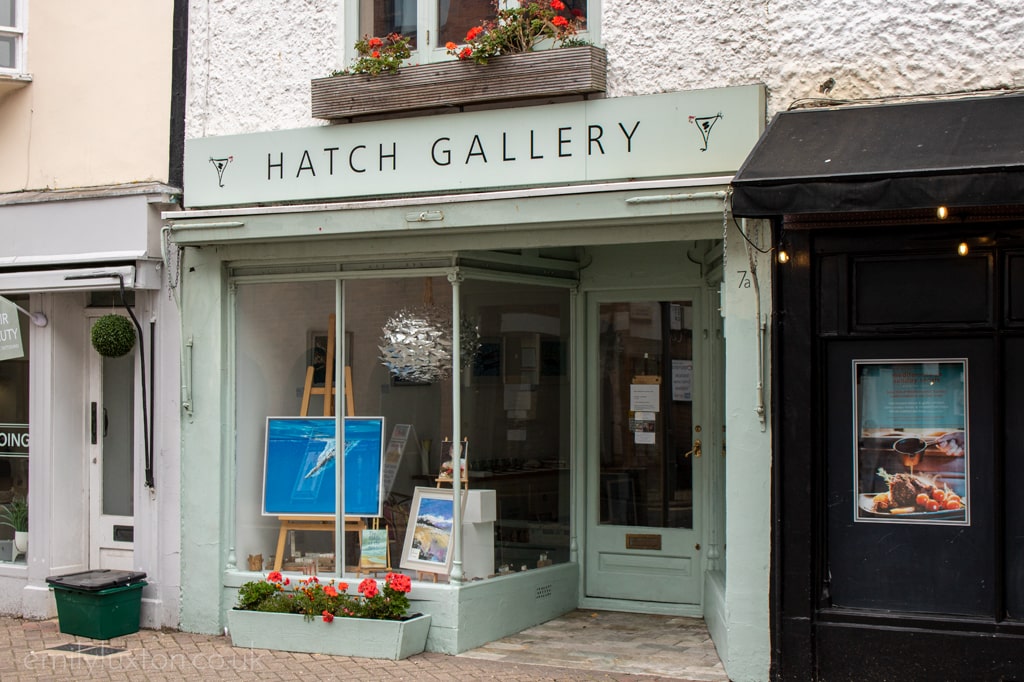 If you love discovering local art and bespoke gifts, Christchurch will not disappoint. The town centre is dotted with boutique shops, as well as some excellent local art galleries…
Hayloft Gallery – 14 Wick Ln, BH23 1BT.
Hatch Gallery – 7A Church St, BH23 1BW.
21. Boutique Shopping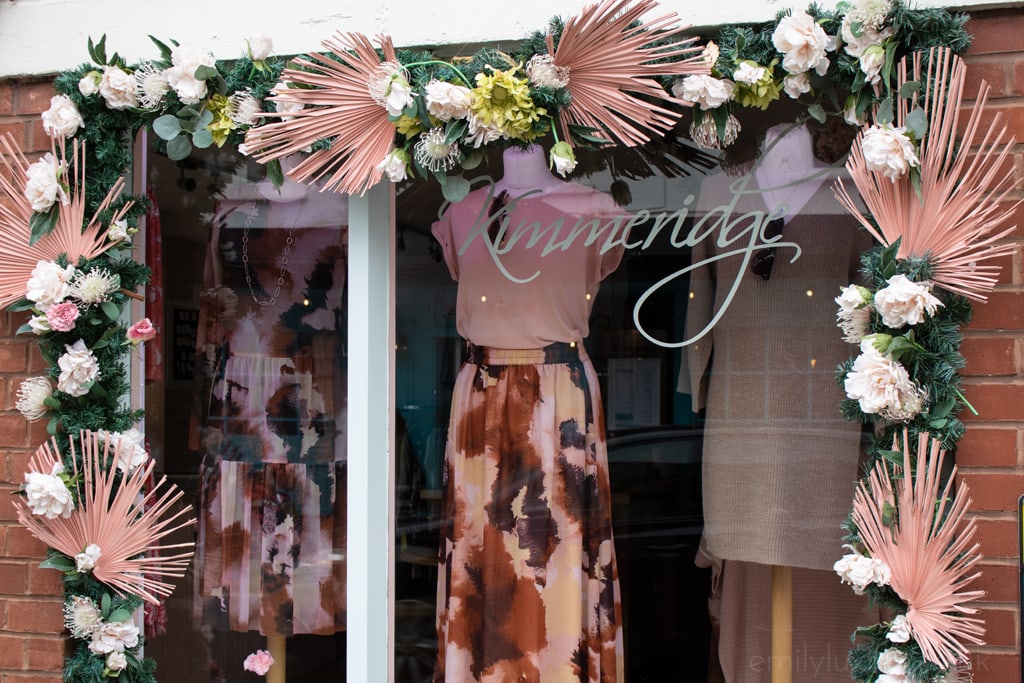 Alongside the art galleries, there are so many unique independent shops to explore. Below are a few of the best, but there are plenty more besides these…
The Emporium Christchurch – Avon Works, 1b Bridge Street, BH23 1DY. An enormous shopping centre with over 130 stalls, including a coffee shop and a brewery, as well as plenty of vintage, fashion, and handmade gifts.
Christchurch Market – a traditional street market that runs along Christchurch High Street every Monday.
The Christchurch Confectioner & Gin Shop – 72 High St, BH23 1BN. A "grown-ups treat shop" selling small-batch craft gins from across the South Coast and beyond, as well as a wide range of luxury chocolates.
The Vault – 1 Castle Street, BH23 1DP. The largest range of new vinyl in Dorset.
Jaylo's Boutique – 4 Church St, BH23 1BW. Women's clothing store selling international brands you won't find on the high street.
Kimmeridge – 18 Church St, BH23 1BW. Beautiful independent women's clothing store.
Where to Stay in Christchurch UK
One of the best hotels in Christchurch is definitely the Captain's Club Hotel and Spa. This gorgeous luxury hotel boasts a spectacular riverside setting, close to the town centre. It's also one of the best spa hotels in Dorset.
However, there are loads of options, whether you're looking for self-catering, a boutique B&B, or a big hotel. You can even stay in a posh beach hut on Mudeford Sandbank! I've included a map below to help you find the perfect place to stay in Christchurch UK…
Christchurch UK Festival Dates for your Diary
Christchurch hosts a fantastic array of festivals and events throughout the year, especially during the UK school holidays. Below are a selection of the best local festivals to add to your diary…
Christchurch Regatta – a sailing regatta held each year in the summer with one-on-one racing throughout the day, followed by a series of finals in the afternoon. Next dates: 13th May 2023
Christchurch Food Festival – an enormous open-air food festival with stalls, cookery shows, and entertainment. Next dates: 27th-29th May 2023
Highcliffe Food and Arts Festival – a two-day event run by unpaid volunteers celebrating local and regional food, drink and art. Next dates: 10th-11th June 2023.
Christchurch Music Festival – held on Christchurch Quay with an incredible lineup of musicians, showcasing the best of local talent whilst bringing in some exciting acts from further afield. Next dates: 21st-23rd July 2023.
Stompin' on the Quomps – one of the largest smooth jazz festivals of its kind in the UK. Next dates: 5th August 2023.
Christchurch Carnival – a two-day annual carnival with entertainment, live music and fireworks. On Sunday there's also a Carnival Parade through the streets of Christchurch. Next dates: 12th-13th August 2023.
Pin this Post