Some posts on this site contain affiliate links. If you book or buy something through these links, I earn a small commission (at no extra cost to you). Take a look at my privacy policy for more information.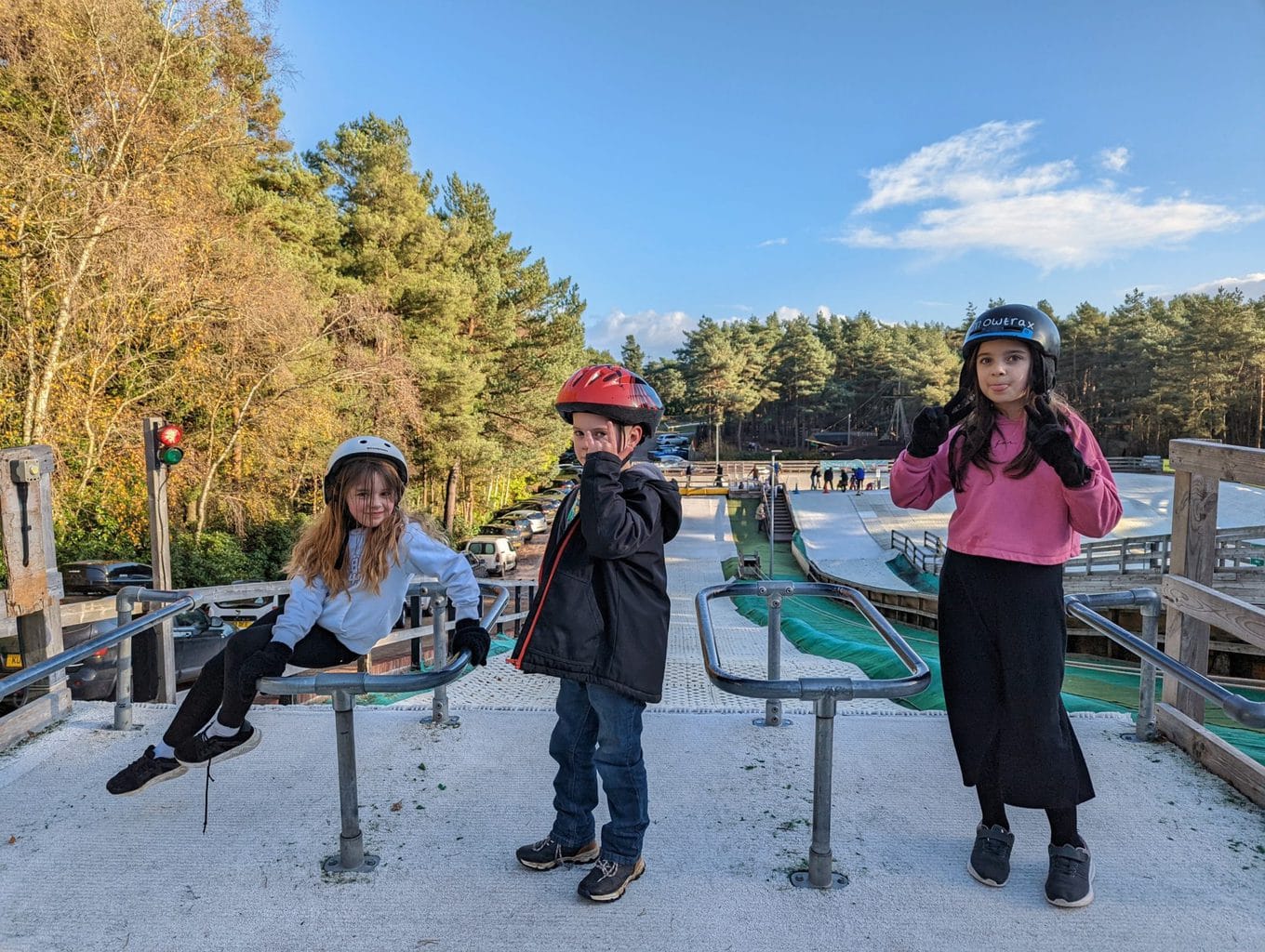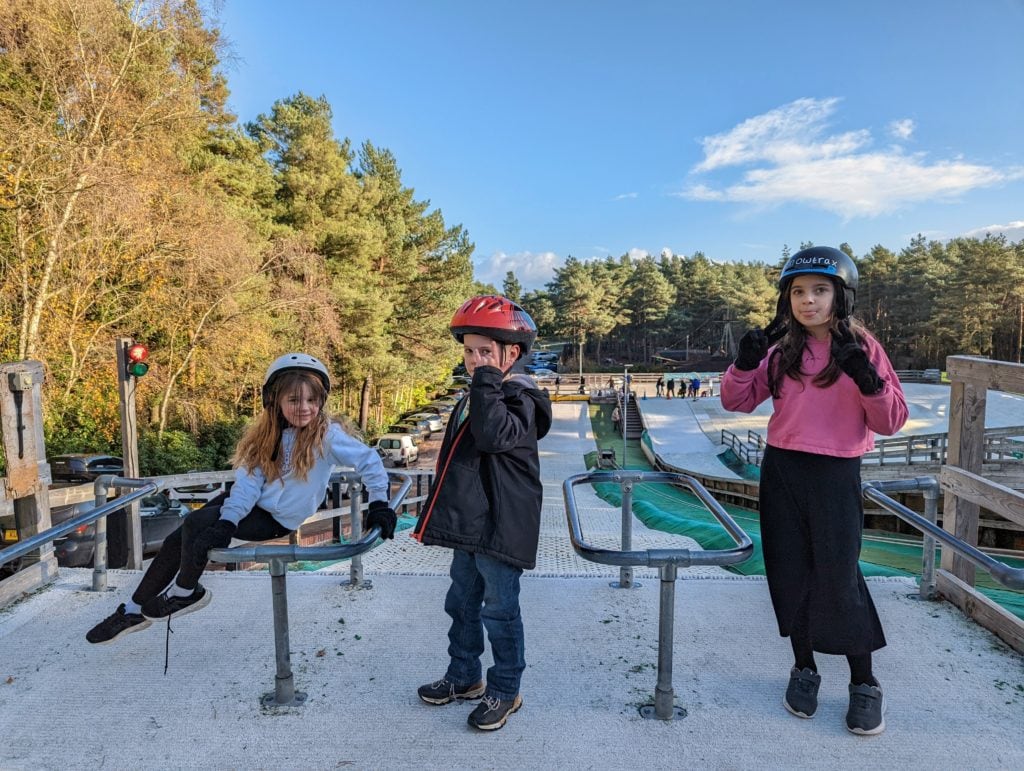 Are you looking for a brilliant day out with kids in Dorset? The Ringos and dry ski slopes at Snowtrax in Christchurch, near Bournemouth, are PERFECT!
Although Snowtrax has been around for over 30 years, I'd still never visited the park myself. I'd heard a lot of good things, though, so when the chance came up recently to visit for an afternoon I was really excited.
I rounded up four of my nieces and nephews, aged between 7 and 12, to try out the Ringos and Alpine Adventure Park at the coolest day out in Bournemouth! We had an absolute blast shooting down the dry ski slope on giant rubber rings – and spent a good couple of hours enjoying the park, too.
It's a great day out for families with kids – but Snowtrax is also really great fun for adults. We only tried out the Ringos on this visit but I'd love to go back and have a go on the ski slopes. They also offer skiing and snowboarding lessons, perfect if you've been thinking of taking up a new hobby.
READ MORE: Best things to do in Dorset with kids
Our trip to Snowtrax was gifted in exchange for this review. However, all words and opinions are absolutely my own (and a few quotes from the kids, too).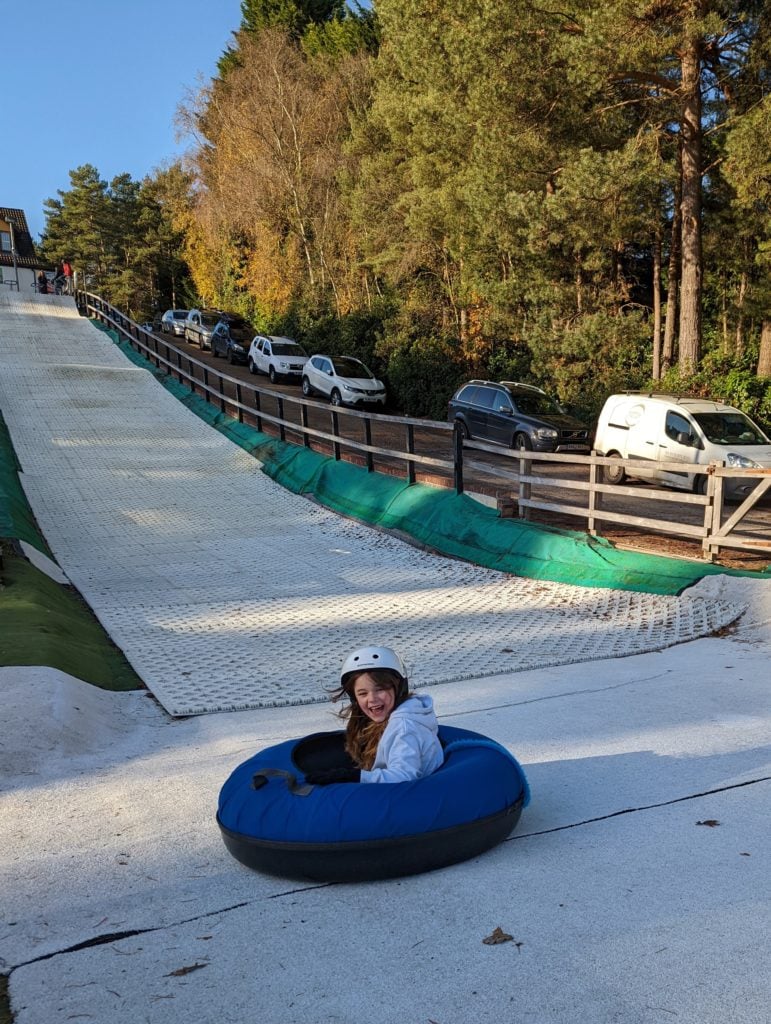 What is Snowtrax in Christchurch, Bournemouth?
Snowtrax is an Alpine Activity Centre in Christchurch, near Bournemouth, filled with dry ski slopes, a huge adventure play park, and a bar and restaurant.
It's a family-friendly centre offering ski and snowboarding lessons for all levels. They also have Ringos and Ski Bobs, which make great activities for kids, and you can add a trip to the Alpine Adventure Park to make the ultimate family day out!
READ MORE: 15 of the Best Things to do Near Bournemouth
Trying out the Ringos in Bournemouth
What Are Ringos?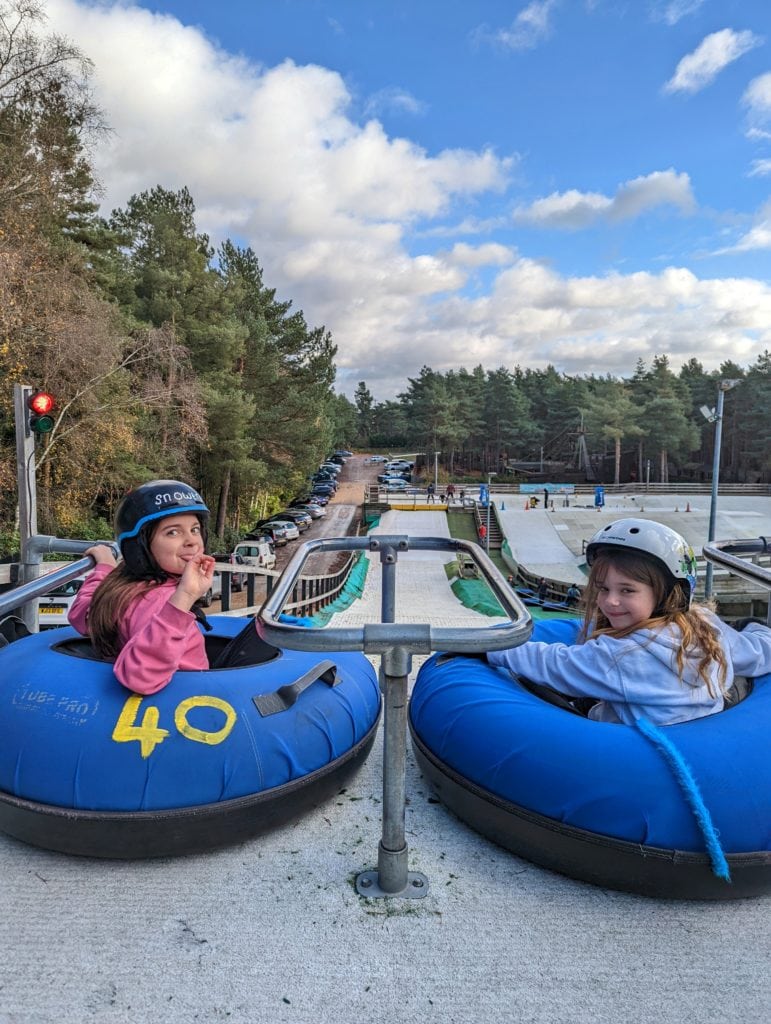 Ringos are large, inflatable tubes – like giant rubber rings – which you can sit in to ride down the dry ski slopes. Snowtrax have a special run just for the Ringos, so you don't have to worry about weaving around the skiers on the main slopes.
Kids have to wear a helmet on the way down and the slopes are supervised at the top and bottom for safety. There's a staff member to tell you when it's safe to launch your tube down the Ringo slope – preventing any pile-ups at the bottom!
How Much Does it Cost?
The Ringos cost £9.25 for half an hour. You can also add unlimited time in the Alpine Adventure Park for £4.25 per head. Check the Snowtrax website for the prices of classes and other activities. I recommend booking online before you go.
Our Time on the Snowtrax Ringos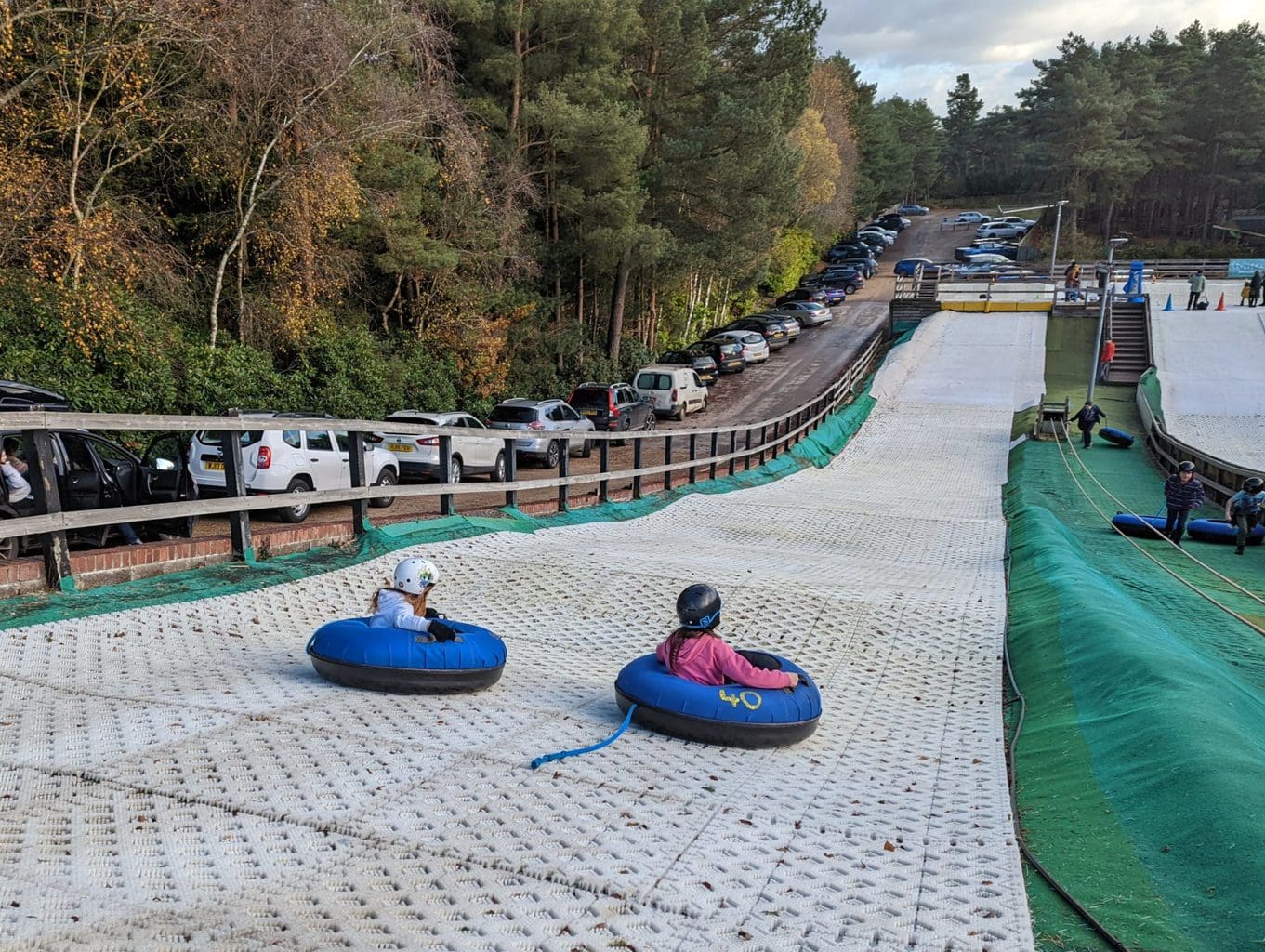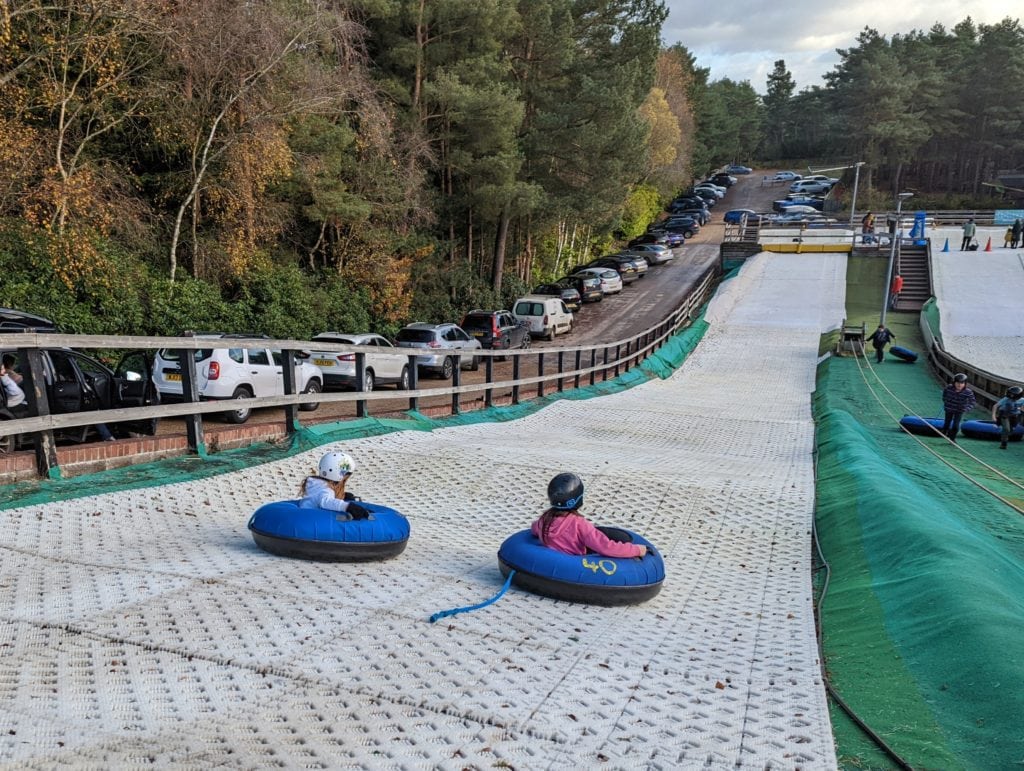 I took a group of my nieces and nephews to Snowtrax; Edward (7), Penny (8), Arabella (10), and Rafe (12). We had three Ringos between us because Rafe was a last-minute addition to the day out. Luckily, adults are allowed to have a go too – as long as they can wrestle one of the tubes off the kids! So Rafe and I were able to pinch a few goes as well.
We all absolutely loved it. I was worried the kids might be nervous, but they got stuck straight in and shot off down the slope.
The staff member at the top gave them a hand by pushing the Ringos off for them – which meant they got to go faster. There were lots of "EMILY, DID YOU SEE ME?" shouts after every go – always a sign of a good ride!
"It was awesome – I want to have my birthday party here!"

Edward, aged 7
After whizzing down the slope, the kids have to carry their Ringos back up to the top to ride again. All of mine managed OK but Penny (who is tiny) did struggle a bit and Rafe had to help her a few times. If you're visiting with smaller kids you might find yourself running up and down to help them carry their tubes back up.
"I loved the Ringos, but I wish we had more turns."

Penny, aged 8
You only get half an hour on the Ringos, which seemed like a long time when I booked but we all finished wanting more. I'd recommend booking two half-hour slots – perhaps with a break in between for hot chocolates – in order to get the most out of a day trip to Snowtrax.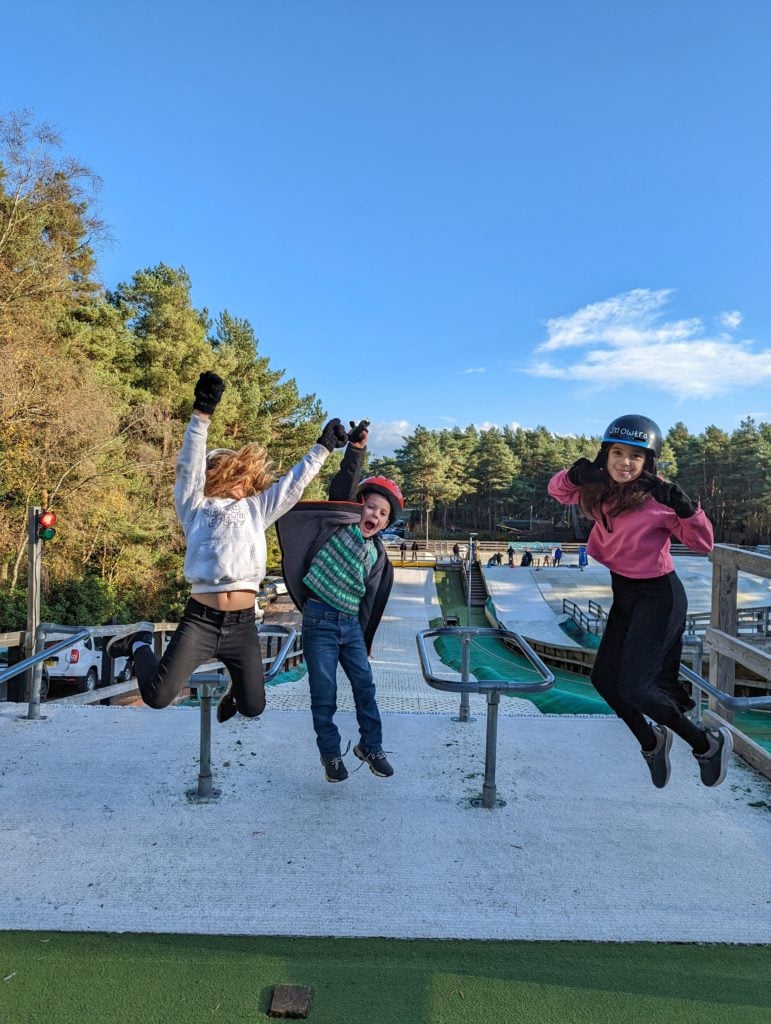 Snowtrax Bournemouth Alpine Adventure Play Area
Next up, we headed to the Alpine Adventure Play Area. You can pay a small fee to add this on to any Ringos booking so it turns the whole experience into a full day out.
The park is AMAZING! Even as an adult (albeit a childish one) I was genuinely a little excited by it. It's an enormous park built within a pine forest, so you're running around through the trees as you explore.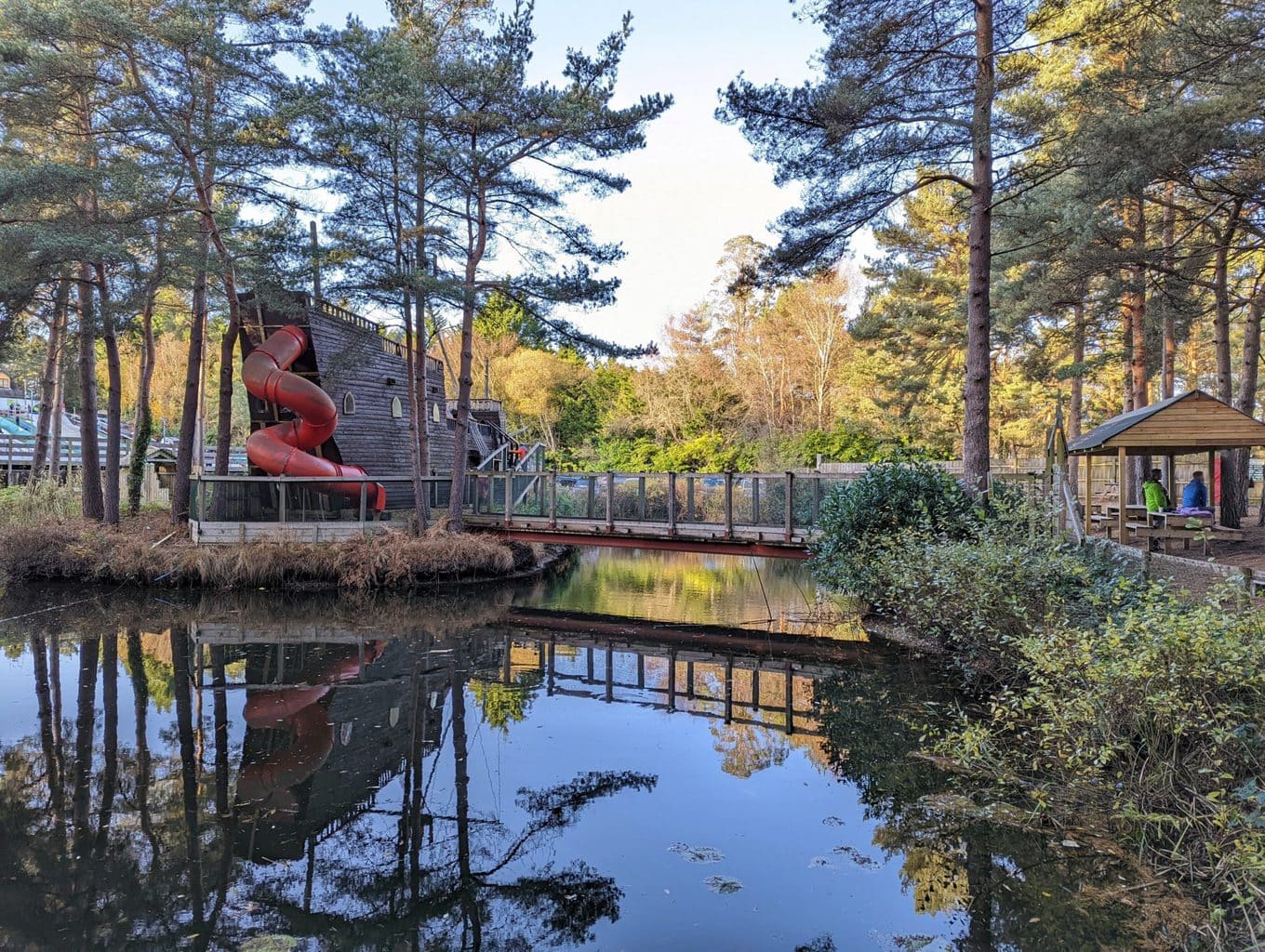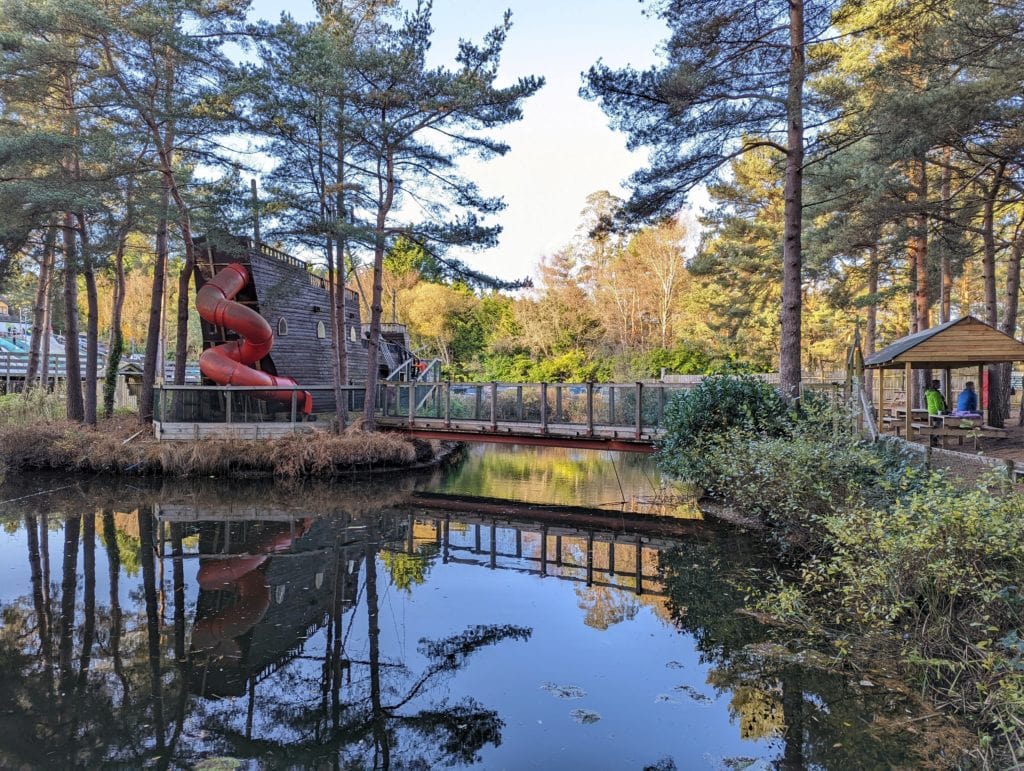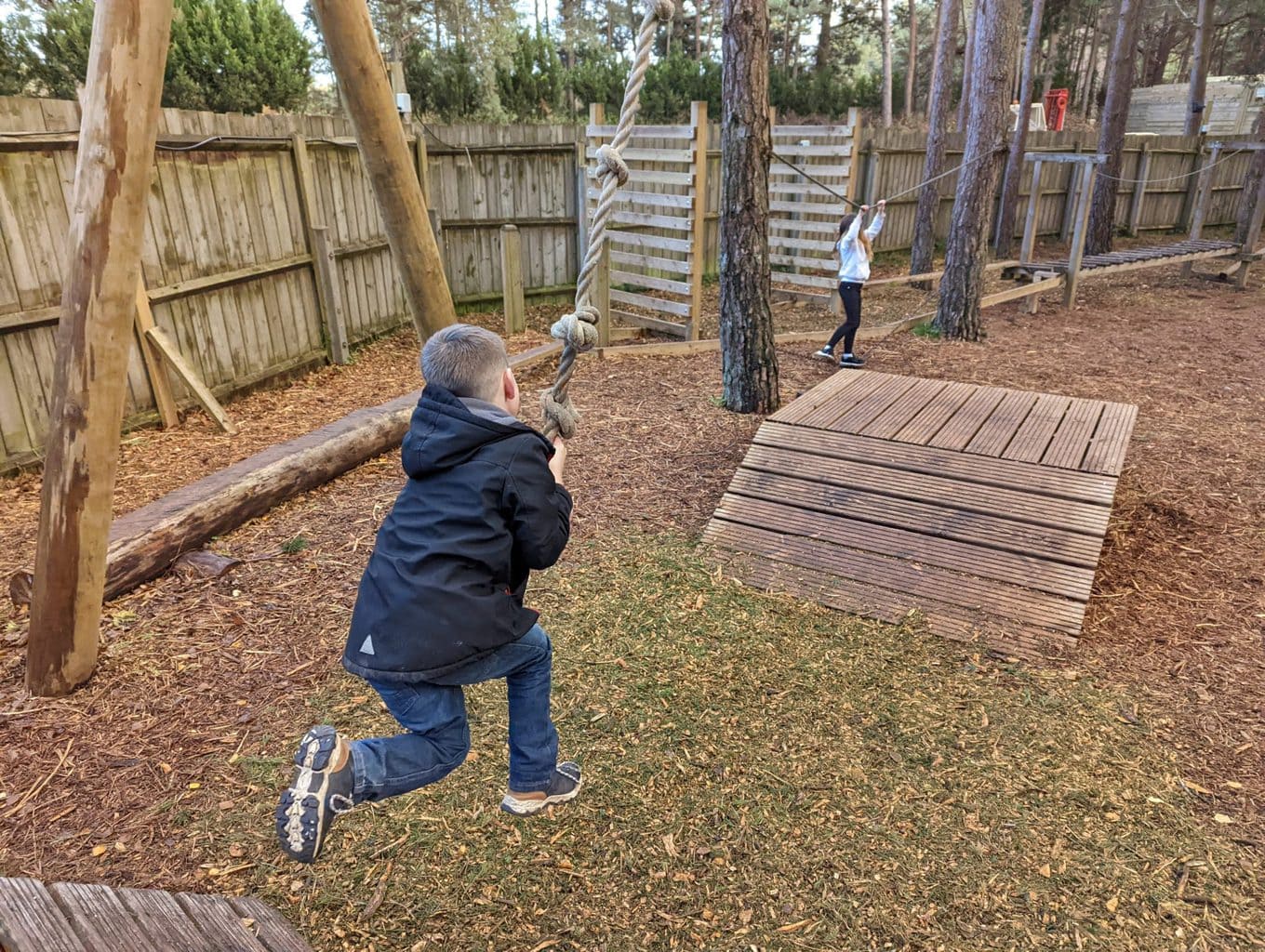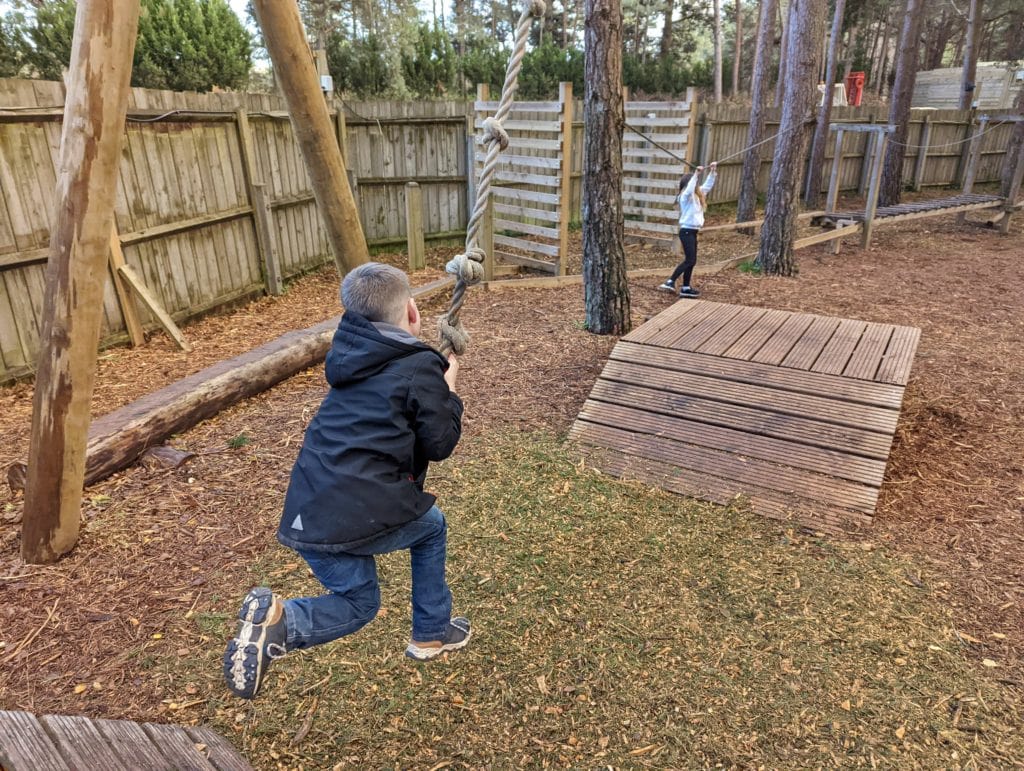 There's a 260m obstacle course, a zip line, trampolines, and a nearly-life-sized wooden pirate ship in the centre of a large pond which you have to cross a bridge to enter. The kids had a great time playing an enormous game of hide-and-seek around the park.
And, of course, I couldn't resist a go on the obstacle course – which is definitely suited for childish grown-ups as well as kids!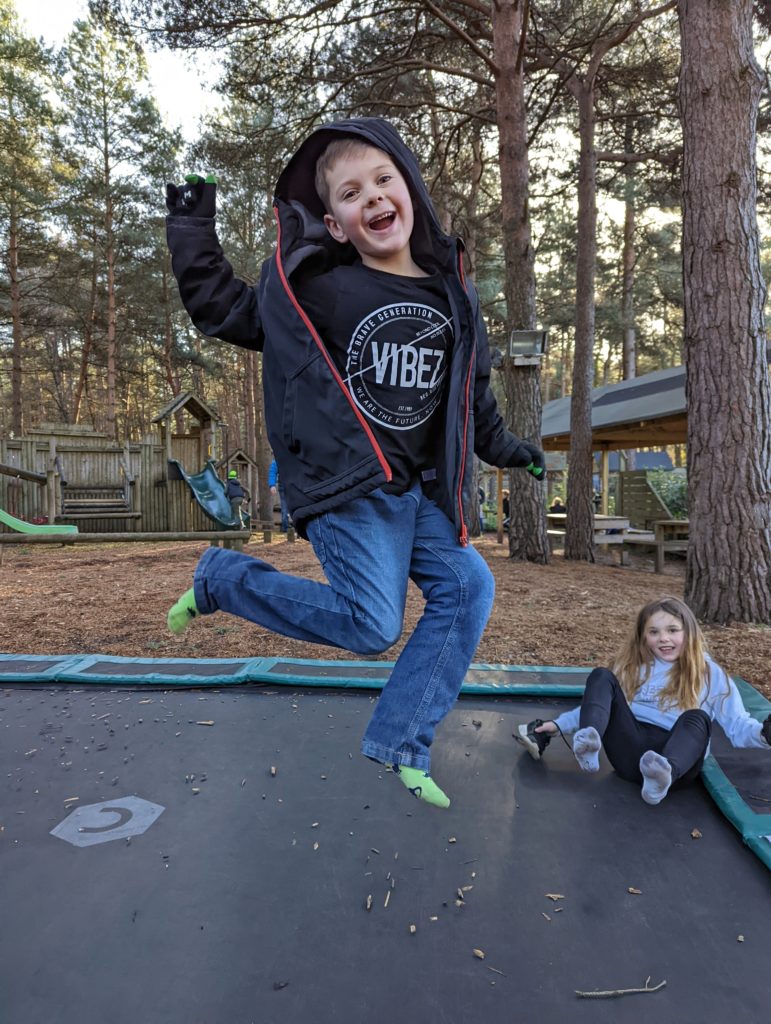 Final Thoughts on Snowtrax
Snowtrax Christchurch is easily one of the best days out near Bournemouth for families – especially the Ringos.
All the kids were buzzing after our time on the slopes, and we were in the Adventure Park for hours afterwards. There's so much to play on and it all made for a really fun, exciting day out. All rounded off with hot chocolates in the cafe afterwards – perfect!
31 Things to do in Bournemouth
21 Best Things to do in Christchurch