Some posts on this site contain affiliate links. If you book or buy something through these links, I earn a small commission (at no extra cost to you). Take a look at my privacy policy for more information.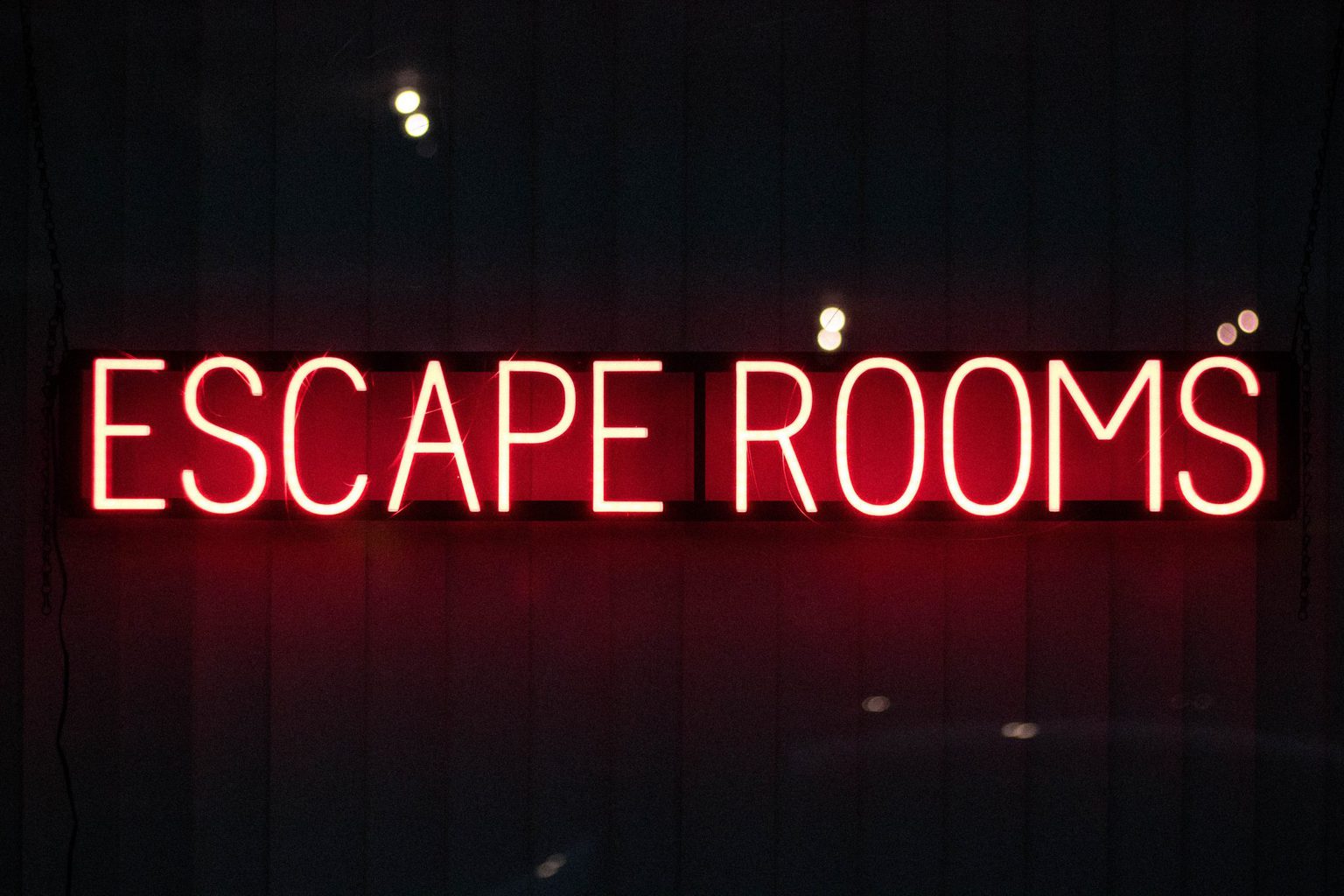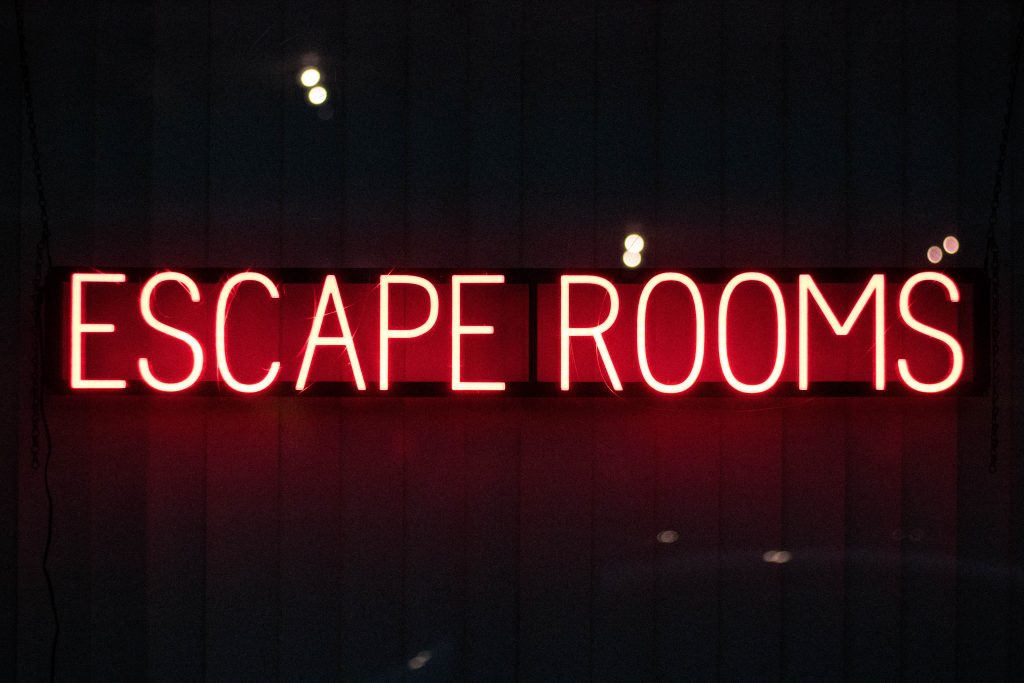 Ready for a challenge? These amazing Bournemouth Escape Rooms are the perfect way to test your puzzle-solving and clue-finding capabilities.
Gather a team and you'll be locked in a room with a mystery to solve in order to escape! Hunt for clues, solve puzzles, and crack crypic codes to beat the room and get out within the time limit.
Each room has a different theme, so there's one to suit everyone – from jungles and Egyptian tombs to an actual prison cell! Or if you're feeling brave, you can escape psycho surgeons and face haunted ouija boards in the horror-themed rooms. Whichever escape room you choose, these are some of the most fun, unique things to do in Bournemouth. Enjoy!
Map of Bournemouth Escape Rooms
8 Bournemouth Escape Rooms
Marvo Mysteries
What if Fairy Stories were more real than you ever imagined? If the power to destroy the world was hidden in a small trinket and that trinket had been lost to history, only remembered in an old bed time story. Would you try to recover it for the good of all?

Marvo Mysteries
Marvo Mysteries is one of the most popular escape rooms in Bournemouth. In fact, it's rated the number one fun thing to do in Bournemouth on TripAdvisor, and has a lot of glowing reviews. So you know you're in for a good experience! In the M.A.R.V.O Induction room, teams must work together to search for clues, recover the artefact, and escape before the time runs out!
U-Escape
The lady who runs the business is excellent- very professional and enthusiastic. My husband and I had a great time!

Jessica Wittman, Bournemouth Local
This next escape room in Bournemouth comes very highly recommended by my sister, who's been twice now! U-Escape has two very different rooms to choose from – and there's another new game coming soon! The Barber Shop Mystery takes you back to 1930's New York, where a backstreet barbershop is under police surveillance. Then there's the Psycho Surgeon Escape, a horror-based room set in a creepy dungeon operating theatre.
Both rooms promise "a fully immersive, uniquely themed adventure, packed with twists, turns and surprises". Solve mental puzzles and physical challenges to unravel the mystery and escape… or not, as the case may be!
Ouija Escape Room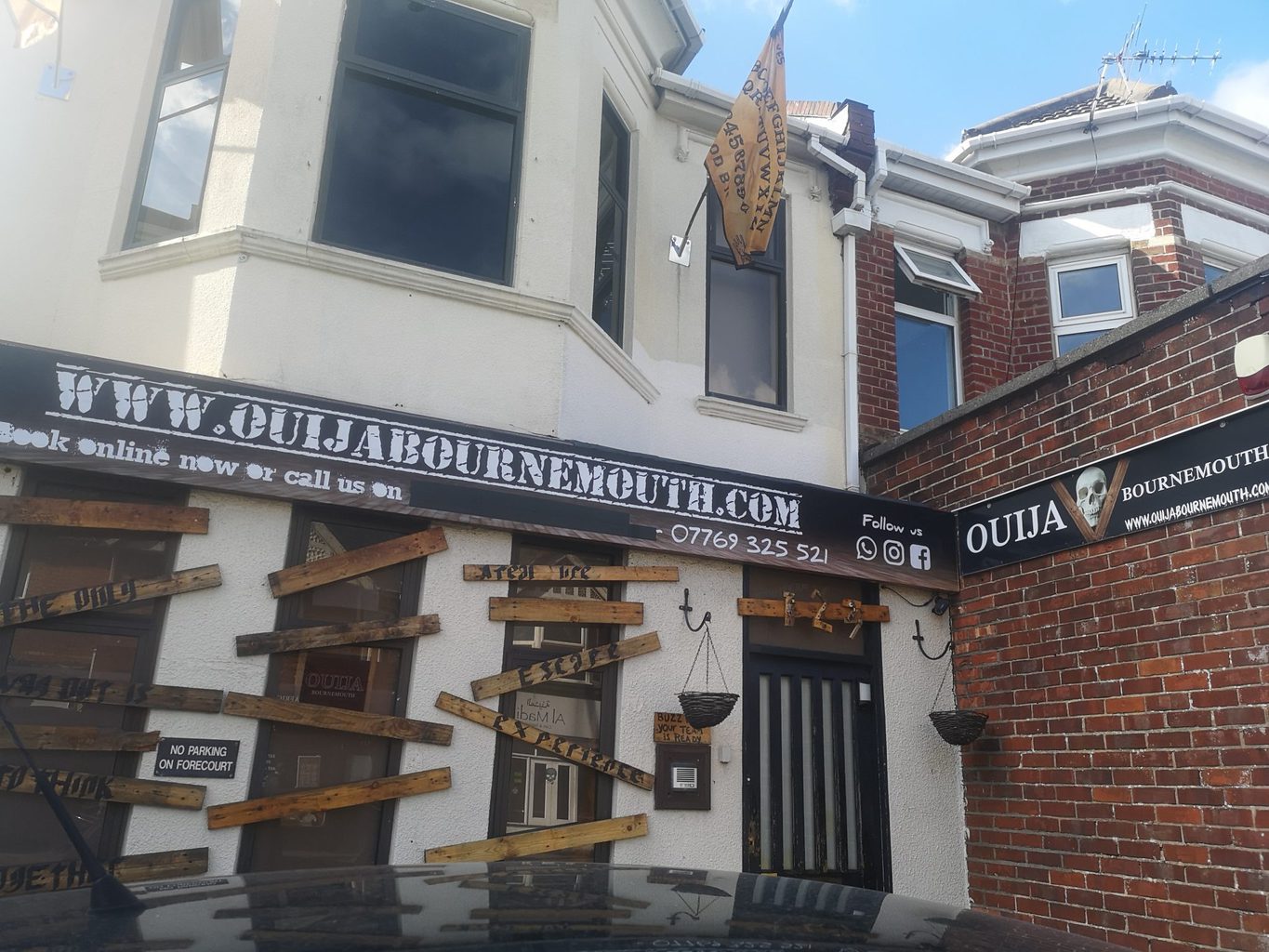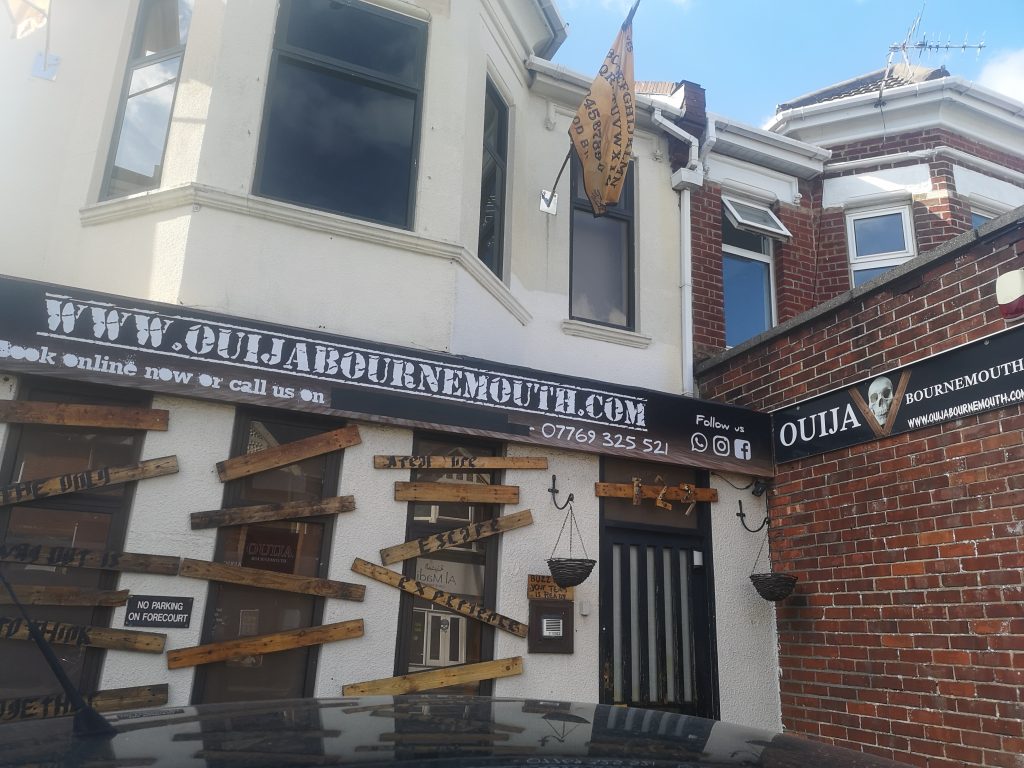 Feeling brave? Ouija Escape Room is an immersive, horror-themed escape room, so it's not for the faint of heart! It's based around – you guessed it – a Ouija board – with lot's of jump-scares and some seriously spooky theming on top of the usual puzzles.
They also have a brand new escape experience called Crematorium which opened this year. It's the same concept and just a couple of doors down. So if you want to go all out with the scares, why not book both?
The Lockey Escape Room Bournemouth
Four very different escape rooms await you at The Lockey in Bournemouth. Become spies in the film-noir style Spy Case 47. Head to an exotic jungle in search of the precious white bat "Shikaka" in the Ace Ventura Pet Detective Room. Go behind the scenes at the circus in The Clown Investigation to find a missing child. Or, if you're in the mood for something scary, there's the Hannibal Room, which starts in a dark, locked cage!
The Lockey have also teamed up with Centre VR to offer 14 world-class escape rooms and adventure titles in virtual reality. Put yourself in a movie where all your actions affect the story!
Clue HQ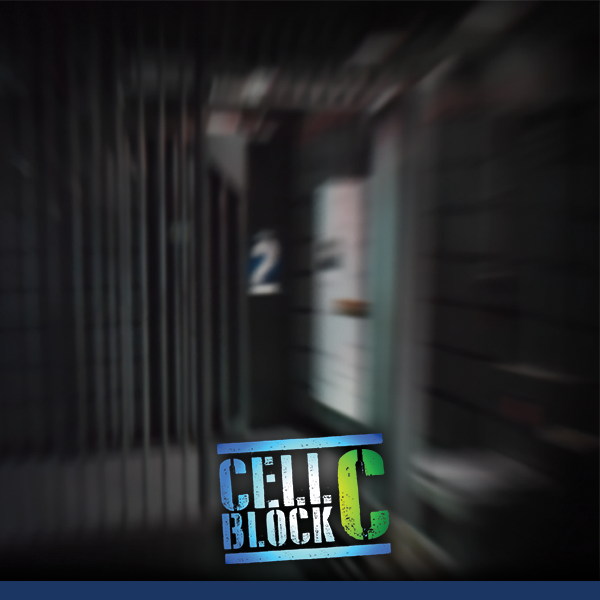 Clue HQ are another of the most popular escape rooms in Bournemouth. They offer three different rooms to choose from. Escape from Bunker 38 – an underground bunker you've been living in for years due to a radiation leak. Break out of prison in Cell Block C. Or explore a long lost Egyptian tomb in search of a mysterious crystal in The Betrayal of Cluetankhamun!
Escape Rooms Quest!
In Escape Rooms Quest! you've been wrongly accused as the infamous Zodiac Killer, and have just 60 minutes to prove your innocence. The pressure is on! Overcome your fears, crack all the puzzles, and solve the mystery in order to escape. On top of the usual puzzles, you'll also have low lighting and a few jump-scares to contend with – so be prepared!
Cyantist
Find out how much you remember from school at Cyantist – a fun, science-themed escape room with two different rooms to choose from. In Science Lab, you have 60 minutes to find the antidote to a leaking sodium cyanide barrel in an abandoned laboratory! The Clockward Orange room, on the other hand, has more logical and mechanical puzzles – including working with water and air pressure.
UPDATE – Cyantist have said they are relocating the business, but there have been no updates for quite some time so it's not clear if they are ever reopening.
The Big Escape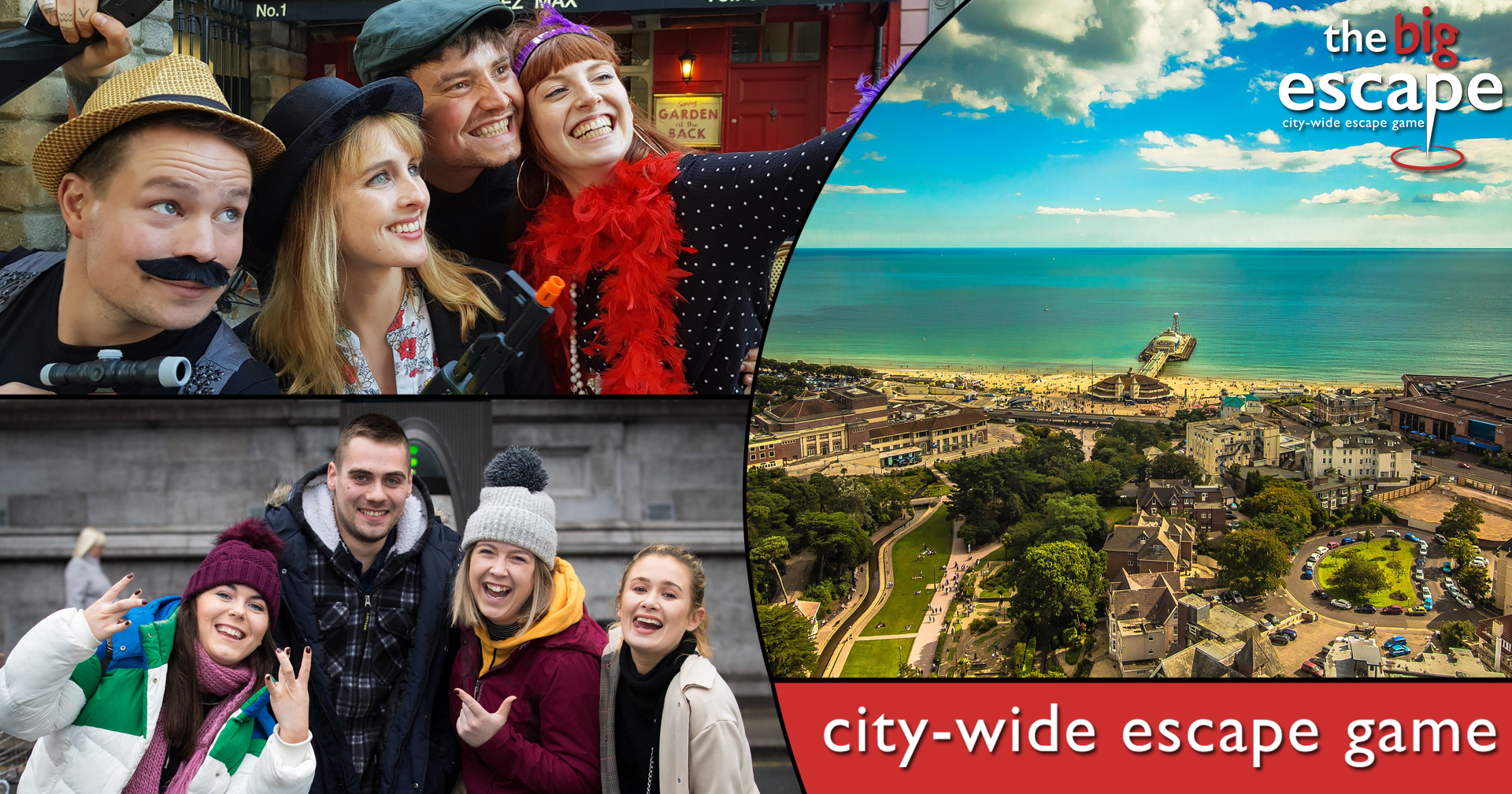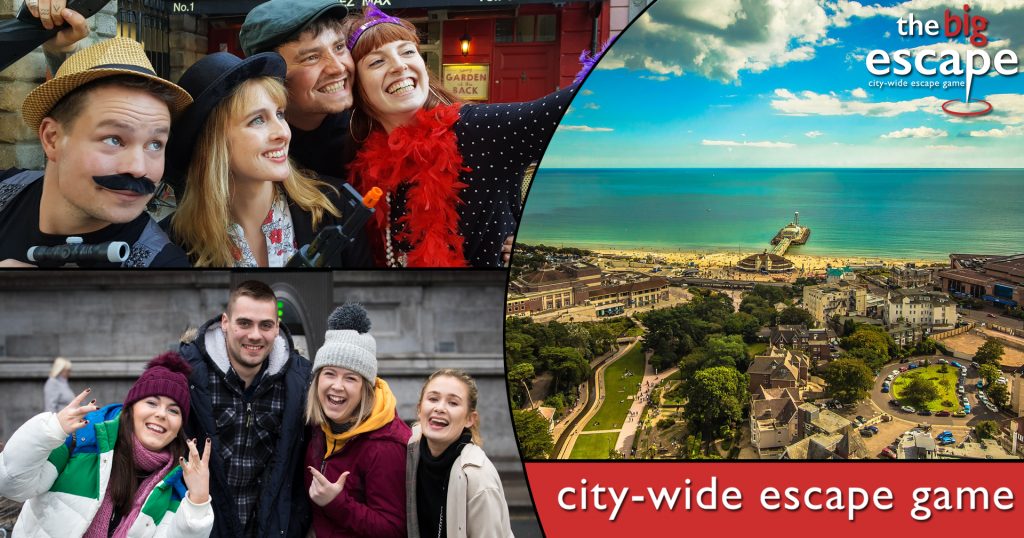 Now for something a little more "escape" and a little less "room". The Big Escape is a city-wide escape room played using your smartphone. Join Dan Rooney and his team of criminal masterminds to help them pull off the heist of the Century.
Can you and your friends crack the codes, solve the puzzles and blow open the casino safe without getting caught? You'll use the GPS map on your smartphone to meet various (pre-filmed) characters as you make your way around the town centre. So it's also a brilliant way to explore Bournemouth!
The Big Escape is an outdoor, city-wide experience played using smartphones, so it can be played anytime.
Pin this Post!