Some posts on this site contain affiliate links. If you book or buy something through these links, I earn a small commission (at no extra cost to you). Take a look at my privacy policy for more information.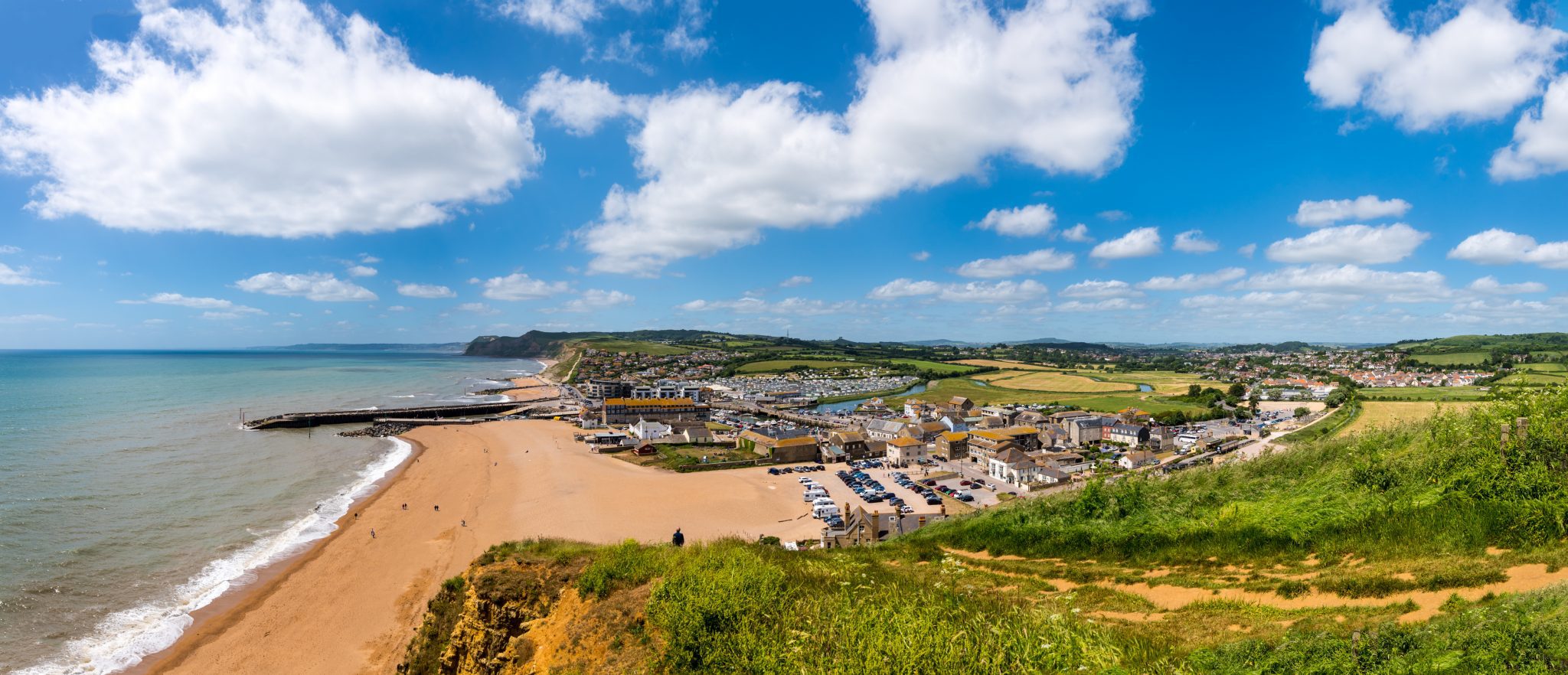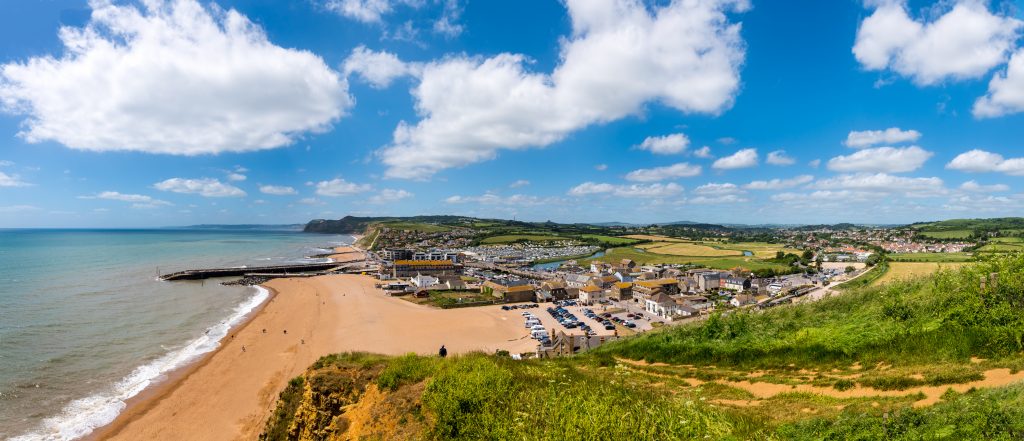 A historic market town just inland from the stunning Dorset coastline, Bridport is the perfect base for exploring the surrounding coast and countryside.
The neighbouring village of West Bay is ideal for a seaside day out, while the main town is filled with intriguing boutique shops, several thriving markets, and plenty of culture.
This post showcases a few of the best things to do in Bridport, as well as in West Bay and the surrounding area. And it's all written by a born-and-bred Dorset local, so you know you can trust it! Enjoy…
Map: Things to do in Bridport
7 Fun Things to do in Bridport
1. Bridport Market
Bridport is a bustling Market Town, and has been one since 1253. In fact, the "port" in the town's name actually refers to the market – a trading port rather than a seaport.
Today, the town's market is a twice-weekly event held on Wednesdays and Saturdays. Taking over the town's three main streets, the market has over a hundred stalls selling pretty much everything you can think of. On Saturdays, there are also many bric-a-brac and antiques stalls found along lower South Street.
2. West Bay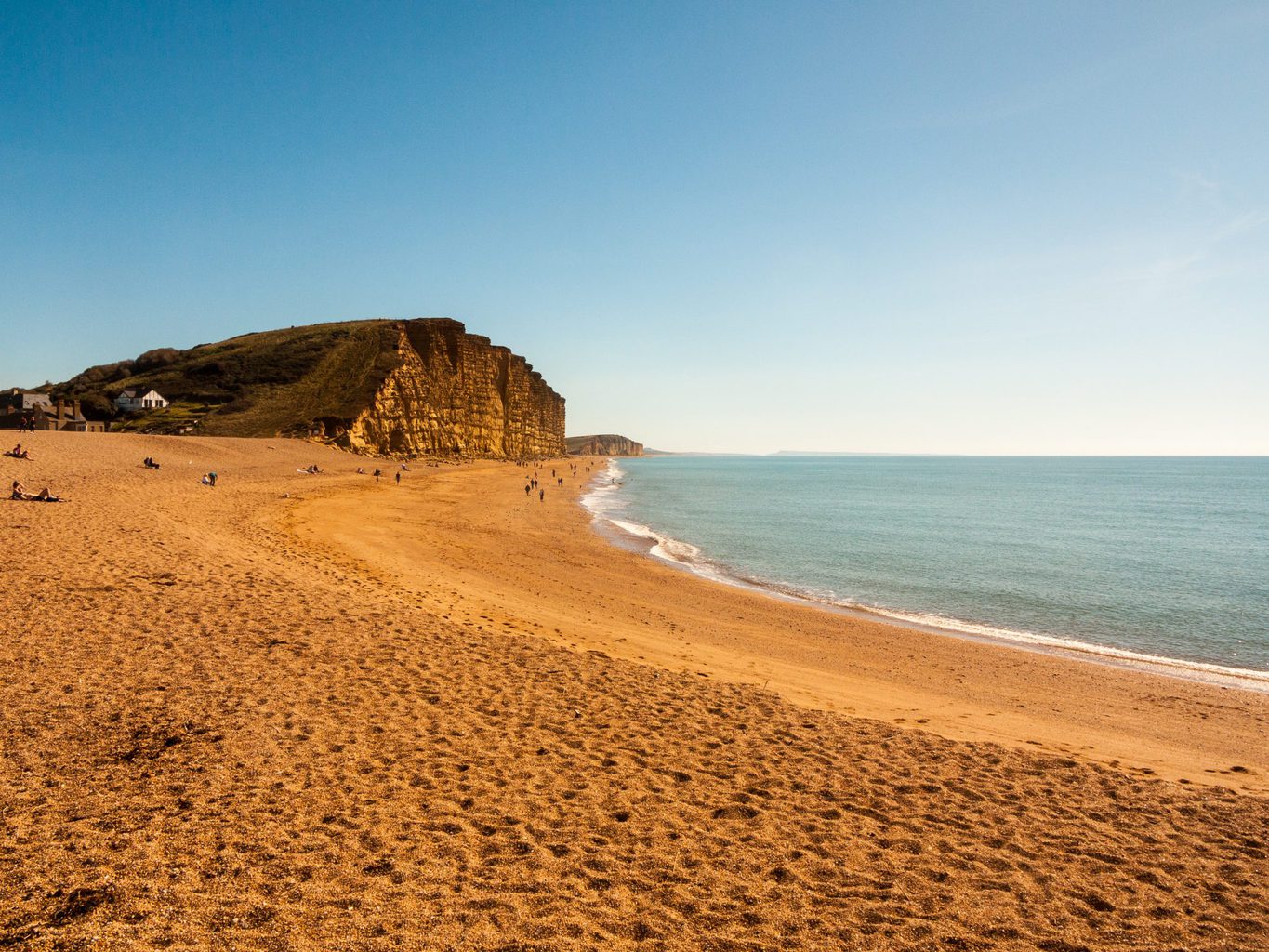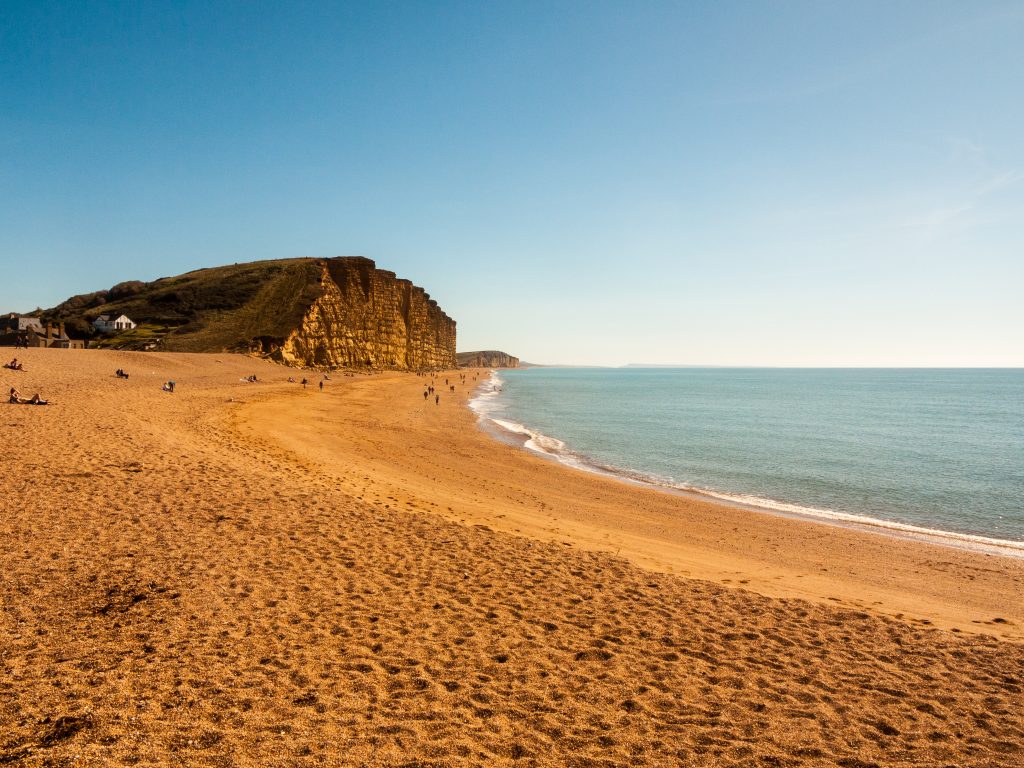 Although technically a separate village, West Bay feels almost a part of Bridport. In fact, it's sometimes known as Bridport Harbour. This small seaside village is centred around a busy harbour, with a sheltered sand-and-shingle beach on the famous Jurassic Coast.
The beach is overlooked by the dramatic, golden form of the towering East Cliff. Looks familiar? The cliffs, town, and surrounding area were used as the filming location for the British drama series Broadchurch. If you want to make a day of it, you can walk from Bridport down to West Bay, following the river which ultimately flows out through the harbour.
While you're at the seaside, don't miss a trip to the West Bay Discovery Centre. Housed in the former Methodist Chapel, this fab award-winning museum is packed with information about the local area – its history, geography, and stories!
3. Palmers Brewery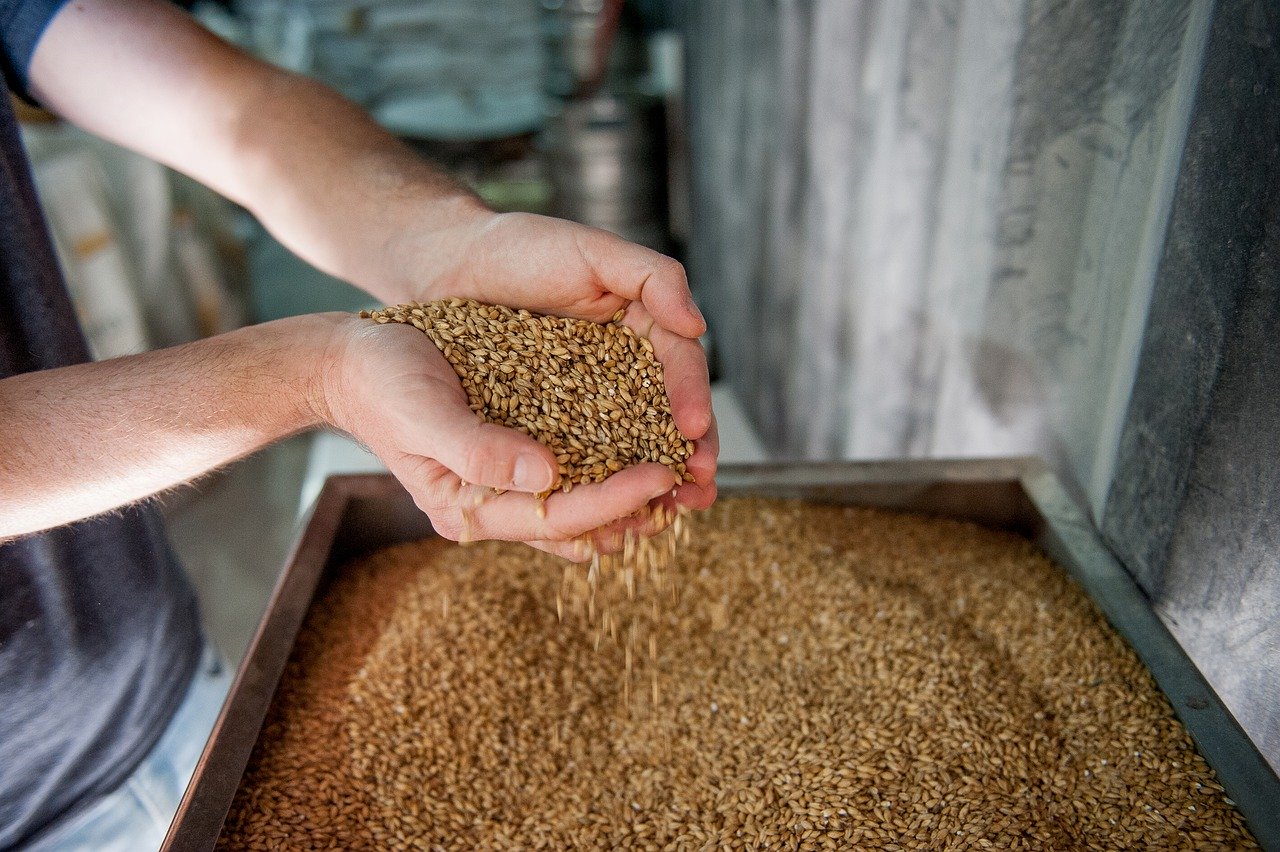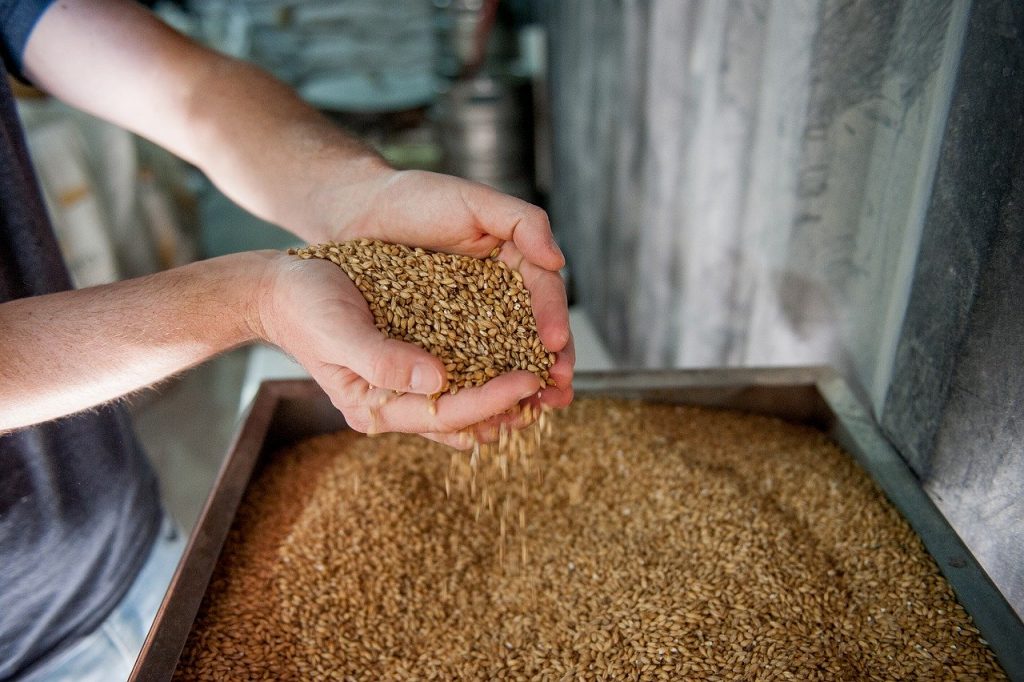 Palmers Brewery has been brewing fine cask ales in Bridport, Dorset since 1794. Today, they have 53 pubs across the South West.
Their ales are still brewed in the original thatched brewery, one of the oldest in the UK, so a tour of the brewery is a fascinating glimpse into the age-old process of English brewing. Tours last two hours and run daily from Easter to October at 11am Monday to Friday.
RELATED POST: 15 Fantastic Dorset Breweries you can Visit
4. Bridport Museum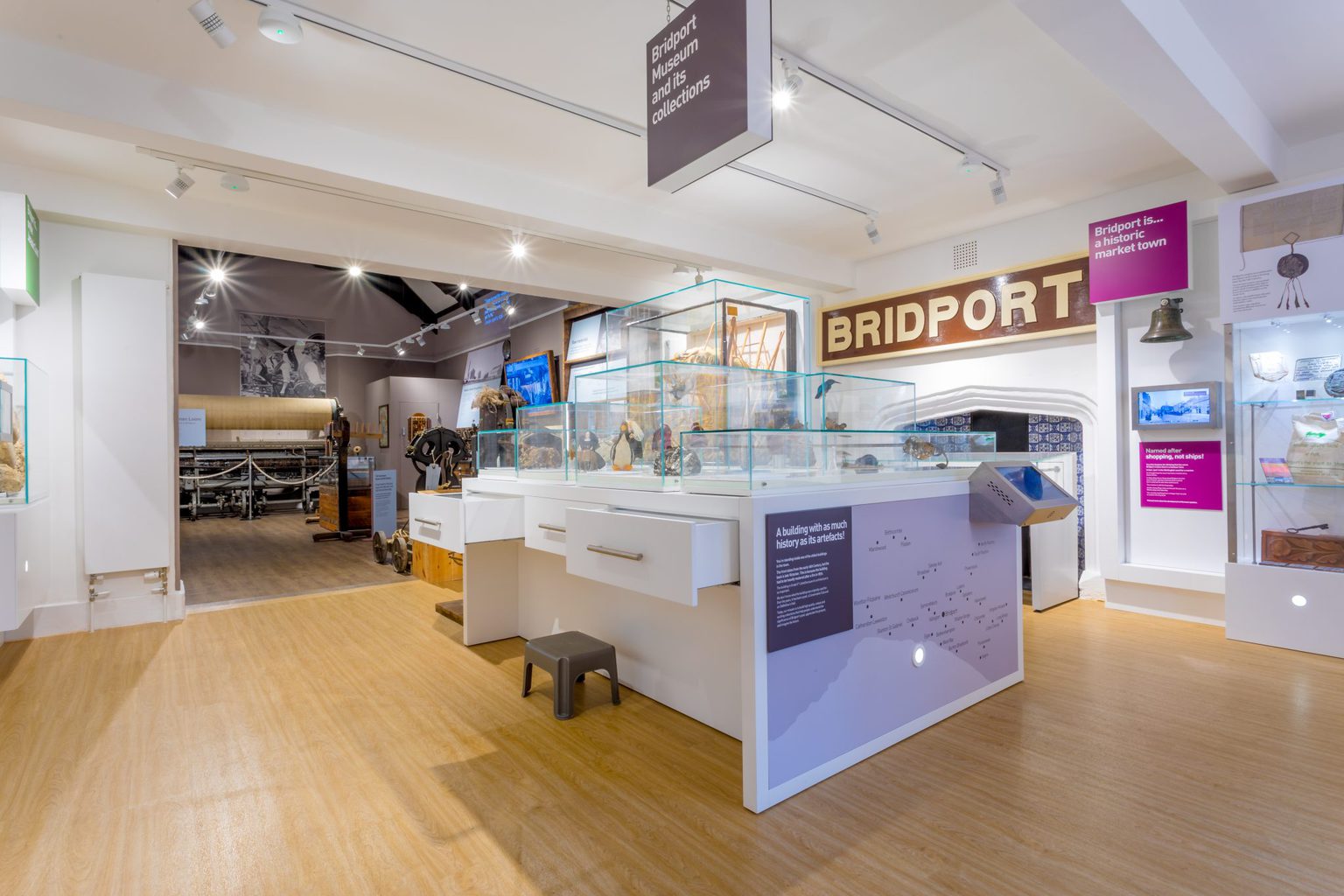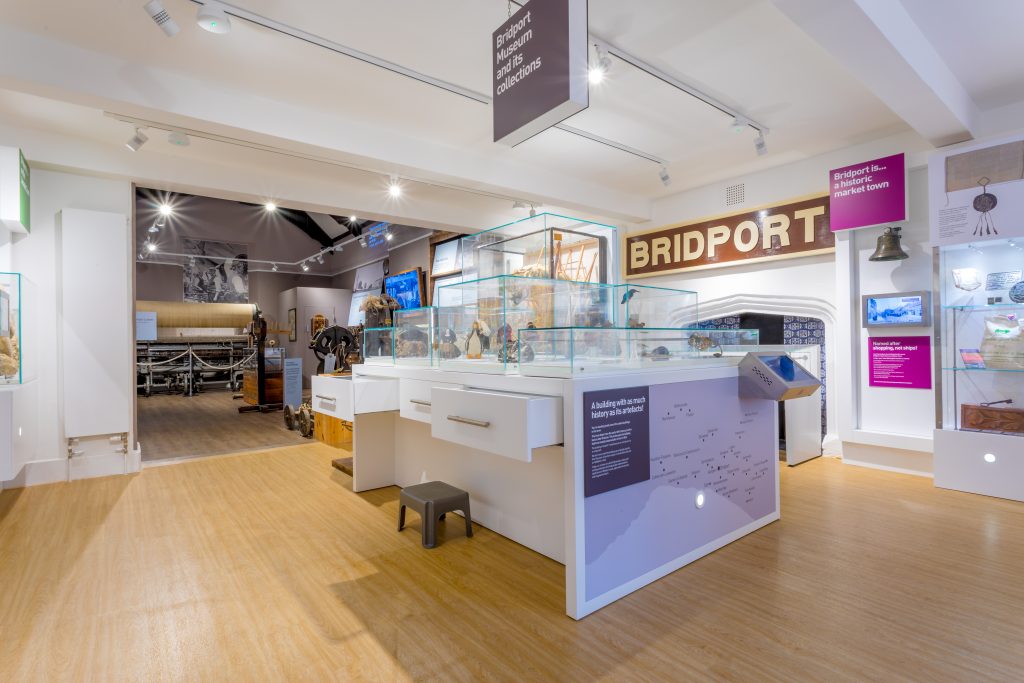 If you want a bit of insight into local history, Bridport Museum is one of the best things to do in town. It's housed in one of Bridport's oldest buildings and has had a major redevelopment in recent years.
Discover the area's history, from prehistoric fossils to Roman jewellery to Bridport's dark history of disease, decay and death. Bridport was historically a net and rope-making town, so the museum also has a large collection relating to this industry, including working machinery.
5. Bridport Arts Centre
Founded in 1973, the Bridport Arts Centre is housed in a beautiful Grade II listed stone building which was once a Methodist chapel. Today, it's a thriving multi-arts complex with a theatre, gallery, and cinema. Year-round, the centre offers a vibrant programme of visual arts, theatre, dance, comedy, music, spoken word and films and screenings.
6. Browse the Independent Galleries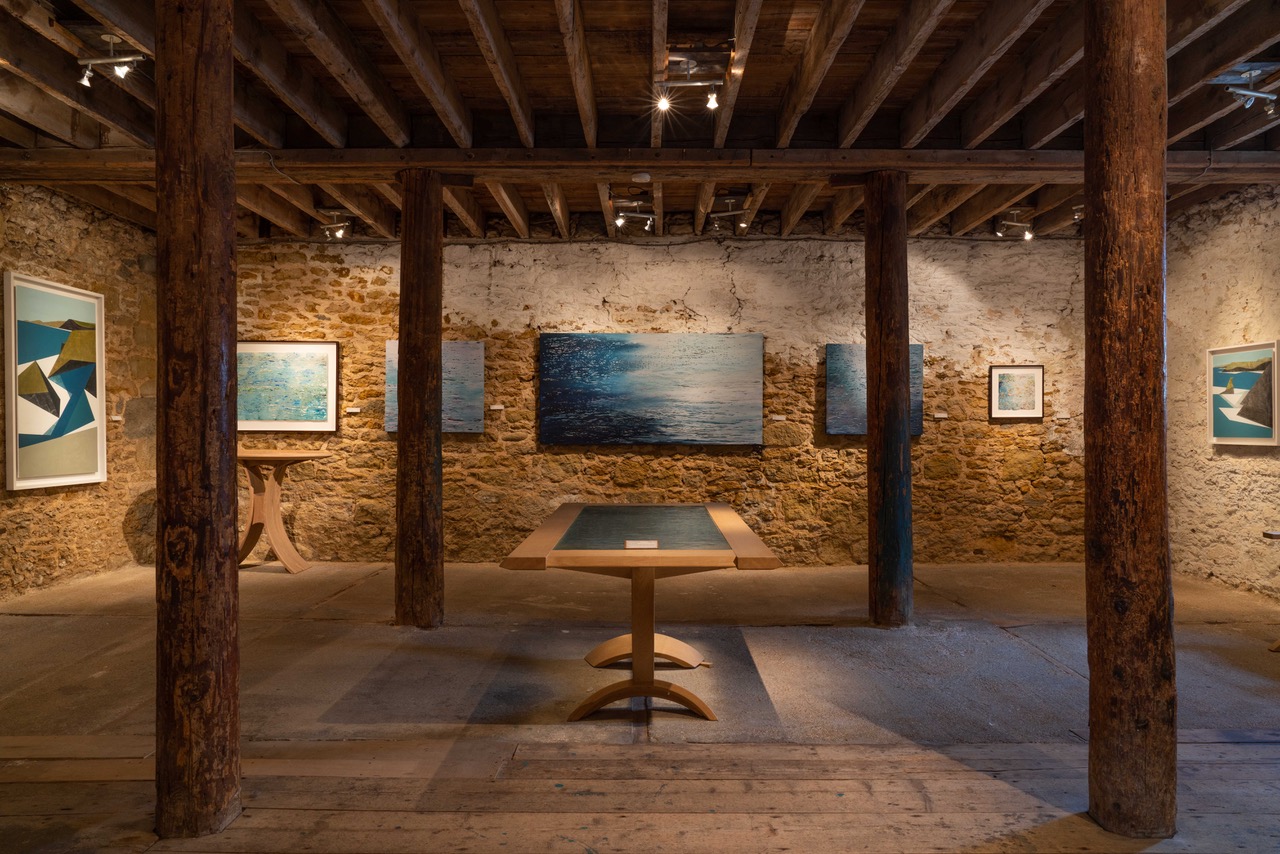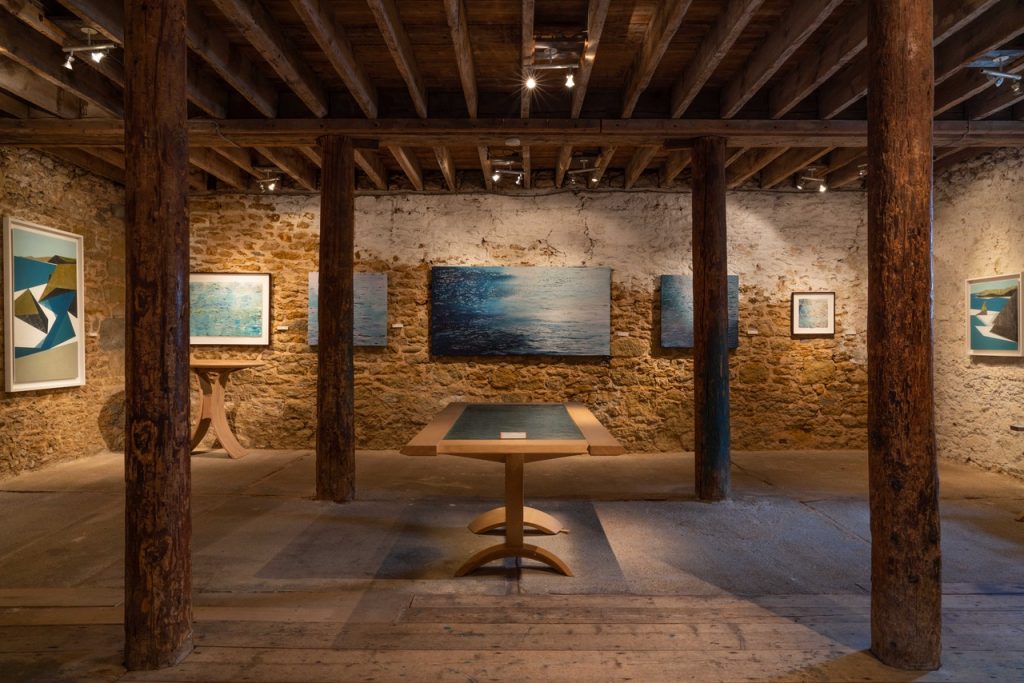 Speaking of arts in Bridport, there are also several independent galleries showcasing local and national artits. Here are a few must-visits:
Sladers Yard – West Bay Road, West Bay, DT6 4EL. Handmade furniture designed by Petter Southall as well as a wide variety of contemporary British art. Both the gallery and Café Sladers are now reopened.
ArtWave West – Morcombelake, DT6 6DY
Bridport Contemporary – 11 Downes Street, DT6 3JR
7. Colmers Hill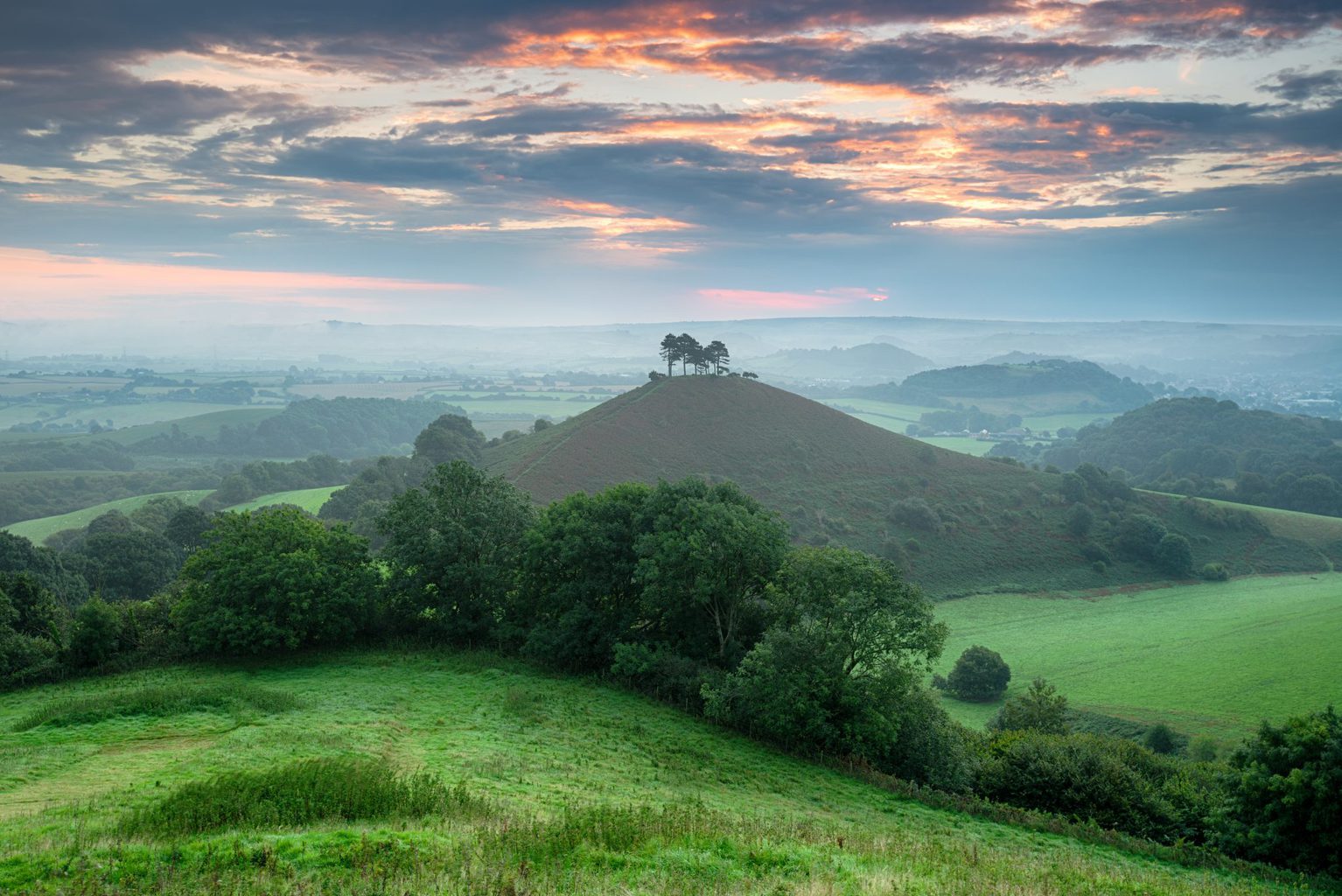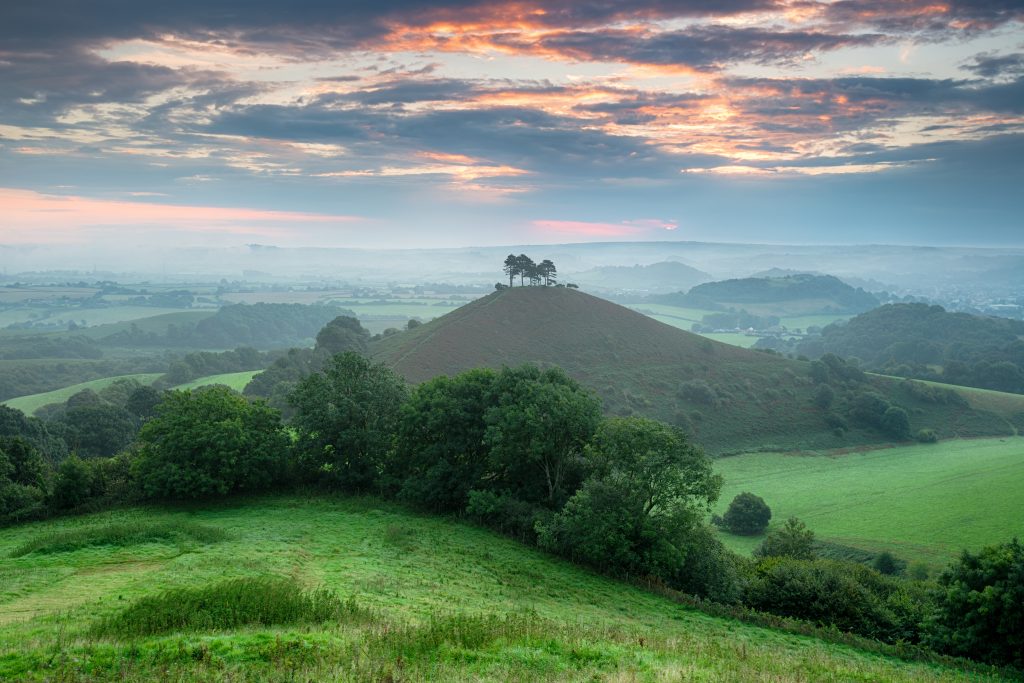 Colmer's Hill is an iconic part of the West Dorset landscape. A conical 417-foot high hill, topped with a cluster of trees, Colmer's is a beautiful spot for a hike and one of the best things to do near Bridport.
From the top, you'll get one of the best views in Dorset, as well as the chance to spot local wildlife. During spring the whole hill is covered with bluebells. The walk to the top is around 45 minutes from the carpark at Symondsbury Estate; when you return be sure to visit Symondsbury Kitchen for a bite to eat!
8. Boutique Shops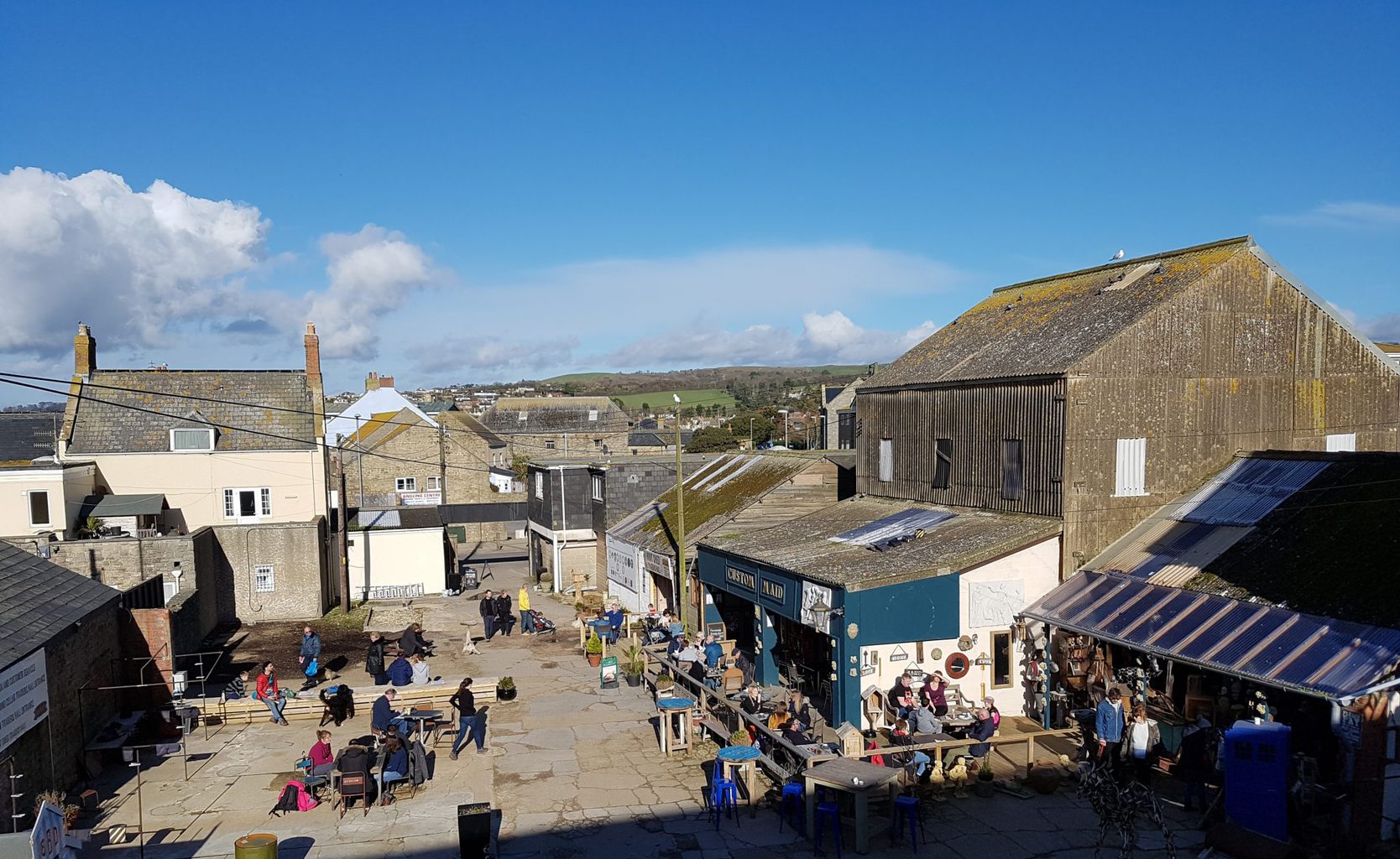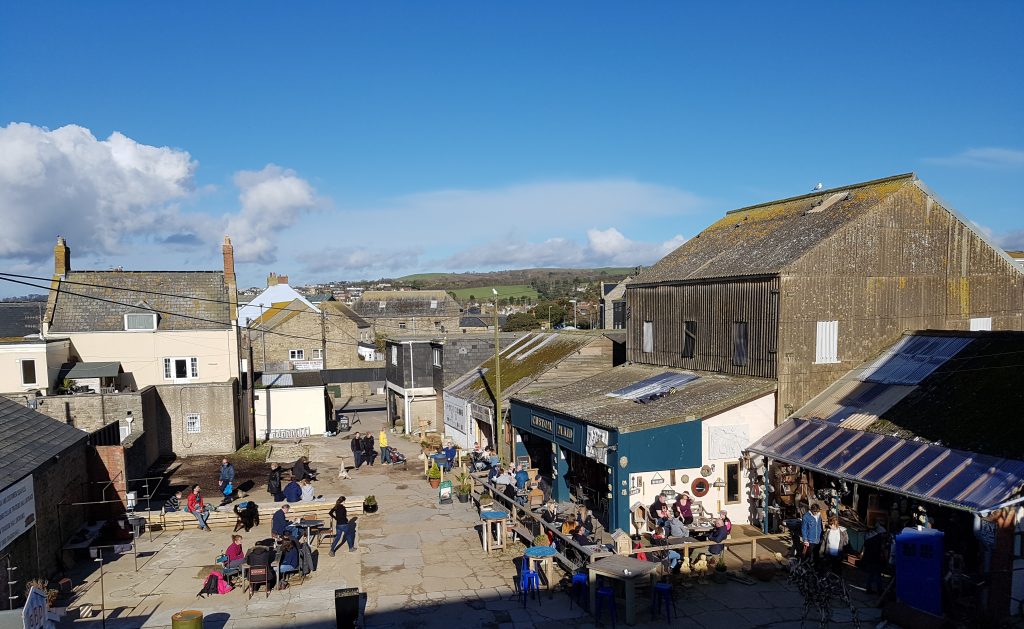 I've already mentioned the popular bric-a-brac stalls on South Street during the Saturday market. Well, if shopping for antiques, curios, or locally made crafts is your thing – Bridport has plenty to offer.
St Michael's Trading Estate is filled with artists' studios and vintage shops. They also hold a Vintage Market on the last Sunday of every month from April to October. Below are a few other fab boutique and independent shops you can explore in Bridport and West Bay…
9. Electric Palace
The Electric Palace in Bridport is an art deco 1920s cinema which also includes a stage for live performances. Today, the venue plays host to a wide range of performances and events. Expect a varied programme of film, theatre, music and comedy – including some well-known names.
10. Bridport Golf Course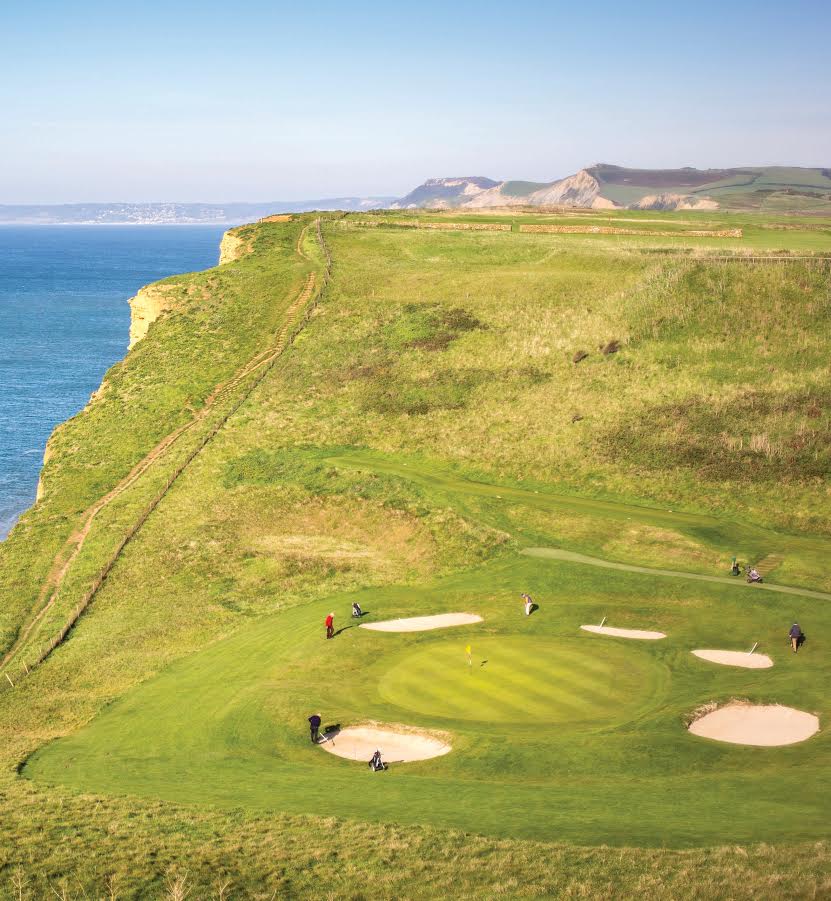 Fancy a round of golf? Bridport and West Dorset Golf Course is found right at the top of East Cliff, so it offers some exceptional views of the Jurassic Coast. Their signature 6th hole, pictured above, is particularly memorable! The Club also features an excellent restaurant, as well as a lounge and bar.
11. Shop for Local Food and Drink
Bridport's long history as a Market Town means the town is at the heart of Dorset's produce trade. There's a regular Farmer's Market, as well as several food festivals throughout the year (more on those at the end of this post). So Bridport is the perfect place to discover some of the best local food and drink. Here are a few spots you shouldn't miss:
Bridport Farmer's Market is held on the second Saturday of the month, 9am-1pm.
Moore's Biscuit Factory – producers of the infamous Dorset Knob Biscuits, as well as a wide range of biscuits and baked goods. You'll spot their treats all over the county, but visit the Craft Bakery for the best experience!
RJ Balson and Sons Butchers – dating from 1515, this is the oldest family-run business in Britain so it's worth a visit for the history alone. But with its focus on free-range and locally-sourced produce, it's also a great place to pick up supplies for your summer bbq!
12. Jurassic Fun Centre at Freshwater Beach Holiday Park
One of my family's favourite things to do close to Bridport is to visit the Jurassic Fun Centre at Freshwater Beach Holiday Park. Although it's a holiday park, the centre is open to day-visitors as well.
The complex boasts three swimming pools, including one with water slides, water cannons and other apparatus. Grown-ups can unwind in the hot tub, sauna or steam room.
Upstairs, there's also a family-friendly restaurant and six full-sized American 10-pin bowling lanes to enjoy. Prices are very reasonable, so this is the perfect day out if you're trying to keep the kids entertained!
7 Things to Do Near Bridport
13. Hive Beach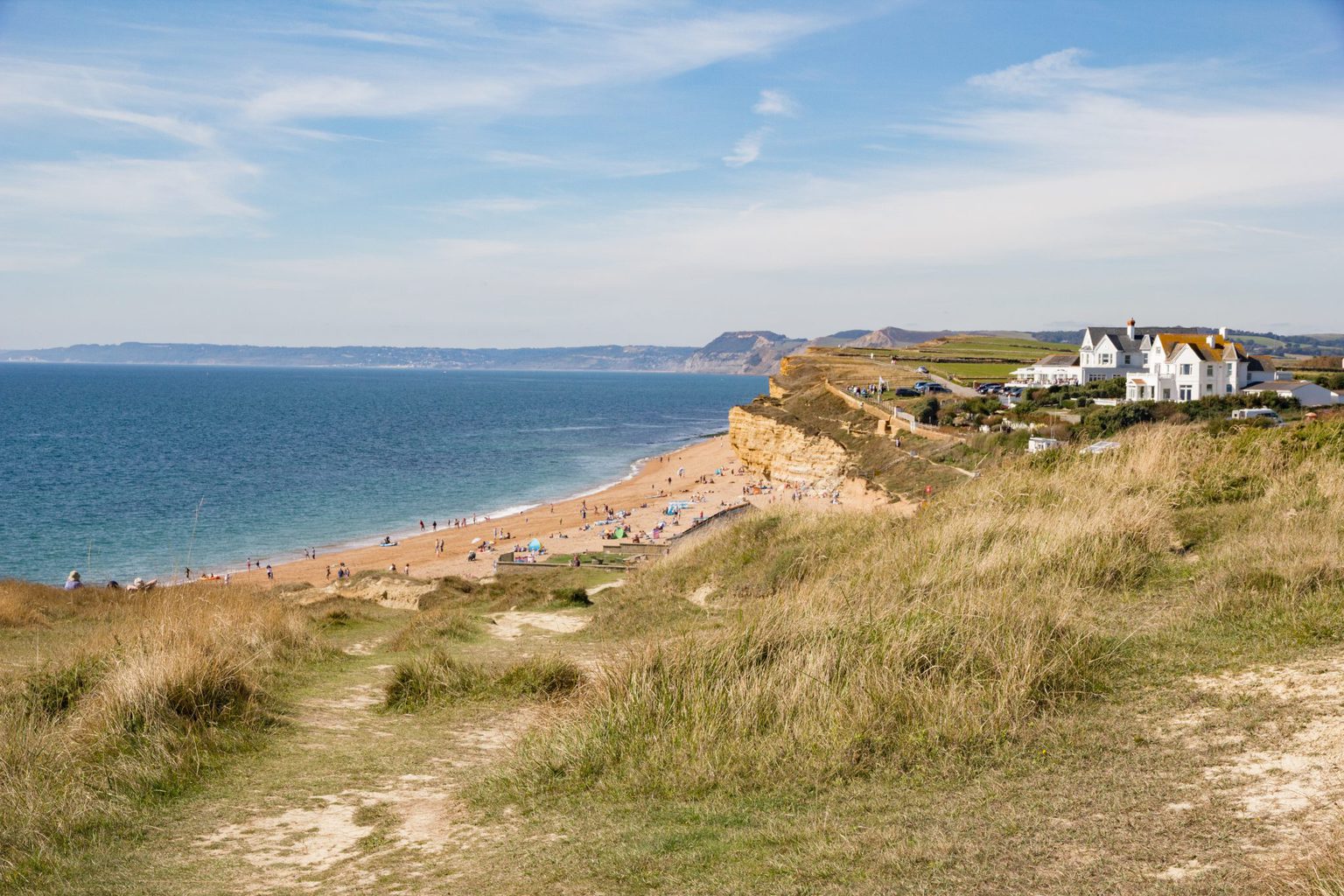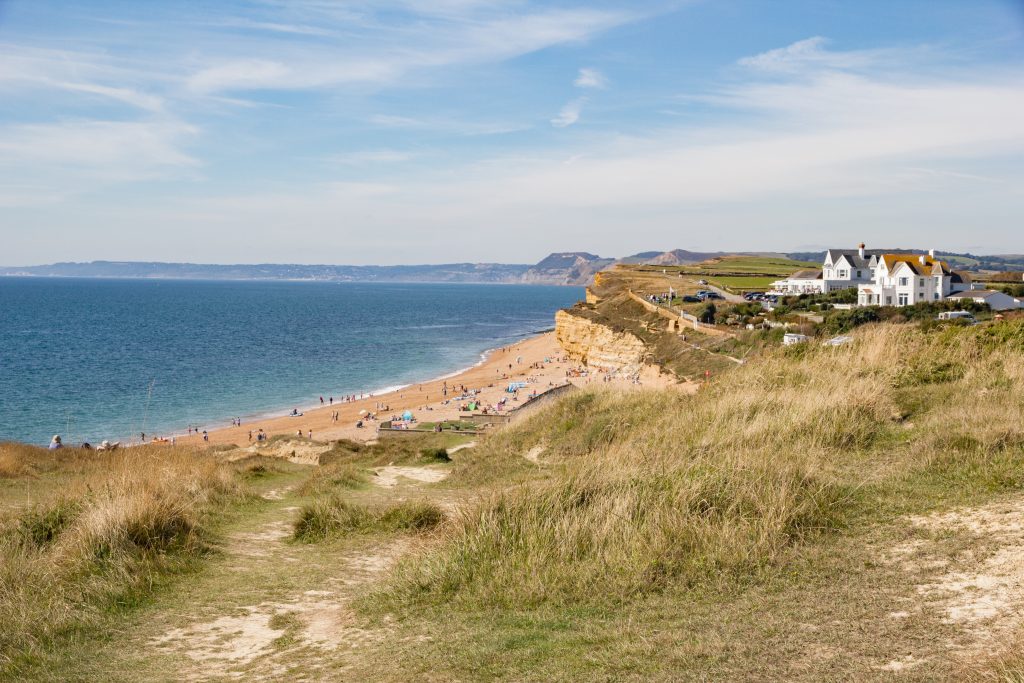 Just on the other side of the cliffs at West Bay, you'll find Hive Beach. A small pebble beach tucked between dramatic golden cliffs, Hive offers breathtaking views along the coast as far as Portland. It's also home to the popular Hive Beach Cafe – one of the best restaurants in the area.
The walk from West Bay to Hive across the cliffs takes just under an hour, so you can spend the morning walking there, have an amazing lunch at the Beach Cafe, and walk back!
14. Furleigh Wine Estate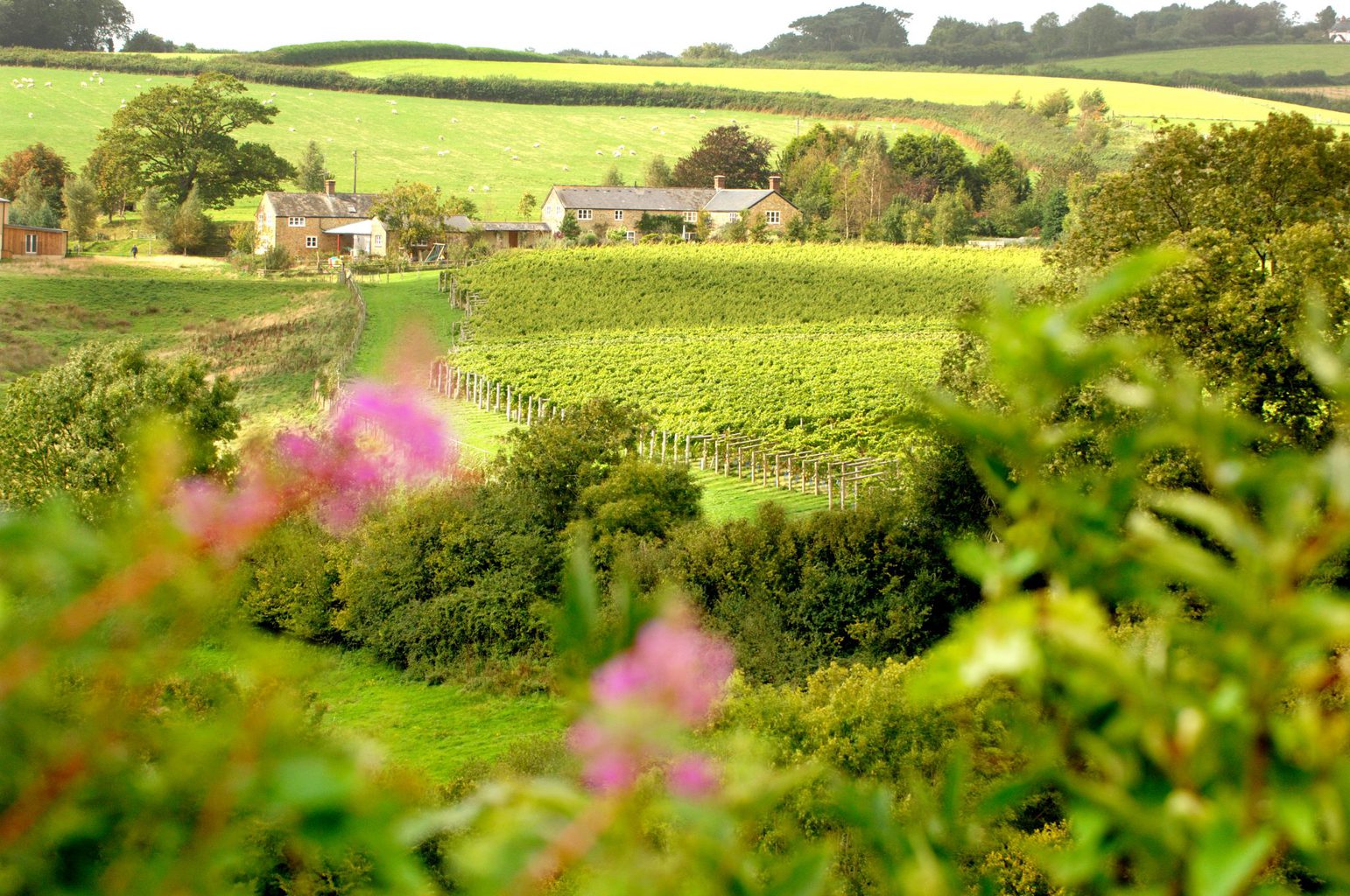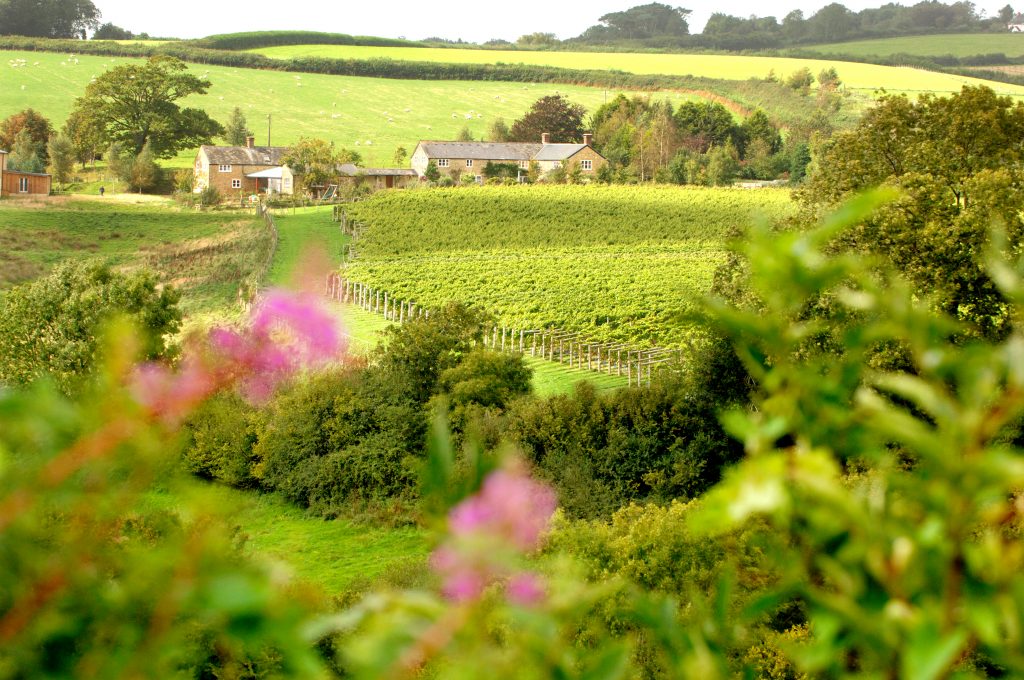 If you're looking for a day out near Bridport with a bit of a difference, head to the Furleigh Wine Estate up the road. Set within the stunning Dorset countryside, Furleigh Estate is 85 acres of vineyard, lakes and grazing land.
The winery was built in 2007 and has gone on to produce some incredible, award-winning wines. Visit for a vineyard tour, complete with tasting, to learn more about English wine production in a spectacular setting.
READ MORE: 8 Dorset Wineries to Discover on Your Next Trip
15. Charmouth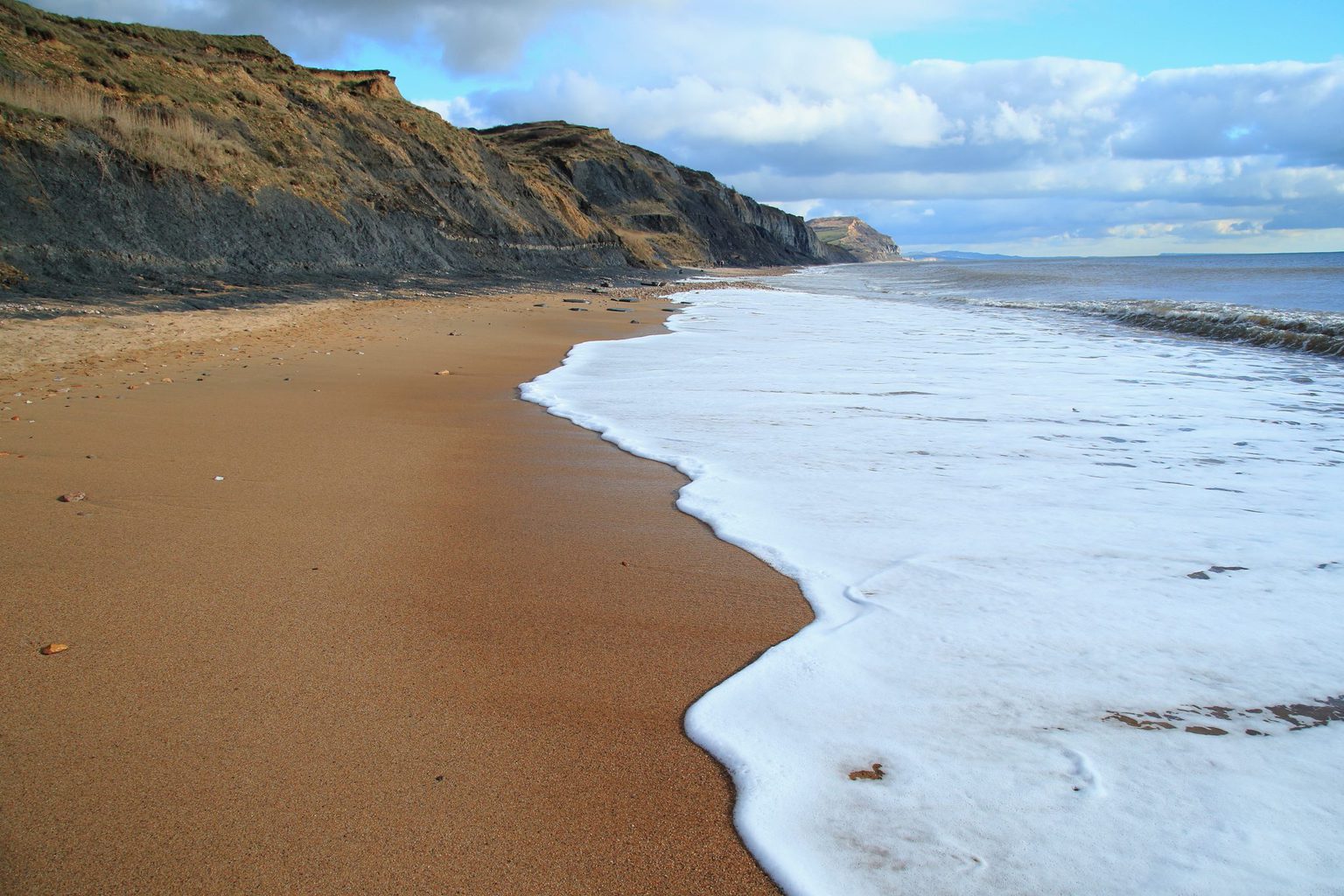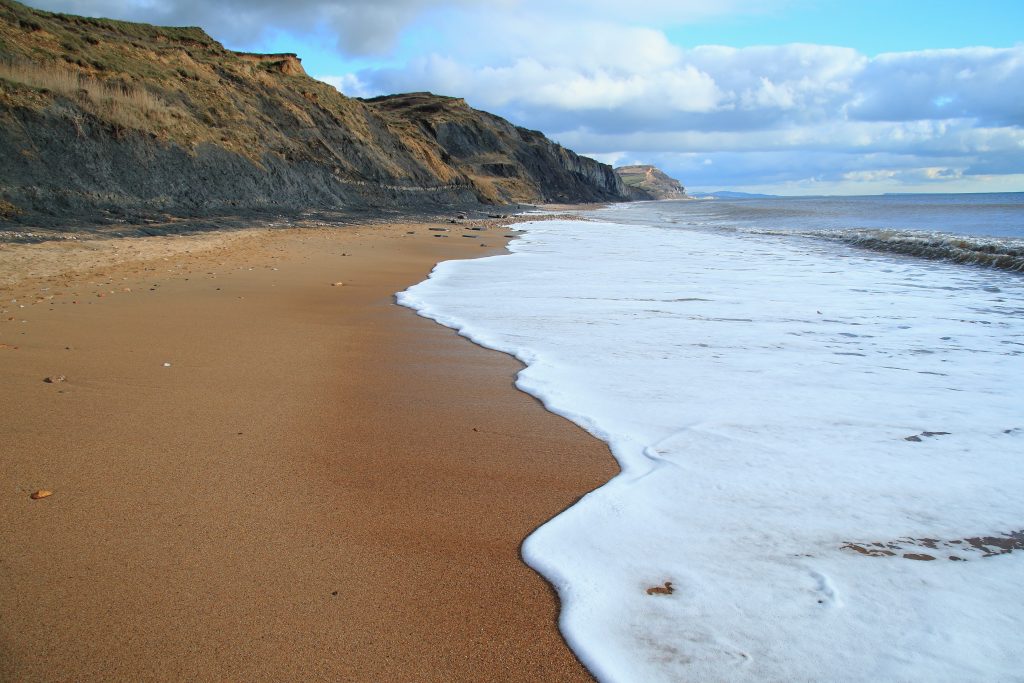 Just up the coast from Bridport, the seaside village of Charmouth is one of the best things to do in the area. The shingle beach is a popular spot in summer, and it's also very rich in fossils. Especially beneath the cliffs between Charmouth and nearby Lyme Regis.
Head to the Charmouth Heritage Coast Centre to learn more about the Jurassic Coast, and view a vast collection of locally-found fossils. Among them, is David Attenborough's "Sea Dragon": the complete, 200-million-year-old skeleton of an ichthyosaur.
16. Mangerton Mill
A working 17th-century watermill set in a peaceful rural valley on the River Manger, Mangerton Mill is less than 10 minute's drive from Bridport. As well as the Museum of Rural Bygones housed inside the mill, you'll also find various craft shops and artists' studios. The onsite tearooms, Maria's Pantry, serves breakfast, lunch, and afternoon tea – as well as a very popular Sunday Roast.
17. Mapperton House and Gardens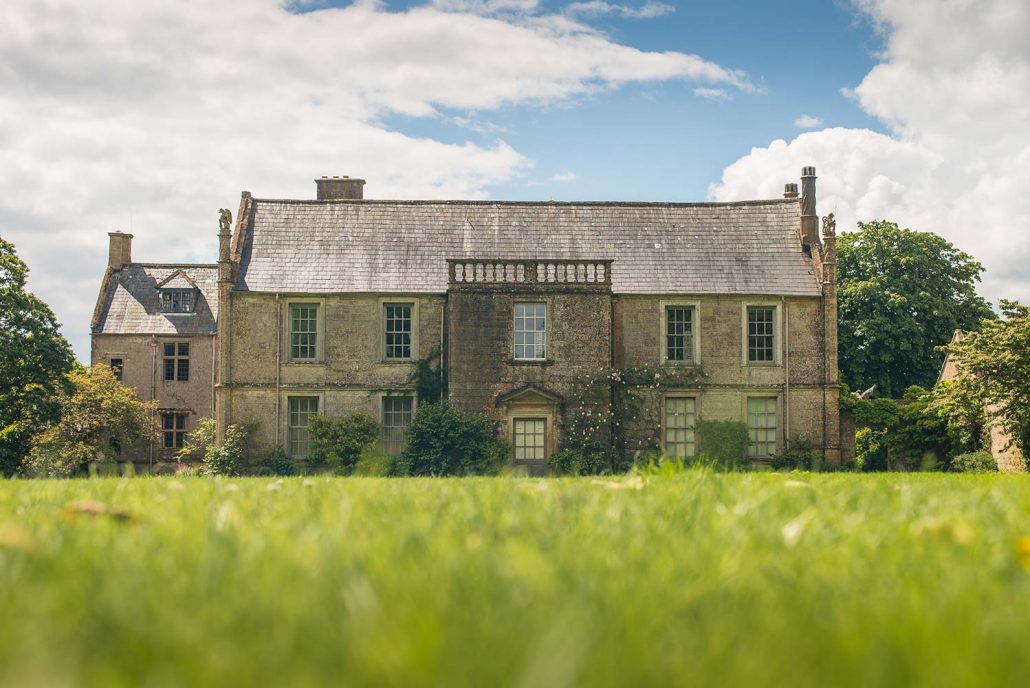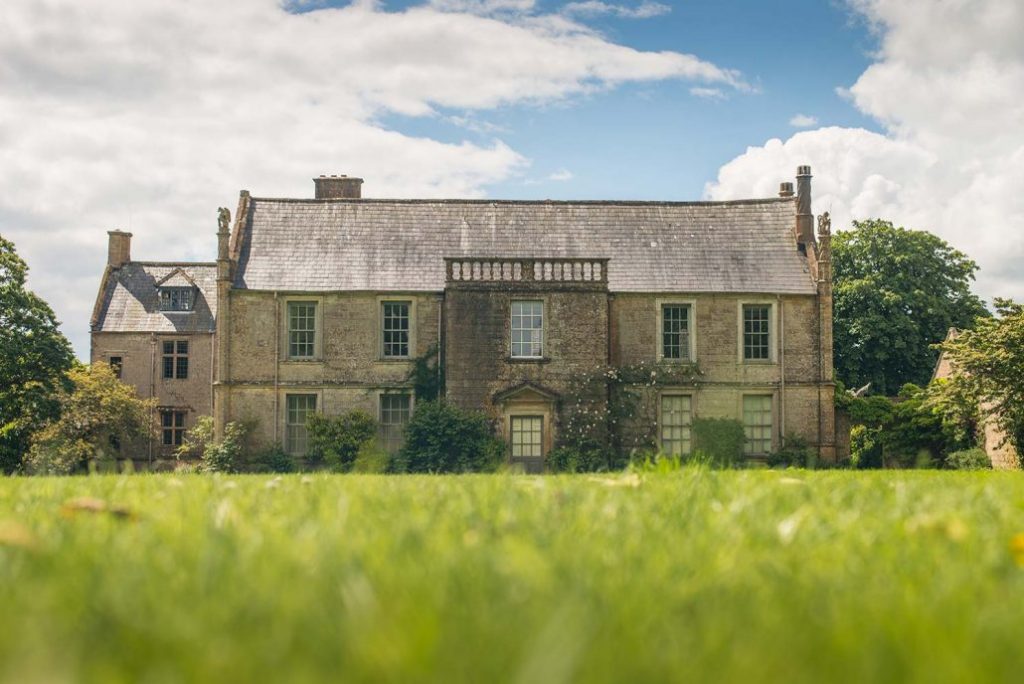 Just 15 minutes from Bridport, Mapperton is a magnificent Jacobean manor house set within fifteen acres of gardens. Once home to the 4th Earl of Sandwich, the man who reputedly "invented" the sandwich by putting roast beef between two slices of bread, the house has a long and fascinating history.
It can be visited by guided tour only, so book in advance to avoid disappointment. The romantic valley gardens surrounding the house are Registered Grade II and are considered one of the most important and distinctive gardens in the country. In fact, they've recently been nominated for the Historic Houses Garden of the Year Award 2020!
Find out more in my guide to Dorset's stately homes!
18. Chesil Beach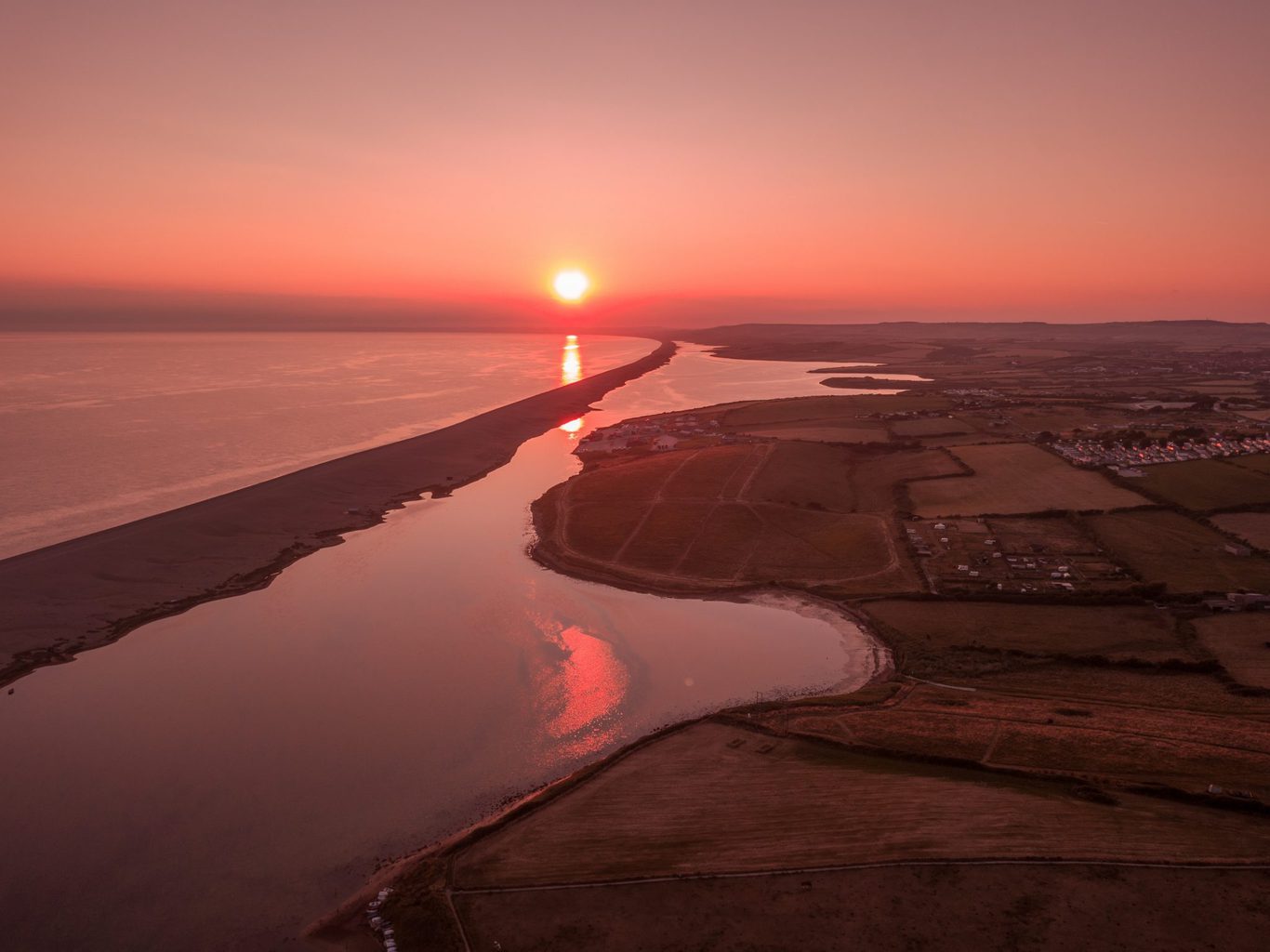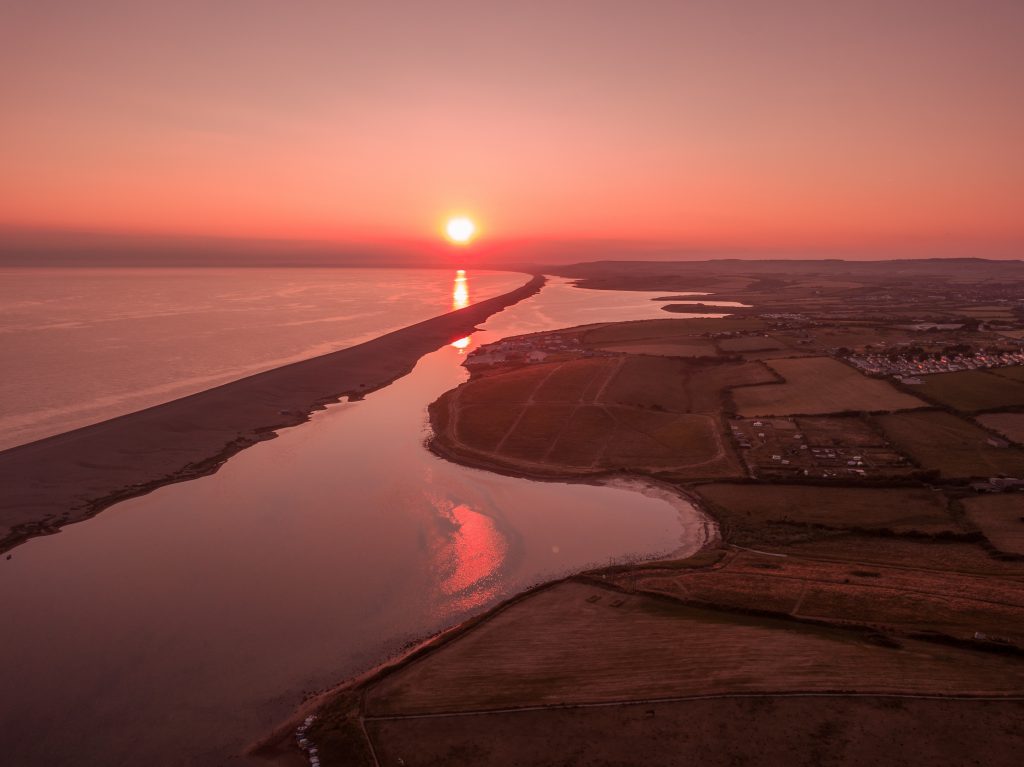 Chesil Beach, one of the most famous parts of Dorset's Jurassic Coast, begins just a stone's throw from Bridport in West Bay. From there, the barrier beach runs 18 miles (29km) to the Isle of Portland. The beach separates from the mainland to form a shallow tidal lagoon called the Fleet, and also provides a barrier to Portland's enormous harbour. Walk the length of the beach, or just a section from West Bay down to the Fleet, for stunning views of the Jurassic Coastline.
19. Golden Cap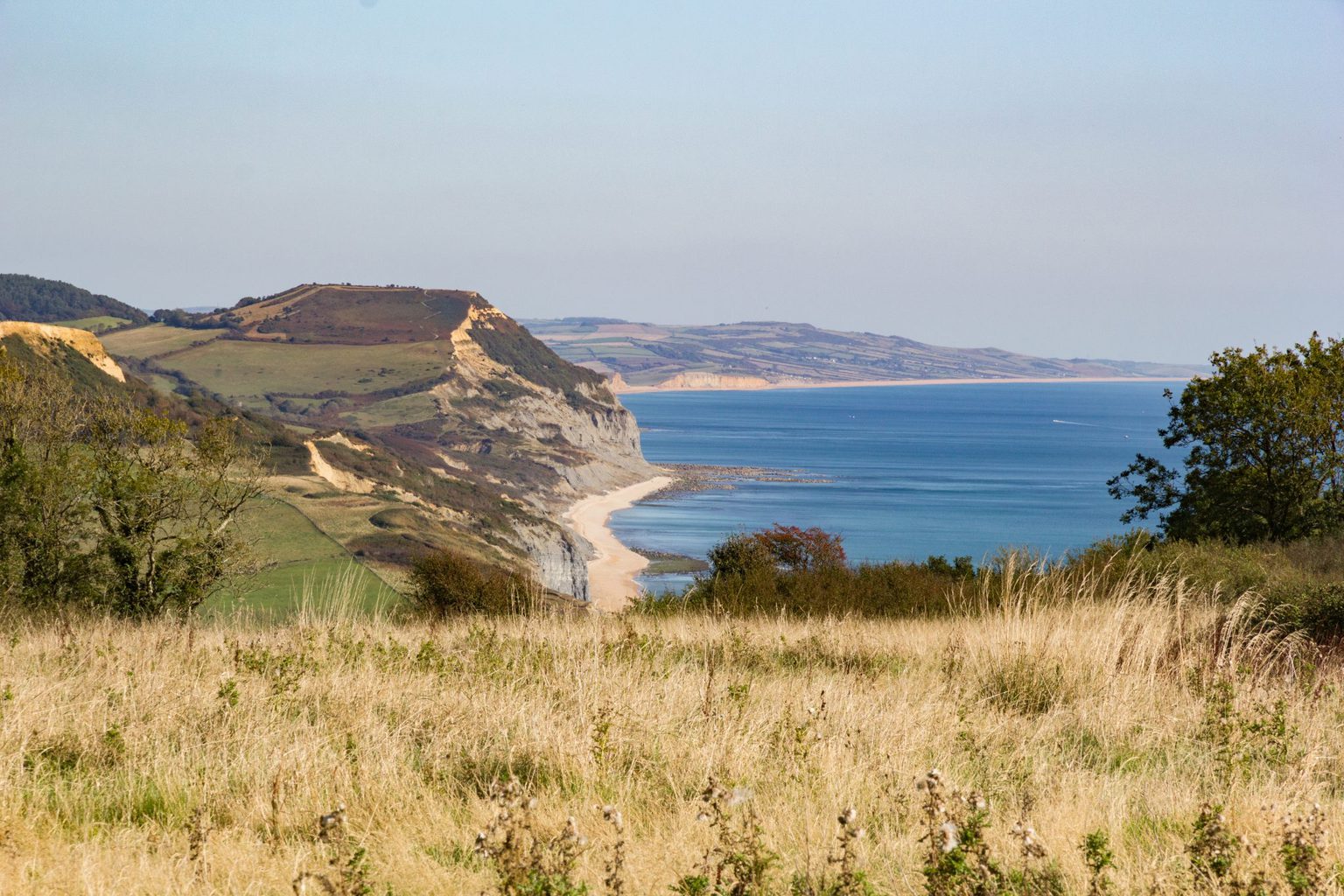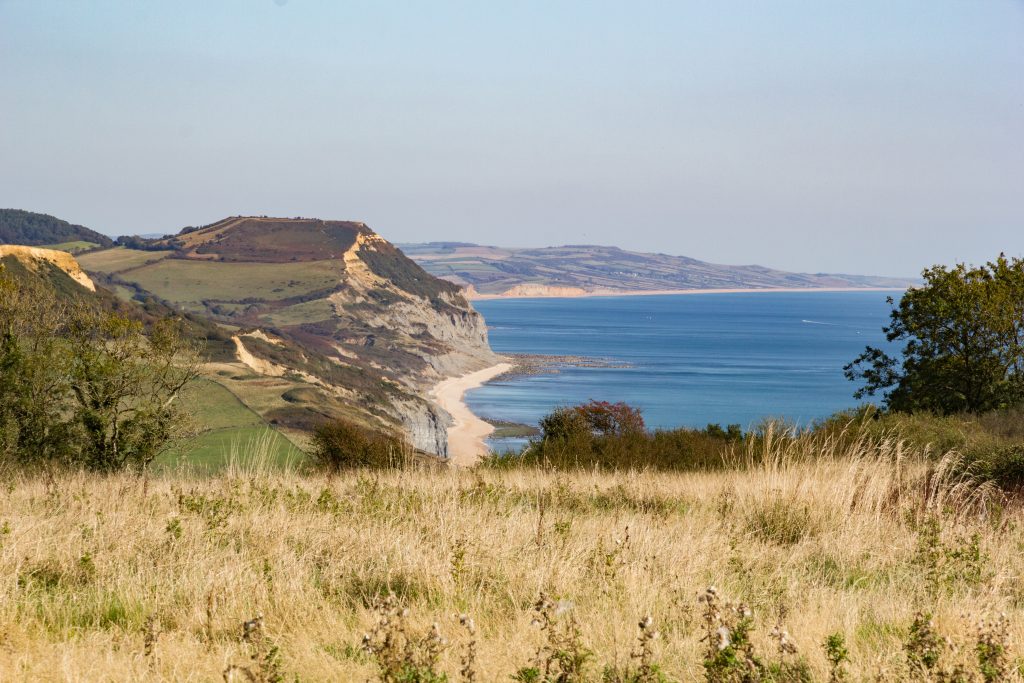 Golden Cap is the highest point on the south coast of Great Britain. At an impressive 191m, it's a bit of a climb to the top. But the views of the stunning Jurassic Coast are well worth the effort. Follow my Golden Cap Walk Guide for a lovely 4-mile circular.
Bridport Festivals and Events for your Diary
Layer upon Layer Exhibition, 2nd May – 14th May (Excluding Saturday 6th May) – local artists exhibiting works on the theme of Layering. Held at Eype Centre for the Creative Arts.
From Page to Screen, 26th-30th April 2023 – the UK's only film festival that celebrates the art of adaption.
Bridport Food Festival, 11th-23th June 2023 – a week-long event celebrating local food and drink. Restaurants, cafes and pubs put on special menus and food-related events. The main event on the final Saturday sees the festival ground at Asker Meadows filled with tents, marquees, and food stalls.
BeCider Seaside 16 & 17 at Bredy Farm, 26th-29th May 2023 and 25th – 28th August 2023 – popular festival showcasing the best ciders in the South, as well as great local music. Camping and glamping is also possible if you want to really make the most of the event.
Bridport Folk Festival, – folk music, dancing, and other traditional culture at a variety of venues across Bridport. Postponed for 2023 with plans to return in 2024.
Bridport Hat Festival, 2nd September 2023 – a giant summer-ending party for the town with live music, games, and all kinds of hats!
The Bridport Literary Festival, 5th-11th November 2023 – a festival born as a result of the internationally renowned Bridport Prize. Welcomes writers from all over the country for an eclectic programme of events including readings, signings and talks.
Is Bridport Worth Visiting?
I hope this blog post has proved that Bridport is absolutely worth visiting! This charming market town offers a delightful mix of history, culture, and outdoor adventures – so there's something to appeal to all types of travellers.
What really sets Bridport apart is its unique, small-town charm. From its bustling market to its independent shops and eateries, there's a real sense of community here that's hard to find elsewhere. Whether you're looking for a quiet weekend away or an action-packed adventure, Bridport is well worth a visit.
What is Bridport Famous For?
Nestled in the heart of the stunning Dorset countryside, Bridport is a charming market town that's famous for many things. Here are just a few of the town's claims to fame…
The Bridport Dagger: a Bronze Age weapon that was crafted in the area over 3,000 years ago. These daggers are renowned for their intricate decoration and were highly prized by warriors of the time.
Rope and net making: Another thing that Bridport is famous for is its long tradition of rope and net making. The town's location near the coast made it an ideal spot for this industry, which was once a vital part of the local economy. At Bridport Museum, you'll find several displays on the town's rope and net-making past.
Food and drink: Bridport is home to a variety of independent cafes, restaurants, and pubs, many of which serve up delicious local produce. There's also an epic annual Food Fair (see above for the dates).
Arts and culture: Finally, Bridport is a hub of arts and culture in Dorset. The town has a thriving arts scene, with numerous galleries, studios, and performance spaces showcasing the work of local artists and musicians. It's also home to several festivals throughout the year, including the Bridport Literary Festival and the Bridport Folk Festival, which celebrate the town's rich cultural heritage.
Is there anything missing from this round-up of the best things to do in Bridport and West Bay? Scroll down to leave a comment if you have a local gem to share!
Pin this Post