Some posts on this site contain affiliate links. If you book or buy something through these links, I earn a small commission (at no extra cost to you). Take a look at my privacy policy for more information.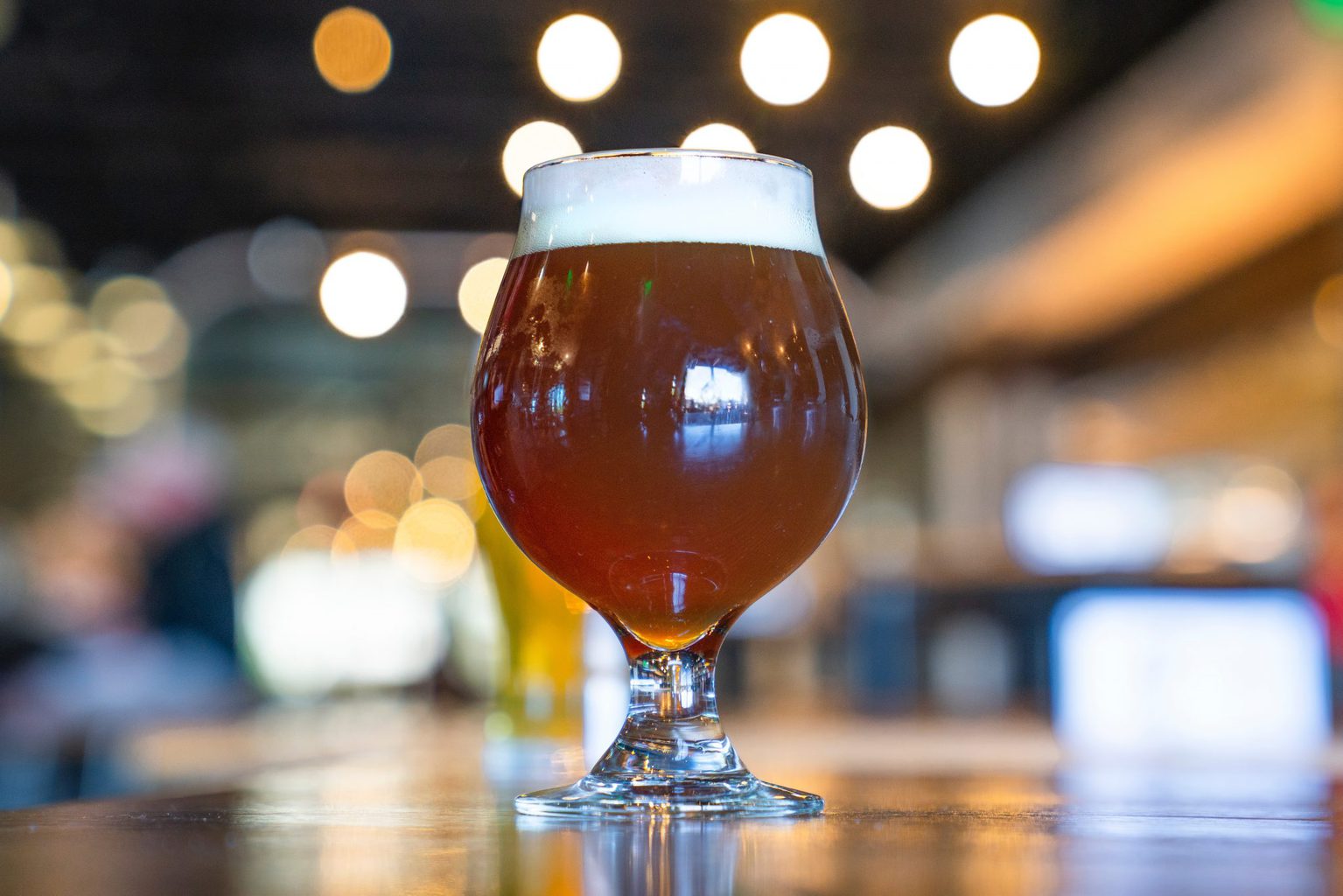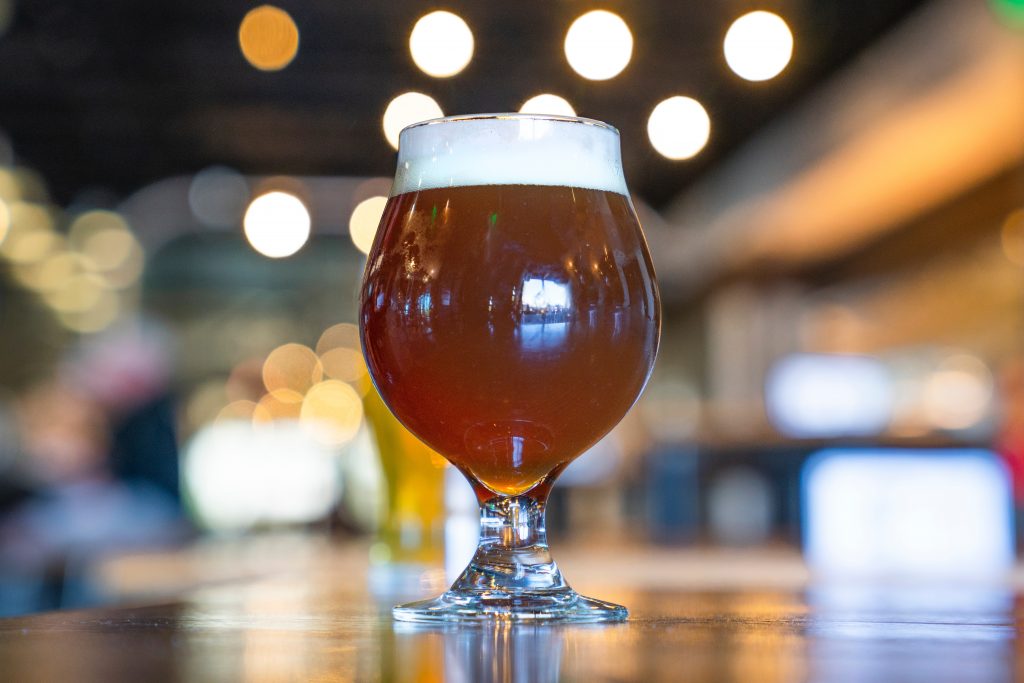 A guide to all the breweries to look out for in Dorset – many of which are open for tours and tastings…
Beer-lovers, rejoice! Dorset is full of incredible breweries – from large-scale manufacturers to small artisanal craft brewers. You can find locally produced beers and ales at pubs all over the county. But if you want a more in-depth experience, or you fancy learning a little more about where beer comes from, why not consider a brewery tour?
Below, I've rounded up all the breweries in Dorset which offer tours. These are the best spots to plan a visit if you fancy getting a close-up glimpse into the world of beer making, as well as tasting beers with guidance from an expert. I've also listed some other note-worthy breweries which don't offer tours. You can still visit these to purchase beer directly, or to try a couple of pints in the on-site taproom.
RELATED POST: 8 Amazing Vineyards and Wineries in Dorset
Map of Dorset Breweries you can Tour
7 Dorset Breweries to Visit for Tours and Tastings
1. Hall & Woodhouse, Blandford Forum
Beer, at least figuratively, is in our blood. Badger, our crown jewel, is so much more than just beer; it is rich in heritage, expertise and craftsmanship. It is woven into the tapestry of the last two and a half centuries of world history. And since we started brewing in 1777 we have proudly remained family-owned and Dorset-based.

Hall & Woodhouse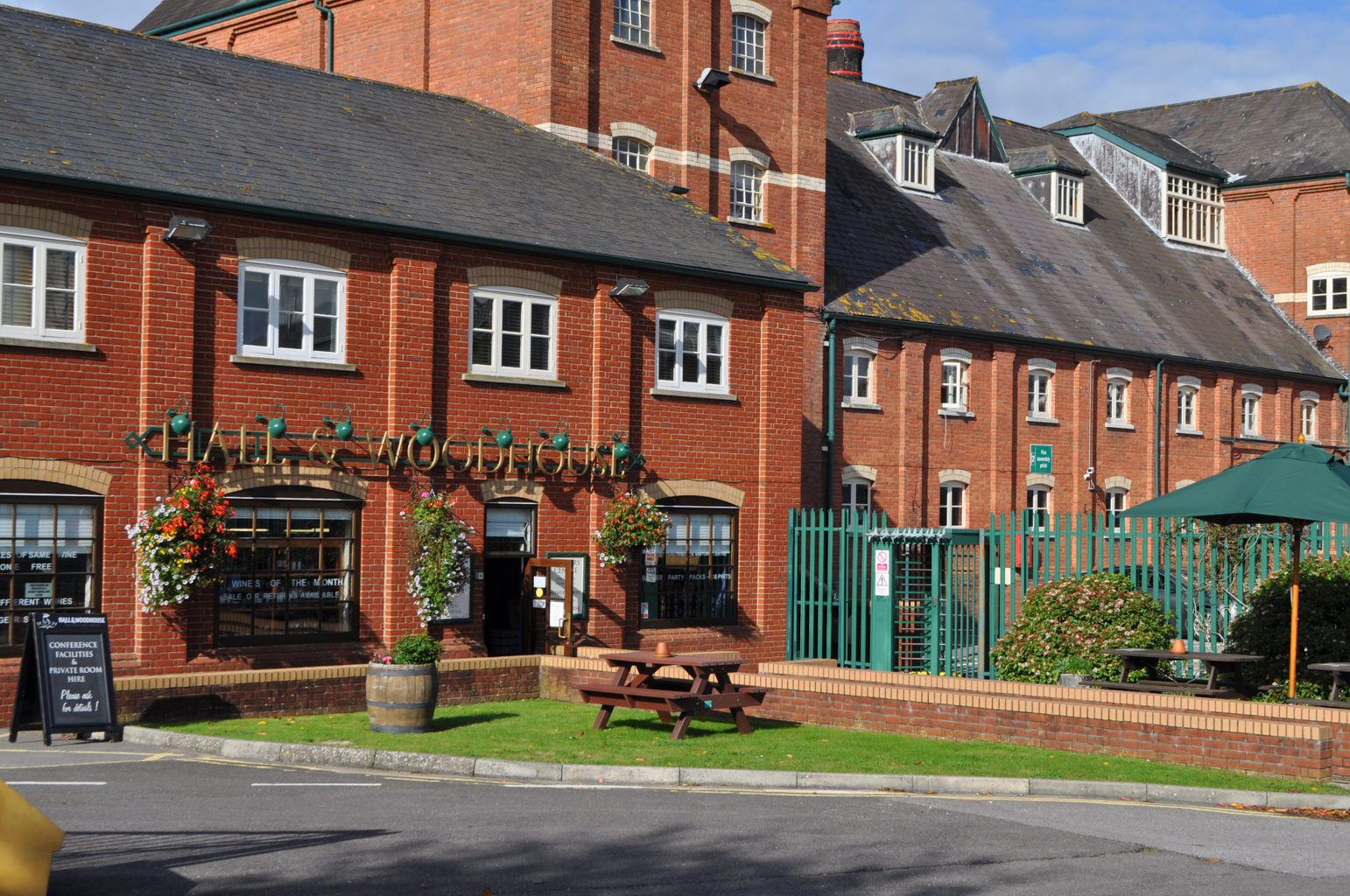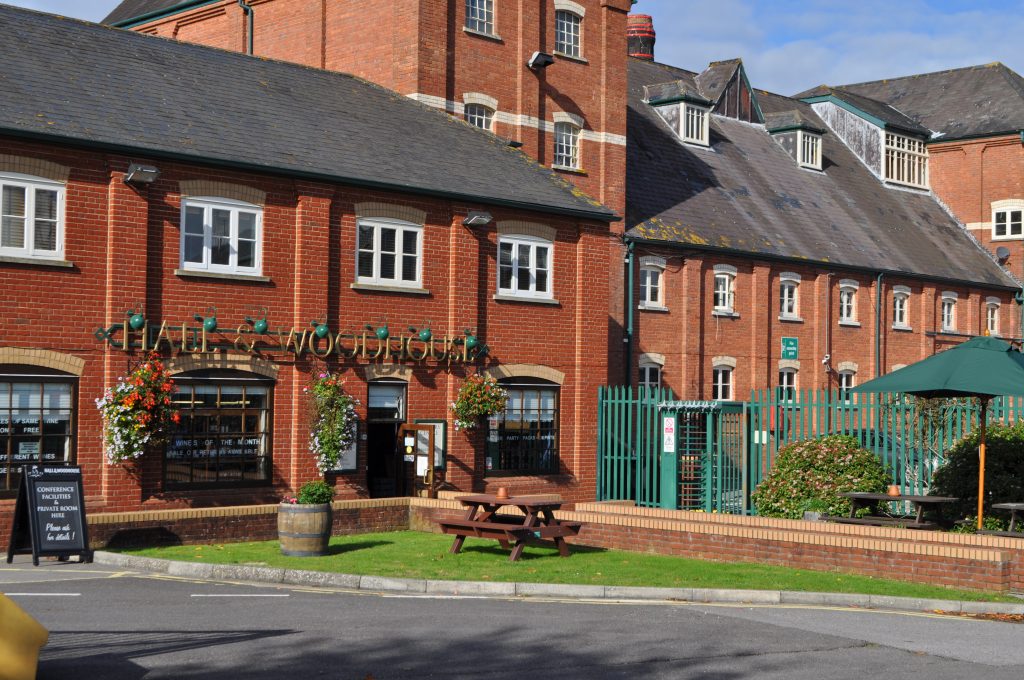 Hall & Woodhouse are the Dorset-based brewery behind Badger Beers, as well as several other brands. The brewery was founded in 1777 by Charles Hall, an "entrepreneurial gentleman farmer". Today, they not only produce beer at their historic brewery in Blandford Forum, but also run one of my favourite pub families. There are over 180 Hall & Woodhouse pubs and inns across the south of England, offering delicious pub food and, of course, a great range of Dorset-made beers and ales.
Tours and Tastings: Brewery tours at Hall & Woodhouse brewery cost £15 and include a flight of beers. You can also book the Beer Experience for £25, which ends with an expert tasting.
Address: The Brewery, Blandford St Mary, Blandford Forum DT11 9LS
2. The Dorset Brewing Company, Dorchester
Founded in 1996, the Dorset Brewing Company (aka DBC) operate out of the Jurassic Brewhouse in the village of Crossways, just outside of Dorchester. Their state-of-the-art spring water-fed brewhouse is responsible for a wide range of local beers and ales, including their popular Jurassic Coast brands. New for 2020 was the addition of an onsite taproom.
Tours and Tastings: Regular tours cost £15 and run every week on Fridays between 3pm and 4pm. Tours include a generous sampling of ales with a souvenir glass. Bespoke private tours can also be arranged for groups of 15 or more.
Address: The Jurassic Brewhouse, Hybris Business Park, Crossways, Dorchester DT2 8BF
RELATED POST: 20 of the Best Places to Eat in Dorchester
3. Palmers Brewery, Bridport
Over in Bridport, you'll find Palmers Brewery, one of the oldest in the UK. They've been brewing fine cask ales from their picturesque brewery since 1794! So there are few better places to get an insight into the long tradition of British beers brewing.
Perched on the winding River Brit, complete with a functioning waterwheel, this is also the only thatched brewery in the UK. As well as producing award-winning ales and beers, Palmers also own some of the best-known and best-loved pubs in the South West. Which means there are plenty of places to try their fab range of beers, ciders, and spirits!
Tours and Tastings: Tours run at 11am and 2pm from Monday to Friday all year round, and cost £17 per adult. Places are limited so it's recommended you book online.
Address: Old Brewery, West Bay Rd, Bridport DT6 4JA
4. Poole Hill Brewery, Bournemouth
Poole Hill Brewery are a newer addition to the Dorset breweries scene. It was founded in 2013 by Jennifer Tingay, and the entire project was Crowdfunded so there's a lovely community aspect to the business.
The brewery is housed inside a beautiful historic building, originally Bayley and Sons Iron Mongers, dating from 1880. As well as tours and a popular taproom, Poole Hill also host a number of events. Everything from live music and open mic nights to more unusual things, such as beer yoga – there are plenty of reasons to visit this lovely, turquoise-painted brewery!
Tours and Tastings: One-hour tours start from £12 for adults and run on Saturdays at 2pm and 4pm.
Address: 41-43 Poole Hill, Bournemouth BH2 5PW
5. Lyme Regis Brewery, Lyme Regis
We're passionate about bringing unique, creative, and quaffable craft beers to The Jurassic Coast. We have an overwhelming desire to brew and enjoy craft beer, and to create a range of new-age beers that puts Lyme Regis on the map.

Lyme Regis Brewery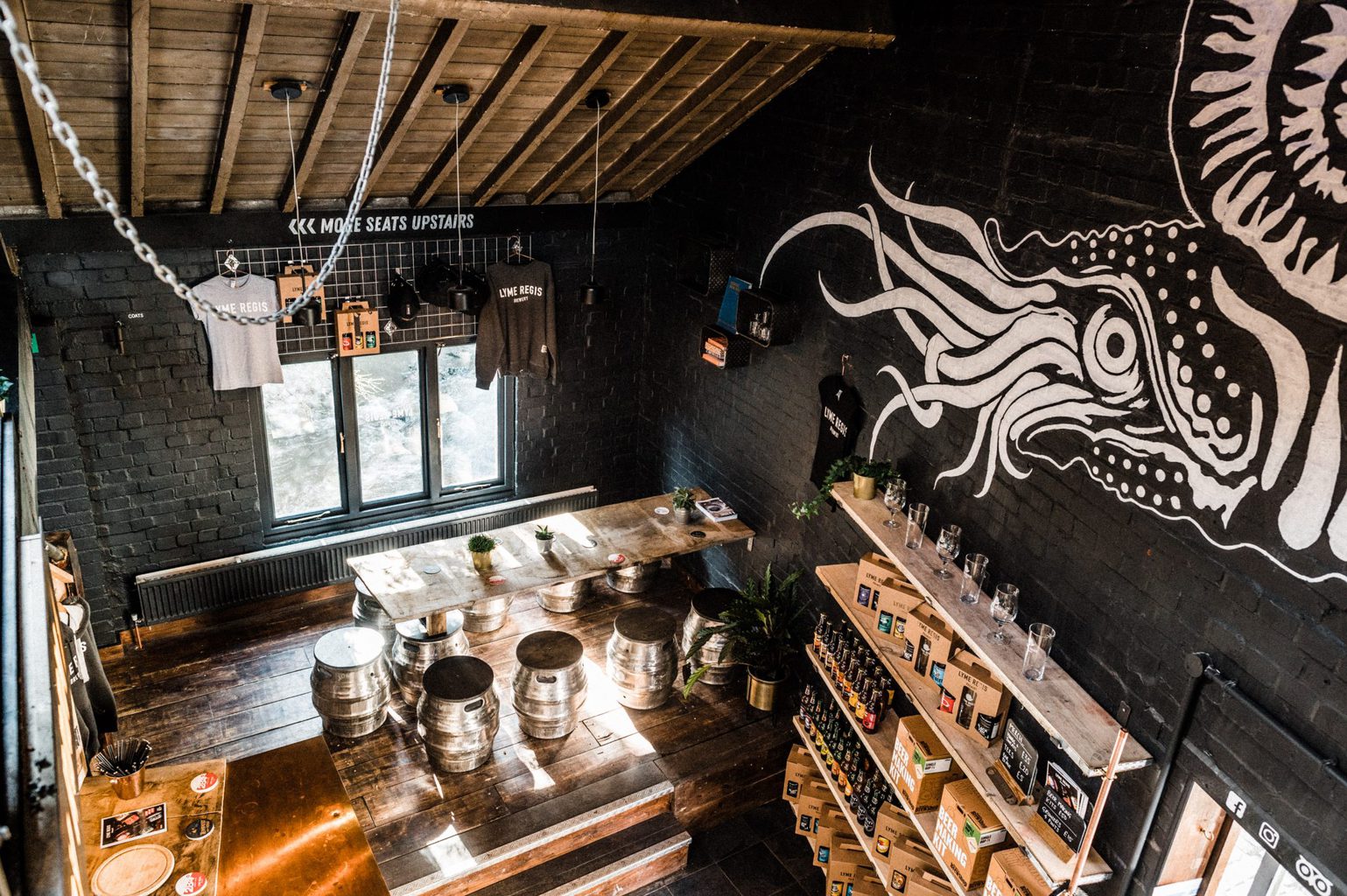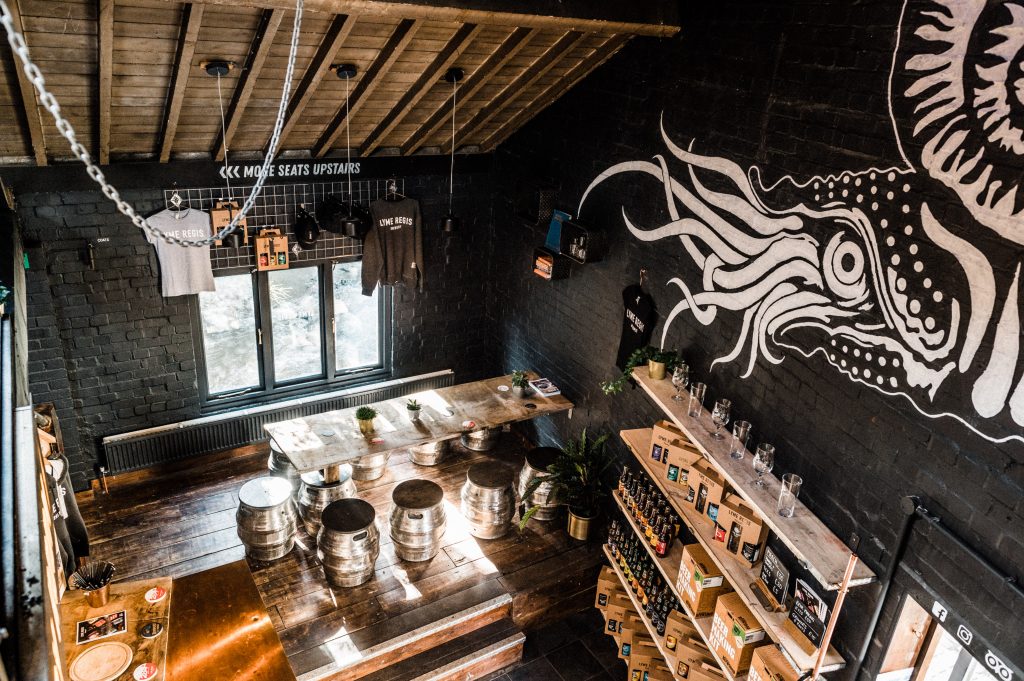 At the heart of Lyme Regis, a fantastic microbrewery was opened in 2010 in the Malthouse of the historic town mill. Originally called the Town Mill brewery, it was later rebranded as Lyme Regis Brewery and moved to a larger production facility.
Then, in 2018, the brewery was bought by "four local mates" Wes, Adam, Elliott and Dan. Today, they're producing some fab beers made from locally sourced ingredients, with colourful packaging which draws on the history and spirit of the local area.
Tours and Tastings: Lyme Regis Brewery don't currently offer tours, but you can visit the taproom for a tasting. You may also arrange a brewery tour by contacting the team directly.
Address: The Town Mill, Mill Lane, Lyme Regis DT7 3PU
RELATED POST: 7 of the Best Holiday Cottages in Lyme Regis
6. Dorset Piddle Brewery, Piddlehinton
With a name like Piddle, you'd think that we don't take anything seriously. But, we do – brewing.

Dorste Piddle Brewery
Dorset Piddle Brewery has a name that consistently delights the more childish amongst us – me included! The name comes from the valley where the brewery is based, but the team have embraced the endless innuendo possibilities, creating a brilliant brand with fun packaging, tongue-in-cheek beer names, and – of course – top-notch beers!
Tours and Tastings: Contact the brewery for more info and to book.
Address: Unit 24, Enterprise Park, Piddlehinton, Dorchester DT2 7UA
7. Barefaced Brewing, Blandford Forum
Last up on the list of Dorset breweries is Barefaced Brewing in Blandford Forum. Founded by Wimborne lads Tom and Nick, the brewery originally operated out of a converted garage. Today, they can be found in an industrial-chic warehouse space on Holland Business Park – and you can spot their fun range of beers at pubs and beer festivals around the county.
Tours and Tastings: Contact the brewery for more information about tours.
Address: Unit 1, Holland Business Park, Holland Way DT11 7GH 
More Dorset Breweries to Try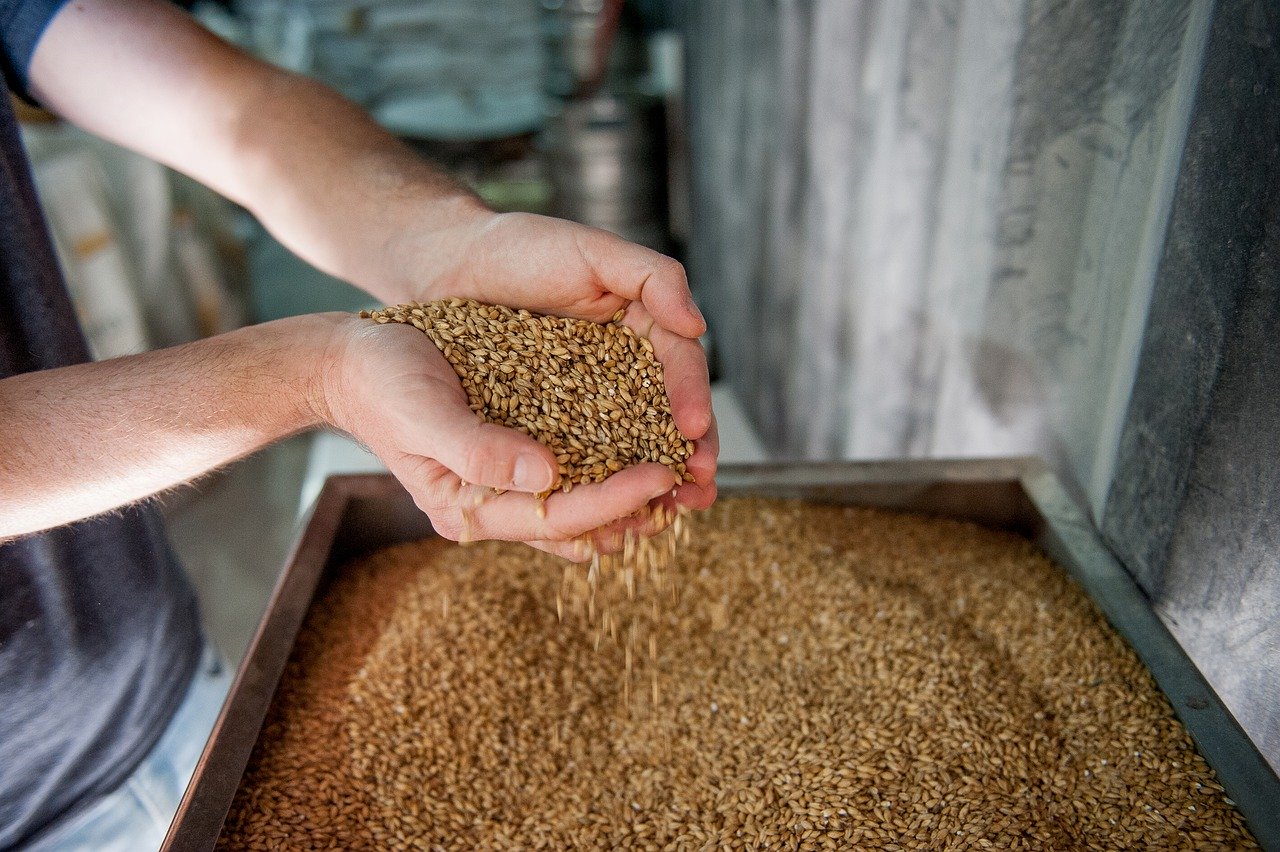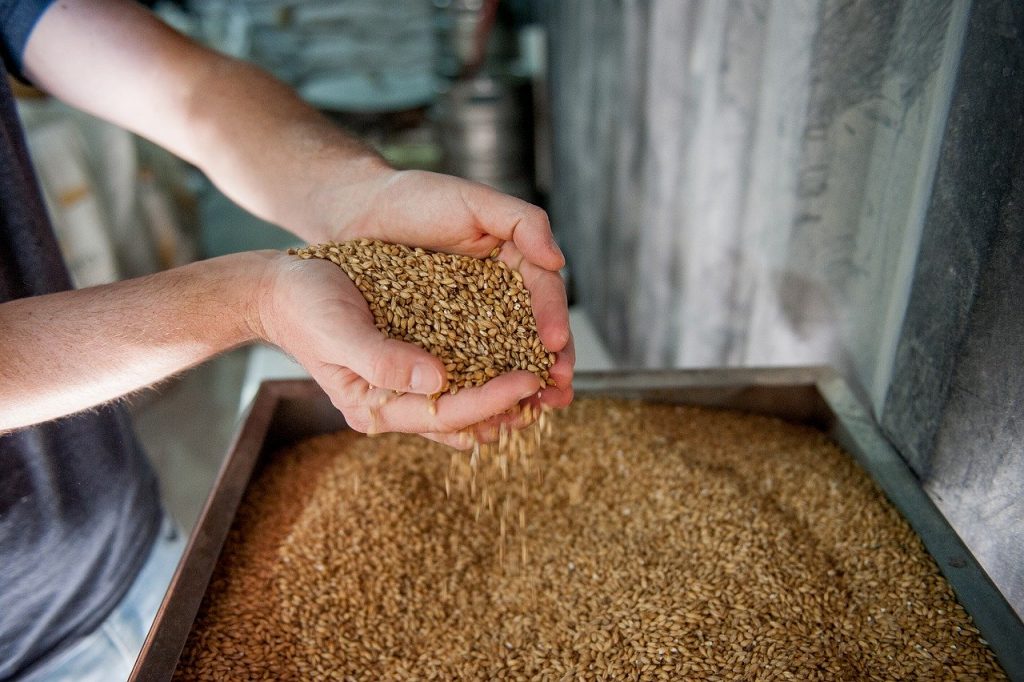 As if those weren't enough, here are a few more Dorset breweries worth looking out for. Although these don't offer tours, you can find their brews in various pubs across the county. Check their sites to find out where they're stocked – or head to a local beer festival and see how many you can spot. Many of these breweries also have taprooms on-site, where you can get a little more info about the beers while you try them.
1. The Cerne Abbas Brewery – Dorchester Road, Cerne Abbas, Dorchester, DT2 7JS. Popular local brewery with a taproom open on Fridays & Saturdays.
2. The Way Outback – 144 Seabourne Rd, Bournemouth, BH5 2HZ. Microbrewery with a taproom and bar.
3. Sixpenny Brewery – Holwell Farm, Holwell, Wimborne, Cranborne, Wimborne, BH21 5QP. Brewery with a taproom.
4. Eight Arch Brewing Company – 3A, Stone Lane Industrial Estate, Wimborne, BH21 1HB. Taproom is a pop-up bar.
5. Isle of Purbeck Brewery – Manor Road, Studland, Swanage, BH19 3AU. Shares its plot with the Bankes Arms pub.
6. Sandbanks Brewery – Unit 6, 4-6 Abingdon Rd, Nuffield Industrial Estate, Poole, BH17 0UG. Brewery with a taproom.
7. Drop the Anchor Brewery – Bridge Streer, Christchurch, BH23 1DY. Visit the Tuckton Taphouse at 181 Tuckton Road to try their beers.
8. Gyle 59 – The Brewery, Sadborow Estate Yard, Chard, TA20 4PW. Tours are available on request, while the brewery taproom opens by prior arrangement for events etc. You can also visit the brewery bottle shop, but ring first to check it's open.
9. Windward Brewery – Strong orchard, Pineapple Ln, Bridport DT6 5HZ. Part of the Dorset Nectar Cide Farm, who have a taproom, campsite, and also offer orchard tours.
Are there any other Dorset breweries missing from this list? Scroll down to leave a comment!
Pin this Post