Some posts on this site contain affiliate links. If you book or buy something through these links, I earn a small commission (at no extra cost to you). Take a look at my privacy policy for more information.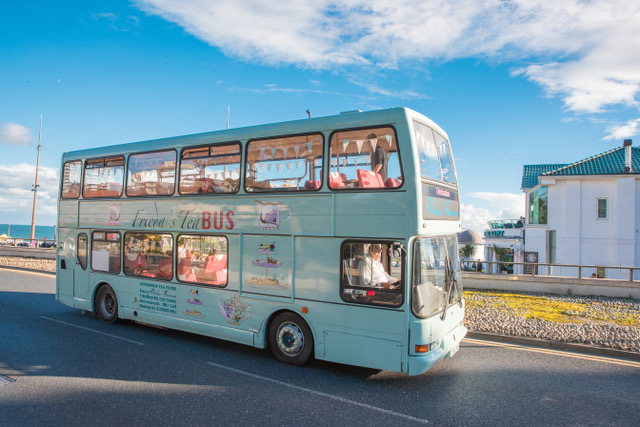 Experience a unique twist on a British classic with Frieda's Afternoon Tea Bus in Bournemouth – served on a moving double-decker bus!
Is there anything more British than afternoon tea? Delicate little finger sandwiches and delicious cakes, crumbly scones and rich clotted cream… There's something so brilliantly quaint and traditional about the whole affair.
But what happens when you take that afternoon tea and serve it on a moving vehicle? I recently took a trip on Frieda's TeaBus – an afternoon tea bus in Bournemouth – to find out!
A unique twist on the classic afternoon tea experience, the TeaBus doubles up as a tour of the Bournemouth seafront. But the real attraction is the delicious array of homemade goodies! Family-run, with excellent food and even better service, the bus is easily one of the best things to do in Bournemouth. Especially if you're looking for something a bit different. It's such a fun idea and makes the perfect afternoon out.
UPDATE MAY 2023: The TeaBus is not currently in operation, but Frieda's Tearoom is open and also serves afternoon tea. Hopefully, the bus will return soon.
My trip on Frieda's TeaBus was gifted in exchange for blog coverage. However, all words and opinions are absolutely my own.
Frieda's Afternoon Tea Bus Bournemouth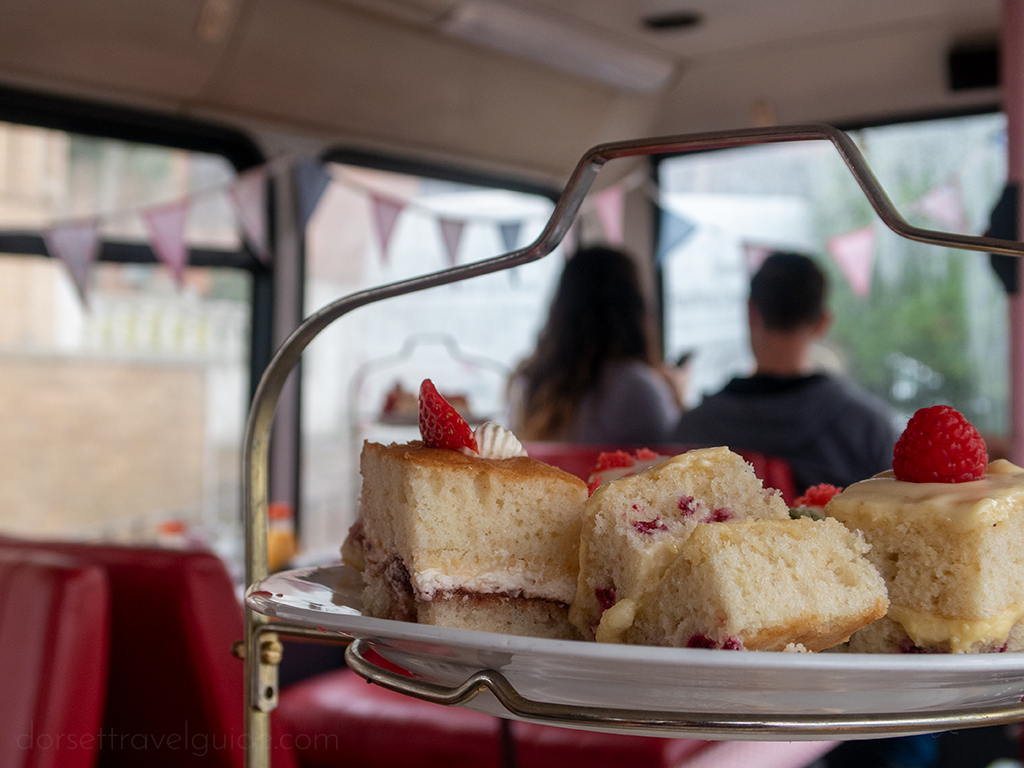 Frieda's TeaBus is a brilliant afternoon tea bus experience in Bournemouth. This customised double decor bus has been painted pastel turquoise and decked out with wooden tables between the red leather bus seats. Friendly staff serve guests afternoon tea as they take a tour of Bournemouth seafront!
Family-owned and operated, the 90-minute tour includes stops at Boscombe Pier and Hengistbury Head, plus a full afternoon tea with homemade sandwiches, scones, and cakes. You can also book glasses of prosecco for an extra fee.
There are lots of great places to try afternoon tea in Bournemouth – but only one is served on a moving bus!
My Experience on Frieda's Afternoon Tea Bus
Our booking took place on a wet and grey Saturday, but at least the sudden turn in the summer weather was as typically British as the afternoon tea! And, as it turns out, Frieda's TeaBus is a perfect rainy day activity. The views of Bournemouth Beach, and especially rugged Hengistbury Head, are always beautiful whatever the weather.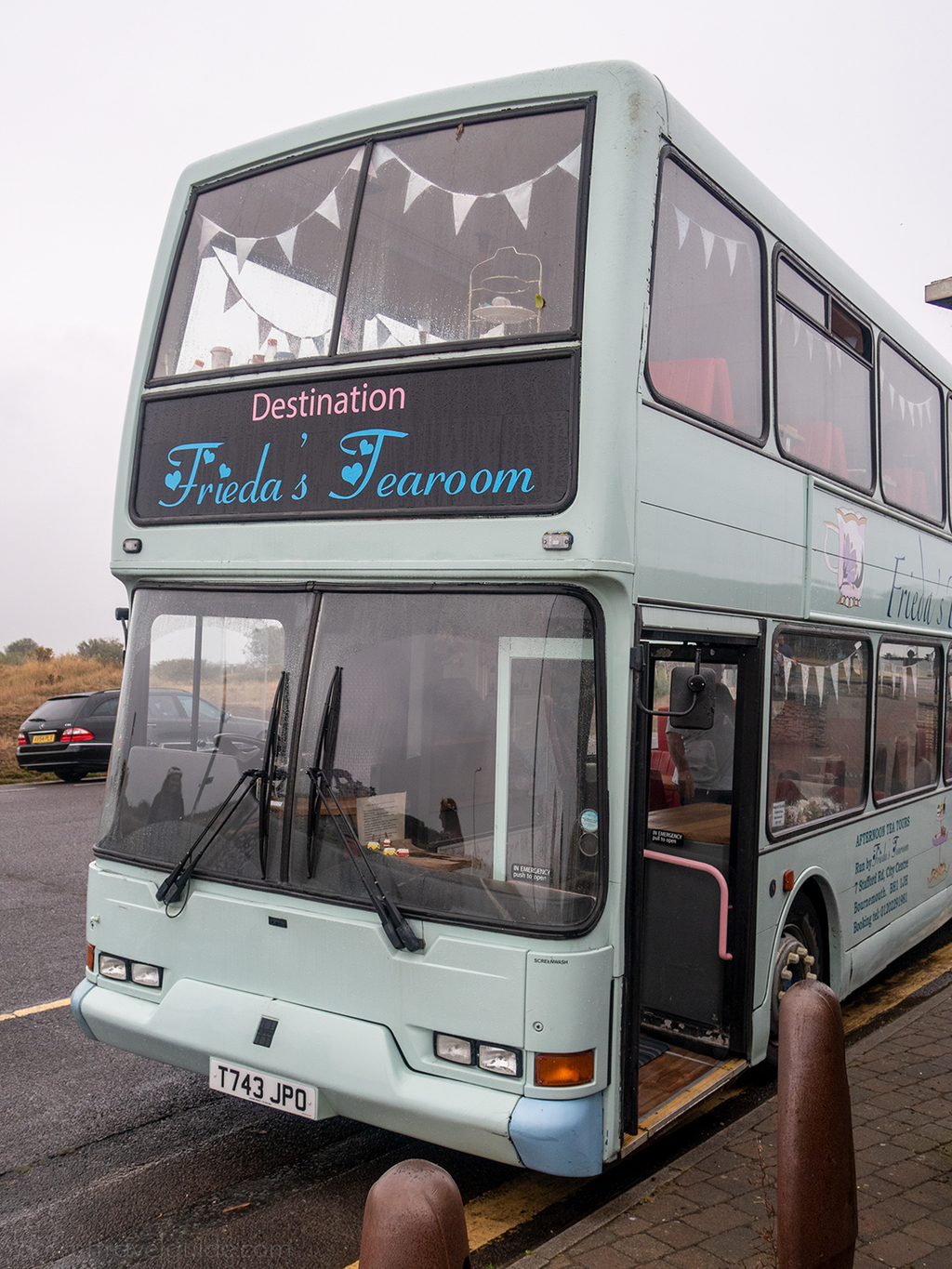 The service was fabulous – our driver in particular was super friendly and made us feel instantly welcome. I hopped on board with my sister and we headed to our seats upstairs, where our 3-tiered cake stand was ready and waiting, full of yummy-looking treats.
With its shabby-chic vintage decor, floral china plates, and pastel-coloured bunting, the Tea Bus creates a real sense of occasion. The food is served on a traditional 3-tier stand, which is bolted down to the table so it doesn't go flying when the bus stops! And the drinks are served in cute ceramic travel mugs with silicone lids. So it's afternoon tea – but adapted for motion.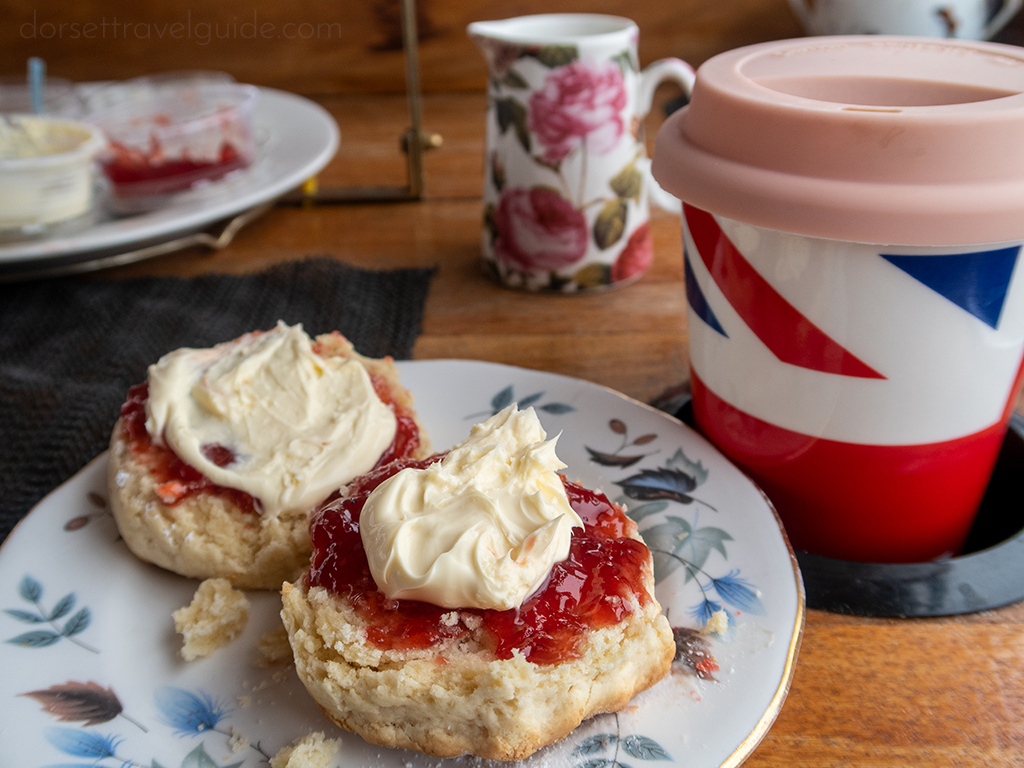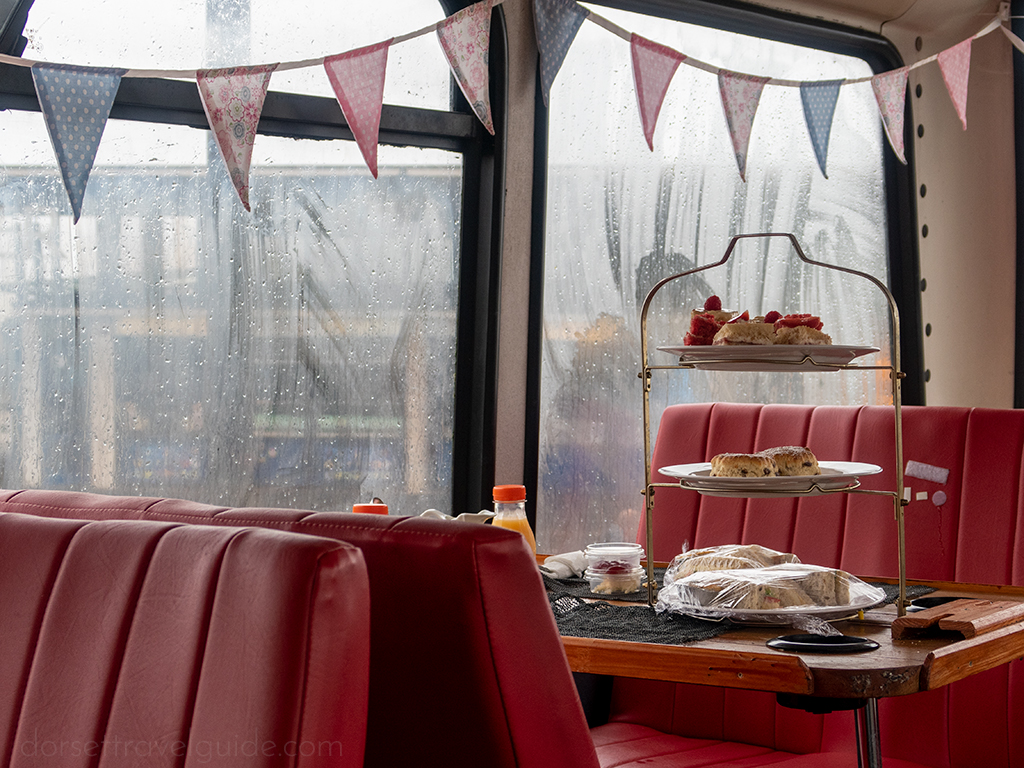 Tea with a View
Our delicious afternoon tea was brimming with delicious homemade goodies. The "first course" was a selection of hearty finger sandwiches – cheese and cucumber, bacon and coleslaw, and egg mayonnaise, all with a generous amount of filling – as well as some mini tarts.
Drinks were served during the first stop at Boscombe Pier. A steaming mug of local Dorset Tea (of course), served in funky ceramic travel mugs (my Union Jack one seemed particularly fitting), with a beautiful bone china milk jug and sugar bowl for further vintage flair. Flavoured teas and filter coffee were also available.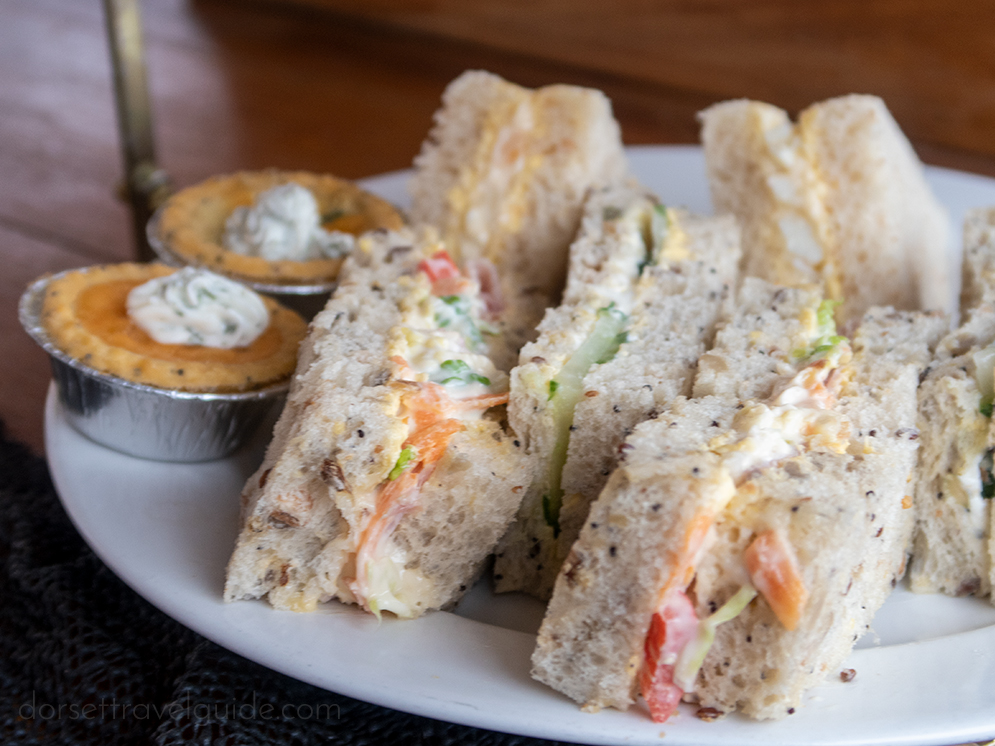 Next up came the scones – perfectly buttery and slightly crumbly – served with clotted cream and homemade strawberry jam. Perfection! But it was the top plate we were most excited about. Heaving with decadent homemade cakes, this was my idea of heaven.
I'm not sure if it was a coincidence or not, but all the cakes were colour-coordinated in white and red – perfectly matching the interior of the bus! Either way, they were all delicious. Mini victoria sponge slices topped with strawberries, a vibrant red velvet cake, and – my favourite – a white-chocolate-and-raspberry number with a soft, fluffy sponge and a gooey filling. There were also two mini macarons to round everything off.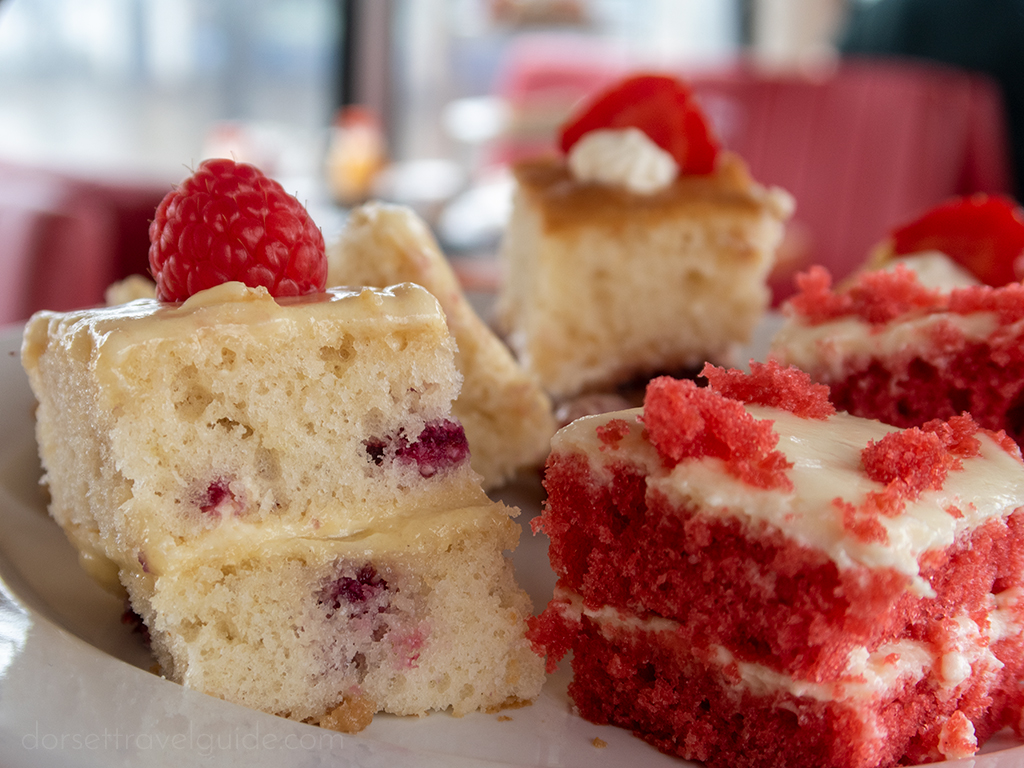 Frieda's Tearooms is well known locally for its amazing cakes, so it's no surprise that this was the best bit of the whole Afternoon Tea Bus experience. But everything from start to finish was really good. If you want a unique experience in Bournemouth and one of the best afternoon teas in Dorset, you need to give this a try.
More information
Frieda's TeaBus starts from £35 for adults and £30 for kids (5 to 11 years old). Tours depart at 2pm every Saturday and Sunday from Bournemouth Pier. Booking in advance is essential.
Telephone: 012 0229 1981
Email: [email protected]
TeaRooms Address: 7 Stafford Road, City Centre, Bournemouth BH1 1JH