Tucked between two spectacular rivers, the historic market town of Wareham in Dorset is the gateway to the Isle of Purbeck. Attached to the mainland but surrounded on three sides by water, this "isle" is one of the most spectacular regions in Dorset. And Wareham sits right at its entrance, so there are dozens of fun things to do both in the town and nearby!
From riverside walks and scenic boat trips to crumbling castle ruins and picturesque villages, this region is bursting with attractions.
Explore the incredible coastal attractions, like Old Harry Rocks and the beaches at Studland. Visit the former home of Lawrence of Arabia, discover Wareham's boutique stores and art galleries, or uncover some local history. And, of course, walk the ancient Saxon walls that surround the town!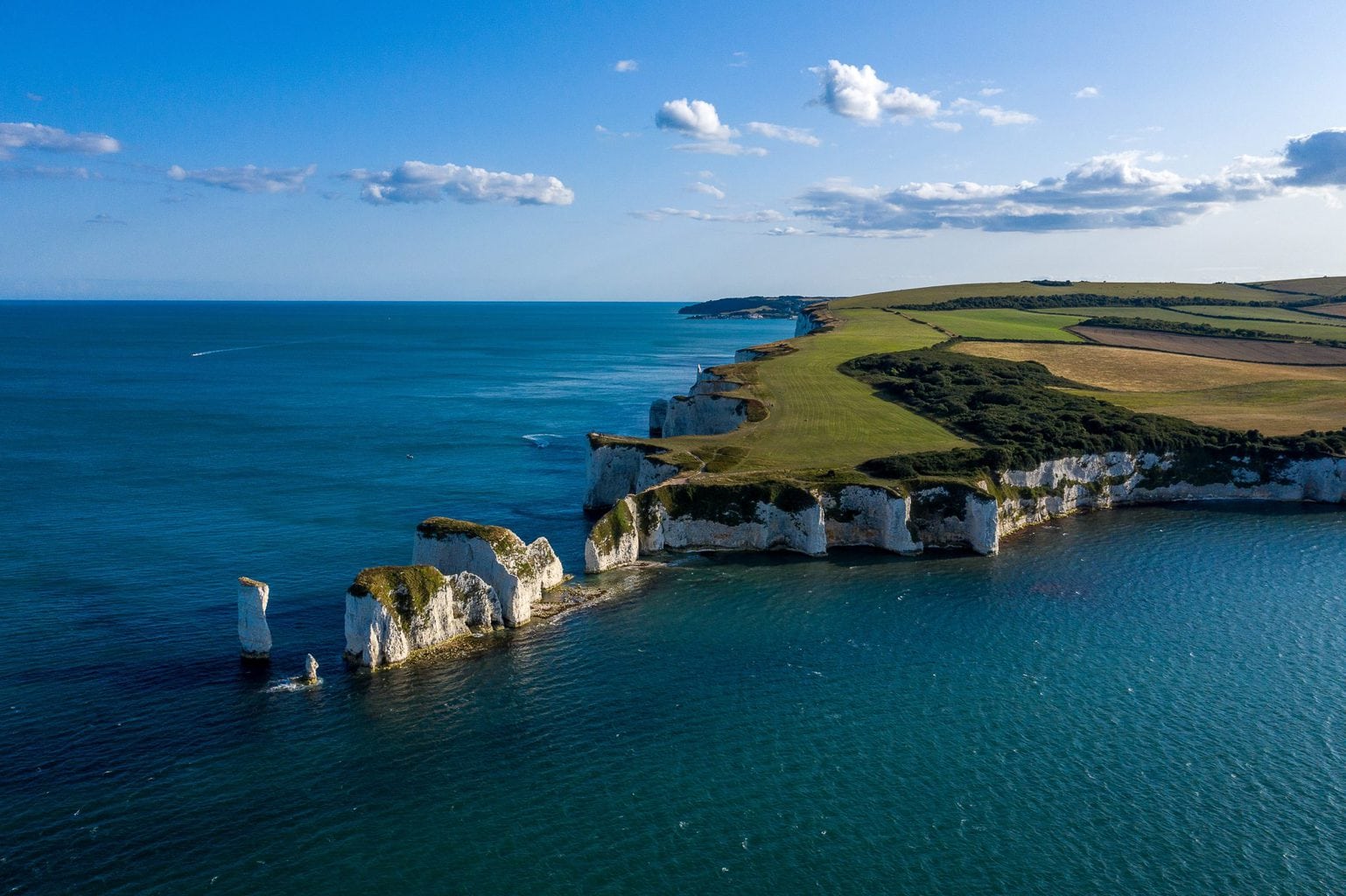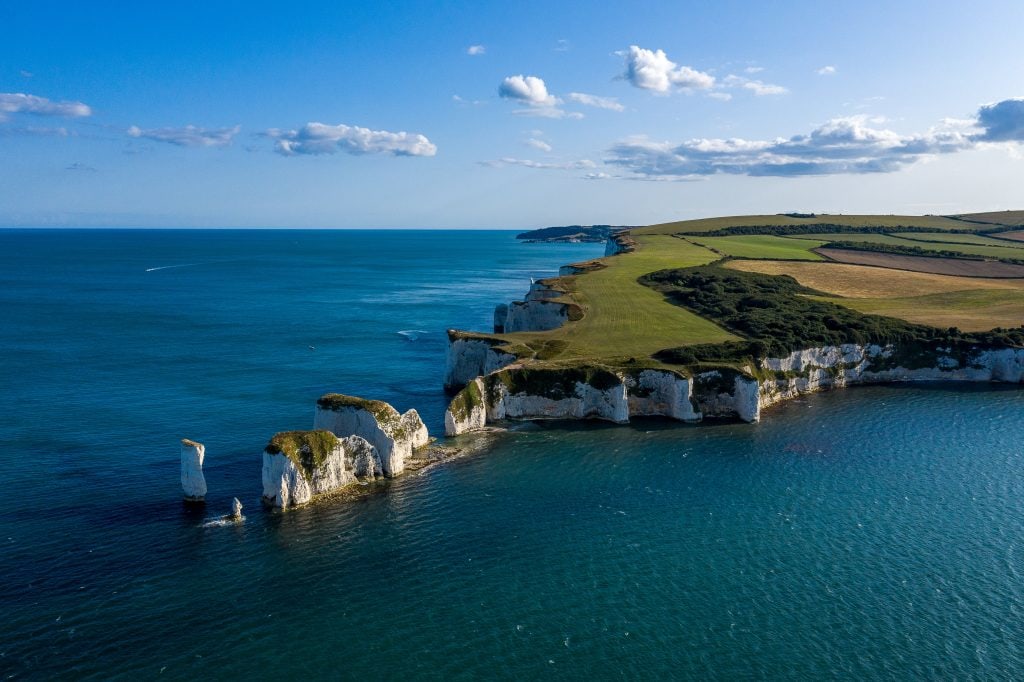 Map of Things to do in Wareham
9 Things to do in Wareham
This guide to Wareham Dorset is best used in conjunction with my guide to the Isle of Purbeck. The whole of this stunning Dorset region is easily explored from Wareham, so the town makes an excellent base for a holiday on the Isle.
If you're looking for things to do specifically in the town of Wareham, the first section of this post has you covered! I've also shared a list of the best things to do in the surrounding area – but you should check out the Purbeck guide for even more!
1. Walk the Wareham Walls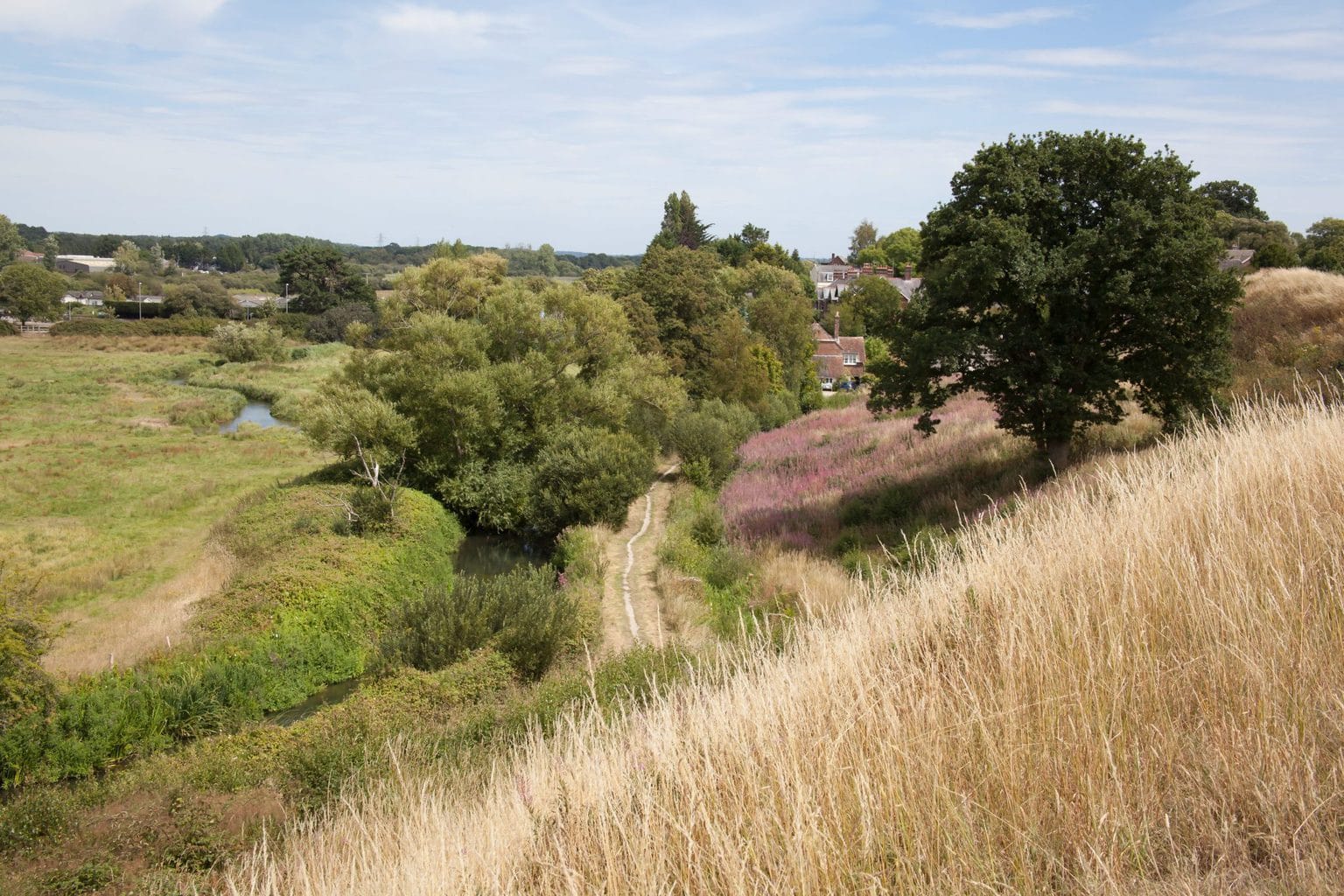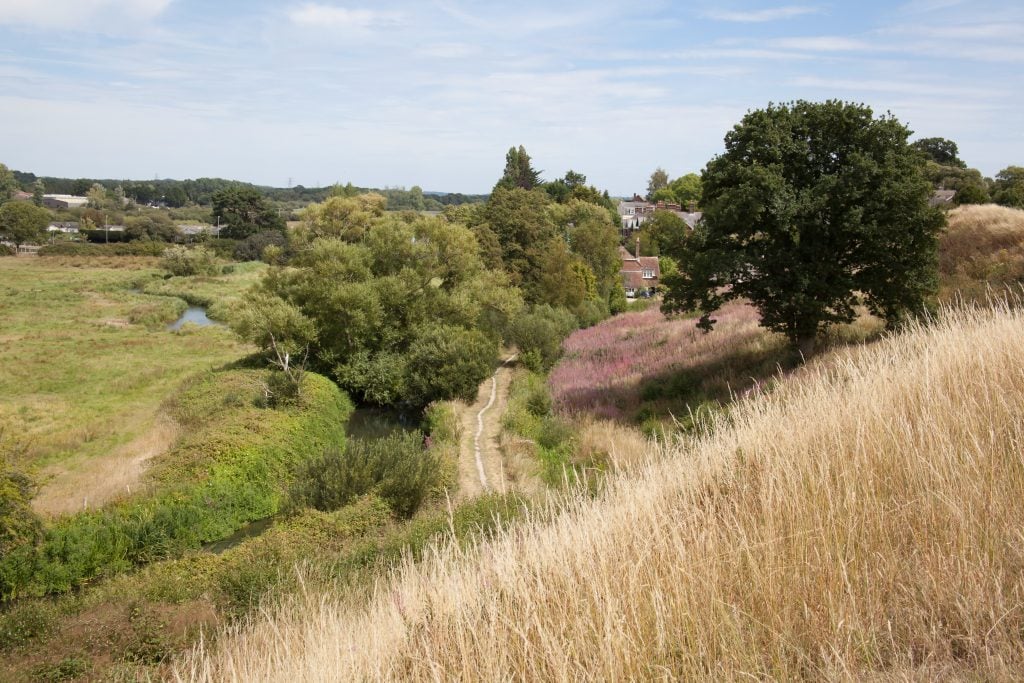 Wareham is one of the few remaining Saxon walled towns in England. Originally built in 875AD to protect the town from Viking attacks, these walls capture 2,000 years of the town's history – and are still standing today! They aren't the stone city walls you might be picturing, though. Instead, the Wareham Walls are earthworks: walls built from mounded earth.
Today, the Wareham Walls Walk is a one-mile, signposted walk exploring the town's history, as well as passing by what remains of the old Wareham Castle motte. It also offers some lovely views of the town and the River Piddle. Information signs dotted along the walls can tell you more about the often gruesome history they've seen, including Viking attacks, civil war skirmishes, and executions!
2. Wareham Boat Hire
Sitting peacefully on the banks of two of Dorset's most stunning rivers, Wareham is perhaps best explored from the water. So Wareham Boat Hire is definitely one of the best things to do in town!
You can hire rowing boats, motorboats, kayaks, canoes, and SUP boards to explore the beautiful River Frome at your own pace – and under your own steam! Row, paddle, or cruise your way along the river for some beautiful views of both the town and surrounding countryside.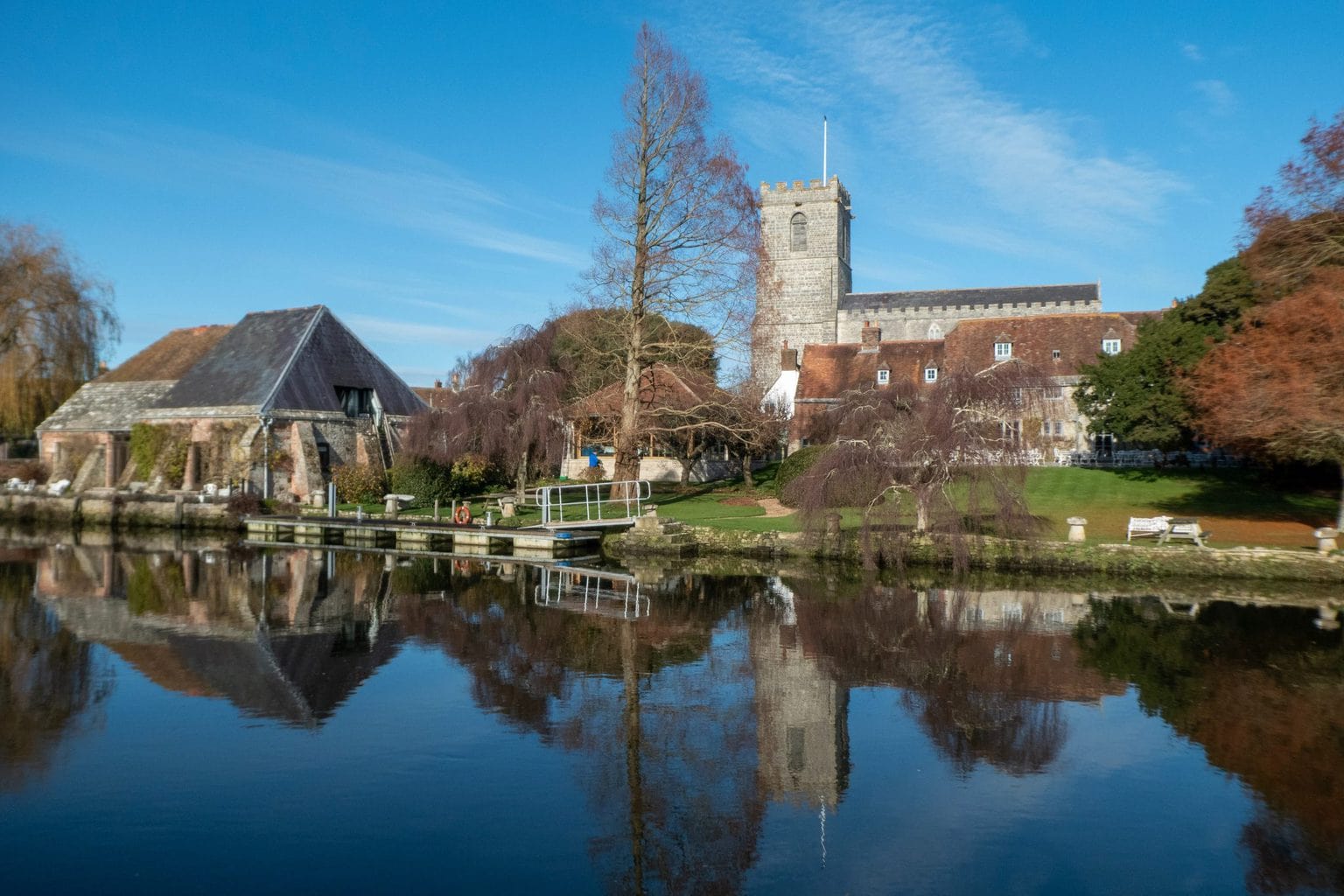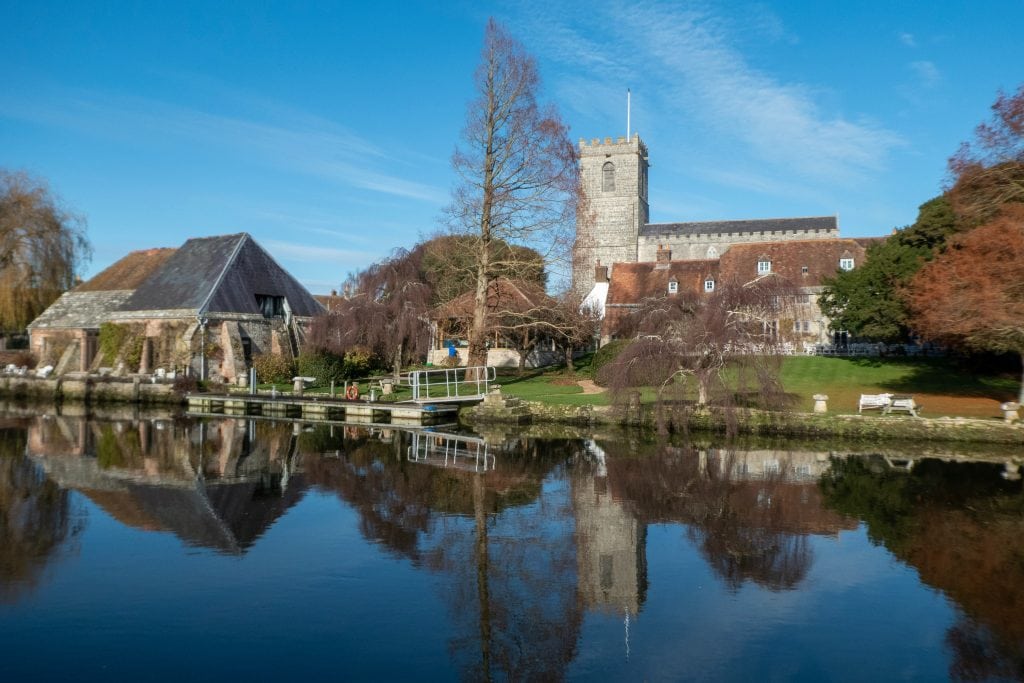 3. Paddle Steamer Monarch
Don't fancy doing all the work yourself? Take a river cruise instead! Paddle Steamer Monarch is the world's smallest commercial paddle steamer and one of only three currently running in Britain. In fact, during 2020 she was the only operational paddle steamer in the UK!
This beautiful, vintage steamer can carry up to 12 passengers and runs regular cruises along the River Frome from Wareham. Step back in time for a touch of elegance as you enjoy views of passing yachts, local birdlife, and the wildlife-rich reed beds skirting the river.
These 45-minute trips usually run on weekends from May to September, as well as additional weekdays in summer. However, weather and tides may affect the schedules. So call ahead to check operating times if you want to be sure of a trip.
4. Wareham River Cruises
There's also another river cruise company operating in Wareham, again one of the best things to do if you fancy a day on the water! Wareham River Cruises offer 40-minute trips on "Orca", their beautiful 12-seater Admiralty Whaler.
The cruise combines stunning views and nature spotting with local history. You'll head upriver first in search of water voles, otters, and other wildlife in the reedbeds. Then, as you return downriver, there's a commentary describing the history of Wareham and its Saxon walls.
Trips usually run every 45 minutes from 10am, from 1st April until 30th of September. Again, the schedule is affected by tides and weather. Booking is not essential, but you may want to call ahead to check they're running.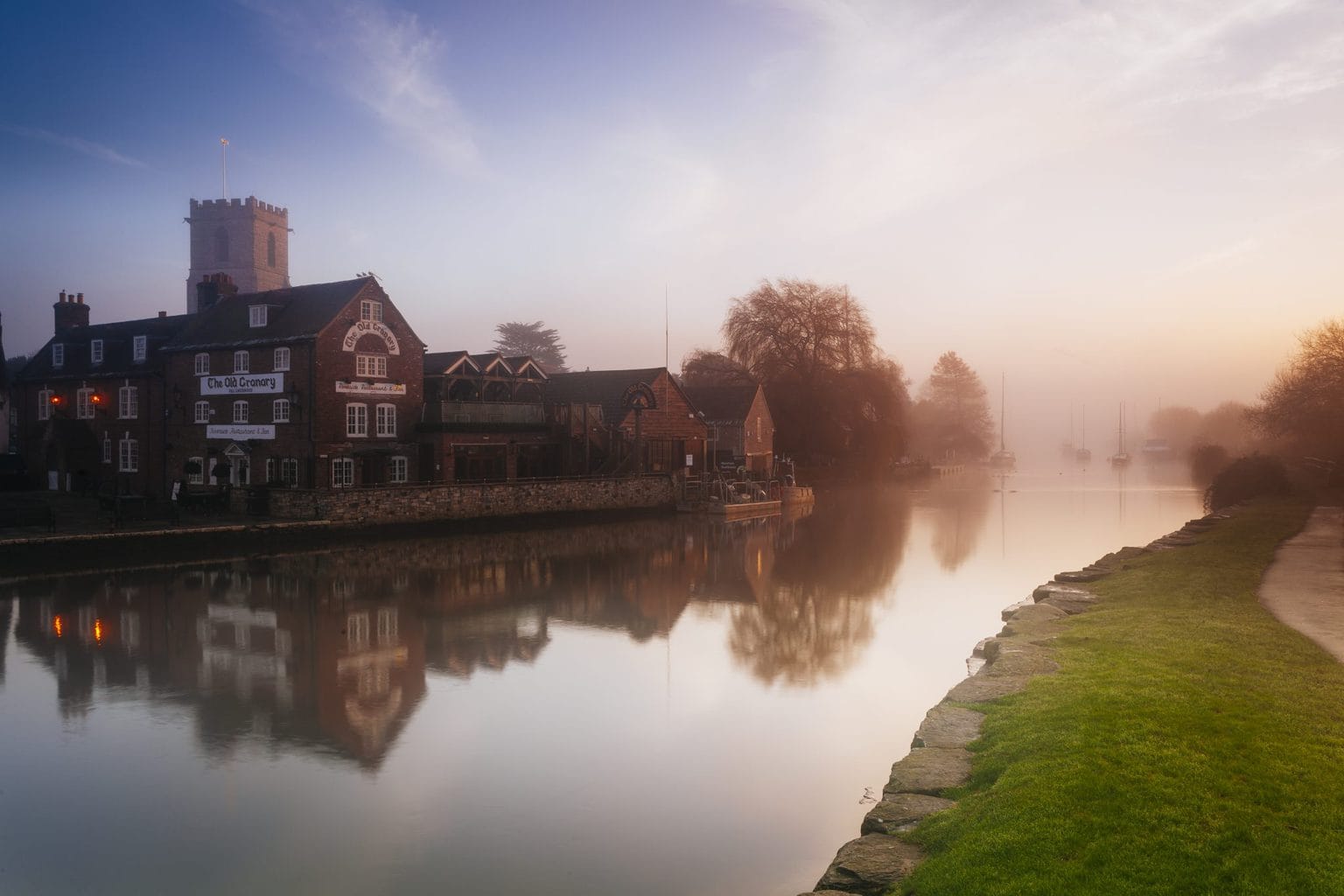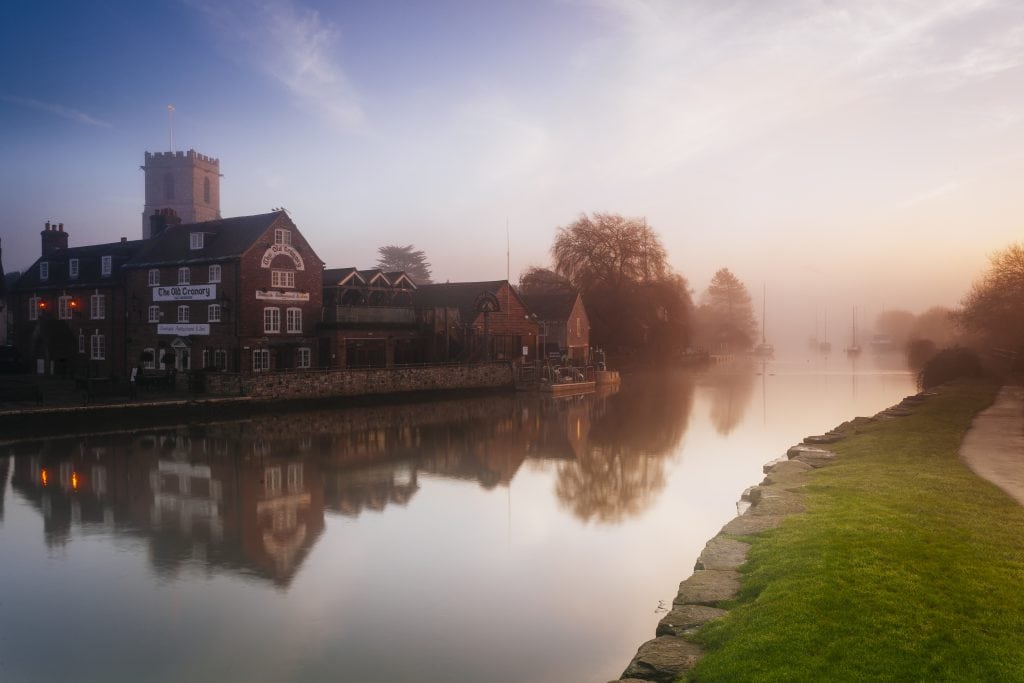 5. Wareham Town Museum
If you want to delve a little further into local history, the Wareham Town Museum is one of the best things to do on your visit. This small, volunteer-run museum tells the story of Wareham and the surrounding area, from the prehistory of the famous Jurassic Coast, to the town's Saxon routes, right through to the present day.
There's also a special exhibition all about T.E. Lawrence (aka Lawrence of Arabia), who lived nearby at Clouds Hill. It's a free museum (although a donation is always appreciated), so it's worth stopping by even for a short visit.
6. Wareham Quay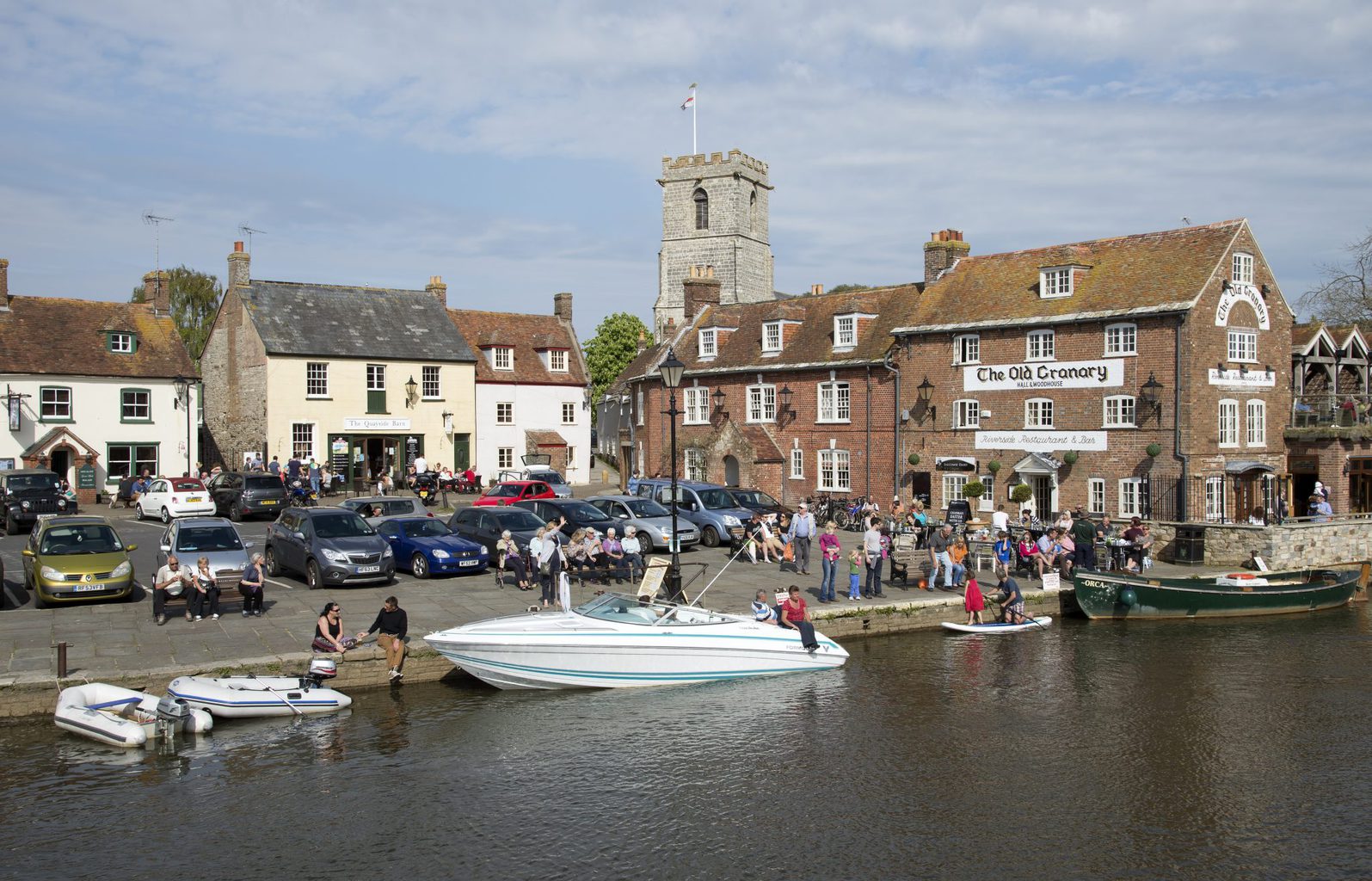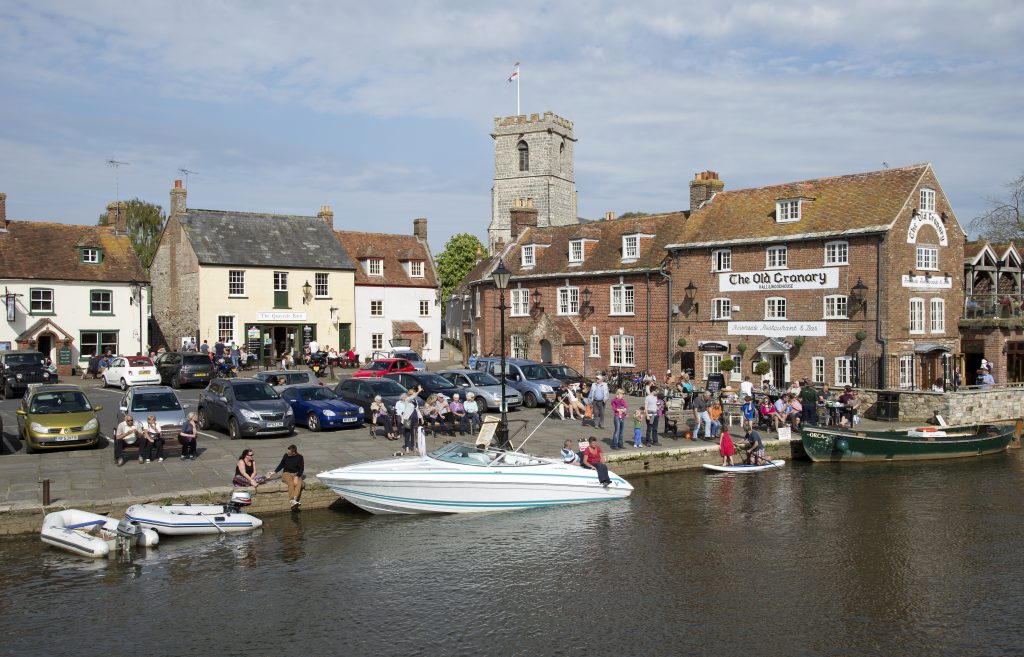 Wareham Quay has always been a central point in the town. During Saxon times, the Wareham was an important cross-Channel port, so the quay would have been busy with ships arriving from the continent and unloading their cargo.
Today, The Quay is still a busy spot – although the river traffic is mainly small vessels and river cruises these days! The quayside itself is a lively meeting place with plenty of pubs and restaurants, hosting numerous events throughout the year. This is the perfect spot to grab a bite to eat, start a riverside walk, or simply sit and admire the tranquil flow of the River Frome and the passing boats.
7. Visit the Market
The Quay also plays host to Wareham's weekly market, every Saturday from 8am-3pm. It's a great place to pick up local produce, with stalls selling vegetables, fish, meats, cheeses, preserves, and more. You can also find flowers, gifts, clothing, and toys, so it's a great place to pick up a unique souvenir.
As well as the weekly market, Wareham also hosts a regular Farmers and Makers Market in the Town Hall, usually on the 2nd and 4th Thursday of every month. This is a collection of local producers offering a selection of homemade or homegrown produce. So it's the ideal place to pick up some local goods, or simply meet a few of Dorset's amazing producers.
8. Shopping in Wareham
Wareham is full of unique independent shops, so it's a great place to visit if you fancy picking up some local goods. There are art galleries, boutiques, and farm shops to explore – as well as the markets mentioned above.
I've listed a few of the town's independent shops below, but there are plenty more to discover. Wareham is also a Fairtrade Town, so many local shops stock Fairtrade goods and support the annual Fairtrade Fortnight (usually February/March).
9. Walks Near Wareham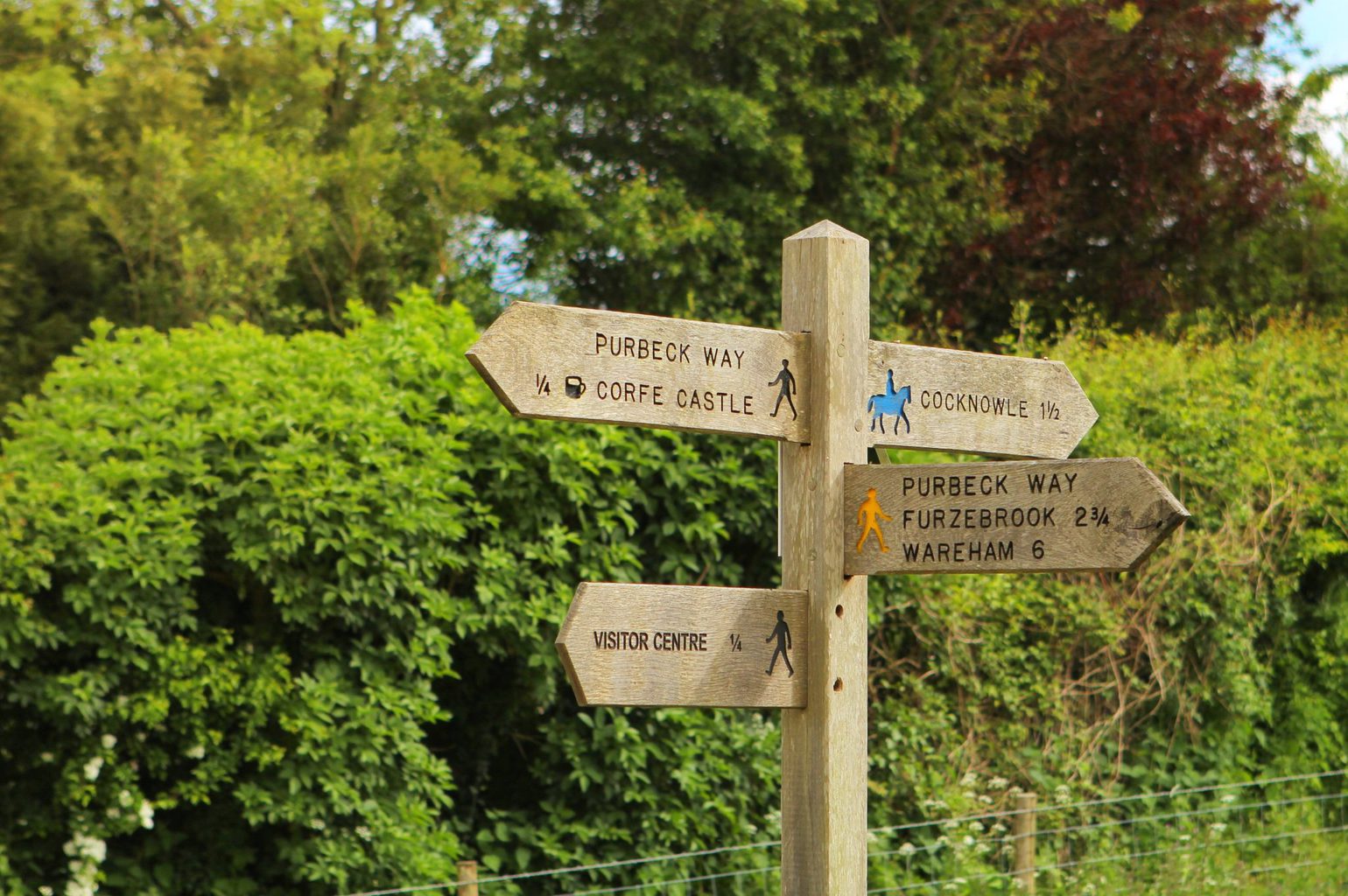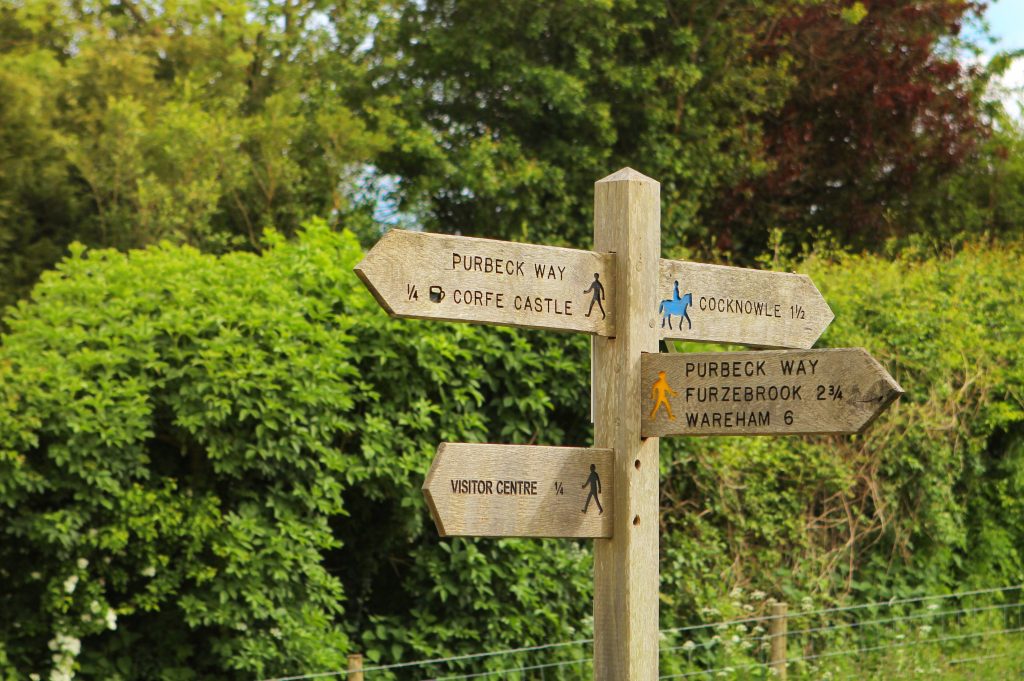 Nature Spots Near Wareham
1. Explore the Purbeck Coast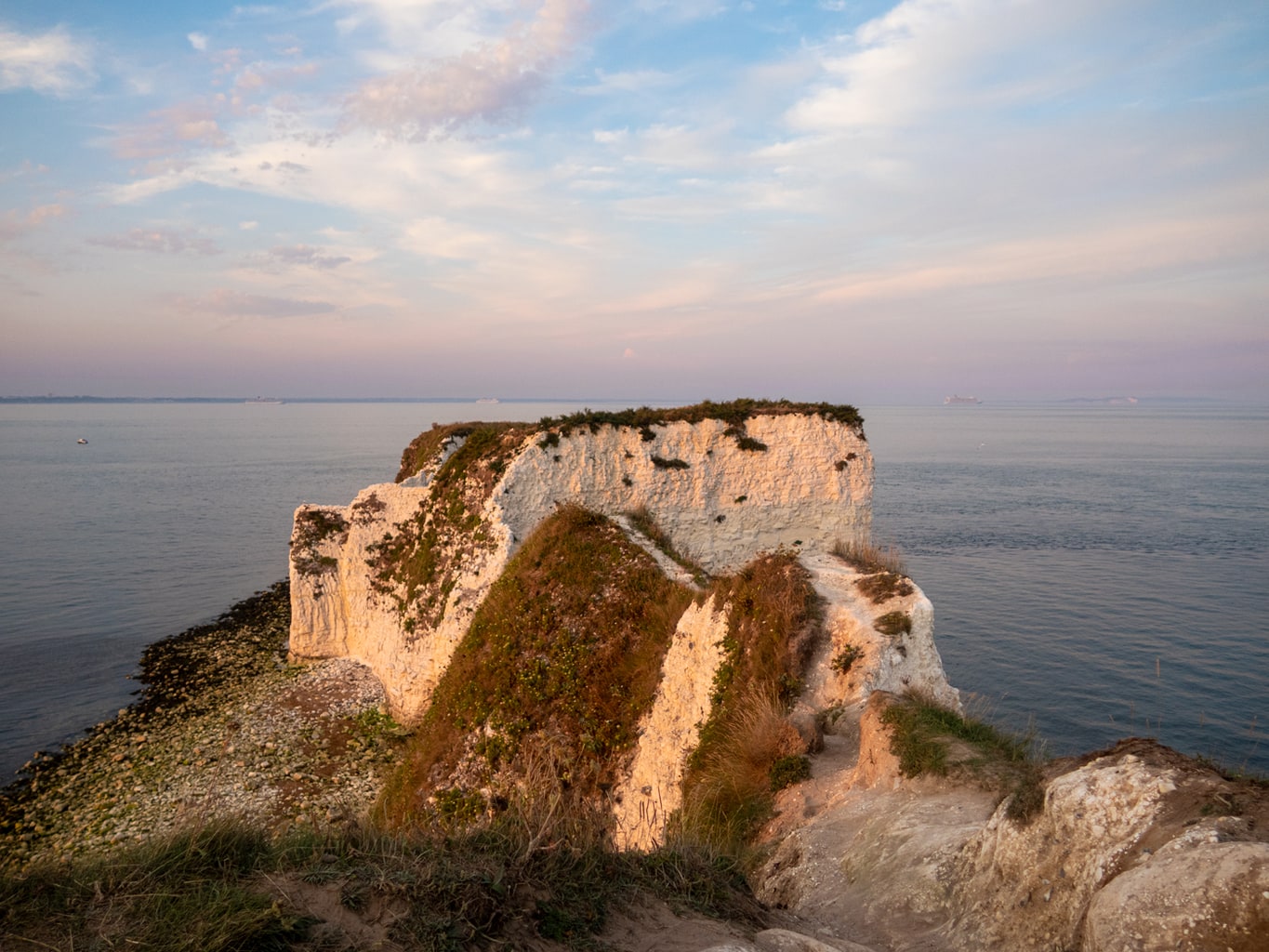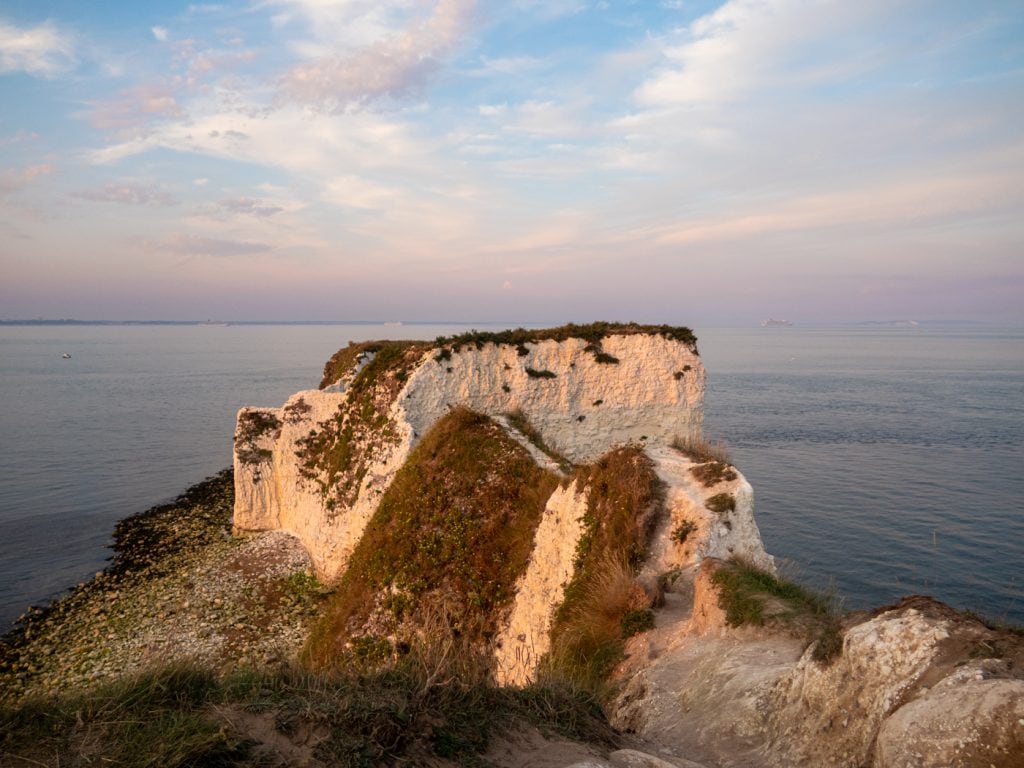 Surrounded by the sea on three sides, the Isle of Purbeck boasts a lot of seriously amazing coastline. The tip of the isle stretches out into the Channel, ending in a series of chalk stacks known as Old Harry Rocks. These rocks mark the endpoint of the Jurassic Coast, so they're well worth a visit. And the view from the top is incredible, especially at sunset!
Below are a few of the must-visit coastal spots near Wareham and around Purbeck. It's also worth checking out my Isle of Purbeck guide for tons more ideas.
Old Harry Rocks – check out my route guide for a fab 4-mile circular.
Studland Beach and Nature Reserve
Kimmeridge Bay
Chapman's Pool
Swanage Beach
Dancing Ledge
Swyre Head
Worbarrow Bay
St Aldham's Head
Winspit Quarry
2. Wareham Forest
Wareham Forest is an ideal spot to connect with nature near Wareham. It's a large area consisting of open heathland and plantations of conifers. A large portion of the forest was devastated by a fire last year, but Forestry England are working hard to repair the damage and protect the surviving flora. There are several walking and biking trails so it's easy to get out and enjoy the local wildlife!
3. Arne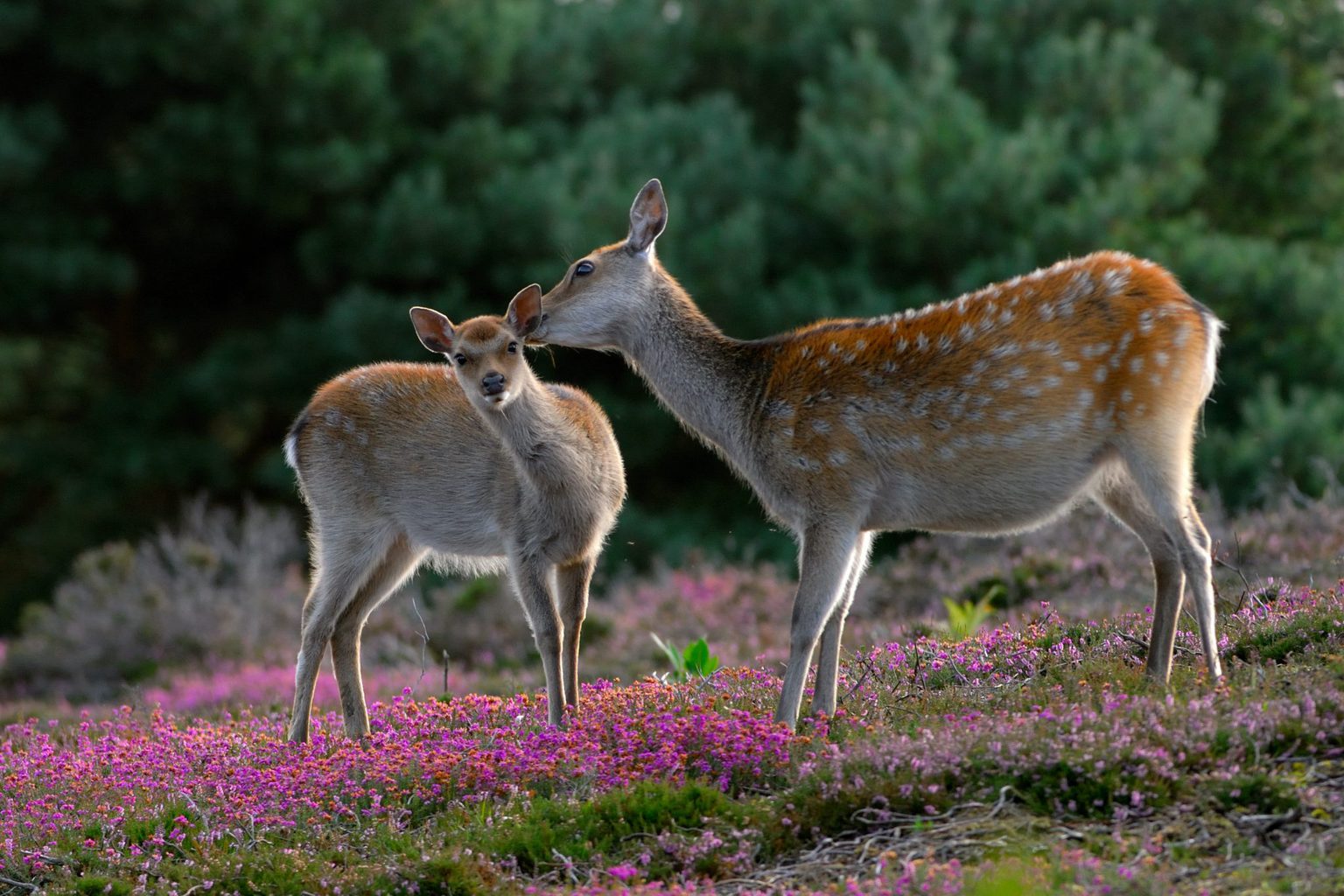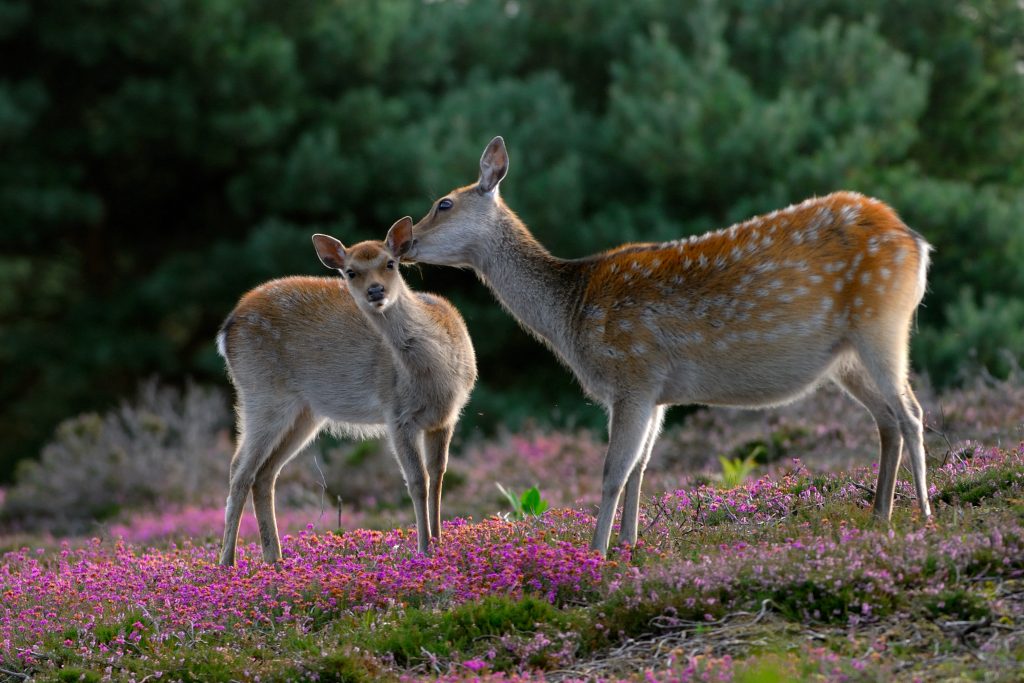 The RSPB nature reserve at Arne, overlooking Poole Harbour, is a bit of a hidden gem near Wareham. It's a stunning area of countryside filled with heather, gorse, and ferns, as well as an abundance of bird- and wildlife. Arne is also one of the few places in England where it's possible to see sika deer in the wild – and close-up encounters are not unusual!
There are various walking trails around Arne, but I particularly like the Red Trail, which goes through the Big Wood and down to the picturesque Shipstal Beach. This is one of the quieter beaches in the area and you'll often be lucky enough to have it entirely to yourself.
8 Things to do Near Wareham
1. Lulworth Cove and Castle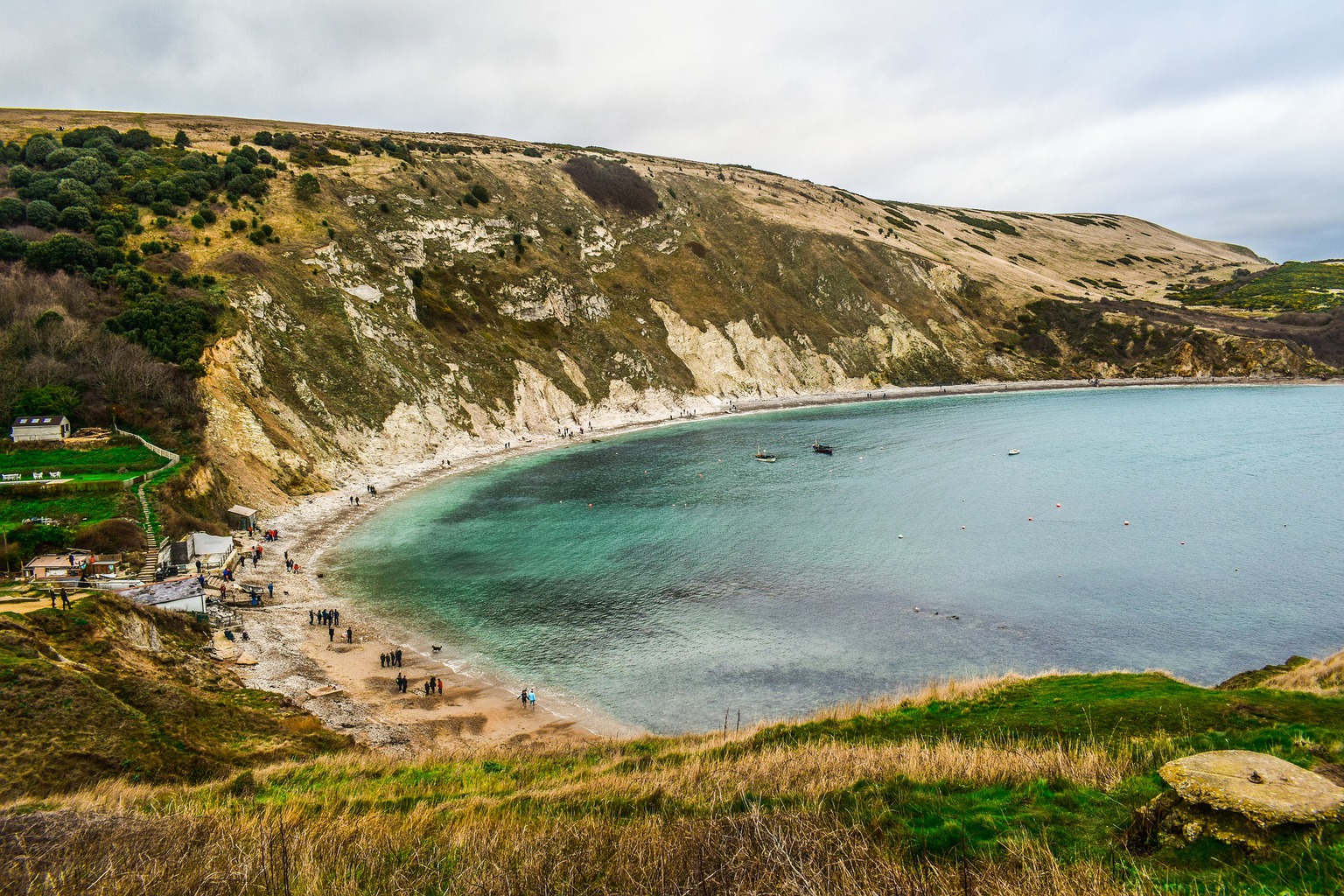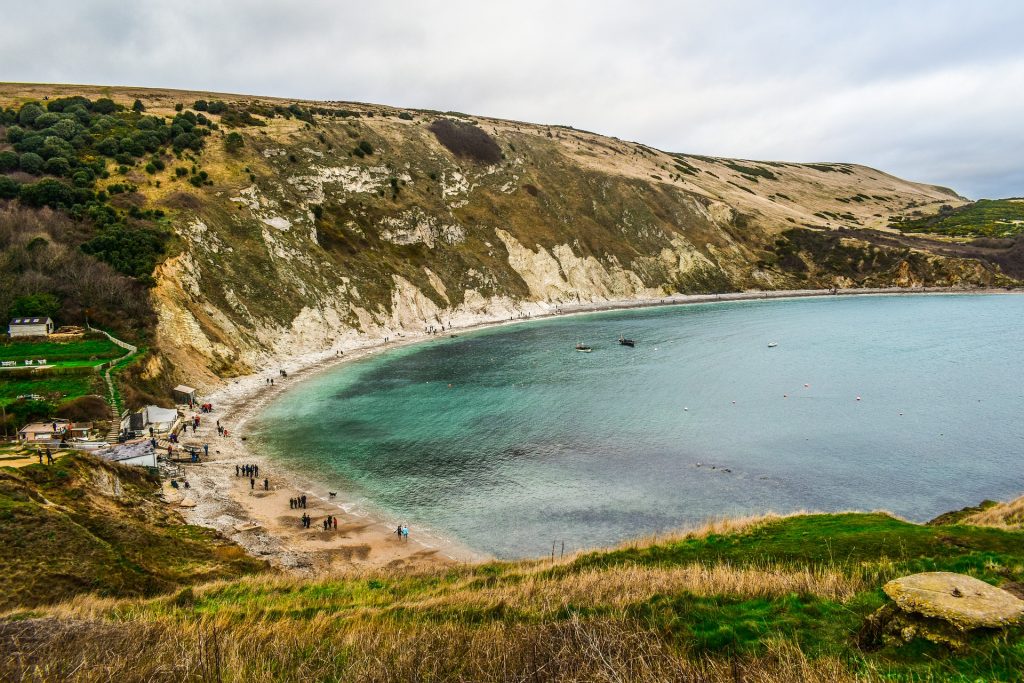 Backed by high chalk cliffs, the bay at Lulworth is almost circular. It's a stunning cove at any time of year, although the beach is particularly lovely in summer.
The area is considered one of the most important sites on the Jurassic Coast, because the rock layers are a brilliant example of marine erosion. But it's also just a lovely seaside village, with some great pubs and cafes, a pretty beach, and some fab coast walks. Up the road, Lulworth Castle is one of the most impressive castles in Dorset. The grounds are stunning and definitely worth a visit.
2. Clouds Hill – Lawrence of Arabia's House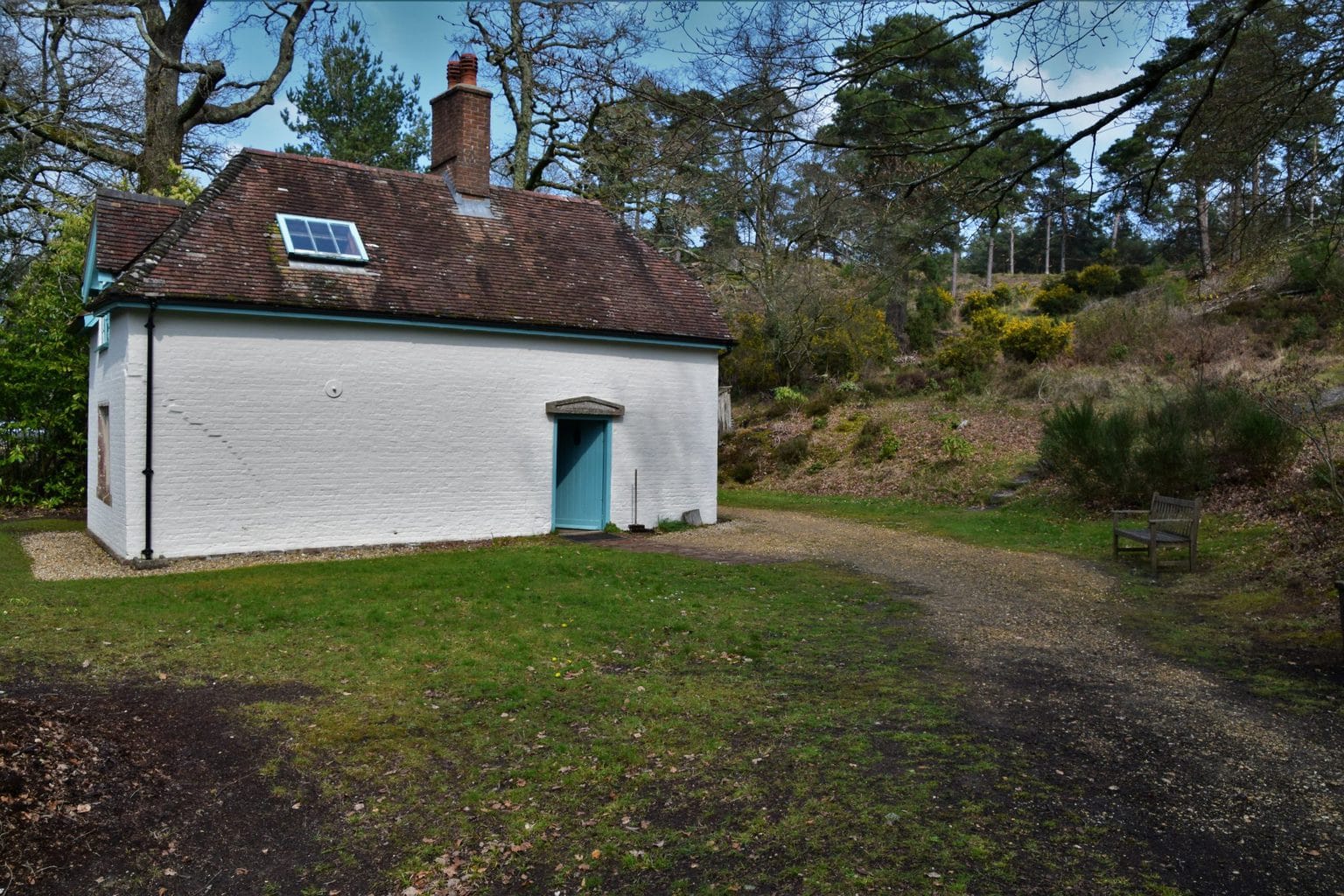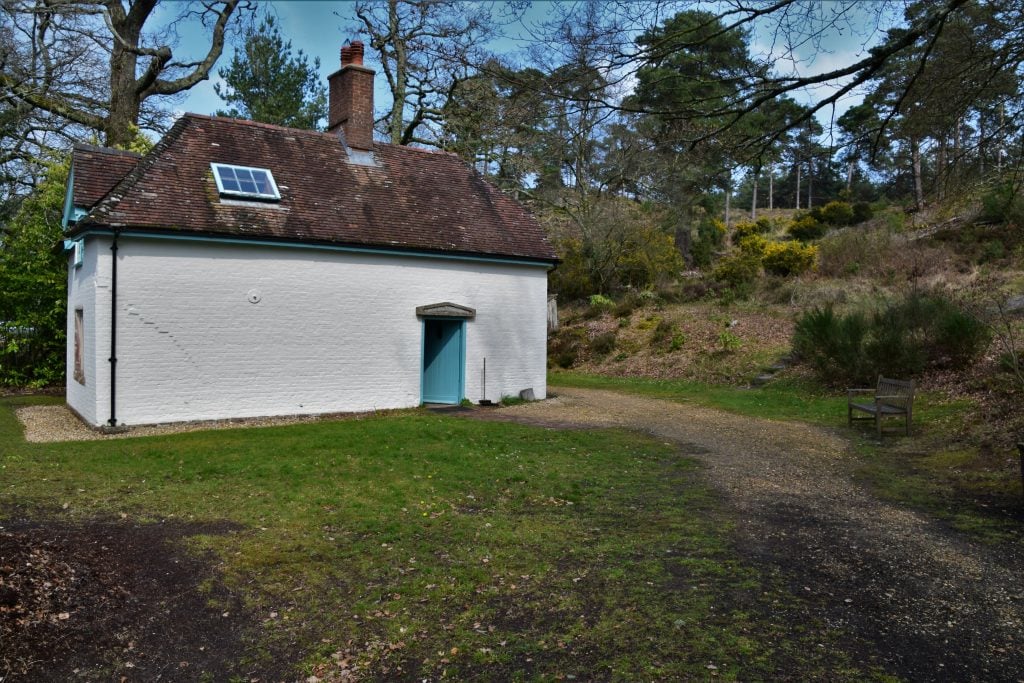 I've a hut in a wood near camp wherein I spend my spare evenings

T.E. Lawrence
This isolated brick-and-tile cottage just outside of Wareham was once the peaceful retreat of T. E. Lawrence – aka Lawrence of Arabia. Today, Clouds Hill is managed by the National Trust, and is still pretty much as Lawrence left it.
3. Swanage Railway
Swanage Railway is a heritage steam railway running across the Isle of Purbeck. Several antique steam trains run services from the beautifully restored station in Swanage town centre to a handful of stations, including the iconic Corfe Castle.
The nearest station from Wareham is at Norden, but for a fun day out you could drive to Corfe Castle and explore that first, then hop on a steam train to the seaside at Swanage.
4. Corfe Castle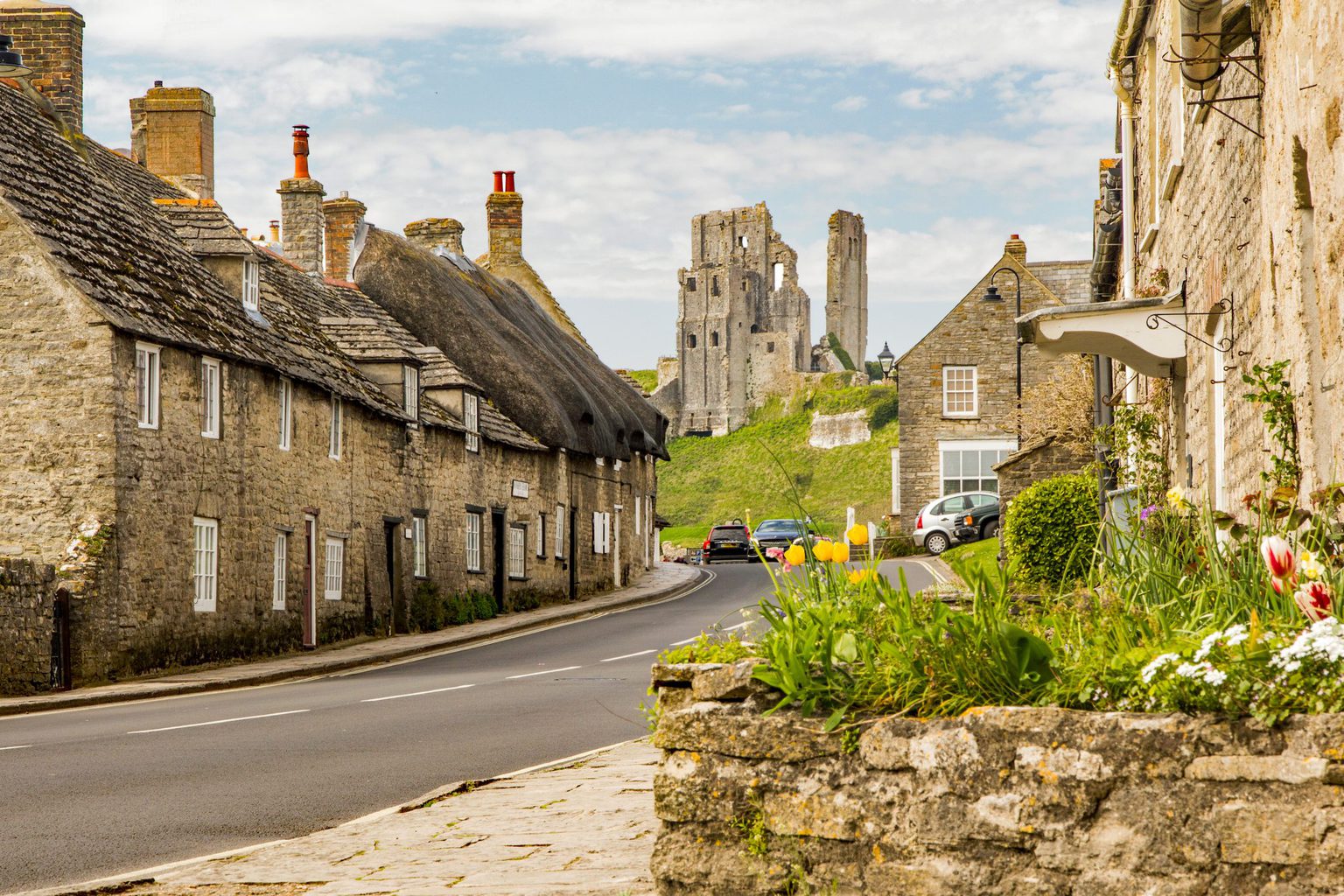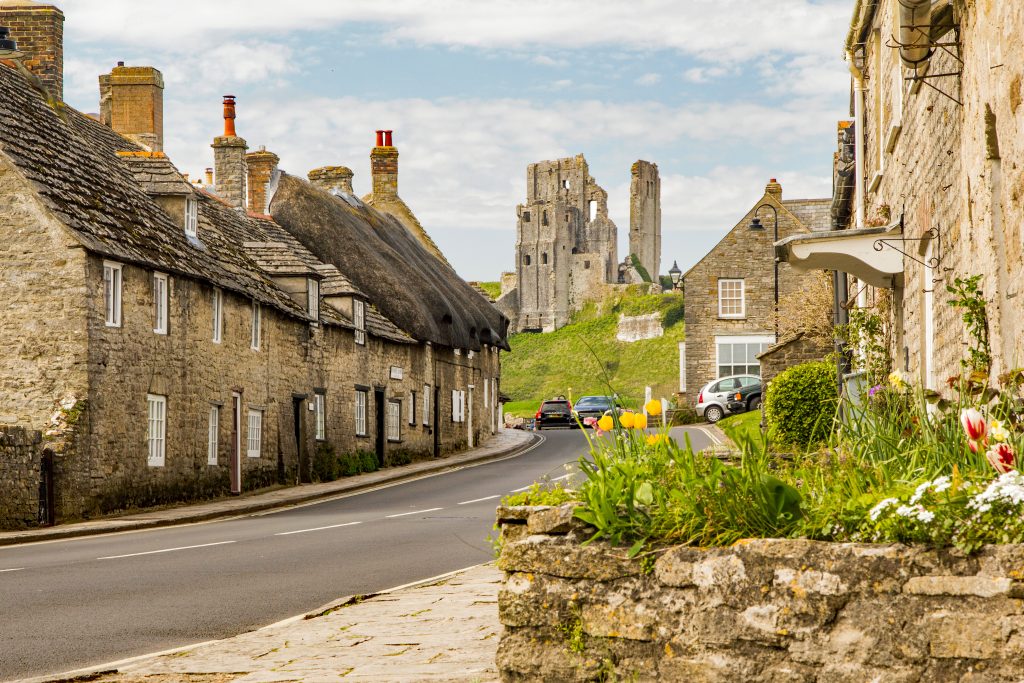 Corfe Castle is one of the best things to do near Wareham – in fact, in the whole of Dorset! The crumbling hilltop ruins of this thousand-year-old castle are one of the best-known sights in the county. It was destroyed during the English Civil War in 1646 and has a long and fascinating history to discover.
The nearby village of the same name also makes a great day out, packed with charming tearooms and a cute Model Village. It's one of the prettiest villages in Dorset, surrounded by the rolling Purbeck hills and overlooked by that ancient castle.
5. Tyneham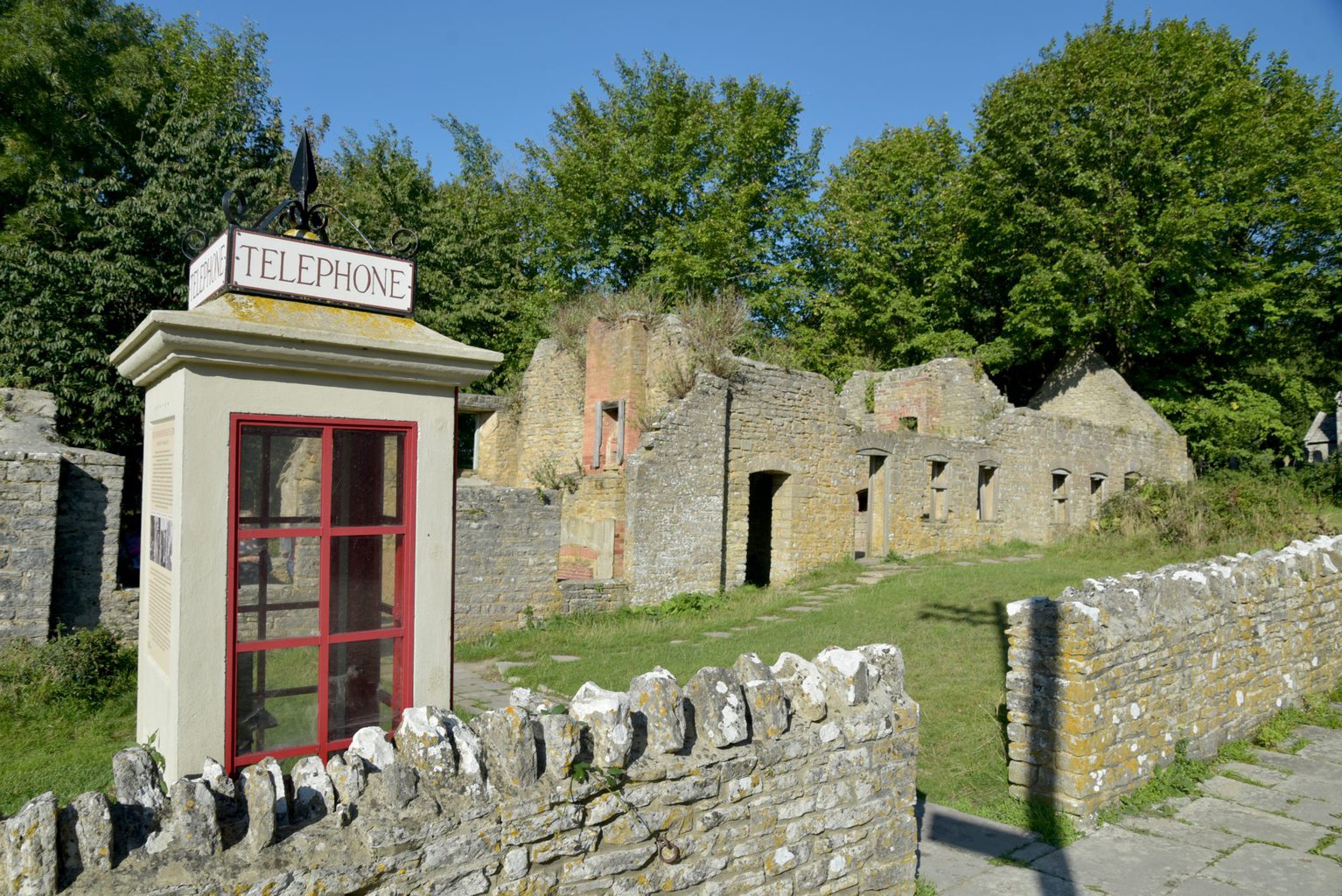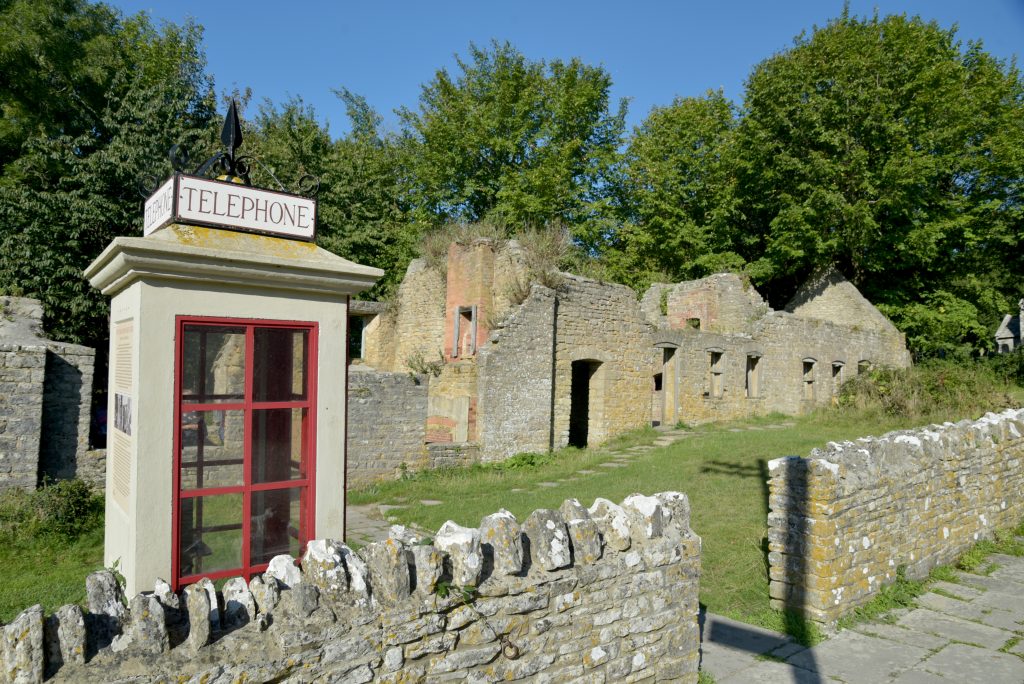 The "ghost village" at Tyneham makes a great day out from Wareham. During the Second World War, the British Military purchased the land for training purposes, apparently promising that the residents could return to their homes after the war. However, this never happened: the land is still owned by the military, and the houses stand empty and in ruins.
On weekends, the abandoned village is usually open to the public, and is a fascinating place to explore. Some of the buildings, including the church and schoolhouse, have been restored and opened as living museums, offering a glimpse into rural village life in the 1930s and 40s.
6. Monkey World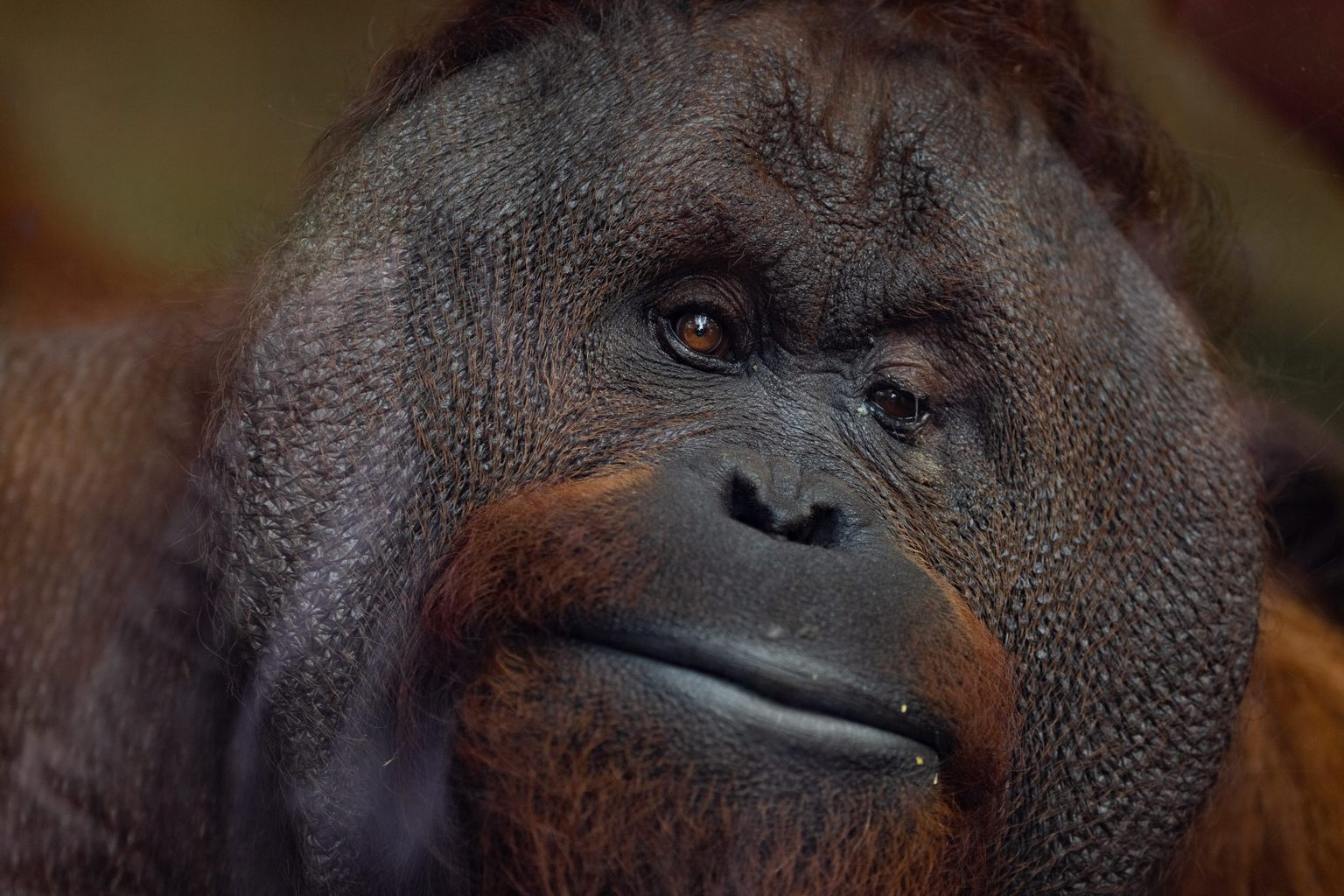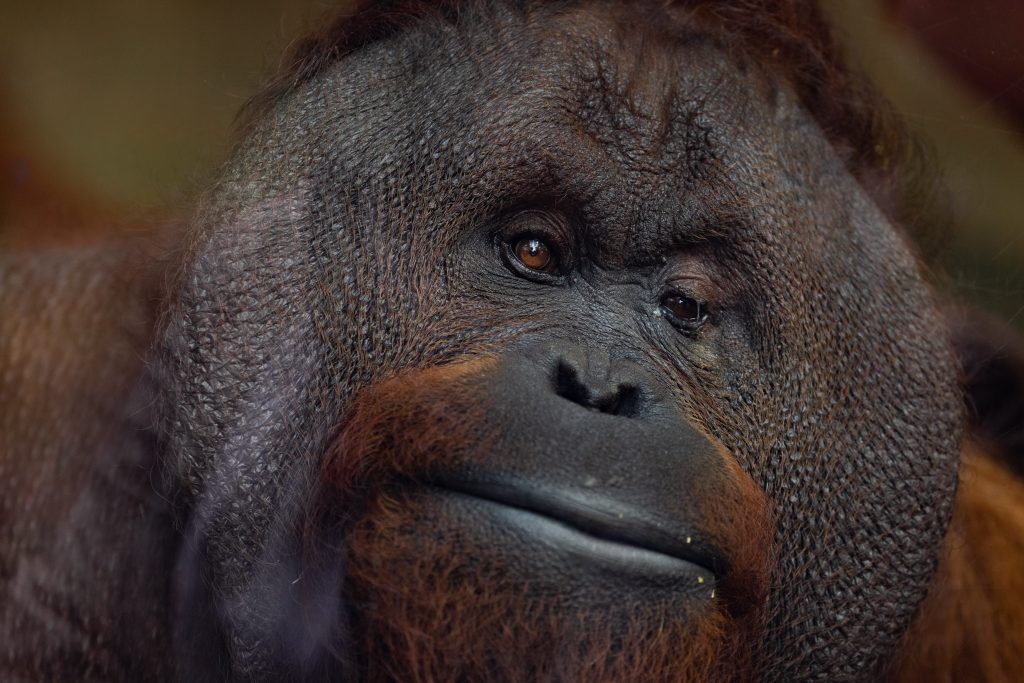 One of Dorset's top attractions lies just down the road from Wareham, at Bovington. Monkey World is a primate and ape rescue centre. They rescue chimps, monkeys, and apes from things like the illegal pet trade and entertainment industries, and rehabilitate them into the wild when possible.
When it's not, the primates stay at the centre, living in spacious, thoughtfully-designed enclosures. So you can get some great up-close encounters with a wide range of species, whilst helping to support ongoing rescue and rehabilitation projects around the world.
7. Bovington Tank Museum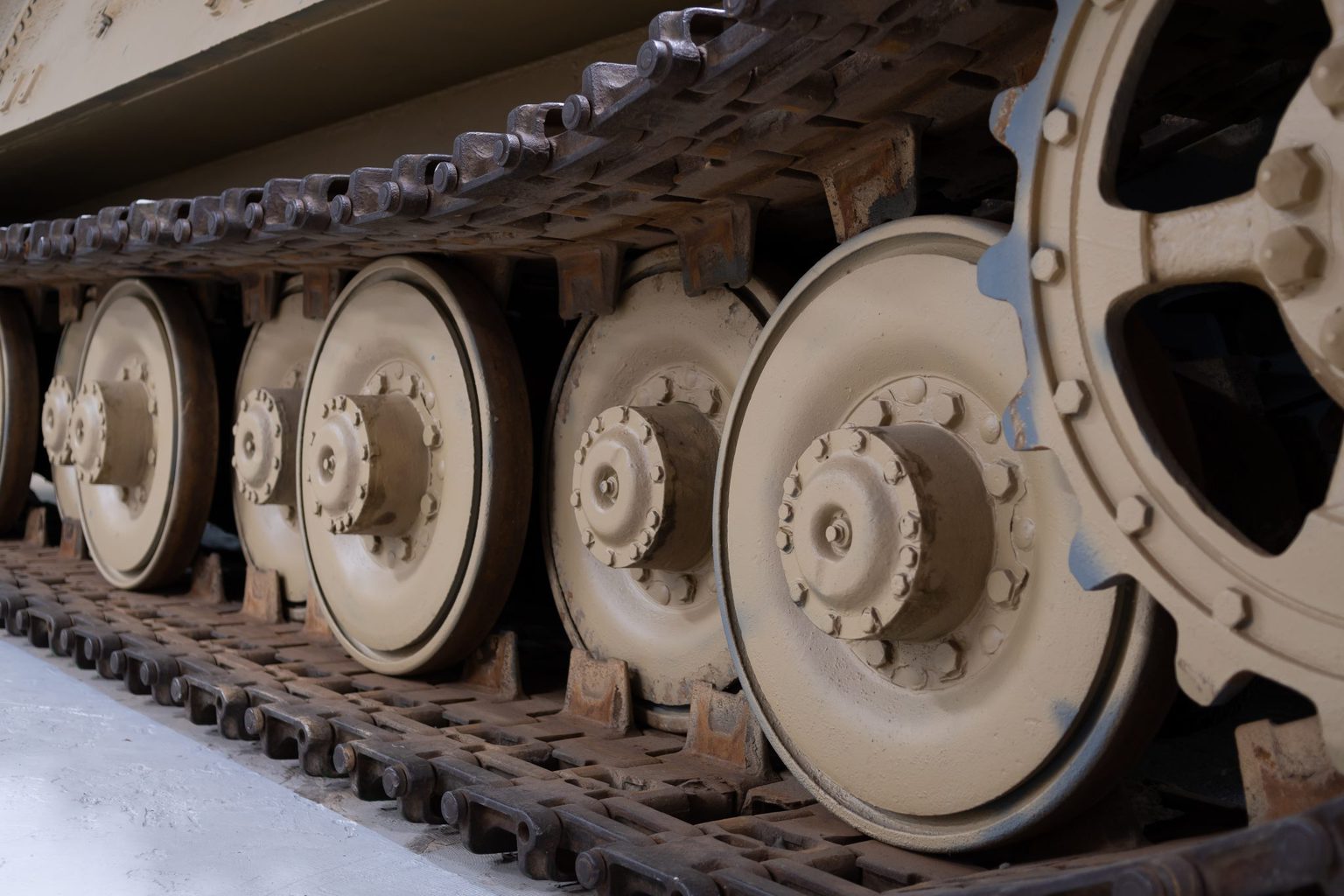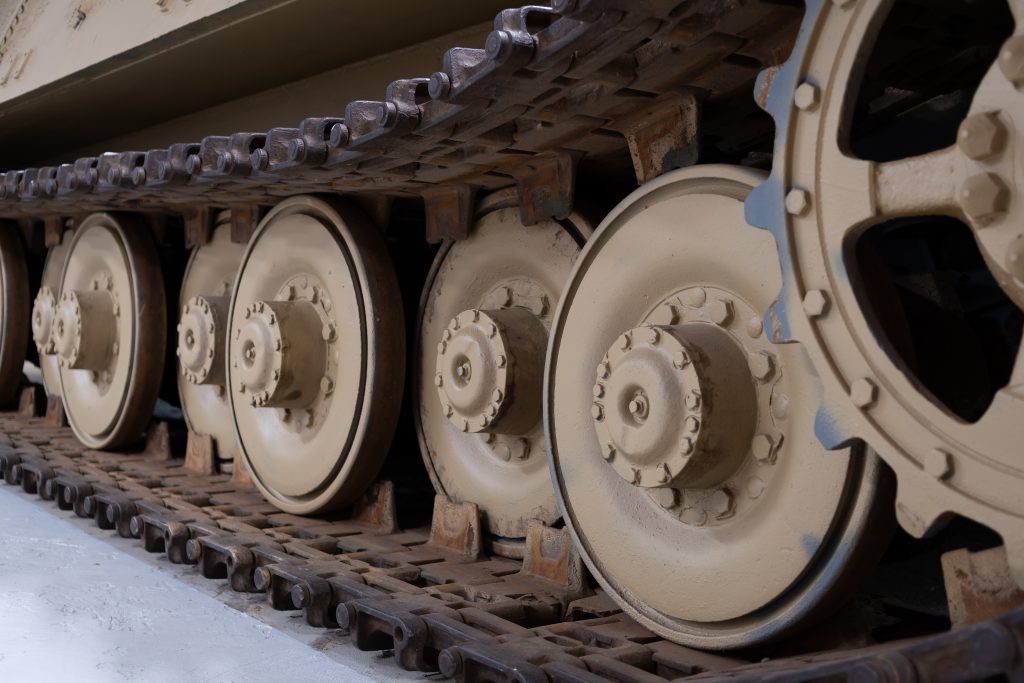 The Tank Museum at Bovington Camp, just outside of Wareham, is the world's biggest collection of tanks! The museum has over 300 armored fighting vehicles to explore. So you can learn all about tanks, their crews, and their history – from 1916 to the present day.
8. Dorset Adventure Park
Last but not least on this list of things to do near Wareham is the Dorset Adventure Park. Formerly the Dorset Water Park, this is a wet and wild woodland amusement park set across two lakes. The Inflatable Sports Aqua Park is a floating Total-Wipeout-style course with over 200m of inflatable obstacles. There's also a Mud Trail Assault Course, with 50 obstacles along a 2km trail.
More Nearby
Bournemouth Beach Lodges – Sleep in a Beach Hut by the Sea
31 Things to do in Bournemouth
Pin this Post