Some posts on this site contain affiliate links. If you book or buy something through these links, I earn a small commission (at no extra cost to you). Take a look at my privacy policy for more information.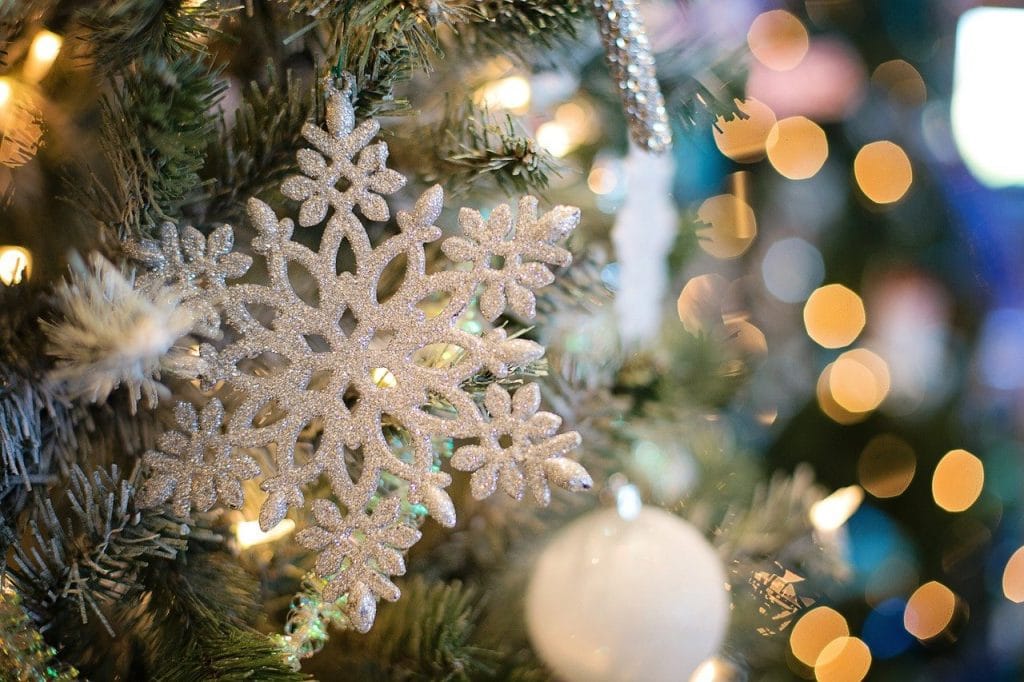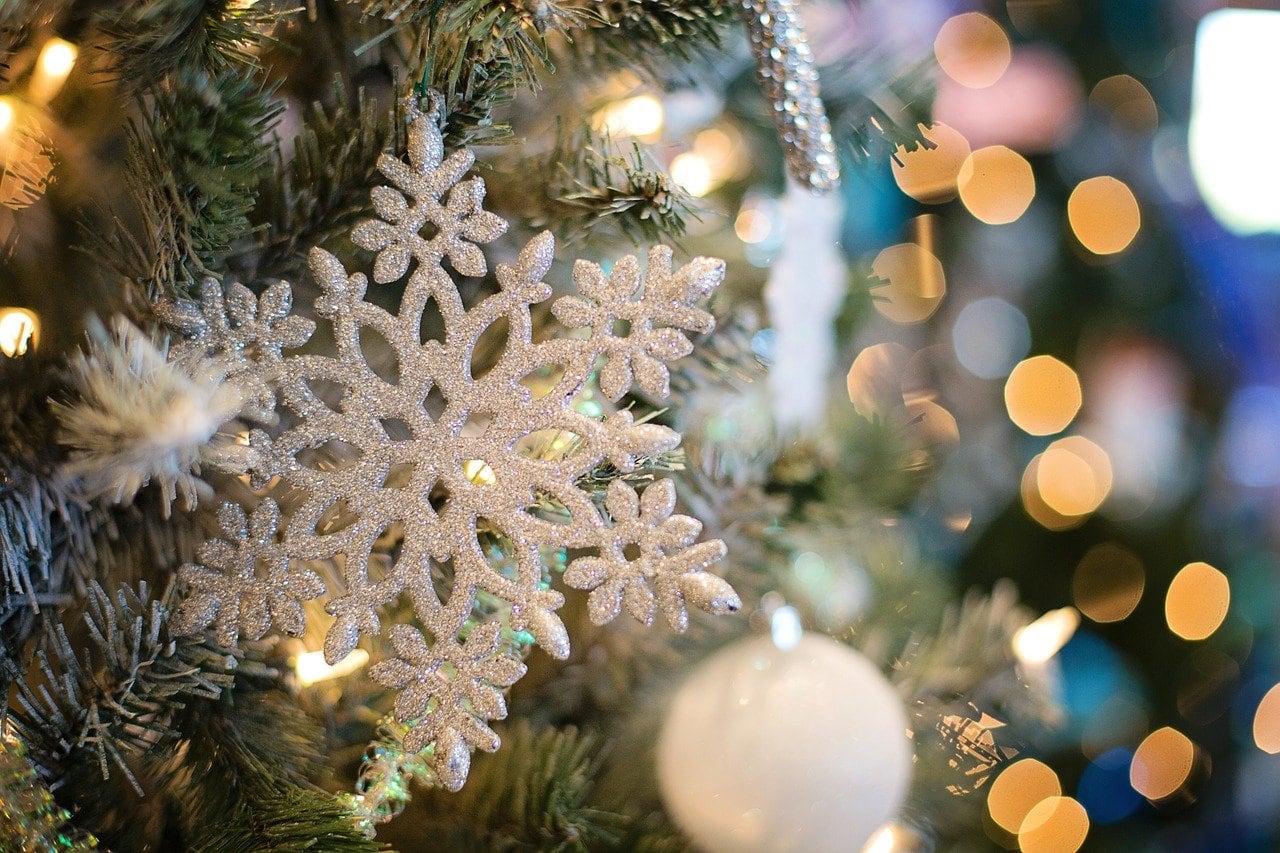 It's Christmas time in Dorset – and that means dozens of fab festive events, markets, and more. Perfect for getting yourself into the festive spirit!
Things like festive themed trails at our scenic country parks, pop-up Christmas markets selling brilliant handmade gifts, and specially illuminated trails to explore after dark.
Not to mention numerous chances to meet santa, as well as his elves and reindeer. This year, you can even feed live reindeer on a working farm!
I've divided this post into three sections. First up is a list of all the Dorset Christmas events which will be running throughout the festive season. The second section is a list of Christmas Lights Switch-On Events in Dorset, while the third is a quick-list of all upcoming Christmas Markets (full list in this post).
Use the table of contents to skip ahead, or browse through the post for inspiration. There's so much on, you're bound to find something fantastic near you!
If you know of any great Christmas events and markets around Dorset that aren't listed here, leave a comment at the end of this post or get in touch and I'll add it in. Merry Christmas…
Map of all Dorset Christmas Events
16 Christmas Events in Dorset
Christmas Tree Wonderland, Bournemouth
2021 Dates: 19th November 2021 – 2nd January 2022
Location: Lower Gardens and Town Centre
More Info
One of the biggest and best-known Christmas events in Dorset is Bournemouth's annual Christmas Tree Wonderland. It's a free trail of festive-themed illuminations throughout the Lower Gardens in the town centre.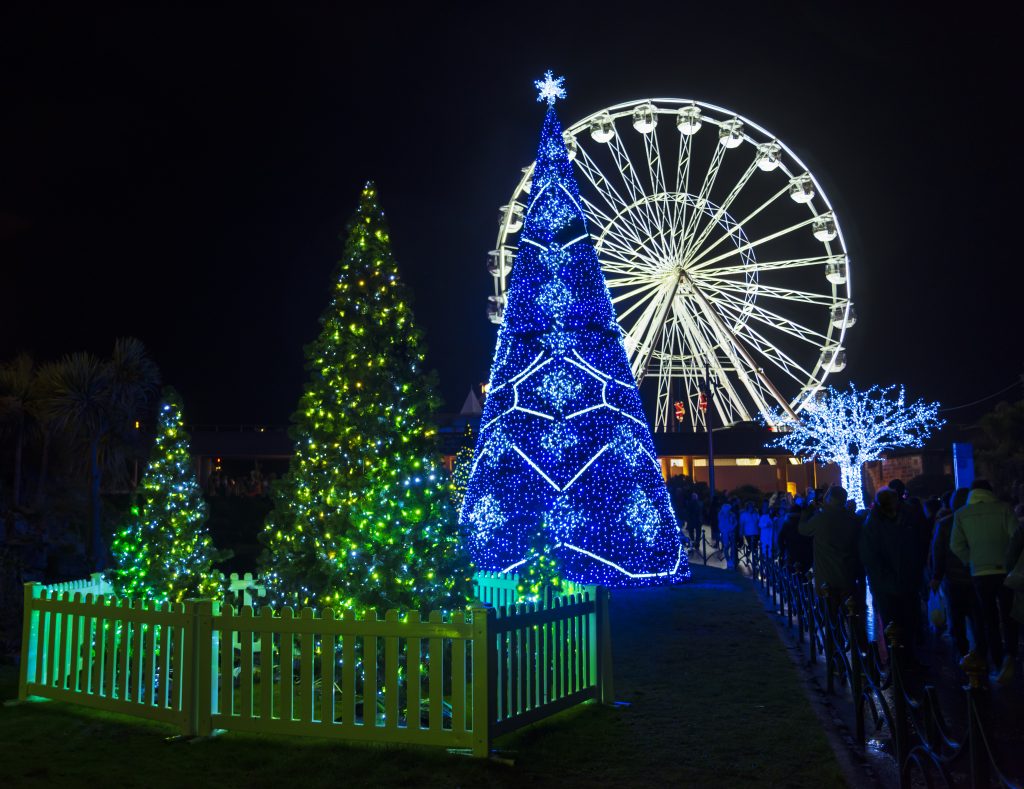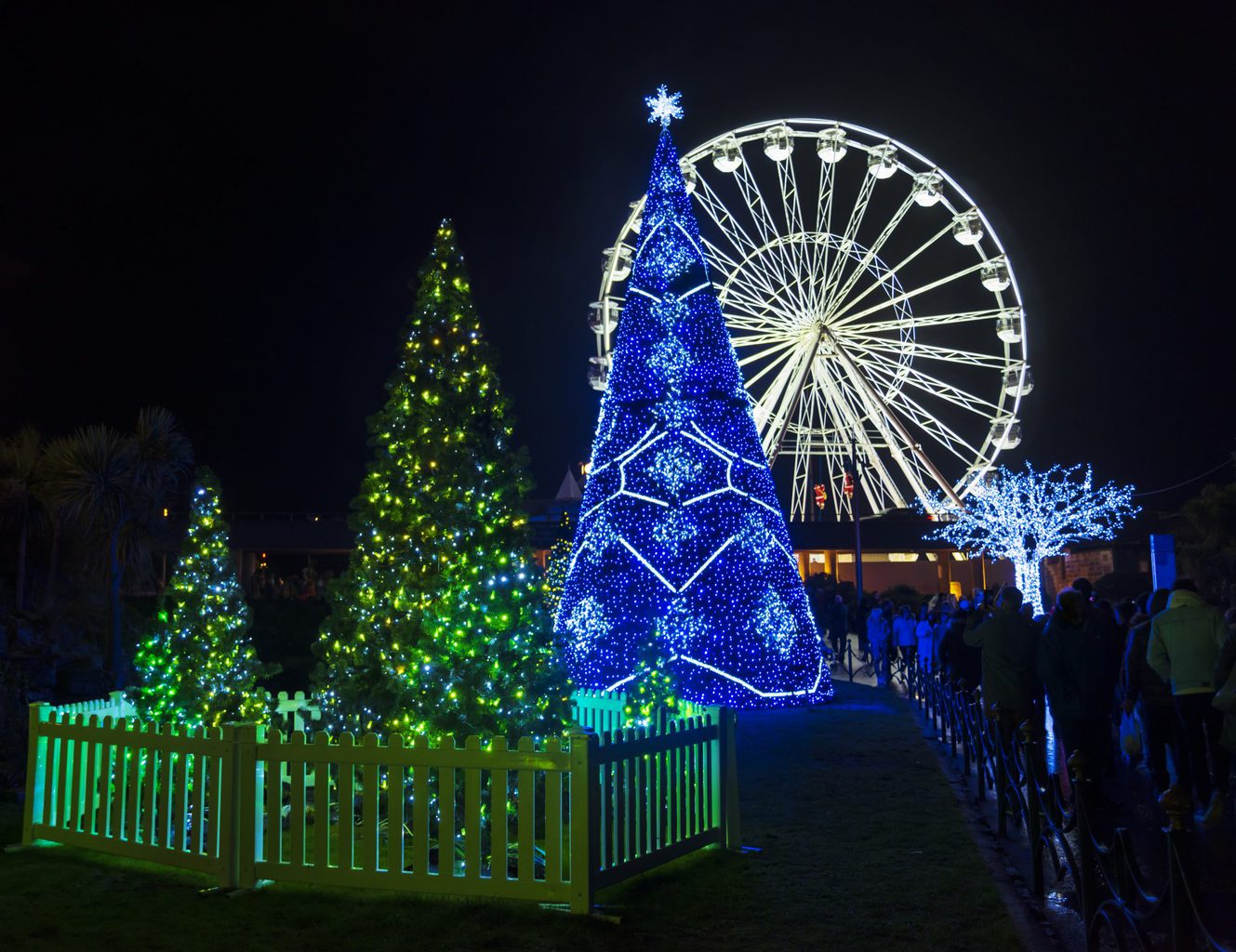 This year, the lighting features and installations will stretch all the way from the Seafront, through the Square, and up to the Triangle, Beale Place, Horseshoe Common and the Lansdowne roundabout.
Amongst all these magical lights and decorations, there's also a traditional Christmas market in the Town Square, the fantastic pop-up Alpine Lodge Bar, and an outdoor ice rink.
READ MORE: Bournemouth Christmas Markets and Events
Santa on the Quay, Poole
2021 Dates: 20th November
Location: Poole Quay
Times: 2pm – 4pm
More Info
A family-friendly Christmas launch in Poole, with entertainment, street music, dancing, face-painting, and more! Santa will make several guest appearances throughout the afternoon along with his elves and reindeer. Santa's sleigh will also be parked up on the Quay offering photo opportunities for children big and small!
Christmas at the Russell-Cotes, Bournemouth
2021 Dates: 23rd November 2021 – 23rd Feb 2022
Location: Russell-Cotes Art Gallery & Museum, East Cliff Promenade, Bournemouth, BH1 3AA
Step back in time and discover the magic of a traditional Victorian Christmas at the Russell-Cotes Art Gallery and Museum. The halls of the historic house are stunningly decorated for Christmas in traditional Victorian style.
Follow the Christmas Trail to find out more about Christmas traditions and collection items linked to this magical time of the year. There'll also be a magical nutcracker trail for families to enjoy.
Christmas at Upton Country Park, Poole
2021 Dates: 20th November – 24th December (only on specific dates)
Location: Upton Country Park, Poole Road, Poole BH17 7BJ
More Info
There are lots of great Christmas events going on at Upton Country Park in Dorset this year…
Santas's Woodland Grotto: 10th-12th and 18th-24th December
Festive Arts & Crafts Fair: Saturday 20th & Sunday 21st November
Wreath Making Workshops: Saturday 28th & Tuesday 30th November
More to be annonced
Illuminate at Abbotsbury Sub-Tropical Gardens, nr Weymouth
2021 Dates: 26th November – 23rd December
Location: Abbotsbury Subtropical Gardens, Buller's Way, Abbotsbury, DT3 4LA
Timings: Daily 4.30pm to 8pm, last entries between 7pm and 7:15pm.
More Info
Head to Abbotsbury, a picturesque village near Weymouth, for the return of ILLUMINATE. In the run-up to Christmas, Abbotsbury's stunning Sub-Tropical Gardens will be illuminated after dark for a truly spectacular experience.
Nutley Farm Christmas Lights & Reindeer Experience, nr Dorchester
2021 Dates: 26th November – 2nd January 2022
Location: Nutley Farm, Winfrith Heath, Dorchester DT2 8DT
More Info
This brilliant Christmas event at Nutley Farm in Dorset is returning for a second year, and will be raising funds for the Somerset and Dorset Air Ambulance. Enjoy the festive season under the stars with Nutley Farm's Christmas Lights and Reindeer Experience…
Meet – and get the opportunity to feed – the farm's friendly reindeer.
Wander along the magical illuminated 600m walkway, with glittering archways, twinkling trees and light installations.
A new Elf hunt, have fun finding the Elf's as you enjoy the illuminated walk.
Seasonal food, mulled wine & cider, hot chocolate and hot drinks in the festive barn.
Santa will be visiting the farm on certain dates!
Swanage Railway Steam and Lights, Swanage
2021 Dates: 27th Nov – 31st December (only on certain dates)
Location: Swanage Railway, Railway Station Approach, Swanage BH19 1HB
Swanage Railway's Steam and Lights is a magical Christmas steam train journey through the Isle of Purbeck countryside.
It's a one-hour evening round trip passing the historic ruins of Corfe Castle, with stations and key points along the line specially lit. The steam locomotive and carriages will be also be covered with brightly coloured lights while the cosy steam-heated carriage interiors will be festively decorated.
Christmas At Adventure Wonderland, Christchurch
2021 Dates: Weekends of 27th Nov, 4th Dec, 11th Dec, and 18th Dec – 23rd Dec
Location: Adventure Wonderland, Christchurch, BH23 6BA
More Info
Adventure Wonderland is a family-friendly theme park on the edge of Bournemouth. This Christmas, they'll be hosting a magical sequel to 2020's sell-out special, The Santa Show.
Expect an all-singing, all-dancing stage show featuring Father Christmas and some of his trusted elves!
A Dorset Christmas At The Tank Museum, Bovington
2021 Dates: 27th – 28th November
Location: The Tank Museum, Bovington, BH20 6JG
Enjoy a Christmassy day out for all ages at Bovington Tank Museum. Watch live entertainment and buy unique presents from local crafters, plus children can explore our Christmas trail. You can even see Santa arrive in a tank at 11am!
Living Advent Calendar, Christchurch
2021 Dates: 1st to 24th December
Location: Different Venue each night
Times: 6:15pm daily
More Info
Throughout December you can enjoy the "Living Advent Calendar" in Christchurch. A "door" is opened every evening for a different 30-minute performance at a different venue in the town. There's a variety of local performers including choirs, singers, bands, dance troupes, and theatre.
Light Trail at Kingston Lacy, Wimborne
2021 Dates: 3rd – 5th December and 8th December – 2nd January
Location: Kingston Lacy, Wimborne BH21 4EA
More Info
There are lots of magical Christmas events coming up at Kingston Lacy, one of the most splendid stately homes in Dorset!
During the day, you can visit the traditionally decorated house, with extravagant Christmas trees, garlanded fireplaces, and a dining room set for a fabulous Christmas feast. In the estate grounds, there's also a festive Winter Wander Trail to explore the beautiful parkland.
Then, after dark, the estate comes alive with an incredible illuminated trail through festive gardens. Includes sparkling tunnels of light, giant baubles, trees drenched in light, and a fire garden.
Christmas At Corfe Castle, nr Wareham
2021 Dates: 4th Dec, (only on specific dates)
Location: Corfe Castle
More Info
There are lots of festive Christmas events on at Dorset's iconic Corfe Castle this year…
Lord of Misrule Story Telling (see website for dates). "Take a step back to the 17th century where our very own Lord of Misrule will take you on an interactive journey through the ruins of the castle and teach you the games, dances, stories and Christmas traditions of days gone by."
Twelve Days of Christmas family quest (throughout December). Search for the shields hidden in the castle ruins and complete the activities on a special Christmas Castle Quest.
Marshmallows, Firepits and Festivities (see website for dates). Gather around a fire pit with a warm drink from the 17th Century tea-room and toast some tasty marshmallows.
READ MORE: Best Castles to Visit in Dorset
Moors Valley Festive Fun Day, Ringwood
2021 Dates: 4th and 11th December
Location: Horton Rd, Ashley Heath, Ringwood BH24 2ET
More Info
A full day of Christmas fun, including children crafts of tree decorations, willow stars and party hats, family festive quiz trail, and performances by the Dorset Youth Marching Band. Don't forget to wear your favourite Christmas jumper!
Meet "Farmer" Christmas at Farmer Palmers, nr Poole
2021 Dates: 11th – 23rd December
Location: Farmer Palmers Farm Park Ltd, Wareham Road, Organford BH16 6EU
More Info
This year Dorset's Farmer Palmers say they're making their Christmas event even better than ever! That means more lights, more elves, and more magic! The farm will be decorated, and there's a 'Meet Farmer Christmas Experience' in the enchanted barn (11th – 23rd December).
There's also Farmer Palmers Christmas Twilight Event (20th – 23rd December 4:45pm to 7:30pm). With an enchanted barn, photo opportunities, panto dame, elves, lots of fancy dress and, of course, Farmer Christmas himself!
Christmas Events at Durlston Country Park, Swanage
2021 Dates: 18th December – 3rd January 2022
Location: Durlston Country Park, Lighthouse Road, BH19 2JL
More Info
There are lot's of fab Christmas events running at Durlston Country Park on Dorset's Isle of Purbeck this season…
Rudolph's Reindeer Roundup! – 18th December – 3rd January. Santa's cheeky reindeer are hiding around the park! Can you help find them all?
Design Your Own Chrsitmas Seed Bomb – 4th December, 11am – 3:30pm
The Snowman Live Score with Cabaret of Living Cinema – 18th December 3:30pm-5pm
Festive Family Fun Run – 19th December, 10am
Christmas Rocket Lanch – 30th December 11am – 12:30pm. Design and build your own Christmas Rocket, then launch it!
Weymouth Harbour Christmas Day Swim
2021 Dates: 25h December
Location: Weymouth Harbour
More Info
Every year, the Weymouth & Portland Lions Club host the popular Christmas Day Swim in Weymouth Harbour. That's right, a pre-Christmas-lunch dip in the chilly waters of Weymouth Harbour to raise money for the Lions Club Charities. Are you brave enough?
This event was cancelled for 2020 but the organisers say they're hoping it will be back on for 2021. Keep an eye on their website or social media for updates.
Dorset Christmas Lights Switch Ons
Looking for your nearest Christmas Lights Switch-On event in Dorset? There are loads going on across the county, check the list below for dates and locations…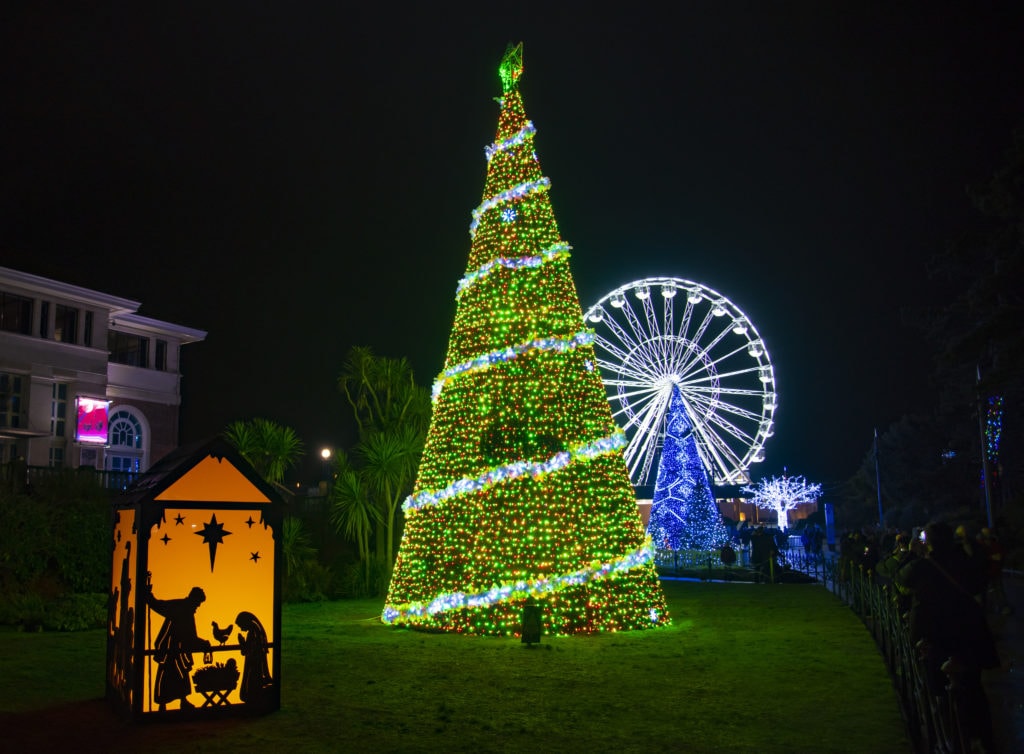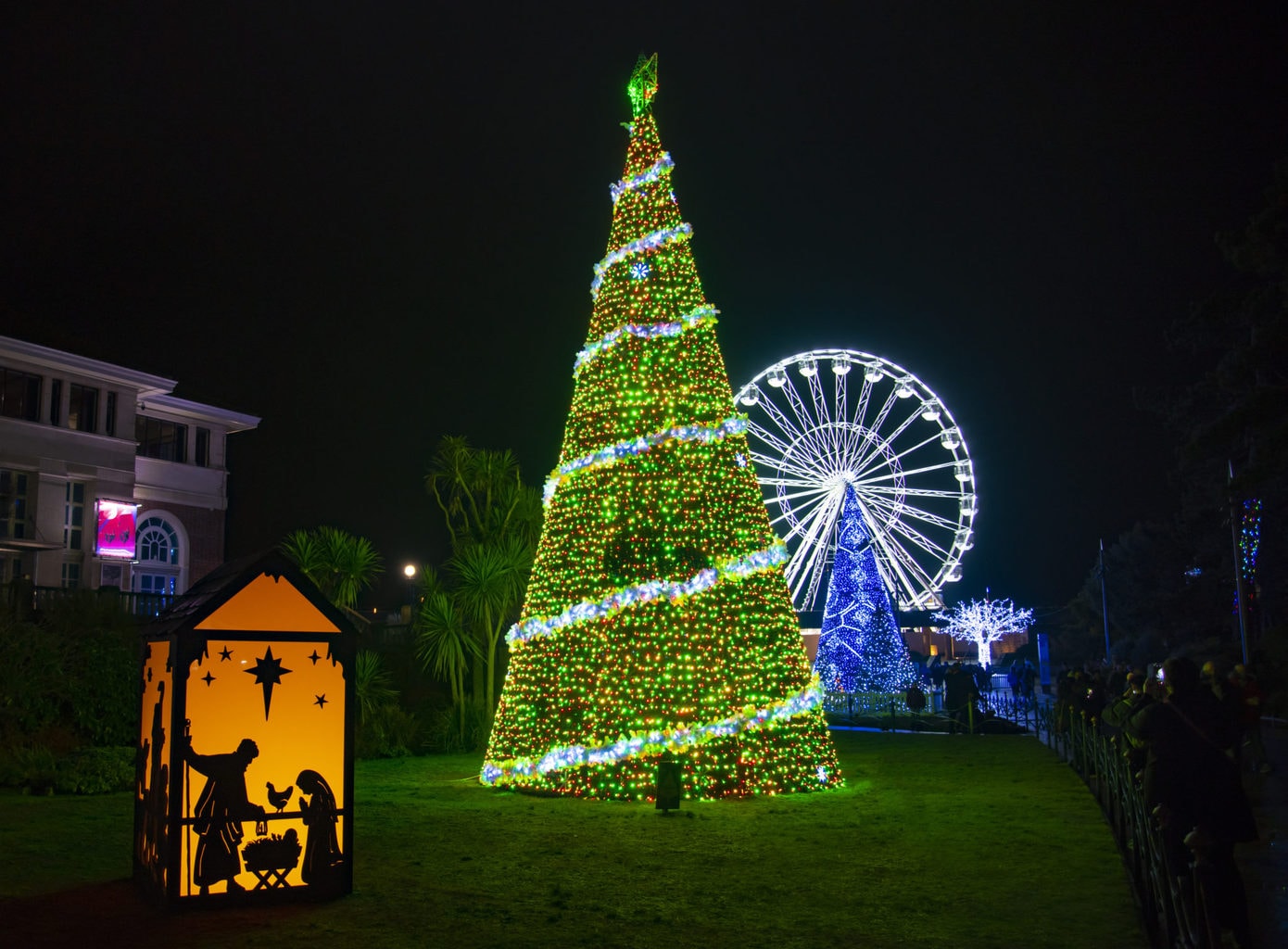 Bournemouth: 19th November, Lower Gardens. It appears there is no specific event planned, but the Christmas Tree Wonderland opens on the 19th.
Poole: 20th November, 11:30am – 5:30pm, Falkland Square. Free activities throughout the day with LOVE SOUL CHOIR performing at 4:30 pm.
Brewery Square Dorchester: 24th November, 4pm – 7pm. Live music, entertainment, mulled wine, lights illumination, performances, late-night shopping and more. More info.
Weymouth: 27th November, 3pm -5pm, New Bond Street. Live entertainment and a countdown to the switch-on of Weymouth's Christmas illuminations at 4pm. There's also a world record attempt for the number of elves in one place at a time, so fancy dress is encouraged! More info.
New Milton: 27th November, 12pm – 5pm, town centre. A Christmas festival culminating in the switch-on of the New Milton Christmas lights at 5pm. More info.
Moors Valley: 27th November, 2pm – 4:30pm. Activities include a fun festive colouring for children and performances by the Dorset Youth Marching Band. More info.
Lyme Regis: 27th November, 2pm – 5:30pm, Broad Street. Festivities throughout the day including an illuminated carnival at 5pm.
Wimborne: 27th November, 12pm – 4pm, Minster Green. More info.
Ringwood: 28th November, 11:30am – 6:30pm, town centre. Fairground, entertainment, and two Santa parades. More info.
Corfe Castle: 4th December, 4:30pm – 5:30pm, The Cross. More info.
Dorset Christmas Markets
Below, you'll find a quick list of all the Christmas Markets happening around Dorset this year – in date order.
Need to know more? There's a full list of Dorset Christmas Markets here, which includes more information like location and pricing details. Save both these posts to help plan your 2021 festive season!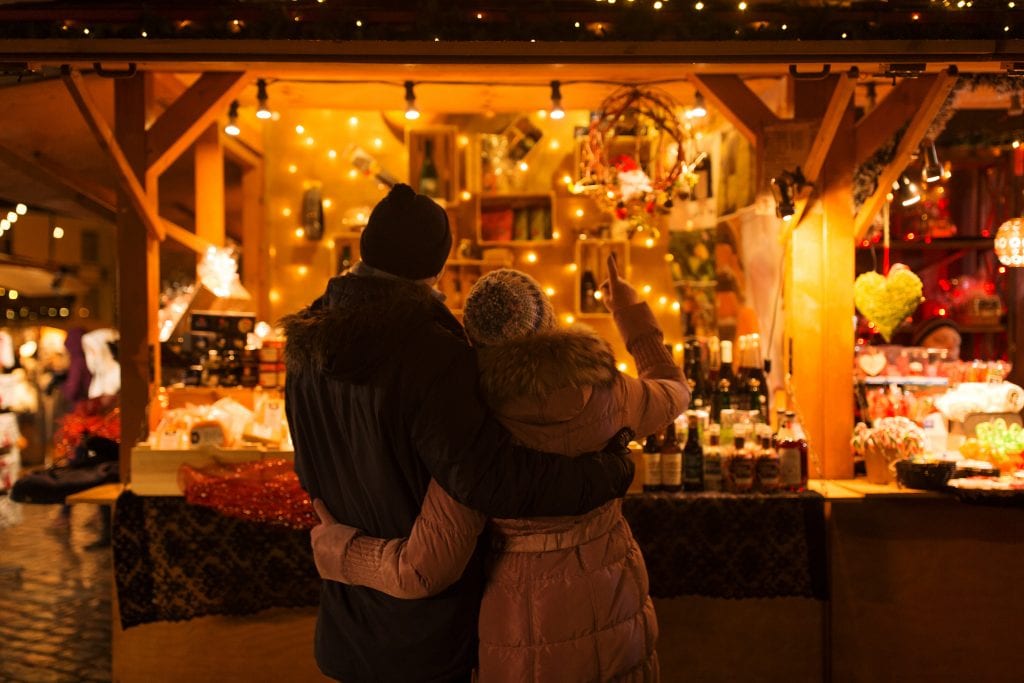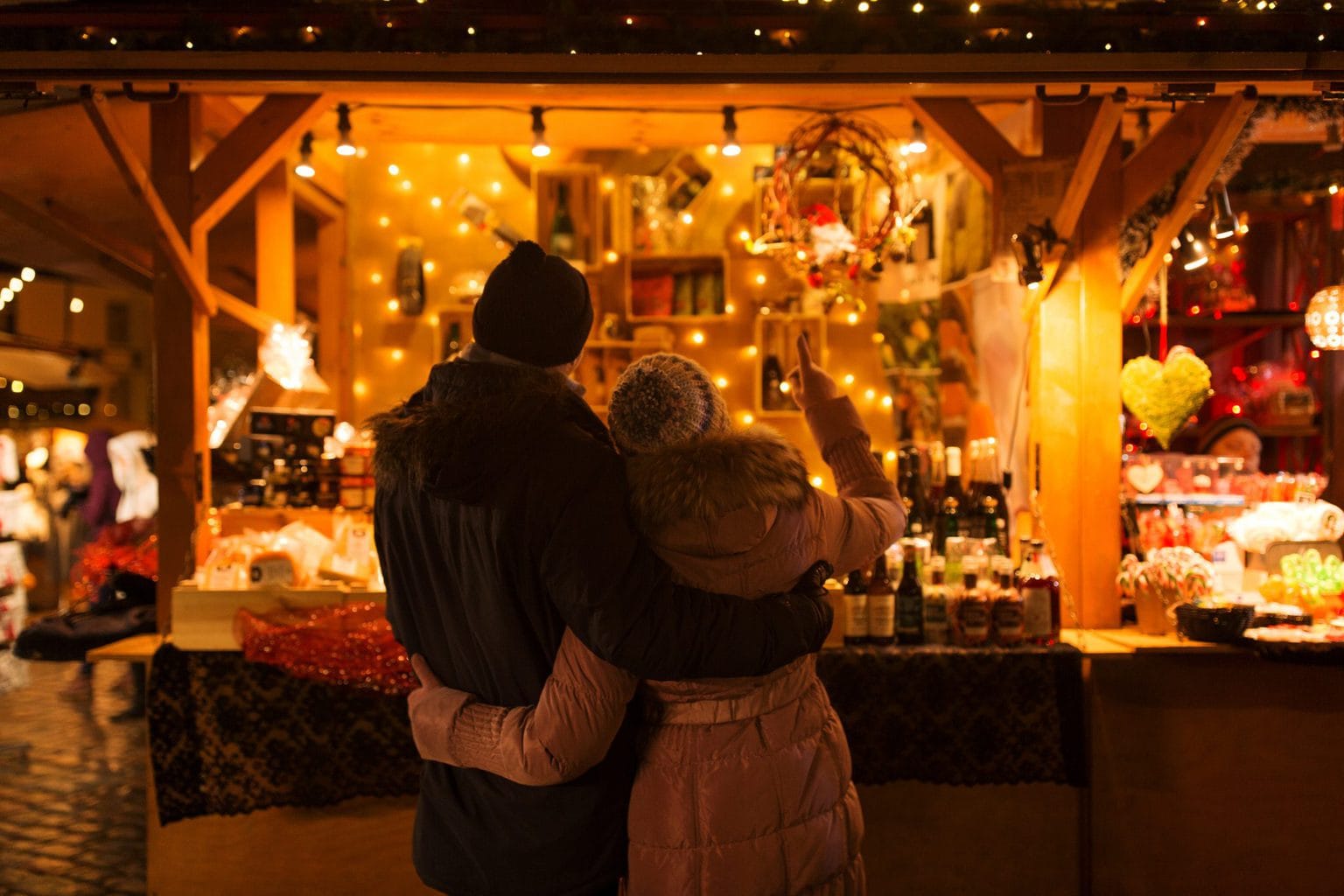 Kingston Maurward Christmas Craft and Food Fair, Dorchester, 6th-7th Nov
Longthorns Two Day Christmas Market, Wareham 13th-14th Nov
Alpine Market at Bournemouth's Christmas Tree Wonderland, Bournemouth, 19th Nov 2021 – 2nd Jan 2022
Festive Arts & Crafts Fair at Upton Country Park, Poole, 20th-21st Nov
GIFTED at Bridport Arts Centre, Bridport, 24th Nov – 22nd Dec
Highlands End Christmas Makers' Market, Bridport, 27th Nov
Festive Fair Compton Acres, Poole, 27th Nov
Step Into Christmas, Sherborne, 27th Nov
Littledown Christmas Market, Bournemouth, 28th Nov
Inaugural Christmas Market Mapperton, Beaminster, 28th Nov
Leweston School Christmas Market, Sherborne, 3rd Dec
Poole's Marvellous Market Christmas Special, Poole, 4th Dec
Swanage Christmas Market, Swanage, 4th Dec
Cerne Abbas Christmas Street Fayre, Cerne Abbas, 4th December
Poundbury Independent Christmas Market, Dorchester, 4th December
Nothe Fort Christmas Steampunk Festivities & Market, Weymouth , 4th Dec
Symondsbury Estate Christmas Market, Bridport, 4th-5th Dec
RSPB Arne Christmas Market, near Wareham, 4th-5th Dec
Christmas Steampunk Promenade & Market, Weymouth, 5th Dec
Athelhampton Christmas Fair, Puddletown, 5th Dec
Handmade Wimborne Christmas, Wimborne, 11th Dec
Shire Hall Christmas Market, Dorchester, 11th-12th Dec
Dorchester Christmas Cracker, Dorchester 12th Dec
Shaftesbury Christmas Fair, Shaftesbury, 19th Dec
Read More
24 Christmas Markets in Dorset
9 Christmas Markets and Events in Bournemouth
Locally Made Foodie Gifts for Dorset Lovers
8 of the Best Dorset Music Festivals
If I've missed any fab Dorset Christmas events from this list, please leave a comment below and I'll be sure to add it. Have a great Christmas everyone!