Some posts on this site contain affiliate links. If you book or buy something through these links, I earn a small commission (at no extra cost to you). Take a look at my privacy policy for more information.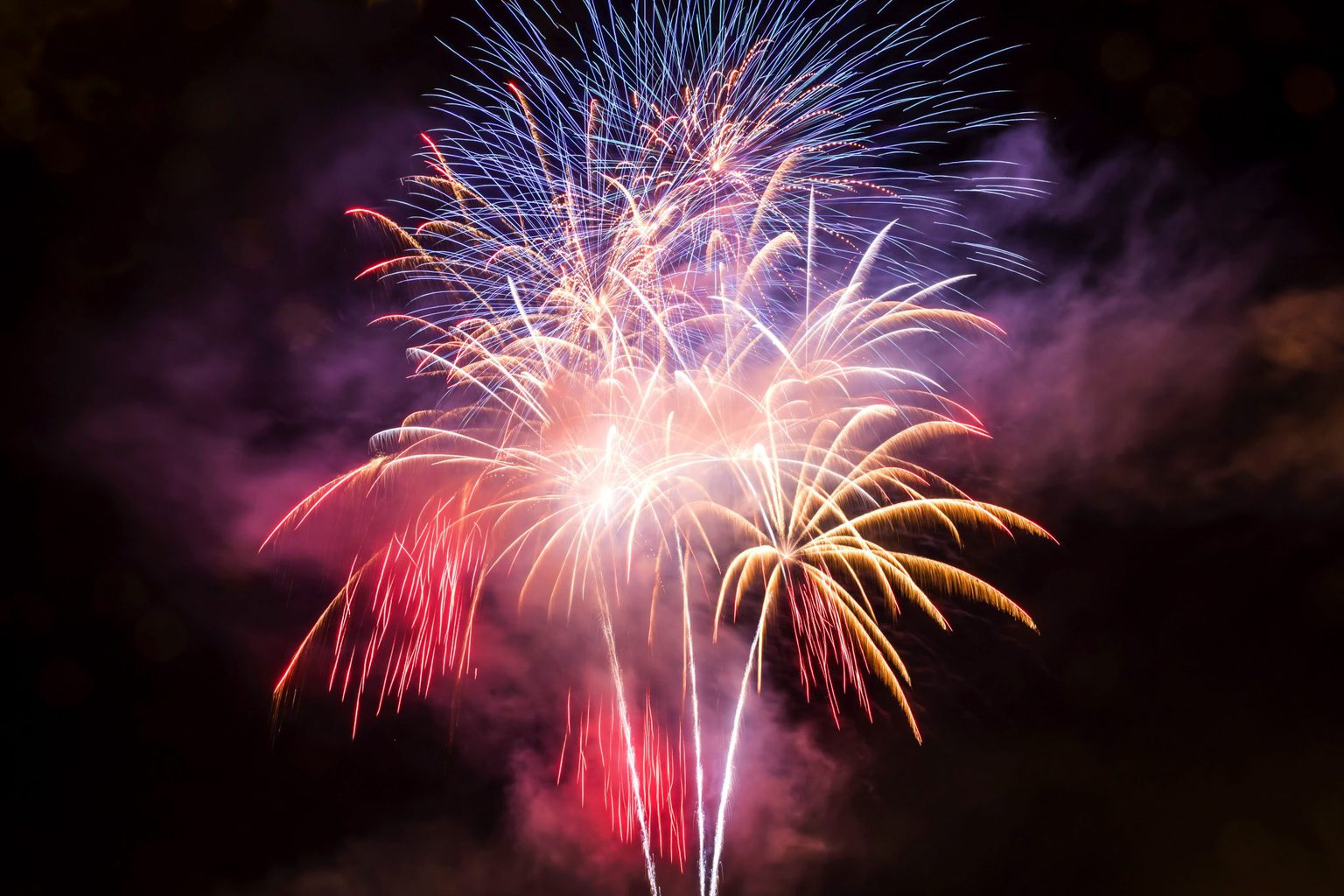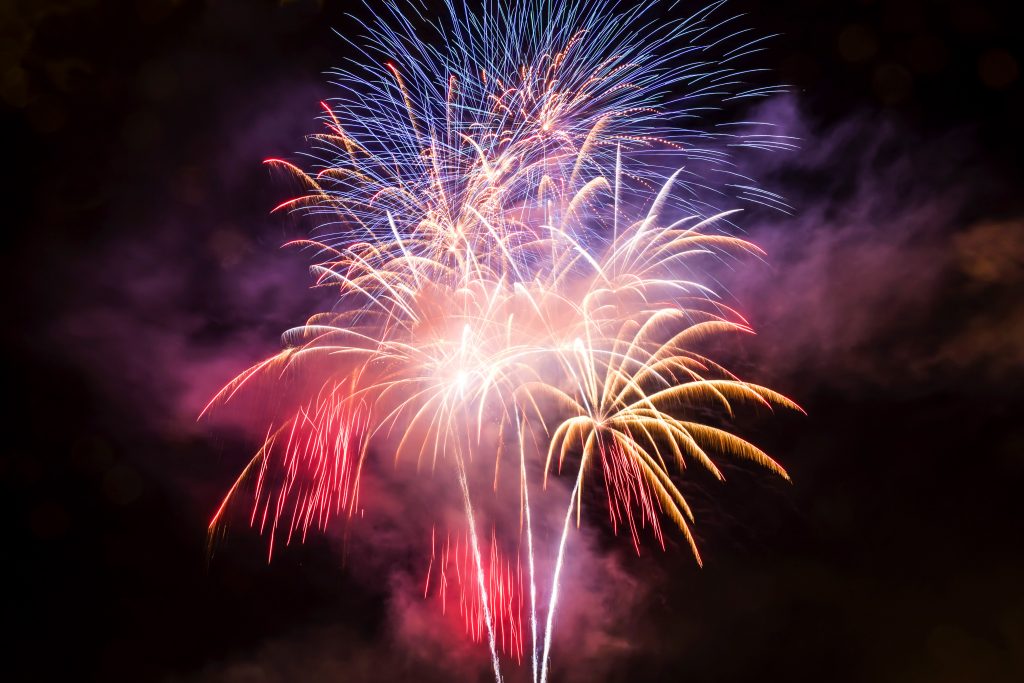 Remember, remember the 5th of November… If you're looking for bonfire night fireworks displays in Dorset, you're in the right place!
There are loads of fun bonfire night parties and activities across the county – from large-scale events with funfairs and food, to smaller, community-run events for a more intimate feel. Some are paid-for, but there are also many free bonfire nights to attend. Including some of the biggest – like the Weymouth Bay and Poole Quay fireworks nights.
We've rounded up all the bonfire night events across Dorset, with a handy map to help you quickly find your nearest. And it's broken down into two sections: free events, and paid-for events, just to make things easier.
Most of these events are taking place on Friday 5th November, but some are a day before or after. The dates and times are all included below so do double-check when making your plans!
Grab your sparklers, wrap up warm, and get ready for some Guy Fawkes Night fun in Dorset this November…
Map – Find Your Nearest Bonfire Night Fireworks in Dorset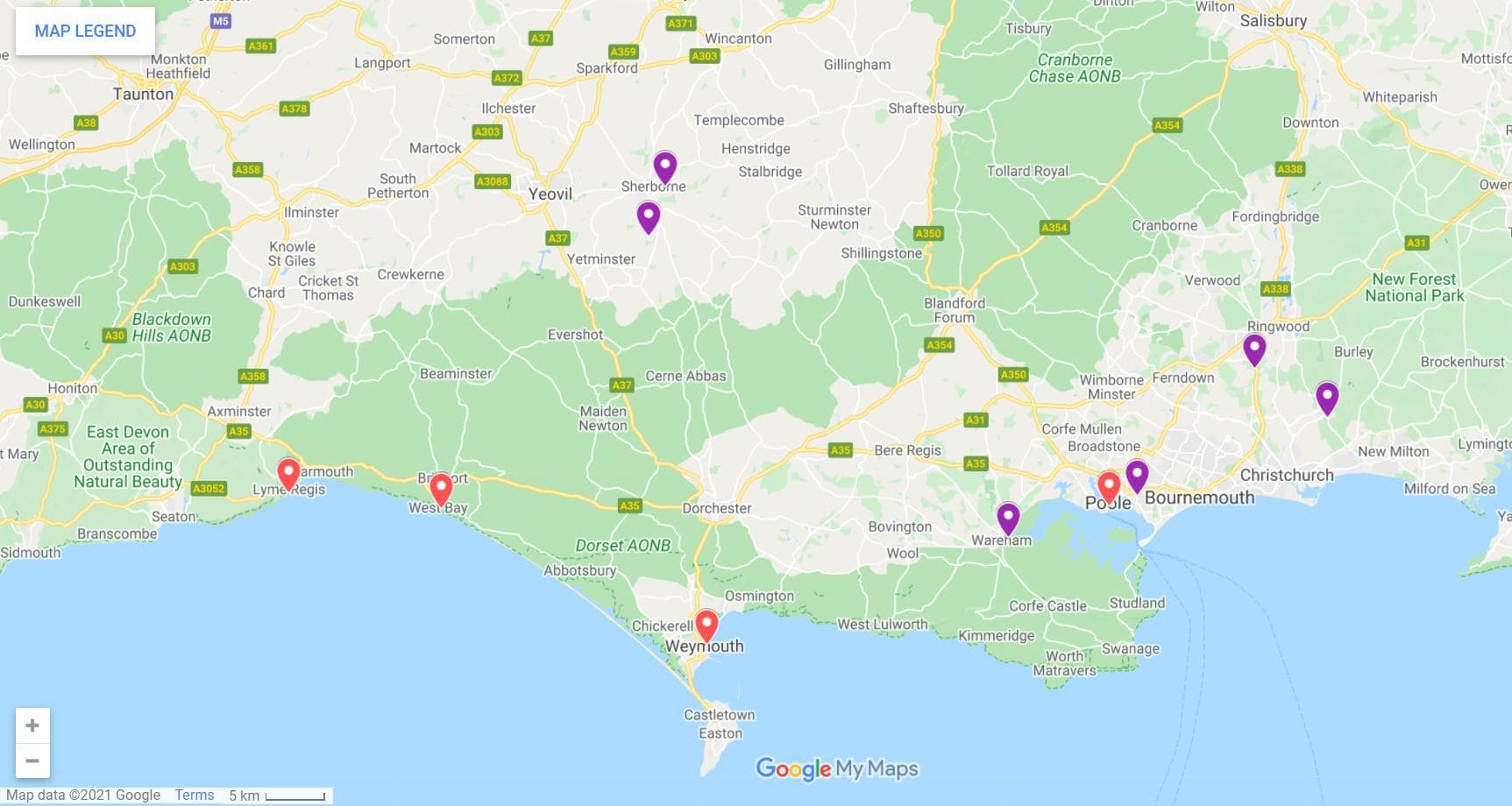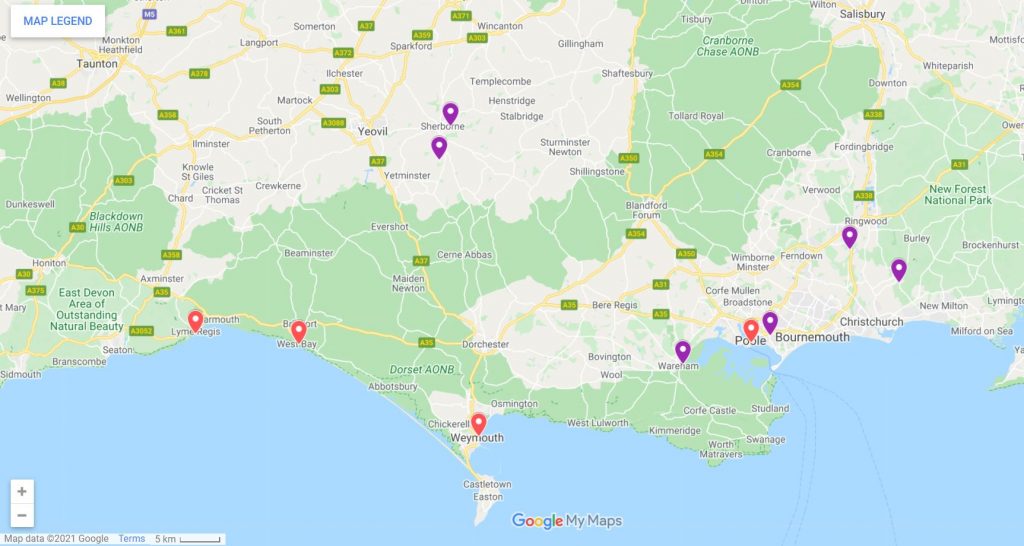 2021 Update
Many of the usual bonfire night fireworks around Dorset are cancelled this year. Some guides are still listing these events as active, but there is no official info from the town councils or site owners. I have not included these events and will attempt to keep this post up to date with any cancellations or news. Always check the event's website or social media before booking anything.
FREE Dorset Fireworks Displays for Bonfire Night
Weymouth Beach Bonfire and Fireworks Night
Date: 5th November 2021
Time: 4pm-9pm, fireworks at 8pm
Location: Weymouth Seafront
Every year on the 5th of November, Weymouth hosts one of the biggest free fireworks nights in Dorset. This year, the fun starts at 4pm with the family funfair on the Pavilion Forecourt, joining some traditional stalls and attractions on Weymouth Seafront.
At 6:45pm, the traditional children's Guy Fawkes competition gets underway in the foyer of the Weymouth Pavilion. Judging and prizes will be provided by the Weymouth Pavilion and the Alexandra Gardens Pleasure Grounds.
A popular highlight of the evening will of course be the lighting of the giant beach bonfire at 7:40pm, followed by the fantastic fireworks display in Weymouth Bay at 8pm.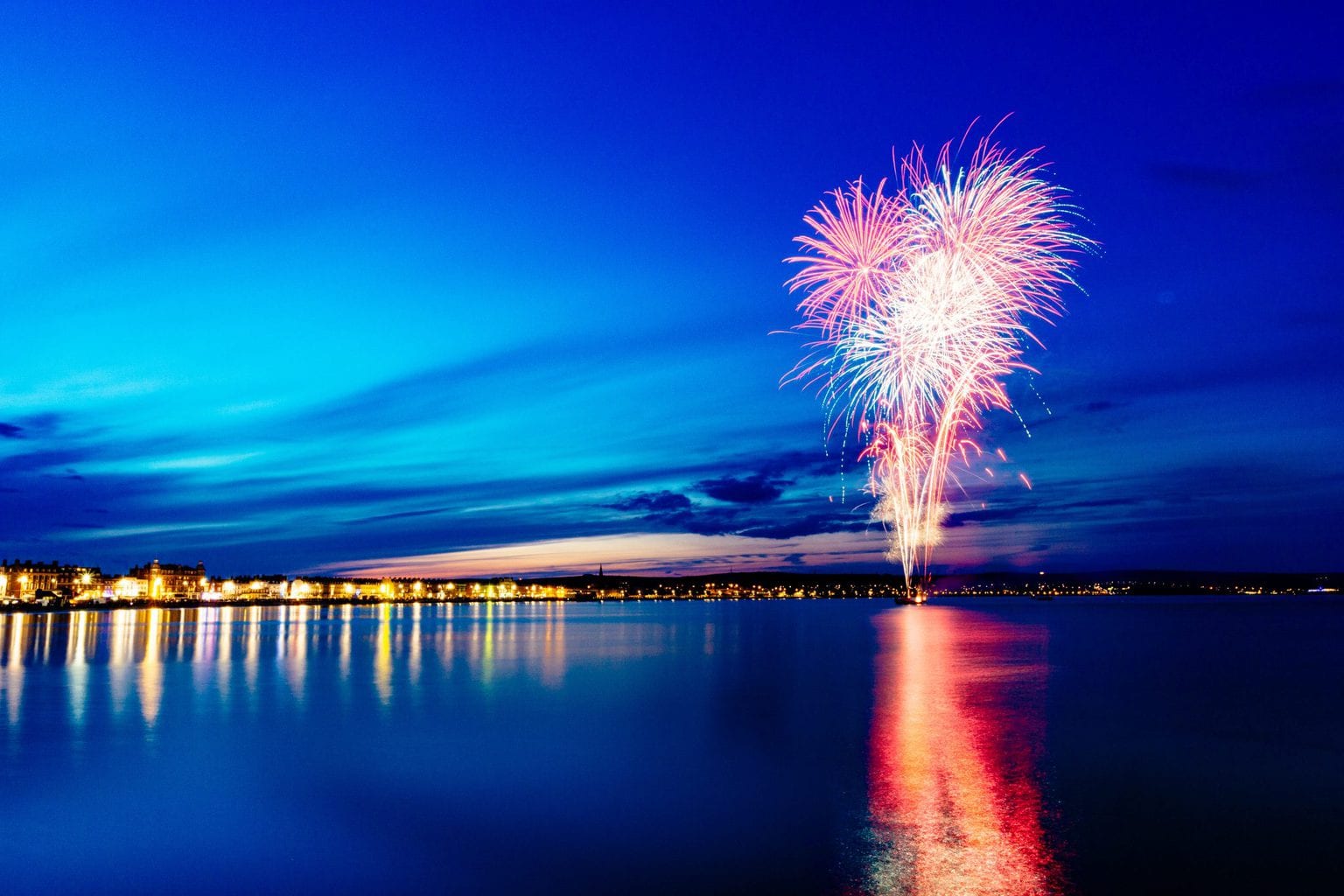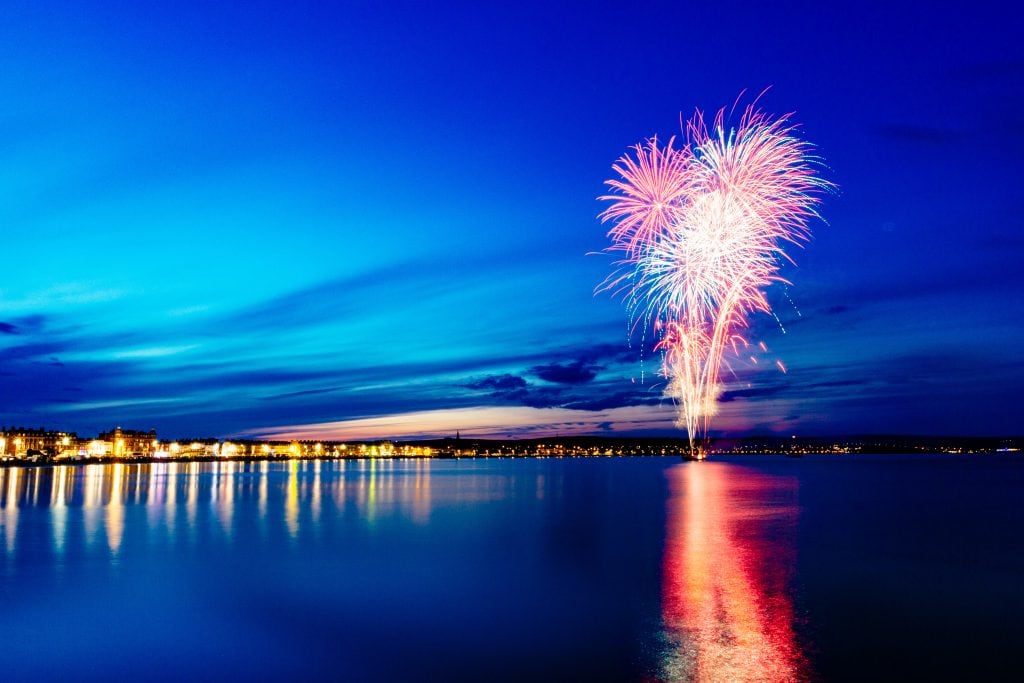 Bonfire Night Fireworks on Poole Quay
Date: 5th November 2021
Time: From 5pm, fireworks at 8pm
Location: Poole Quay, Poole, BH15 1BW
More Info
Another huge, FREE firework night in Dorset – on the harbourside at on Poole Quay! The organisers say there's no better way to spend bonfire night.
The party atmosphere starts from 5pm, with live music, family entertainment and activities. Then the big fireworks finale kicks off at 8pm.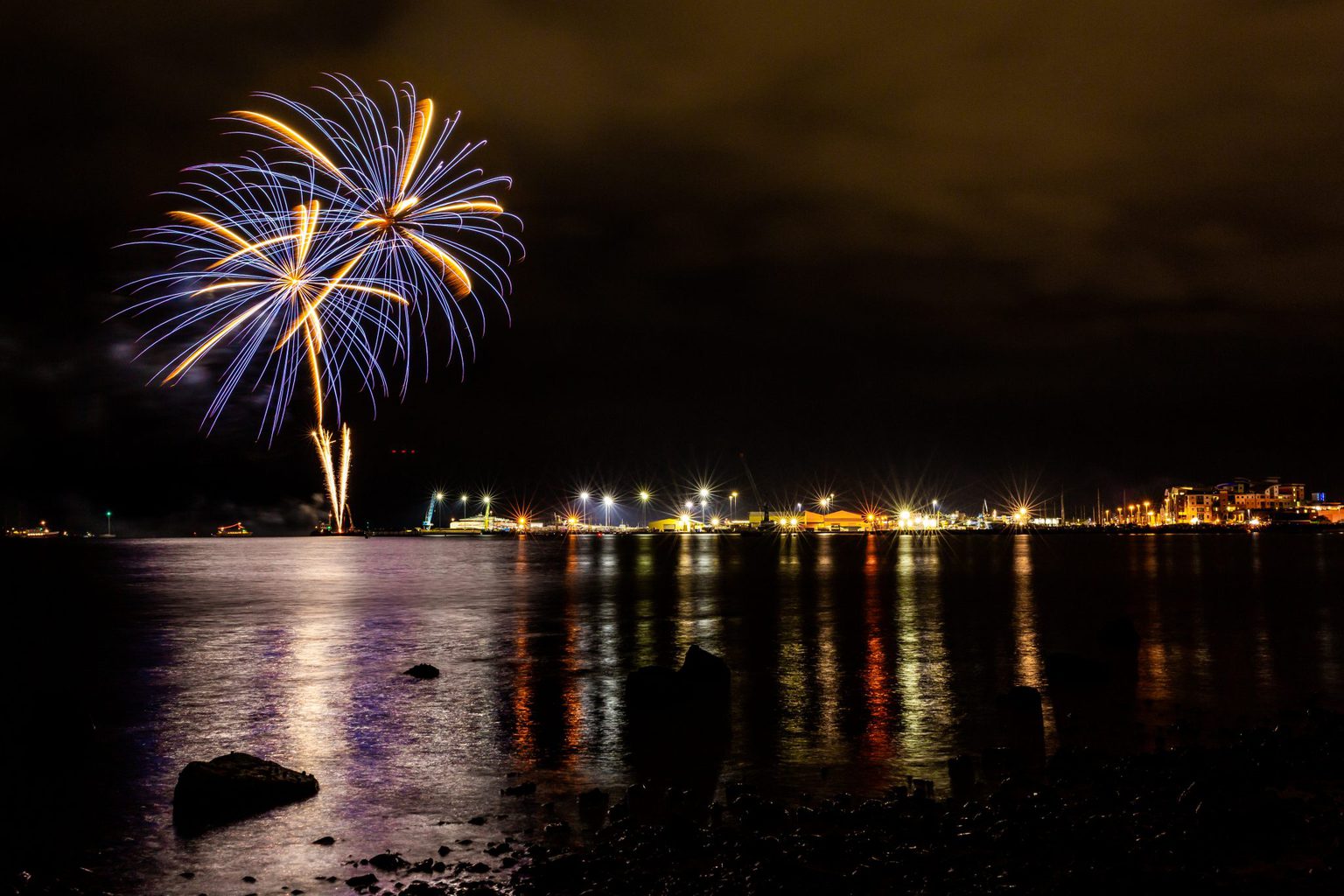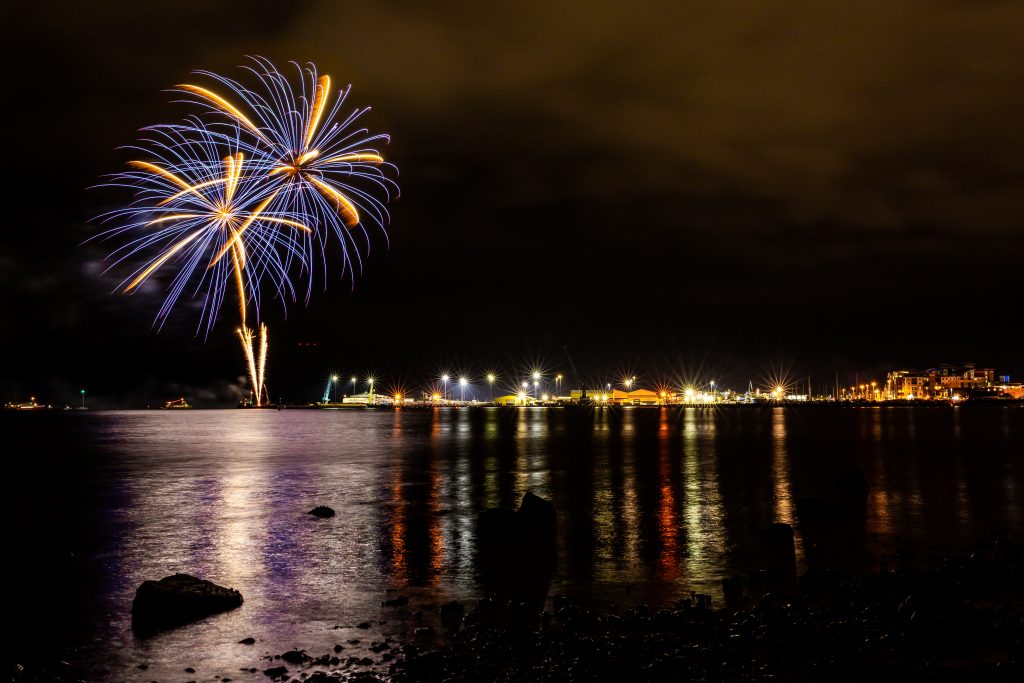 Lyme Regis Fireworks & Bonfire Night
Date: Saturday 6th November 2021
Time: 6:30pm
Location: Lyme Regis Beach
Price: Free – but please give generously in the collection buckets.
More Info
Celebrate Bonfire Night with a fireworks display over the Cobb in Lyme Regis, followed by a bonfire on the beach.
West Bay Days Bonfire by the Beach
Date: Saturday 30th October 2021
Time: from 4:30pm, fireworks at 8pm
Location: East Beach Car Park, West Bay, Bridport, DT6 4EW
More Info
Bonfire, fireworks, live bands, bar, and food on the beach at West Bay in Dorset. West Bay Days in association with Bridport Round Table are holding one of their most popular events: Bonfire on the Beach on 30th October.
Entry is free but donations are very welcome as the event raises money for local groups and causes.
Bournemouth Littledown Bonfire Night
Date: Not on this year
Time: NA
Location: Littledown Centre, BH7 7DX
Price: TBC
There is usually a bonfire night event at Littledown Centre in Bournemouth – but it is not on in 2021. The Littledown Centre are working with their partners to ensure that the event can take place on Saturday 5th November 2022.
Blandford Forum Fireworks Night
Date: 5th November 2021
Time: TBC
Location: TBC
Price: TBC
More Info
There is usually a bonfire night event in Blandford Forum. However, there is currently no event showing on the town council's website so it appears it may have been cancelled for 2021. We'll update this post as soon as we have more info.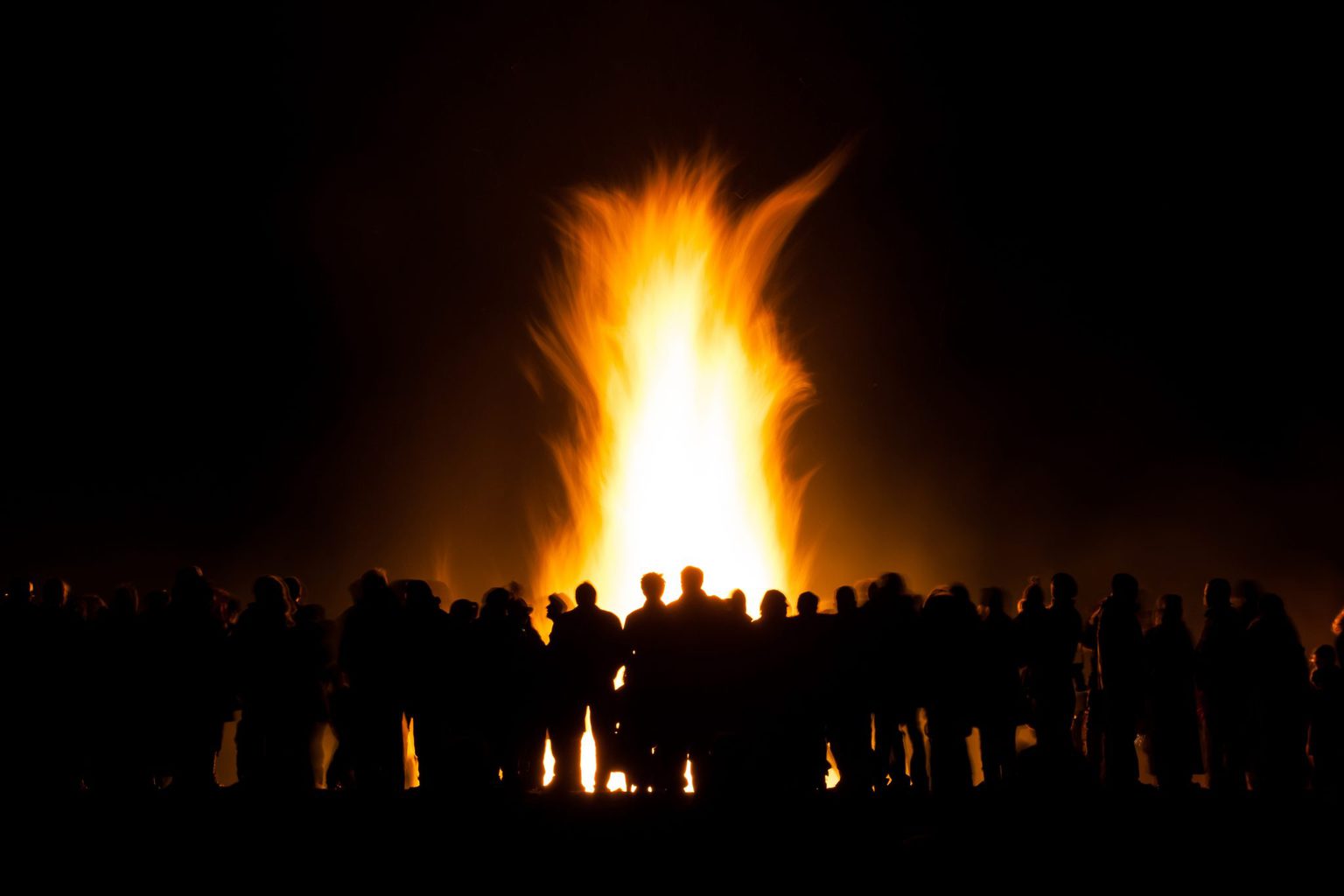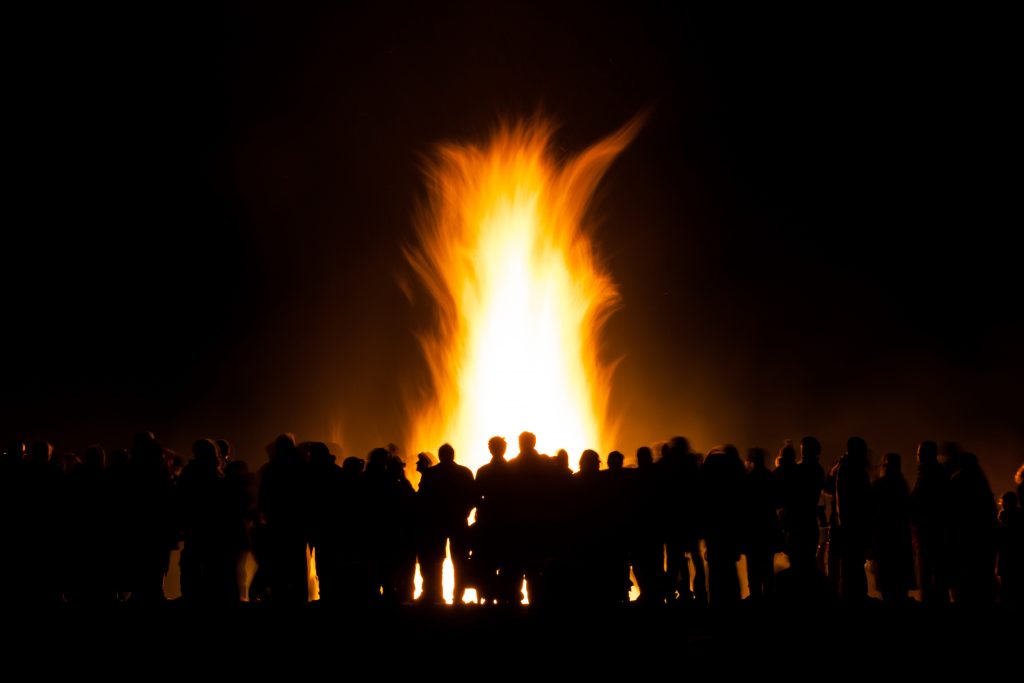 PAID Dorset Fireworks Displays for Bonfire Night
Sherborne Castle Fireworks
Date: 6th November 2021
Time:s Gates Open: 4.30pm Laser Show: 7pm Fireworks: 7.30pm
Location: Sherborne Castle, DT9 5NR
Price: Adult £11, Children (Aged 5-16) £7.50, Senior Citizen £7.50, Family £29.50 (2 adults + 1 child). Cheaper "Early Bird" advance tickets are available until Oct 22nd 2021.
More Info
Fireworks at the castle is an annual event managed and delivered by Smart Pyrotechnics Ltd & Smart Events. There are hot food and drink stalls, a bar, and a funfair in the grounds of Sherborne Castle. In place of the usual bonfire, there will instead be a stunning laser and light show set to music – the organisers say this is a more eco-friendly alternative.
"With a 25 minute full-on pyro-musical show choreographed and synchronised to a unique soundtrack this show will be one of the biggest firework displays in the South of England and most certainly Dorset."
READ MORE: 9 Castles to Explore in Dorset
Wareham Wednesdays Bonfire and Firework Extravaganza
Date: 5th November 2021
Time: Gates open at 6pm
Location: Swanage and Wareham Rugby Club, Wareham BH20 4HY
Price: £5 – under 10s and emergency services & care workers are free.
More Info
A Bonfire Night Extravaganza at Swanage and Wareham Rugby Club. Live music from The Blues Bruvvers Show, fire shows from Simon Chaney, funfair, bar and BBQ, food stalls, and to finish it all off a fireworks display.
Bournemouth's 'BIGGEST BANG' Fireworks Display at Matchams
Date: Saturday 6th November 2021
Time: Gates open midday, Fireworks at 8:40pm, closes 10.00pm
Location: Ringwood Raceway, Matchams, BH24 2BT
Price: Over 14s £20, kids 11-13yrs £10, kids 5-10 £5, under 5s free.
More Info
"Come and see crazy banger drivers crashing and smashing cars to pieces! Full metal-bending action the kids will LOVE IT!"
Fireworks Night at Matchams combines a fireworks display with a night of adrenaline-filled banger racing. There's also a demolition derby. It's a unique take on bonfire night, but sure to be a fun event!
Leweston Firework Display
Date: Thursday 4th November 2021
Time: 6:15 pm – 10:00 pm
Location: Leweston School, Sherborne, DT9 6EN
Price: Adults £6.50, children £4.50, under 5s free.
More Info
Leweston Events are thrilled to bring you a spectacular fireworks night again here at Leweston. The evening will include live music, hot food, drinks bar and a memorable display. Bookings must be made in advance.
Bonfire and Fireworks at East Dorset Lawn Tennis & Croquet Club
Date: Saturday 6th November 2021
Time: Gates open from 5:30pm,
Location: East Dorset Lawn Tennis & Croquet Club, Lower Parkstone, Poole, BH14 8BL
Price: Adults £8, children £5, under 2s go free.
More Info
Bonfire night and fireworks display at the East Dorset Lawn Tennis & Croquet Club. With disco dancing, activities, food stalls, a play area, a cake stall, and a bar. Advance ticket purchase is recommended.
Brangsore Fireworks and Bonfire 2021
Date: 5th November 2021
Time: 5:30pm
Location: The Three Tubs, Christchurch, BH23 8JH
Price: Adults £5, children £3, under 3s go free.
More Info
Fundraising for Brangsore Primary School, the BSA Bonfire & Fireworks night is back! Hot food is available and their usual supply of snacks and novelty glow products will be on sale. Online bookings are encouraged.
Broadstone Middle School
Date: 30th October 2021
Time: Gates open at 5:30pm
Location: Broadstone Middle School, Poole BH18 8AE
Price: Adults £6, children £4, under 4s free.
More Info
Broadstone Middle School's annual fireworks display is back for 2021. And this year it's their 5th Anniversary so it's going to be BIG! Expect a BBQ, music, fire performer, food stalls, competitions, a Scare Maze, and more… as well as some pretty fantastic fireworks, of course!
Dewlish Bonfire and Fireworks Night
Date: 6th November 2021
Time: Gates open at 5:30pm, bonfire lighting around 6:15pm, before the main fireworks display at 7.15pm.
Location: Parsonage Farm DT2 7NB – Between Dewlish and Milborne St Andrew
Price: £15, adults £5 and children £3. Under 4's are free.
More Info
The annual bonfire night and fireworks display is back in Dewlish! This year they will again welcome Back To The Shack, who will be playing their foot-stomping blues/folk and classic Americana music.
Before the fireworks begin, you can tap your feet whilst enjoying BBQ classics and a drink from the licensed bar. There will also be soup, hot drinks, and cakes. For the little ones, there will be free activities out of the cold in their marquee.
Do you know of any more fireworks displays or bonfire night events in Dorset? Leave us a comment and we'll add them to the list!