Some posts on this site contain affiliate links. If you book or buy something through these links, I earn a small commission (at no extra cost to you). Take a look at my privacy policy for more information.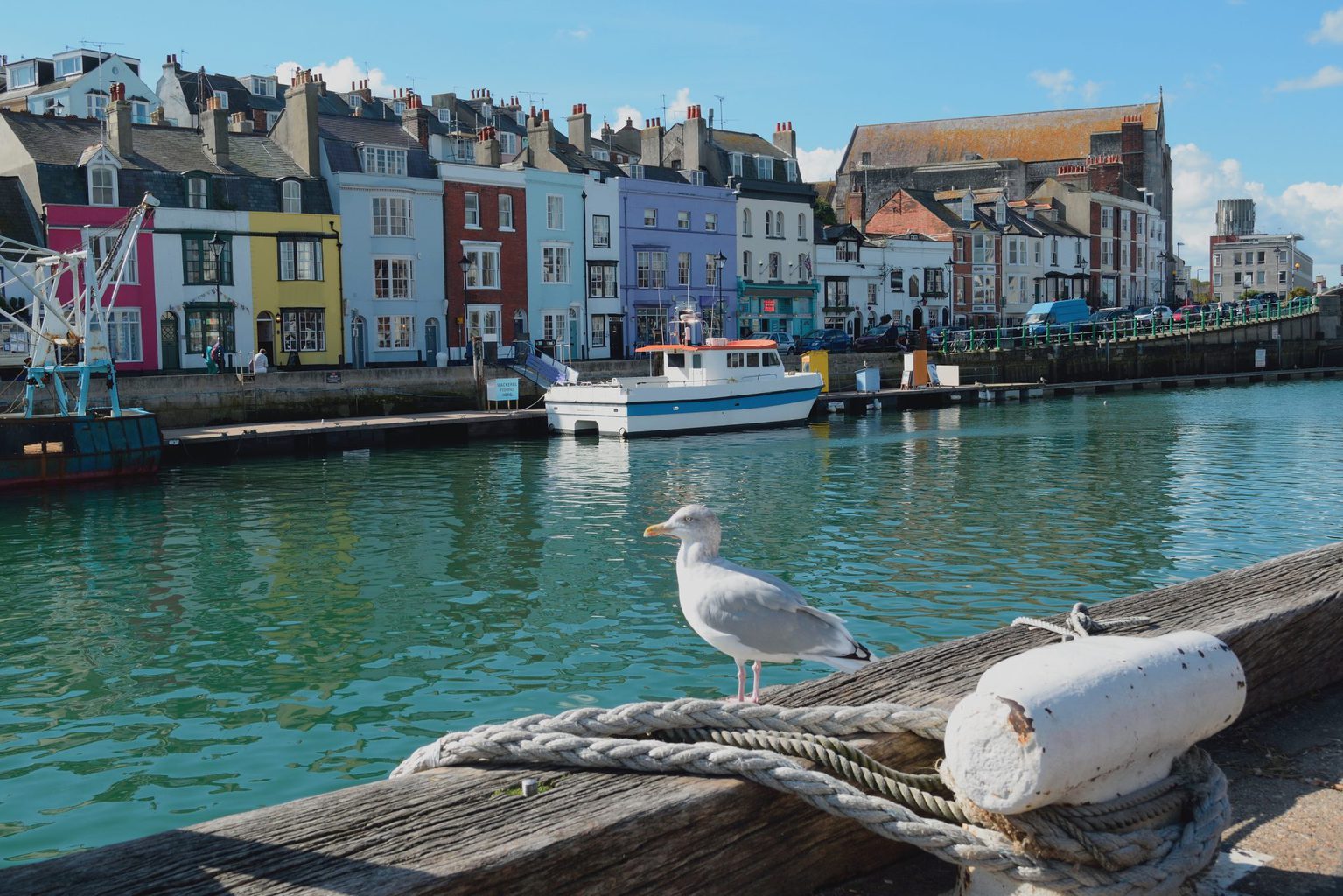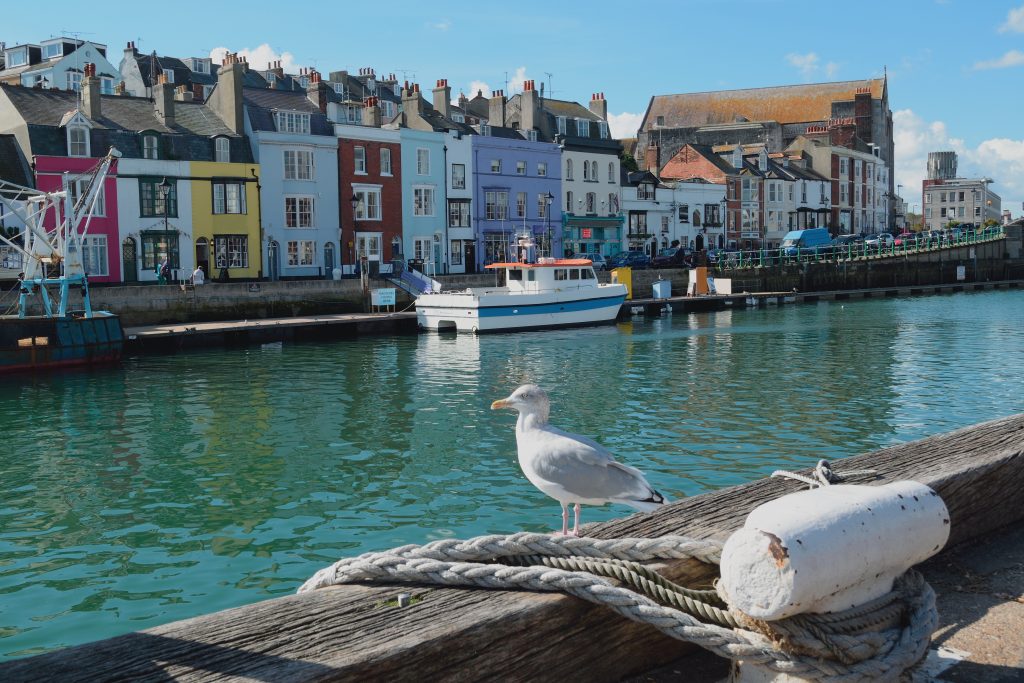 Planning a holiday on the Dorset seaside? These beautiful holiday homes in Weymouth are ideal for couples, groups and families.
With its colourful harbour and sweeping sandy beach, Weymouth is perfect for a British summer holiday!
You can relax with long, lazy days on the beach – perhaps finished off with fish n' chips at sunset. But if you don't want to sit still, there's loads more to see and do in Weymouth besides the beach. Including plenty of family-friendly attractions, like the SeaLife Centre, the Nothe Fort, and the mini funfair at Bowleaze Cove.
Not only is this historic seaside town ideal for a beach holiday, but it's also in an ideal spot for exploring the rest of Dorset's incredible Jurassic Coast. Visit the wild and rugged Isle of Portland, just a short drive from Weymouth along a narrow strip of land that connects the "island" to the mainland. Or take a day trip to the famous stone arch at Durdle Door for dramatic cliff views.
Staying in a self-catering holiday rental in Weymouth is a great idea if you're travelling as a big group or taking your whole family to Weymouth. Some of these properties sleep up to 12! But there are plenty of smaller places to suit couples, too.
With self-catered accommodation, you get the freedom to cook for yourself if you want to, have breakfast whenever you want it, and chill out in front of the TV at the end of a long day exploring!
Keep scrolling to discover some of the very best holiday homes and apartments for your next trip to Weymouth…
Best Holiday Homes in Weymouth
Dream View, Weymouth Beach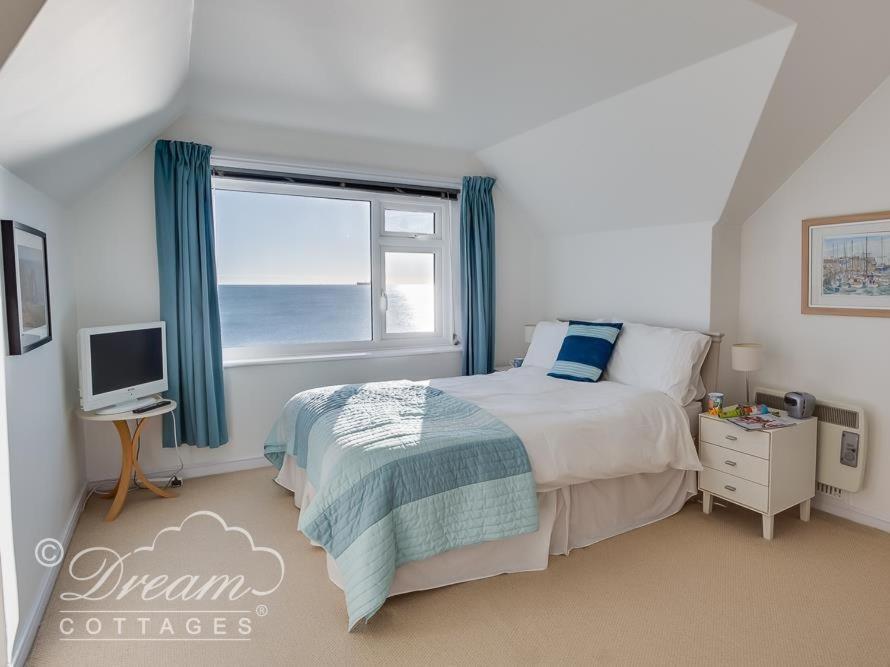 Bedrooms: 2
Sleeps: 4
If you want a holiday home that's as close to the beach as possible, Dream View is ideal. This stunning two-bedroom holiday home is RIGHT on the beach, facing onto the pedestrianised esplanade in front of Greenhill beach.
This property's name is pretty apt. Dream View boasts some epic sea views from its upstairs windows. And the spacious front garden faces onto the beach – so you can dine outdoors listening to the sounds of the sea on sunny evenings.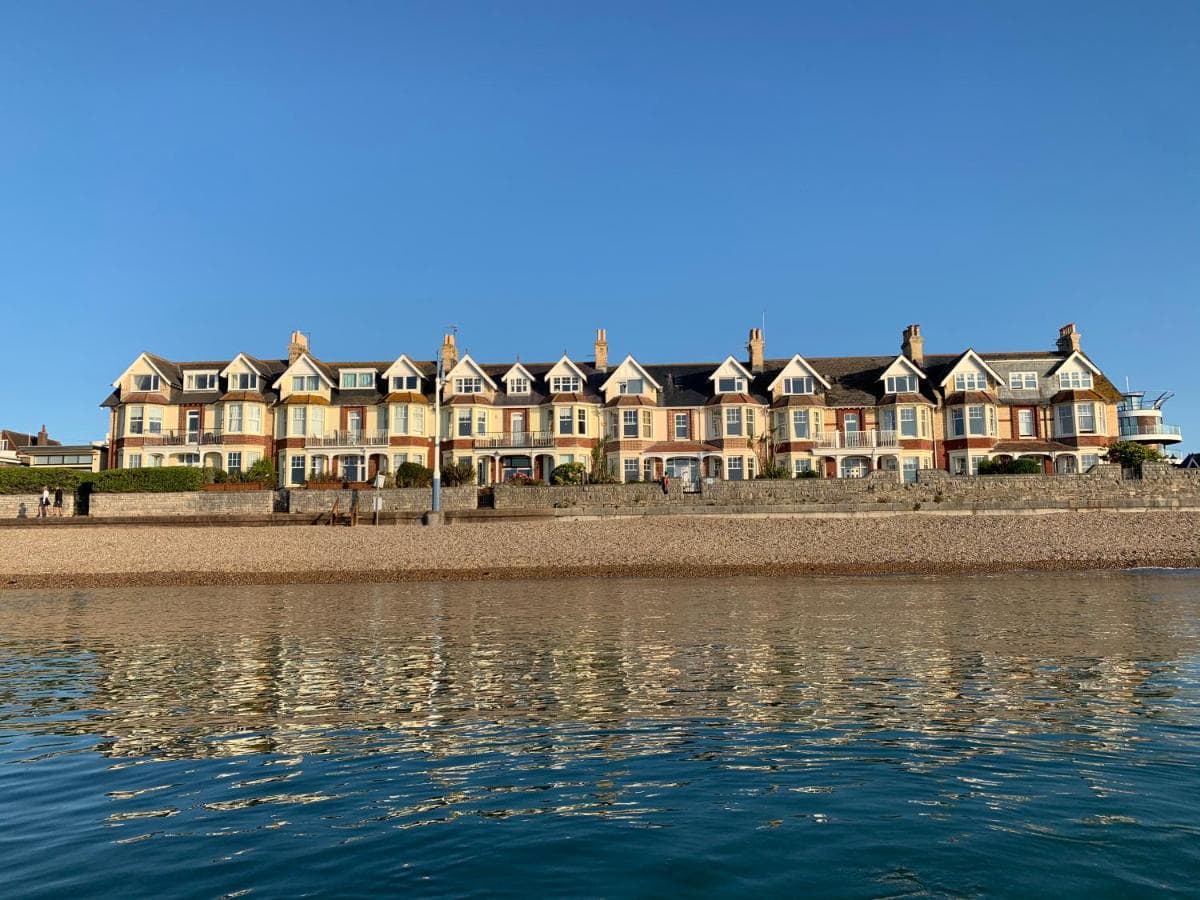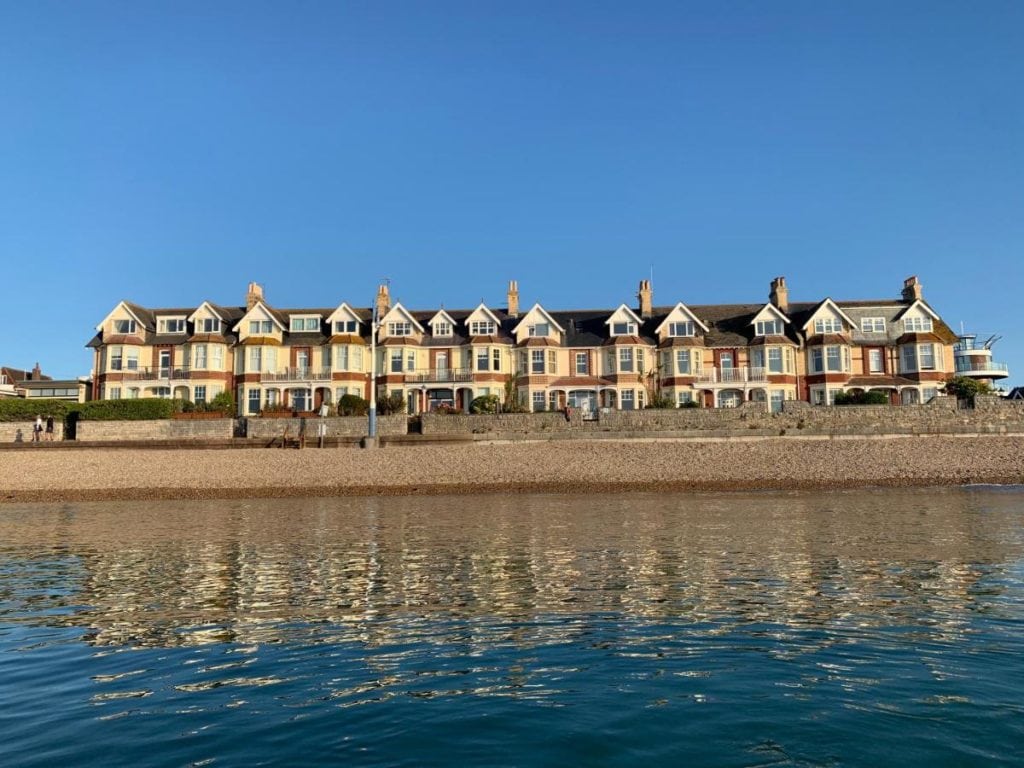 Greenhill is the shingle end of Weymouth beach, and tends to be a little quieter than the "sandy end". But the sandy beach is less than 15 minutes walk, as are the shops and amenities of the town centre, so it's still a brilliantly central location.
This property is managed by a local holiday lettings company called Dream Cottages, who have a fantastic reputation, so you know you're in good hands with this one!
Church View Apartments, Town Centre
Bedrooms: 1
Sleeps: 2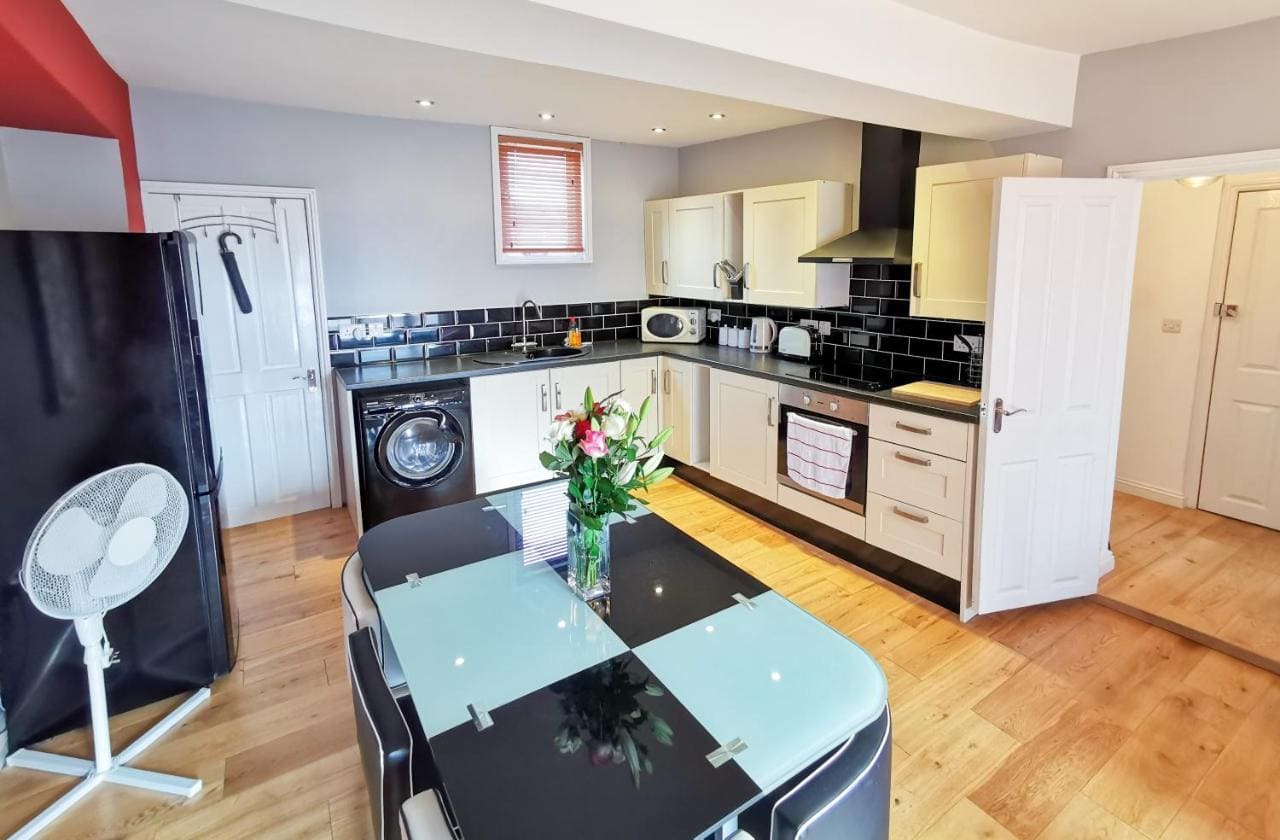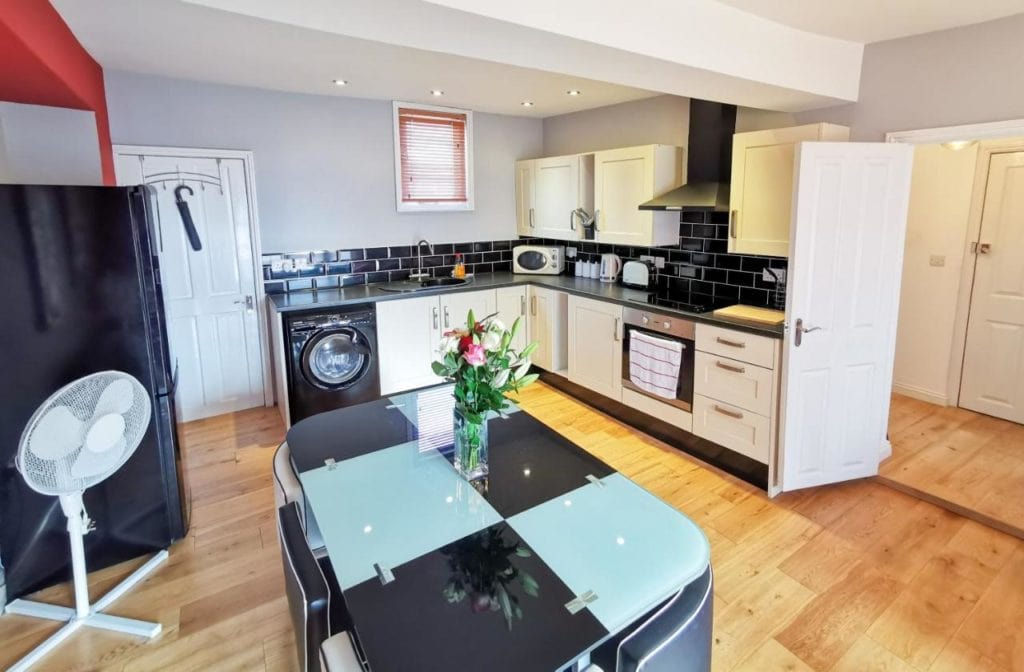 This contemporary, one-bedroom apartment is the ideal self-catering accommodation for couples visiting Weymouth. Especially if you're looking for a great base from which to enjoy the town's lively nightlife!
Church View Apartments is in an ideal location, directly opposite St Mary's Church in the town centre. So you'll have some of the best restaurants and bars in Weymouth right on your doorstep – but you're still within a few minutes' walk of the beach.
Anchor Cottage, Weymouth Harbour
Bedrooms: 2
Sleeps: 4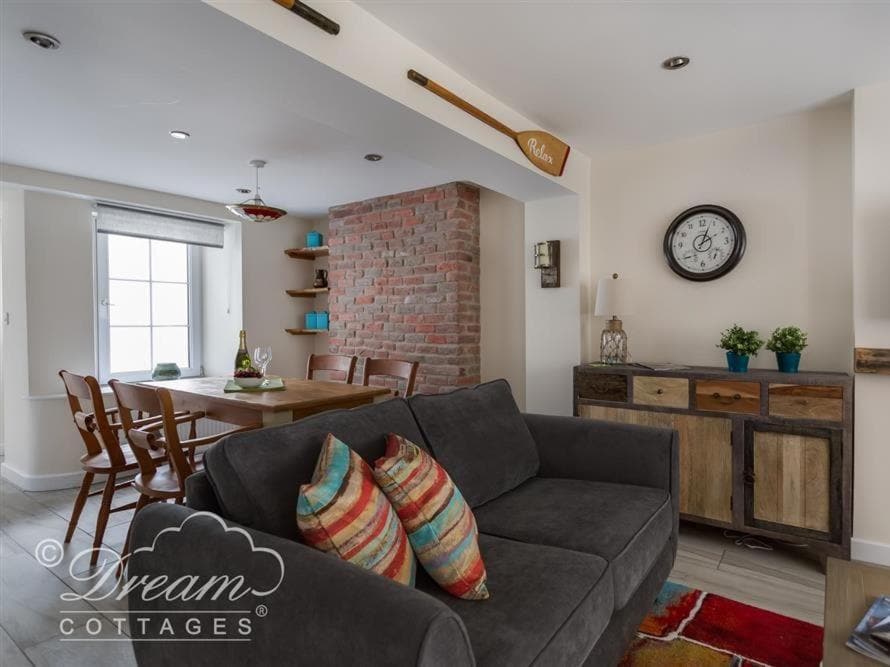 Anchor Cottage is a gorgeous, pastel-green-painted holiday cottage right on Weymouth's picturesque harbourside. Although it looks cosy from the outside, this charming little cottage has plenty of space for up to four people. Both bedrooms have en suite bathrooms to make sharing the space that much easier.
There's a large open plan sitting and dining room with a feature fireplace, exposed brick wall, and some cute nautical-themed design features. And the small rear courtyard provides space to dine outside if the weather suits.
READ MORE: 7 of the Best Holiday Cottages in Dorset
Little Brook, Nottington
Bedrooms: 1
Sleeps: 2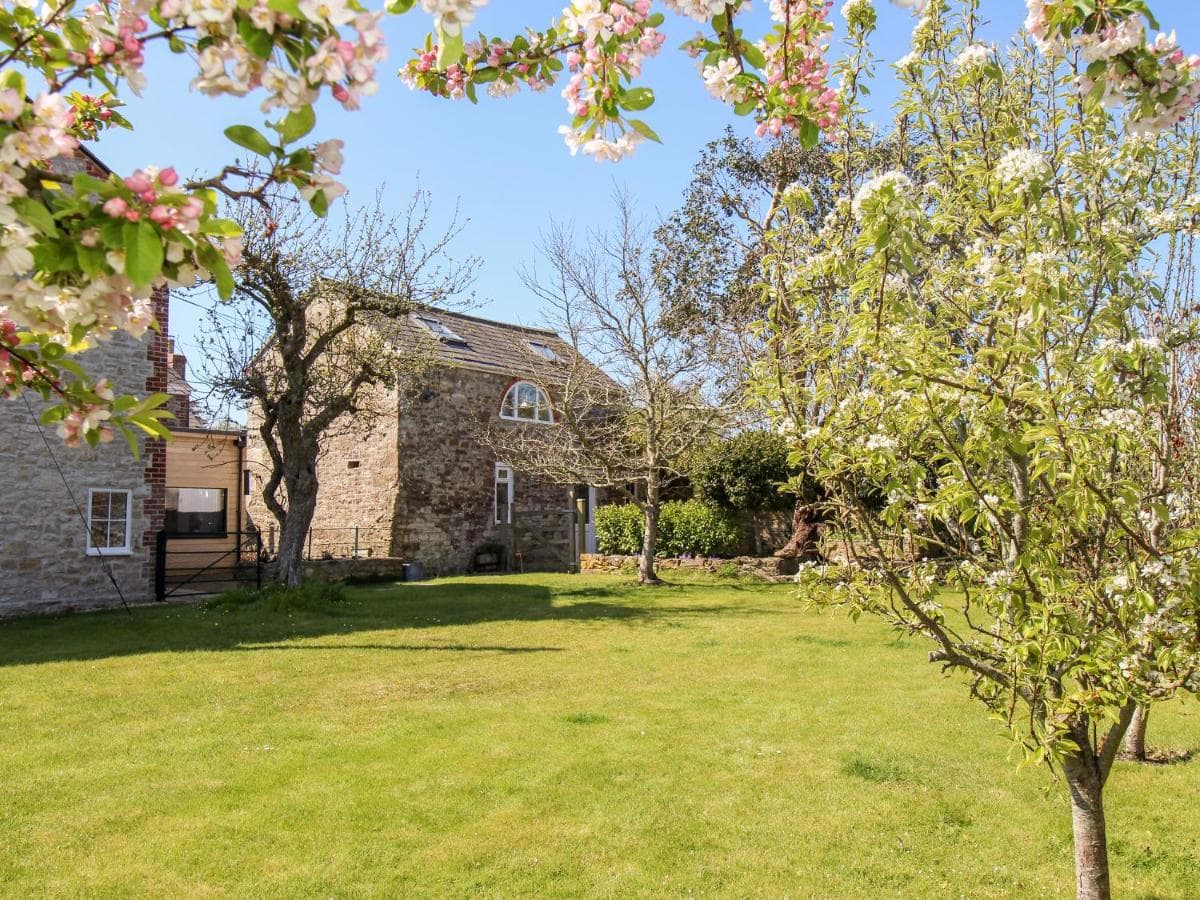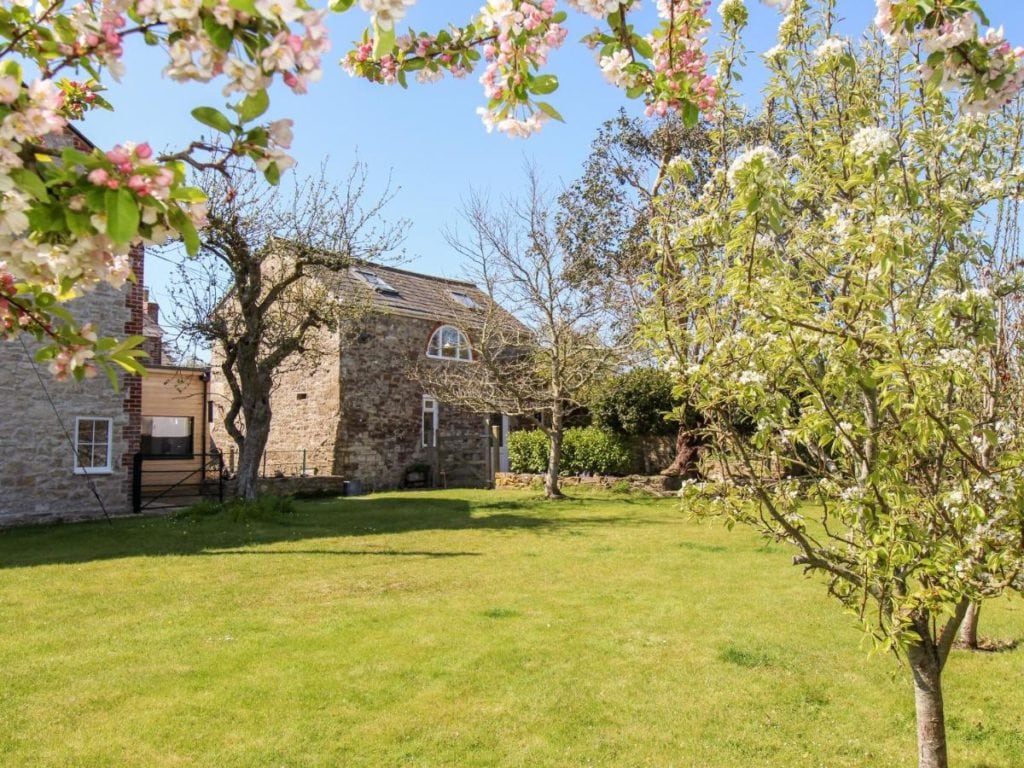 If you'd rather be nearer to the countryside than to the beach, the village of Nottington on the other end of Weymouth is an ideal location. Little Brook is a charming stone cottage in a quiet location on the outskirts of Weymouth, close to the River Wey – one of my favourite river walks in Dorset.
This is the ideal getaway for anyone looking for some peace and quiet – but you're still only a short drive or bus ride from the beach and main attractions of Weymouth.
There's a ground-floor double bedroom and bathroom, while upstairs you'll find the open-plan living space with kitchen, dining area and sitting area. There's also a beautiful, leafy garden area that's perfect for relaxing.
Harbour View, Sandsfoot
Bedrooms: 1
Sleeps: 2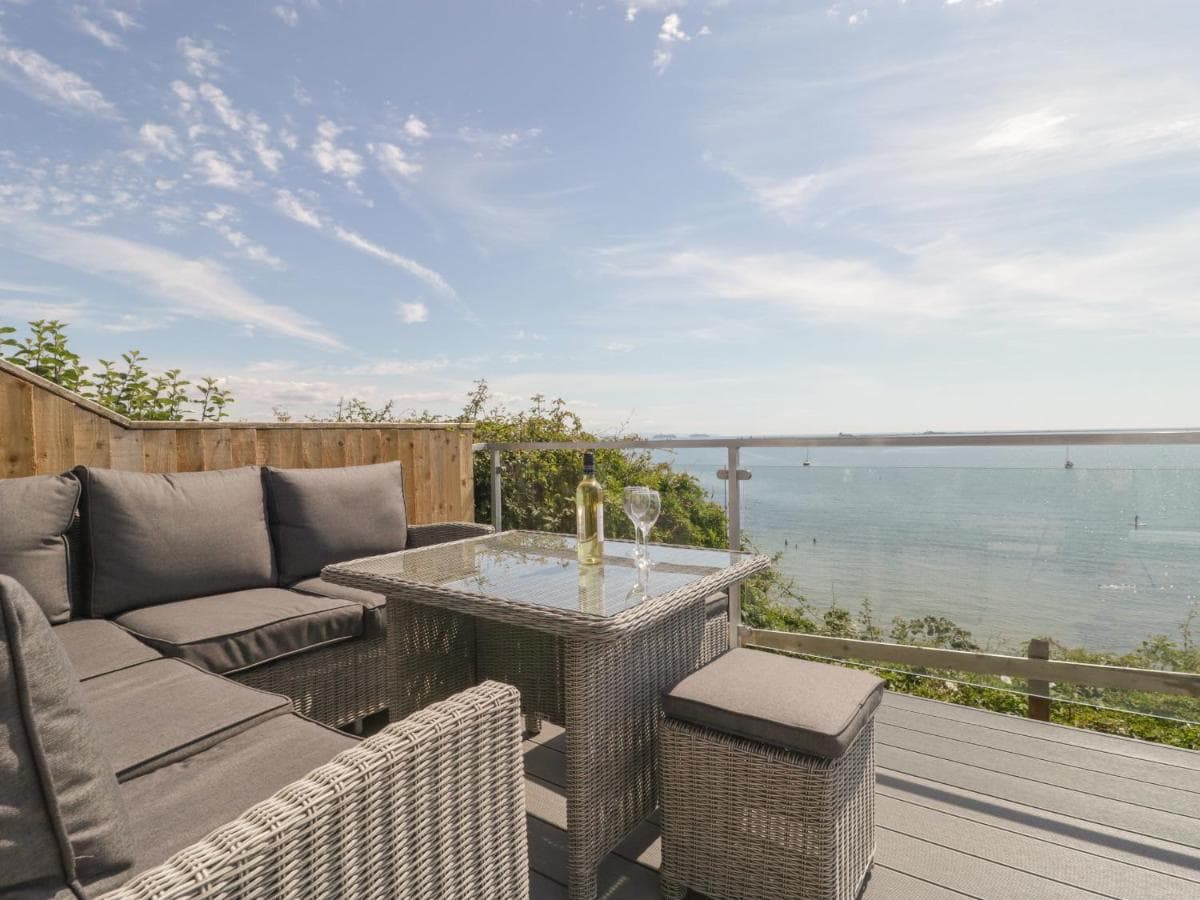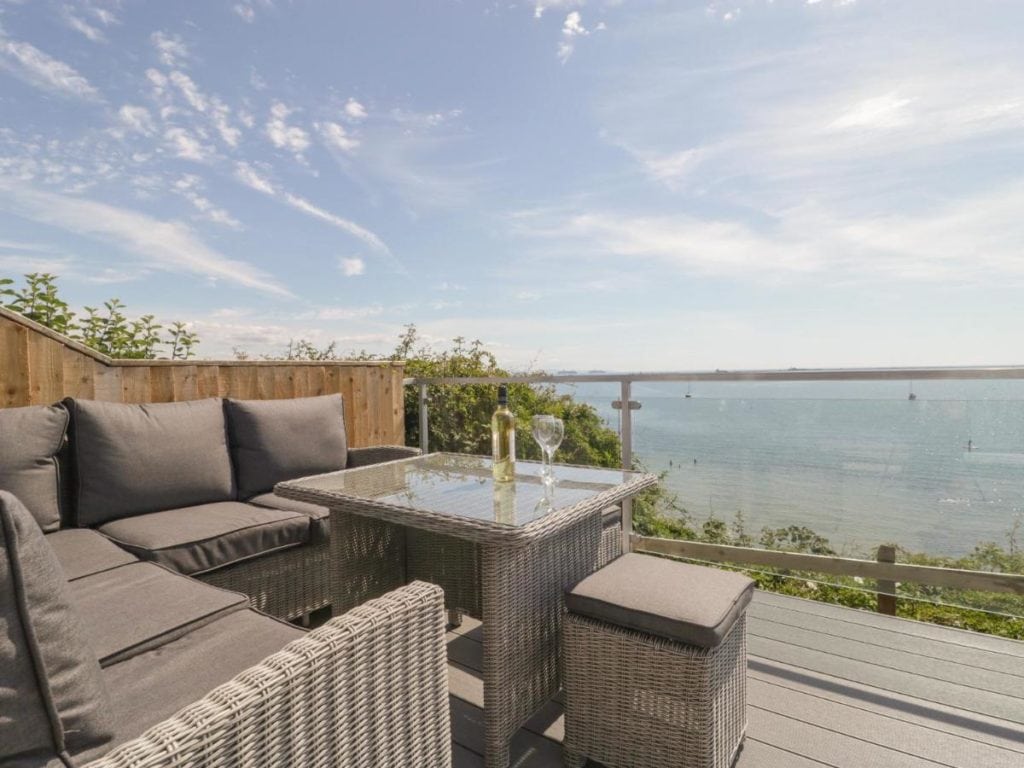 A little ways from the main town, Harbour View sits on a low cliff above Sandsfoot Beach and Castle Cove, two of the quieter beaches in Weymouth. The incredible sea view is the selling point here – with a spacious outdoor patio area overlooking the ocean.
This is a detached holiday lodge or static caravan, so it's quite compact, but there's a spacious living area with big french windows to make the most of that view!
There's lots to do nearby, too. The dramatic ruins of Sandsfoot Castle are right next door – and free to visit! You can also walk or bike the Rodwell Trail, which runs along an old railway line, down as far as the Nothe Fort and surrounding gardens.
Beach View Apartment
Bedrooms: 2
Sleeps: 5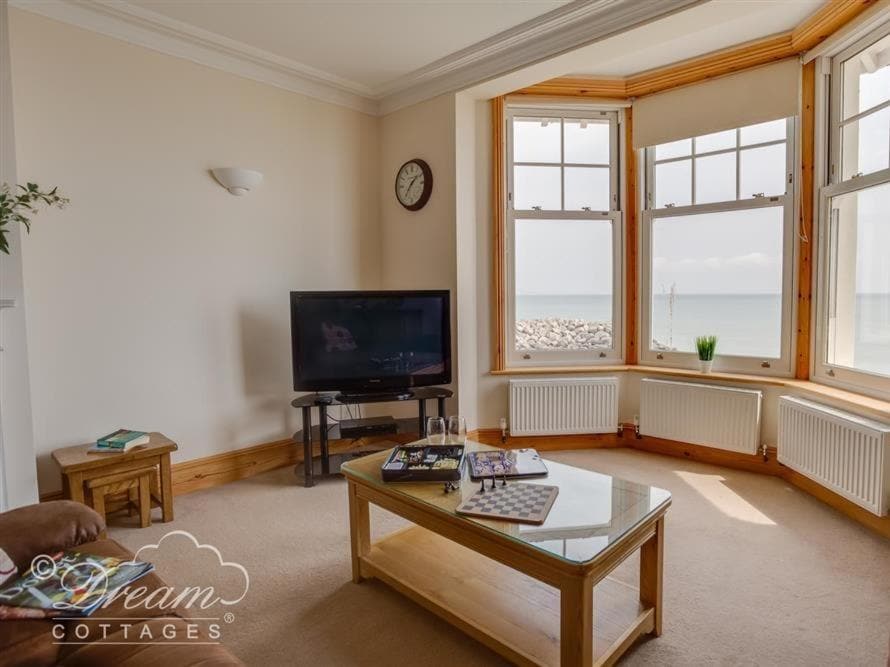 Beach View Apartment 3 sits along the same stretch of terraced properties as Dream View above – so it boasts the same stunning ocean views and incredible beach-side location.
This is a first-floor apartment with one double and one twin room, two bathrooms, a modern kitchen and a sitting room with dining area. The interiors are light and airy with fresh, contemporary decor throughout. There's also access to a communal enclosed courtyard with a picnic bench for enjoying those sea views with an alfresco meal!
Highland Chapel, Westham
Bedrooms: 2
Sleeps: 4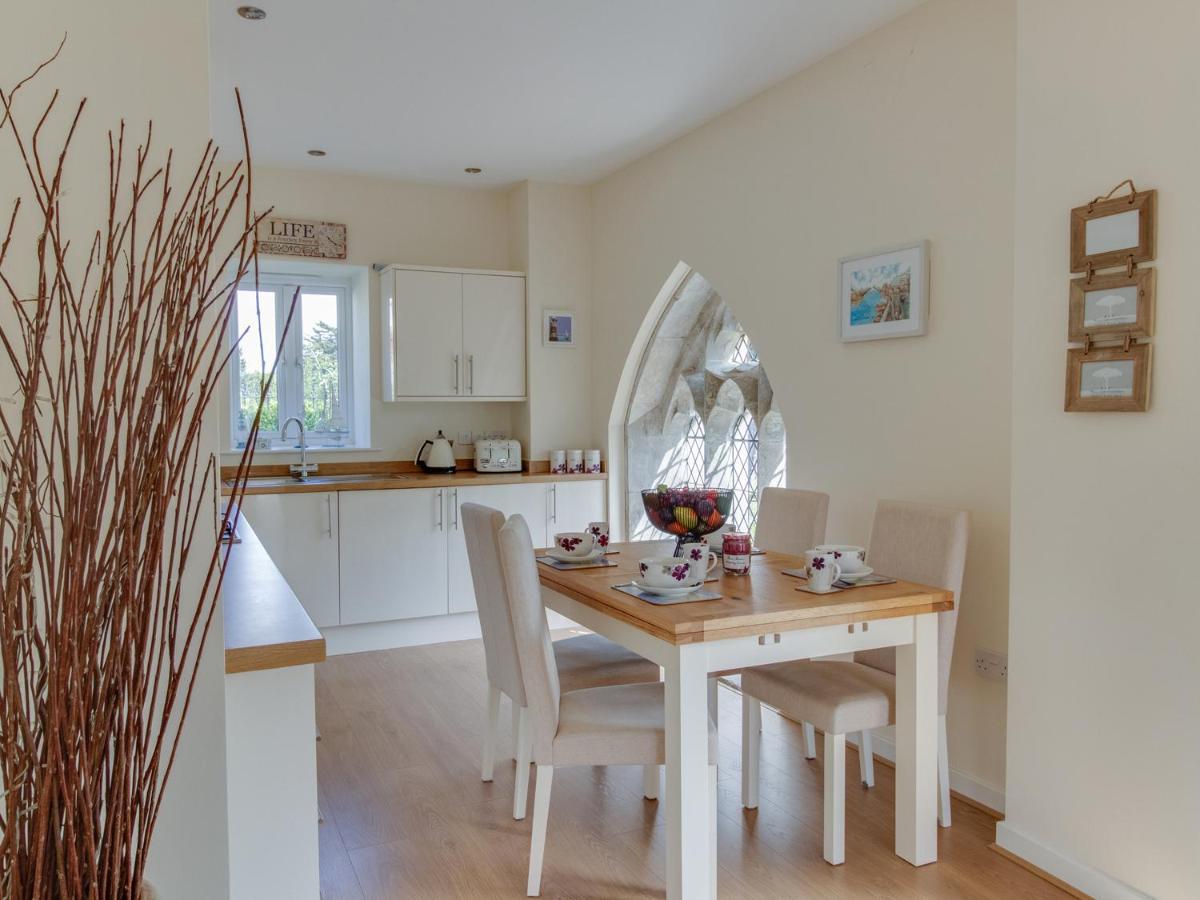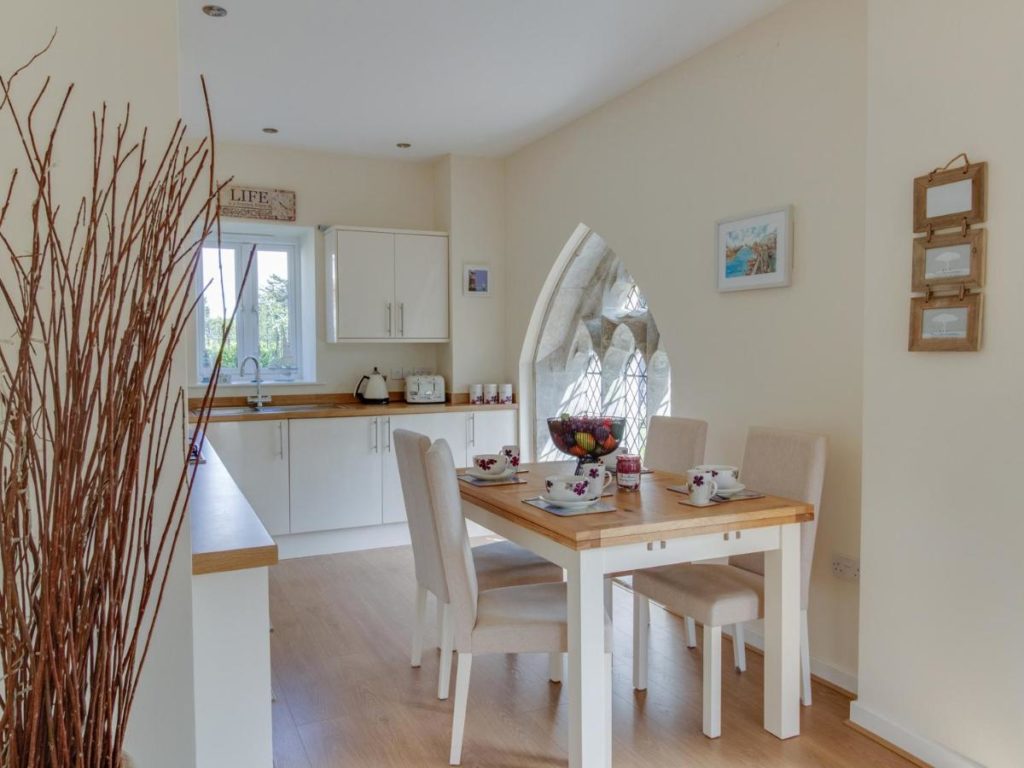 If you like holiday homes with a bit of character, this unique property in a residential area of Weymouth could be the one! Highland Chapel is a lovely little terraced cottage converted from a historic chapel.
Alongside the modern decor, the property retains some historic features – including the original arched chapel windows and stonework. The cottage overlooks a peaceful Victorian cemetary. Although it's located a little away from the town centre, it's still within easy reach of the main attractions. The holiday cottage is also very close to Weymouth marina and the RSBP Radipole Lake nature reserve.
Little Tern, Harbour Area
Bedrooms: 2
Sleeps: 4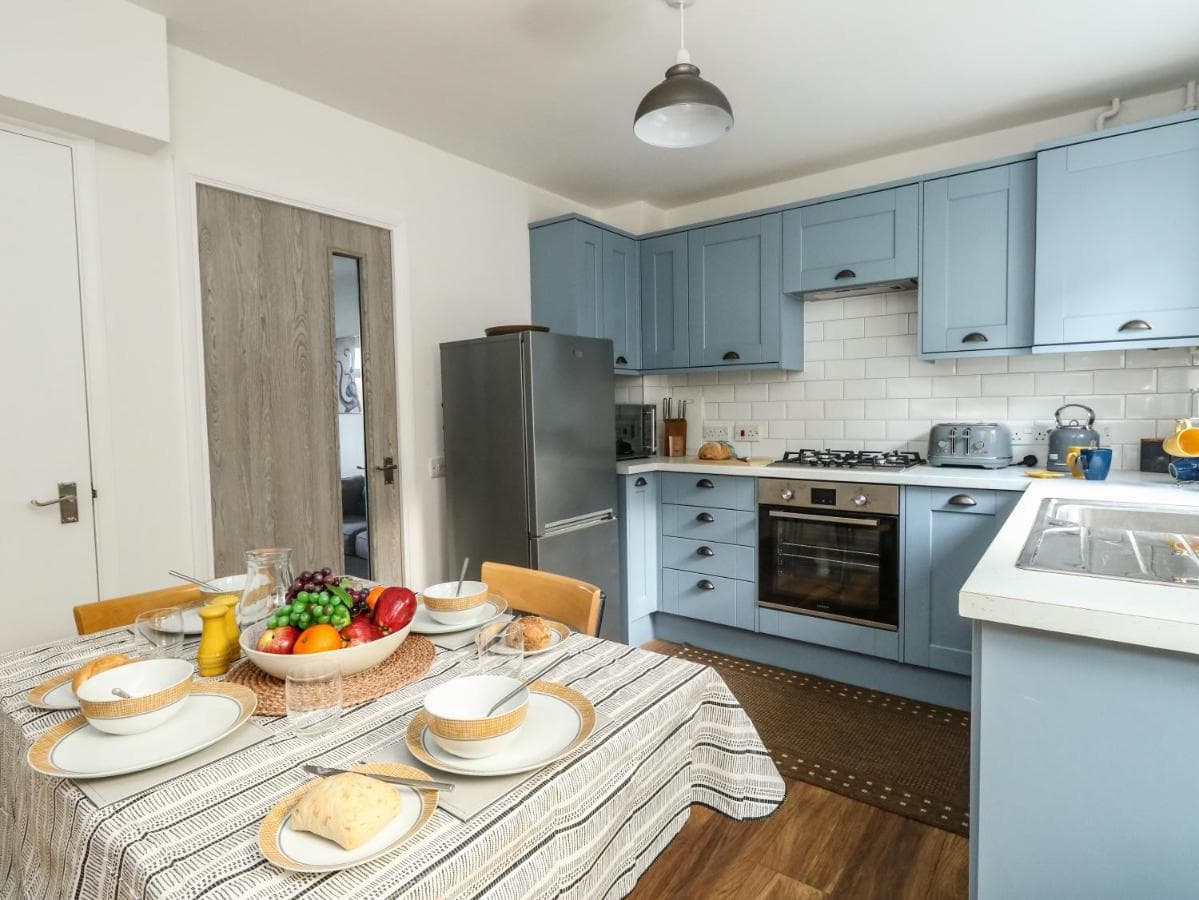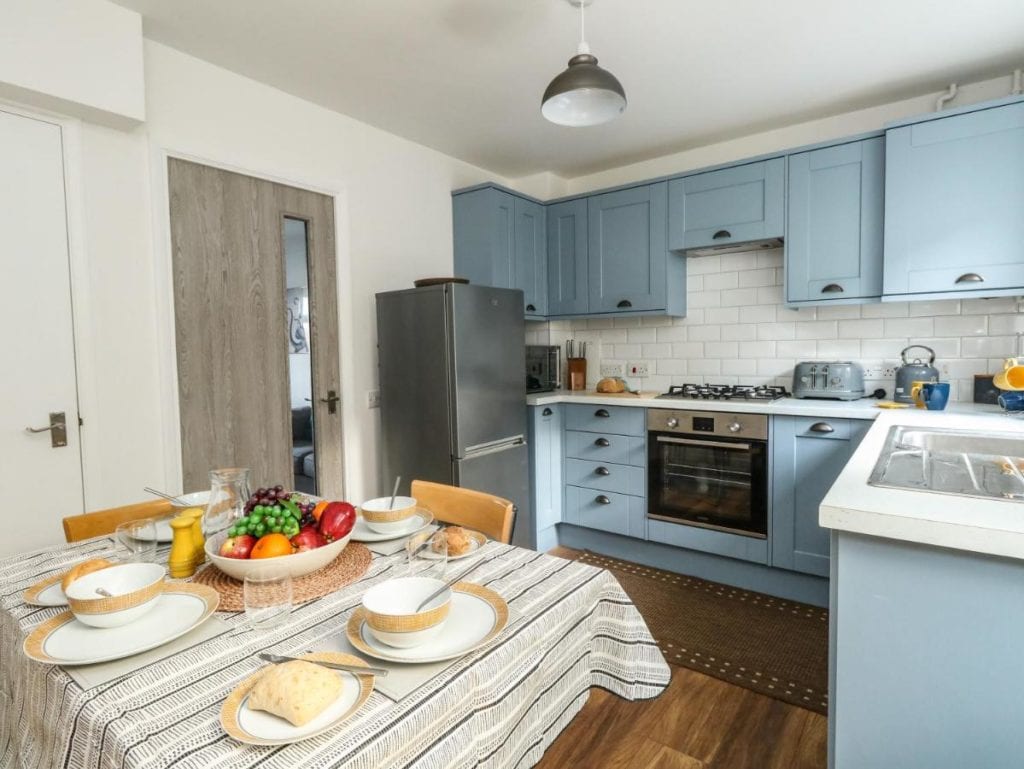 Little Tern is a cosy little cottage in Weymouth's pretty harbour area. This is a real home away from home, with a spacious living area, two light and airy bedrooms, and a gorgeous country-style kitchen.
There's also a multi-level rear garden with a courtyard, terraced areas, and furniture – perfect for relaxing outside and making the most of sunny days. It's in an ideal location, too, close to all the bars and eateries along the harbour, as well as the Grade II listed Brewers Quay complex. Walk to the nearby Newton's Cove beaches for rock-pooling, or explore the nearby Nothe Fort – both great for young kids!
Louisa Cottage, Harbour Area
Bedrooms: 3
Sleeps: 5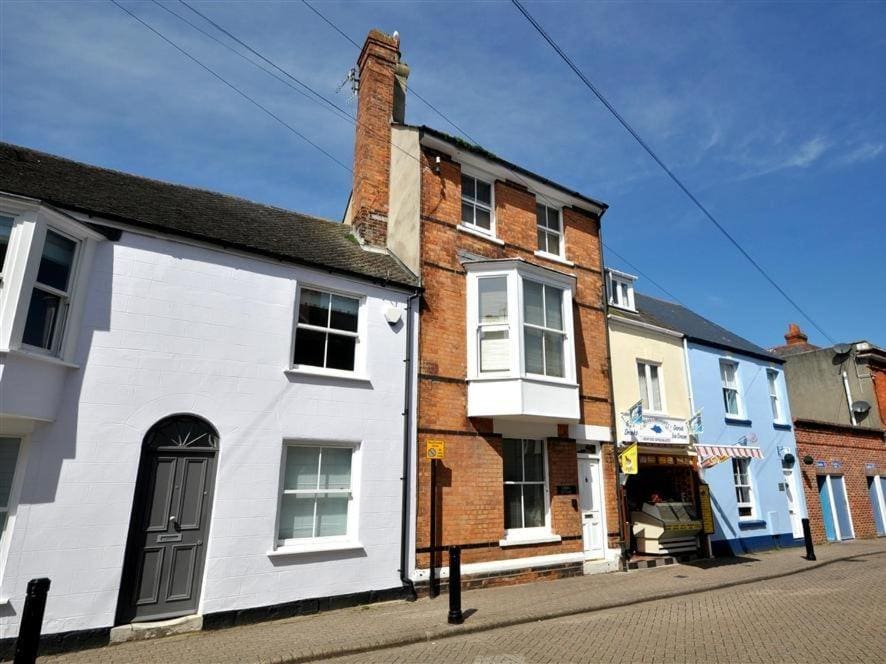 There are several charming holiday cottages around Weymouth Harbour, and Louisa Cottage is a little bigger than most, boasting three bedrooms with space for up to five guests. It's a three-storey terraced property tucked on a quiet street next to the harbour – ideally situated for exploring the area.
There's a fresh, modern feel throughout the property, but it still feels very homely, and the fitted kitchen has everything you need to make yourself at home. There's also a small patio courtyard out the back if you want to enjoy some outdoor space.
Gone Sailing, Harbour Area
Bedrooms: 2
Sleeps: 4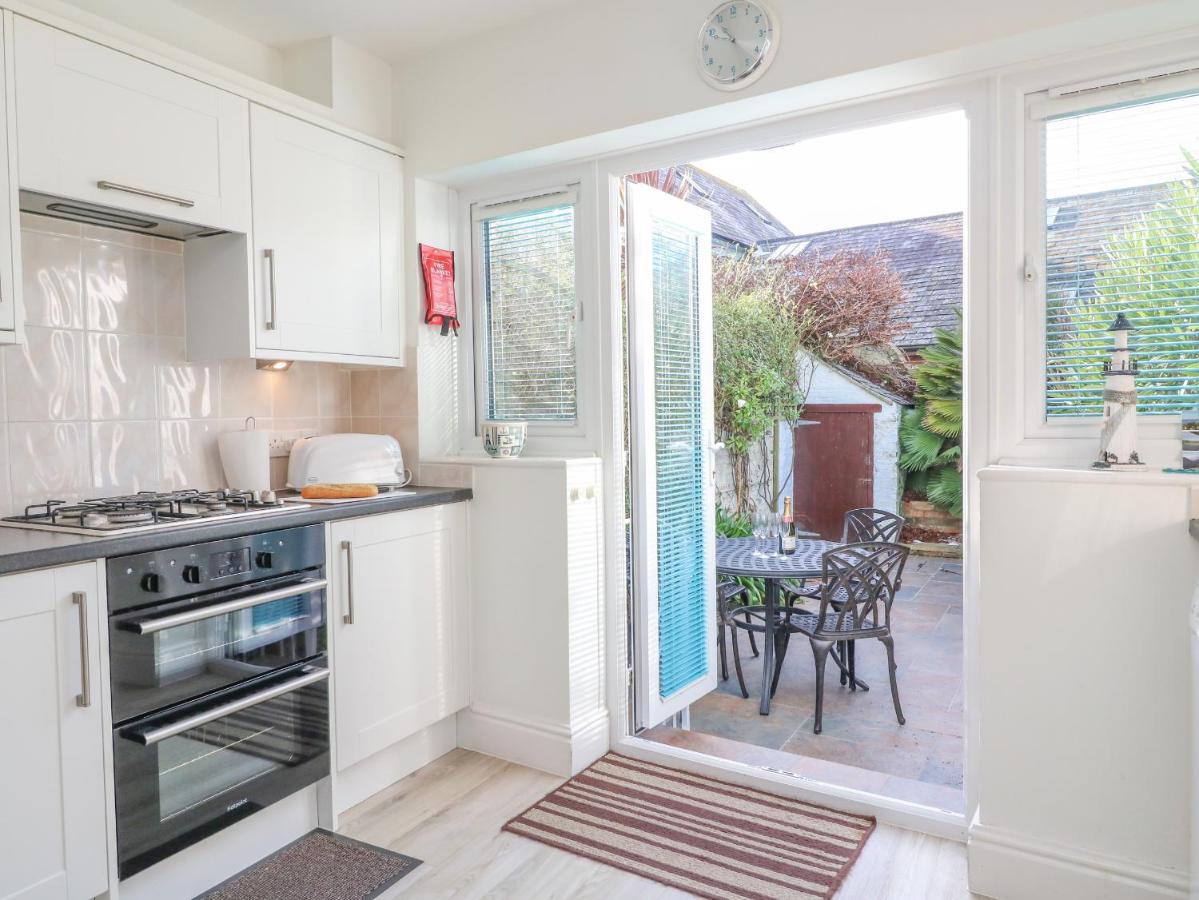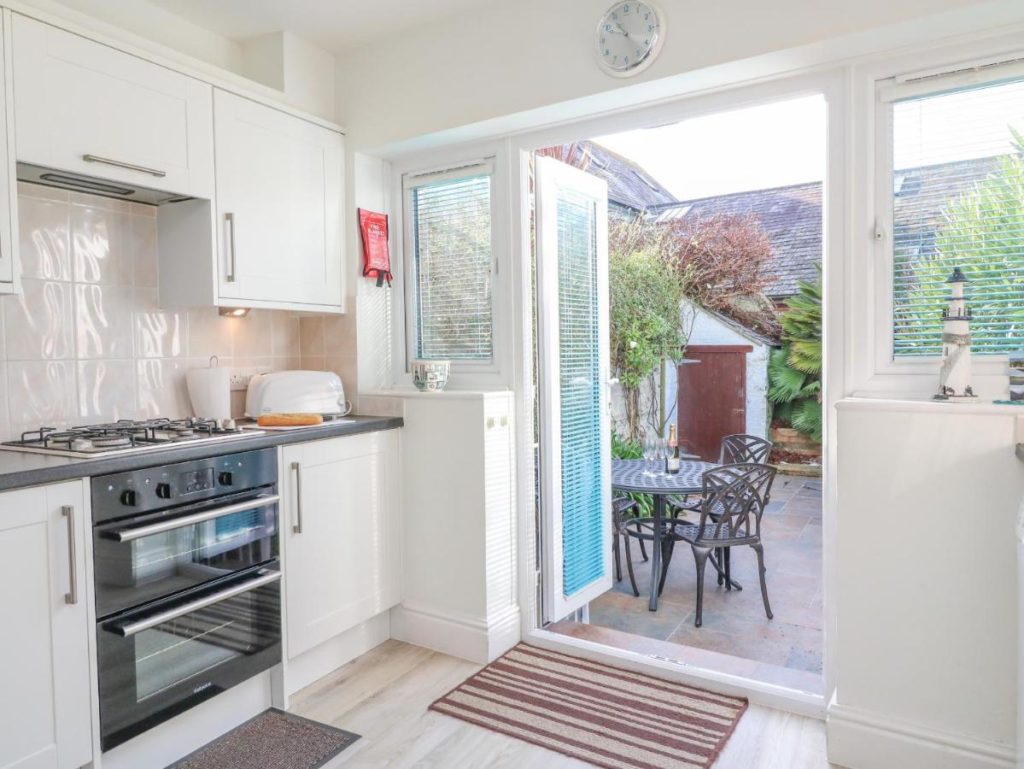 Also in the colourful harbour area, Gone Sailing is a traditional fishermen's cottage tucked along a side street between the harbour and the beaches at Newton's Cove. The property has been renovated and given a fresh, modern feel, with two airy bedrooms and a large contemporary bathroom.
The rear patio courtyard is surrounded by bushes and trees, so makes for a pleasant leafy outdoor space to relax – and it leads straight on from the kitchen to encourage outdoor dining when the English weather plays fair!
New Boathouse, Town Centre
Bedrooms: 4
Sleeps: 7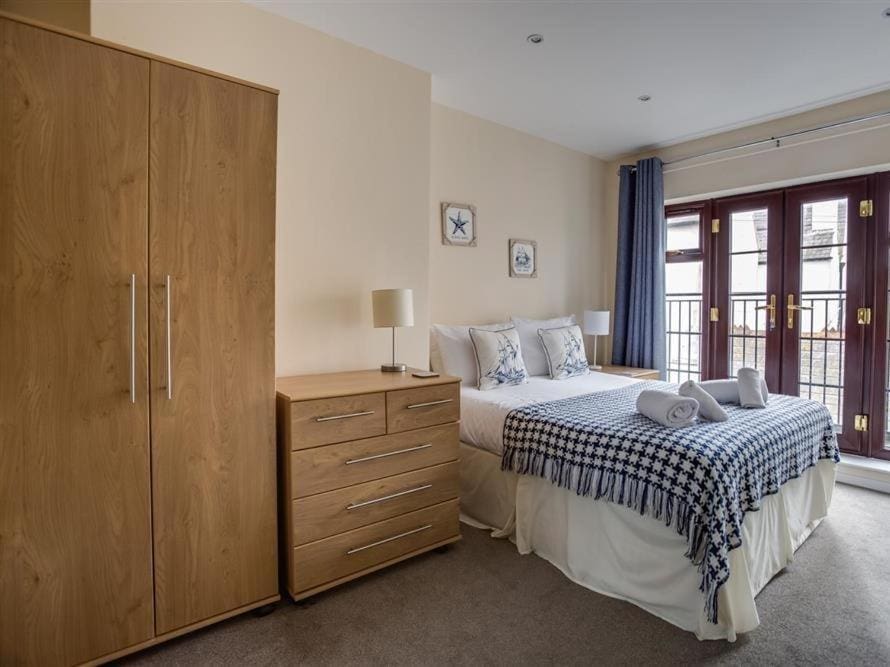 Close to the marina in Weymouth's town centre, the New Boathouse is a roomy holiday home with space for up to seven guests across four bedrooms.
This is an attractively renovated townhouse with a light, fresh feel throughout. There's a spacious, contemporary kitchen with everything, three bathrooms, and a patio garden.
And if you don't feel like cooking, some of the best restaurants in Weymouth can be found right on your doorstep. In fact, the central location of the property means everything is right on your doorstep! You're within walking distance of the town centre, the beach, and the harbour – so exploring Weymouth couldn't be easier.
Higher Moor Farm, Nottington
Bedrooms: 1
Sleeps: 2 (or 4 in a family studio)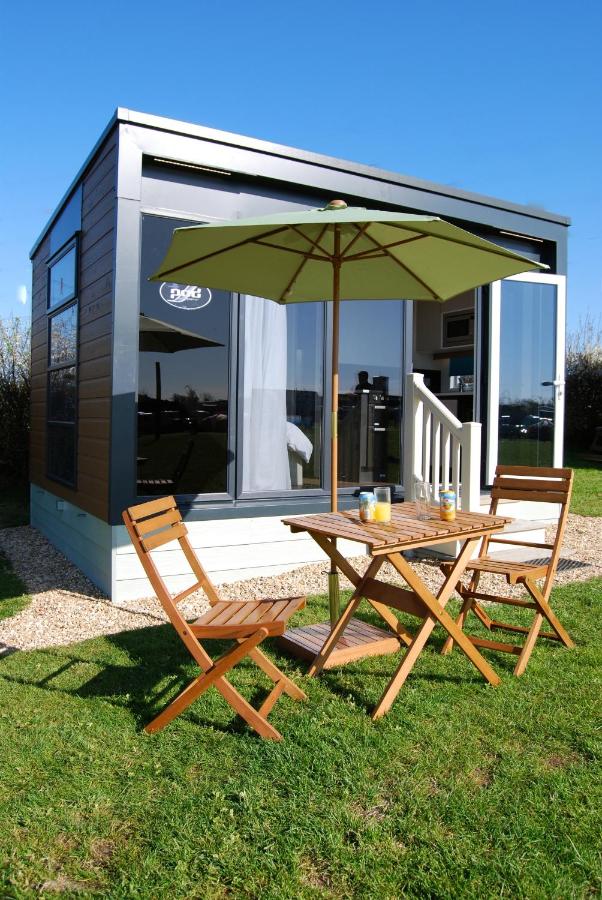 Higher Moor Farm is home to some of the top-rated holiday homes in Weymouth. These are a collection of small studio units arranged within a large outdoor area on the farm and caravan site.
This is a working farm on the outskirts of Weymouth, in the peaceful village of Nottington. The site boasts indoor and outdoor play areas and a farm shop. During summer, there's also a pop-up marquee bar and wood-fired pizza stand on certain days.
The lodges are pretty compact. Each one contains a bed, a small seating area, an ensuite bathroom, and a small kitchenette with a microwave, stovetop, fridge, kettle and toaster. There's also a small terrace with outdoor furniture for outdoor dining. The larger family studios also have a bunk bed set, providing a cosy space for up to four, as well as a roomy balcony area.
Family House, Weymouth Bay Ave
Bedrooms: 6
Sleeps: 12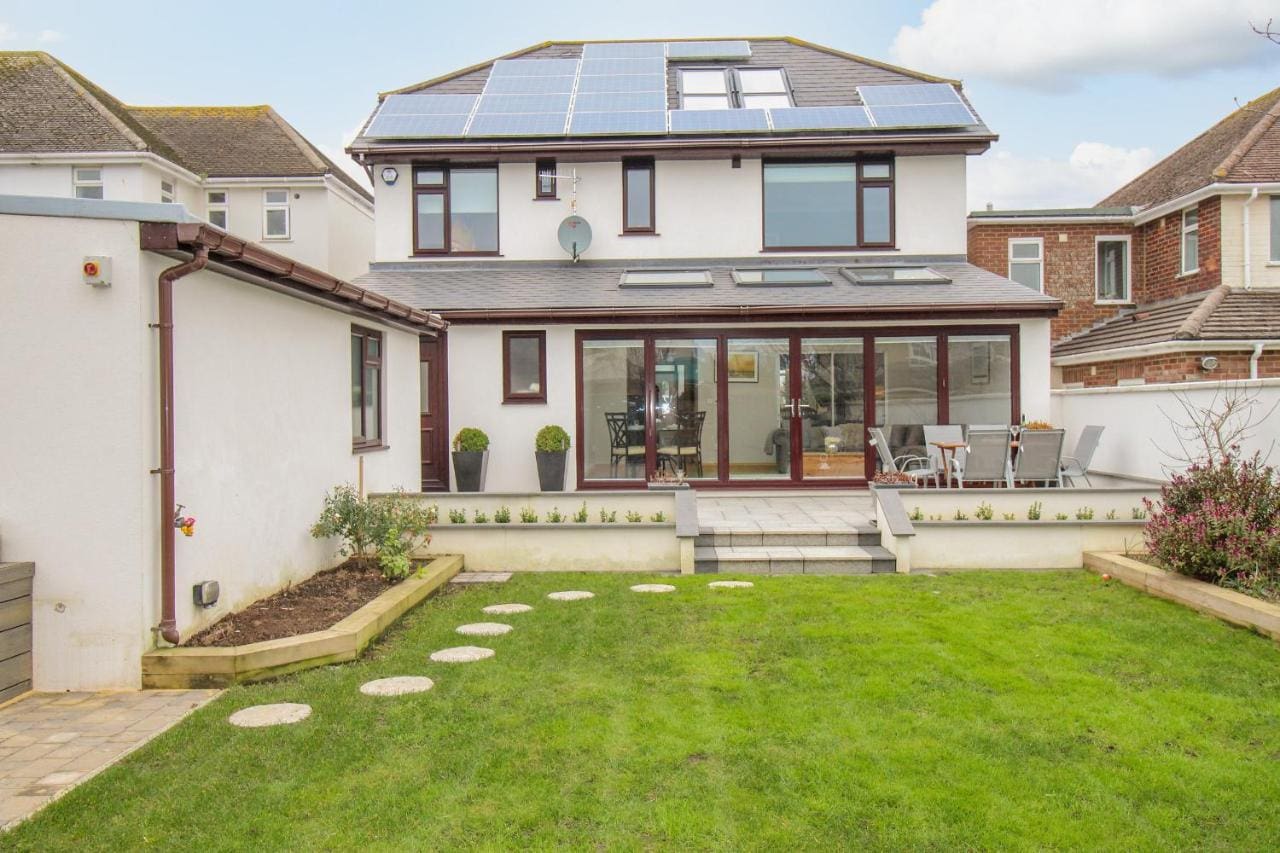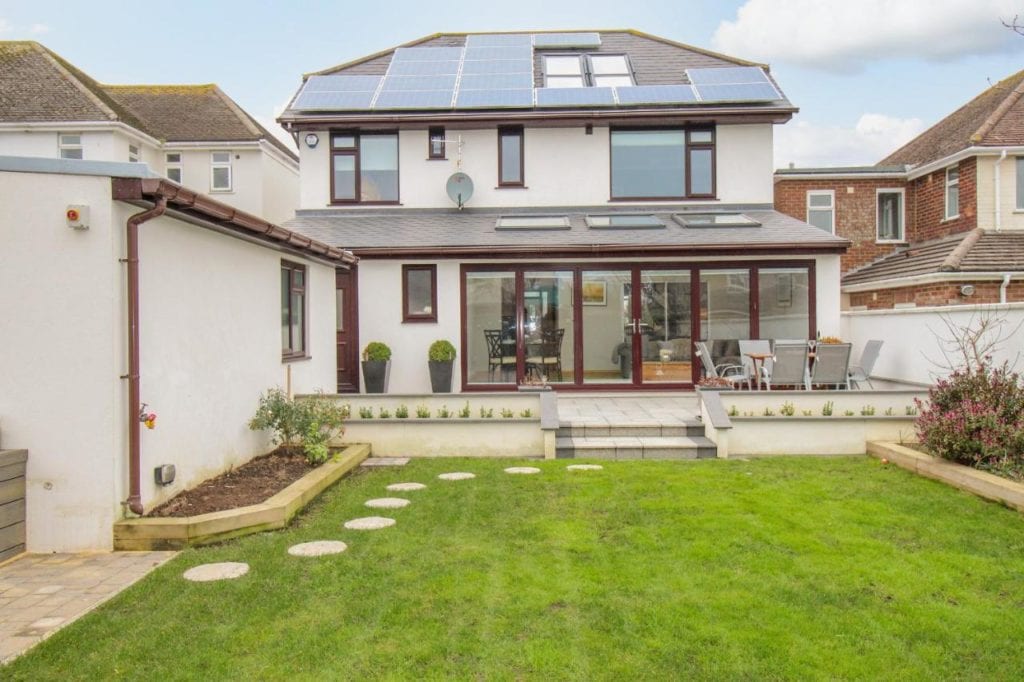 If you need a holiday home with enough space to accommodate a big group or extended family, this six-bedroom family house on Weymouth Bay Avenue is ideal. With space to sleep up to 12, two bathrooms, and a large garden (complete with a mini playground for the kids) this is the ultimate home away from home!
It's on a quiet, residential street within walking distance of Lodmore Country Park – home to a lovely RSPB Nature Reserve, a small funfair, and the popular SeaLife Centre – and not too far from the beach or the town centre.
Greenhill Beach (the shingle end of Weymouth's wide bay) is just a 20-minute walk through the country park, or a 4-minute drive, while the sandy beach is about 25 minutes walk. You can take a bus into town within about 15 minutes. So you're super well connected, but you also get the feeling of coming "home" to a peaceful residential neighbourhood at the end of a long day on the beach or exploring Weymouth's attractions.
Search for More
Use the map below to do a quick search for accommodation in Weymouth…
Your Guide to Weymouth
I'm a born-and-raised Weymouth local, so be sure to check out my other articles to help you plan your Weymouth holiday:
12 of the Best Coastal Hotels in Dorset
Best Places to Eat in Weymouth
12 Dorset Seaside Towns you Need to Visit
8 of the Best Seafront Hotels in Weymouth
If you stay in any of these amazing holiday homes in Weymouth, be sure to let me know in the comments. I'd love to hear about your trip!
Pin this Post