Some posts on this site contain affiliate links. If you book or buy something through these links, I earn a small commission (at no extra cost to you). Take a look at my privacy policy for more information.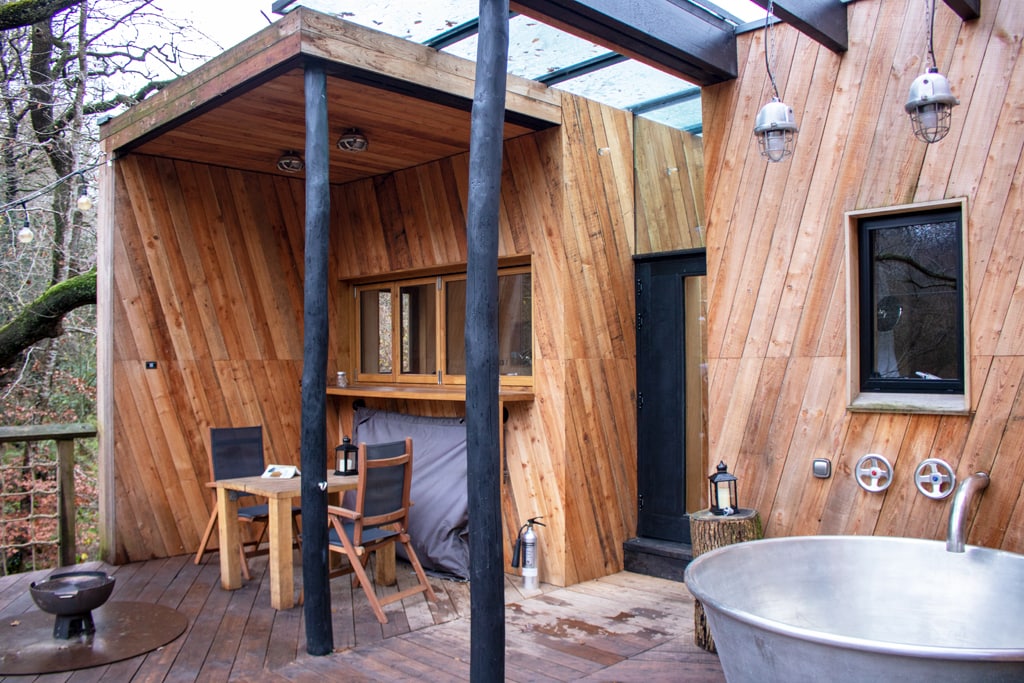 Looking for a unique countryside getaway? How about a luxury treehouse in Dorset – one with its own hot tub, pizza oven, log burner, and full kitchen? That's what you'll find at Mallinson's Woodland Retreat…
At the end of last year, I snuck away to discover the ultimate countryside escape in West Dorset. Mallinson's Woodland Retreat, up near the border with Somerset, is a gloriously peaceful getaway offering one of the most unique places to stay in Dorset.
Nestled amongst the trees are three bespoke luxury treehouses, each one an architectural marvel designed by renowned woodworker Guy Mallinson.
This gorgeous woodland glamping site – which also has yurts, tipi, and a shepherds hut – is the perfect place to get away from it all.
My stay at Mallinson's Woodland Retreat was gifted in exchange for this review. However, all words and opinions are absolutely my own.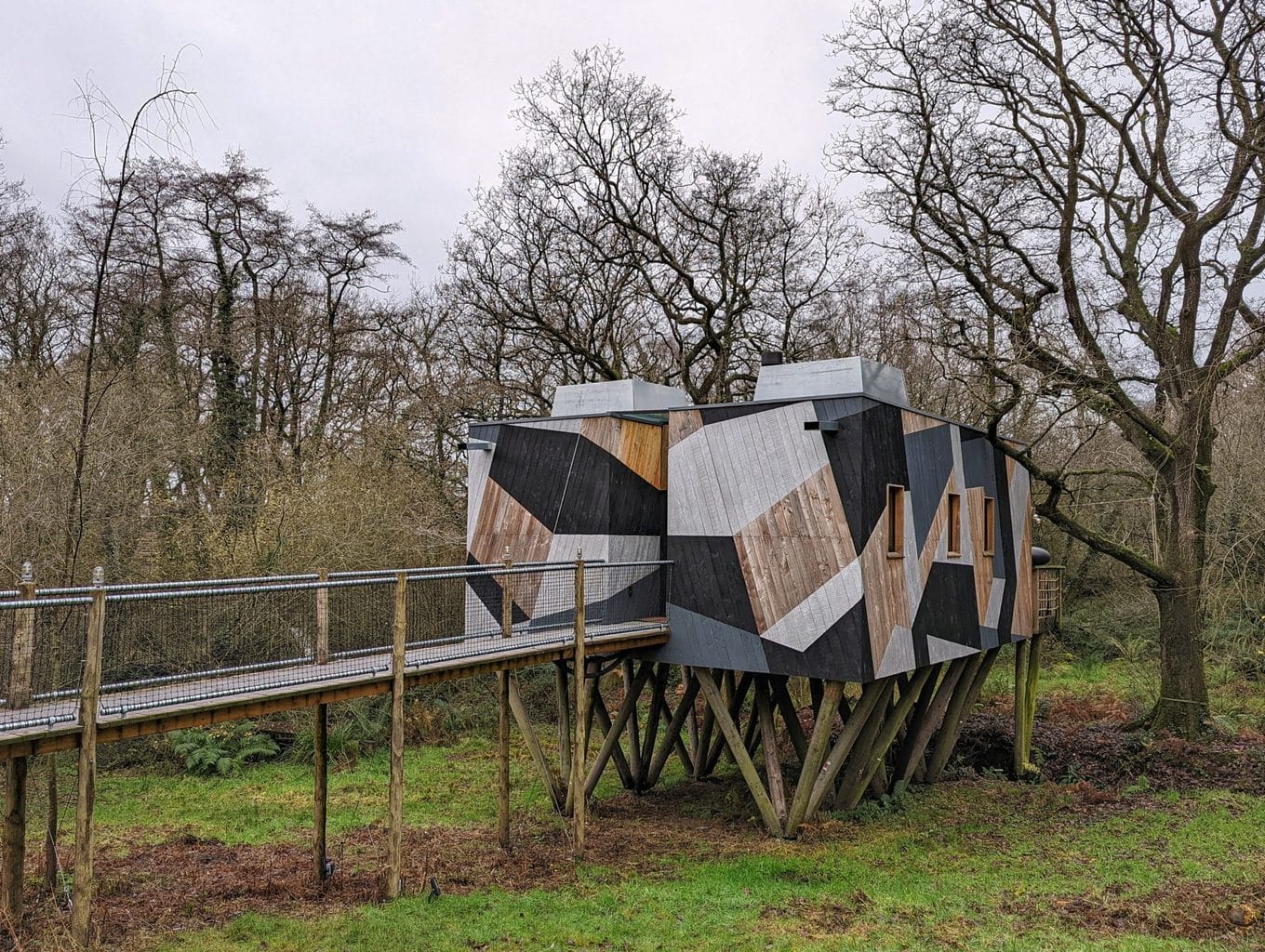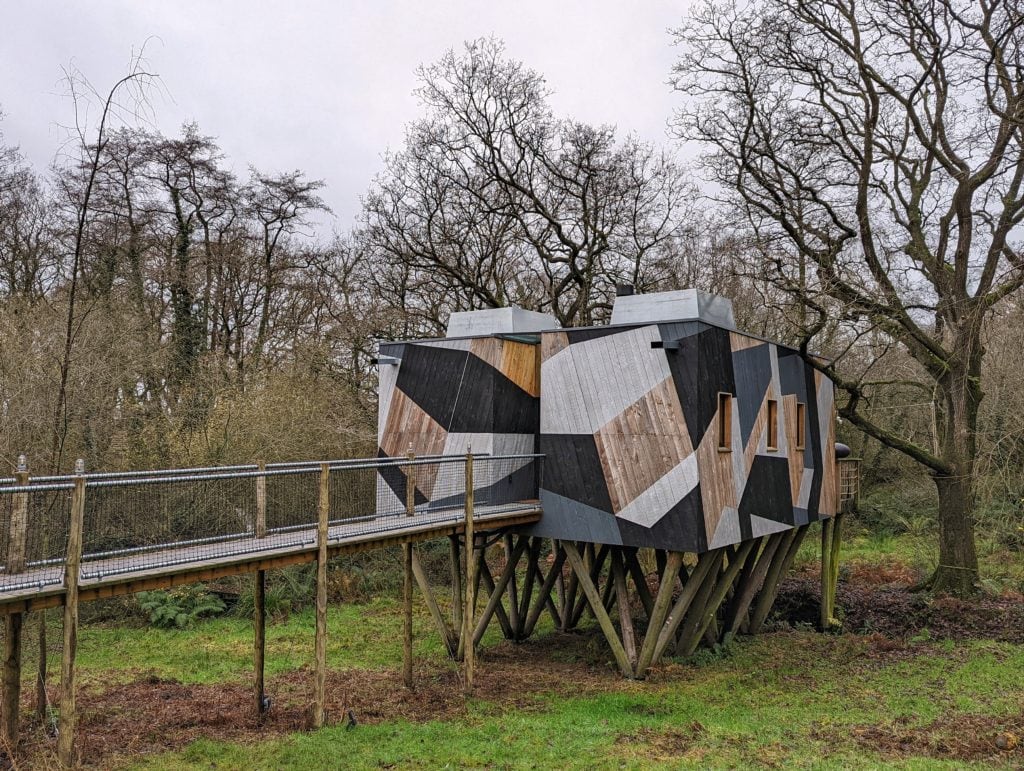 Mallinson's Woodland Retreat – Treehouse Stays in Dorset
I was staying in Dazzle, one of the two new additions which joined the popular Woodsman's Treehouse at the West Dorset glamping site last year.
The Woodsman's Treehouse won the RIBA South West award and was named the 'Small Project of the Year'. It has also been featured on George Clarke's Amazing Spaces and Grand Designs House of the Year 2017.
The two new additions are equally impressive, designed and built with a focus on sustainability and keeping traditional craft skills alive.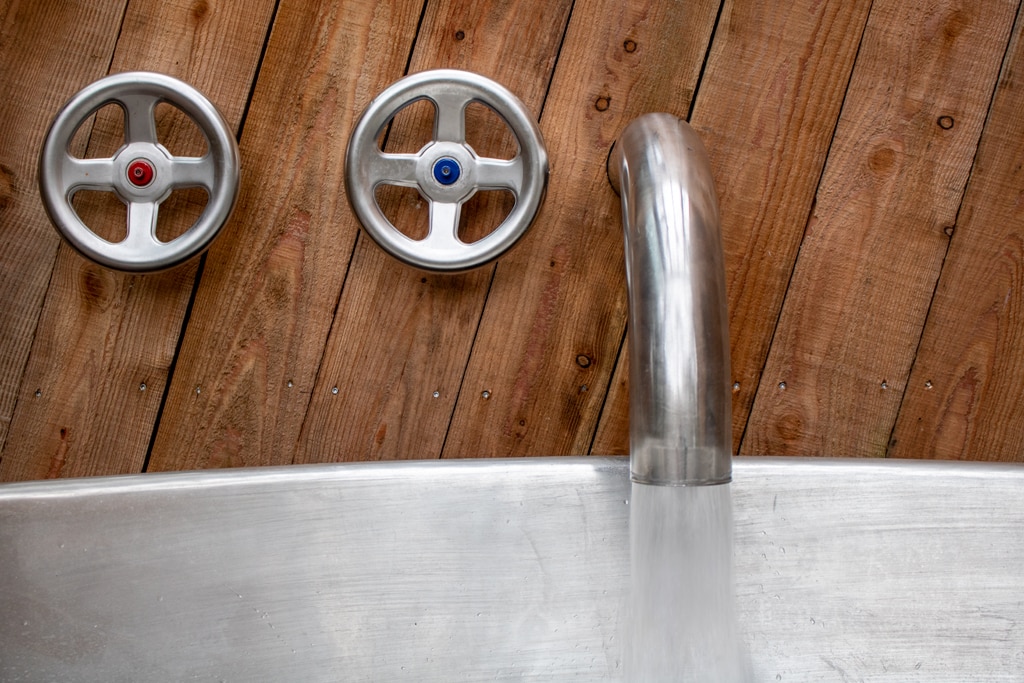 Dazzle Treehouse, Dorset
I arrived at the carpark just after dark, and set off to follow a meandering path downhill into the woods. Lanterns hanging from trees lent the setting a fairytale feel as I curled through the glamping site to reach the distant treehouses.
There were no sounds of roads or people. Only the soft hooting of an owl and a quiet mooing from the nearby dairy farm, telling me I had well and truly gotten away from it all.
A short wooden bridge leads to Dazzle, which stands not quite in a tree but certainly amongst them. The treehouse is perched on wooden stilts above the forest floor, with a small stream trickling quietly beneath the terrace.
Each of the three treehouses at the Dorset retreat is completely unique. Dazzle's design was a collaboration between Guy Mallinson and Keith Brownlie of BEaM, and has a subtle ship theme throughout.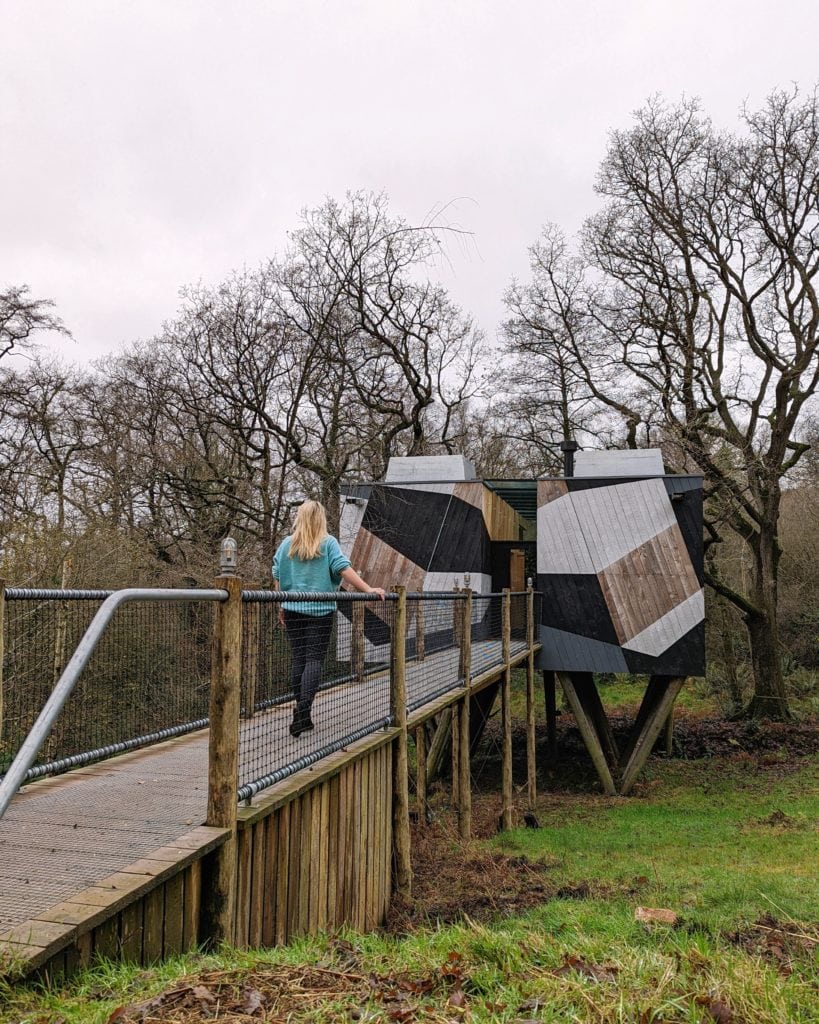 There's a gangplank style walkway, prow-shaped deck, and yacht deck floors, while the diagonal-stripe design of the exterior was inspired by the patterns used to conceal WW1 ships and confuse the enemy.
The result is a seriously eye-catching treehouse which looks both part of the forest, and strikingly modern.
Inside Dazzle: the Newest Dorset Treehouse
As soon as you open the front door, you're hit by Dazzle's wow-factor. A short corridor runs from front to back beneath a glass roof which fills the treehouse with dappled forest light.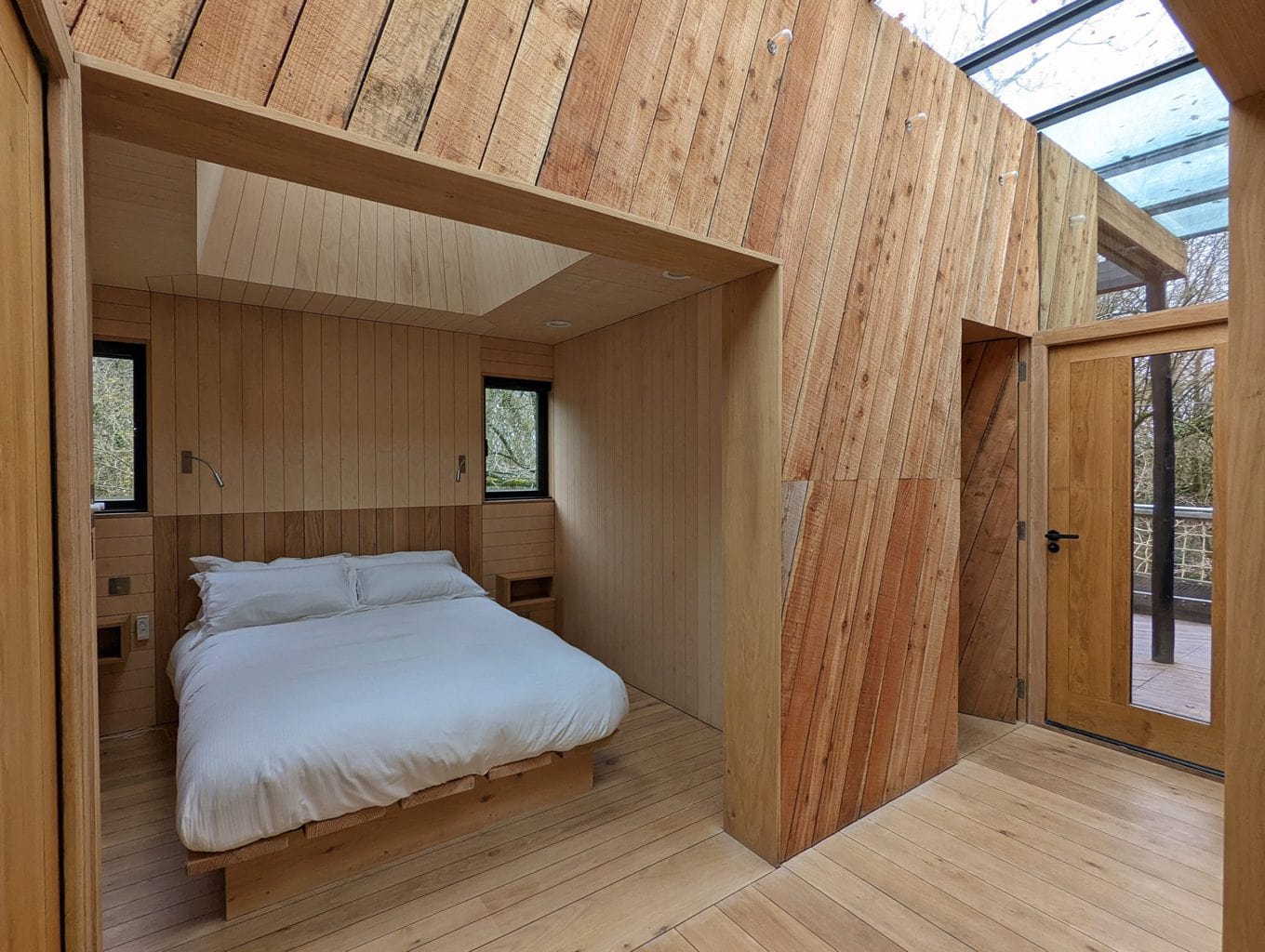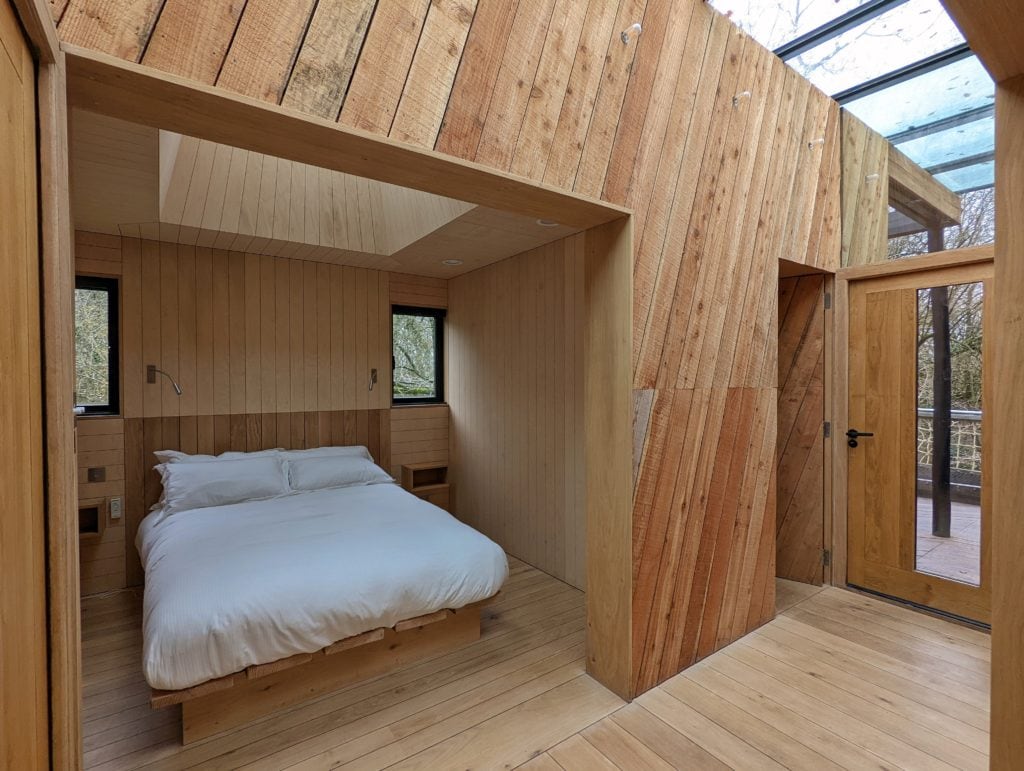 Though small, the property's clever design makes full use of the space, and has everything you need for a comfortable getaway. This Dorset treehouse is what I'd call next-level glamping; a luxurious little cabin in the woods.
There's a cosy living area with a sofa and a large wood-burning stove (enough to keep the whole property warm when I visited in December).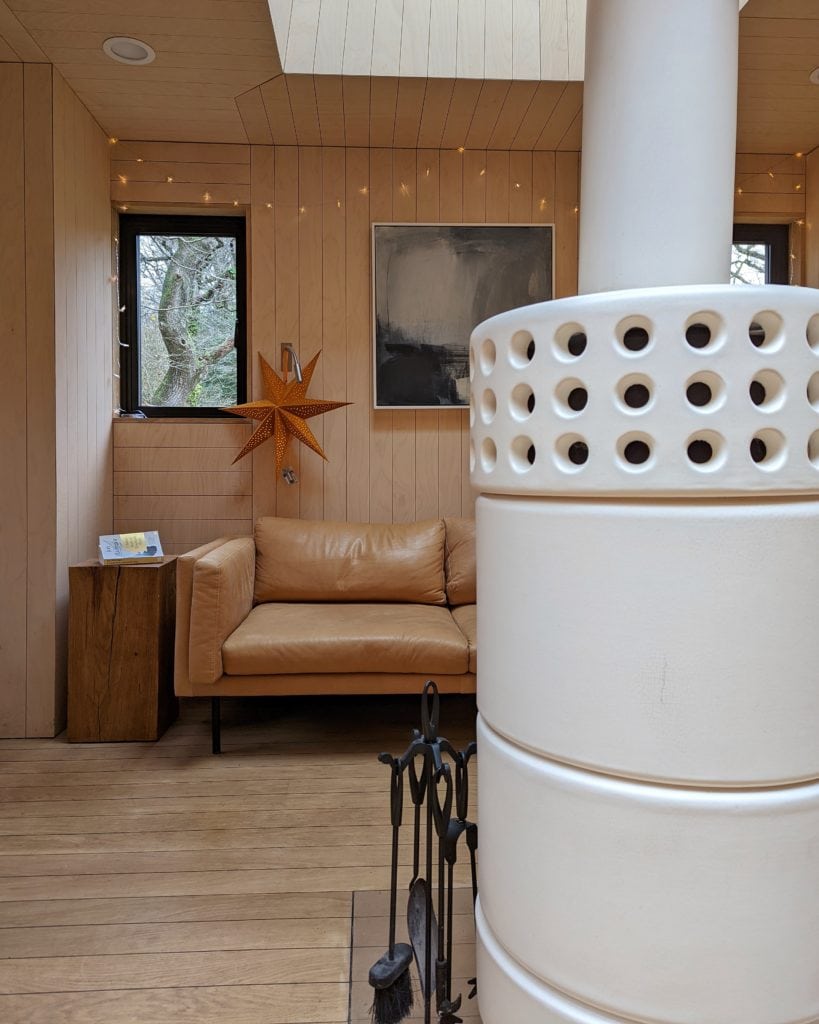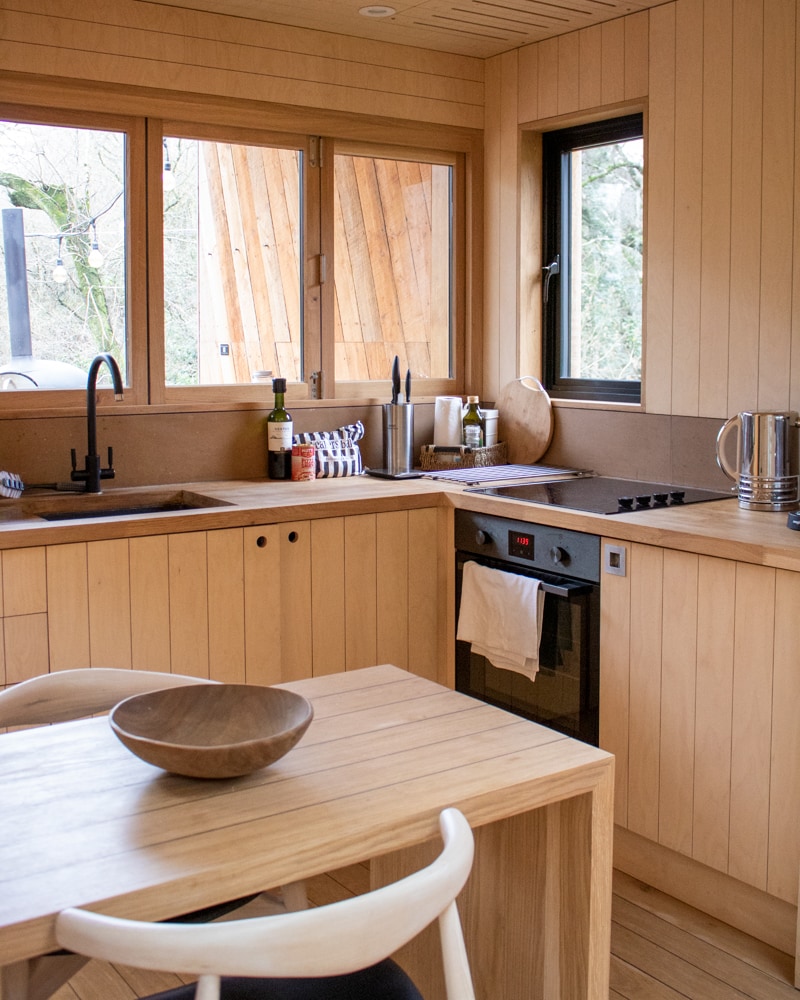 The fully equipped kitchen has an electric oven, fridge (with icebox), and all the cooking and dining equipment you could need. There's even a Nespresso machine! The bathroom has a proper flushing loo, hot running water, rainforest shower, and a heated towel rail.
A curtain closes to separate off the bedroom, which has a super comfy king-sized bed beneath a skylight. You can fall asleep beneath the stars – or close the electric blackout blinds if you need a lie-in.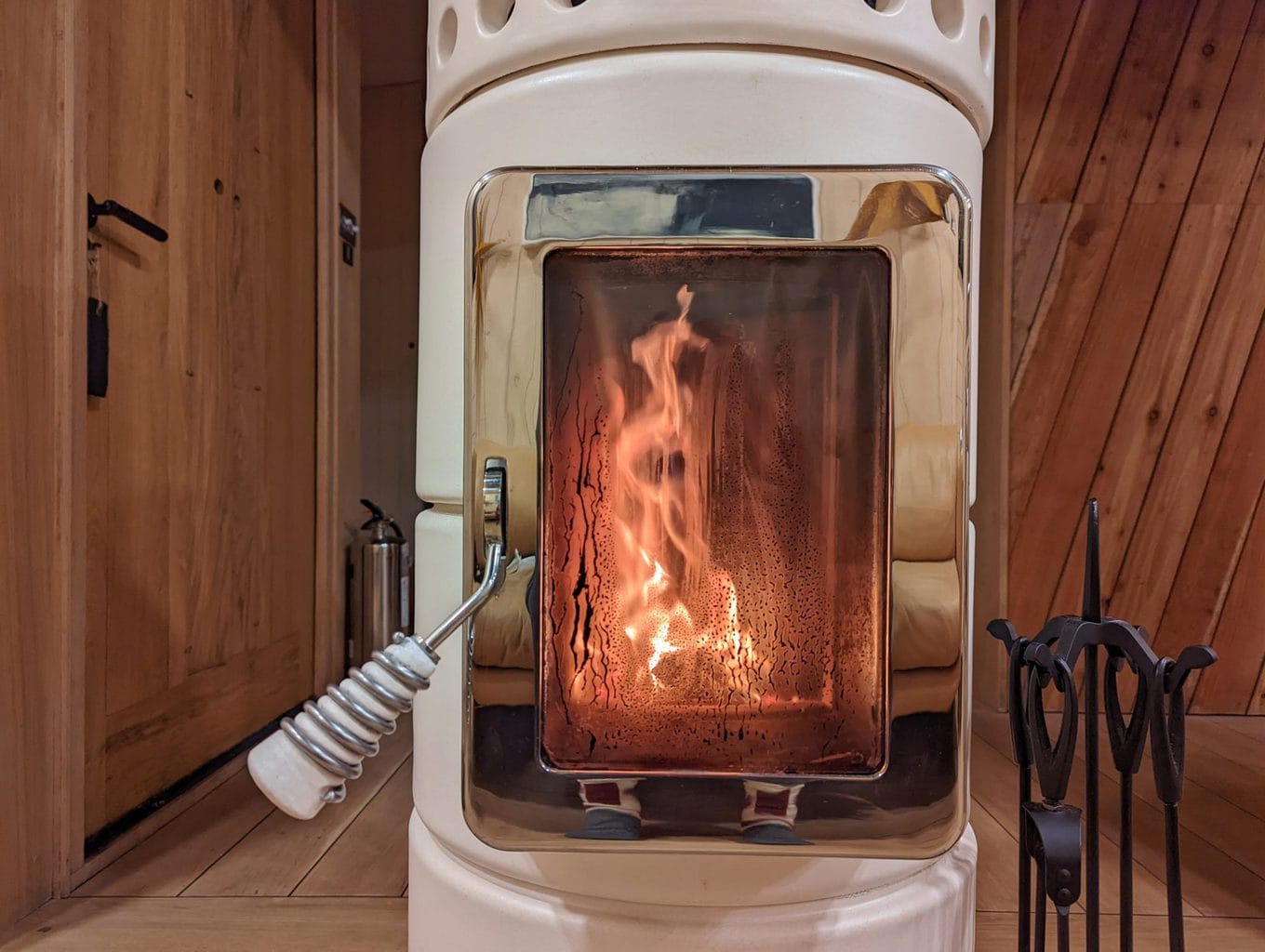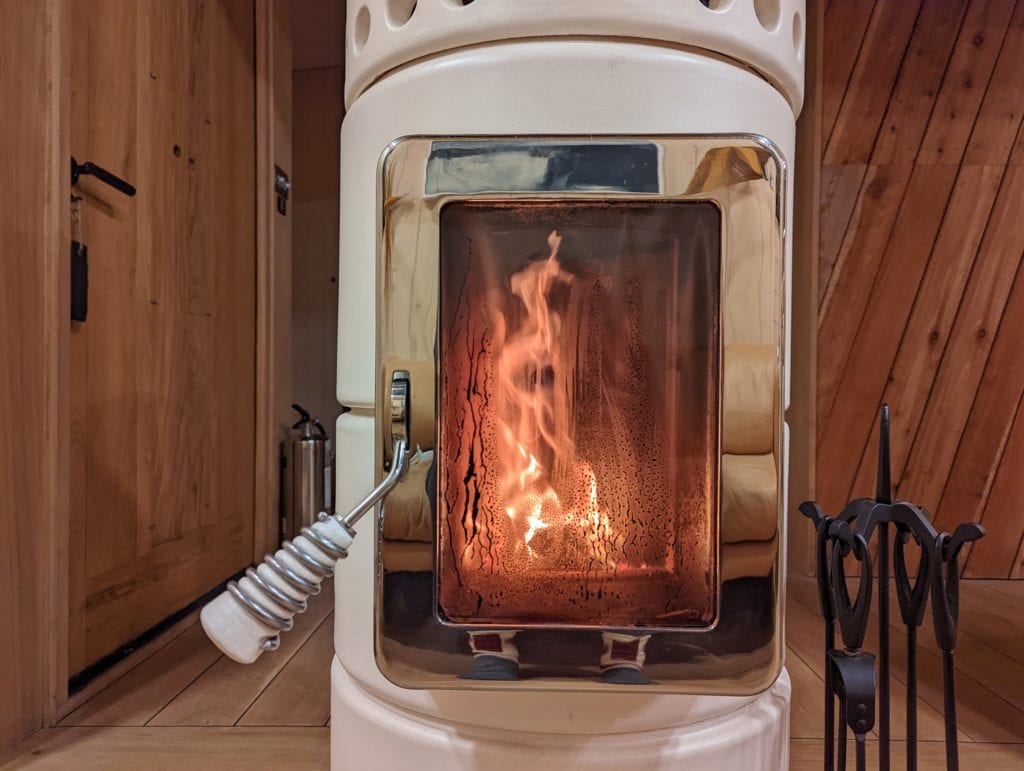 On chilly nights, the bed also features an electric blanket to keep you toasty! There's even a dressing table with a large mirror, cleverly hidden behind a cupboard door. Inside, you'll also find a Dyson hairdryer – one of my favourite luxurious touches.
Want to see a little more? Click here to watch a short video tour I made of Dazzle Treehouse.
The Rear Deck
Out back, you'll find a spacious deck beneath a canopy of towering trees. The cargo net day bed and roomy double hammock are perfect for lazing outside on warm days. A small section of the deck is covered, so you can still sit outside even if the British weather doesn't cooperate.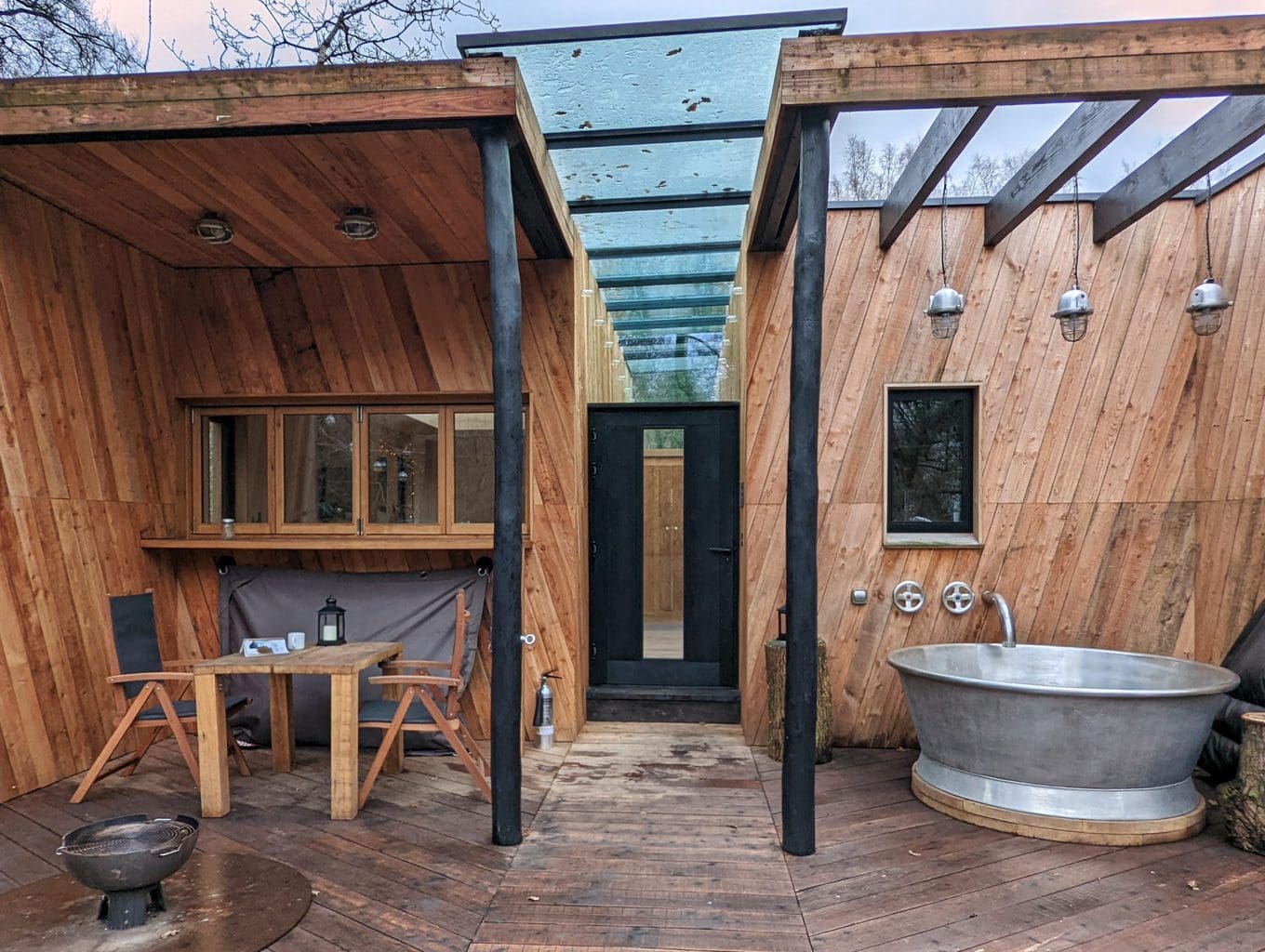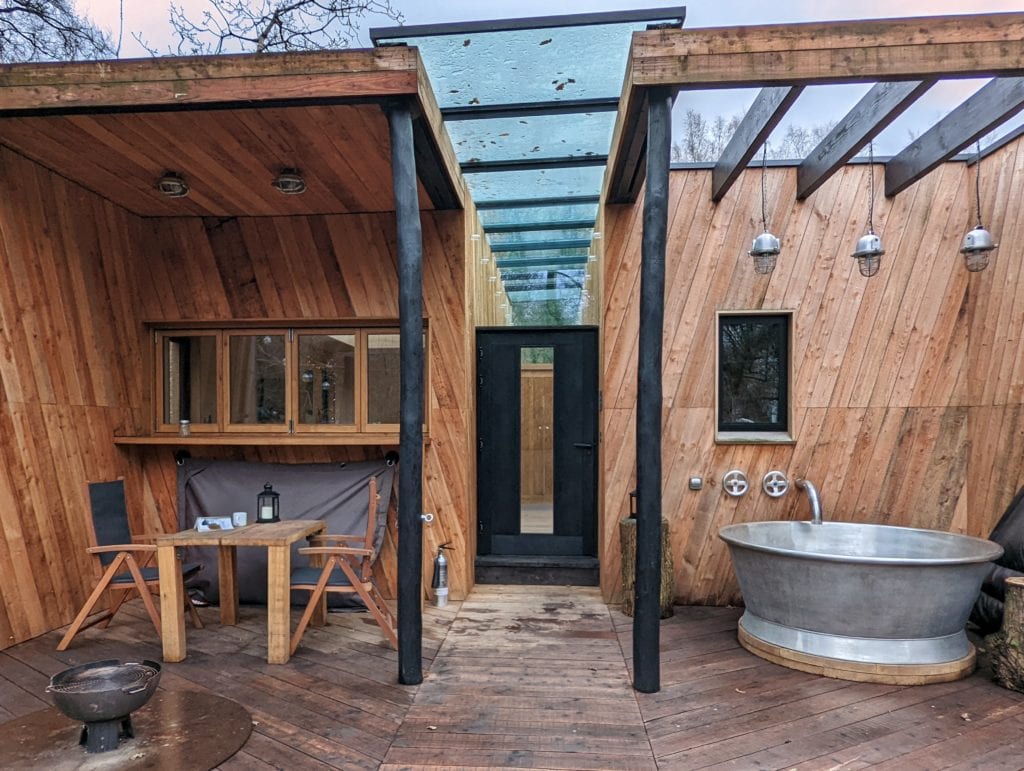 This is where you'll find some of Dazzle's best bits! There's both a firepit and a wood-fired pizza oven on the deck. You can buy ready-made dough at the Retreat's honesty shop if you fancy a little alfresco cooking – although if you've never used a pizza oven before (I hadn't) I recommend buying some to spare!
Better still, there's a huge tin hot tub on the deck. I spent hours out there, relaxing in the bubbles with a glass of wine, surrounded by trees. It's particularly lovely at night, with the stars above and the peaceful sounds of the woodland all around.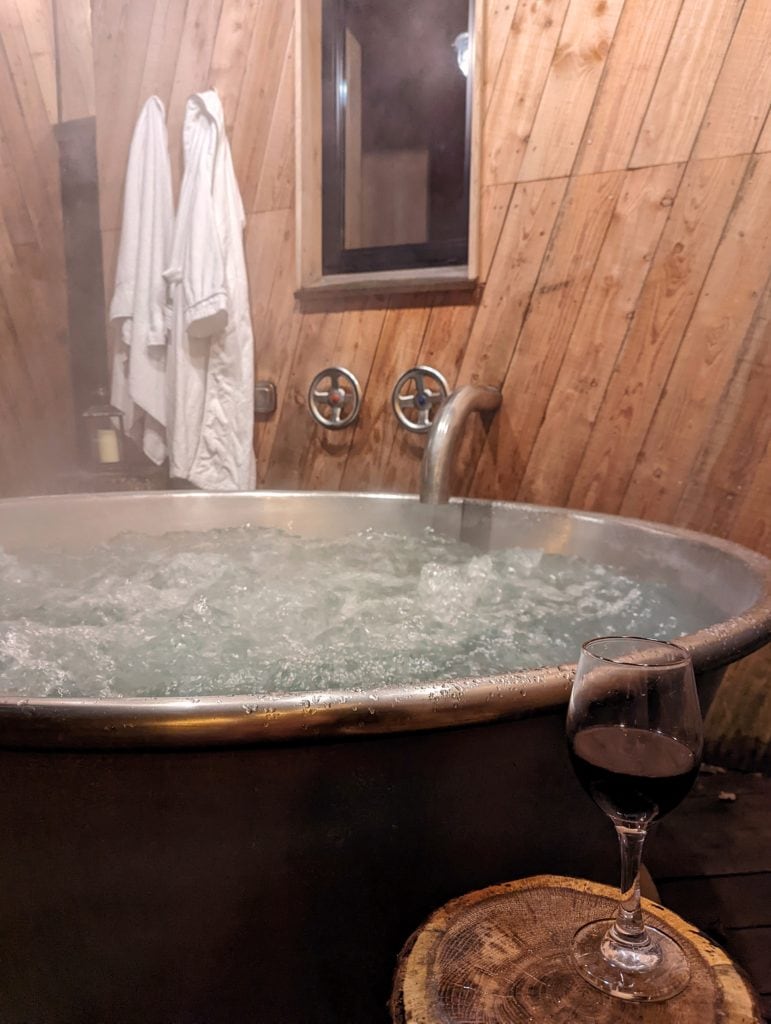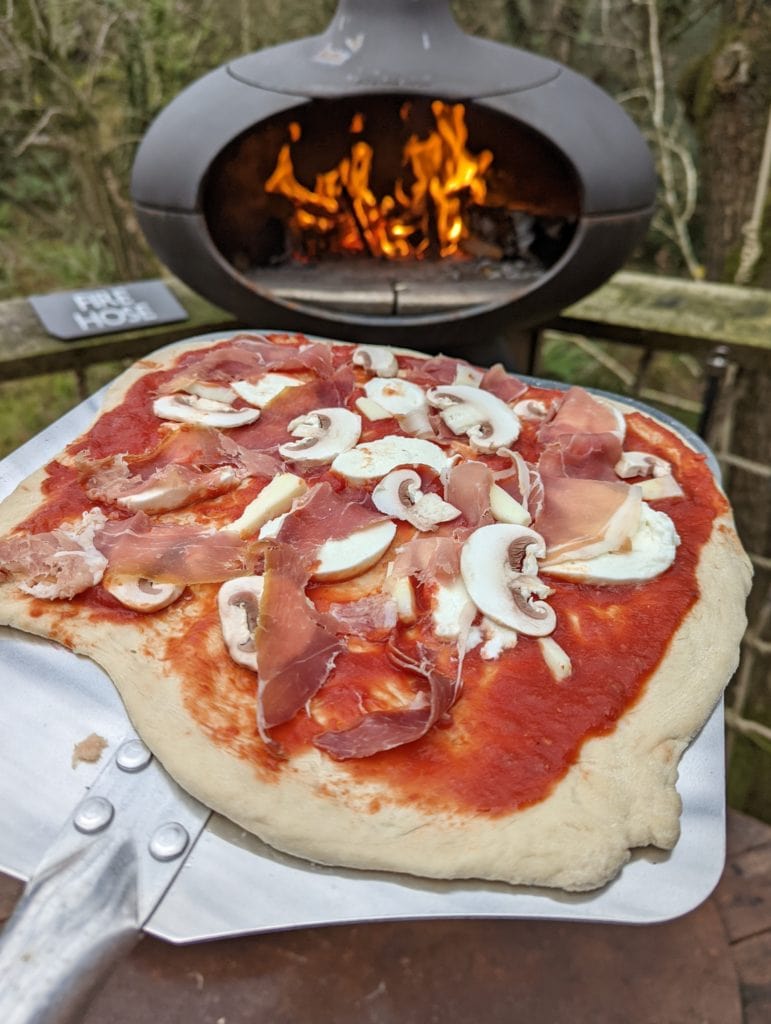 Getting Away from it All
Despite having a few neighbours also staying at Mallinson's Woodland Retreat, Dazzle really felt like being alone in the woods. Silence is encouraged, and things like portable speakers are banned. Relaxation really is the name of the game.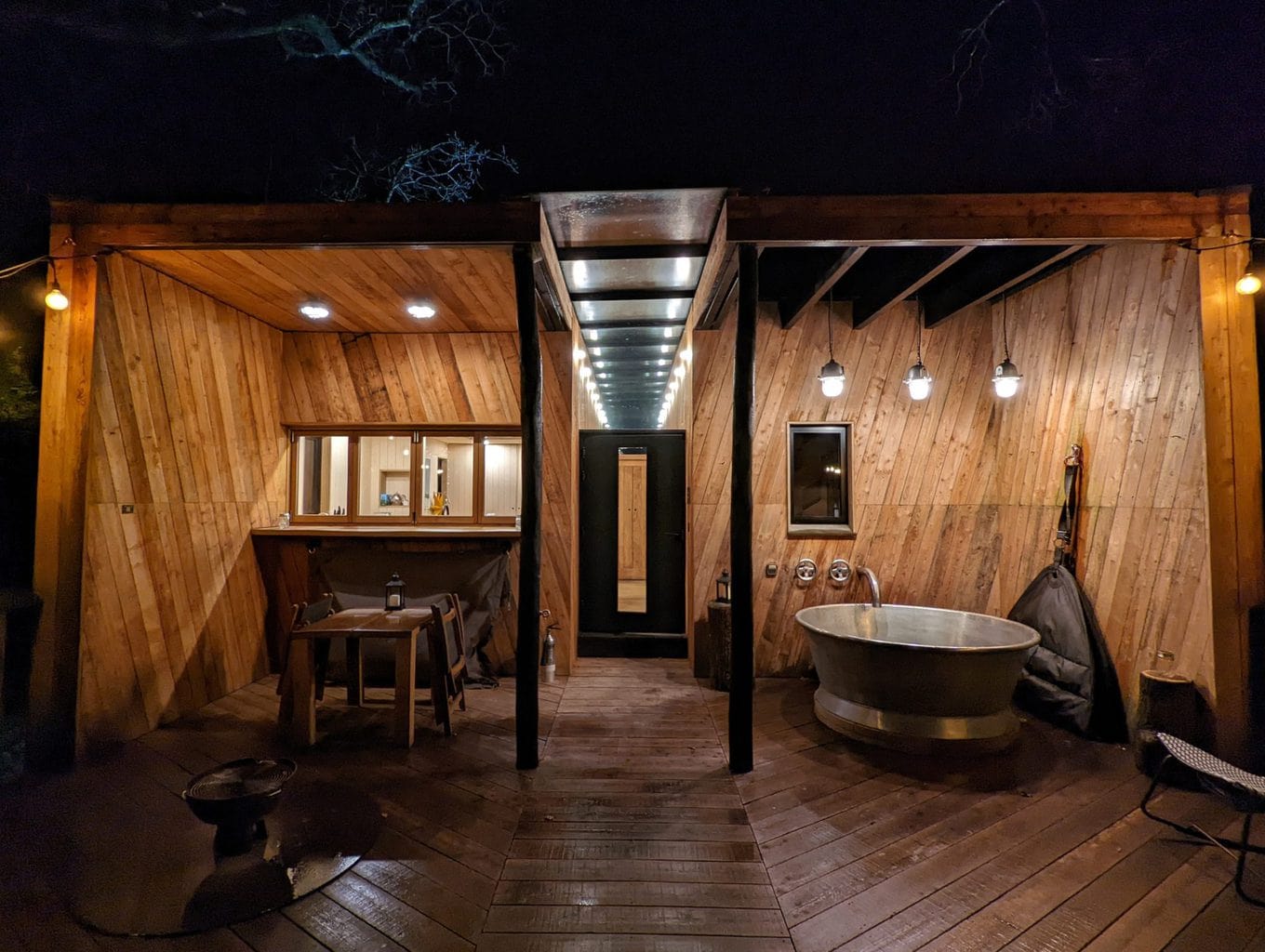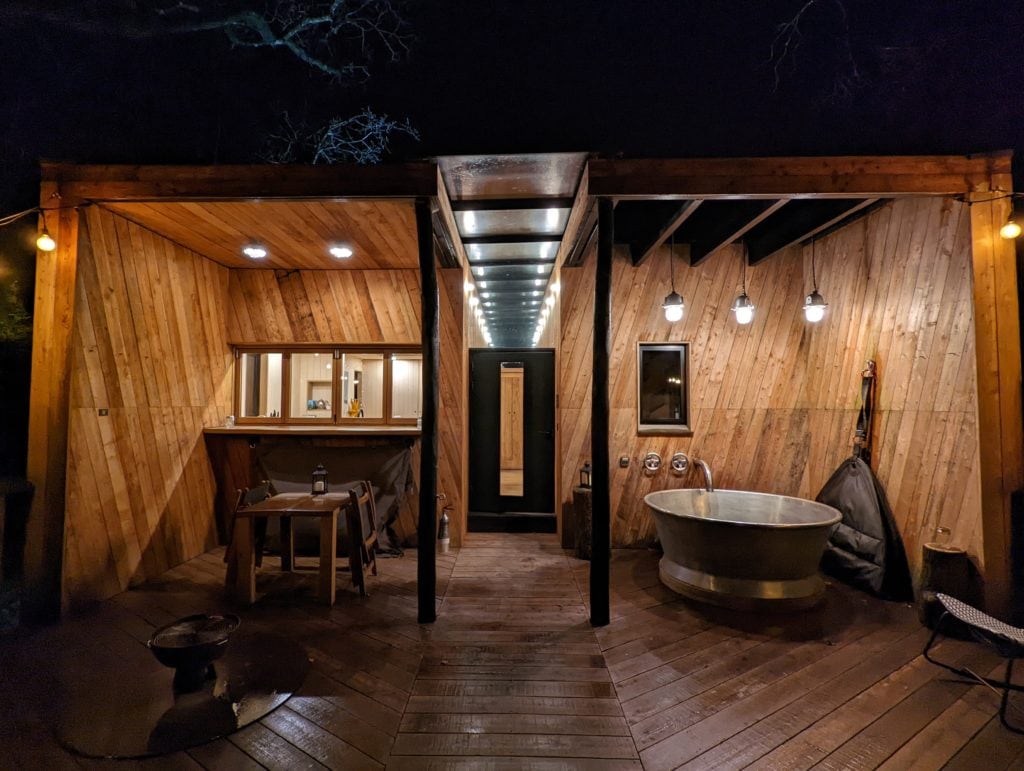 There's no WiFi (although 4G signal was pretty decent), and no TV. So this is a brilliant place for a bit of a digital detox.
For two nights, it's absolutely perfect. Evenings spent with a glass of wine and a board game or a book in front of the fire, and lazy days spent enjoying the sun on the deck or relaxing in the hot tub.
If you wanted, you could go walking in the West Dorset countryside or pop into the nearby villages. But there's really no need to leave at all. The idea of the Woodland Retreat is to do just that; retreat. To spend a couple of nights hiding away from the real world in a luxurious woodland cabin. And that's exactly what I did!
Read More
Bournemouth Beach Lodges – Sleeping in a Beach Hut by the Sea