Some posts on this site contain affiliate links. If you book or buy something through these links, I earn a small commission (at no extra cost to you). Take a look at my privacy policy for more information.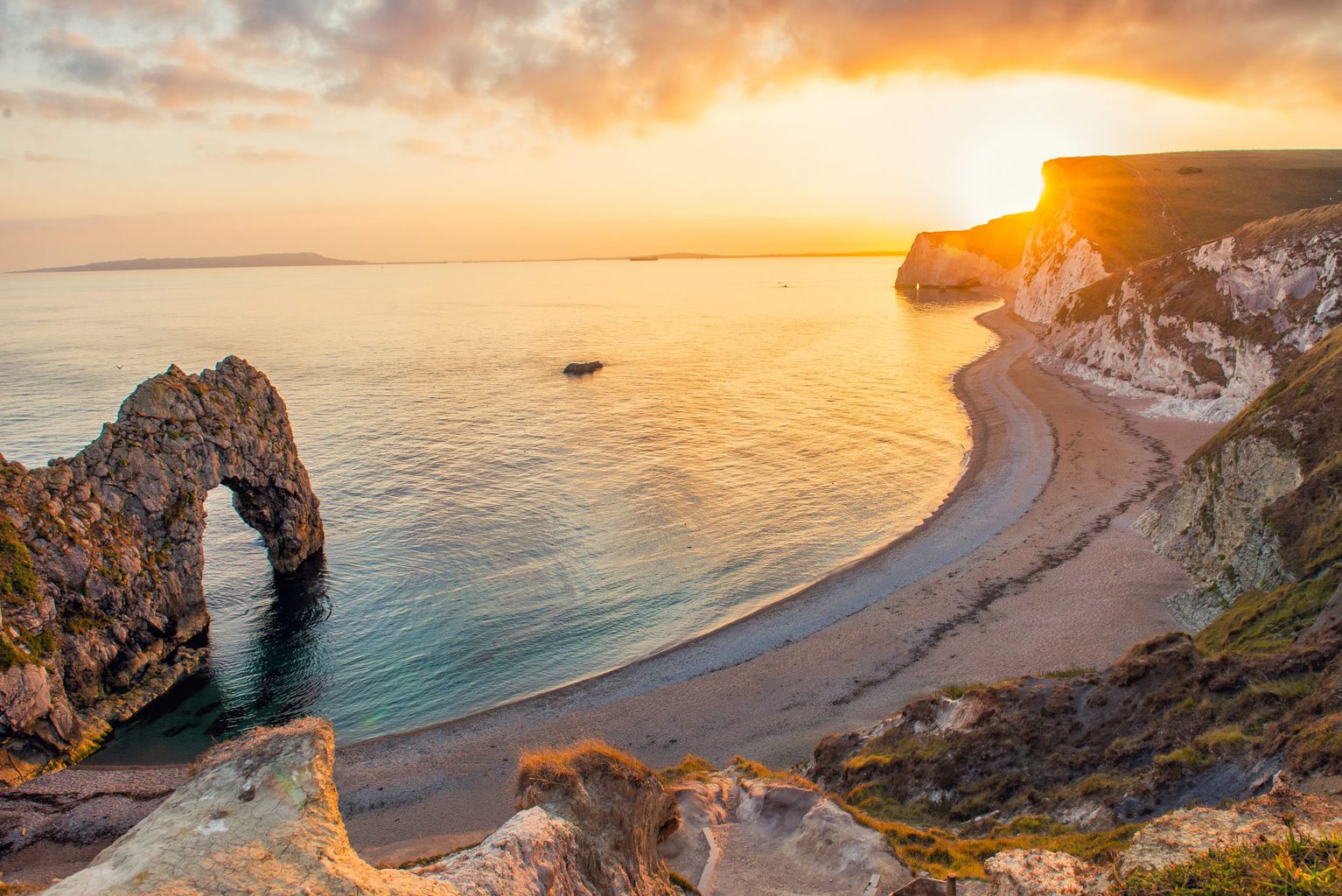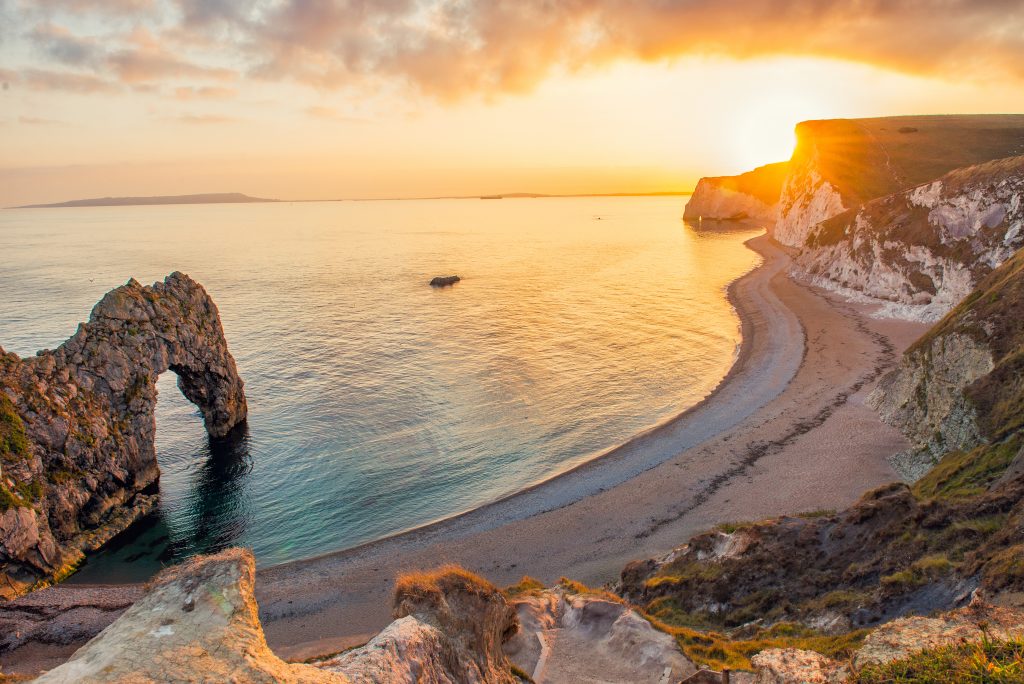 An in-depth guide to how to get from Lulworth Cove to Durdle Door – walking, driving, or using public transport.
Durdle Door is one of the most popular coastal attractions in Dorset. This remarkable rock archway over the sea was formed by millions of years of erosion. Just over the next cliff, Lulworth Cove is a perfectly formed, semi-circular cove backed by high white cliffs.
Because they're so near to one another, it's easy to visit these two Jurassic Coast highlights in one day trip. You can walk, drive, or take a bus from Lulworth Cove to Durdle Door and back – so however you prefer to make the trip, it's very easy.
As a born-and-bred Dorset local, I've made the journey between these two attractions countless times. Below, you'll find my detailed guide to all three options for the trip: walking, driving, and public transport. You can use the contents menu to skip ahead to the section you need.
If you have time and want to make the most of your visit, I strongly recommend you try the walk from Lulworth Cove to Durdle Door. It's a simple, 1-mile cliff walk with spectacular views – and the first glimpse of the archway as you approach is a real treat.
However you get from one to the other, don't miss these two incredible spots on the Jurassic Coast…
Lulworth Cove to Durdle Door Walk
The walk from Lulworth Cove to Durdle Door (and back) is a very straightforward linear route over the cliff, following the South West Coast Path.
The walk is approximately 1 mile (1.75km) each way and takes around 25 minutes (depending on your walking speed). I've included step-by-step directions below.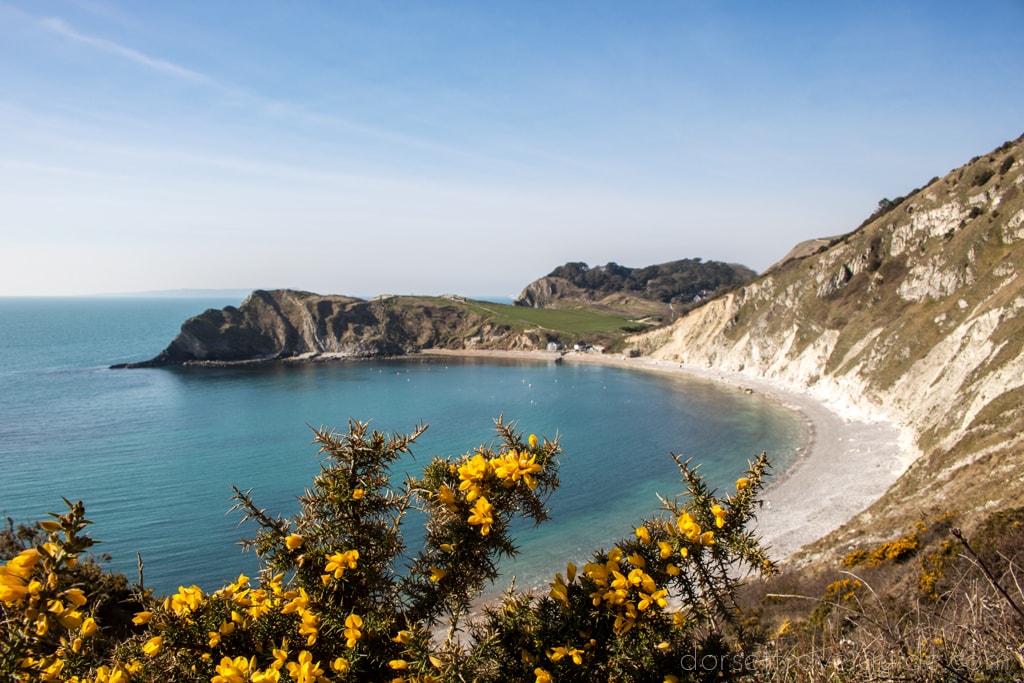 If you only want to walk one way, you can also take the bus back to Lulworth Cove (see the end of this post). The bus stop is at the Durdle Door Park Entrance on West Road, and it will take you right back to the car park at Lulworth Cove.
Alternatively, there is a lovely 5-mile circular walk you can do which returns via an inland route and loops around the back of Lulworth Cove. Click here for my step-by-step instructions.
Step One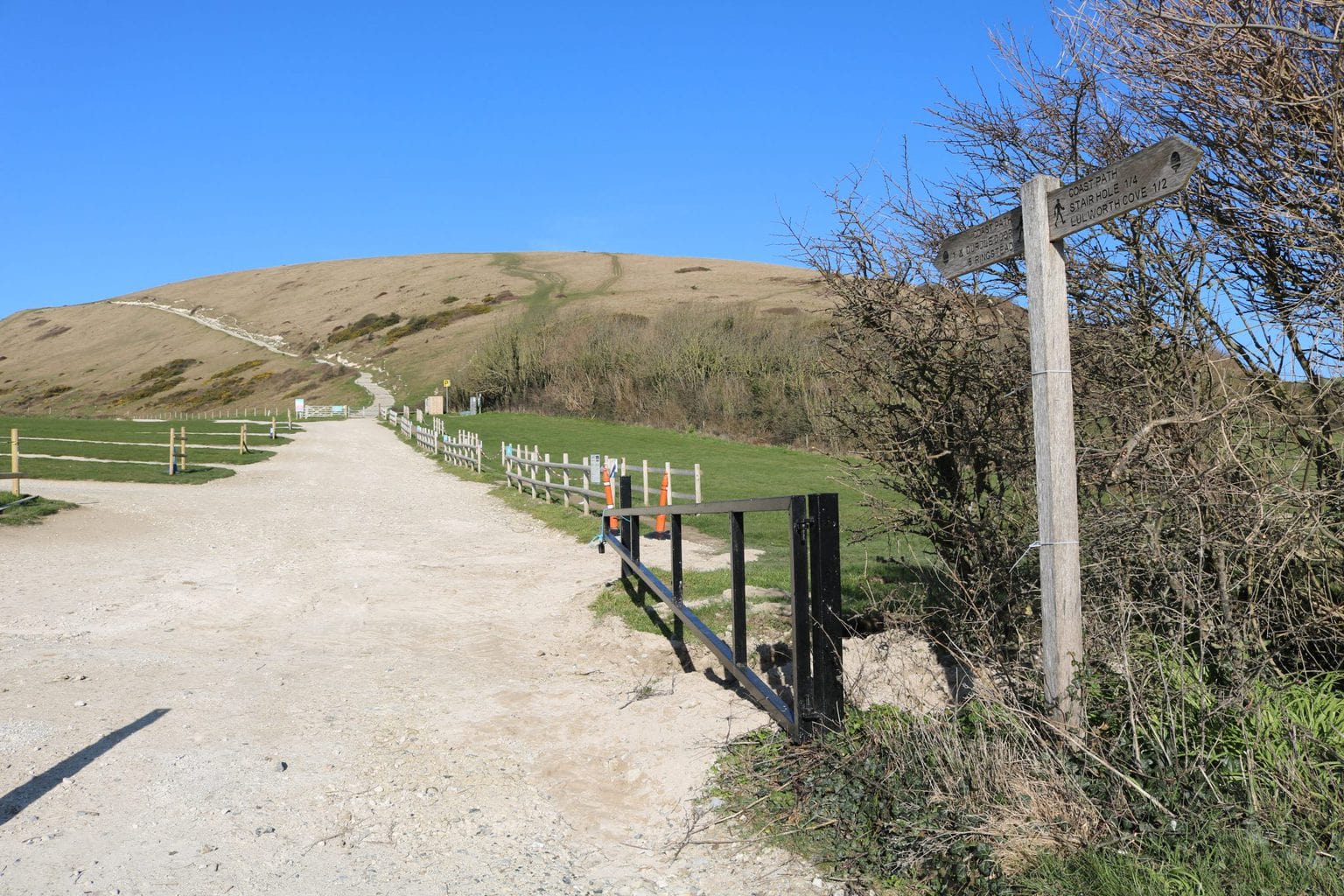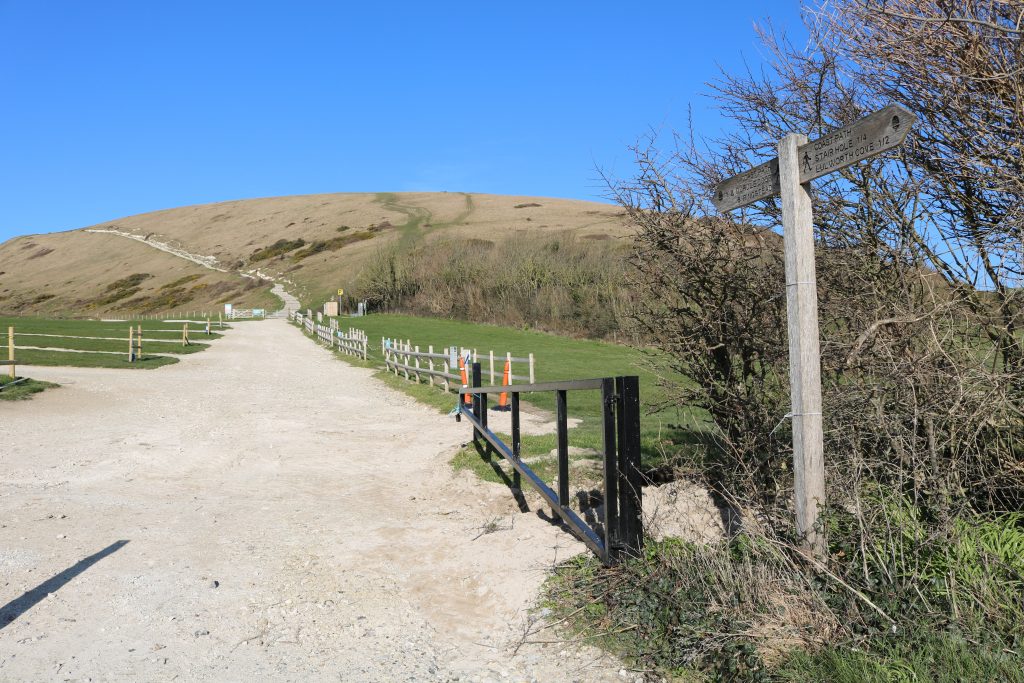 Start at the back of Lulworth Cove carpark. There is a wooden gate and a very obvious stone path leading directly up and over the hill. Pass through the gate and follow the sloping stone steps steeply up the hill.
It's a fairly steep climb, but this is probably the hardest part of the walk and you are getting it over and done with early!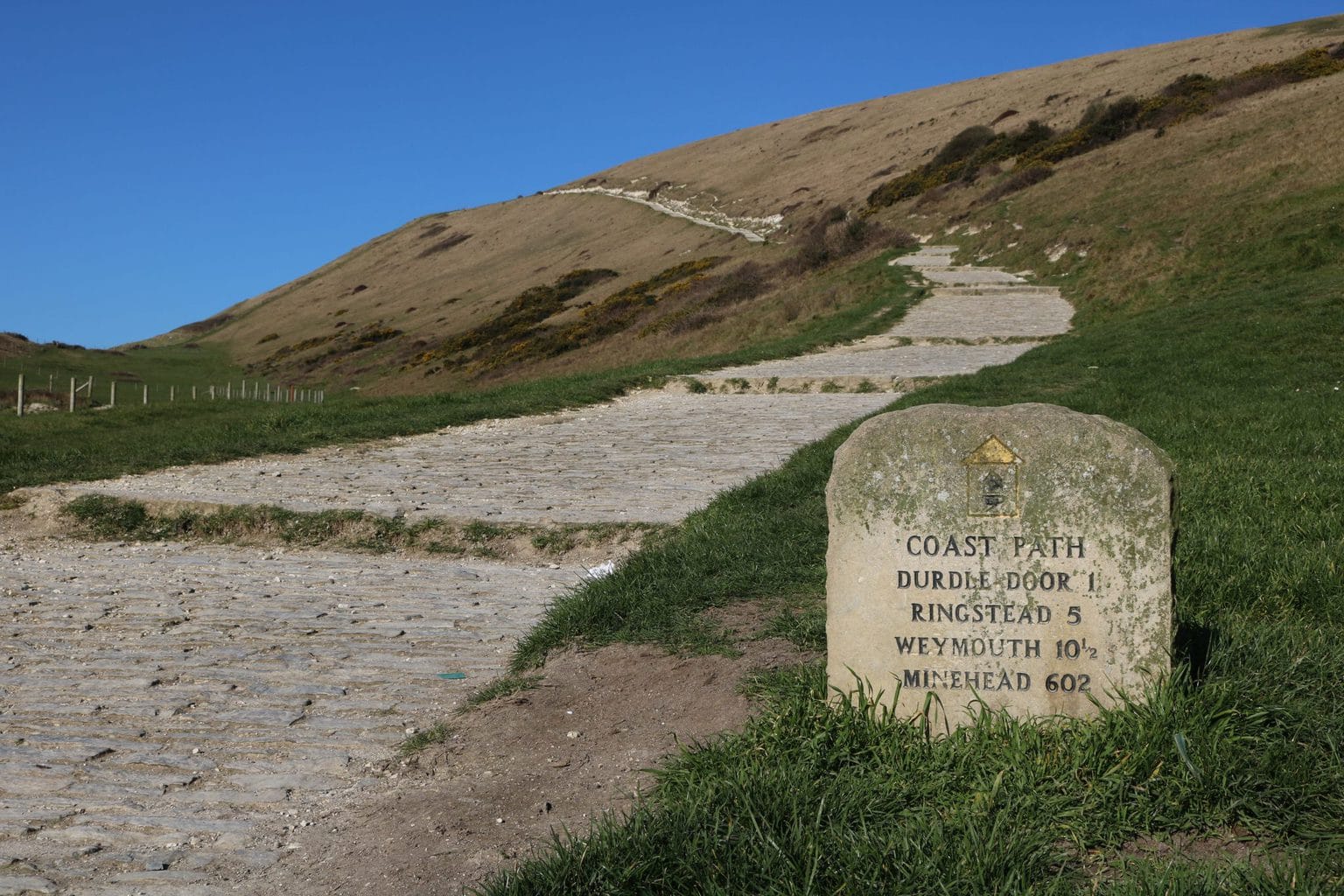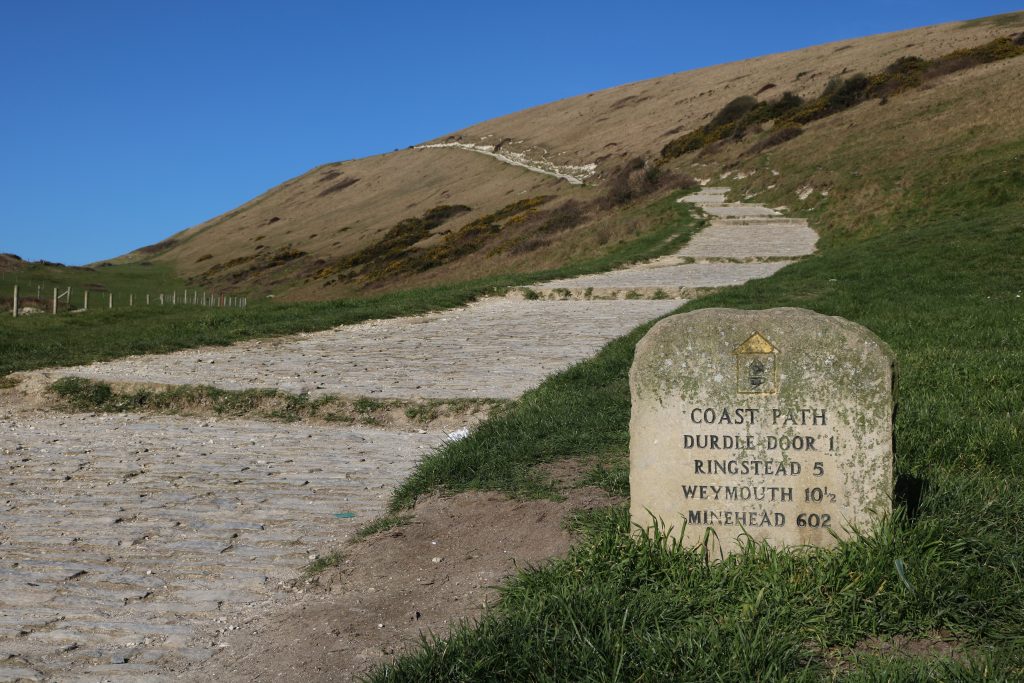 Keep following the path over the crest of the hill. Ahead, you can see the smaller archway at Bat's Head. One day this could be as big as Durdle Door!
The path will begin to slope downwards now, with Durdle Door still just out of sight below you to the left and the Durdle Door Holiday Park ahead of you to the right. There's only one path to follow and it's clearly signposted as the Durdle Door Coast Path.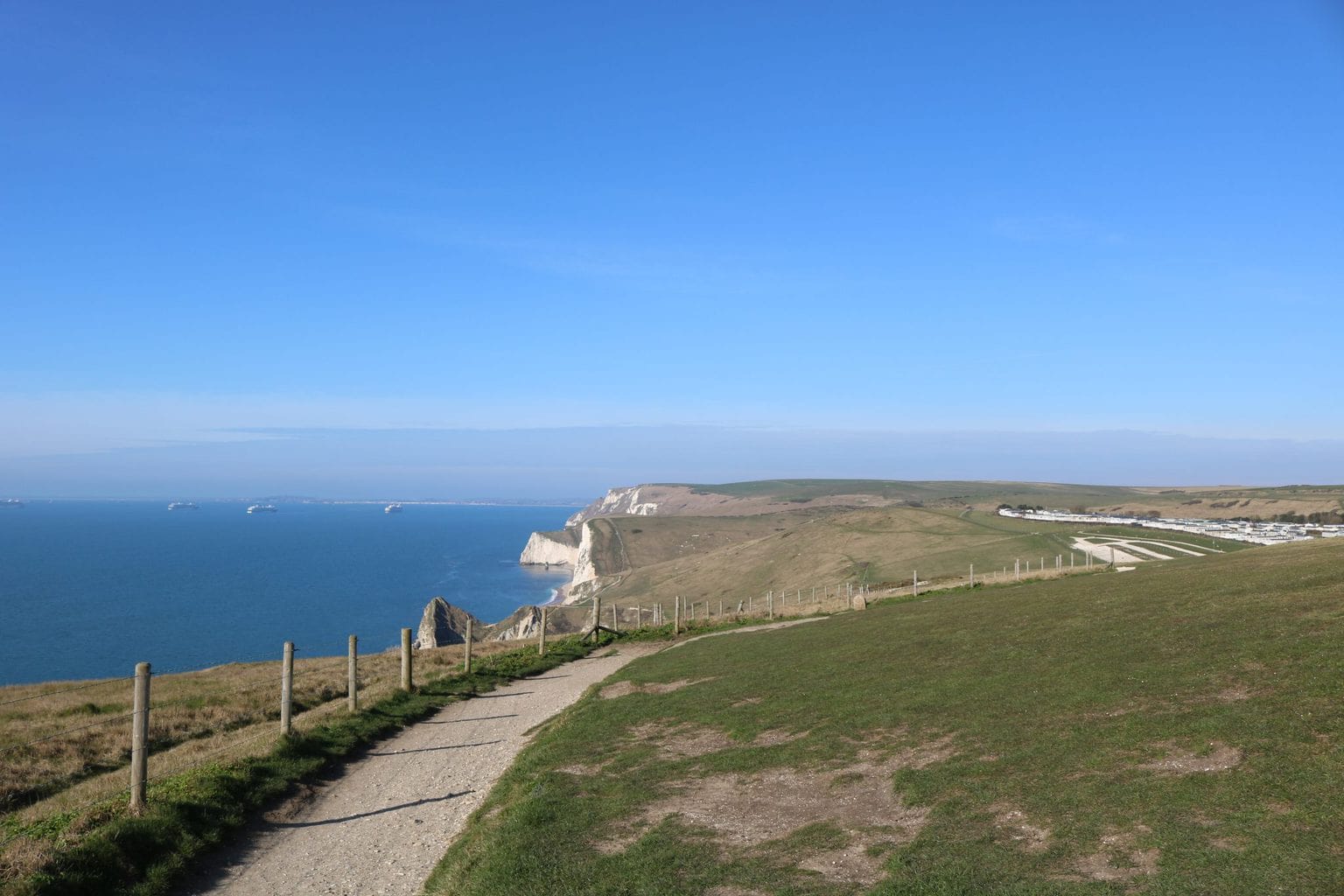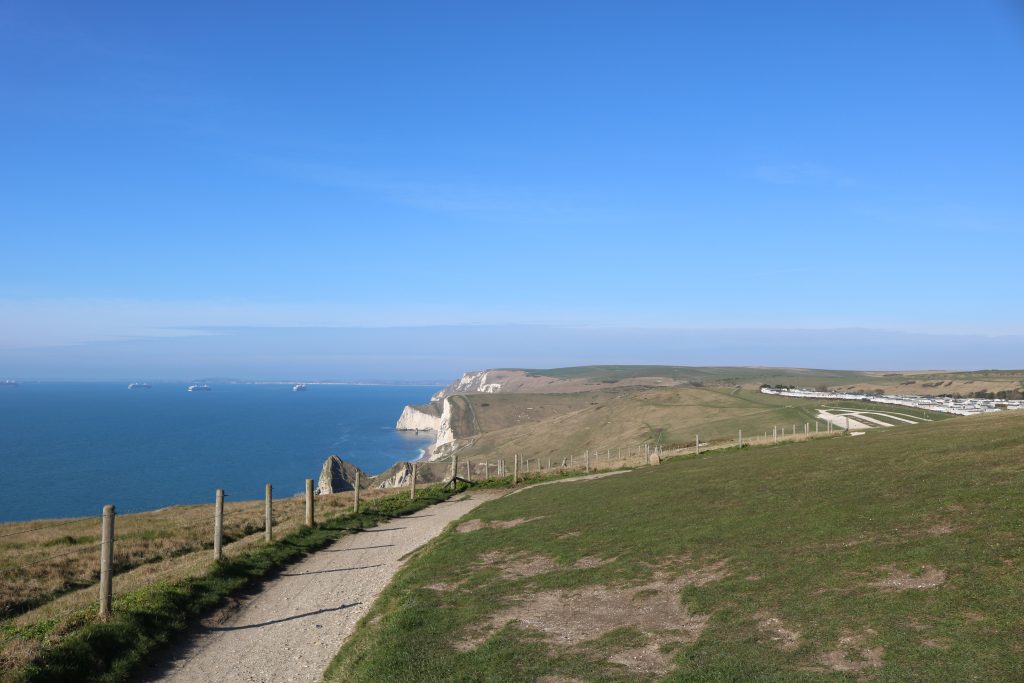 Step Two
Eventually, the path will reach a wooden gate at a T-junction with a wooden fingerpost. From here you should be able to get your first glimpse of Durdle Door away to the left. Pass through the gate and turn left to continue following the coast path down to Durdle Door.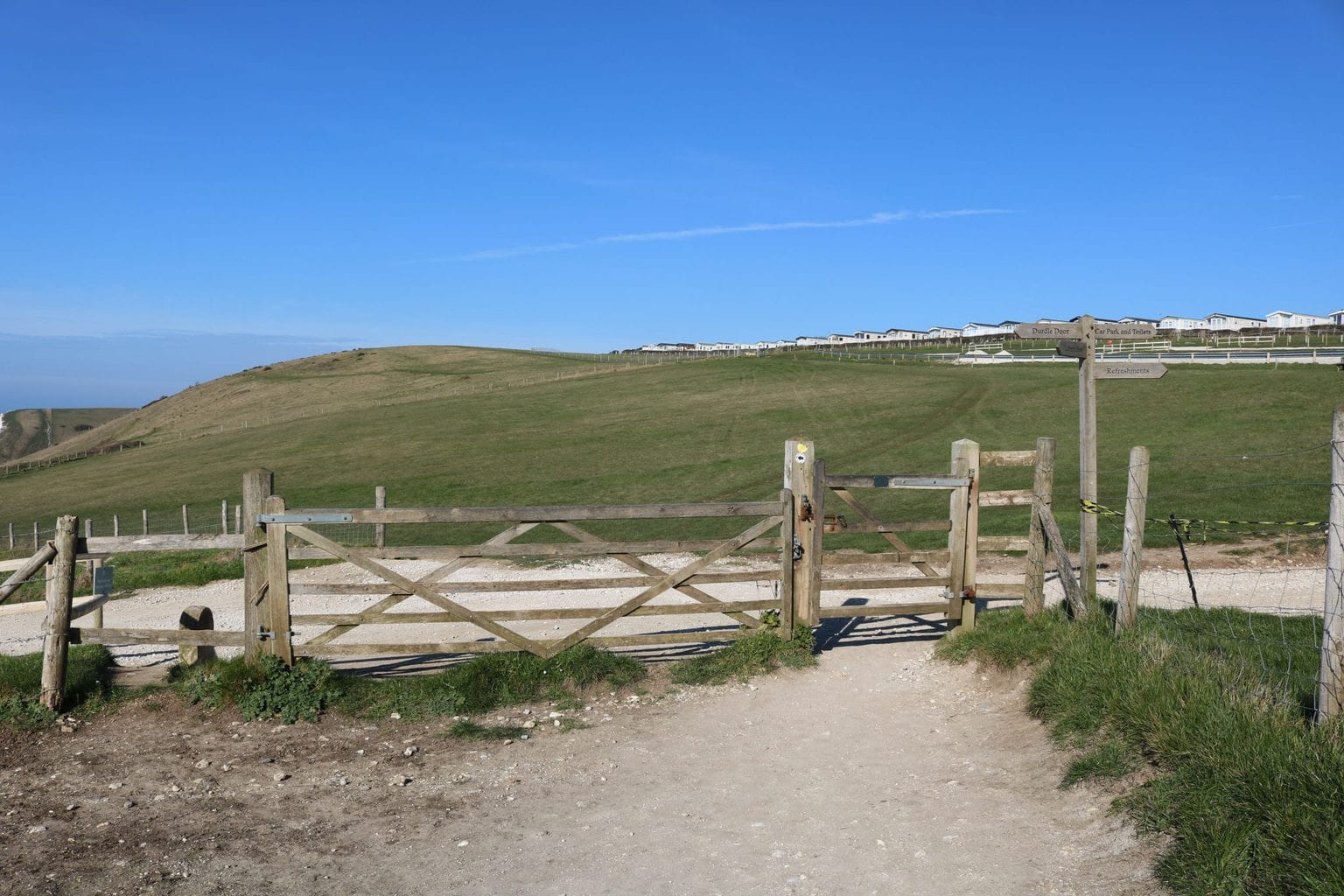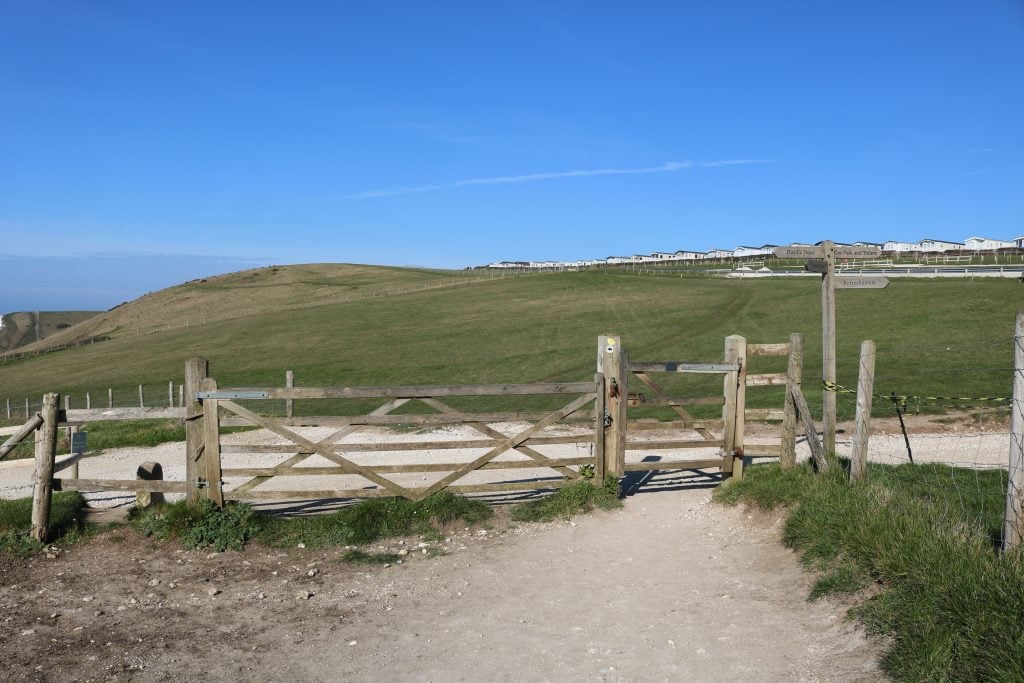 As the path flattens out, you will be able to see Man O'War Bay below on your left. This crescent-shaped bay is one of the loveliest beaches in Dorset. From above on a clear day, you can see right to the seafloor below the water!
Eventually, the pathway opens out at the cliff edge with stairs leading down to Man O'War Beach on your left and the coast path curving away along the cliffs on your right. Ahead you will have a fabulous view of the famous Durdle Door archway. If you wish to go down to the beach, there is a set of winding wooden steps ahead of you. You can walk all the way along the beach to Bat's Head (tide depending).
Lulworth Cove to Durdle Door by Car
The drive from Lulworth Cove to Durdle Door Car Park (and vice versa) is 1.6 miles and takes about 6 minutes.
It's a fairly easy drive: turn left out of Lulworth Cove Car Park and head up the road to the fork. Turn left at the fork onto Church Road (you'll pass a small convenience store and the village hall on your left). Follow this road out of the village and uphill until you see the signposted turning for Durdle Door on your left.
Parking at Durdle Door
Unnamed Road (alongside Durdle Door Holiday Park), Wareham BH20 5PU
8am – 9pm
See below for prices
There is a large car park at Durdle Door with space for hundreds of cars – including for large vehicles. There's also a large overflow carpark in Newlands Meadow (on the same site) for busy days.
However, the car parks can fill up – especially on hot days in the height of summer – so it's a good idea to arrive early (you can't reserve spaces in advance).
Durdle Door Car Park is a 900m walk to the beach via a steep path of packed earth and gravel. It can be a challenging walk for some but there are some fantastic views of the arch on your way down. I recommend sensible footwear and plenty of water (especially for the way back up).
FYI – while there are toilets and other facilities at the car park, there are none on the beach itself. So take everything you need with you!
Parking Charges at Durdle Door
Cars: All Day Parking (until 9pm) – £12.00
Cars: Up to 4 hours – £6.00
Large vehicles (Above 5.5m and up to 16 seats): £20.00
Motorcycles: £2.00
Coaches not permitted
Payment is by card or the JustPark app only (no cash). The JustPark app allows for easy online payments at car parks throughout Dorset. Before your visit, I highly recommend downloading it, setting up an account, and adding a payment card in advance – this will speed things up when you get to Durdle Door.
FYI – some sources online claim that you can book Durdle Door Car Park in advance using JustPark (some even say this is mandatory). However, this was introduced to manage visitors during the lockdowns and is no longer the case. Durdle Door Car Park is currently not reservable on the app (or via any other method).
Where is Durdle Door Car Park?
Durdle Door Car Park is marked correctly on Google Maps (click here) and is located on the same site as Durdle Door Holiday Park, so it's easy to find via SatNav.
The postcode for Durdle Door Car Park is Wareham BH20 5PU.
You'll find the entrance clearly signposted on the road between Winfrith Newburgh and West Lulworth. It's on the left near the top of the hill as you follow the road northwest uphill from Lulworth Cove.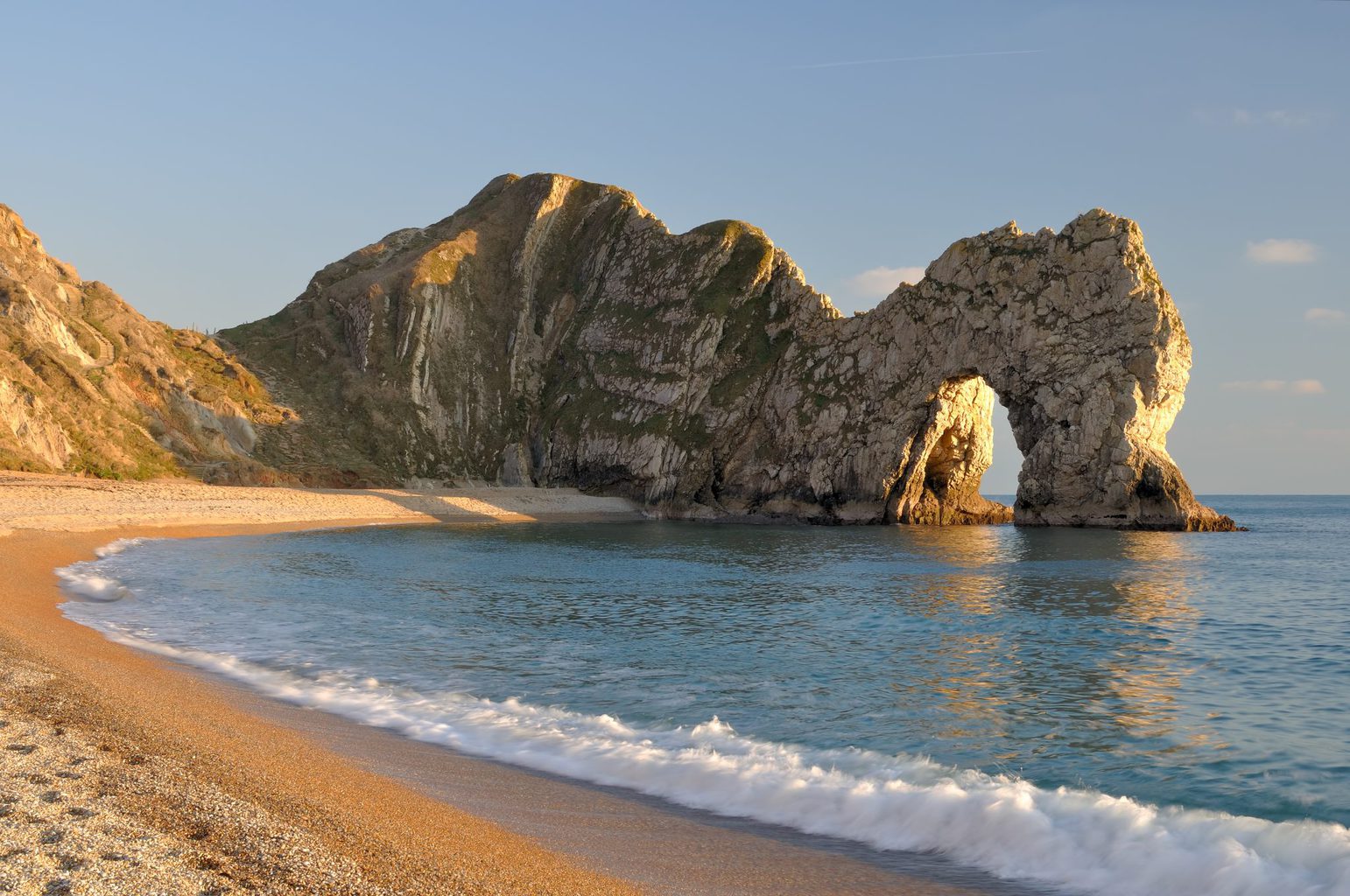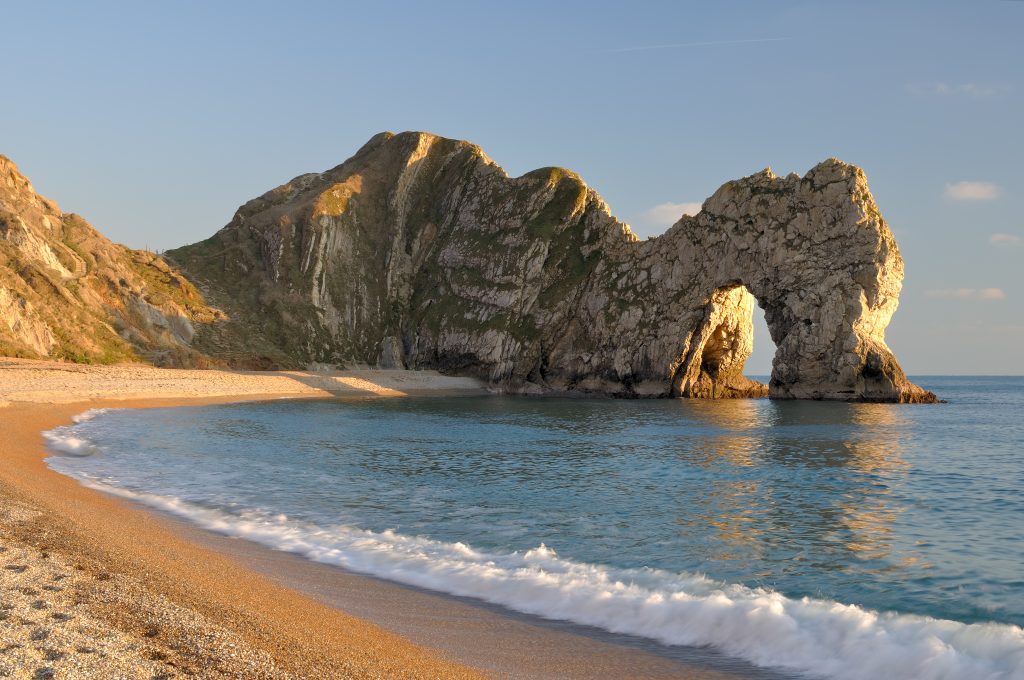 Lulworth Cove to Durdle Door by Public Transport
You can also get from Lulworth Cove to Durdle Door by bus. During summer, you can take the MoreBus Jurassic Breezer (numbers 30 and 31) or the First Bus X50. Both of these are seasonal (usually May to September), hop-on hop-off style tourist bus services, so if you buy an all-day ticket you can visit multiple destinations in one day.
Jurassic Coaster (summer only): All-day tickets cost £13 for adults and £6.50 for 5-to-15-year-olds (under 5s are free). Single journey tickets are also available – and a special £2 single fare price cap is running until the end of October 2023. Click here for First Bus Timetables.
Jurassic Breezer 30/31 (summer only): All-day tickets cost £10 for adults and £6.70 for children (under 18)*. Single journey tickets are also available – and a special £2 single fare price cap is running until the end of October 2023. Click here for Jurassic Breezer Timetables.

*Any bus fare-paying customer or bus pass holder (including ENCTS) can take up to two children with them under the age of 7 for free.
Where are the Bus Stops at Durdle Door and Lulworth Cove?
Lulworth Cove bus stop is at the entrance to the car park, opposite the building with Finleys Café and the Beach Shop.
Durdle Door bus stop is on the side of the road at the entrance to the holiday park – about a 0.8-mile walk (roughly 20 minutes) from the beach.
Buses in Winter
For those visiting outside of summer, the First Bus X54 runs a reduced winter service (October to May) between Weymouth and Poole, which calls at both Lulworth Cove and Durdle Door. Buses are infrequent so check times before you go, and arrive early at the bus stop – if you miss a bus, it may be two or more hours before the next one. Click here to check timetables.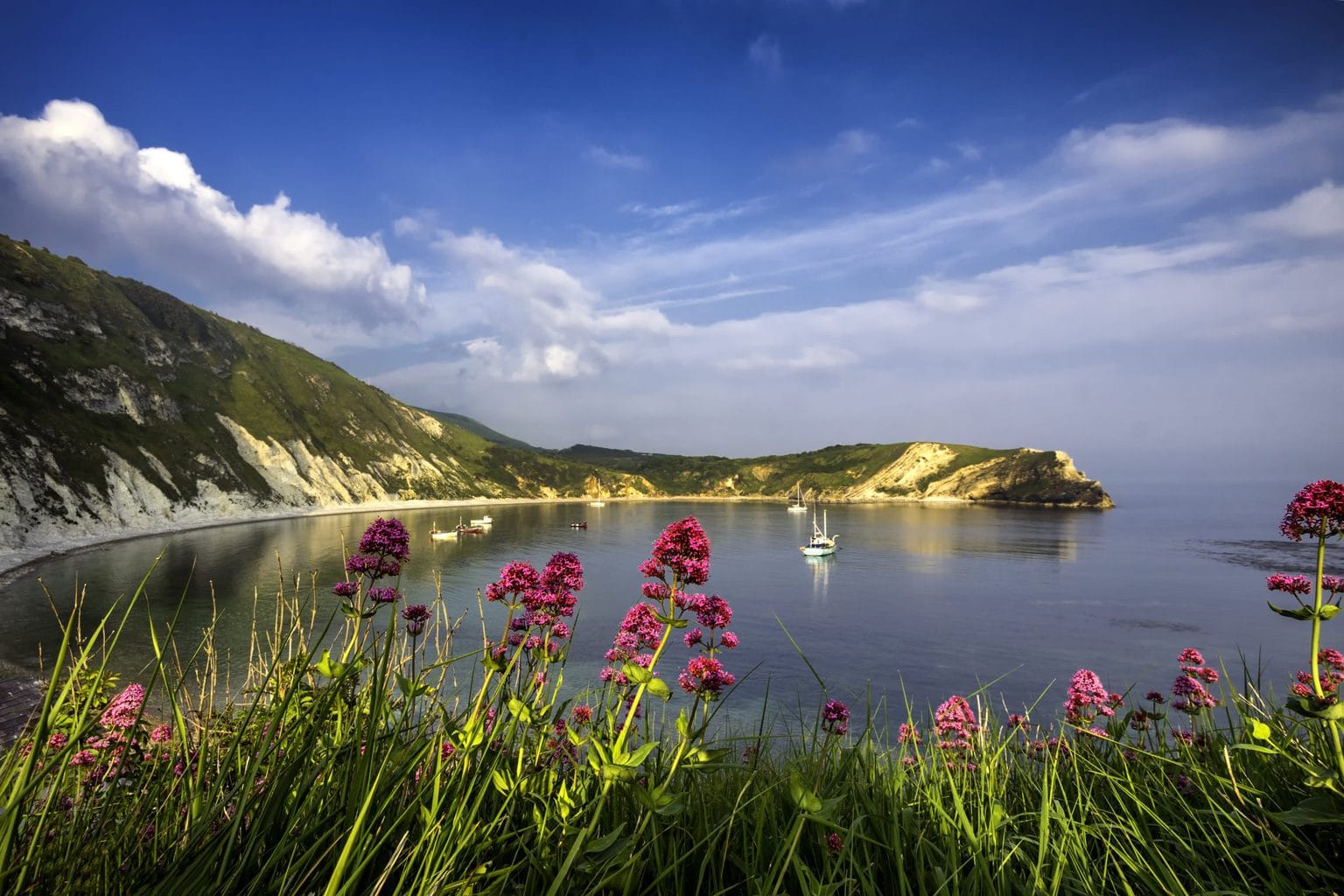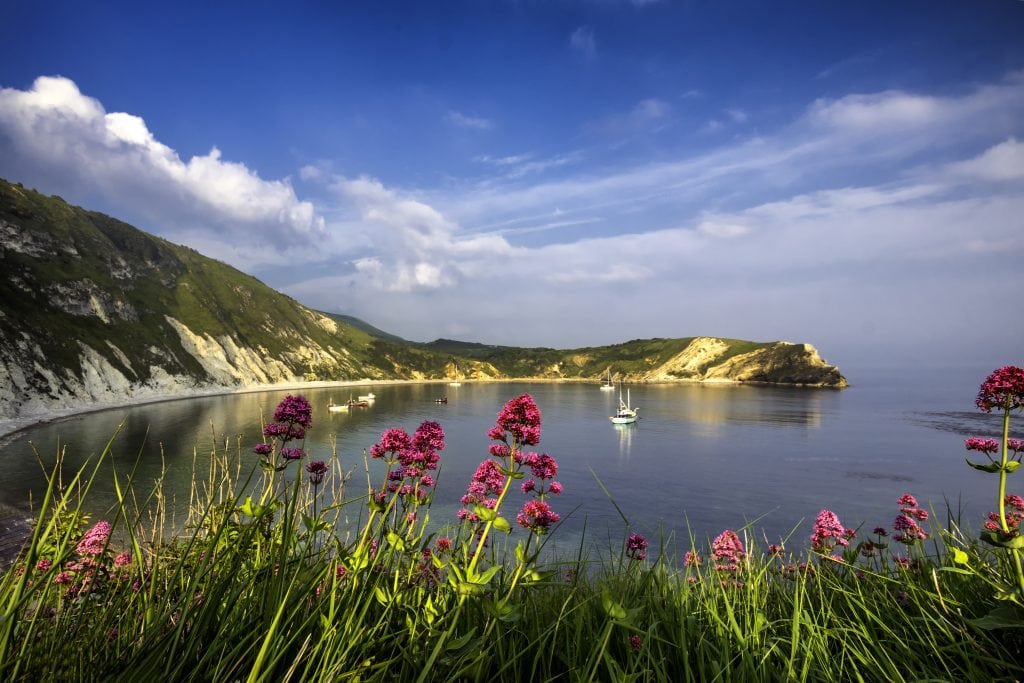 How Long to Spend at Durdle Door?
This really depends on what you want from your visit to Durdle Door. If you just want to see the famous rock arch, snap a few photos, and soak up the general vibes, you could probably spend an hour or less at Durdle Door.
However, many people visit for the whole day. There are two fantastic beaches on either side of the archway – Durdle Door Beach and Man O' War Bay – both of which make for a lovely day trip. There are also some fantastic walks you can do to see more of the coastline. If you want to make the most of the area, I'd recommend allowing for at least a few hours at Durdle Door.
There are no facilities on the beaches, but in the car park above there are toilets, a shop, and a small food truck selling coffee, drinks, snacks and ice creams. There are also no bins on the beaches – so PLEASE help protect our beautiful coastline and take all rubbish with you when you leave.
I hope you've found this guide to getting from Lulworth Cove to Durdle Door helpful. If you have a question, please scroll down to leave a comment and I'll try to help.